Note: for the full suite of measurements from the SoundStage! Audio-Electronics Lab, click this link.
With network entertainment now solidly in the mainstream, we're seeing more and more products that depart from the traditional source-amp-speaker paradigm. We've reviewed scores of such products on Simplifi: active speaker systems with built-in network streamers such as KEF's LS50 Wireless II and Bang & Olufsen's Beolab 28, streaming DAC-preamps such as NAD's C 658 and Bryston's BR-20, and streaming integrated amplifiers such as Bluesound's Powernode and Naim Audio's Uniti Atom.
But we've never reviewed a product designed for playing video—until now. Priced at $1499 (all prices in USD), Zidoo's Neo S 4K UHD Media Player can play video files stored on its internal solid-state drive (SSD) or on an external drive connected to one of the player's USB ports. These can be files ripped from DVD or Blu-ray Discs using an application like MakeMKV, files downloaded from torrent sites like The Pirate Bay, or videos shot on a smartphone or digital camera.
Founded in 2014, Shenzhen Zidoo Technology has a range of ten media player models, all of which can play UHD video. The company claims to be the largest supplier of media players in the Chinese domestic market and says its products are distributed in 30 countries.
Media players like the Neo are targeted at enthusiasts who are into downloading and collecting videos, and who want a convenient way of storing them and playing them on their home entertainment systems. That's not something I do at all. If I want to watch a movie, I'll rent it from the iTunes store, pop a disc into my Blu-ray player, or play it from a streaming service.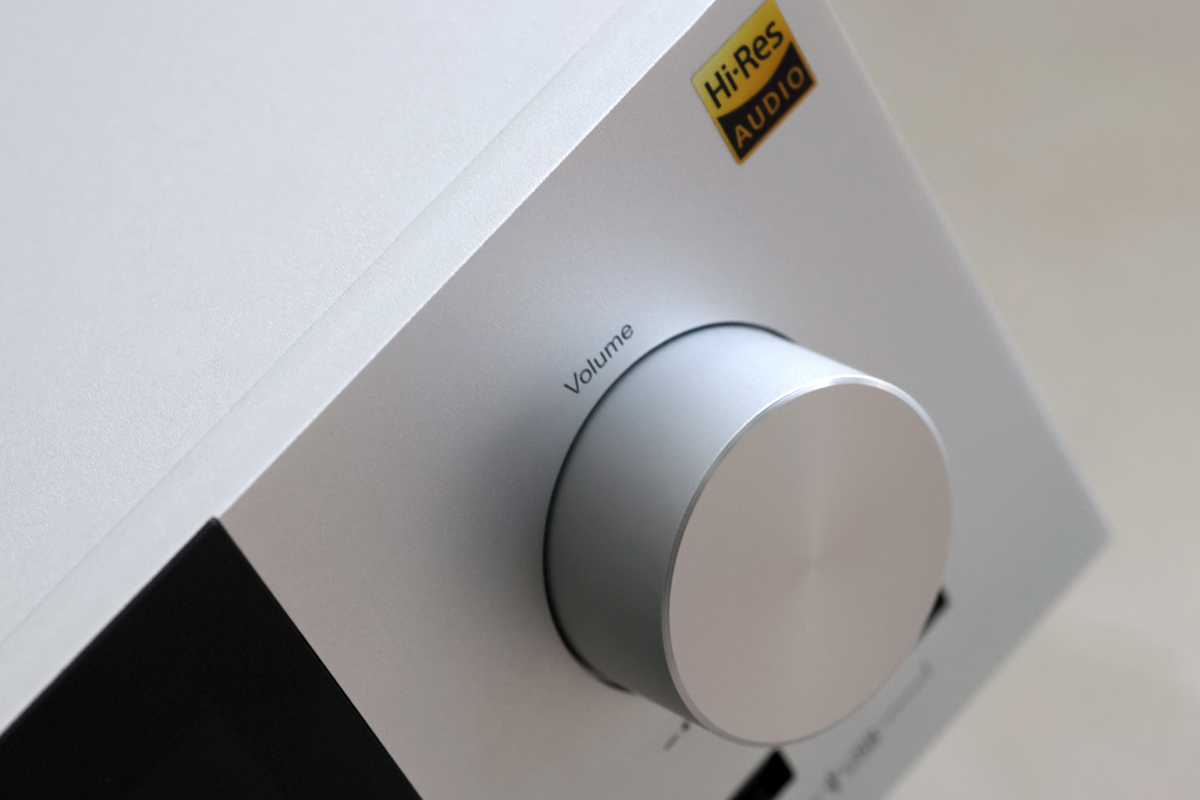 So why am I reviewing the Zidoo Neo S on Simplifi? Because it's also a very interesting audio component. One of three models in Zidoo's Hi-Fi Audio lineup, the Neo has balanced and single-ended outputs for connection to a preamp, integrated amp, or a pair of active loudspeakers, as well as a built-in headphone amplifier. You can also output digital audio from the Neo to an external DAC or digital processor.
There are many ways to play music through the Neo. You can use its built-in Music Player app to play music stored on its SSD or an external USB drive. The Neo is Roon Ready, so you can use Roon music-management software to stream music to the Neo over your home network from a Roon server. You can stream music via UPnP/DLNA from apps that support that protocol; for example, Audirvana on a PC or Mac, or mConnect on an Android device. The Neo also supports Apple AirPlay, so you can stream music from Apple devices; and it has a Bluetooth receiver that supports the AAC, aptX, and aptX HD codecs. And of course, you can play music from hardwired sources, such as computers, disc players, and streamers.
Inside and out
The Neo's build quality and materials are very impressive, especially considering the price. Measuring 11.5″W × 4″H × 9″D (including feet, antennas, and connectors), the Zidoo Neo S has a chassis machined from aircraft-grade aluminum alloy. In the middle of the front panel is a 4″W × 3″H glass-covered OLED touchscreen display. When the unit is off or on standby, the display is completely black. The look and feel is a tad short of luxurious, but far beyond utilitarian.
Below the raised Zidoo logo on the left side of the front panel is the power button, and below that are 4.4mm balanced and 6.3mm single-ended headphone jacks. Both can be set for low- or high-gain mode in the Neo's Settings menu. When using headphones, the line-level XLR and RCA outputs are muted. On the right is the volume control, and below it are two USB 2.0 Type-A ports for connecting external drives. The volume knob has a silky-smooth feel, with perfectly judged detents. The increments can be adjusted from 0.5 to 3dB in the player's settings. When you change volume, a graphic showing the adjustment appears on the OLED screen.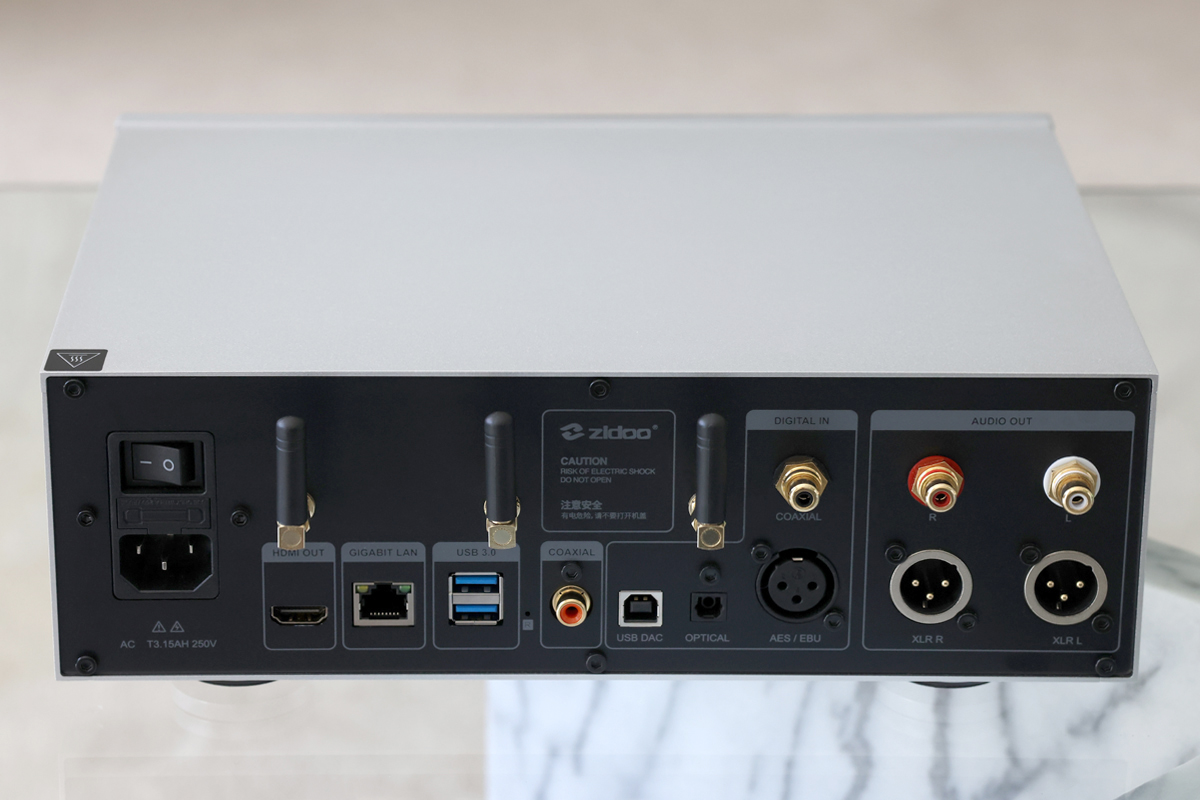 On the left side of the back panel are the master on/off switch and three-prong IEC power inlet. To the right of the power switch are three connectors for the supplied Bluetooth and Wi-Fi antennas. To the right of the power inlet are an HDMI output connector, a Gigabit ethernet port, two USB 3.0 Type-A ports, and a coaxial (RCA) S/PDIF output. Next come the inputs: USB Type-B for connecting a computer or streamer, optical (TosLink) and coaxial (RCA) S/PDIF, and AES/EBU (XLR). On the far right, there are two pairs of line-level audio outputs: one unbalanced (RCA) and one balanced (XLR).
Under the hood, the Neo has a Realtek RTD1619DR ARM six-core processor running Android 9, 2GB of RAM, 16GB of eMMC storage for the operating system and application software, and an internal 256GB SSD for audio and video files. You can transfer files to the internal SSD from a drive connected to one of the Neo's USB ports using the player's File Manager app.
Video output is handled by an ARM Mali-G51 graphics processor. Through its HDMI port, the Neo can output 4K video at 60fps, with support for HDR10, HDR10+, HLG HDR, and Dolby Vision formats. The HDMI port can pass through Dolby True HD and seven-channel 24-bit/192kHz PCM audio.
The Neo has a linear power supply with a toroidal transformer for its analog circuitry and a switching power supply for the digital circuitry. The analog circuitry and linear power supply are shielded from the digital section by an aluminum barrier. This no doubt contributes to the Neo's outstanding noise performance. The specified SNR is 120dB through the balanced outputs and 119dB through the single-ended outputs.
The digital section employs dual ESS Technology Sabre 9068 DAC chips, with separate clocks for 44.1kHz and 48kHz datastreams, and multiples thereof.
When playing audio from a PC or Mac through the Neo's USB Type-B port, maximum resolutions are 32/768 PCM and DSD512. Via S/PDIF, maximum resolution is 24/192 PCM. Zidoo does not specify resolutions for network playback, but when streaming from Roon I noted maximum resolutions of 32/384 PCM and DSD256.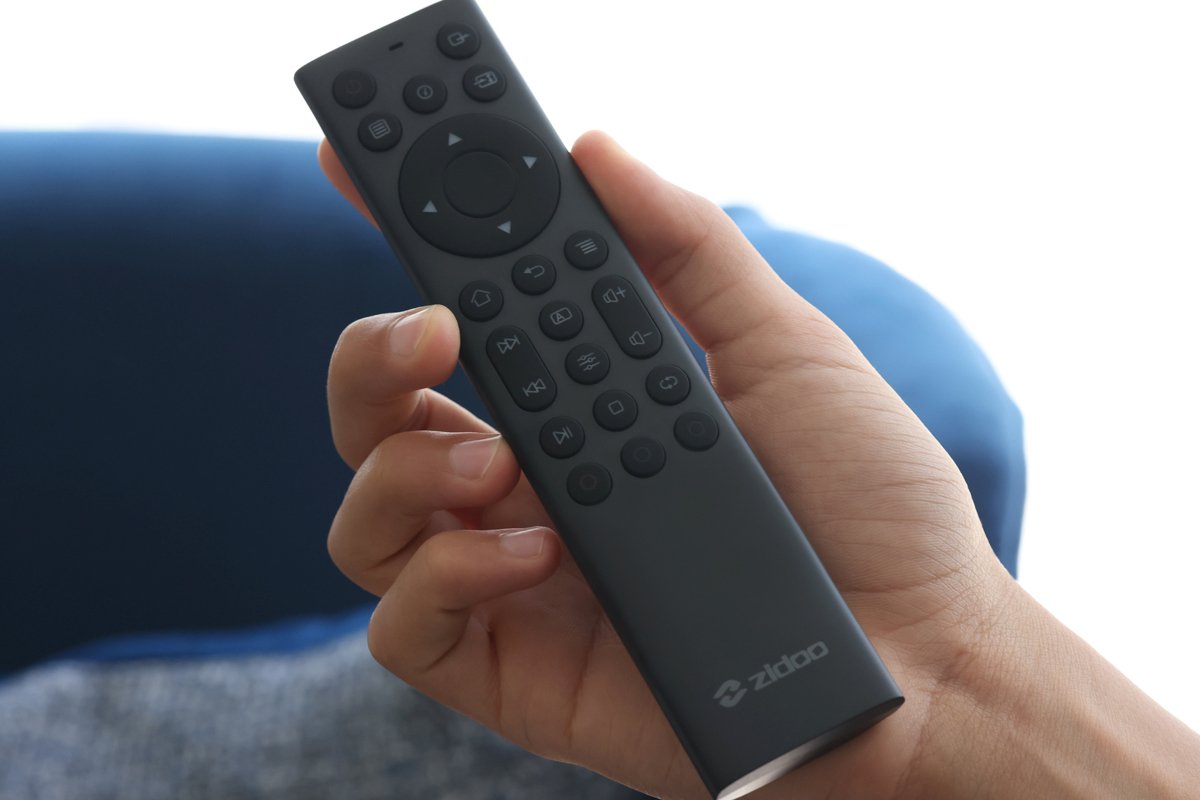 To control playback of video and audio content stored on the built-in SSD or connected drives, you can tap menus on the Neo's touchscreen, or use the Zidoo Controller app, which is available for iOS and Android. The Neo comes with Zidoo's V10 Mini Bluetooth remote control, which you can also use to navigate menus displayed on an HDTV connected to the HDMI port. In addition to navigation buttons, the remote has controls for adjusting volume, selecting sources, pausing and resuming playback, skipping tracks, and selecting audio settings. The menus displayed on a connected TV do not mirror those shown on the Neo's OLED display or the smartphone app. You can use all of them concurrently.
Setup and software
The 64-page Mandarin/English manual covers the basics of setup and day-to-day use. With a product as functionally rich as the Zidoo Neo S, there is no way that 30 pages of printed instructions can cover every facet of its operation, but it's enough to get you started. One omission: there's no explanation of what the buttons on the remote do, but you can find this information on Zidoo's web page for the V10 Mini remote.
When you turn on the Neo S for the first time, it will execute a setup wizard that walks you through the process of choosing a menu language, pairing the Bluetooth remote, and getting the Neo connected to your home network. You can run the setup wizard on the Neo's built-in OLED screen, or on a connected HDTV. I tried both methods, and they worked like a charm.
The next step was transferring audio and video files onto the Neo's internal drive using the player's File Manager app. I loaded up an Adata portable SSD with an assortment of CD-resolution, hi-rez, and DSD albums from my music library. I also included a folder with some short video files. Some of these were 4K clips with HDR10 video sent to me by fellow SoundStager Roger Kanno, and some were 4K videos I shot on my Google Pixel 4a 5G smartphone and HD videos shot on my Sony DSC-RX100 III digital camera. Given this site's focus on high-performance audio, I didn't spend much time trying out the Neo's video features.
You can use Zidoo's Media Center app to play videos, either from the Neo's OLED display or on the screen of an attached TV; or via the File Explorer function in the Zidoo Controller smartphone app. Basically, you navigate to the file you want to play, then select it—pretty familiar stuff.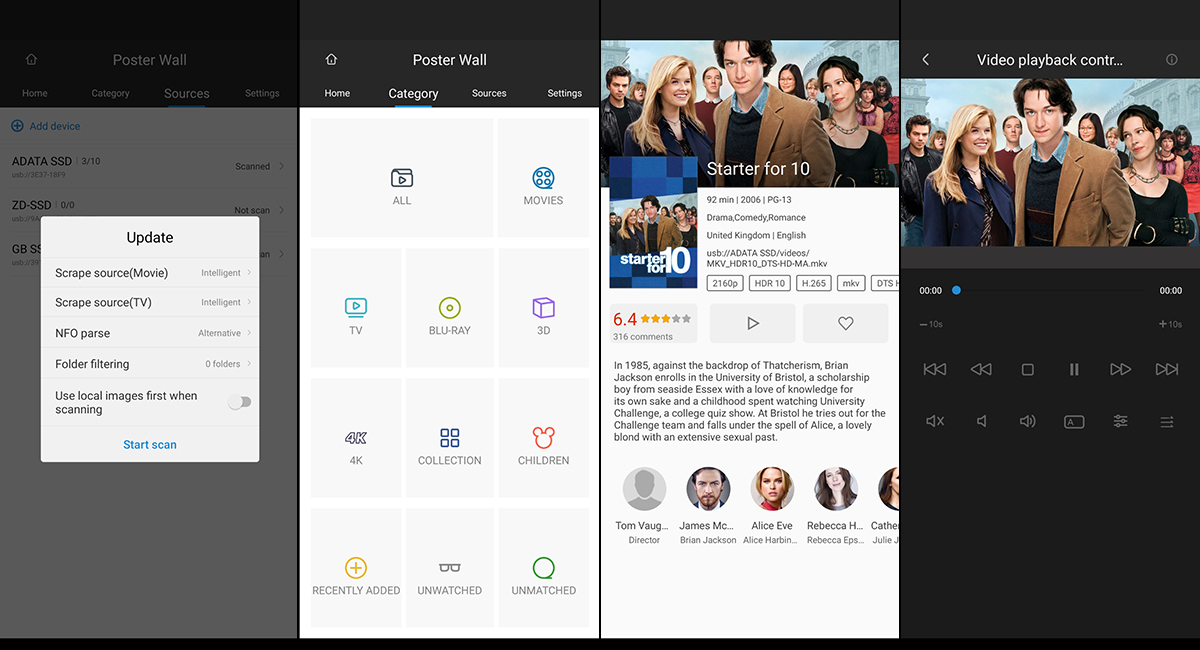 The Neo has a built-in app called Poster Wall for managing and playing videos. It's available on the TV interface and the Zidoo Controller smartphone app, but not from the OLED display. To use Poster Wall, you use the Add function to scan your video files, after which Poster Wall sorts videos into categories like "Movie" and "TV." On the TV and in the app, Poster Wall presents a colorful interface reminiscent of DVD and Blu-ray menus, with information like plot synopses and file properties. Note that you have to scan files separately to the Poster Wall app on the Neo and the Poster Wall function in the Zidoo Controller smartphone app. On both platforms, Poster Wall worked mostly as expected, and all my test files played successfully. So did the video clips that Zidoo had loaded onto my review sample.
For playing music files stored on the built-in SSD or a USB drive, you use the Neo's Music Player app. First, you need to scan the files in your drives so that the app can build a database. It took just over 30 minutes to scan the 1049 tracks I had copied from my Adata SSD.
I experienced several operational irritations that affected both video and audio playback. On many occasions, the Neo stopped responding to remote commands. I'd try to back out of a screen, adjust volume, or choose a menu option, but nothing would happen. If I waited for a while, the remote would usually start working again, but sometimes I lost patience and rebooted the Neo, after which the remote worked properly.
On several occasions, the Zidoo Controller app lost connection with the Neo. I had to close and restart the app on my smartphone to restore the connection. I experienced a similar problem streaming music to the Neo from my Roon server. Quite often, the Neo mysteriously disappeared from the list of Roon Ready devices, so that I could not stream to it, and then reappeared a few minutes later.
I had intermittent problems playing DSD files from Roon. Usually, they played in native format, but occasionally Roon resampled them to 16/176.4 PCM. When streaming a DSD album from my Roon server, the Roon app would sometimes show an error message: "Failed to Open the audio device." At the same time, the Neo would also display an error: "Mobile device and media player must be in the same network." They were on the same network, as I confirmed by playing a 24/192 FLAC album from Roon immediately after seeing these error messages—it played fine. But when I tried playing another DSD album, I got the same error messages as before.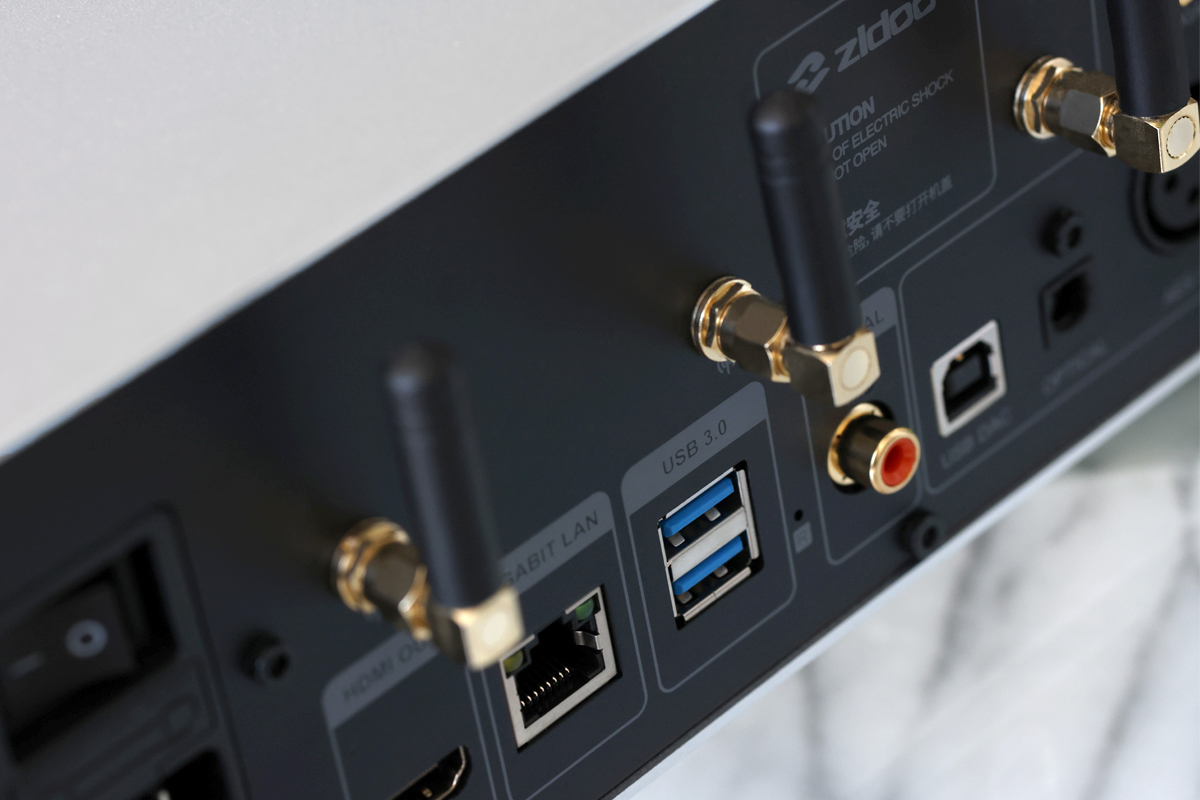 I reported this, and other problems, to Zidoo. For example, I also experienced some weirdness with AirPlay. I could stream music to the Neo from my iPhone 8, but not from my early-2015 MacBook Pro. The Neo appeared as an AirPlay device in the MacBook's AirPlay menu, but the checkbox was grayed out. I could select it, but the MacBook would not stream music to the Neo.
Zidoo was very responsive to my queries. Was my review sample running the latest firmware? I had already checked—it was. Had I enabled an option to download beta software?—I hadn't. When I did, the Neo indicated that no update was available—it was still running software version 6.9.93. Zidoo told me a new version was available and asked for the MAC address of my review sample so it could be pushed to me. A few minutes later, my review sample was running software version 6.7.06.
The new software seemed to fix the problem playing DSD files from Roon, but that problem occasionally recurred later in the review period. The problem with Roon mysteriously dropping the connection with the Neo persisted. And I still could not stream via AirPlay from my MacBook Pro.
I also ran into a myriad of problems with Zidoo's built-in Music Player app on the Neo. When I was using the original firmware, Music Player failed to show embedded album art for most of my albums. More seriously, albums were displayed in Album view by the names of their folders, rather than by their tagged album names, and this made it hard to find the music I wanted to play. When I selected an album, the next window correctly showed the track names from their metadata. However, with multidisc albums, the Music Player app listed and played tracks in the wrong order. For example, with Trilogy, a three-disc live-concert compilation by the Chick Corea Trio (24/96 FLAC, Concord Jazz / ProStudioMasters), songs were listed by track number: track 1 from each disc, then track 2, and so on.
Updating the firmware fixed some problems but introduced others. Music Player showed embedded art for most albums, but it still showed folder names rather than the album tags in Album view. And now, Music Player displayed and played tracks in alphabetical order, rather than by track number.
Zidoo then asked me to download and install a new, as-yet-unreleased version of the Music Player app on my review sample. The new version showed tagged album names for some albums, but for others it still showed folder names; and for other albums, it showed tagged artist names instead of album names. With some albums, Music Player showed filenames for some songs, and tagged track names for others.
Even worse, the new version of the Music Player app split some albums in two. Some albums were split into one album with the folder name and another with the tagged album name, with the tracks divided between them. Others were split into one album with the tagged artist name and another with the tagged album name. In some cases, tracks from those albums weren't shown at all. But after I rescanned my library, the problem of split albums disappeared.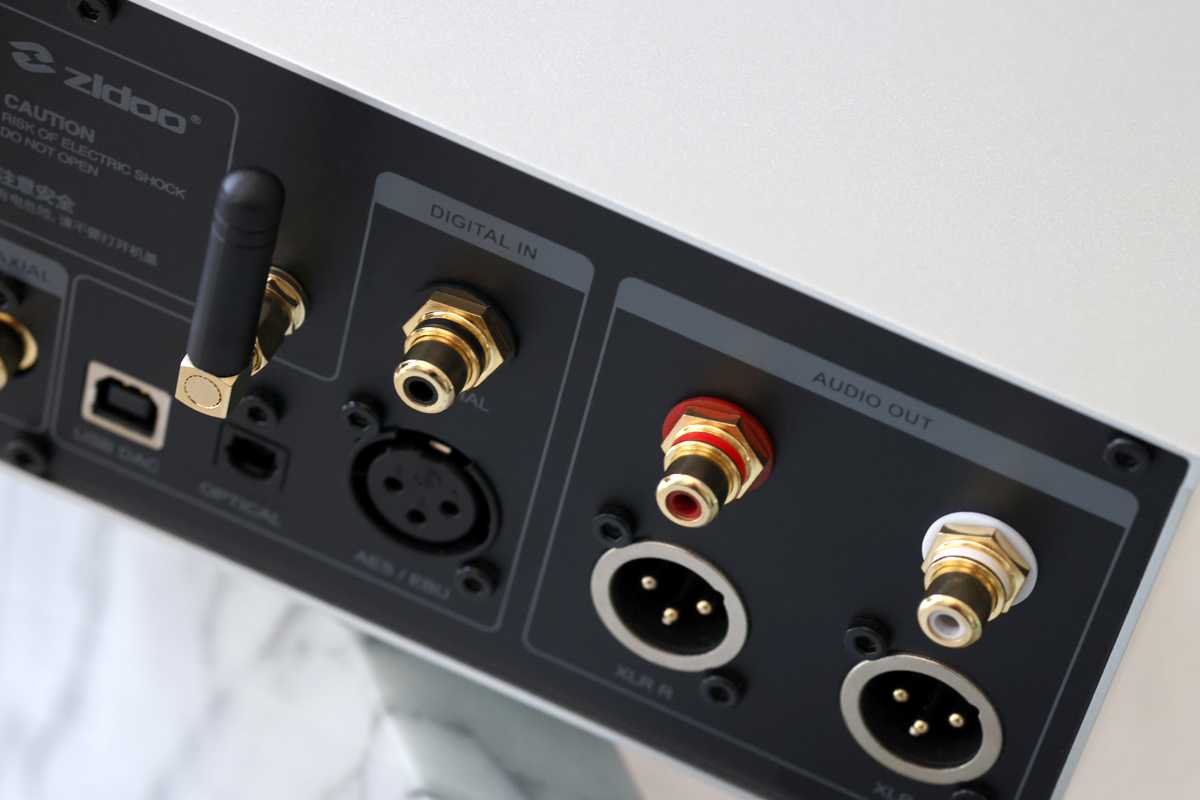 After reporting all these problems to Zidoo, and sending the company some of my album files that highlighted them, I was informed that, along with the Roon communication errors, they would be addressed in the next firmware update.
There are some things I like about Music Player, such as a feature that shows song lyrics during playback. But overall, my experience with the Neo's software was negative. I've only described the most vexing problems I encountered—the list is by no means exhaustive. That's a pity, because I thought the audio performance of the Neo S was excellent.
Listening
For out-loud listening, I connected the Neo's balanced outputs to the balanced inputs of my Elac Navis ARF-51 active floorstanding speakers ($5399.96/pair) using XLO Pro XPA-2 XLR interconnect cables. The speakers were in their usual positions, 7′ apart, on either side of the electric fireplace in the living room of the 1920s Toronto rowhouse I share with my infinitely better half, and 7′ from the sweet spot on the end cushion of our sectional sofa on the opposite wall. For most of my listening, I played music from the Neo's internal SSD or by streaming from Roon.
At normal listening levels, with my ear 6″ from the tweeter of one of my Navis speakers, I could hear a very faint hiss; beyond that distance, background noise was inaudible. Listening to music, this translated to a jet-black background that allowed for exquisite microdetail and outstanding spatial performance.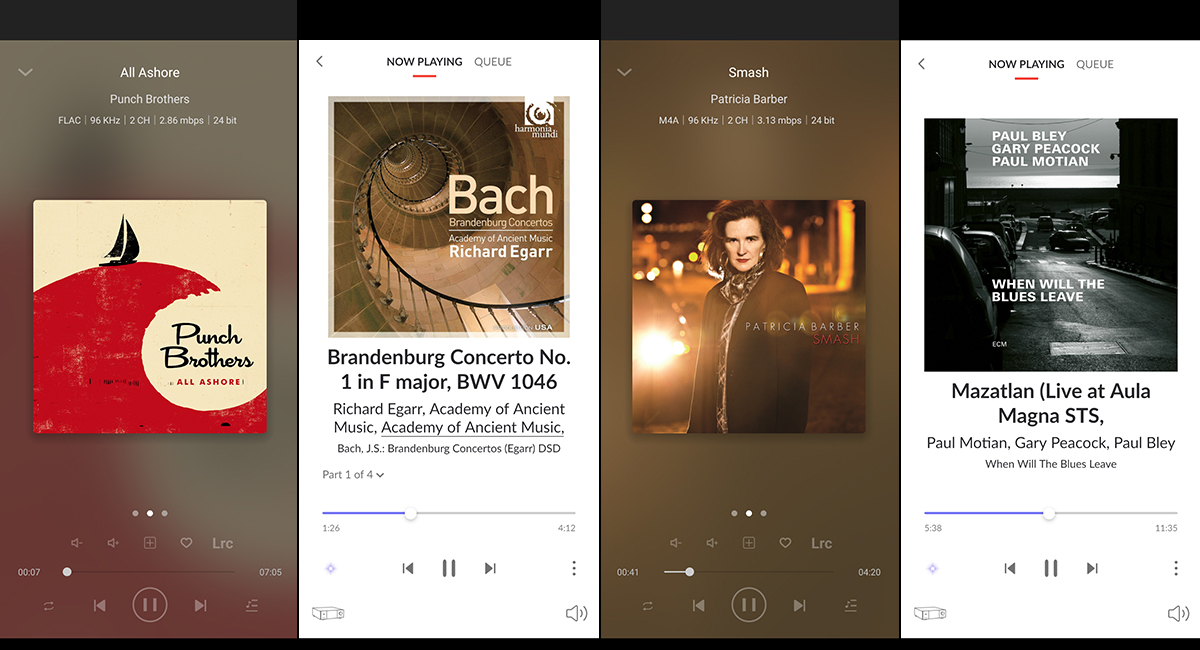 For example, in the title track of Punch Brothers' All Ashore (24-bit/96kHz FLAC, Nonesuch Records), the Zidoo Neo S highlighted the expressive word painting of bandleader Chris Thile—the subtle variations in level and pitch that he uses to draw attention to the lyrics. And the Neo clearly separated Thile's voice from the harmonizing of Gabe Witcher and Chris Eldridge, so that I could appreciate their individual contributions without losing sight of the way they combined into an organic whole. The Neo made it easy to visualize the way all three singers formed consonants—it was as if they were there in front of me.
I also loved how the Neo rendered the bluegrass instruments. The transients of Paul Kowert's double bass, Noam Pikelny's banjo, Thile's mandolin, and Eldridge's guitar were delectable. I could hear every nuance of their picking and strumming. The Neo beautifully resolved the varied pressures of the players' fingers and picks on the strings of their instruments.
Nothing was spotlit or exaggerated—all these details sounded completely natural. The spatial presentation was just as impressive. The five musicians each occupied a clear position on a wide, deep soundstage. Their sonic images were fully embodied and three-dimensional.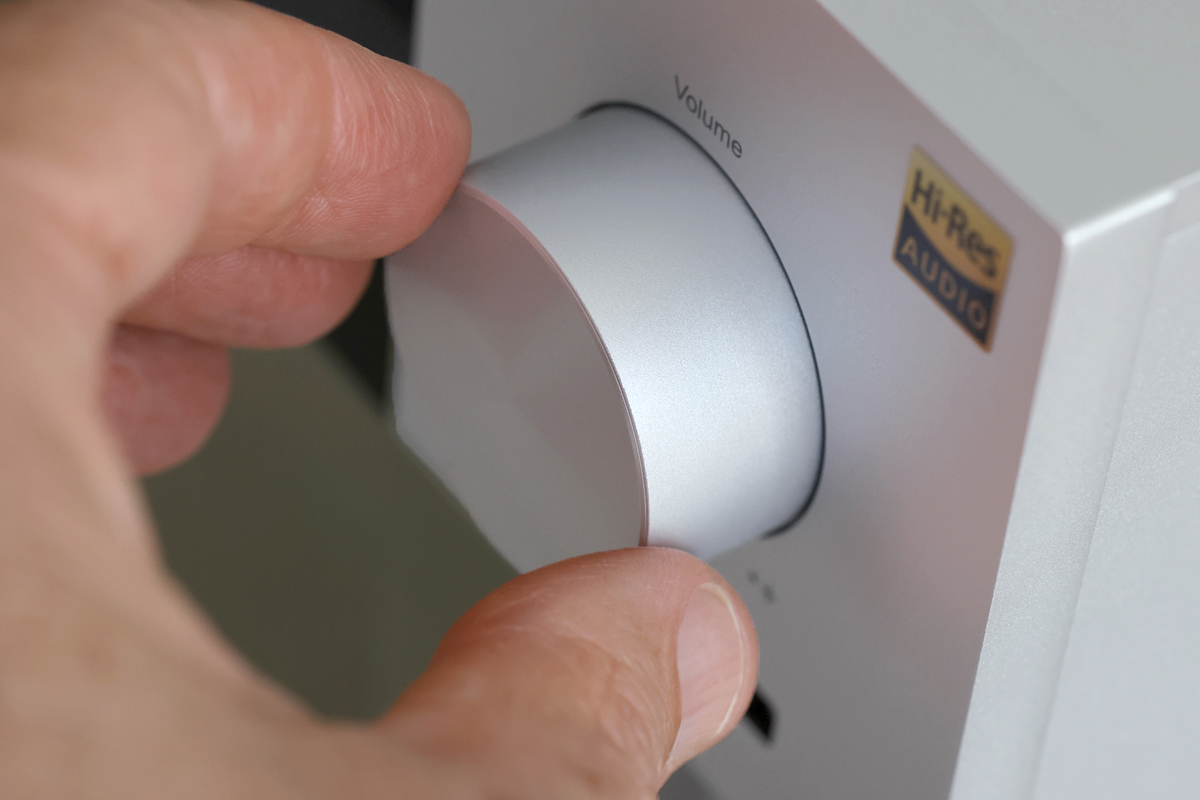 The same virtues manifested themselves in a period performance of J.S. Bach's Brandenburg Concerto No. 1 in F Major by the Academy of Ancient Music, conducted by Richard Eggar (DSD64, Harmonia Mundi). The Neo convincingly portrayed the reverberant acoustics of London's Parish Church of St. Jude-on-the-Hill. The instruments were surrounded by gobs of space, but details emerged clearly. I could hear the action of the bows on period strings playing one-to-a-part, and the clacking of the keys on the oboes and bassoons. I particularly loved the glorious whoops of the natural horns. Through the Neo, I could clearly hear the initial blat of air emerging from the instruments' bells, and the way timbre varied as the players used hand-stopping to vary pitch. Again, these details were completely natural, and never overlit.
The title track from Patricia Barber's album Smash (24/96 ALAC, Concord Jazz / HDtracks) demonstrated the Neo's impressive macrodynamic capabilities. It tracked Barber's expressive modulations perfectly as she sang, "This is the sound of a heart breaking, this is the sound of the red on the road," bringing all the agony of the singer's persona to the foreground. And in the second half of the song, it effortlessly delivered John Kregor's screaming electric guitar and Jon Deitemyer's frenzied drumming.
To check out the Neo's headphone amp, I cued up "Mazatlan" from When Will the Blues Leave, a live-concert compilation featuring jazz pianist Paul Bley, double bassist Gary Peacock, and drummer Paul Motian (16/44.1 FLAC, ECM Records / Qobuz), and listened through my HiFiMan Edition-X V2 planar-magnetic headphones ($1299), which I connected to the unbalanced headphone output with the headphones' stock cable. The input impedance of the HiFiMans is 25 ohms, so I left the headphone output in low-gain mode, as Zidoo recommends for headphones with impedance below 32 ohms.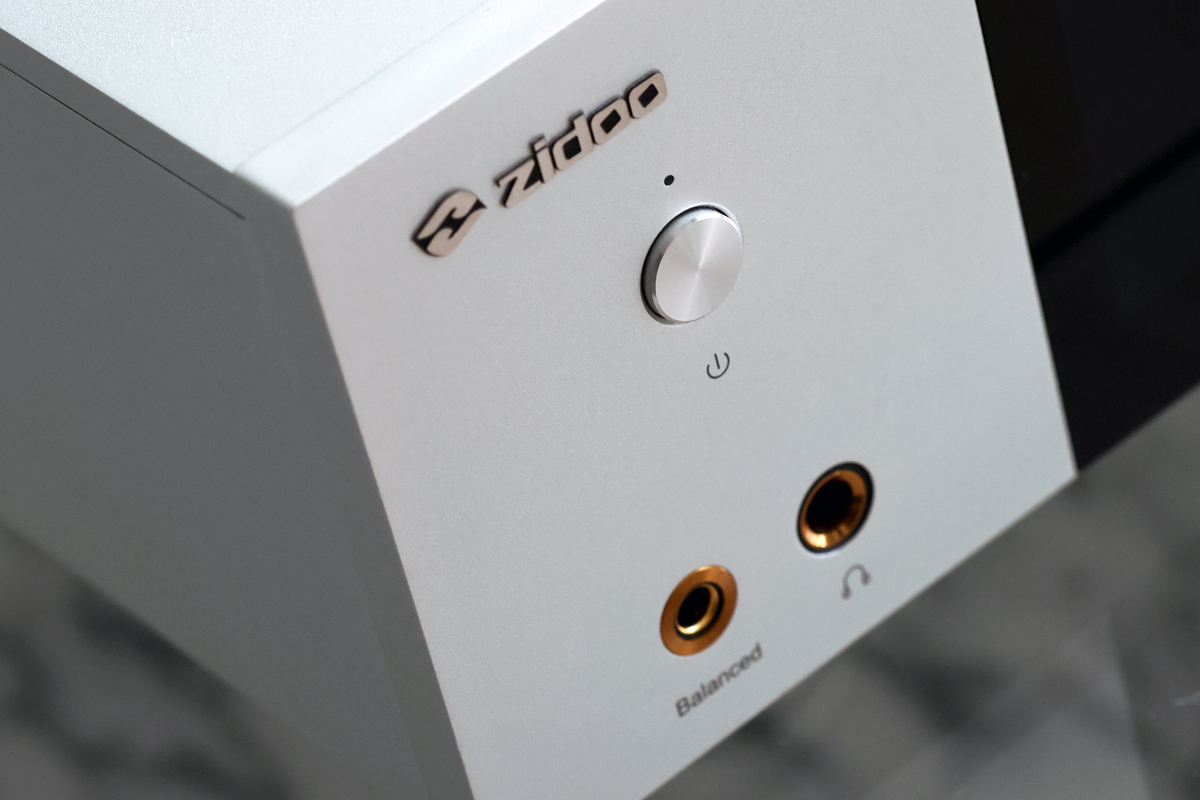 The Neo drove my HiFiMan planars easily. With the volume at -14dB, the sound was as loud as I'd ever want. Motian's brushes on the snare and floor tom had wonderful texture, and his kickdrum beats had impressive speed and heft. The Neo rendered Bley's Bösendorfer concert grand with effortless authority. Peacock's plucks on the double bass were fast but not exaggerated, and segued naturally into woody decays.
Comparisons
I compared the Zidoo Neo S with two other streaming DAC-preamplifiers: iFi Audio's Pro iDSD (discontinued, $2749 when available) and my NAD C 658 ($1999). For both comparisons, I matched levels to within 0.5dB using pink noise and a handheld sound pressure meter.
The Pro iDSD has tubed and solid-state output stages, an option for remastering datastreams to DSD512 or DSD1024, and an abundance of digital-filter choices. For this comparison, I used the solid-state output stage, turned off DSD remastering, and selected iFi's GTO (Gibbs Transient Optimized) filter.
With Punch Brothers' "All Ashore," the iFi Pro iDSD sounded just a tad more refined than the Zidoo Neo S. The iDSD delivered the same wonderful microdetail and spatial performance that I had enjoyed with the Neo, but there was just a bit less edge, a little less glare. The transient attacks on the bluegrass instruments were a little gentler and more organic, but the differences were very subtle. Given the fact that the Neo costs $1250 less than the iDSD did when it was available, and offers more features (notably built-in storage and video playback), that's impressive.
While the NAD C 658 is not a video player and has no built-in storage, it has several features not available on the Neo, including a phono preamp, multiroom music streaming, and Dirac Live room correction. For this comparison, I disabled Dirac Live.
On the Academy of Ancient Music's performance of the Brandenburg Concerto No. 1 (which Roon resampled to 24/176.4 PCM, as the C 658 does not support DSD), the C 658 sounded a little more homogenized than the Neo. There was more space around the instruments with the Neo. The NAD delivered slightly less microdetail, so that I did not hear the blats emerging from the natural horns as clearly as I did with the Zidoo. The C 658 sounded a tad smoother—the period strings were a little wirier through the Neo—but I found the Zidoo more involving. I preferred the Zidoo's sound to that of the NAD with Dirac disabled, but of course, enabling Dirac on the C 658 would have completely altered this comparison.
Switching to headphones, "Mazatlan" by the Paul Bley Trio sounded a little compressed through the NAD C 658 compared to the Zidoo Neo S, and a little softer-edged as well. Bley's staccato notes weren't quite as fast or authoritative. The sound was a bit more congested through the C 658; more mushed-together.
Between the iFi Pro iDSD and the Zidoo Neo S, it was almost a coin toss. Through the iFi, the spatial presentation was more three-dimensional, and there was more air around the instruments. Piano tone was a tad fuller through the iFi, a little more crystalline through the Zidoo. The iFi sounded slightly warmer and more organic, the Zidoo a little more incisive. I preferred the iFi by a very small margin.
Conclusion
I loved every note I heard from the Zidoo Neo S, but I found the user experience disappointing. While the Neo is an impressive piece of hardware with superb build quality, its software clearly needs work.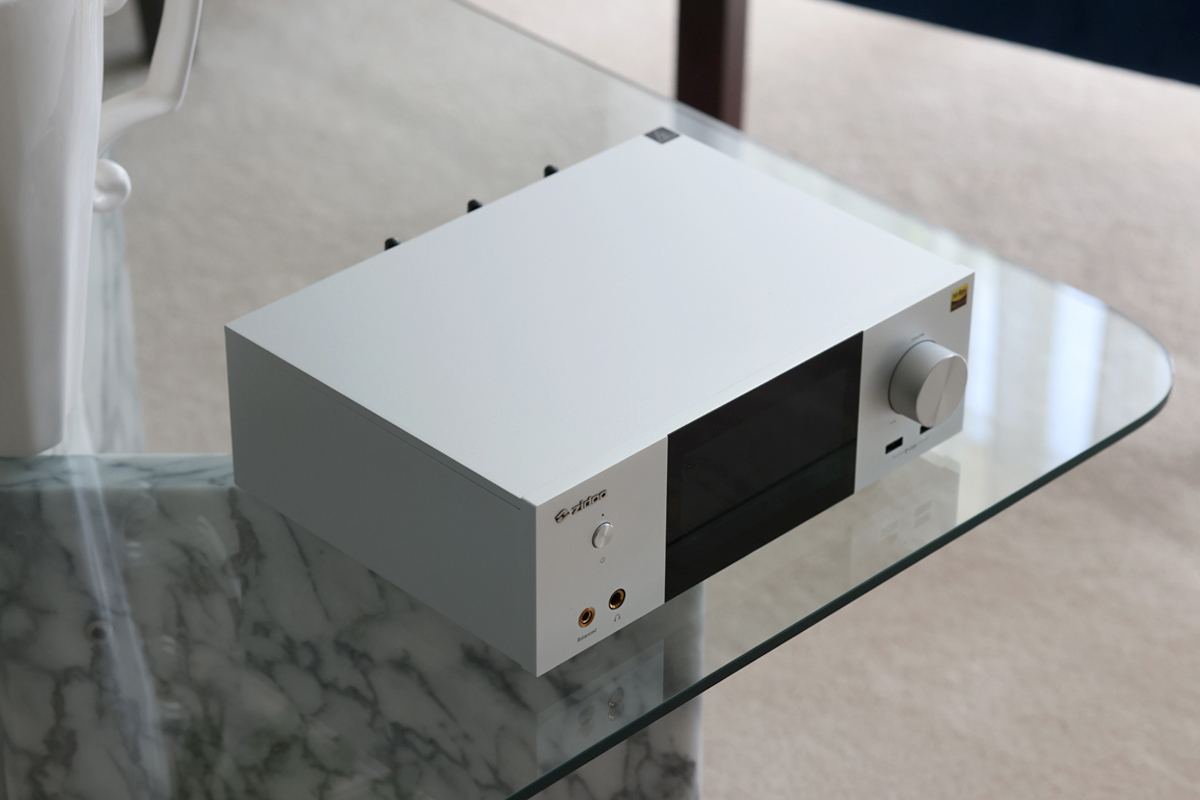 I hesitate to pan the Zidoo Neo S 4K UHD Media Player outright. As I've noted, the Neo offers excellent sound and build quality for its asking price. If you just use it as a USB DAC-preamp-headphone amp, and forget about streaming or playing audio files from the built-in SSD, the Neo has a lot to offer. And I suspect there are many video hobbyists who will find it a compelling product.
But for those looking for a component for playing locally stored and networked music, I cannot recommend the Neo S until Zidoo fixes its buggy software.
. . . Gordon Brockhouse
This email address is being protected from spambots. You need JavaScript enabled to view it.
Note: for the full suite of measurements from the SoundStage! Audio-Electronics Lab, click this link.
Associated Equipment
Active loudspeakers: Elac Navis ARF-51.
Interconnect cables: XLO Pro XPA-2 (2m, 4m, XLR).
Headphones: HiFiMan Edition-X V2.
Sources and control devices: Apple Mac Mini (M1, 2020) running Roon Core 1.8, HP Spectre x360 notebook running Roon 1.8 and Audirvana 3.5.51, Apple MacBook Pro (Early 2015) running Roon 1.8, Google Pixel 4a 5G and Apple iPhone 8 smartphones.
DAC-headphone amplifier: iFi Audio Pro iDSD.
Streaming DAC-preamp: NAD C 658.
Display: Samsung UN55LS003 "The Frame" smart TV.
Network: Google Wifi four-node mesh network.
Zidoo Neo S 4K Media Player
Price: $1499.
Warranty: One year, parts and labor.
Shenzhen Zidoo Technology Company Ltd.
Chentian Stock Building Floor 13
Dingjunshan Film Technology Industrial Park
Baotian First Road, Xixiang Avenue
Baoan District, Shenzhen
China
Phone: +86 755 23500280
Email: This email address is being protected from spambots. You need JavaScript enabled to view it.
Website: www.zidoo.tv