It's been just over five years since Canada's Lenbrook Industries Limited launched the Bluesound brand of streaming multiroom products, and many of the decisions Lenbrook made during Bluesound's formative stages now seem prescient. These include developing the underlying BluOS technology in-house, rather than sourcing it from a third party, and supporting high-resolution playback right from the start.
BluOS is a highly capable software platform for network music playback -- functionally rich, polished, and robust. With the recent launch of Amazon Music HD, hi-rez music seems poised to enter the mainstream.
In the last two years, Lenbrook has incorporated BluOS capability into several NAD components, including the M10 streaming amplifier, which I reviewed earlier this year, and the subject of this review: the Classic C 658 BluOS Streaming DAC ($1649, all prices USD).
Lenbrook's description of the C 658 -- "BluOS Streaming DAC" -- doesn't do it justice. In addition to a rich suite of network music features, the C 658 has a moving-magnet phono preamp, a built-in headphone amp, a subwoofer output with adjustable crossover point, and a multitude of analog and digital inputs. It can serve as the nerve center of a thoroughly modern music system, but with full support for traditional component hi-fi. The C 658's uncommonly wide range of features and capabilities means there's a lot to cover here. Hang on.
Inside and out
The Classic C 658 is a full-size audio component measuring 17.13"W x 3.94"H x 16"D, and with a shipping weight of 22.3 pounds. Its styling is typical of NAD's Classic models: basic black and slightly boxy, yet tastefully understated and minimalist.
In the middle of the front panel is a 3.5"W x 1.5"H color screen that displays the source name when a hardwired source is used, and Now Playing information during network playback. Displayed information includes source (e.g., Tidal or Qobuz), track name, artist and album name, and a progress bar at the bottom. A nice touch -- instead of truncating longer track names, the C 658 adjusts the size of the type to display the entire name.

On the left of the front panel is a standby/on switch, and to its right a 6.3mm headphone jack. Between them is a four-way direction pad, with a central Enter button, for navigating setup and configuration menus. To the right of the display are two small buttons for cycling through inputs, and at far right is a large volume knob.
The rear panel reveals the C 658's flexibility. There are two optical and two coaxial S/PDIF inputs for connecting digital sources, a pair of phono inputs (RCA) for connecting a turntable (for which there is also a Ground post), two sets of line-level jacks (RCA) for connecting analog sources, a USB Type-A port for connecting an external USB drive, balanced (XLR) and unbalanced (RCA) preamp outputs for connection to a power amplifier or active loudspeakers, and two subwoofer outputs (RCA).
At far left, a pair of wide, rectangular plates cover two upgrade bays, to accept two of NAD's Modular Design Construction (MDC) modules. At my request, my review sample included the MDC HDM-2 module ($349), which adds HDMI video and audio switching capability. It has three HDMI inputs and one HDMI output, all specified for 4K video at 60fps, with 4:4:4 color. HDMI-ARC (Audio Return Channel) and HDMI-CEC (Consumer Electronics Control) are also supported -- I'll expand on this later in this report.
Of course, there's network connectivity as well: a Gigabit Ethernet port, Wi-Fi with 802.11ac support, and bidirectional Bluetooth with aptX HD support. The C 658's maximum resolution for network playback and hardwired digital sources is 24-bit/192kHz PCM. Like all BluOS-based products, the C 658 can perform MQA decoding and rendering.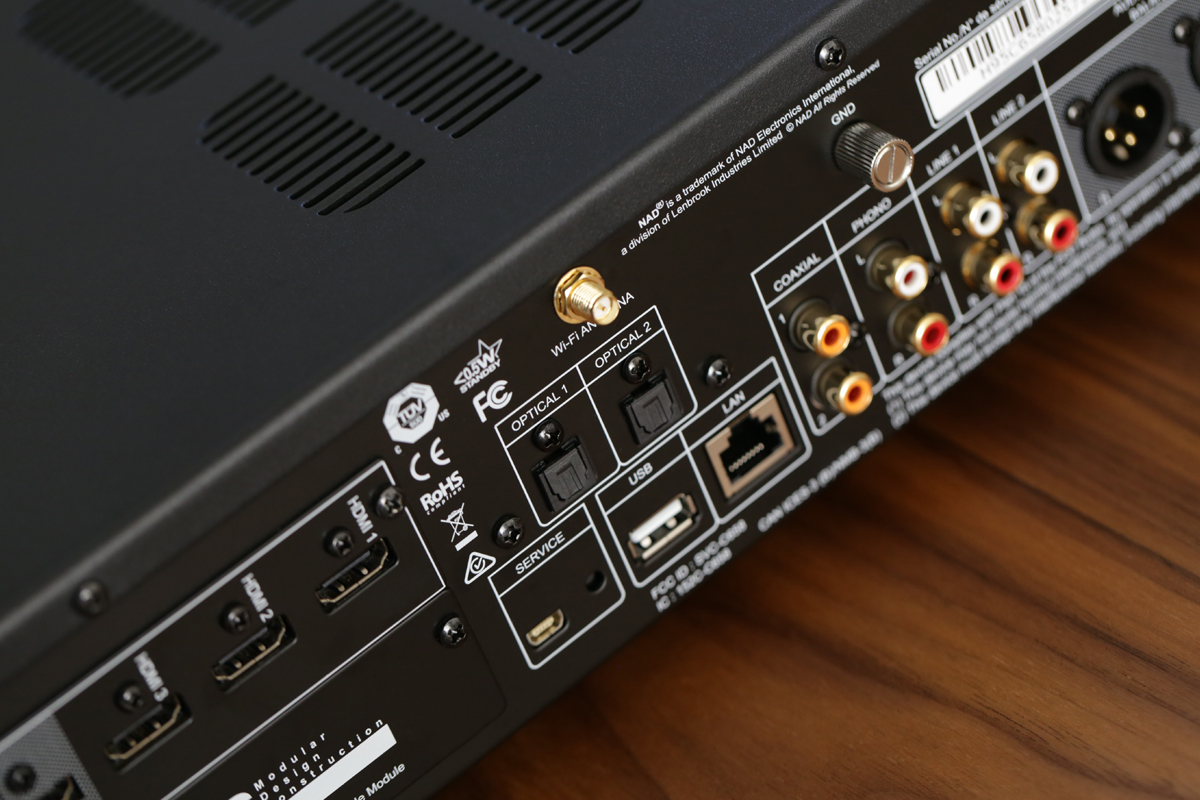 Besides serving as the nerve center of a standalone music system, the C 658 can be part of a Bluesound whole-home music system. In that case, digital components connected to the C 658 can be played in other zones. For network playback, much of the day-to-day interaction with the C 658 will be through the BluOS app, available for iOS and Android.
But you can also control some C 658 functions without using the app. The direction pad on the front panel can be used to skip tracks, and its Enter button to pause and resume playback. Included with the C 658 is a remote control that lets you select sources, adjust volume, play and pause, and navigate screen menus. The remote can also operate other NAD components, such as CD players.
You'll need the BluOS app for setup and configuration, but there are other options for daily network use. The C 658 can function as a Roon endpoint, and, like all current Bluesound products, supports Apple AirPlay 2, for wireless streaming via Wi-Fi from iOS devices and Macs, with Siri voice control. Offered on most current Bluesound products, bidirectional Bluetooth enables the C 658 to receive audio from devices such as smartphones and transmit audio to Bluetooth-capable wireless headphones. I discussed both features in my review of the Bluesound Vault 2i CD ripper-server-streamer earlier this year, and they work exactly the same in the C 658; refer to that review for more detail.
The C 658 also supports Amazon Alexa voice control, which I covered in my review of the Bluesound Pulse 2i wireless speaker. Alexa works the same in the C 658 as it does in other Bluesound products, so again, refer to that review for more detail.
Software and setup
The only documentation NAD provides is a Quick Start leaflet -- you can download a full manual from NAD's website.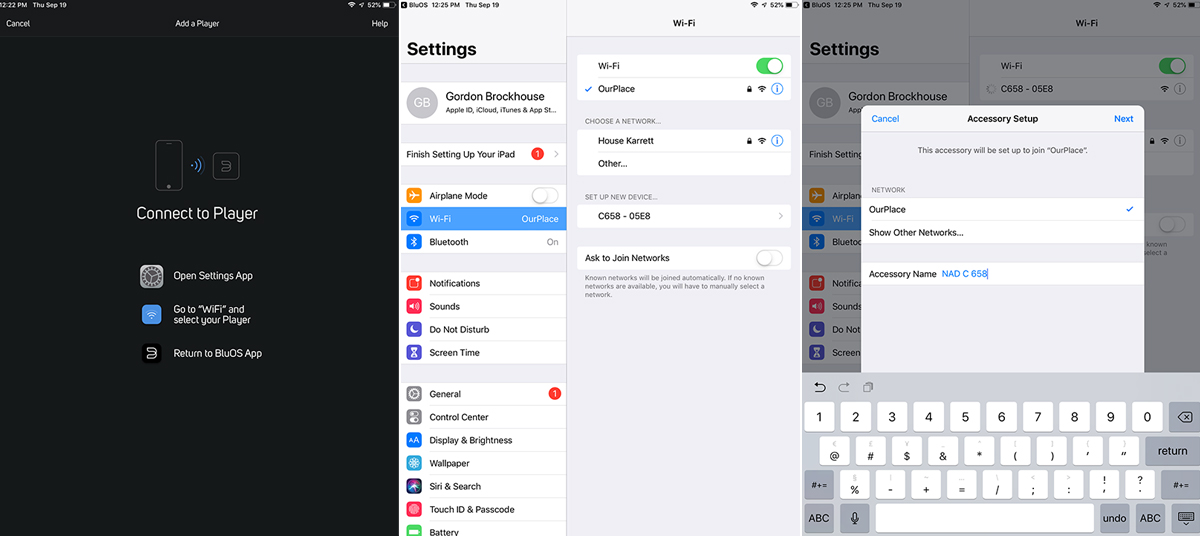 If the C 658 is the first BluOS component on your network, you'll have to download the BluOS app from Apple's App Store or Google Play. On the home screen, you'll see a button labeled Add a Player. I'd already installed the app on my iPad Mini, so I selected Add a Player. The next screen directed me to the Wi-Fi menu in the iPad's Settings app to select the desired player, there labeled C 658-05EB. Selecting that connected my iPad to a hotspot network created by the C 658. The Settings app then automatically uploaded my network information to the C 658. Voilà -- connected!
BluOS supports over 20 streaming and Internet Radio services. To enable a service, select the Music Services option at the bottom of the Navigation drawer in the BluOS app, accessed by tapping the little three-line Drawer icon at the top of the screen. You'll see a list of all supported services. These include three hi-rez streaming services -- Qobuz, Tidal, and (most recently) Amazon Music HD -- and two lossless services: Deezer and Idagio. When you've chosen a streaming service, you'll be prompted to enter your login information.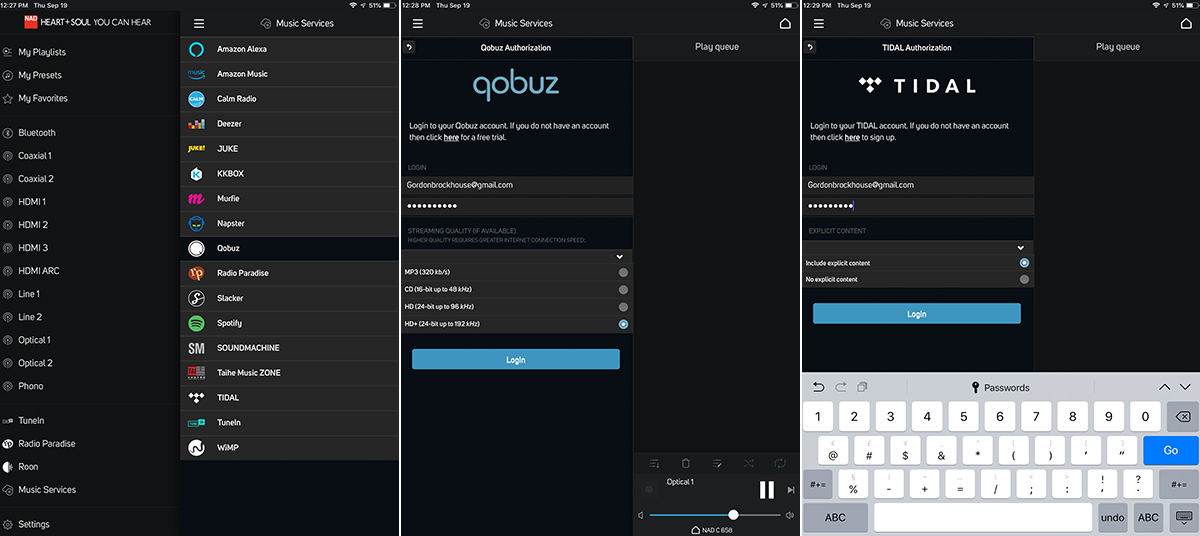 I followed the above process for the three services I use -- Idagio, Qobuz, and Tidal -- after which they all appeared in the BluOS app's Navigation drawer. I also loaded an Adata 256GB solid-state drive (SSD) with hi-rez music, and attached the drive to the C 658's USB port. That done, I was ready to play music from my streaming services. BluOS replicates some of the features in those services' dedicated apps, but not all. For example, when streaming from Qobuz, BluOS shows albums that have received Press Awards such as Gramophone's Editor's Choices, but not liner notes -- and I really like both features. BluOS also showed the music on my USB drive, allowing me to browse by Artist, Album, Song, Genre, and Composer.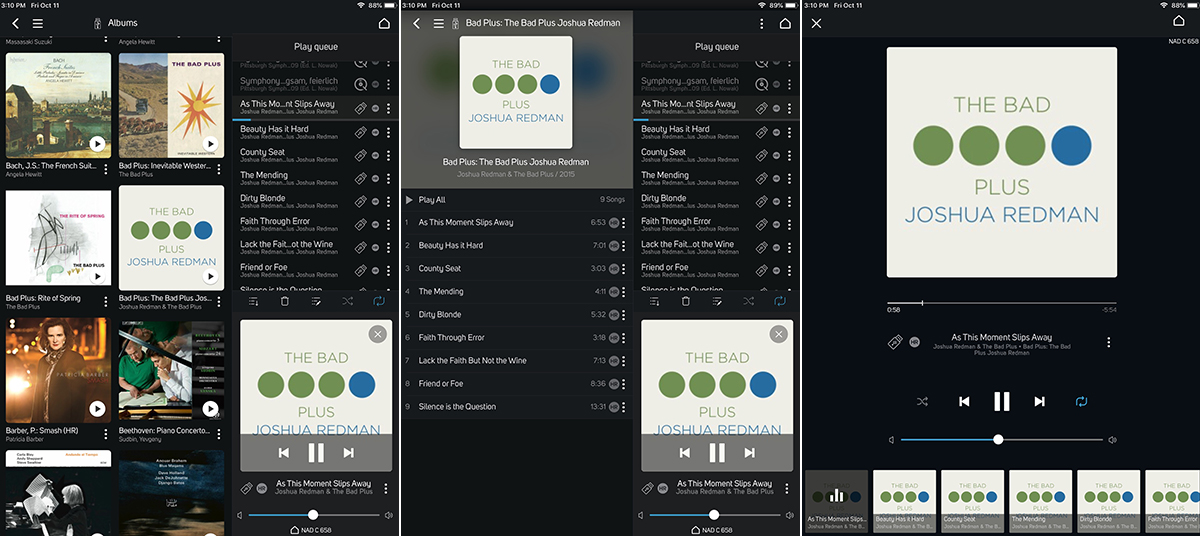 I also used the C 658 as a Roon endpoint to play music stored on the Apple Mac Mini computer in my second-floor office, which I use to run Roon Core 1.6. While the C 658 hadn't received official Roon Ready certification by the time I'd finished this review, it showed up in Roon as a Roon Ready networked device, and I was able to stream from Roon to the C 658.
Hardwiring
I don't have a turntable, so didn't use the C 658's phono input or turntable ground post. I do have a few digital sources, all used strictly for video: a Samsung BD player, Apple TV 4K, and Samsung cable set-top box -- hence my request that Lenbrook include the MDC HDM-2 module with the C 658.
There are two ways to play an HDMI source through the MDC HDM-2 and C 658. You can connect it to the MDC HDM-2's HDMI inputs, and the module's HDMI output to an HDMI input on your video display. Especially if your video component is in the same rack as the C 658, and the HDMI inputs are on the display rather than a set-top box, this will be the easier option -- there will be just one HDMI cable going to the display, rather than several. If you go this route, be sure to set connected sources to output PCM audio. If they're set to output Bitstream audio, they may send audio in a format, such as Dolby Digital or DTS, that the C 658 can't accommodate.
My setup is different. I have a Samsung Frame TV mounted above the mantle in our living room. The 55" panel is connected via an ultra-thin fiber-optic cable to Samsung's One Connect set-top box, which houses the TV's video processor and input connectors. The One Connect box is in the same cabinet in which I placed the C 658, so I let the box handle video switching, and routed an HDMI cable from the box's HDMI-ARC port to the HDMI Out port of the MDC HDM-2. You read that right -- you use the module's HDMI output to accept HDMI-ARC audio from your display. You also have to make sure HDMI-CEC is enabled in your TV's setup menus.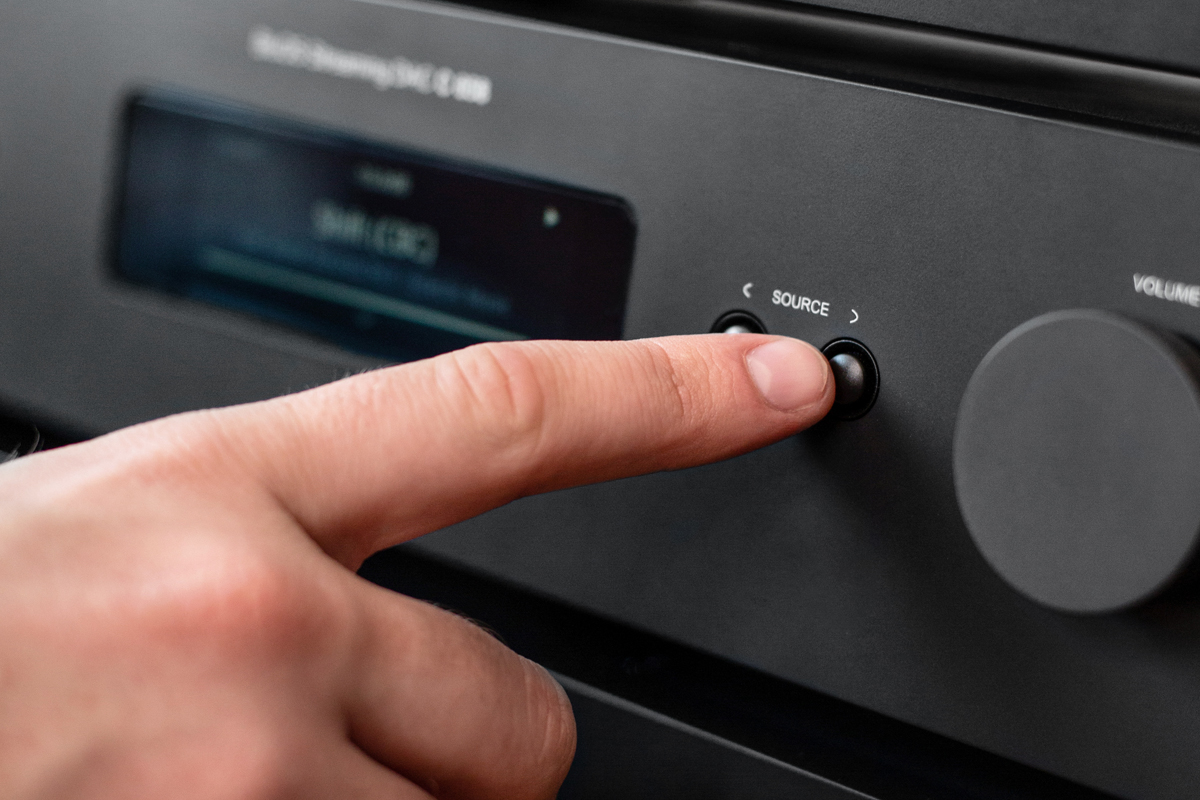 Using HDMI-ARC had two advantages for me and my technophobic better half. When watching video, we could use the TV's remote control to select video sources, control video playback, and adjust the C 658's volume control. Also, we can pick up a dozen over-the-air HDTV stations where we live, so using HDMI-ARC let us play through the C 658 audio from terrestrial TV, as well as services like Netflix and YouTube.
To simplify daily use, I wanted to reduce onscreen clutter in the BluOS app. In addition to your streaming services and the USB drive, all of the C 658's digital inputs appear in the app's Navigation Drawer -- as well as the HDMI inputs, if you've sprung for the MDC HDM-2 module. You can use the Settings menu to hide the inputs you're not using. Choose Player, then Customize sources. The next screen lists all digital inputs. For each, there's a Hide source option -- select it, and that source will no longer appear in the Navigation Drawer. You can also rename sources, and choose your own icons. I used the Settings menu to hide all the sources I wasn't using, and to rename "HDMI-ARC" to "Frame TV." The result -- a cleaner screen, and less scrolling through the BluOS app to find the music I wanted.
You can also disable and rename sources on the C 658 itself using the hardware menus. It would be more convenient if you could do this from the BluOS app, but that's not possible. As I'd done with the app, I disabled sources I didn't plan to use, and renamed "HDMI-ARC" to "Frame TV," to simplify operation for my wife and me -- we didn't have to cycle through sources we don't use to get to the one we wanted.
If you're using streaming audio to the C 658 via BluOS, Roon, and/or AirPlay, it's worth enabling Auto Sense and Network Standby in the hardware menus. By default, they're turned off, but this means if the C 658 is in standby mode, you'll have to turn it on from the remote or front-panel switch when you want to stream to it via your home network.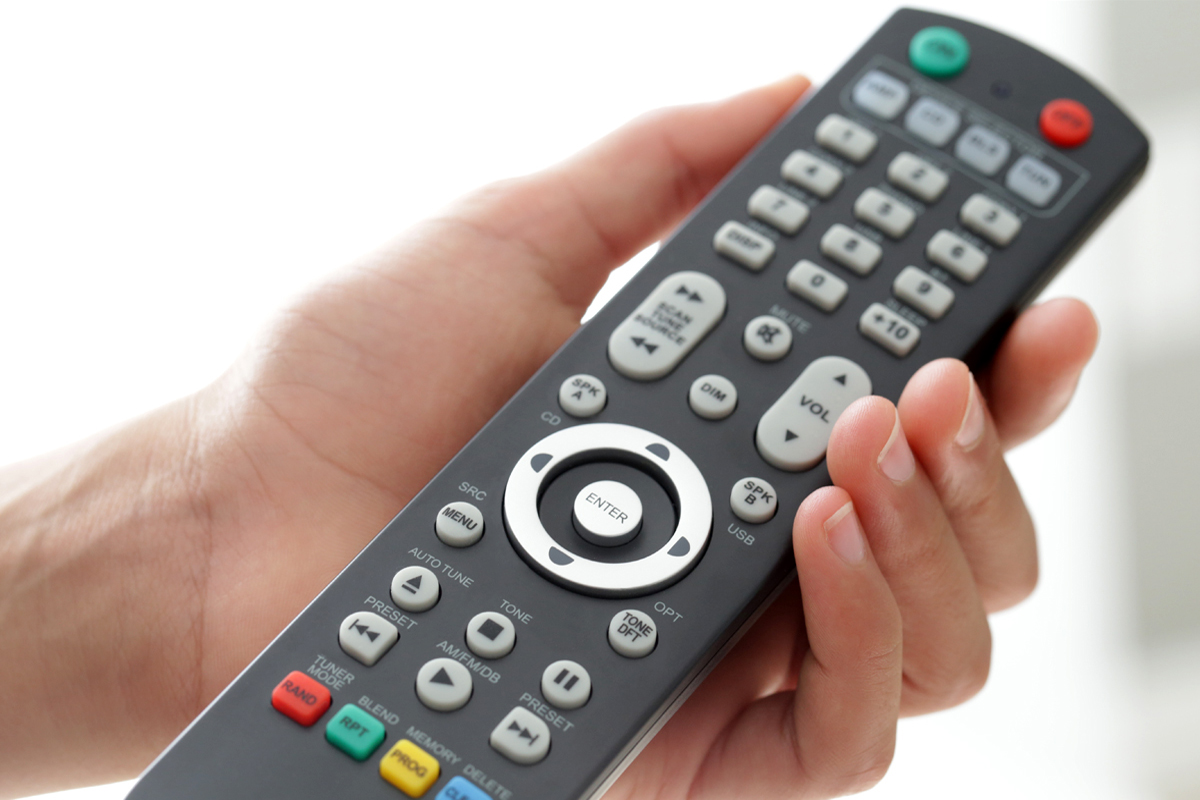 I ran into an annoying bit of networking weirdness. If the C 658 went into standby mode after using Roon or HDMI-ARC I was unable to stream to it from either BluOS or Roon -- the BluOS app could not even find the C 658, even though Network Standby was turned on. I had to perform a hard reset (turn off the main power switch at the back, then turn it back on again) to rectify the problem.
The Bluesound tech-support team identified the problem -- the signal from the Google Wifi access point was too weak, even though it is in the same room as the C 658, and less than 15' away, causing Roon and BluOS to lose contact with the C 658. Moving the access point closer alleviated the problem -- these blips became less frequent -- but did not eliminate it. What finally did the trick was hardwiring a Google Wifi access point to the C 658's Ethernet port. I have not had any problems with Wi-Fi reception when using my Bluesound Node 2i in the same location I used for the C 658.
Room correction
With configuration complete, it was time to connect my Elac Navis ARF-51 active speakers. I used both the unbalanced and balanced outputs, connecting the C 658 to the ARF-51s' RCA inputs using 2m and 5m AudioQuest Mackenzie interconnects, and to the speakers' balanced (XLR) inputs using 2m Argentum Acoustics Mythos interconnects.

There remained one important task: enabling Dirac Live room correction, one of the C 658's signature features. The C 658 includes a microphone for this purpose, along with an adapter for connecting the mike to the C 658's USB port. The setup process is explained on NAD's support page.
After I'd downloaded and launched the Dirac Live app on my iPad Mini, the app prompted me to set up an account, then found the C 658 on my home network. The app lets you optimize response for a small listening area, indicated by an armchair icon, or a wider area, indicated by a sofa icon. Nine measurements are required to optimize for a small area (the option I chose), and 17 for a wide area. I mounted the mike on a camera tripod and, following the app's instructions, placed it where my head would normally be: right in the sweet spot. The C 658 then sent through each speaker a frequency sweep, after which I was prompted to move the mike to the remaining eight locations, beside and in front of the main listening seat.
After completing the measurements and analyzing the results, Dirac Live created a filter to correct for room response and impulse response. With the Live app, users can change the target curve to suit their listening preferences. I simply accepted the filter created by Dirac's software, gave it a name, and uploaded it to the C 658.
Dirac Live identified problems in my living room, which imposes serious constraints on speaker and listener positions. Both speakers are placed 17" from the wall behind them. There is no sidewall near the left speaker, but the right speaker is 28" from a sidewall with a large picture window.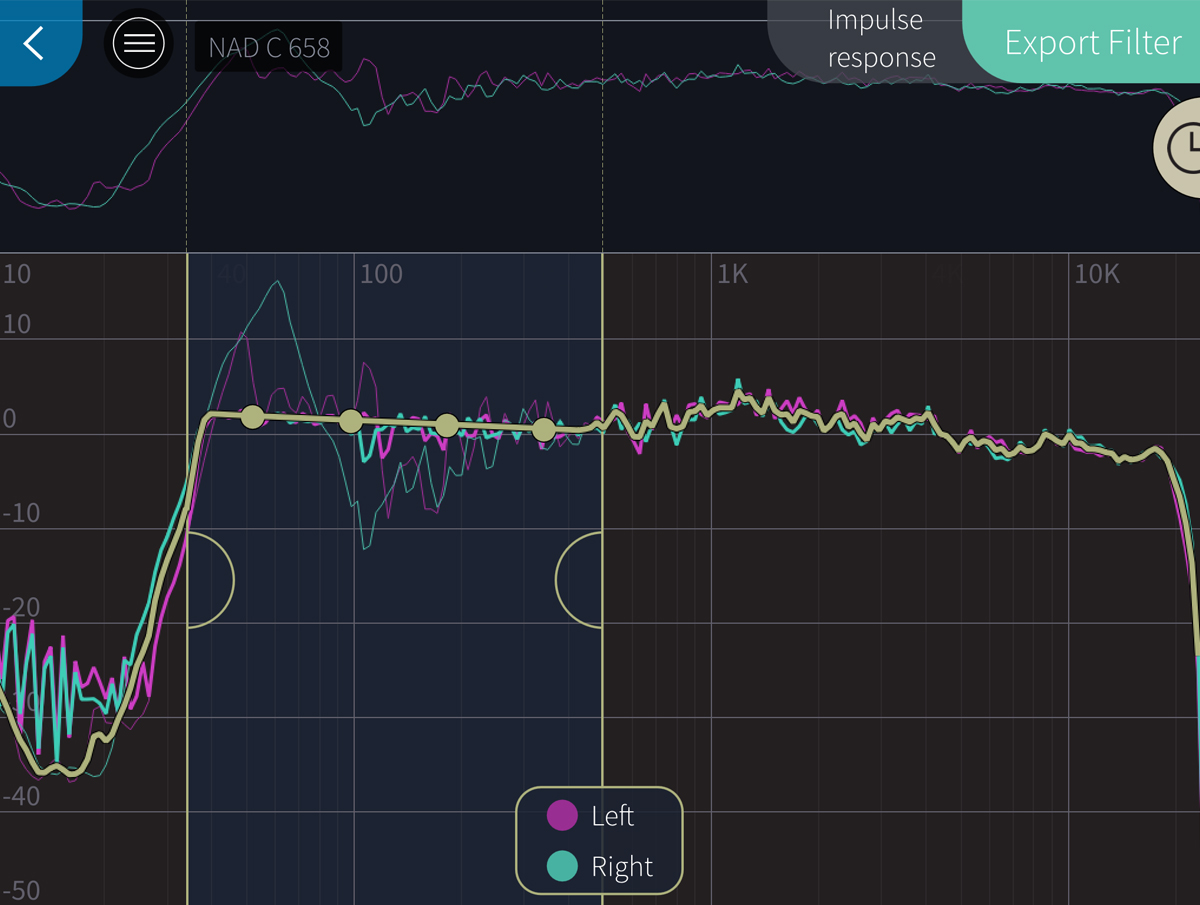 As you can see from the frequency-response graph above, the right channel (green trace) shows a peak of about +18dB around 60Hz, and a -12dB trough around 110Hz. The left channel (purple) shows peaks of +10dB at 50Hz and +8dB at 110Hz. The bold yellow trace is the target curve of the filter created by Dirac Live. From this graph, I expected that Dirac would make a dramatic improvement to the sound. It did.
Listening to music
I began by playing a few tracks from Trilogy 2, a new live album from the Chick Corea Trio (24/96 MQA, Concord Jazz/Tidal) -- without Dirac Live correction. In Joe Henderson's "Serenity," the trio was arrayed on a wide, deep soundstage, with very satisfying image specificity. Corea's playful runs were beautifully articulated, and piano tone was full and warm. Brian Blade's drums were spread across the rear of the soundstage, each surface occupying a specific location. Cymbals had lovely sheen, and snare rolls had great snap and attack. On the far right, Christian McBride's double bass sounded full-bodied, but slightly lacking in definition in the lowest strings.
As satisfying as this was, switching in Dirac Live made a huge improvement. Not surprisingly, the biggest change was in the sound of McBride's bass. It was just as extended as without Dirac, but much better defined. His solo sounded faster and more articulate with Dirac Live -- not only in the lower strings, but through the instrument's entire range. Blade's drumming was more impactful but also smoother. Corea's acoustic piano had greater heft, with no sacrifice in clarity or articulation. The soundstage became deeper and wider, with more space around each instrument.
With this track and others, connecting the C 658 to the ARF-51s with balanced (XLR) cables made a subtle but noticeable improvement over unbalanced (RCA) connection. Transients from piano, drums, and bass were all a little faster, decays slightly longer. With no music playing, I could hear a little noise and hum with my ear a foot away from the right speaker when the unbalanced input was selected, but nothing at all from the balanced input. From my listening chair, I heard no noise with either connection.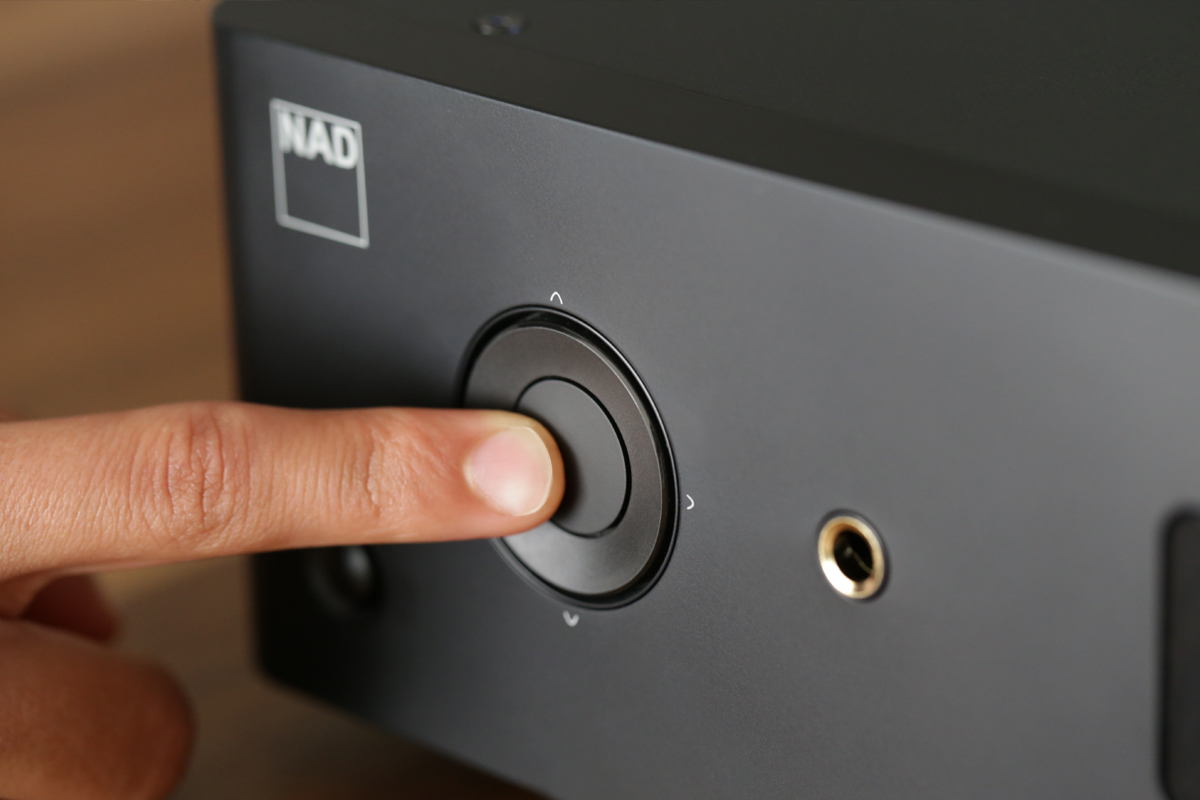 The second movement of Bruckner's Symphony No.9, the Scherzo, begins with a quiet, eerie passage for oboe, clarinets, and plucked violins, followed by a pounding, dramatic passage, played fortissimo by the full orchestra -- woodwinds, brass, massed strings, and timpani -- that seems to announce the dawn of the machine age. The entire movement alternates between these poles.
Through the C 658 and Navis ARB-51s I listened to a new live recording of this symphony by the Pittsburgh Symphony Orchestra conducted by Manfred Honeck (24/192 FLAC, Reference/Qobuz). The opening theme was beautifully filigreed, the brutal passage that followed staggeringly powerful -- even without Dirac Live engaged. Dynamics and soundstaging were both excellent.
Again, switching in Dirac made a major improvement. Orchestral textures became more transparent, and I could hear more hall ambience. Low-pitched instruments -- double basses, contrabass tuba, and timpani -- were much better defined. The soundstage became larger, the instruments on it more precisely positioned.
One of the most moving albums I've heard this year is Ghosteen, by Nick Cave and the Bad Seeds (24/96 FLAC, Ghosteen Ltd./Qobuz), created to commemorate the accidental death of Cave's son Arthur, in 2015. Here too, Dirac Live made a significant contribution. While the album sounded warmer and fatter without Dirac, it was more open and transparent with Dirac -- I was more drawn into Cave's grief-laden music, not just aurally and cerebrally, but bodily and emotionally. With Dirac Live turned on, imaging was more specific and the soundstage was deeper.
Comparison I
I compared the C 658's sound with that of Naim Audio's ND5 XS 2 network music player ($3495). I connected the ND5 XS 2 to the Elacs' unbalanced inputs using AudioQuest Mackenzie interconnects, and the C 658 to the speakers' balanced inputs with Argentum Acoustics Mythos interconnects.
Compared to the C 658 without Dirac Live engaged, the Naim sounded warmer, rounder, more tactile. Microdynamics were superior with the Naim. Transients were more natural, and less etched. I could appreciate Brian Blade's delicate brushstrokes on snare better through the Naim, as well as the subtle transitions from attacks to decays in Christian McBride's double bass. But through the NAD C 658, Blade's rim shots and snare rolls had a little more snap. Corea's piano tone, especially in the upper octaves, had an appealing crystalline quality through the NAD that the Naim couldn't quite match.
Switching in the NAD's Dirac Live filter dramatically shifted the balance. Now the NAD sounded more open and spacious than the Naim, whose soundstage was a little flat by comparison. The C 658 retained the crystalline quality of Corea's piano tone -- by comparison, piano attacks through the Naim seemed a bit blunted. There was also more microdetail through the NAD -- I could better appreciate Corea's playful runs and deft touch. And -- no surprise -- with Dirac Live engaged, McBride's bass playing sounded much more articulate. With the Naim, the uncorrected room boom made McBride's sound somewhat bloated. While the C 658's sound was punchier, more dynamic and more transparent, the ND5 XS 2 had a more beguiling flow and ease of delivery.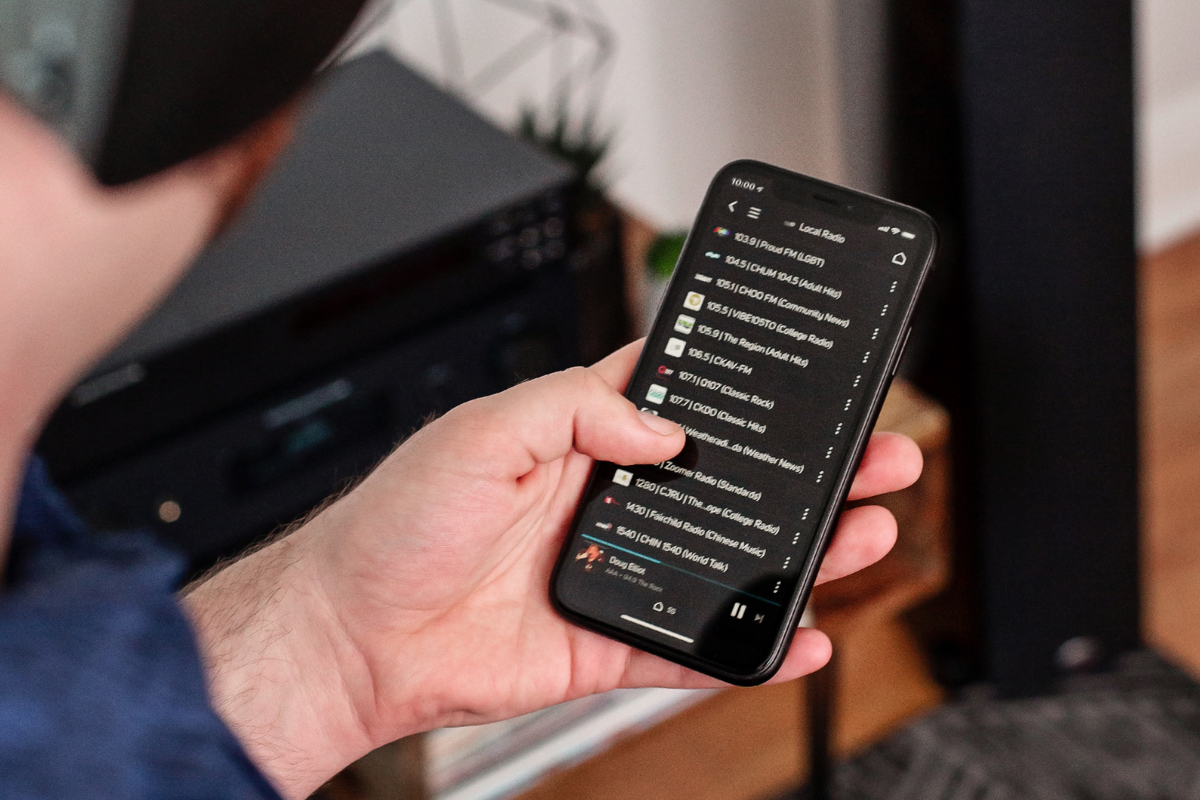 Through the Naim, the eerie opening of the Scherzo of Bruckner's Ninth had greater delicacy than it did through the NAD with Dirac turned off. In the big, powerful sections, the NAD sounded a little more open and transparent, and more dramatic as well. But the Naim was a bit smoother.
Enabling Dirac Live on the NAD created a soundstage that was deeper than the Naim's. Imaging was more precise with the C 658 with Dirac active than with the Naim. Compared to the ND5 XS 2, definition of bass instruments was noticeably better on the C 658 with Dirac active. The NAD was noticeably more transparent -- I could more easily appreciate Honeck's phrasing.
Listening to video
In the webpage for the MDC HDM-2 module, Lenbrook says that "adding video capability to a stereo system" is "no substitute for a full-blown AVR [audio-video receiver] in a home-theater setting." Fair enough -- jet flyovers and battlefield explosions won't sound as dramatic or immersive through a two-channel system as they will with a big 7.2.4 Dolby Atmos setup.
Nonetheless, I was hugely impressed by the sound of film soundtracks through the C 658 with the MDC HDM-2 option. Shot in black and white with handheld Sony video cameras, David Lynch's Inland Empire (2006) has a crude, grainy look that suits the director's weirdly dark vision. But the soundtrack is incredible, with nightmarish effects meant to scare the bejeezus out of the viewer. Through the C 658 and Elac Navis ARF-51s, sudden effects like screaming machinery and static discharges almost had me jumping out of my seat. It wasn't just the Foley that impressed -- the dialog and music (which included angsty emo and spooky rock'n'roll) were also wonderful. I can't imagine any built-in TV sound system, or any soundbar, delivering this kind of experience. A full surround system would of course outdo the C 658+ARF-51 combo in terms of spatial presentation, but only the best could match its visceral impact and timbral accuracy.
This system worked wonderfully for music videos, as I confirmed by spending several pleasantly unproductive hours watching YouTube concerts by some of my favorite artists. These included an NPR Music Tiny Desk Concert by the American jazz singer Cécile McLorin Salvant, accompanied by Sullivan Fortner on piano. Piano tone was perfect -- crystalline up top, authoritative down low. The C 658+ARF-51 combo beautifully tracked Salvant's expressive modulations.
More to the point of this discussion was the complete absence of latency. Close-ups of Salvant's face and Fortner's hands confirmed that video and audio were perfectly in sync, so that I could appreciate the wonder of music being created in real time.
I played the same concert through my Frame TV's optical output, connected to one of the C 658's optical inputs. Again, there was no discernible latency. As noted above, the main benefit of the HDMI-ARC connection was the ability to use the TV's remote to control volume. With the optical connection, I had to use the TV remote to select and play video content, and the C 658's remote to adjust volume. Doing everything with one remote is pretty handy when you're watching a video program in a darkened room. Whether this is enough to justify an extra $349 is a question for the individual buyer.
If your HDMI connections are on your TV and your video components are on the same rack as the C 658, the MDC HDM-2 module will definitely streamline your connections and cut down on cable clutter. For this application, I think the MDC HDM-2 is a no-brainer add-on.
Headphone listening
I experienced one bit of weirdness with the C 658's headphone output. When you plug in a set of cans, the C 658 automatically mutes the main preamp outs. Well and good -- but if you've enabled Dirac Live for loudspeaker listening, the filter remains active when you plug in the 'phones.
Informed of this anomaly by your faithful correspondent, a Lenbrook technical specialist replied, "Indeed it doesn't make sense to have room correction on with headphones. I've forwarded the 'bug' to our development team to see if we can automate the process." So maybe this won't be a problem much longer. In the meantime, users should remember to disable Dirac Live whenever they plug in headphones, and switch it back on when they want to listen through speakers.
That weirdness aside, I was impressed with the C 658's headphone amp -- more than a mere convenience, it drove my HiFiMan Edition X V2 planar-magnetic open-ear headphones with impressive ease.
With the wick just over halfway up, my Edition X V2s delivered satisfying volume levels with "Yellow Wurlitzer Blues," a high-energy boogie-woogie number from Spectrum, a new solo album by the Japanese jazz pianist Hiromi Uehara (24/88.2 FLAC, Tidal/Qobuz). There was no hint of strain or harshness as Uehara pounded out big, bass-heavy chords.
The Scherzo of Bruckner's Ninth showed that the combo of NAD C 658 and HiFiMan headphones was capable of both poetry and power. In the opening passage, the woodwinds and pizzicato violins had lovely delicacy -- as did the light, dance-like passages that recur throughout the movement. The C 658 also energized the HiFiMan cans very effectively during the loud passages -- the pounding brass and percussion sounded effortless.
Comparison II
I also compared the NAD C 658 with my desktop DAC-headphone amplifier, iFi's iDSD Micro BL ($599), connected to one of my MacBook Pro's USB outputs. For this comparison, I streamed the Uehara and Bruckner tracks to the C 658 and MacBook Pro via Roon. Overall, I preferred how the Edition X V2s sounded through the iFi, which was set to Normal power mode, and with its Xbass LF-boost and 3D expansion features both turned off.
With the Bruckner, there was more space around the instruments through the iFi, which made it better at unraveling Bruckner's dense orchestration. The iFi more convincingly conveyed the sheer power of the Pittsburgh Symphony in the big passages for brass and percussion -- the C 658's headphone output was a bit compressed by comparison. But the NAD's headphone output reproduced the quiet passages with a little more sparkle and delicacy.
With "Yellow Wurlitzer Blues," Uehara's piano tone sounded fuller and more authoritative through the iFi amp, more crystalline through the NAD. The iFi sounded slightly less compressed than the NAD in this high-energy number.
All that said, the differences between the iFi headphone amp and the NAD's headphone output were fairly minor. What this comparison confirmed is that the C 658's headphone stage is surprisingly capable.
Conclusion
It should be obvious by now that I loved almost everything about the NAD Classic C 658. I've noted a couple of networking and software problems, but my experience with the BluOS app and the C 658's underlying software was actually almost uniformly positive. Given the complexity of networked music, bugs and hiccups are a fact of life, but they're rarer with BluOS than with other platforms -- and Lenbrook is generally pretty quick to address them. What's more, BluOS is more polished than the software bundled with most network music components. Roon is better still, but it also costs extra.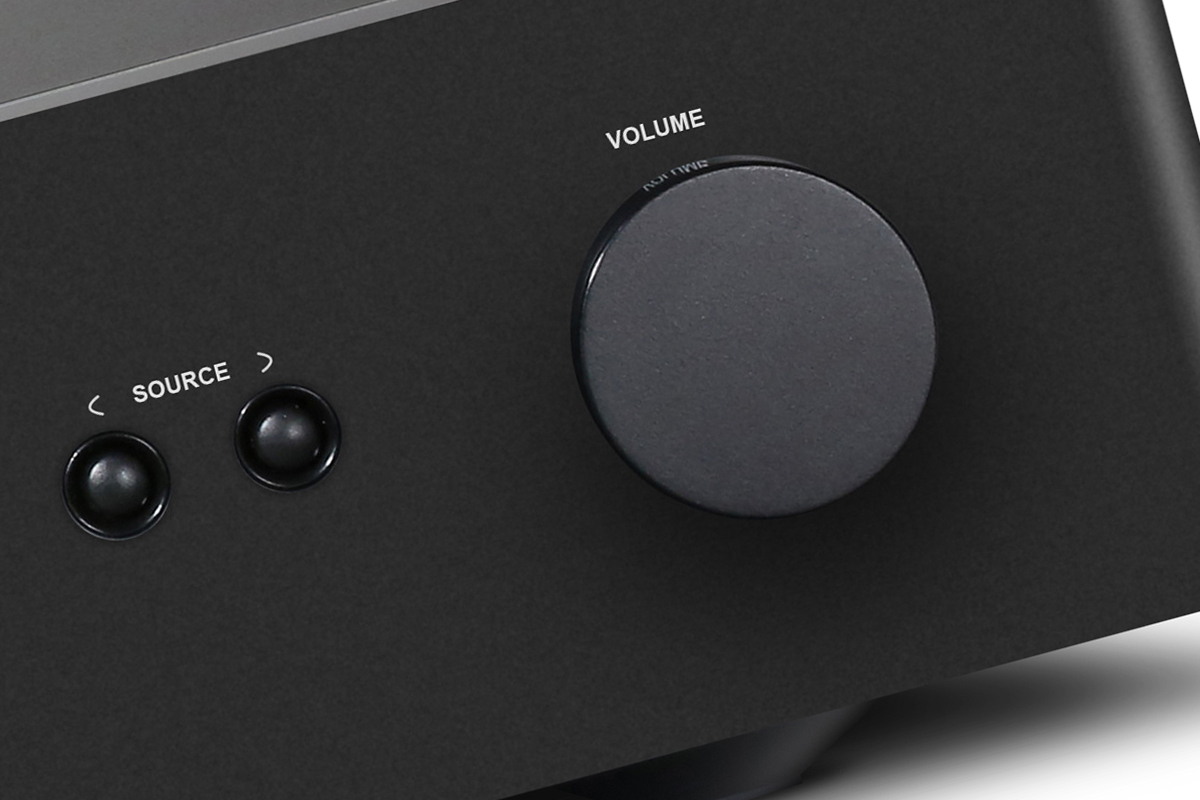 The inclusion of Dirac Live room correction is killer. In his reviews on SoundStage! Hi-Fi and SoundStage! Access, Diego Estan has repeatedly sung Dirac Live's praises, and finds it indispensable. After a month spent with the NAD C 658, I see his point. In my listening room, Dirac Live removed a thick layer of murk I hadn't known was there -- I'd simply gotten used to it. With Dirac Live active, the C 658 made familiar recordings sound brand new. Now, when I switch off Dirac, it seems I'm listening through molasses.
Finally, there's the C 658's extensive feature set: phono stage, headphone amp, subwoofer output with selectable crossover, abundant digital connections, leading-edge network-music capability -- hardly a box is left unchecked.
I'm sure most buyers will mate the C 658 BluOS streaming DAC with a power amp and conventional passive loudspeakers, and they'll be very well served by this combination. But the C 658 seems tailor-made for Simplifi'd hi-fi. It's an ideal match for many of the active speakers recently reviewed on this site -- not only Elac's Navis ARF-51 floorstanders and smaller Navis ARB-51 minimonitors, but PMC's result6 active speakers as well.
Enthusiastically recommended.
. . . Gordon Brockhouse
This email address is being protected from spambots. You need JavaScript enabled to view it.
Associated Equipment
Active loudspeakers -- Elac Navis ARF-51
Source components -- Naim Audio ND5 XS 2 network music player, Apple Mac Mini computer (mid-2011) running Roon Core 1.6, Samsung UN55LS003 55" The Frame UHD TV and UBD-M7500 BD player
Headphones -- HiFiMan Edition X V2
DAC-headphone amp -- iFi iDSD Micro BL
Interconnects -- Argentum Acoustics Mythos (2m, balanced, XLR), AudioQuest Mackenzie (2m and 5m, unbalanced, RCA)
Power conditioner -- iFi Power Station ( C 658, Frame TV, source components)
Power cords -- AudioQuest NRG-Y3 (2m, speakers), Wireworld Stratus 7 (2m, network players)
Control devices -- Apple iPad Mini, LG G7 ThinQ smartphone
Network -- Google Wifi three-node mesh network
NAD Classic C 658 BluOS Streaming DAC
Price: $1649 USD; MDC HM-2 HDMI module, add $349.
Warranty: One year parts and labor.
NAD
Lenbrook Industries Limited
633 Granite Court
Pickering, Ontario L1W 3K1
Canada
Phone: (905) 831-6333
Website: www.nadelectronics.com