A half-century ago, when I got into audio, most amplifiers had front panels that looked like jet cockpits. And the higher a model was in its manufacturer's product line, the more knobs and switches it had.
In the late 1980s, those busy front panels gave way to minimalist designs with little more than an on/off switch, a volume control, and a source selector. Their jack packs, too, shrank, as did their manuals. Instead of offering listeners a massive range of settings and adjustments, minimalist amplifiers invited people to simply put on some music and listen.
Lately, products such as streaming DACs seem to be reversing history. Take, for example, iFi Audio's Pro iDSD ($2749, all prices USD). This compact component has solid-state and tubed output stages, and the tube stage has two operating modes. Users can activate DSD Remastering (DSD512 or 1024), or leave this feature turned off. They can apply one of three oversampling digital filters (to 705.6/768kHz), or opt for no oversampling. Following a 2019 firmware update, the Pro iDSD also performs full MQA decoding and rendering of Tidal Masters content. By my calculations, that adds up to 72 permutations!
That might sound like the opposite of Simplifi'd hi-fi, but there's another way to think about it. The Pro iDSD is more than a DAC. It also has a built-in network streamer, even if, as outlined below, that's not one of its strong suits.
The Pro iDSD's flexibility and small size make it very attractive for use in real-world living spaces such as the living room of the Edwardian rowhouse I share with my infinitely better half. Combine it with a pair of active speakers -- e.g., my Elac Navis ARF-51s ($4599.96/pair) -- and you have a simple, small-footprint music system that can deliver (spoiler alert!) killer sound. Of course, you can also use the Pro iDSD with a power amplifier and passive speakers -- or, for that matter, with an integrated amp.
Front to back
A quick glance at its front and rear panels is enough to tell you that the Pro iDSD is a very flexible DAC. Measuring just 8.7"W x 2.5"H x 8.4"D and weighing 4.4 pounds, the Pro iDSD's enclosure is made of aircraft-grade aluminum, with concentric, curved slots on the side and top panels for cooling its digital processors and its two new-old-stock (NOS) GE5670 tubes, which glow orange through the slots when the tubed output is selected. The overall look is simultaneously classy and funky.
At top left on the front panel, a backlit iFi logo glows various colors to indicate the Pro iDSD's operational statuses. At bottom left is the on/standby switch, and above and to its right is a large knob for selecting among inputs, and adjusting polarity and display brightness. To the right of that is a little slider for selecting the output mode: Solid-State, Tube, or Tube+ (described in greater detail below).
Directly above the slider is the filter selector. Push it to cycle through the three remastering options -- DSD512, DSD1024, none -- or rotate it to choose the filter. In a technical paper on the Pro iDSD's Gibbs Transient Optimized (GTO) filter, iFi justifies this flexibility by noting that while all digital filters -- including non-oversampling ones -- are "wrong," they differ "in how they are wrong, [and] this influences the objective measured performance as well as the subjective listening experience with music, and indeed, different types of music."
In the center of the front panel is a circular OLED screen that displays, as each is selected, the names of the input, filter, and remastering mode. During playback, the screen also displays the input and output sample rates, the input and filter names, and the operating mode: PCM, DXD, DSD, or MQA.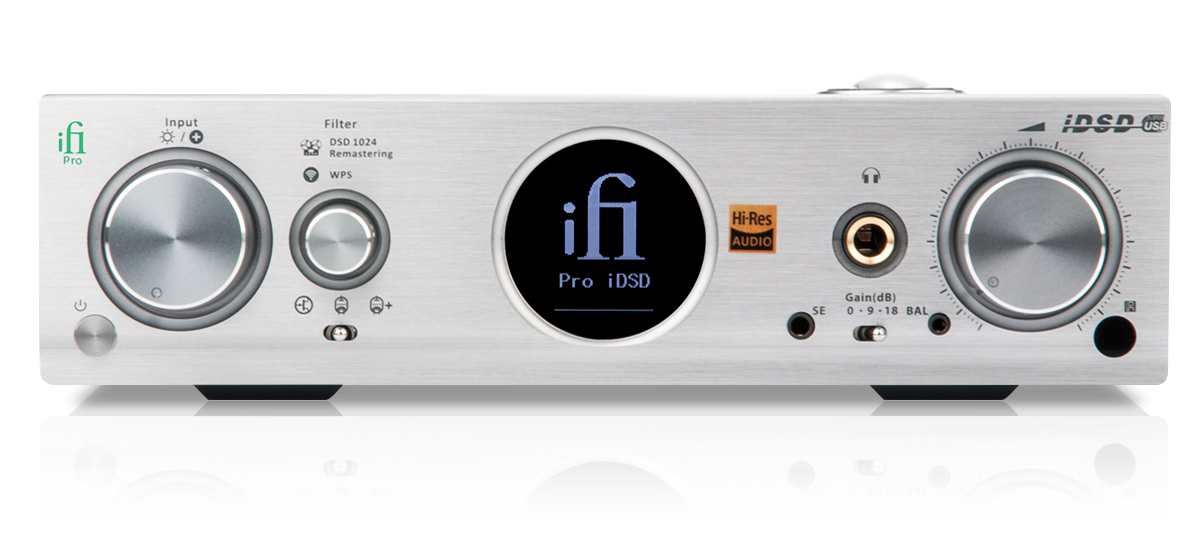 At right on the front panel is a large, motorized, aluminum volume control made by Alps, with a smooth action. There's also a credit-card-sized remote control with membrane keys for adjusting volume, but that's all the remote does -- everything else is controlled from the front panel.
To the left of the volume knob is a 6.3mm headphone jack, and below it an unbalanced 3.5mm headphone jack, a three-position slider switch for headphone gain (0/9/18dB), and a balanced headphone jack. For the last, my review sample had a 4.4mm Pentaconn jack; a 2.5mm jack is available. The Pro iDSD's specified power outputs for headphones are 1575mWx2 RMS into 64 ohms, or 4200mWx2 maximum into 16 ohms.
Then there's the rear panel: At far right is a 15V DC input for the Pro iDSD's power supply, and to its left a 15V DC output for supplying power to another compatible component, such as iFi's iCan headphone amp. To the left of that is the Wi-Fi antenna. The Pro iDSD's built-in network streamer supports AirPlay and UPnP.
On the left side are pairs of balanced (XLR) and single-ended (RCA) line-level outputs, these configurable for fixed- or variable-level output via a small rotary switch. The same switch can also be used to choose between two output-voltage settings: HiFi (2.3V RCA, 4.6V XLR) and Pro (5V RCA, 10V XLR).
Just above this switch is an Ethernet port, and to its right are a USB Type-A port for connecting an external drive, a USB Type-B port for connecting a computer, and a slot for a microSD card. Below the USB Type-B port is a combined coaxial/optical S/PDIF input (a dongle for connecting a TosLink interconnect to that port is included).
To the right of the S/PDIF input are an XLR jack for AES/EBU digital in and a BNC digital input. There's also a BNC Sync output, and between the two BNC jacks is a little Clock Mode dial with four settings for using an external data clock: Atomic, DARS, 10MHz, and Standalone. This can be used to synchronize the Pro iDSD with other devices, or to sync multiple DACs for multichannel playback.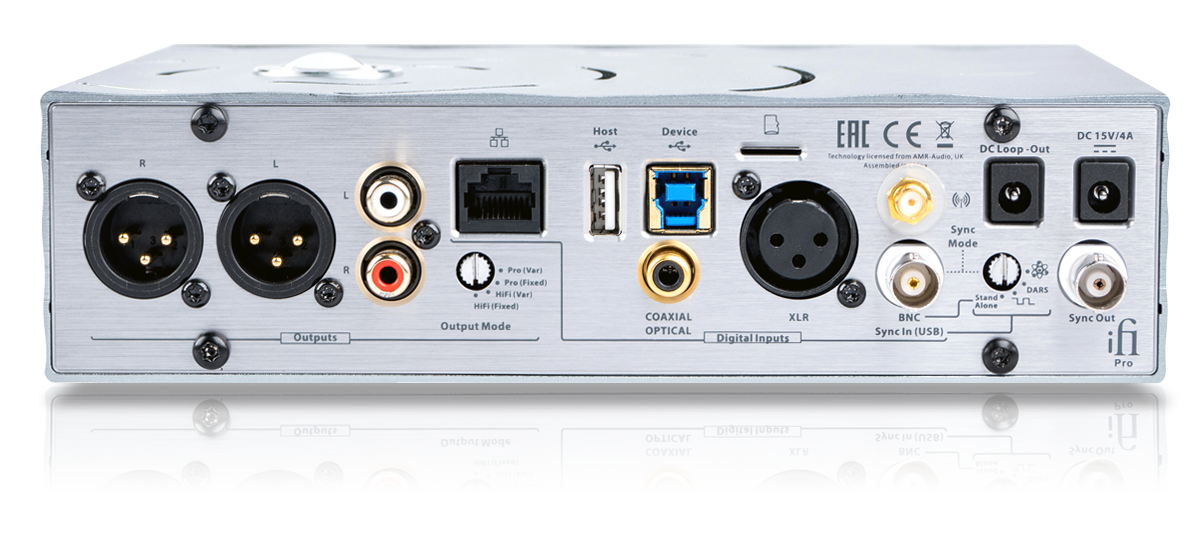 The Pro iDSD's maximum resolution is 32-bit/192kHz from USB storage, Wi-Fi, and Ethernet; or 24/192 via S/PDIF, AES/EBU, and BNC. DSD64 via DSD over PCM (DoP) is also supported on these sources. Via the USB Type-B port, the Pro iDSD can accept resolutions of up to 32/768 PCM and DSD512.
The signal path
There's so much leading-edge digital processing going on inside the Pro iDSD that it's worth taking a close look at what happens to audio data between input and output.
All of the Pro iDSD's inputs, including USB, are galvanically isolated, to block stray currents that cause noise. Incoming data flow to a memory buffer, where they're reclocked using the Global Master Timing (GMT) technology developed by iFi's parent company, Abbingdon Music Research (AMR), to eliminate jitter, and from there to a 16-core XMOS X-Core 200-series DSP specified to crunch two billion instructions per second (2BIPS), which decodes the signals. A second processor, a Crysopeia field-programmable gate array (FPGA), executes the digital filters and DSD Remastering.
There are two non-oversampling filters: Bit-Perfect and Bit-Perfect+. The latter adds an analog filter, developed by AMR, to restore the detail and air lost by traditional non-oversampling filters, iFi says. The advantage of non-oversampling filters is the complete absence of pre- and post-ringing; but with no oversampling, ultrasonic spuriae are not suppressed.
The other filters perform 16x oversampling on PCM data, to 705.6 or 768kHz. Options include Apodizing, a moderately short (128 taps) filter claimed to avoid pre-ringing and to compensate for the impulse distortion introduced during recording; and Transient Aligned, a very long (16,384 taps) filter claimed to maximize pre- and post-ringing on impulses while very effectively suppressing ultrasonic spuriae. According to iFi, the Apodizing filter produces "a slightly defocused and enlarged soundstage, and correct HF detail and air"; Transient Aligned delivers "an enlarged soundstage and very smooth high frequencies."
The GTO filter is very short (32 taps), with no pre-ringing. While post-ringing is higher in amplitude than the Apodizing and Transient Aligned filters, it's very short in duration -- 0.7msec, or brief enough to be masked by the human hearing mechanism, per iFi's technical note; the GTO's post-ringing "cannot be heard," they say. Unlike non-oversampling filters, GTO "significantly attenuates" ultrasonic spuriae, iFi claims.
If the DSD Remastering function is not selected, the PCM data flow from the FPGA to the DAC section after digital filtering, or from the DSP to the DAC if the Bit-Perfect or Bit-Perfect+ filter is selected. If DSD512 or DSD1024 remastering is selected, the FPGA converts the PCM data to very-hi-rez DSD, which then flows to the DAC section.
DSD512 streams flow directly from DSP to DAC, as do DSD64, 128, and 256 streams if DSD Remastering is not selected. If DSD512 or 1024 Remastering is selected, DSD64, 128, and 256 streams are processed by the FPGA using the user's preferred filter: GTO, Apodizing, or Transient Aligned. The single-bit DSD streams are converted to Digital eXtreme Definition, aka DXD (24/352.8 or 24/384), resampled using the user's preferred filter, then converted to DSD512 or 1024 and output to the DAC.
Data are reclocked before being passed along to the DAC section, which comprises four bit-perfect Burr-Brown DXD/DSD DACs in a fully differential configuration. Instead of active output filters, the DAC output is routed through a third-order passive filter to remove ultrasonic noise. Active filters "struggle with the amount of [radio-frequency interference] and noise they have to handle," iFi says, whereas the Pro iDSD's passive filter is effective "well into the MHz region."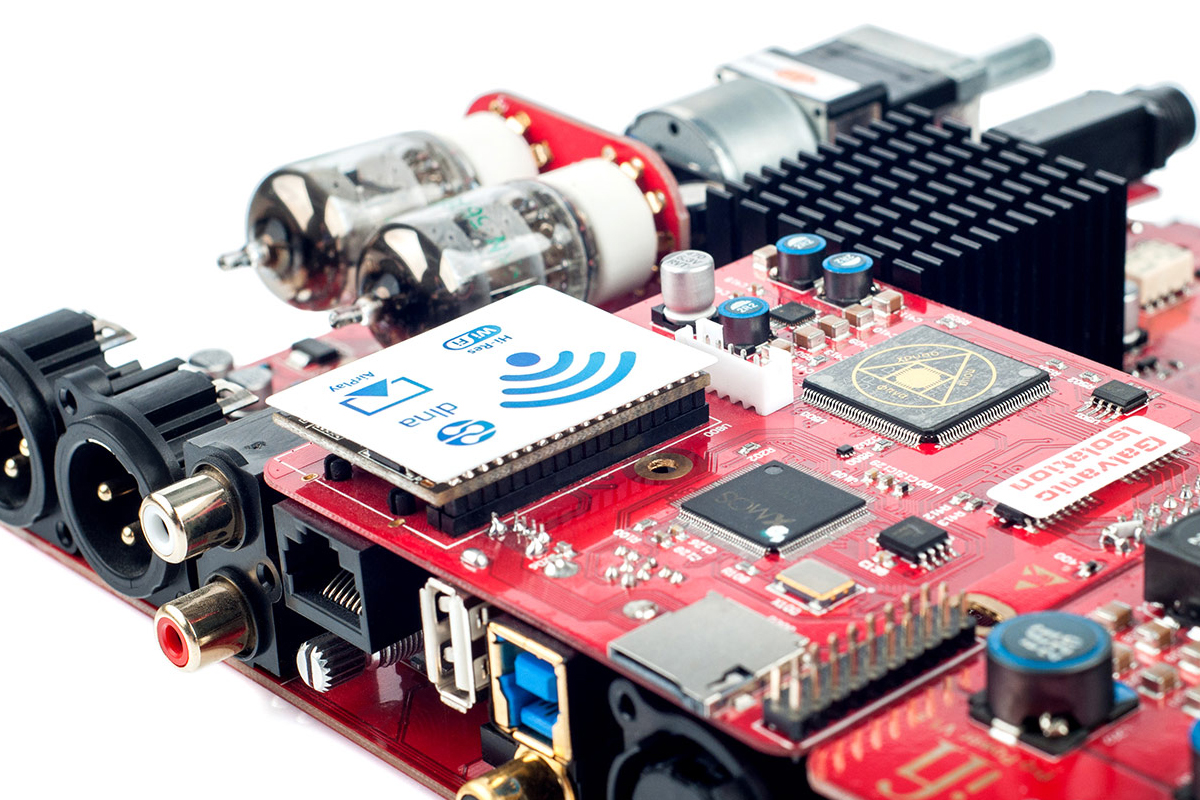 After being filtered, fully differential analog audio flows to a six-track Alps potentiometer, and from there to the fully discrete class-A amplifier stage. As noted, the Pro iDSD has three output modes: Solid-State, which routes audio through a JFET-based input stage; Tube, which routes audio through a tubed input stage; and Tube+, which uses the same tubed input stage but reduces overall loop gain and negative feedback to minima, at the cost of higher harmonic distortion, primarily even-order. Tube+ output provides greater harmonic richness, iFi says, while Tube provides better transient performance. The rest of the amplifier section comprises a bipolar-based second stage and a MOSFET-buffered bipolar output stage.
From there, the signal flows to your headphones, to your amp and speakers, or, in my case, to active speakers.
Setup
After unpacking the Pro iDSD, I connected it to my Elac Navis ARF-51 active speakers using a 2m pair of Argentum Acoustics Mythos balanced interconnects (XLR). My primary music source was an Apple MacBook Pro running Audirvana Plus 3.2.19 and Roon 1.7, and connected to the Pro iDSD's USB Type-B input with a 2m-long AudioQuest Cinnamon interconnect. Secondary sources included Pro-Ject Audio's Stream Box S2 Ultra network streamer, also linked via USB, and my LG G7 ThinQ smartphone via Wi-Fi.
While the manual provides abundant detail on the Pro iDSD's design and features, it gives only cursory guidance on setup. Network setup is a case in point. If your router supports Wi-Fi Protected Setup (WPS), you can initiate the pairing process with a long press of the Pro iDSD's Filter button, and complete it by pressing the WPS button on your router.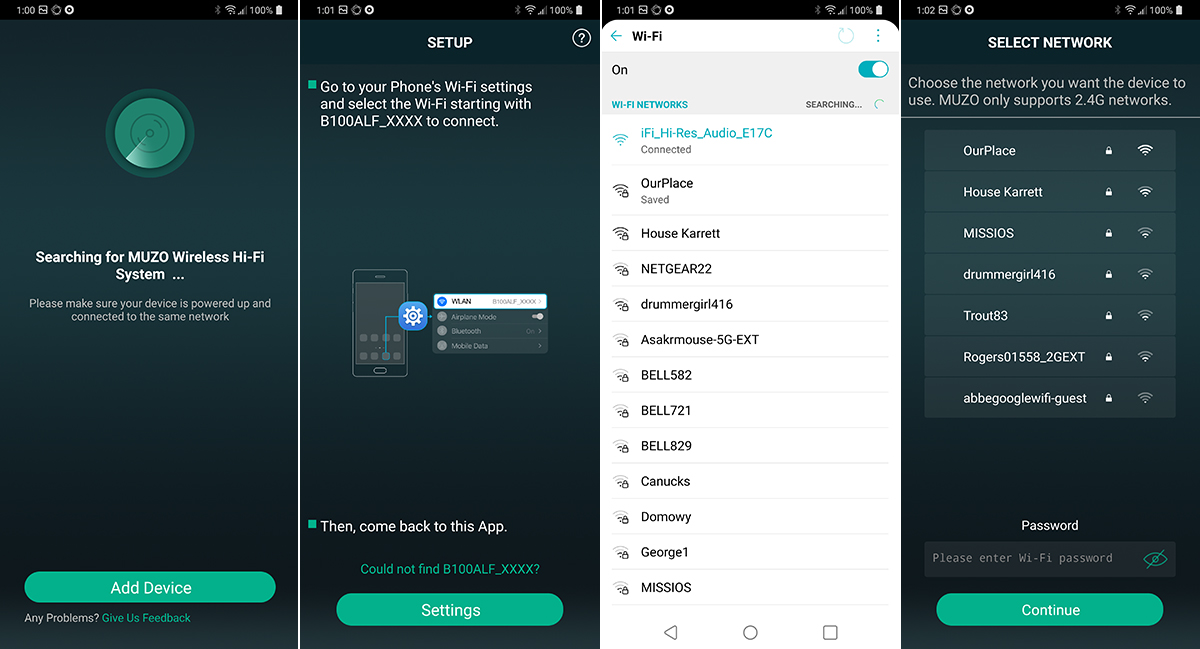 My Google Wifi network doesn't support WPS. Per a sentence in the Pro iDSD's manual about its Wi-Fi antenna -- "Using the Müzo player app, connect the Pro iDSD to the local Wi-Fi system" -- I downloaded that app from Google Play to my smartphone. This is the same app iFi uses for its Aurora wireless music system, which I reviewed in January. I wasn't a big fan then, and I haven't changed my mind.
As outlined in that review, Müzo's network setup routine is somewhat awkward, requiring some second-guessing and trial and error. Daily use is even worse. You can use the Müzo app to play music from the Pro iDSD's USB Type-B port or microSD slot, but the app doesn't display metadata -- only a long list of filenames in alphabetical order. This makes it impossible to find the music you want on an attached drive or card. So what's the point of this feature?
The Müzo app has clients for Tidal and Qobuz, but doesn't support MQA playback from Tidal or hi-rez playback from Qobuz. Nor does it support gapless playback -- a serious drawback, especially but not exclusively for classical listeners. But you'll get gapless playback if you stream to the Pro iDSD via AirPlay.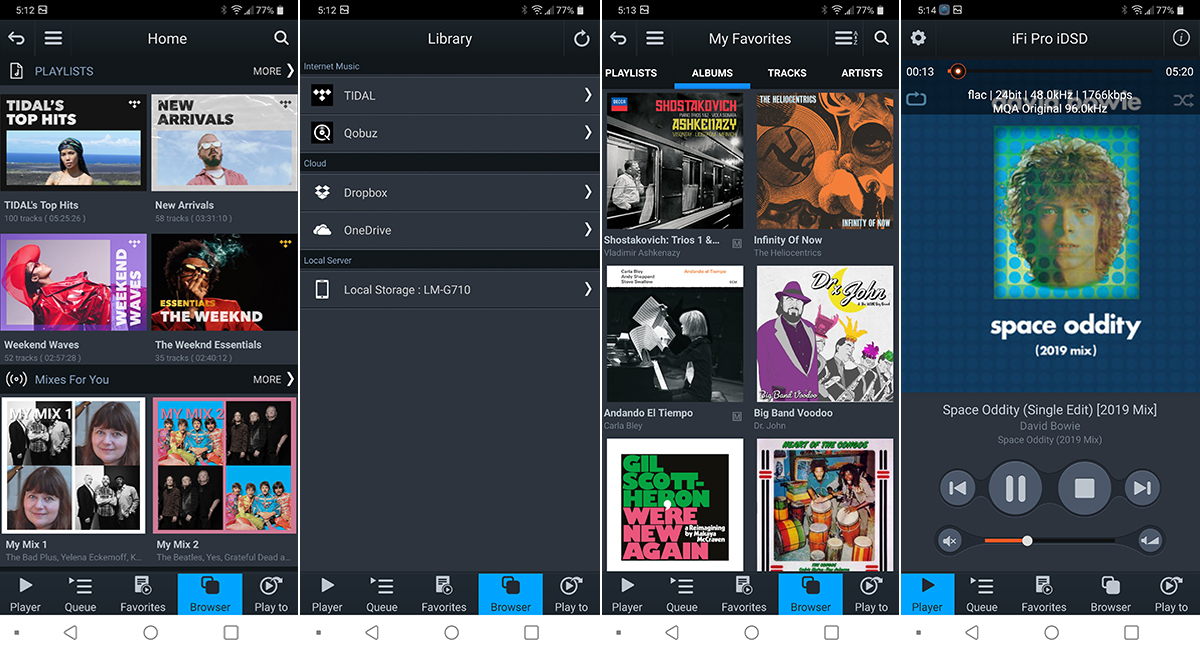 Müzo is required for Wi-Fi setup if your router lacks WPS, but for daily use you can use any UPnP player. iFi recommends the mConnect app, which has clients for Tidal and Qobuz, and supports MQA playback from Tidal and hi-rez playback from Qobuz. Using mConnect, I was able to stream hi-rez music from my phone and from Qobuz.
But Tidal Masters files were played at 16/44.1. When the Pro iDSD receives MQA content from any source, its display should confirm that the DAC is in MQA mode. This didn't happen -- not with mConnect, and not when I played Tidal Masters content from my MacBook Pro using Audirvana, Roon, or the Tidal desktop app.
I spent a few frustrating hours trying to figure out what was going on. Page 1 of the manual packaged in the sealed box containing my review sample lists "Master Quality Authenticated (MQA) Playback" as one of the Pro iDSD's features, and the MQA logo is prominently emblazoned on the Pro iDSD's shipping carton. Hmm.
Following a suggestion on iFi's support pages, I looked in the USB Device Tree of my MacBook Pro's System Information utility, where I discovered that the review sample was running firmware v.1.6. Turns out iFi didn't enable MQA support until firmware v.2.01, and has since issued a maintenance upgrade: v.2.08. It seems that iFi has been selling Pro iDSDs with old firmware, but shipping them in new cartons with new manuals!
This sort of thing shouldn't happen, but it should be easy to fix -- just install the new firmware, right? No such luck. When I tried to update the firmware, I kept getting an error message: Firmware Update Failed. So I did all of my listening for this review using only the review sample's old firmware: v.1.6. To play Masters content from Tidal, I used the Roon and Audirvana apps on my MacBook Pro, which performed core decoding of Tidal's MQA streams.
Other weirdness: With all sources, in both Tube and Solid-State modes, I heard a mild hiss that varied with the volume setting, and a quiet motorboating sound that was constant in level regardless of volume setting. The noise was audible 1' from the speaker, but not from my listening position -- and was never audible with music playing. Sometimes, when I switched inputs or filters, I heard a loud transient through the speakers, but not every time -- I could find no pattern to isolate the cause.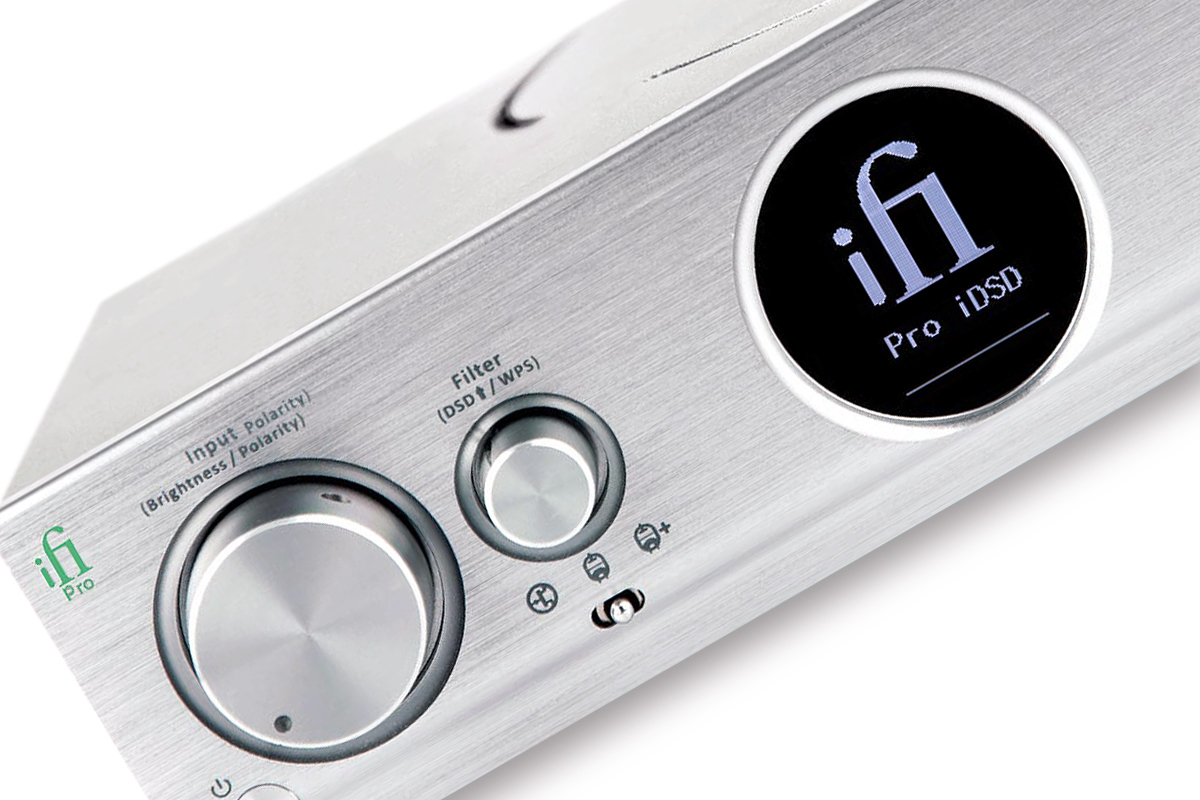 Static electricity could send the Pro iDSD into conniptions. Once, when I touched the rear panel of one of my Navis speakers to adjust an EQ switch, a little zap between the speaker and my finger threw the Pro iDSD into protection mode. To resuscitate it, I had to disconnect and reconnect the power. Another time, as I played music from my MacBook Pro via USB, a little zap between my finger and the MacBook's keyboard shut down music playback. Sometimes, when I began playback from my MacBook via USB, the Pro iDSD produced garbled, distorted sound, and sometimes no sound at all. Disconnecting and reconnecting the power always solved those problems.
Operational issues like these can make my blood boil. But a few minutes of listening always brought my blood pressure back down, because the Pro iDSD delivered killer sound -- as in to die for.
Playing with sound -- I
As iFi notes, the differences among filters are more audible with content of CD resolution than with higher-rez recordings. I cued up in the Audirvana music-player app on my MacBook Pro a CD rip of one of my favorite film scores: Philip Glass's music for The Secret Agent (1996), with Michael Riesman conducting the English Chamber Orchestra (16-bit/44.1kHz ALAC, Nonesuch). I began in Solid-State mode, with DSD Remastering turned off and the Bit-Perfect filter selected.
The titular first movement opens with a quiet descending motif for solo cello, alternated with intense double-stopped chords. Twenty seconds in, the plaintive main theme enters on English horn. What most impressed me were the Pro iDSD's powerful dynamics, which heightened the expressiveness of the two soloists and the sense of foreboding.
Just before the one-minute mark the violins enter to accompany the soloists, followed by the full orchestra. The emotion steadily builds, and by the track's halfway point has become a swirling cauldron of feeling. The Pro iDSD presented the ECO players on a big, expansive soundstage that extended well past the speakers' outer side panels.
The Pro iDSD lets you switch filters on the fly. The differences were nowhere near night-and-day, and I could happily live with the sound of any of them. But those differences were audible -- and interesting.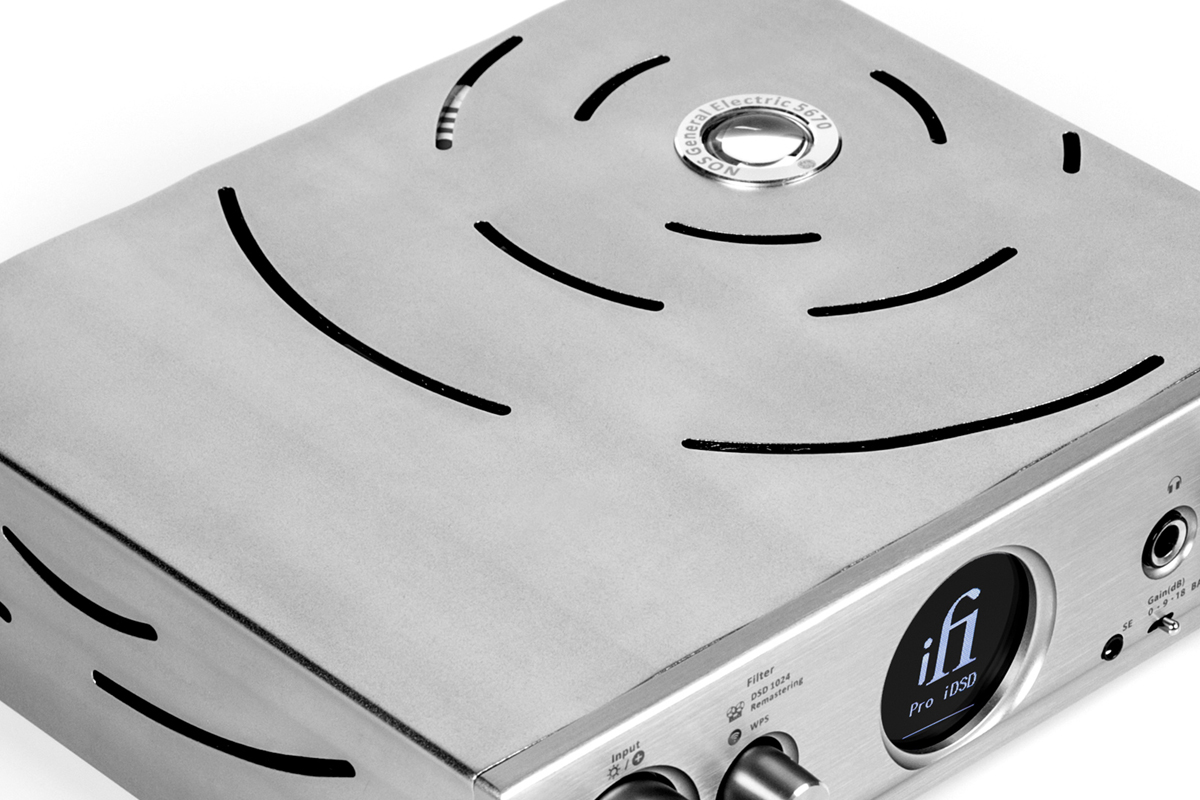 With the Bit-Perfect filter the solo cello was rich and woody, but the violins were a bit steely and truncated compared to the other filters. The soundstage was very large, but aural images of individual instruments were just a bit vague. However, the sound had a straightforwardness that I found very appealing. As advertised, Bit-Perfect+ added a bit more sheen to the violins and helped tame their steeliness.
GTO added some muscle and authority, and opened up orchestral textures slightly -- with the Bit-Perfect filters, they'd sounded a little closed-in. The English-horn passages now sounded more expressive, and the cellos had more rosiny bite if less woody body. Imaging was more precise -- everything was more locked in place.
Apodizing sounded gentler and more spacious than GTO, but also less muscular. Transient Aligned produced a beguilingly spacious sound, which I really enjoyed, but it also seemed a touch murkier in the emotional middle section.
Regardless of the filter selected, I loved what the Pro iDSD did with this music. With all settings, the dynamics and timbres of Fred Sherry's cello and Henry Schuman's English horn were superbly reproduced, maximizing the emotional impact of their playing. If I had to pick one filter and use only it, it would be the GTO -- but I can easily imagine other listeners preferring one of the others.
Playing with sound -- II
Time to check out those tubes. I chose two great DSD tracks in Audirvana on my MacBook Pro.
First up was William Byrd's motet Ne Irascaris Domine (Be not angry, Lord), from Heavenly Harmonies, a beautifully sung and recorded album of Elizabethan sacred music by the English ensemble Stile Antico (DSD64, Harmonia Mundi) -- another apt selection for our anxious time. What I heard was sublime.
Starting in Solid-State mode, the Pro iDSD tracked the singers' swells and word painting impeccably, extracting all the restrained emotion in this masterpiece. When all 12 members sang, it was easy to distinguish individual voices and lines, yet all were presented as an organic whole. The sounds of voices decayed beautifully into a big, reverberant soundfield while remaining clearly articulated. This created a compelling sense of the recording space -- All Hallows Church in Gospel Oak, in northwest London.
In Tube mode the soundstage became larger in every dimension, especially height -- I had an even fuller appreciation of that big Gothic-revival church. But dynamics weren't as sharp, so the singers' diction and word painting weren't quite as specific. I preferred the Tube setting, finding it more atmospheric -- everything seemed more filled in. When I switched to Tube+ the sound became a little gentler, but at the same time, the singers had a slightly more organic, flesh-and-blood quality. I preferred the greater precision of the Tube setting.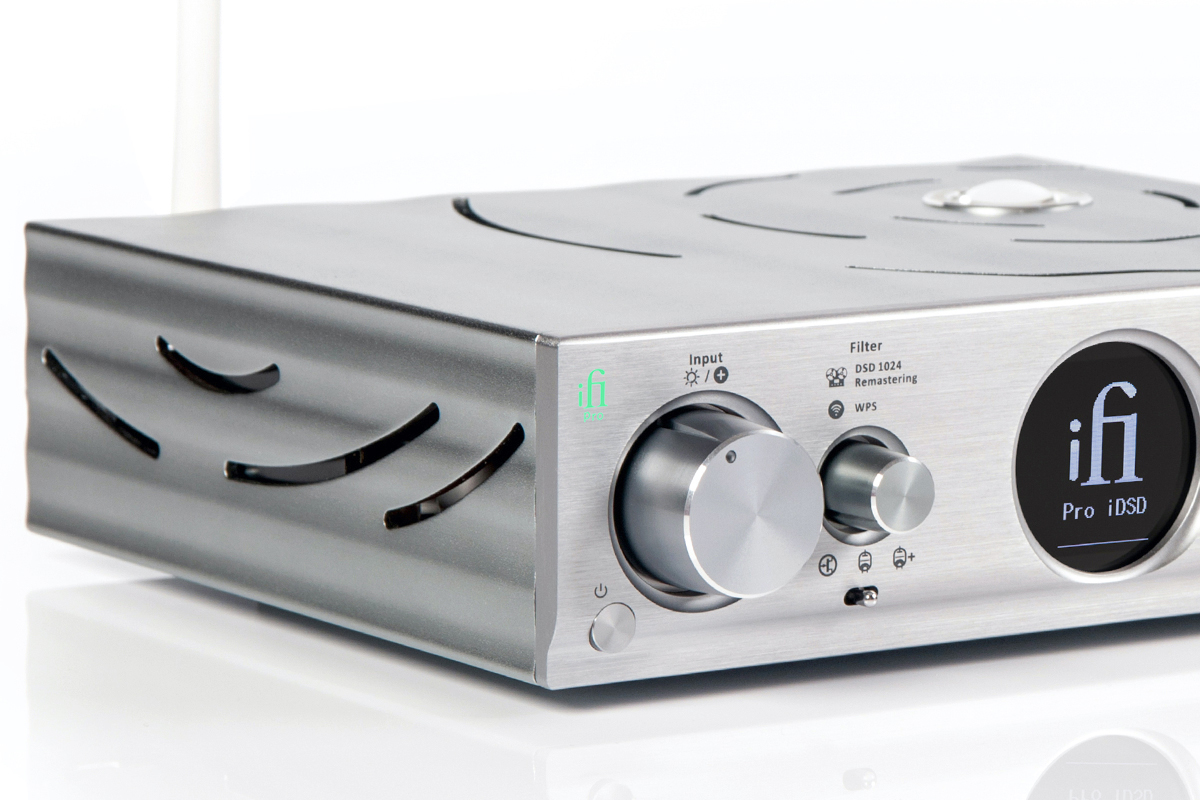 To unbutton a bit, I cued up a jazz classic -- "Take Five," from the Dave Brubeck Quartet's Time Out (DSD64, Columbia). This track really showed off the Pro iDSD's dynamic chops. Joe Morello's drum beats were fast, sharp, and substantial, and his cymbals sounded startlingly natural, their sharp metallic attacks followed by a rapidly decaying sheen. Paul Desmond's sudden alto-saxophone toots were effortlessly reproduced, his subtle flourishes beautifully highlighted. The soundstaging of this early stereo classic, recorded in 1959 in Columbia Records' large 30th Street Studios, was wonderful, extending far beyond my speakers' outer panels. The image of each instrument had a well-defined position and realistic size, and sounded convincingly three-dimensional.
In Tube mode, Morello's drums didn't hit quite as hard, but his subtle little rolls stood out more. Desmond's big toots weren't as dramatic, but the sound of his alto was a bit richer, and his subtly expressive flourishes emerged more into the foreground. Tube+ added a further degree of richness, at the expense of dynamic bite. On this track, it was a toss-up between the Solid-State and Tube modes -- forced to choose, I'd go with Solid-State.
My inclination would be to leave the Pro iDSD in Solid-State mode most of the time, and use the Tube modes only for serious, focused listening. Among other things, this would maximize the life of those two NOS tubes.
Playing with sound -- III
To check out the iFi's DSD Remastering feature, I chose one of my favorite albums of 2018: After Bach, by jazz pianist Brad Mehldau (24/96 FLAC, Nonesuch). On this album, Mehldau intersperses selections from J.S. Bach's Well Tempered Clavier with his own improvisations.
I set the Pro iDSD to Solid-State mode, selected the GTO filter, and cued up the album's most dramatic track, "Ostinato." Here Mehldau takes advantage of his Steinway's full tonal and dynamic ranges, and the Pro iDSD rose to the occasion. His ostinato bass notes and staccato chords sounded immensely powerful -- I can't recall ever having heard a concert grand more authoritatively reproduced in my living room. I was just as impressed with the portrayal of the sound of the recording venue -- Mechanics Hall, in Worcester, Massachusetts. Decays went on and on, without compromising the crispness of Mehldau's playing in any way.
With DSD512 remastering, runs weren't quite as crisply articulated and attacks weren't as forceful -- but they had an appealing roundness that sounded a bit more natural. There seemed to be more air between the notes, rather than space. This difference was magnified when I switched to DSD1024. The soundstage was even more filled in, and higher. The sound was a little rounder, but attacks weren't as fast, and details in Mehldau's runs not as clearly delineated.
Comparison
Pro-Ject Audio's Pre Box RS2 Digital DAC-headphone amp is a natural comparison for the Pro iDSD, and not only for its price ($2499). Like the Pro iDSD, it has tubed and solid-state output stages (the headphone amp is solid-state only), many digital filtering options (but no DSD Remastering), MQA decoding, and support for hi-rez PCM and DSD. Unlike the Pro iDSD, the Pre Box RS2 lacks built-in networking or streaming capability.
Not wanting different filter designs to complicate this comparison, I selected the iFi's Bit-Perfect+ filter setting (i.e., no oversampling), and the Pro-Ject's No Oversampling setting.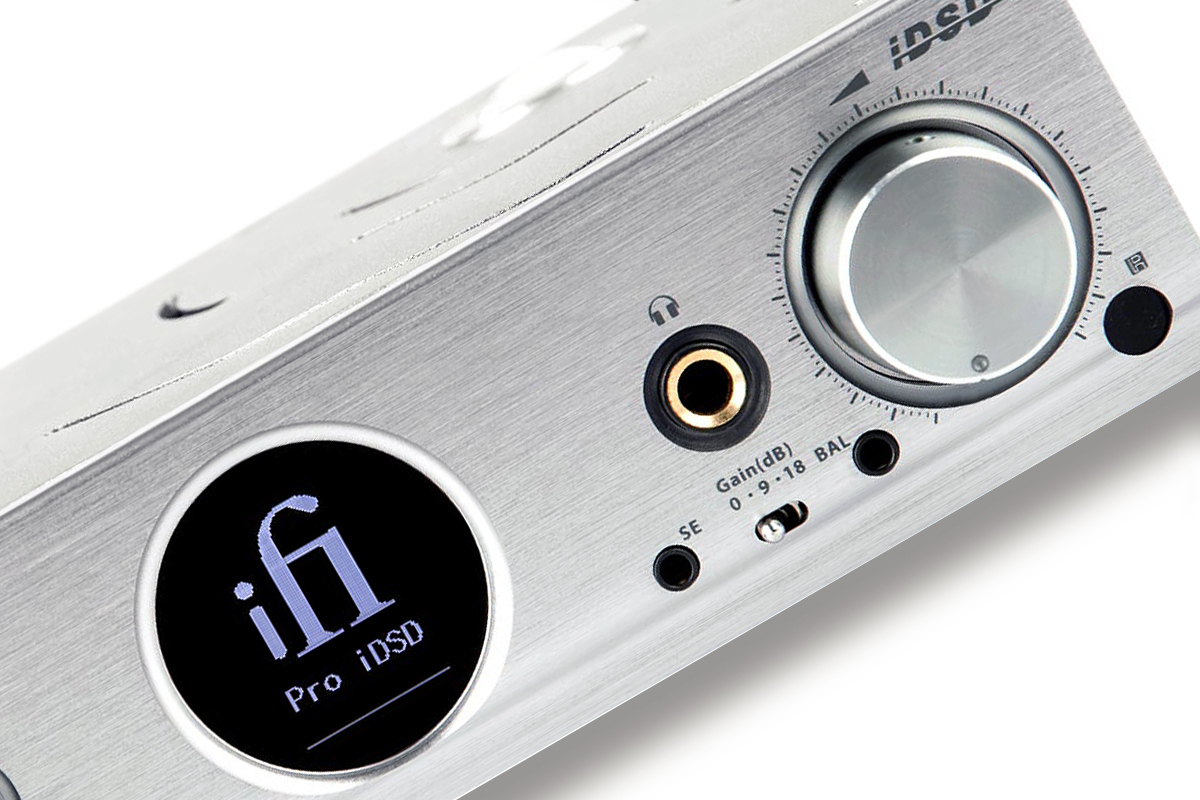 First up was "Ostinato," from Mehldau's After Bach, which I played from Roon. The tone of Mehldau's piano was a little warmer and richer through the Pro-Ject, but slightly clangy through the iFi. Transients weren't as fast via the Pro-Ject as from the iFi, and dynamics were slightly more compressed. The iFi more effectively conveyed the immense power of Mehldau's Steinway. It also gave a better sense of the acoustics of Mechanics Hall. While I enjoyed hearing this track through both DACs, I preferred the Pro iDSD.
My impressions were much the same with the Byrd motet from Heavenly Harmonies. Through the Pro-Ject, the Stile Antico singers had a warmer, more organic sound that I found very appealing. But the iFi more forcefully tracked their swells and word painting. And again, the iFi more convincingly presented the acoustic of All Hallows Gospel Oak.
Headphone listening
To check out the Pro iDSD's headphone section, I connected my HiFiMan Edition X V2 open-back, planar-magnetic 'phones ($1299, now discontinued) to the iFi's 6.3mm headphone jack. With their high sensitivity of 103dB and low impedance of 25 ohms, these are easy cans to drive, so I set the Pro iDSD's headphone gain switch to 0dB and cued up the Beatles' Abbey Road: Super Deluxe 50th Anniversary Edition (24/96 FLAC, Apple/Qobuz) in Roon on my MacBook Pro.
Then I played the same album through the headphone amp in the Pro-Ject Pre Box RS2, using the same filter settings on both devices as I'd used for my comparisons through speakers: Bit-Perfect+ (iFi) and No Oversampling (Pro-Ject). I set the Pro iDSD in Solid-State mode, as the Pro-Ject's headphone circuits are solid-state only.
Unlike on the Pro-Ject, when headphones are plugged into the iFi, the output from its XLR and RCA jacks is automatically muted. The iFi's headphone amp is far more powerful than the Pro-Ject's, and it has balanced and single-ended outputs.
As I listened though my Edition X V2s, the volume was as loud as I'd ever want with the iFi's volume control set just after 12 o'clock. The vocal harmonies in "Sun King" were a little fuller and better delineated through the iFi, a tad homogenized through the Pro-Ject. With big rocking numbers like "Polythene Pam" and "She Came in Through the Bathroom Window," the Pro-Ject sounded just a bit smoother -- the iFi had a bit of hard edge. But dynamics were faster and sharper through the Pro iDSD -- drums, guitars, and voices all hit harder.
Conclusion
iFi Audio's Pro iDSD is a sleek little component with a few rough edges. Sonically, I think iFi has hit a home run with this product. Execution, not so much -- the Pro iDSD's streaming capabilities are hobbled by poor software. But even taking into account some annoying operational quirks, the Pro iDSD is a great DAC.
To many audiophiles, some of the issues I've raised will be irrelevant. For example, I mentioned the occasional problems I had when I connected my MacBook to the Pro iDSD's USB Type-B port. But if you just leave a device connected to the USB input, you're unlikely to experience this problem more than once. For long periods, I used the Pro-Ject Stream Box S2 Ultra as the main source and just left it connected. Once I'd gotten a good connection with the streamer, I never lost it.
I think the Pro iDSD will be a stunning product when iFi releases a proper v.1.0. The sample I reviewed feels like v.0.9. It's quite possible that some of the Pro iDSD's rough edges have been smoothed out by the firmware update I was unable to install -- others may be hardware-related, so not fixable by a firmware update. Regardless, what the Pro iDSD does sonically is amazing -- especially given its asking price. And those settings are sure fun to play with.
. . . Gordon Brockhouse
This email address is being protected from spambots. You need JavaScript enabled to view it.
Associated Equipment
Active loudspeakers -- Elac Navis ARF-51
Headphones -- HiFiMan Edition X V2
Interconnects -- Argentum Acoustics Mythos balanced (2m, XLR)
USB link -- AudioQuest Cinnamon (2m)
Power conditioner -- iFi Power Station
Sources and control devices -- Apple MacBook Pro laptop computer (early 2015) running Audirvana Plus 3.2.19 and Roon Bridge 1.7, Pro-Ject Stream Box S2 Ultra, LG G7 ThinQ smartphone
Network -- Google Wifi three-node mesh network
iFi Audio Pro iDSD Streaming DAC-Preamp-Headphone Amplifier
Price: $2749 USD.
Warranty: One year parts and labor.
iFi Audio
Balmoral Lodge
139-141 Cambridge Road
Southport, Merseyside PR9 7LN
England, UK
Phone: +44 (0)1704-227-204
Website: www.ifi-audio.com
iFi Audio responds:
IFi would like to thank Gordon Brockhouse for his thorough review of our Pro iDSD 4.4 DAC/Amp. We note that he was very impressed with the sound quality but had some issues in the setup and operation. It is probable that Gordon received a unit without the current firmware. We can only apologize for the inconvenience.
iFi Audio writes its own code for all its products so is able to update software regularly with incremental product improvements. There have been two firmware updates for the Pro iDSD since launch. These are available for customers to download here: https://ifi-audio.com/downloads/. More firmware and software updates will be released going forward as part of iFi's policy of continuous improvement.
The Müzo application that we use is third-party software. Many companies use this as their choice for network setup. However, once the network has been confirmed, the user is able to select his/her preferred DLNA app. iFi makes this clear in the information provided and suggests alternatives.
Victoria Pickles
iFi Audio
Southport, England