Based in Coquitlam, British Columbia, on Canada's left coast, Kanto Audio has made a name for itself with budget-priced powered stereo speaker systems. These include the YU2 ($219.99/pair, all prices USD), a two-way desktop speaker with USB DAC and 3.5mm stereo analog input; and two bookshelf models, the YU4 ($329.99/pair) and YU6 ($399.99/pair), both featuring Bluetooth connectivity, a built-in phono preamp, a TosLink digital input, and a line-level analog input. The YU4 has a 4" Kevlar woofer and a 1" soft-dome tweeter, driven by a 35Wpc RMS class-D amp; the larger YU6 has a 5.25" woofer and a 50Wpc RMS class-D amp. Kanto's most ambitious design yet is the Tuk powered minimonitor ($799.99/pair). Inside each rear-ported enclosure is a 5.25" aluminum woofer and a 28 x 45mm Air Motion Transformer (AMT) tweeter.
Whereas cone and dome tweeters create sound by pushing air back and forth pistonically, an AMT moves air by squeezing and expanding a pleated diaphragm in accordion fashion. Kanto claims that the low mass of an AMT's diaphragm results in better transient response, its high surface area improves efficiency, and its limited vertical dispersion reduces the effects of floor and ceiling reflections.
Like Kanto's YU models, the Tuk is not active but powered -- that is, it uses a conventional crossover network, like those in passive speakers, and, as in conventional audio systems, the crossover comes after the amplifier in the signal path. The Tuk's class-D amplifier is specified to output 65Wpc RMS and 130Wpc peak. The only difference between a powered speaker system like the Tuks and a conventional separates system of amp plus speakers is that, in the Tuks, the amplifier and jack panel are built into the cabinet of just one speaker, which is connected to the other speaker via regular speaker terminals and cable.
In the Tuk's manual and webpage, Kanto calls the Tuk that contains the amps and input connections the "active" speaker, and the other, with just speaker terminals, the "passive" speaker. To prevent confusion with truly active designs, here I refer to the speaker with the amps and input jacks as the "master," and the one with only speaker terminals as the "slave."
Inside and out
The Tuks are available in a matte finish of white or black, with matching, magnetically attached grilles. My review samples were in black, and their fit and finish were excellent. Each speaker measures 10.9"H x 7"W x 8.5"D; the master speaker weighs 11.1 pounds, the slave 9.8 pounds. A very useful feature is the ability to configure the master speaker for left- or right-channel output, for convenience in system layout.
In the lower-right corner of the master speaker's front baffle is a knob that can be turned to change the volume, or pushed to select the source. To the left of this knob, a row of five LEDs indicate the source selected. At far left are a 3.5mm stereo headphone output jack -- when headphones are connected, the speaker output is automatically muted -- and the sensor for the infrared remote control.
On the back of the master speaker are two pairs of left/right RCA jacks -- one for line-level analog, the other for MM phono -- and a grounding post for a turntable. There are also a TosLink digital input for connecting components like disc players, and a USB port for connecting a computer; the maximum resolution for both of these is 24-bit/96kHz. When a subwoofer is connected to the Tuks' Sub Out, this activates not only a low-pass filter for the sub, but a high-pass filter for the Tuks themselves. That way, their 5.25" woofers don't have to handle deep bass, which should make for better reproduction of the midbass and higher frequencies. Also included is Bluetooth 4.2, with support for the advanced aptX HD and AAC codecs.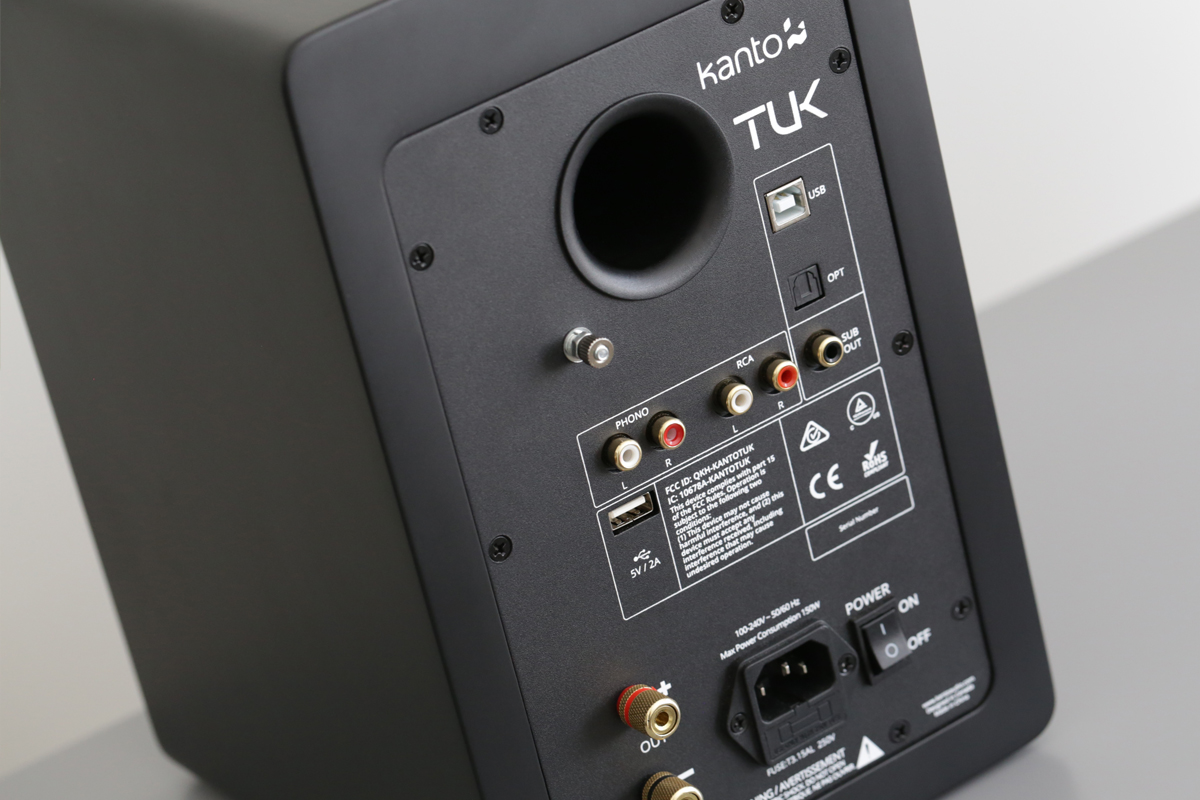 So for a penny south of $800, you get a pair of speakers with 65Wpc of built-in amplification, a phono stage, a USB DAC, line-level and TosLink inputs, Bluetooth capability, sub output with low- and high-pass filters, and a headphone amp. Impressive!
Except for source components, pretty much everything you need to start playing music is in the box: RCA analog interconnects for hooking up a source, a USB link to plug into a computer, speaker cables to run from master speaker to slave, and an unusually nice (at this price) remote control.
That remote is hefty, with large, well-labeled controls. At top left is an on/standby button, and at top right an Input button that cycles through the sources. Below these is a volume rocker, below that a Mute button, and below that the Bass and Treble rockers, each with a Reset button to restore it to its flat setting -- a useful feature, as there's no visual indicator of bass and treble settings. There are also play/pause and track-skip buttons that work with Bluetooth and USB sources, and a Bluetooth pairing button. Most users will find the remote's operation immediately intuitive, but those who need help will find everything clearly explained in the manual.
Listening, part I -- streaming
For my first round of listening, I set up the Tuks on a credenza on the long wall in my basement family room, a layout probably typical of how the Tuks will be used. I placed them on IsoAcoustics ISO155 desktop speaker stands, with their rear panels 12" from the wall behind them (Kanto recommends at least 8"). The speakers and my listening chair, on the opposite side of the room, formed a 7' equilateral triangle.
I began by playing "Patriot's Dream," from the 2010 remastering of Jennifer Warnes's The Well (16-bit/44.1kHz ALAC, Impex), first via Bluetooth from my LG G7 ThinQ smartphone, then via USB from my Apple MacBook Pro computer. Not surprisingly, the USB DAC was more resolving than a Bluetooth connection, even with aptX HD enabled on my LG G7 smartphone. With this track played via USB from Audirvana Plus 3.2.18 on my MacBook Pro, there was a bit more air around instruments, and the acoustic-guitar notes took longer to decay into the background. I continued listening to this track, and the others that followed, via USB.
"Patriot's Dream" begins quietly, with Van Dyke Parks on accordion, and Dean Parks and George Doering on acoustic guitars. It sounded lovely, the three instruments clearly placed on a wide soundstage between the speakers. Timbres, too, were convincing -- the accordion sounded nostalgically sweet and reedy, and the guitars were nicely differentiated, the one at left sounding a little warmer and rounder, the one at center stage a little twangier. This made it easy to appreciate the instruments' different sounds and the players' distinct styles. Transients were sharp but not etched, decays nicely long.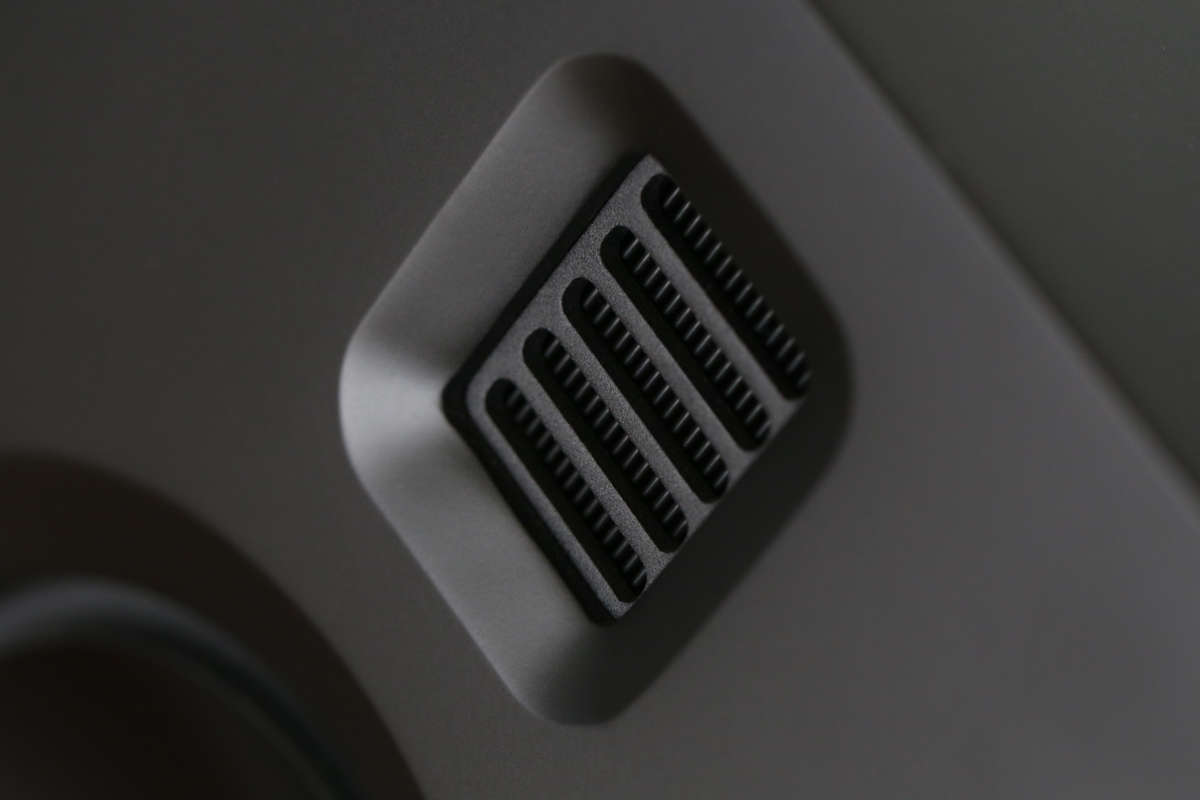 Later in this track, I admired the reproduction of the sound of Abraham Laboriel Sr.'s bass guitar -- surprisingly robust for such small speakers, it gave the track a beautifully warm foundation. There was a bit of bloat to Vinnie Colaiuta's big bass drum, but it, too, sounded remarkably composed for a pair of speakers this size. However, the bagpipes and Irish whistle in the long instrumental passage in the middle of the song sounded a little harsh.
The song's composer, Arlo Guthrie, sings it here with Warnes. The Tuks emphasized a buzzy quality in Guthrie's country-ish singing, and Warnes's voice had a slightly papery edge, and became a bit strident as she sings more loudly. The Tuks were a little coarse in their tracking of those swells, jumping a bit abruptly from soft to loud.
Could the Tuks party? I cued up one of my favorite dance tracks of all time (like "Patriot's Dream," it's also a great piece of political commentary): the title track of Bob Marley and the Wailers' Exodus (24/96 MQA, Island/Tidal). Aston "Family Man" Barrett's bass guitar really pounded, giving the music great propulsive drive -- it made me want to move, just as this song urges. Carleton "Carly" Barrett's drumming, too, had impressive impact. But the horns and Julian "Junior" Marvin's lead guitar had slightly harsh edges, and a high-frequency percussion instrument (tambourine? cymbal?) in the right channel was distractingly sizzly. While I enjoyed the way the Tuks reproduced Marley's voice, the background singers sounded a bit strident.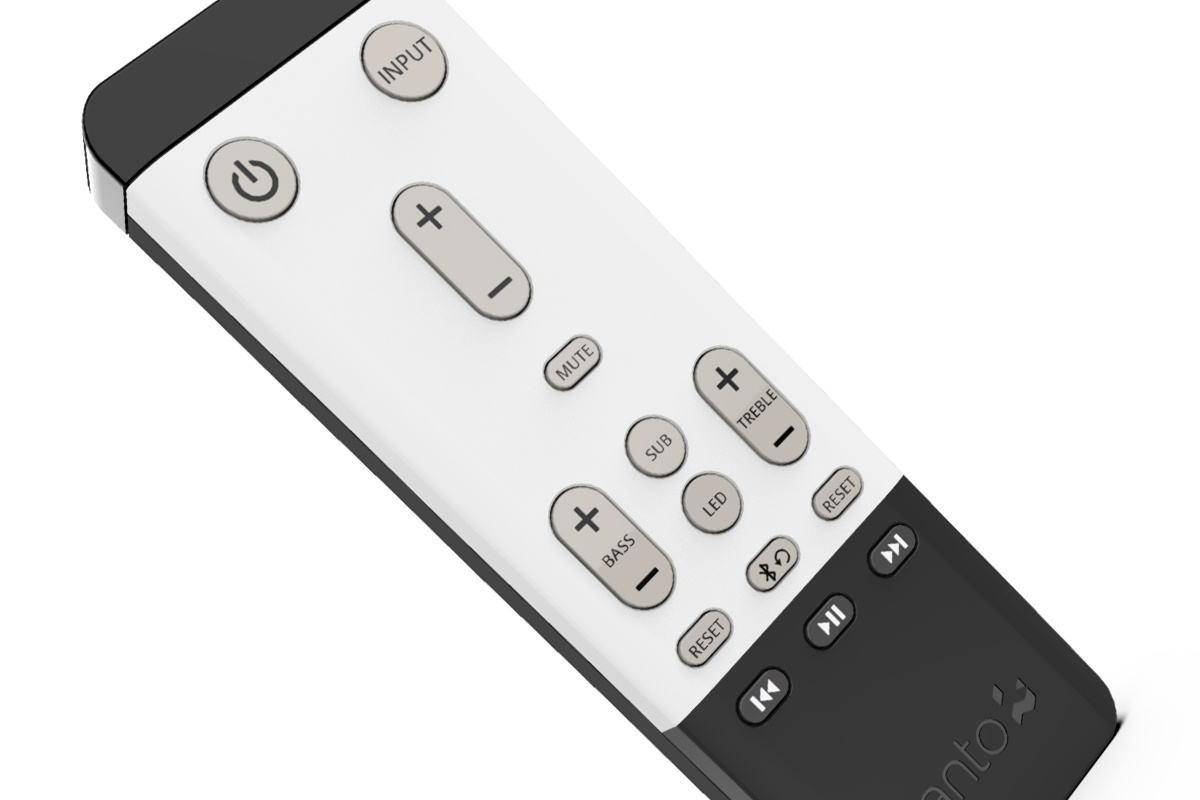 For something more sedate, I played "The Man I Love," from Common Practice, a recording of a 2017 concert at New York's Village Vanguard by the Ethan Iverson Quartet (24/96 FLAC, ECM/Qobuz). Iverson opens this Gershwin number with a moody piano solo, combining a legato touch and the sustain pedal to spooky effect. The Tuks played this passage with an ease that belied their size. I was equally struck by the deep, impactful sound of Ben Street's double bass, even in the lower strings. The sound became slightly indistinct at the very bottom of the instrument's range -- the open E string, at 41Hz -- but again, the Tuks' bass performance was really impressive for a speaker of this size. Tom Harrell's trumpet sounded a bit too etched -- I heard a little too much air coming out of the bell, not quite enough brassy sheen. Similarly, there was too much swish in the sound of Eric McPherson's brushed snare drum, and not quite enough body. The star of the show was Iverson's piano, which sounded natural throughout its range. The Tuks reproduced his touch beautifully.
Comparison I
SVS's Prime Wireless active speaker ($599.99/pair) has a 4.5" polypropylene woofer and a 1" aluminum-dome tweeter, each driven by its own 50W class-D amp. Like the Kanto Tuks, the Primes have Bluetooth connectivity, TosLink digital and line-level analog inputs, and a subwoofer output (but with only a low-pass filter). The Prime Wireless lacks a USB DAC, phono preamp, and headphone amp, but does boast built-in Wi-Fi, and supports both DTS's Play-Fi multi-room music technology and Amazon's Alexa voice control.
Overall, I found the Kanto's sound more exciting, but the SVS's sound slightly easier on the ears. Playing "Patriot's Dream" through the SVS system, I was less bothered by that buzzy quality in Guthrie's voice, or the papery quality in Warnes's. While dynamics in Warnes's vocal swells weren't as dramatic through the SVSes, they sounded more natural, with a more gradual increase in volume. Guitar transients were more rounded through the Prime Wirelesses, but Laboriel's bass guitar seemed to go deeper through the Tuks and was better controlled, which gave the song a more satisfyingly firm foundation.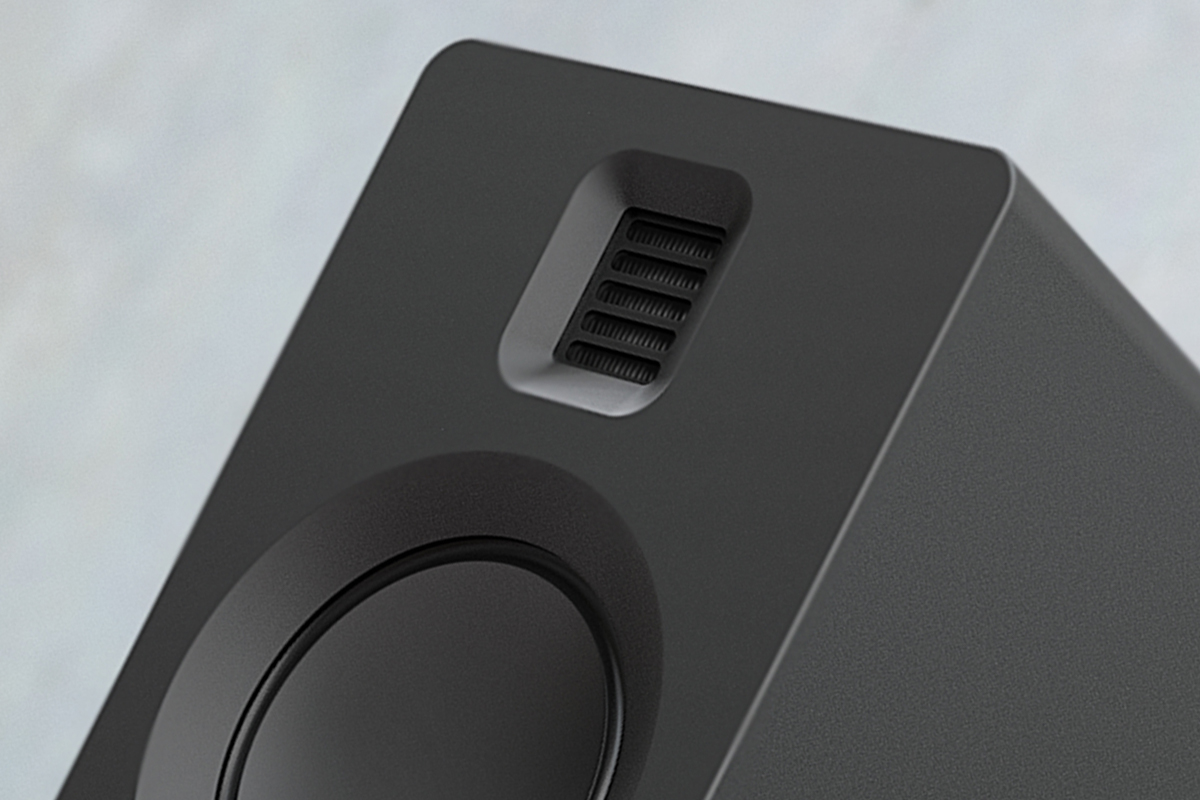 Marley's "Exodus" was less dynamic and exciting through the Prime Wireless speakers. Barrett's bass didn't have as much drive -- it was muddier, and so less impactful. But the horns weren't as edgy, and the background singers sounded less strident.
In "The Man I Love," Iverson's piano had more body through the SVS system -- I could hear even more of his touch and expression. Harrell's trumpet sounded more burnished, less etched -- its sound had more body, and wasn't as strident when Harrell suddenly ramped up the volume. But Street's double bass sounded thuddier, less distinct, less impactful through the SVSes.
Listening, part II -- getting physical
I've bailed on physical media, but the Kanto Tuks' ability to accept signals from such sources is an important part of their feature set. So I schlepped the Tuks to the home of my sister-in-law and her husband, who recently purchased a Simplifi'd music system that includes a Pro-Ject Debut Carbon turntable with Ortofon 2M Red cartridge ($399), and a Yamaha CD-S300 CD player ($299.95).
I placed the Tuks on Target FS70 speaker stands ($319/pair), to either side of the sideboard in my in-laws' dining room, where the turntable and CD player sit, with the speakers' rear panels 12" from the wall behind them. I listened from a chair on the other side of the room, my listening position and the speakers describing a slightly elongated isosceles triangle.
One of the first albums to hit the Pro-Ject 'table was Two, a live duo recording by banjoist Béla Fleck and pianist Chick Corea (3 LPs, Concord Jazz CJA-38697-01). In Corea's "Señorita," I admired how the Tuks articulated the pianist's virtuosic runs and arpeggiated chords, and Fleck's impossibly rapid picking. Transients were fast and powerful, but not overdone. In a passage in which Fleck bends and then releases a string, the sound jumped out into the room without being at all overbearing.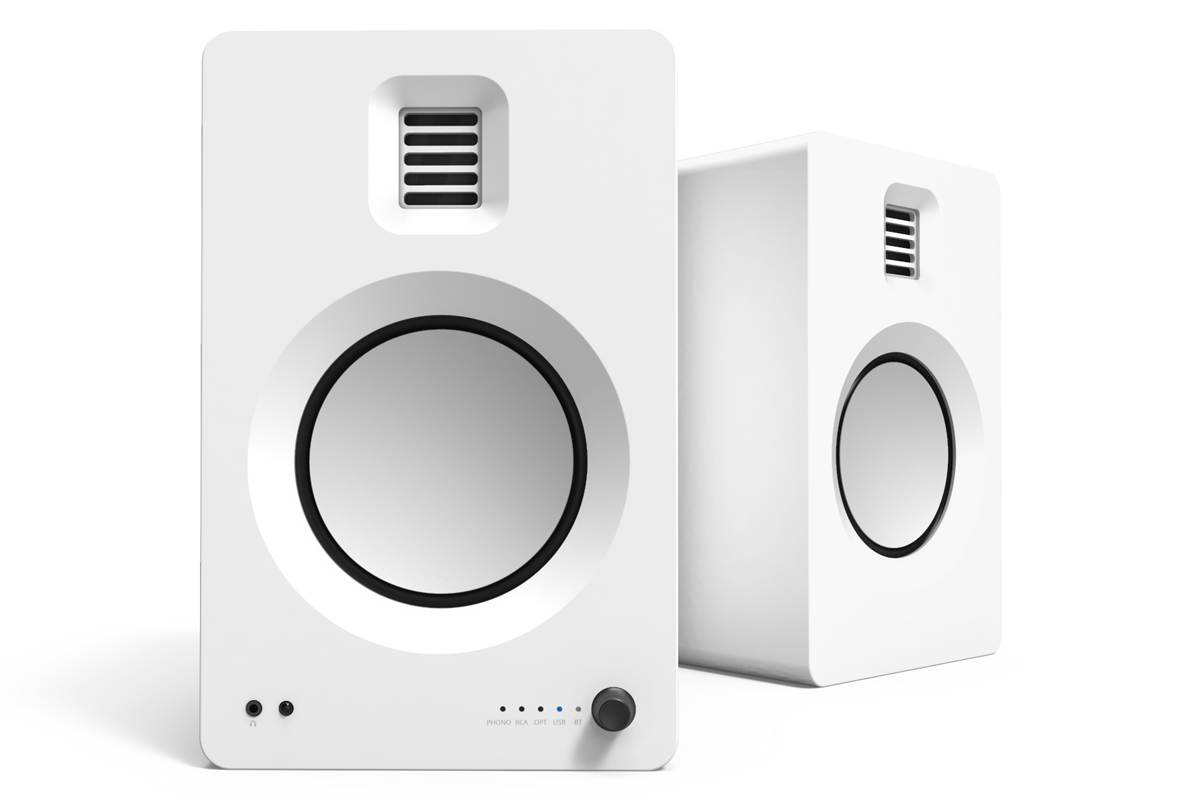 With the phono input engaged but no music playing, and with my ear one foot away from the AMT tweeter of one Tuk, I could hear some hum and noise with the volume set fairly high (though not at eviction-notice levels). At normal listening distances and volumes, however, noise was inaudible.
Switching to the optical input, I played Diana Krall's Live in Paris (CD, Verve 4400652522) on the Yamaha CD player. In "'S Wonderful," I really enjoyed the Tuks' reproduction of Krall's voice -- except when she sang high in her range at louder levels, at which point she began to sound just a little hard and papery. The instrumental accompaniment sounded great. John Clayton's double bass had great impact and depth, and Jeff Hamilton's drums and Paulinho Da Costa's percussion were fast and snappy, lending this Gershwin classic an infectious swing.
Comparison II
The feature set of Totem Acoustic's Kin Play powered speakers ($999/pair) is very similar to the Kanto Tuks'. The Kin Play is a two-way, rear-ported design with a 5.25" natural-fiber hybrid woofer and a 1" aluminum dome, both powered by a 120Wpc class-D amplifier. Like the Tuks, the Kin Plays have a built-in phono stage, an optical input, and a subwoofer output. But the Kantos offer two features the Totems don't: a USB DAC and a headphone output.
As I listened to "Señorita," the Kin Plays articulated Corea's and Fleck's runs and chords a little more clearly. Piano tone was more crystalline with the Kantos, more authoritative with the Kin Plays; the Kantos had more sparkle up top, but the lower register was thuddier than the Totems'. Another note: With no music playing, the Kin Plays' phono stage was quieter than the Tuks'.
In "'S Wonderful," Krall's voice sounded fuller through the Totems, with more natural and more expressive dynamics. Clayton's bass wasn't as prominent through the Totems, but was more clearly defined. The Kin Plays' sound was more transparent, making it easier for me to appreciate each musician's contribution and the interplay of all.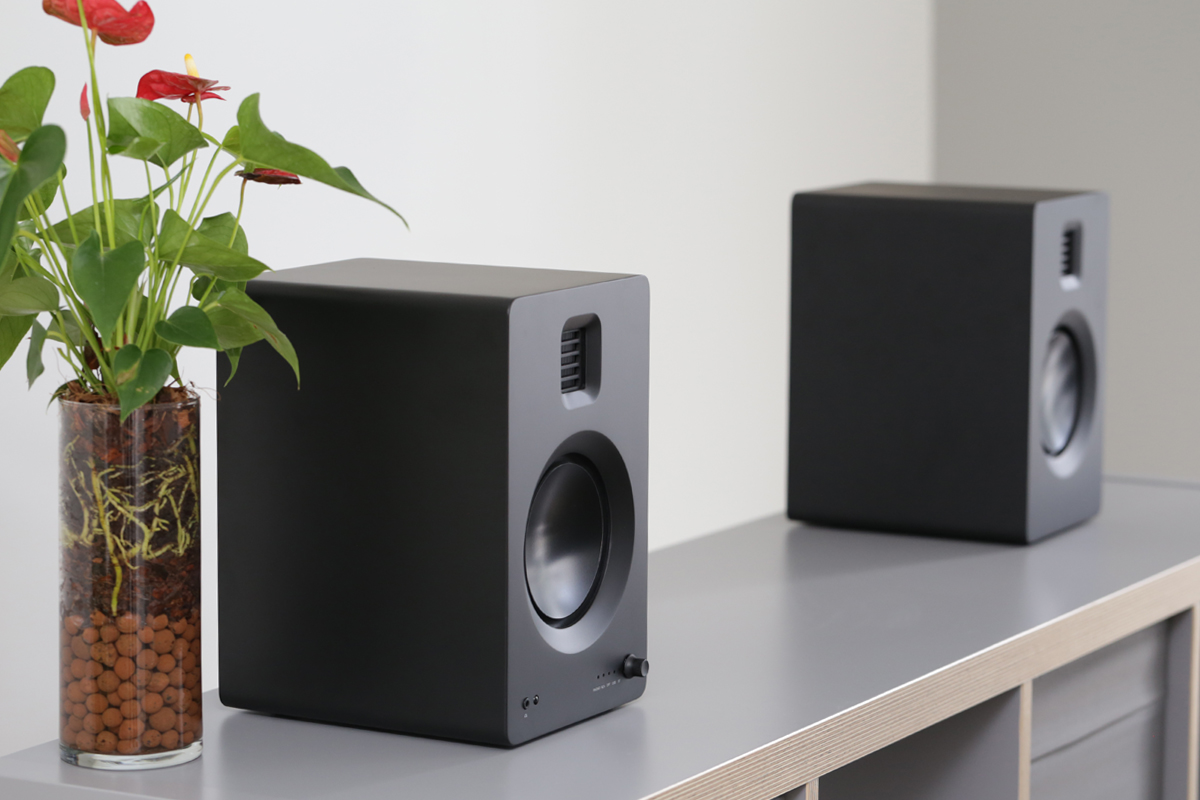 I briefly added to the system a Totem Kin Sub subwoofer ($499). The Kin Plays' sub out includes a low-pass filter with a turnover frequency of 220Hz, but not a high-pass filter for the main speakers. As noted, the Kanto Tuks have a switchable active crossover that implements low- and high-pass filters at 80Hz. This made it easier to get a seamless blend of the Kin Sub's and Tuks' outputs. I could just set the crossover control on the Kin Sub to its highest setting, then let the Tuks' crossover take care of the blend -- all I had to do was adjust the subwoofer level. Connecting the Kin Sub to the Tuks resulted in slightly clearer, deeper bass, but the main benefit was how it opened up the mix, making the sound less congested overall.
Listening, part III -- headphones
To assess the Kanto Tuks' headphone output, I streamed a few tracks from the Beatles' Abbey Road: Super Deluxe Anniversary Edition (24/96 MQA, Apple/Tidal) from my MacBook Pro to the Tuks' USB input. I strongly suspect that Kanto is pulling the headphone output down from the speaker output, but whatever the case, the Tuks delivered very satisfying levels with my HiFiMan Edition X V2 planar-magnetic and NAD Viso HP50 closed-back dynamic headphones. The sound was fast and dynamic, but slightly wanting in smoothness. In "Come Together," Paul McCartney's bass guitar and Ringo Starr's drums just pounded.
Using the NAD HP50s, I compared the Tuks' headphone output with an AudioQuest DragonFly Black 1.5 USB DAC-headphone amplifier connected directly to my MacBook Pro. The Tuks were more dynamic and exciting, with more punch in the bass and drums in "Come Together," but the strings in George Martin's arrangement for "Something" sounded smoother through the DragonFly.
Given that everyone who's likely to buy Kanto's Tuk speakers probably owns a smartphone, the Tuks' headphone output might seem redundant. I don't think so. A headphone output is a very useful feature for a powered speaker like the Tuks -- it allows private, after-hours listening from source components like turntables and disc players.
Conclusion
As I've noted repeatedly in this report, I was hugely impressed with the feature set and execution of Kanto's Tuk powered speakers. Everything about this attractive, affordable product has been superbly thought out.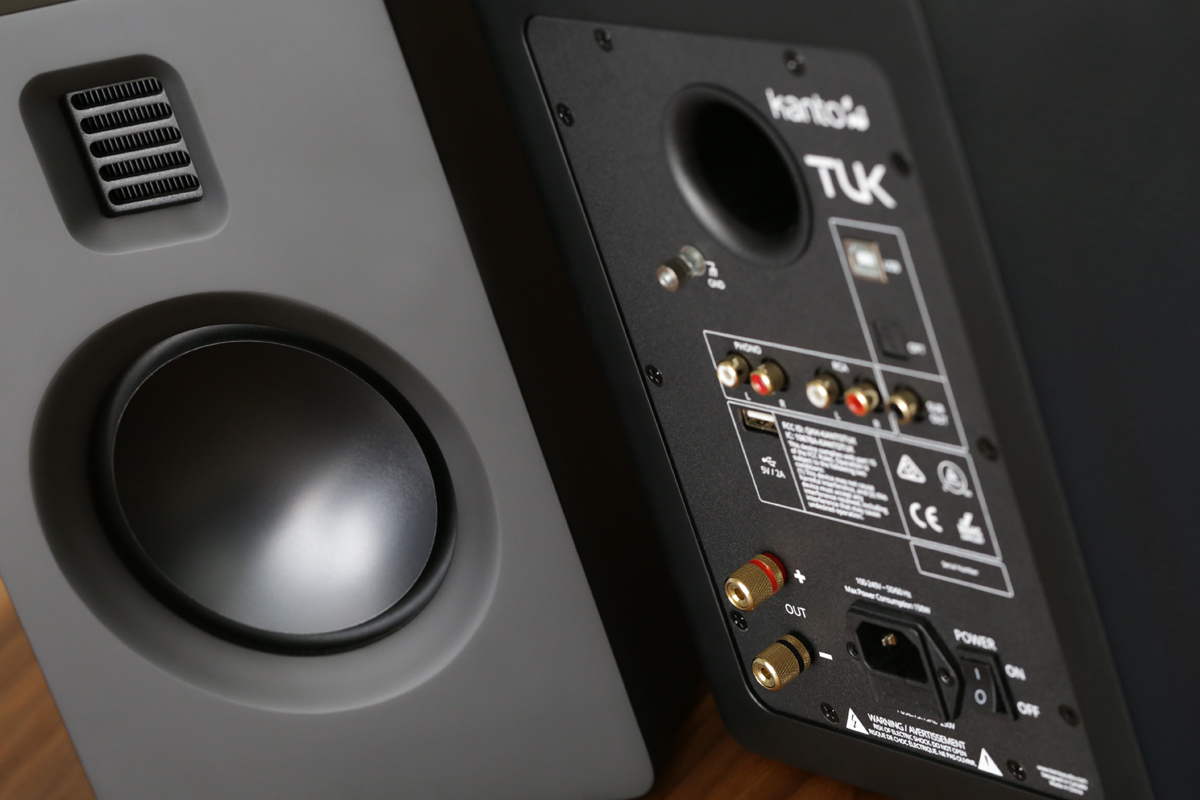 Sonically, too, there's much to admire, notably the Tuks' bass performance, which is prodigious for powered speakers of this size and price. But while I admired their soundstaging, with some recordings the Tuks' crystalline clarity could morph into hardness, especially at high volumes.
Still, the Tuks' tonal balance might be just right for some music, such as metal, hip-hop and EDM. Those genres aren't my thing, but they are a lot of people's, and I suspect it's those listeners at whom Kanto is pitching the Tuks. For them, the Tuks might be an ideal Simplifi'd music system.
. . . Gordon Brockhouse
This email address is being protected from spambots. You need JavaScript enabled to view it.
Associated Equipment
Speakers -- SVS Prime Wireless active speakers, Totem Acoustic Kin Play powered speakers and Kin Sub powered subwoofer
Sources -- Apple MacBook Pro computer (early 2015) running Audirvana 3.2.18, LG G7 ThinQ smartphone, Pro-Ject Debut Carbon turntable with Ortofon 2M Red cartridge, Yamaha CD-S300 CD player
USB DAC-headphone amplifier -- AudioQuest DragonFly Black 1.5
Headphones -- HiFiMan Edition X V2, NAD Viso HP50
Accessories -- IsoAcoustics ISO155 (desktop) and Target FS70 (floor) speaker stands
Kanto Audio Tuk Powered Loudspeakers
Price: $799.99 USD.
Warranty: Two years, limited.
Kanto Distribution Inc.
110-2440 Canoe Avenue
Coquitlam, British Columbia V3K 6C2
Canada
Phone: (888) 848-2643
Website: www.kantoaudio.com