Like many music-lovers, I've changed my listening habits drastically in the last ten years. A decade ago, all of the music I listened to at home was stored on shiny discs. A decade later, those discs are long gone. My music library is now stored on a LaCie 2Big Thunderbolt RAID system connected to an Apple Mac Mini computer in my second-floor office. The Mac Mini runs Roon Core, and streams music via Wi-Fi to the music system in my main-floor living room.
Now, however, I'm listening less and less to that music library, and more to music from Tidal and Qobuz, both of which I play via Roon.
Naim Audio's entry-level network player, the ND5 XS 2 ($3495, all prices USD), is aimed at digital audiophiles who are making the same journey I've made -- people with one foot planted in the old world, where physical media dominate, and the other in the new, dominated by streaming.
For listeners who still spin shiny discs, the ND5 XS 2 has four digital inputs for components such as CD transports. For streaming, it has built-in Wi-Fi and Bluetooth, and support for a broad range of streaming protocols, including AirPlay, Chromecast, Spotify Connect, and Roon. And the ND5 XS 2 covers the middle ground as well, permitting playback of music files stored on hard drives and computers.
Inside and out
The ND5 XS 2's outer case has anodized-aluminum top and side panels, and a brushed-aluminum front panel, at the center of which a semicircular Naim logo glows iridescent green when the player is turned on. At the extreme left is a USB port, and at extreme right an on/off switch, below it a status LED.
On the rear panel are two sockets for the supplied Wi-Fi antennas, and a third for the Bluetooth antenna. There's also an Ethernet port, for use when the streamer is set up near a network router.
Naim doesn't specify which flavors of Wi-Fi the ND5 XS 2 supports. The Network Check Utility for my Google Wifi network reported throughput of 122Mbps to the streamer, which is more than enough for any audio application. During my testing I experienced not a single network hiccup with the ND5 XS 2.
For connecting digital source components the ND5 XS 2 has two optical inputs, each with maximum resolution of 24-bit/96kHz PCM, and two coaxial inputs (RCA, BNC), with maximum resolution of 24/192. You can stream audio from connected sources to other Naim components on your home network -- e.g., a Mu-so tabletop music system -- under control of the Naim's app.
The rear panel has a second USB port. Music stored on an attached USB drive inserted here can be streamed to other Naim components. For music stored on an attached drive or played over the network, the ND5 XS 2 has maximum resolutions of 32/384 PCM and DSD128.
On the right side of the rear panel are the analog output jacks: one five-pin DIN and a pair of left/right RCAs. The ND5 XS 2 also has a BNC digital output, and comes with a BNC-to-RCA adapter for use with RCA digital interconnects.
Notably absent from the front panel are any knobs or displays -- you control everything from the Naim app, available in iOS and Android versions. If you want to play music from a component connected to one of the ND5 XS 2's digital inputs -- say, a CD transport -- you have to select that input in the app.

The app offers lots of other options, including Bluetooth with support for aptX HD. There are clients for Tidal and Spotify, so you can stream music to the ND5 XS 2 from those services, as well as vTuner Internet Radio. There are icons for playing music from an attached USB drive, or from Universal Plug and Play (UPnP) music servers on your home network. The ND5 XS 2 supports Apple AirPlay, for wireless streaming at up to 16/48 resolution from iOS devices and Macs, and Chromecast Built-in, for streaming at up to 24/192 from Cast-capable apps on Android and iOS devices. To use Chromecast, you first have to install the Google Home app on your device.
Setup and software
The very basic Quick Start Guide that accompanies the ND5 XS 2 includes a page that shows how to connect the streamer to your audio system -- but those instructions might not get you connected, and could even lead you astray.
The Guide tells you to turn off your hi-fi system, then connect the router to the streamer's Ethernet port. But what if you want to stream to the ND5 XS 2 via Wi-Fi? A page later in the Guide instructs you to download the Naim app from Google Play or Apple's App store, then follow the app's setup instructions.
The Guide also instructs you to connect the streamer's DIN output to an integrated amplifier using the supplied DIN cable. That will work with Naim's integrated amps, which have both DIN and RCA jacks for all inputs, but most integrateds have only RCA jacks. No big deal, you say -- just plug RCA interconnects into the Naim's RCA analog outputs and your integrated's line-level RCA inputs. That'll work, but first you'll have to jump through some hidden hoops.
And what if you're not using an integrated amplifier? With its digital inputs and streaming capability, the ND5 XS 2 could serve as the control point for an all-digital music system. Connect it to a power amplifier or a set of active speakers and you should be good to go -- no preamp or integrated amp required. But that could get you into trouble.
Per the Quick Start Guide, I downloaded the Naim app to my LG G7 ThinQ smartphone. After I'd confirmed that I wanted to install a new product, the app presented options for five different classes of product, one of which included the ND5 XS 2. The app then identified my home network and prompted me to enter my password, after which it uploaded my network info to the ND5 XS 2 and checked for firmware updates (the firmware on my review sample was current). Next, it prompted me to specify my country and city, and enter a room or device name for the ND5 XS 2 (I entered "Naim Streamer").
I was then offered tutorials in using Chromecast Built-in, and in using Google Home to set up multiroom groups for streaming music via Chromecast. These tutorials are useful if you've never used Chromecast before. Then the app asked if I wanted to set up the ND5 XS 2 as a UPnP server, which would let me stream music from components connected to its digital inputs, or music from a connected USB drive to other UPnP devices. All in all, setup was pretty routine and pretty straightforward.
Time to play some music, right? Not so fast. I planned to use the Naim with two different sets of active speakers -- Elac's Navis ARF-51s and Dynaudio's Focus 200 XDs -- by connecting the Elacs' RCA inputs to the streamer's RCA output jacks, and the Dynaudios' S/PDIF coaxial inputs to the Naim's BNC digital output. Had I done so, in both cases I'd have gotten no sound at all. Out of the box, the ND5 XS 2 is set to output audio only through its DIN jack. To get output from the RCA or digital outputs, you have to enter the Settings menu in the Naim app (tap the little gear icon in the upper-right corner), then enable the desired output in the Output Settings menu. The Quick Start Guide doesn't cover this at all.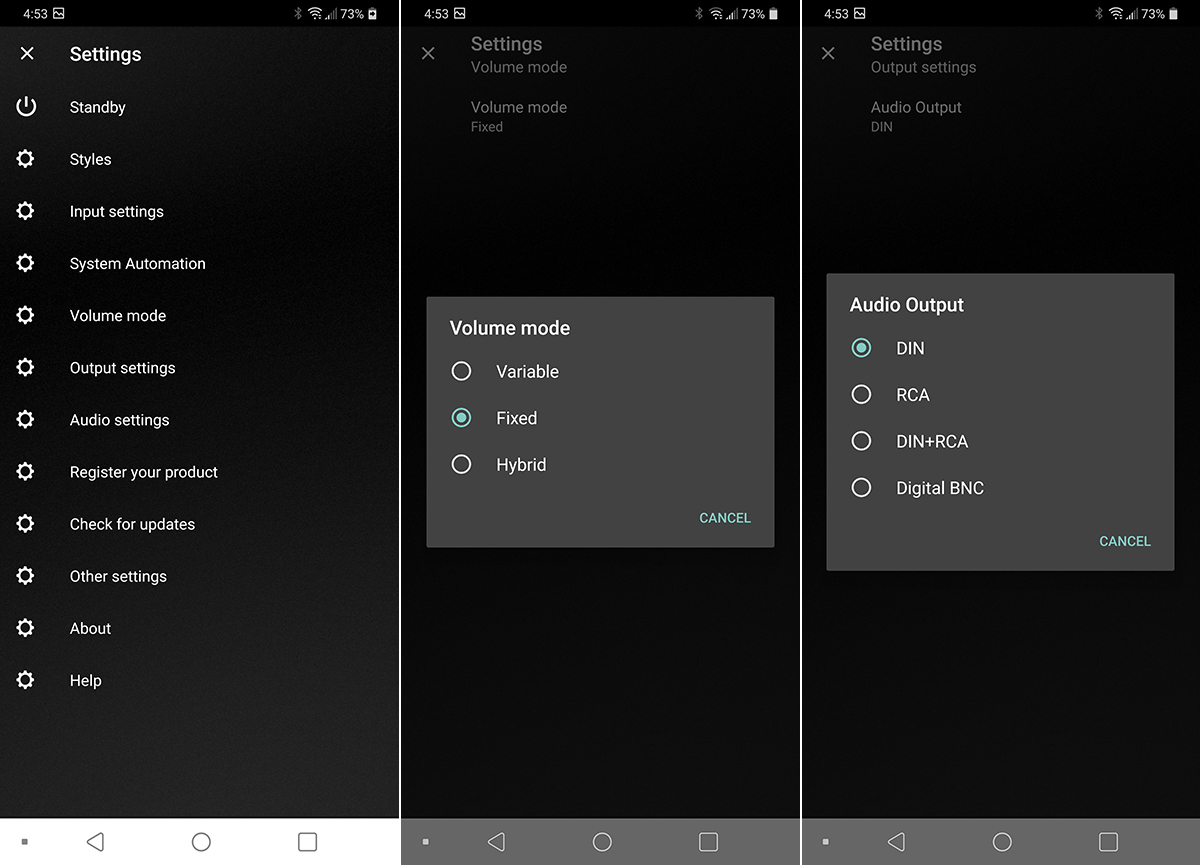 However, the Guide's final page advises the user to visit Naim's customer-support site for interactive setup information. From there, you have to click through three more pages to find the ND5 XS 2's support page -- where, in the Troubleshooting and FAQs section, I at last learned how to select the output jack I wanted.
In the Naim app, Volume Mode is set to Fixed by default. That's fine if you're using the streamer with an integrated amp, as the Guide assumes -- you'll control volume on the amp. It would also be fine were I streaming music from the Naim's digital BNC output to my Dynaudio Focus 200 XDs, as the volume on those speakers is controlled from their handheld remote. But if I'd connected the streamer's RCA outputs to the RCA inputs on my Elac Navis ARF-51 active speakers, the Navises' built-in amplifiers would have sent full output to the drivers and almost certainly done them serious damage. To use the ND5 XS 2 safely with Elac's Navis speakers or a power amp, you have to set Volume Mode to Variable in the Naim app. That guidance is offered nowhere in the Quick Start Guide or on the company's support pages. This is a serious omission.
Playing music
With Output and Volume Modes correctly set, now it was time to play some music. I used no hardwired components with the Naim ND5 XS 2, instead focusing on file-based and network playback.
I used Naim's app to play music from a thumb drive inserted in the USB port on the streamer's front panel, and to stream music from a Naim Uniti Core music server connected to my home network by a Google Wifi access point.
One of the options on the ND5 XS 2's home screen in the Naim app is Servers. Tapping that icon took me to a screen that showed the Uniti Core and Local Music. Tapping either option opened another screen with such options as Albums, Artists, Genres, and Playlists. More of an album than a playlist listener, I tapped Albums to find what I wanted to hear. After I'd made my choice, playback worked fine from both the thumb drive and Uniti Core. But there were a couple of weirdnesses.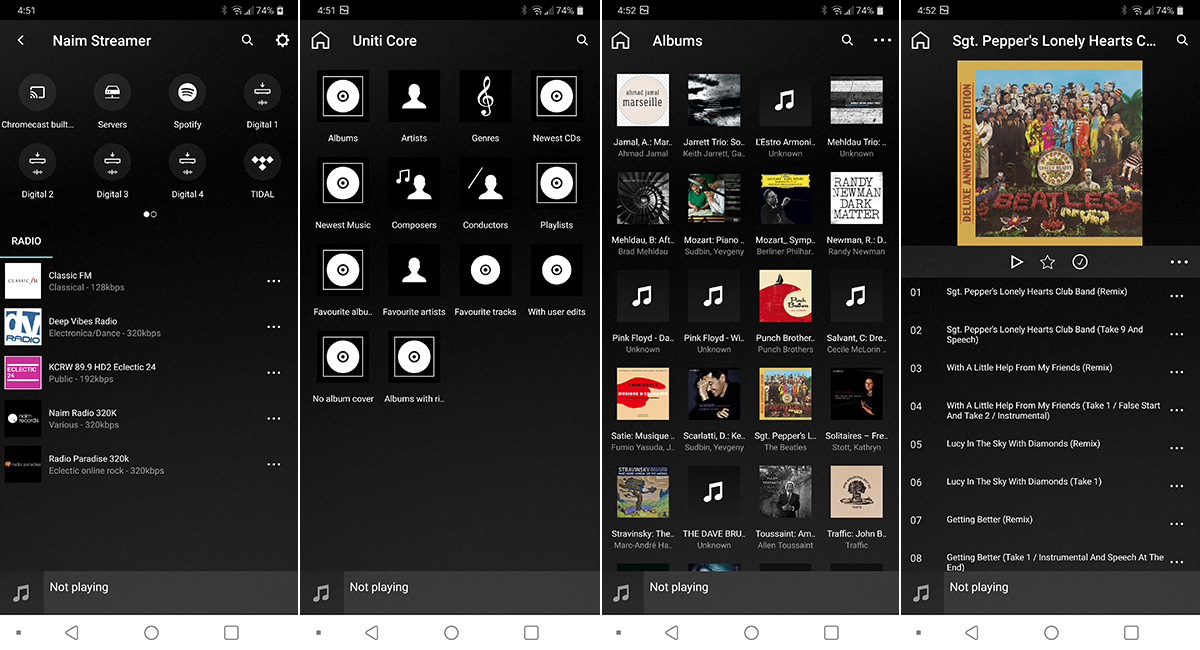 The app didn't show album or artist info for DSD-encoded albums, even though the files are properly tagged, and artwork and artist name both appear in Roon and Audirvana.
With some multi-disc albums, the app interleaved tracks from different discs. For example, when I played the Beatles' Sgt. Pepper's Lonely Hearts Club Band: Deluxe Anniversary Edition (24/96 FLAC, Calderstone/Parlophone), the first track that appeared in the Naim app was Giles Martin's 2017 remix of the title song, which of course was correct -- but it was incorrectly followed by an outtake of the same song, from disc 2. This was followed by the original album's second track -- Martin's remix of "With a Little Help from My Friends" -- and then an outtake of that song from, again, disc 2. And so it went for the entire album. I was playing not a homemade rip but a commercial download, with metadata from the label -- I'm not sure why Naim's app couldn't handle it properly when both Audirvana and Roon do. I experienced this problem when playing the album on a thumb drive attached to one of the ND5 XS 2's USB ports, and when streaming the album from the Uniti Core.
The ND5 XS 2's home screen in the app also has options for streaming from Spotify and Tidal. I'm not a Spotify subscriber, but if I were, I'd likely use Spotify's app instead of Naim's, as the ND5 XS 2 supports Spotify Connect. The first time I chose Tidal, I was taken to a screen where I could enter my login information or activate a 90-day trial -- being a Tidal subscriber, I chose the first option.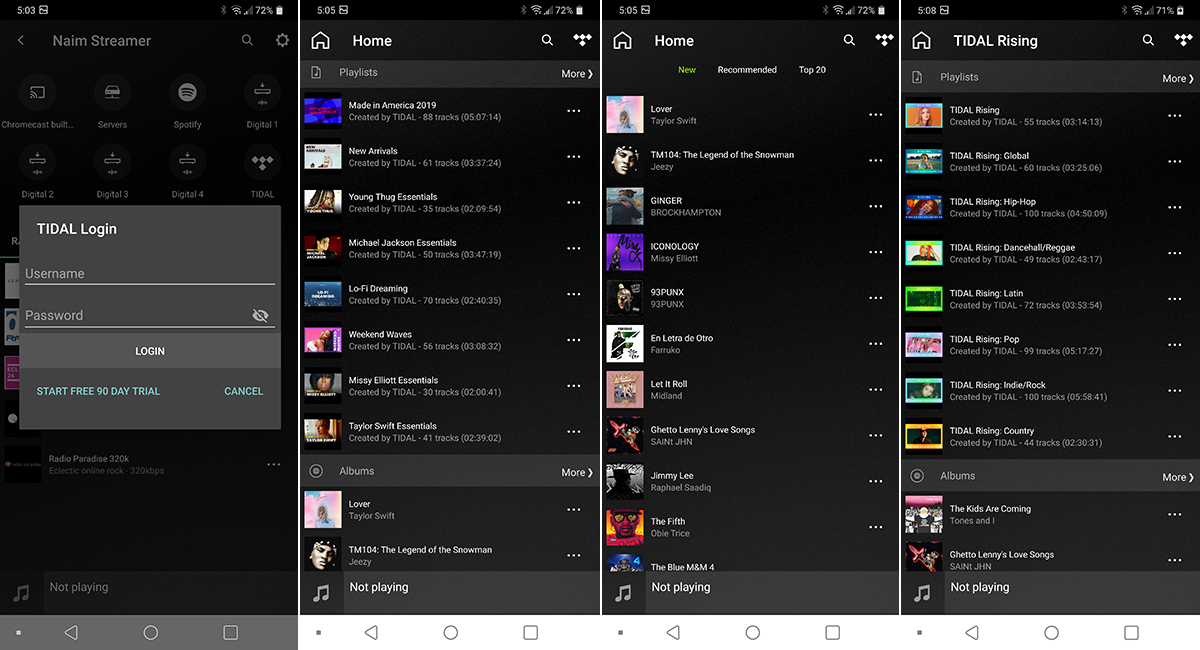 The main Tidal screen inside the Naim app shows new Playlists, Albums, and Tracks. You can drill down to view, for example, New Albums, Recommended Albums, and Top 20 Albums. Tapping the Tidal icon takes you to a screen where you can specify your preferred genres and view your Favorites. While the look is a little different, navigation is very similar to Tidal's own mobile app, and it worked solidly. One very nice touch: The Naim app includes overviews from AllMusic for many albums on Tidal, a feature available in Roon but not in Tidal's app.
The Naim app's home screen also has icons for Bluetooth and Chromecast. You don't have to select Chromecast in the Naim app to Cast to the ND5 XS 2 -- you can do this directly from any Cast-enabled app on an iOS or Android device by tapping the Casting icon in the app and choosing the Naim streamer.
The process for streaming via AirPlay is virtually identical to Chromecast. Tap the Sharing icon in whatever music app you're using on an iOS device, then select as the playback device the Naim ND5 XS 2 (or whatever name you've given it).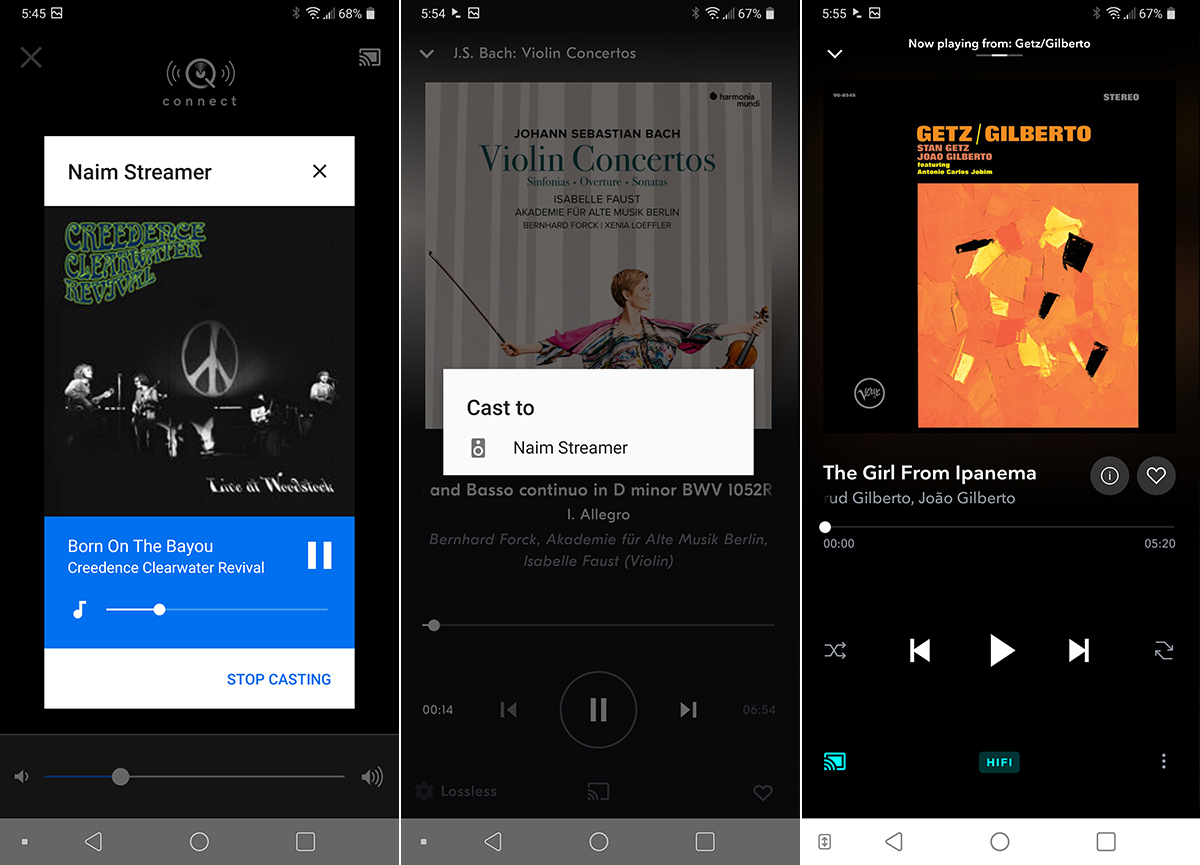 I had no problem Casting from the Qobuz, Tidal, and Idagio apps on my iPhone SE and LG G7 ThinQ Android smartphones. Similarly, it was easy to stream from my iPhone to the ND5 XS 2 via AirPlay -- it just worked. I encountered an "Unexpected Error" when I tried to Cast music stored on my LG phone using the phone's Music app -- but the culprit could easily have been LG's app.
I did much of my listening using the Naim app, playing music stored on the thumb drive and the Uniti Core server, and streaming from Tidal. I also used the ND5 XS 2 as a Roon endpoint to play music from Tidal and Qobuz, and music stored on the Mac Mini computer in my second-floor office, which runs Roon Core.
Using Roon with the ND5 XS 2 proved problematic. When I attempted to stream to the ND5 XS 2 from Roon, Roon often showed the volume control as being Fixed -- I couldn't adjust the volume from Roon, despite having set the ND5 XS 2's Volume mode to Variable in the Naim app. When I asked Naim Audio about this, I was told that this is "a known bug" that will be addressed "in a forthcoming firmware update." But in late August, as I completed this review, I was still experiencing this problem.
Digital out
My initial plan was to listen to the Naim ND5 XS 2 through Elac's Navis ARF-51 active floorstanding loudspeakers ($3999.96/pair), which I recently reviewed for Simplifi and subsequently bought. However, the Naim streamer arrived at my home a few weeks before the Elac review samples, so I spent some time listening through my Dynaudio Focus 200 XD active speakers, which, after a firmware update, are functionally and sonically identical to Dynaudio's newer Focus 20 XD ($5999/pair), which Al Griffin reviewed in October 2017.
After enabling the ND5 XS 2's digital output in the Naim app, I connected the streamer to the S/PDIF input of the right-channel Focus 200 XD using a 2m AudioQuest Carbon coaxial digital link and the Naim's supplied BNC-to-RCA adapter, and connected the right-channel speaker's digital output to the S/PDIF input on the left-channel speaker using a 5m AudioQuest Carbon digital link. This is the same configuration I usually use to connect my Bluesound Node 2i BluOS streaming preamp ($499) to the Dynaudios.
Bits-are-bits skeptics might expect the Bluesound and Naim streamers' digital outputs to sound identical, despite the price difference. They'd be wrong.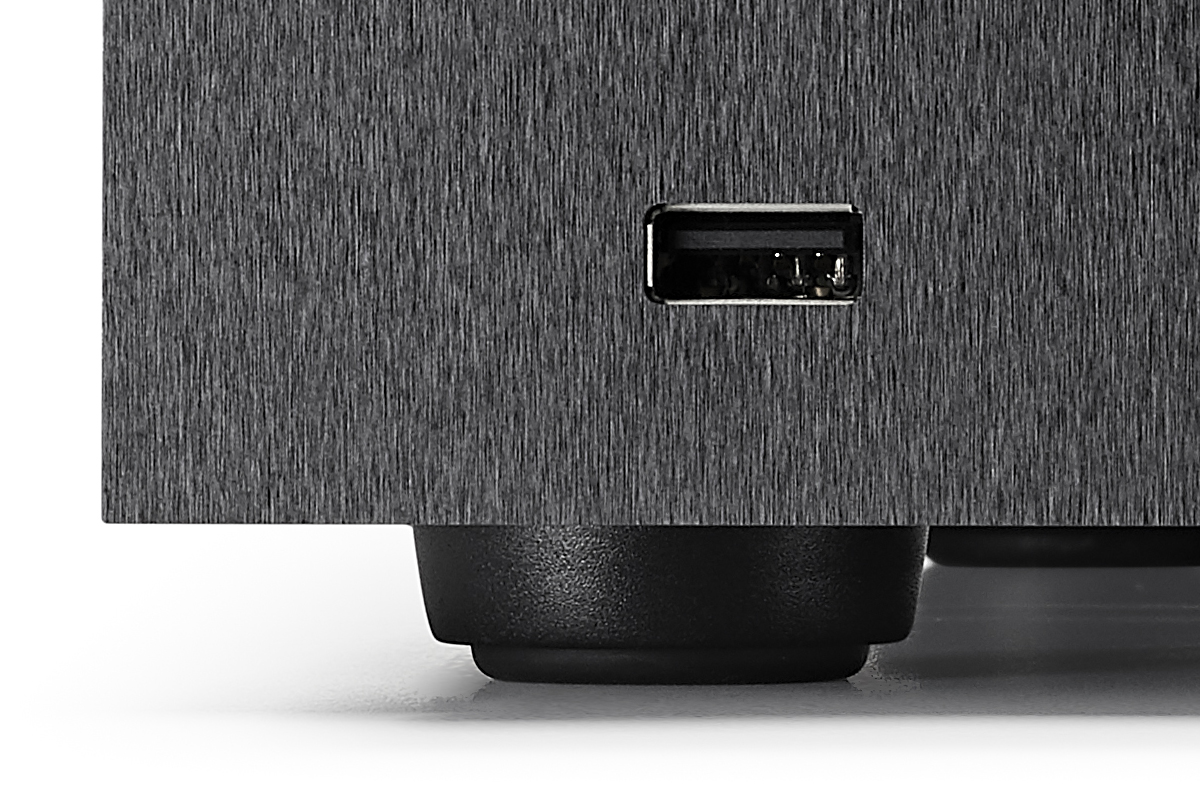 Playing "Wooden Stairs," from the Cowboy Junkies' All That Reckoning (24-bit/44.1kHz MQA, Latent/Tidal), and using the Tidal clients in the BluOS and Naim apps, both streamers made it easy to get lost in this album's dark, hypnotic atmosphere. But the space reproduced by the ND5 XS 2 was noticeably larger, with details on it more clearly illuminated. For example, the Naim's superior microdetail made Margo Timmins's voice sound a little more embodied. I was more aware of her subtle word-painting, which made the sadness and weariness of this song's persona more touching. Similarly, the Naim produced the leading edges of Michael Timmins's reverb-laden guitar chords a little more clearly, making his playing sound even more darkly expressive. I found it interesting that I was hearing a fully decoded 24/44.1 MQA stream through the Node 2i and a 16/44.1 FLAC stream through the Naim.
I then streamed guitarist Franz Halász's wonderful new recording of J.S. Bach's Lute Suites (24/96 FLAC, BIS/Qobuz) to the Bluesound and Naim players via Roon, and from their digital outputs to the Dynaudios. Halász seemed to be sitting right in front of me. This fabulous album, engineered and edited by Halász himself, boasts a supremely natural portrayal of the instrument and the recording venue -- the Great Hall of Munich's University of Music and Performing Arts. Both streamers beautifully rendered the warm tone of Halász's Julian Dammann guitar and the natural decay of his sustained notes. But the Naim streamer reproduced the delicate transients of Halász's Knobloch Carbon strings with greater clarity, without diminishing the warmth of the instrument's sound. Through the Naim, the guitarist's rapid trills and runs were more articulate, which made it easier to appreciate Bach's inspired writing and Halász's wonderful musicianship. With the Naim, I had a more palpable sense of human fingers plucking strings.
Analog out
When the Elac Navis ARF-51s arrived at my home, I placed them in the same spots normally occupied by the Dynaudio Focus 200 XDs, and connected them to the ND5 XS 2's RCA outputs using 2m and 5m lengths of AudioQuest's Mackenzie RCA interconnect.
Although I'd enabled the RCAs in the Output Settings menu of the Naim app and set the Volume Mode to Variable, there was no sound. An exchange of e-mails later, Naim Audio concluded that my review sample was defective and sent a replacement. After a routine setup process, the replacement sample worked fine except for the volume-control problem with Roon described above.
The Roon problem was intermittent -- it would sometimes temporarily stop after I'd disconnected the ND5 XS 2's AC plug, but would sometimes resume. Fortunately, Roon worked often enough that I was able to use it for this portion of my review.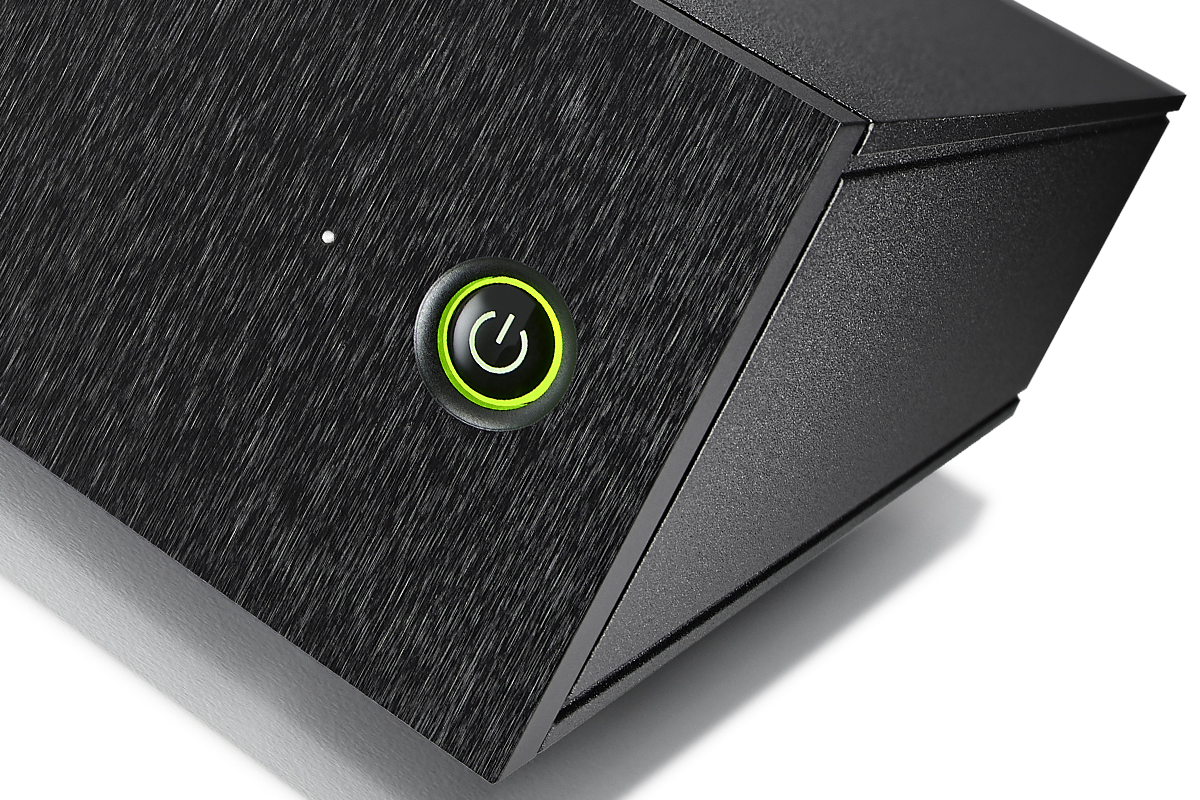 I also used Roon to stream to my Bluesound Node 2i and to a Lumin T2 network player ($4500, review pending). I connected the Node 2i to the Navises using the same AudioQuest interconnects I'd used with the ND5 XS 2. The T2 has both unbalanced (RCA) and balanced (XLR) outputs. I used the latter, connecting them to the Navises' balanced inputs using 2m Argentum Acoustics Mythos interconnects. Unlike the ND5 XS 2, the T2 has no digital or analog inputs for connecting external components, and no built-in Wi-Fi. However, the T2 has a front-panel screen that shows track and artist information, volume level, elapsed time, and file format.
One of the first albums I bought after discovering high-resolution downloads, in the early 2010s, was a remastered version of Traffic's John Barleycorn Must Die (24/96 FLAC, Island/HDtracks). This album was also one of the first LPs I acquired after discovering FM radio, in 1970. (We didn't have FM in the home I grew up in.)
Based on a traditional English song, the title track features Steve Winwood singing and playing acoustic guitar at center and overdubbed piano at left; Chris Wood on flute at right, and Jim Capaldi on percussion (tambourine, wood block, triangle) off on the left, and adding background vocals in the choruses. The 2010 remastering sounds wonderful.
Streamed to the Node 2i and ND5 XS 2 via Roon, every element in this deceptively simple mix was better differentiated through the Naim: Microdynamics were better, with the result that Winwood's voice was a bit more expressive, a little more human. Winwood's guitar transients sounded faster, but also more rounded, less jangly. Capaldi's percussion attacks, too, were sharper -- the triangle and wood block simply appeared out of thin air through the ND5 XS 2. The Naim created a bigger soundstage, with clearer aural images. Through the Bluesound, everything was a little more closed-in.
I also played "John Barleycorn Must Die" through the Naim ND5 XS 2 and Lumin T2, this time from files stored on an Adata solid-state drive (SSD) plugged into a USB port on a Naim Uniti Core music server. I used the Naim and Lumin apps to control playback on both streamers.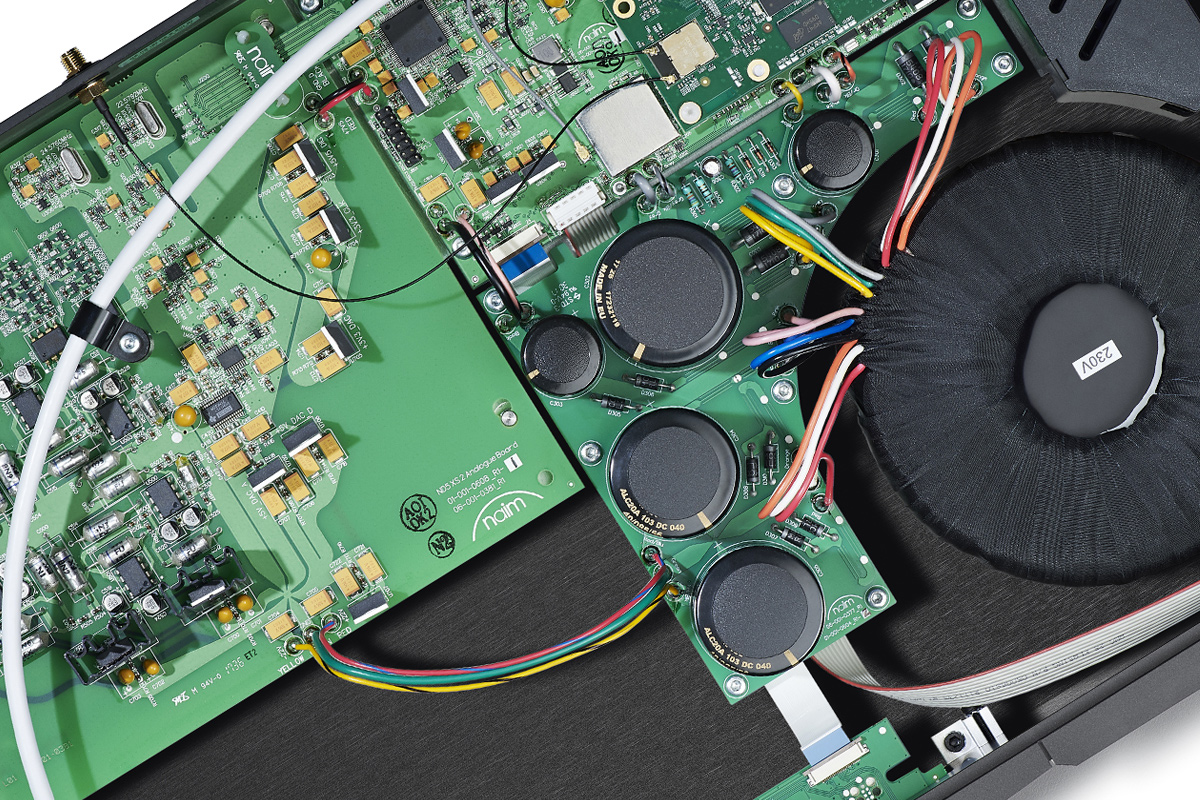 The Lumin's superior dynamics, micro- and macro-, showed themselves in the T2's reproduction of Wood's flute playing -- I was just a bit more aware of his blowing and phrasing. Transients were slightly sharper on Winwood's guitar. Overall, the Lumin streamer sounded slightly clearer and more precise, the Naim a little warmer and more romantic -- or a little more gauzy, if you want to put a different spin on the difference.
To hear how the ND5 XS 2 would fare with a dense orchestral score, I streamed a live recording of Vladimir Jurowski leading the London Philharmonic Orchestra in Rachmaninoff's Isle of the Dead (24/96 FLAC, LPO/Qobuz), via Roon. One of the most evocative works in the classical canon, this tone poem of 1909 was inspired by a painting of the same title, by the Swiss symbolist artist Arnold Böcklin, that shows a figure shrouded in white standing in the bow of a boat being rowed by a black-clad oarsman toward a craggy, cypress-covered island. Rachmaninoff's music evokes the rolling motion of the waves under the boat, and the turbulent emotions of its passenger -- nostalgia, melancholy, longing, resignation, and exaltation -- during that final journey.
Compared to the Node 2i, the ND5 XS 2 sounded more open and spacious. Strings were breathier, orchestral textures more transparent, transients faster. Sudden flourishes in the violins were rendered with greater urgency. I was more aware of the expressive bowing in the moody opening passage, which evokes the rocking motion of the waves. Harp arpeggios and flute solos were positioned firmly on a soundstage slightly bigger than the one presented by the Node 2i. Not only did the Naim provide a more convincing facsimile of a live symphonic concert, it more effectively conveyed the emotional content of Rachmaninoff's score.
The Lumin T2 was even more transparent, with better resolution of orchestral textures. Sudden flourishes in the violins sounded faster and more exciting through the Lumin than through the Naim. The Naim sounded a little more romantic, but also a little more veiled. With the T2 the background was "blacker," which meant that instrumental tones and colors were rendered more convincingly. And it was a little more dynamic, so that I was more aware of Jurowski's creative pacing. Whereas the Naim delivered a better sense of being in London's Royal Festival Hall, the Lumin took me more deeply into Rachmaninoff's score. But with this great recording, both components sounded wonderful.
Conclusion
From the foregoing, it should be clear that Naim Audio's ND5 XS 2 network streamer delivers the sonic goods. I enjoyed its wonderfully open, spacious sound and its excellent dynamics, the latter simultaneously fast and rounded. The ND5 XS 2 sounded articulate but never etched. The result was that I had a sense of human hands on stringed and keyboard instruments, and of human voices singing -- of music being made in real-world spaces.
My concerns about software and setup need to be kept in perspective. Setup is a onetime process, and if you observe my cautions about Output Settings and Volume Mode, you should be fine. That said, streamers are complex components, and new to many audiophiles. Naim should provide better guidance in setup.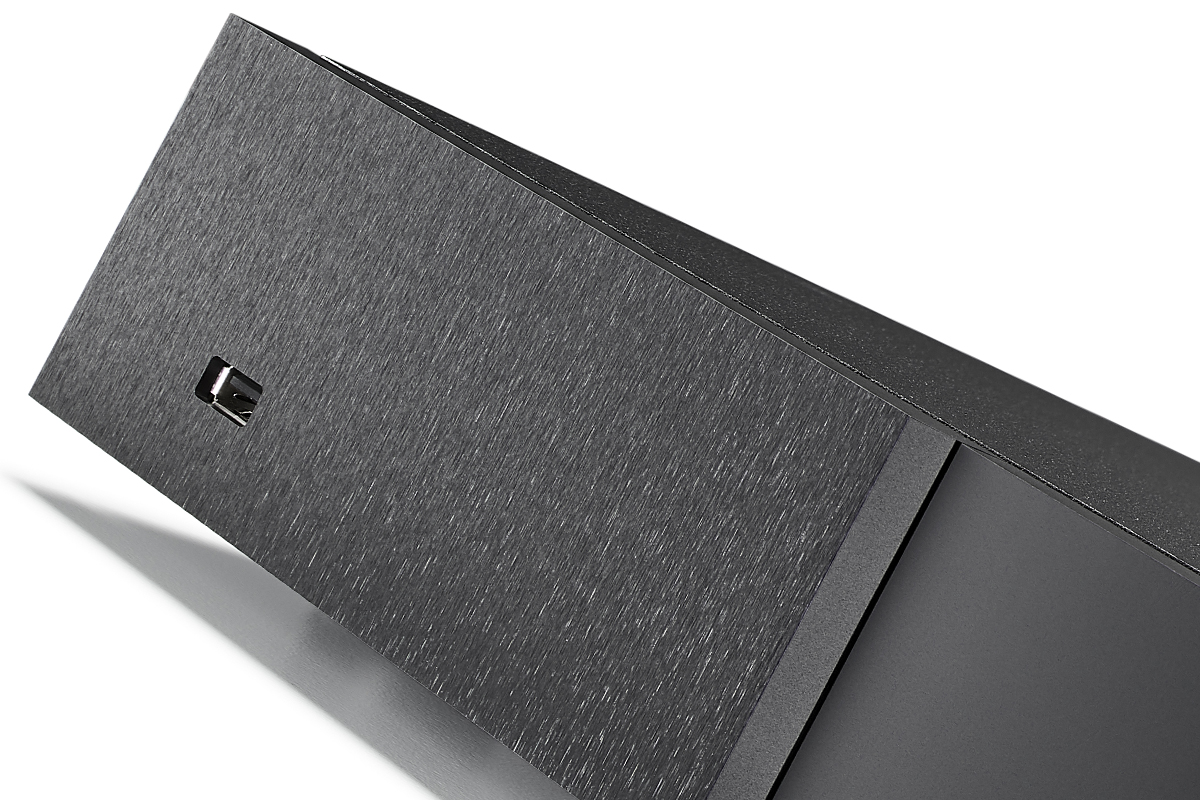 For playback, none of the software problems raised here are deal breakers, and to many users they may not apply at all. If you stream via AirPlay, Chromecast, or Spotify Connect, you may never have to use the Naim app after setup.
While Naim's app isn't as polished as those for some other audio platforms, notably Sonos and Bluesound, it's definitely solid. The only serious annoyance I experienced was its interleaving of tracks from multi-disc albums.
Normally, I'd direct those who want more polished software to Roon -- if you don't need to control volume from Roon, that will be a great option. If you do, I advise waiting till Naim issues a firmware update that addresses the bug described earlier. When that happens, the ND5 XS 2 will be a very attractive Roon endpoint.
Recorded music is quickly moving from a world dominated by physical media to one dominated by online streaming. For many music lovers, Naim Audio's ND5 XS 2 could be just the right product for making that transition.
. . . Gordon Brockhouse
This email address is being protected from spambots. You need JavaScript enabled to view it.
Associated Equipment
Sources -- Naim Uniti Core CD ripper/music server with Adata 256GB SSD, Apple Mac Mini computer running Roon Core 1.6, Bluesound Node 2i BluOS music streamer, Lumin T2 network music streamer, Apple iPhone SE and LG G7 ThinQ smartphones
Active loudspeakers -- Elac Navis ARF-51, Dynaudio Focus 200 XD
Interconnects -- Argentum Acoustics Mythos balanced (2m, XLR) and AudioQuest Mackenzie unbalanced (2m and 5m, RCA) for Elac Navis speakers, AudioQuest Carbon digital coax (2m and 5m, RCA) for Dynaudio speakers
Network -- Google Wifi three-node wireless mesh network
Naim Audio ND5 XS 2 Network Music Player
Price: $3495 USD.
Warranty: Two years parts and labor.
Naim Audio Ltd.
Southampton Road
Salisbury SP1 2LN
England, UK
Phone: +44 (0)1722-426600
Fax: +44 (0)871-230-10-12
E-mail: This email address is being protected from spambots. You need JavaScript enabled to view it.
Website: www.naimaudio.com