The German hi-fi brand Elac dates back to the 1920s, but has lately undergone a renaissance. Following a business reorganization in 2014, Elac established an American subsidiary charged with developing affordable, high-performance loudspeakers. That task was assigned to Andrew Jones, who in 2015 joined Elac as vice-president of engineering, following gigs at KEF, Infinity, TAD, and Pioneer.
Jones has created a continuous parade of hit products for Elac, at prices ranging from the low hundreds to the mid-thousands of dollars. Until last year, all of Jones's designs for Elac had been passive speakers. But in 2018 Elac announced the Navis series of active speakers, which includes a stand-mount model, the ARB-51 reviewed here ($1999.98/pair, all prices USD), and a floorstander, the ARF-51 ($3999.98/pair).
Unlike other active speakers recently reviewed on SoundStage! Simplifi, Elac's Navis speakers are analog designs. KEF's LS50W and LSX, and Dynaudio's Focus 20 XD, implement the crossover using DSP; Elac's Navis models have analog active crossovers.
Outside and in
The stand-mounted ARB-51 and floorstanding ARF-51 are both three-way, rear-ported speakers, and employ the same drivers and amplifiers. On top is a coaxial driver -- a 4" aluminum midrange unit crossed over at 2.2kHz to a concentrically mounted 1" soft-dome tweeter. Low frequencies come from 5.25" aluminum woofers crossed over at 260Hz to the midrange driver. The ARB-51 has one woofer, the ARF-51 three.
The tweeter is powered by a 40W class-AB amplifier, the midrange by a 100W BASH amplifier, and the bass section (one woofer on the ARB-51, three on the ARF-51) by a 160W BASH amplifier.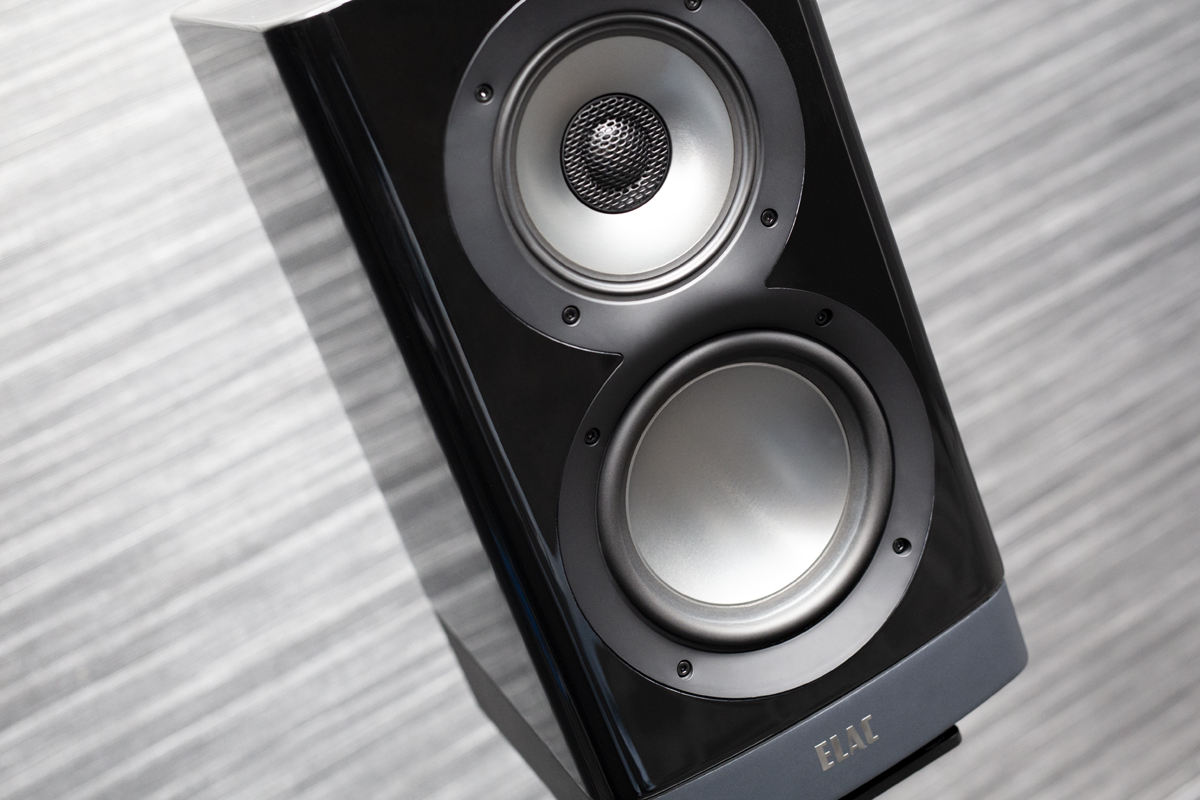 BASH (Bridged Amplifier Switching Hybrid) amplifiers use conventional class-AB output stages, but are driven by a switching input stage that dynamically adjusts power-supply voltage to signal levels. As a result, BASH amplifiers generate much less heat than class-AB amps, so require less heatsinking -- a valuable trait for use in active speakers and subwoofers. As Jones explains in this month's feature "Active Voices," BASH amps approach both class-D efficiency and class-AB linearity.
Navis speakers have no digital inputs. Instead, each speaker has RCA and XLR line-level inputs, intended for connection to a preamplifier, DAC, or the line-level outputs of an integrated amplifier or receiver. An input switch on the rear panel lets users select the RCA or XLR input, or a third, wireless option. Navis speakers can be paired with Elac's Discovery Connect wireless streaming module ($399.99), which can transmit 16-bit/44.1kHz PCM audio via Elac's proprietary AirX2 protocol.
In addition to wireless connectivity, the Discovery Connect has RCA analog outputs, plus two TosLink optical and two S/PDIF coaxial digital outputs. When the Native optical and coaxial outputs are used, the Discovery Connect performs no sample-rate conversion. In Native mode, it supports high-resolution audio to 24/192. With Standard digital outputs, as well as analog audio out, all signals are converted to 24/96. In Standard mode, the Discovery Connect can stream music from an Elac Discovery music server, and from Roon, AirPlay, Spotify Connect, and Bluetooth. The Native digital outputs work only with Roon and Elac Discovery streams.
Many active speakers designed for home use, including the KEF and Dynaudio models mentioned above, let users compensate for room-boundary conditions with DSP. Despite having analog crossovers, Elac's Navis speakers also allow users to customize output for room conditions, via three-position equalization switches on the rear panels for the low frequencies (-4, 0, and +1dB), mids (-1, 0, and +1dB), and highs (-1, 0, and +1dB). A switchable high-pass filter, with crossover frequencies of 60 and 80Hz, limits the bass output of both Navis speakers when they're used with a subwoofer.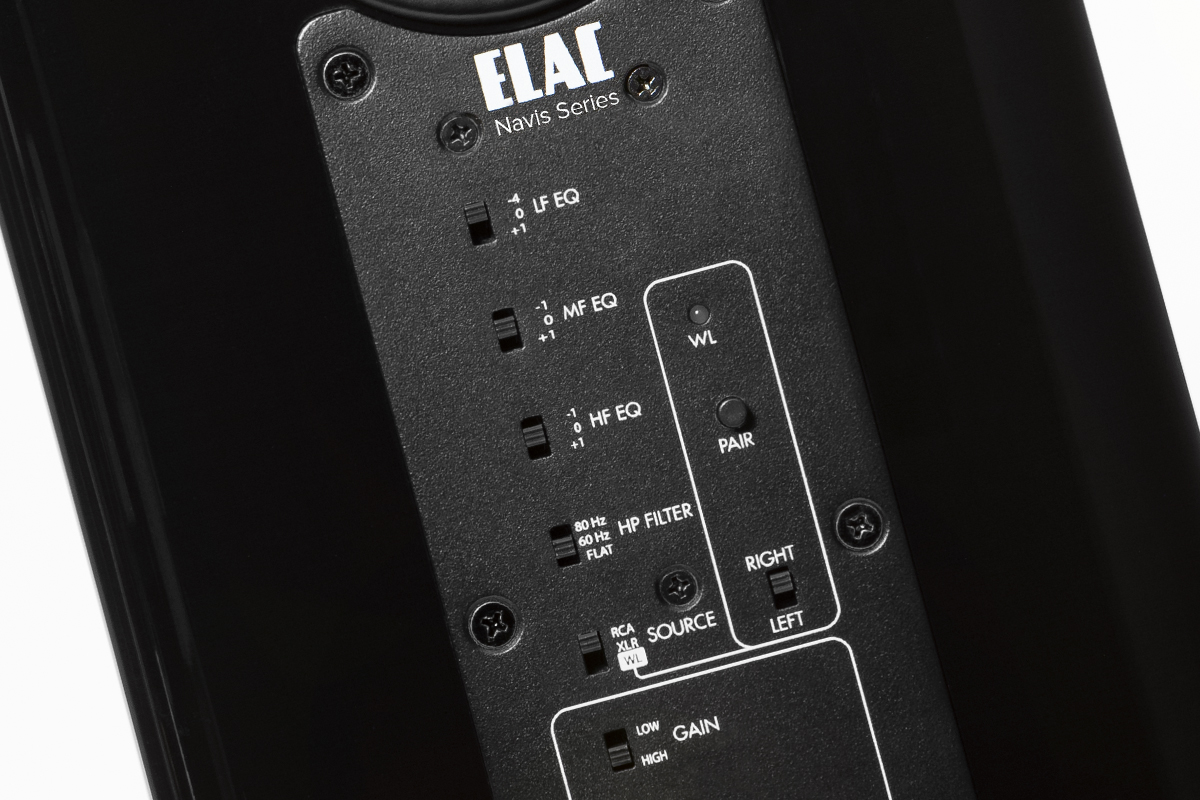 Each ARB-51 measures 13.58"H x 7.44"W x 9.45"D and weighs 35.7 pounds. My review samples were finished in beautiful, high-gloss ebony, attractively complemented by gunmetal gray trim on the bottom; high-gloss finishes of white and black are also available. The speaker tapers inward toward the rear, and the side edges of the front baffle are gracefully rounded. No grille is provided, but the tweeter is protected by a wire-mesh waveguide.
Listening
I auditioned the Navis ARB-51s in the living room of my Toronto home, placing them on the stands where my Dynaudio Focus 200 XD active speakers normally sit. I connected them to the analog output jacks of a Bluesound Vault 2i streamer-server-ripper using AudioQuest Mackenzie interconnects (RCA): a 5m cable ($179.97) for the left speaker, and a 2m cable ($119.97) for the right. For AC power, I used the same AudioQuest NRG-Y3 2m cords ($149.95 each) that normally power my Dyns.
The backs of the ARB-51s were about 12" from the wall, the minimum distance recommended by Elac, but from these positions, the midbass was just a tad too fat for my taste. I'd like to have been able to dial back the bass output slightly, but the only option for trimming the lows was -4dB. With the LF EQ switch in that position, the bass was too lean, so I left the switch at 0dB. No EQ was needed for the mids and highs -- in my living room, the ARB-51s sounded best with their midrange and HF switches set to 0dB.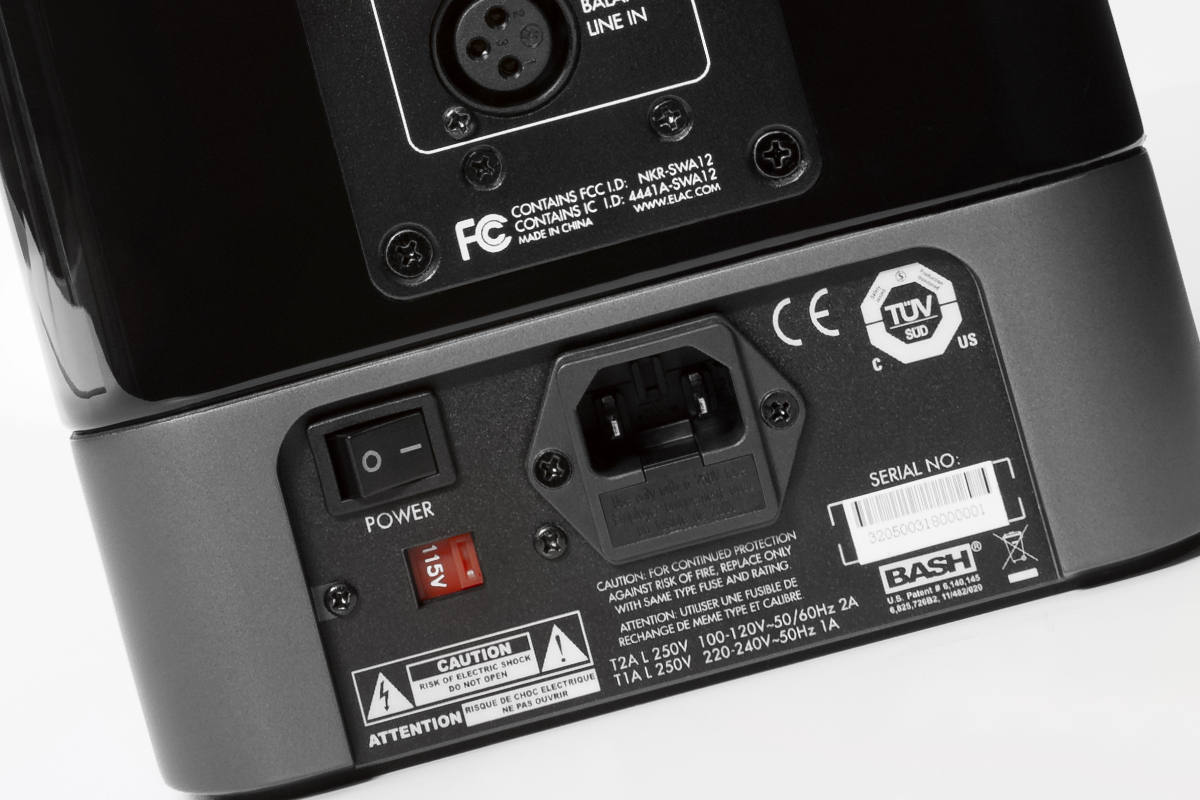 I noticed one operational quirk: My review samples emitted a transient thump when they entered sleep mode. The frequency of the thump was different from each speaker, but both seemed centered in the midrange.
Elac claims a frequency range of 44Hz-28kHz for the Navis ARB-51, but doesn't specify a tolerance or test conditions (e.g., in-room, anechoic). Never mind -- after spending many hours with the ARB-51s, I believe this spec.
Aside from the very slight midbass fatness mentioned above (I think the speakers' placements had a lot to do with this), the ARB-51s' bass was impressive for a small, stand-mounted speaker. I would have liked a bit more oomph for pipe organs, action-movie effects, and EDM synth lines, but the ARB-51s had no trouble producing the deepest note (41Hz) of a double bass or bass guitar.
Treble was just as satisfying: extended and detailed, yet inviting and easy to listen to. The ARB-51s sounded smooth, but definitely not soft. Transients were fast and articulate, but never artificially etched. Mids, too, seemed just right -- not too forward, not too recessed. With all manner of instrumental and vocal music, I heard no troublesome colorations or resonances.
Elac specifies a signal/noise ratio of 110dB for the ARB-51, a claim I find completely credible. With the Bluesound Vault 2i's volume set at the loudest I'd want in my living room, I heard no noise at all with my ear a couple inches from a tweeter. What that means is that sound emerged from a jet-"black" background into the air between and behind the speakers. Only my eyes told me that the music I was hearing was coming from the two boxes flanking my faux fireplace.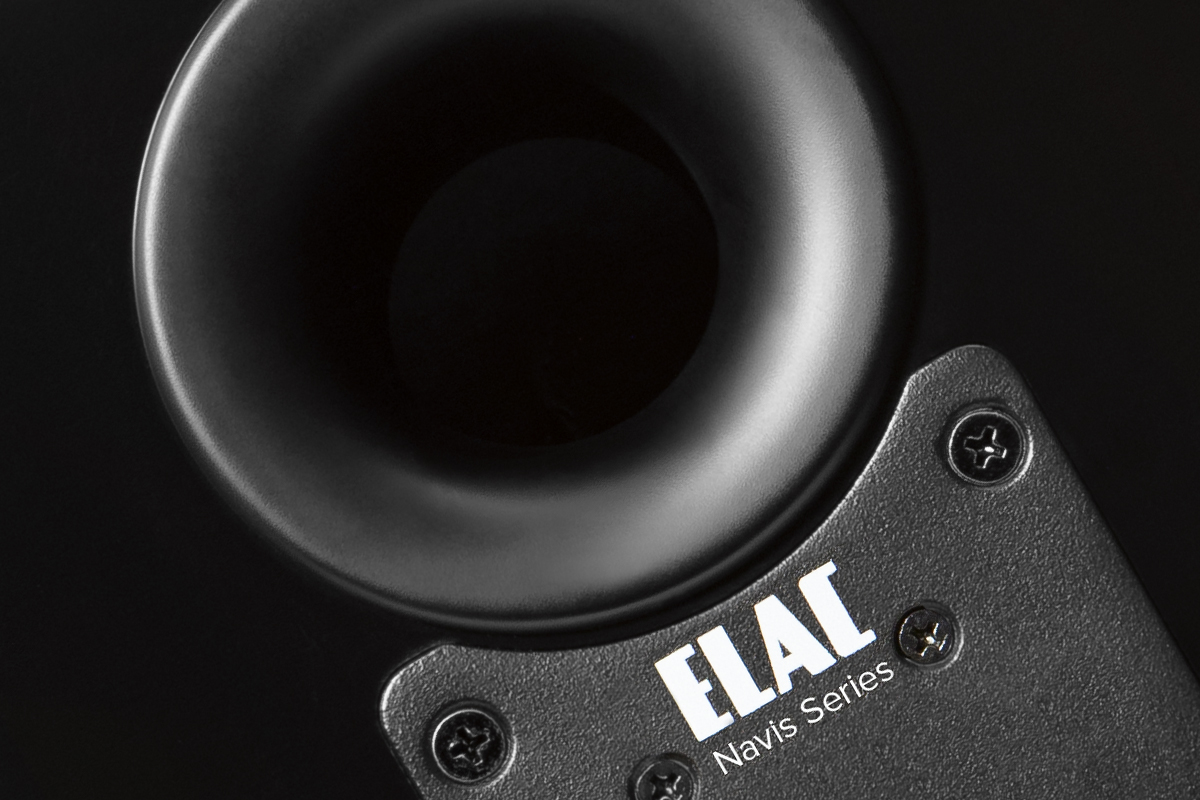 As you'd expect from three-way active speakers with 300Wpc of onboard amplification, the ARB-51s could play loud and change level on a dime. Even more striking was how natural dynamic shifts sounded, with a seemingly infinite range of gradations from loud to soft. Because volume ramped up and down so quickly and so naturally, the ARB-51s were able to communicate expressive nuances very effectively, enhancing the emotional content of whatever I was playing.
A recording that really showed off the ARB-51's microdynamic capabilities was Blue Maqams, by the Tunisian oud player Anouar Brahem (24-bit/96kHz FLAC, ECM/ProStudioMasters). In this wonderful 2017 album, Brahem is joined by jazz pianist Django Bates, double bassist Dave Holland, and drummer Jack DeJohnette. The oud is an Arabic lute-like instrument, and the Navis speakers beautifully conveyed its exotic nature. "Bahia" opens with an extended solo by Brahem. Strongly plucked notes were rendered as a single event consisting of several components -- the initial transient, followed by faint buzzing of the string, then a gradual decay into the background, all in a beautifully detailed and completely natural sequence. I also loved the way the ARB-51s rendered Brahem's subtly varied fingering in this number, and the woodiness of his instrument.
Two minutes into "Bahia," Holland enters on bass; a half-minute later, DeJohnette starts tapping a steady rhythm on cymbals and tom-toms. The cymbals sounded gorgeous -- extended but not splashy. Holland's bass sounded warm and full, right down to the open E string. Except for the very lowest notes, which were a touch muddy, bass definition was excellent. The next track, "La Passante," begins with a quiet piano interlude. The ARB-51s conveyed every aspect of Bates's pianism: his lovely legato phrasing, his gently arpeggiated chords, his creative use of the sustain pedal.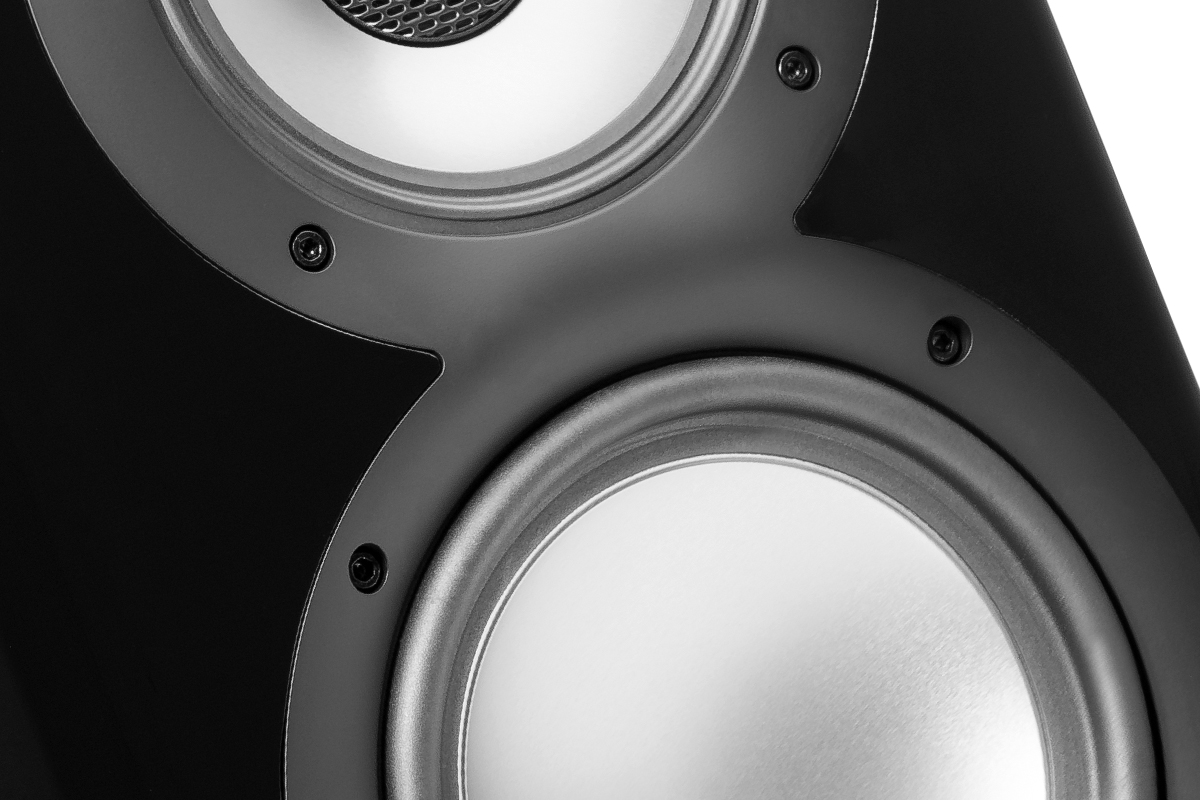 Earlier this year, I was delighted to see that my favorite album of 2018, Landfall, by Laurie Anderson and the Kronos Quartet (24/44.1 FLAC, Nonesuch/Tidal), had won a Grammy in the Chamber Music category. Recounting Anderson's experience of Hurricane Sandy in 2012, the album is tinged with grief and loss, undoubtedly accentuated by the death of her husband, Lou Reed, in 2013. Most of the tracks are instrumental, with the four string players (augmented by keyboards, percussion, and electronic effects) creating an experience of swirling wind, driving rain, flooded streets, and civic chaos. Listening to the first track, "CNN Predicts a Monster Storm," I was struck by the sheer beauty of the string tone. Bowed violins had lovely extension in the upper strings, and real substance in the lower strings. The plucked cello was also gorgeous: an appropriately muted transient segueing into woody resonant sounds from the instrument's body. In this and subsequent tracks, this beauty didn't detract from the eeriness that pervades this album.
In "Everything Is Floating," Anderson recounts everything she lost in the storm. With their extraordinary microdynamics, the ARB-51s conveyed every inflection of Anderson's speech: her elongated phrases, her quiet whispers, her weary resignation. Supported by the Kronos Quartet's mournful accompaniment, her conclusion, "I thought: how beautiful, how magic -- and how catastrophic," was heartbreaking.
In early March, Doug Schneider and I spent a very pleasant evening at the home of SoundStage! reviewer Jason Thorpe. Doug and Jason introduced me to a lot of great music I'd never heard, including the title track of Johnny Cash's America IV: The Man Comes Around. The next day, I streamed the song (16/44.1 FLAC, American Recordings/Tidal) through the Bluesound Vault 2i and Navis ARB-51s, and have played it many times since.
This was the last album released before Cash's death, in 2003. His rugged baritone, close-miked on this recording, was completely convincing through the ARB-51s -- weakened by age, burdened by sorrow, but still brimming with power. Equally impressive was the simple accompaniment to "The Man Comes Around" -- the muted six-string guitar at the center sounding half-melodic, half-percussive, but not thuddy; in the choruses, the 12-string guitar at left and the six-string at right sounding bright and alive, but not jangly; and, later in the track, the gong at center sounding deeply and forebodingly metallic.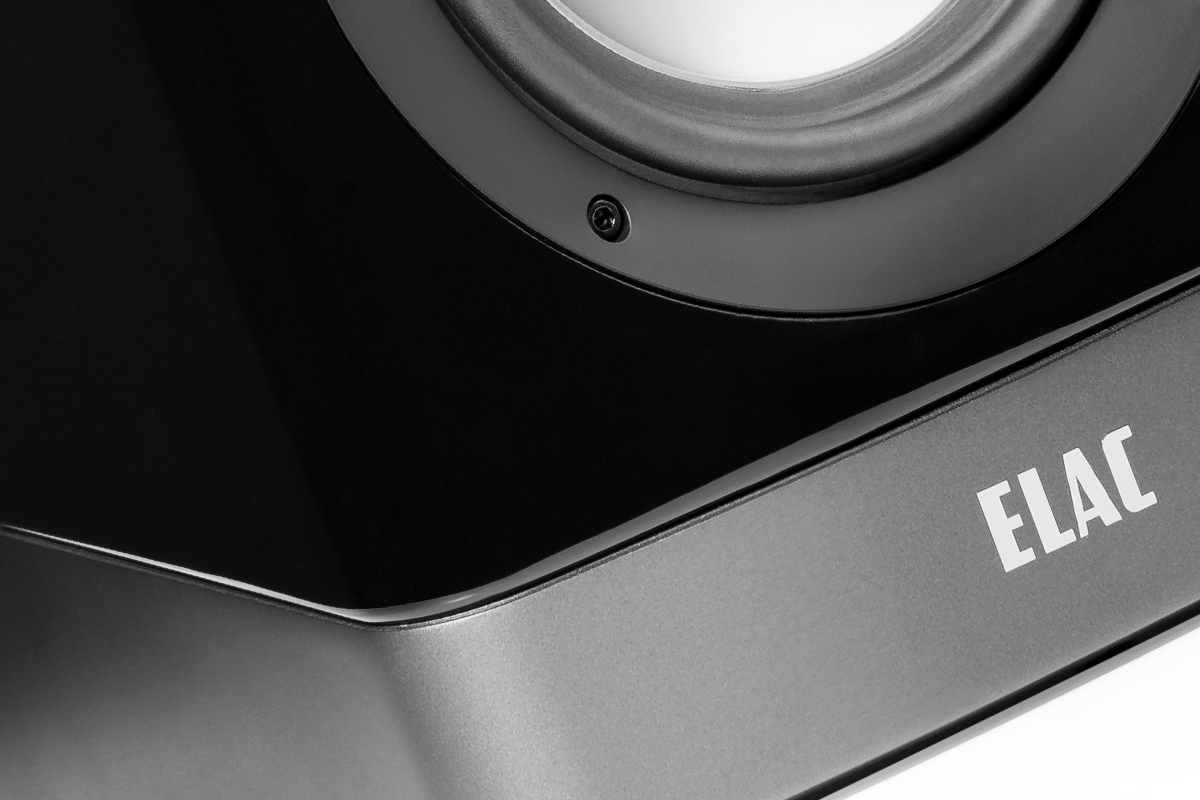 Staying in doomsday mode, I cued up Leonard Bernstein's monumental 1976 recording of Hector Berlioz's Grande Messe des Mortes, featuring the combined forces of the National Orchestra of France, the Radio France Philharmonic Orchestra and Chorus, and tenor Stuart Burrows (16/44.1 ALAC, Columbia Masterworks). I wanted to hear how the ARB-51s would cope with something really loud and really dense, and Lenny's reading of the Berlioz Requiem seemed just the ticket. It's not a beautiful recording, but it sure is dramatic.
The second movement, Dies Irae (Day of Wrath), opens in the lower strings. Then the choir enters -- first the sopranos, then the tenors and other voices. The cello sound in the opening was gorgeous, at once smooth and woody. The Navis speakers did an admirable job of separating strands in the densely contrapuntal passages that followed. Five minutes in, the Tuba Mirum section begins, in which a brass choir summons the dead to judgment. Then, in the music, all hell breaks loose, with bass drums, timpani, tam-tams, brass, and massed choirs evoking terror. This section sounded somewhat congested, but let's grant the ARB-51s some mercy -- this was the Day of Judgment they were attempting to reproduce. For affordable, compact stand-mounters, their performance was admirable.
Comparison
After listening to the Navis ARB-51s for a couple of weeks, I restored my Dynaudio Focus 200 XD active speakers to their normal positions, connecting the digital input of the right speaker to the Bluesound Vault 2i with a 2m AudioQuest Carbon digital coax cable ($243.95) and to the digital output of the left speaker with a 5m length of the same cable ($375.95).
The Focus 200 XD has been replaced by the Focus 20 XD ($5999/pair), which received a Reviewers' Choice Award on this site in 2017. However, following a firmware upgrade, the Focus 200 XD is now sonically and functionally identical to its successor -- the only differences are cosmetic.
Like its successor, the Focus 200 XD has a 1" silk-dome tweeter and a 6.5" magnesium silicate polymer bass-midrange driver, each powered by its own 150W class-D amplifier. As noted above, the crossover is implemented in DSP, which is also used to optimize each driver's amplifier output. Like the Elacs, the Dyns have a wireless option -- the Connect module, which I wrote about in my kick-off feature for SoundStage! Simplifi.
While the Elac and Dynaudio speakers are both active designs, this comparison has a slight apples-and-oranges aspect. The Dyns are all-digital, so you can connect the output of a streamer directly to the speaker -- no DAC is needed. The Elacs are analog designs; for digital sources, you'll need a DAC of some kind.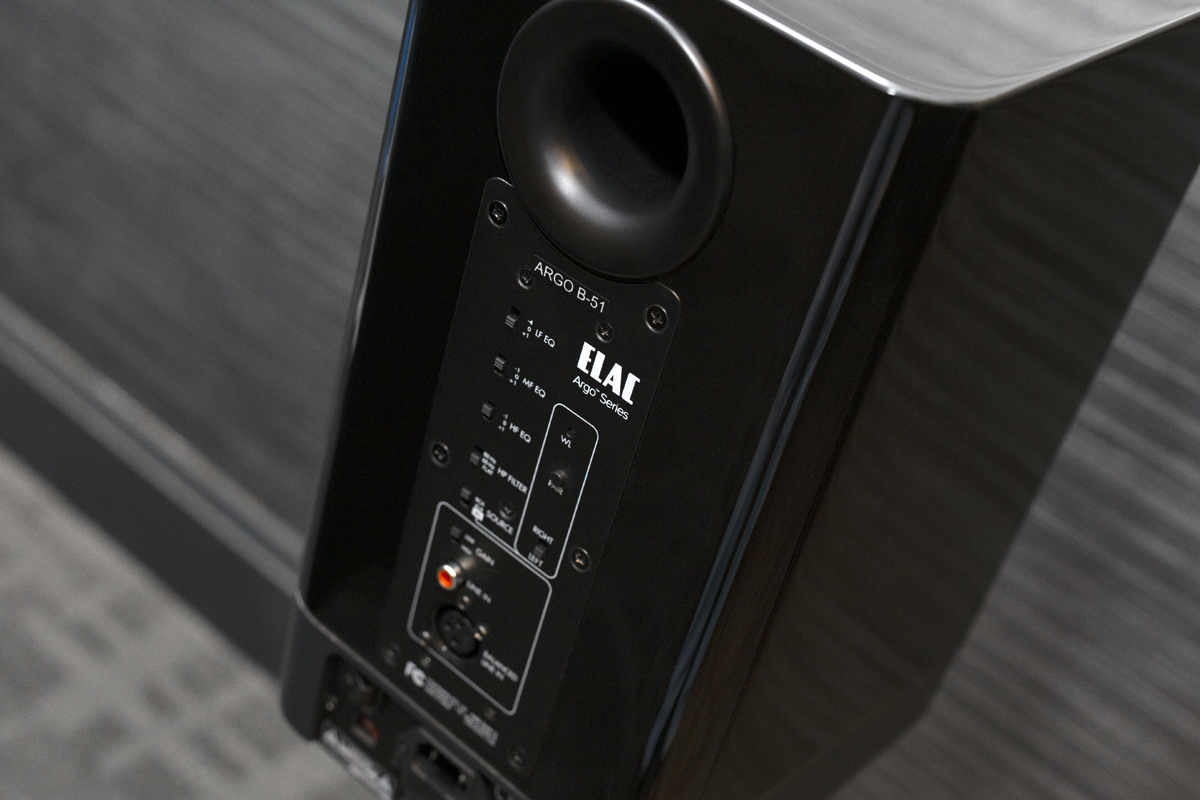 Anouar Brahem's Blue Maqams sounded a little bigger and more exciting through the Dyns, but the Elacs were warmer. The transients of Brahem's oud were sharper and faster on the Dyns. While the Focus XDs had superior macrodynamics, I thought the Navises' microdynamics were slightly better. In Django Bates's introductory piano solo in "La Passante," the way the Elacs transitioned from attack to sustain to decay was a little more nuanced, and the definition in the lower strings of Dave Holland's double bass was better through the Focus XDs -- the fact that the Dyns' continuous room-boundary controls let me dial in just the amount of correction I wanted likely played a part here.
In the Dies Irae of the Berlioz Requiem, the cellos in the opening sounded warmer and woodier through the Elacs, but elsewhere the advantage went to the Dynaudios. Dense choral passages were resolved better by the Focus XDs. When the French choir's voices swelled to make a rhetorical point, the Dynaudios better captured such moments. The brass choir that begins the Tuba Mirum had more bite via the Dynaudios. And in the dramatic passage that follows, the Focus XDs sounded less congested. This was still a wall-of-sound experience, as it should be -- but bass drums, timpani, brass, and choral voices were all better differentiated. The sense of space reproduced by the Dynaudios was also larger, especially in terms of height.
String tones in Laurie Anderson and the Kronos Quartet's Landfall weren't quite as sweet through the Dynaudios, but neither were they wiry. The additional bite enhanced the eerie character of this work, and made the Kronos's simulations of hurricane winds more convincing. Deep bass-synth lines in such sections as "Wind Whistles Through the Dark City" were a little better controlled through the Dynaudios.
Overall, I found the Focus XDs a bit more incisive. They communicated big dramatic moments a little more convincingly. I found the Navis ARB-51s warmer, and a little better at uncovering subtleties of musical expression. Much as I hesitate to go into Canadian-nice-guy mode, I want to emphasize that the Focus XDs can definitely convey nuance, and the Navis ARB-51s can definitely create drama.
One last point of differentiation: While the Focus 200 XDs have very good fit and finish, the Navis ARB-51s are even better in this respect.
Conclusion
It's awfully impressive that Elac's Navis ARB-51s compare so favorably with an active speaker costing three times as much. True, the Dynaudio Focus XDs are all-digital -- you don't need to add a DAC for digital playback. But the difference in price -- four large -- will buy you a hell of a DAC.
This cuts both ways. With an analog active speaker like the Navis ARB-51, you can choose whatever DAC you like, and upgrade it when you want. On the other hand, with an all-digital design like the Focus XD, signals remain in the digital domain right to the drivers, minimizing the number of A/D and D/A conversions. More important, a digital design allows for finer correction with DSP. Both approaches are valid.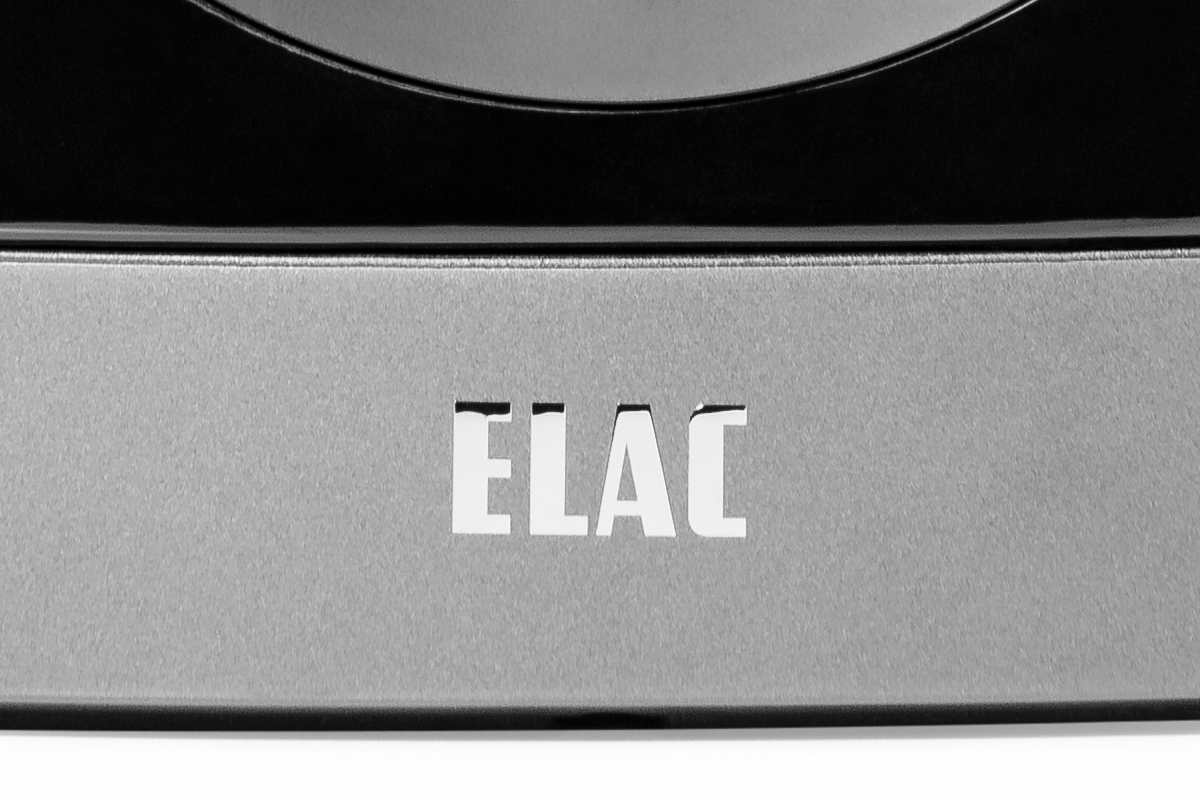 There's so much to admire about Elac's Navis ARB-51 -- their neutrality, their warmth, their expressiveness, and, of course, their incredible value for money. For two pennies under $2000, you get a superb three-way, stand-mounted speaker, and amplifiers matched to the individual drivers and with a total output of 300Wpc. With the Navis series, Andrew Jones's parade of hit products for Elac is clearly continuing. In my view, the ARB-51 rockets straight to the top of the charts.
. . . Gordon Brockhouse
This email address is being protected from spambots. You need JavaScript enabled to view it.
Associated Equipment
Speakers -- Dynaudio Focus 200 XD (active); most recent firmware update makes them equivalent to Dynaudio Focus 20 XD (active)
Sources -- Bluesound Vault 2i streamer-server-ripper
Cables -- All AudioQuest: Carbon (2m and 5m, coax) and Cinnamon (5m, Ethernet) digital links, Mackenzie interconnects (2m and 5m, RCA), NRG-Y3 power cords (2m)
Accessories -- Dynaudio Stand 6 speaker stands
Network -- Google Wifi three-point mesh network
Elac Navis ARB-51 Active Loudspeakers
Price: $1999.98 USD per pair.
Warranty: Three years parts and labor, cabinets and drivers; one year, electronics.
Elac Americas, Inc.
11145 Knott Avenue, Suites E & F
Cypress, CA 90630
Phone: (714) 252-8843
Website: www.elac.us