We're just past the halfway point of 2021, but I think I've already heard my favorite album of the year. On August 6, Impex Records will release Clique, an album of jazz standards by Patricia Barber, on MQA CD, SACD, and hi-rez download. Stereo and 5.1 surround-sound mixes will be included on the SACD, and available as hi-rez downloads. Clique will also be streamed by Apple Music, Spotify, Tidal, and Qobuz. Coming later this year is a 33rpm LP; a 45rpm LP and a reel-to-reel tape release will follow in 2022.
Clique was recorded in January 2019, at the same time as Higher, an album of original material based on Barber's song cycle Angels, Birds, and I . . . . On Clique, Barber performs songs by Rodgers and Hammerstein, Lerner and Loewe, Stevie Wonder, Lee Hazelwood, Thelonius Monk, and others. Joining Barber are the other members of her current trio—drummer Jon Deitemyer and double bassist Patrick Mulcahy, with guest appearances by guitarist Neal Alger and tenor saxophonist Jim Gailloreto.
Both albums were recorded in multitrack DXD (Digital eXtreme Definition—32-bit/352.8kHz PCM) at the Chicago Recording Company by the husband-and-wife recording team of Jim Anderson and Ulrike Schwarz. Clique was co-produced by Barber and Anderson; Schwarz was technical producer.
Anderson, who has been Barber's recording engineer for 26 years, has received 11 Grammy Awards, including one for Best Surround Sound Album of 2012: Barber's Modern Cool. Schwarz, who was a senior sound engineer for Bayerischer Rundfunk from 2001 to 2015, has received multiple awards and nominations, including a Grammy nomination for Best Immersive Audio Album (formerly, the Surround Sound category) in 2020.
After the sessions, Anderson and Schwarz took the recordings back to their home base in Brooklyn, New York, for final edits, then traveled to Skywalker Sound in Marin County, California, where they created the stereo and 5.1 surround-sound mixes. The albums were mastered at Gateway Mastering Studios in Portland, Maine, by Bob Ludwig.
Bernie Grundman Mastering, which is in Hollywood, California, is cutting the 33 and 45rpm LP releases of Clique using Ludwig's uncompressed two-channel DXD masters. Using the same files, Scott Hull of Masterdisk Studios in Peekskill, New York, is prepping Clique for release on quarter-inch, 15-inches-per-second tape.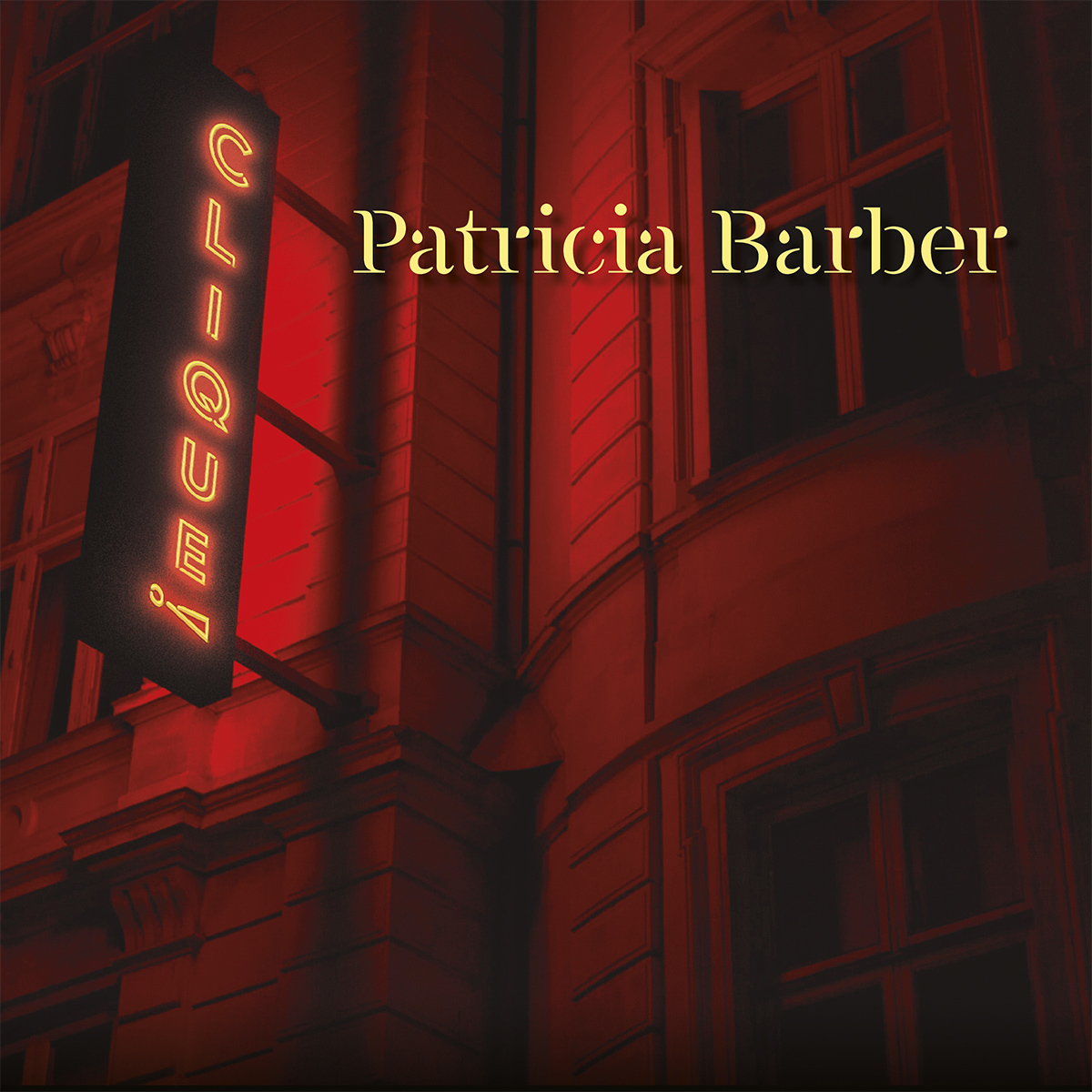 I heard about Clique in early June, and heard the album itself a few days later when Impex Records' PR agency sent me two-channel 32/358.2 WAV files of all nine songs. I loved Clique from the moment I cued it up in Roon. Even though Roon was downsampling those files to 24/176.4 (my NAD C 658 streaming DAC maxes out at 24/192), I was blown away by what I heard. All of Barber's previous recordings by Anderson sound superb, but this one is even better. It's the most real, most involving sound I've ever heard from my system.
This made me want to learn more about Clique—how it came to be recorded, why it sounds so great, and what's involved in recording for so many distribution formats. With Apple and Tidal now embracing spatial audio, I also wanted to discuss the future of surround music.
Barber, Anderson, and Schwarz graciously agreed to do a Zoom interview, which they joined on July 12. Barber spoke to me from her home in Chicago, and Anderson and Schwarz spoke from South Tyrol, in Italy, where they were enjoying a holiday. The interview has been slightly edited for brevity and clarity.
Gordon Brockhouse: Let's start at the beginning. What was the album's genesis?
Patricia Barber: The genesis of this particular project was just some of the fun music we had been playing very successfully on our tour for Higher, my last CD of original material. Sticking these tunes between the songs from Higher was a nice complement, especially in countries where English isn't the main spoken language. It was important to give audiences some rhythm and chord progressions they intuitively understood, with the same hooks that made these songs into big hits. These songs were like a palate cleanser during each set.
This trio has been working together closely for so long that it's really a tight group. So I think that the idea for the project was just to put the fun stuff down on an album.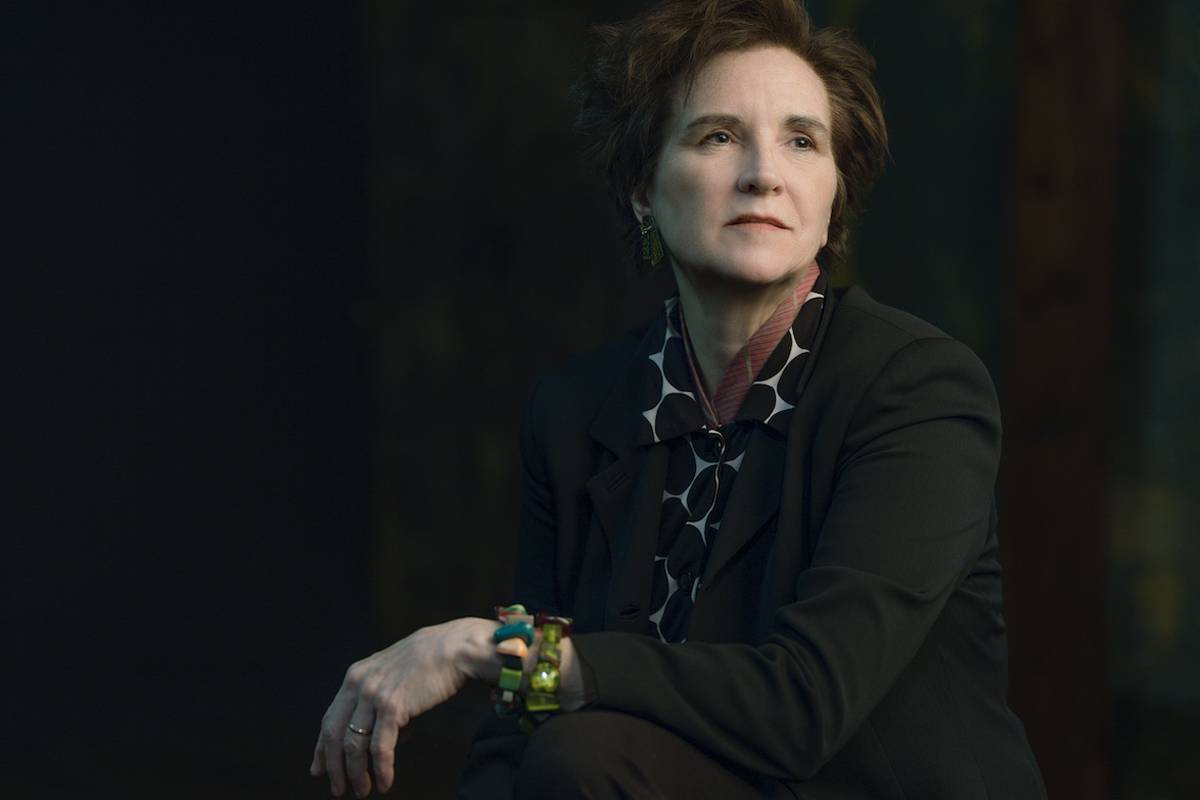 Patricia Barber (Photo: Jimmy Katz)
GB: Was the choice of songs for Clique pretty straightforward? Was it basically the most popular encores from your concert tour, or were there other considerations?
PB: The considerations were the same ones I had on the stage: rhythm, hooks, fun, and different contextual sounds, like having Neal Alger on the acoustic guitar.
Jim Anderson: Patty, I remember you and the band getting together in a corner, and having a bit of a hive mind as you thought of all the songs audiences had called out to you as encores and requests. All of a sudden, within a half hour, you had the genesis of the entire album.
GB: Was it the intention from the beginning to release Clique in all these formats?
Ulrike Schwarz: Yes it was. With this project, and Higher as well, we knew we wanted to get the highest quality possible in the studio. We knew if we did this, we could go in any direction we wanted: vinyl, reel-to-reel, CD, super-high-definition downloads. And since Jim and I are specialists in surround and immersive audio, the idea was to offer those formats as well.
JA: With every album we've done with Patricia, we've tried to achieve the highest quality we can in recording. That goes back to A Distortion of Love, Café Blue, and Modern Cool. With all these albums, we've always tried to be state of the art, whatever that was at the time.
When we were discussing Higher with Patricia, and again when I was talking about this project with Ulrike, we asked, "What could we do that will put this on another level?" And that's when we started looking at super-high-resolution DXD recording.
GB: Can you tell me about the recording venue and setup? From the candid photos you took in the sessions, it looks like everyone was in isolation booths.
JA: What's really nice about Studio 5 at the Chicago Recording Company is that the sight lines are excellent. From where Patricia sits, she can look straight ahead and see the bass player and drummer. If she looks slightly to the right, she'll see the soloist—the guitarist or saxophonist. The one thing I've learned in the studio is, if everyone can see each other and instantly communicate, the isolation won't matter much, because the visual connection is so strong.
For the Chicago Recording Company, their bread and butter is commercials. In commercials, you want to be able to drop away the drums, or drop away the soloist. You need to be able to do different versions from the same recording. They have a very good-sounding drum booth. The bass is in a moderately large room, and the soloist is in a booth that complements the sound of a guitar or saxophone.
Patricia is by herself in the main room. The piano is open. There's no blanketing or covering to cut Patty off from the piano. Because Patricia is so used to accompanying herself, she's never playing too loud. That it makes it very easy to record her. We can have the vocal and piano mikes open, so you really get a sense of sitting at the piano and listening to her. We never have to close one of the mikes off.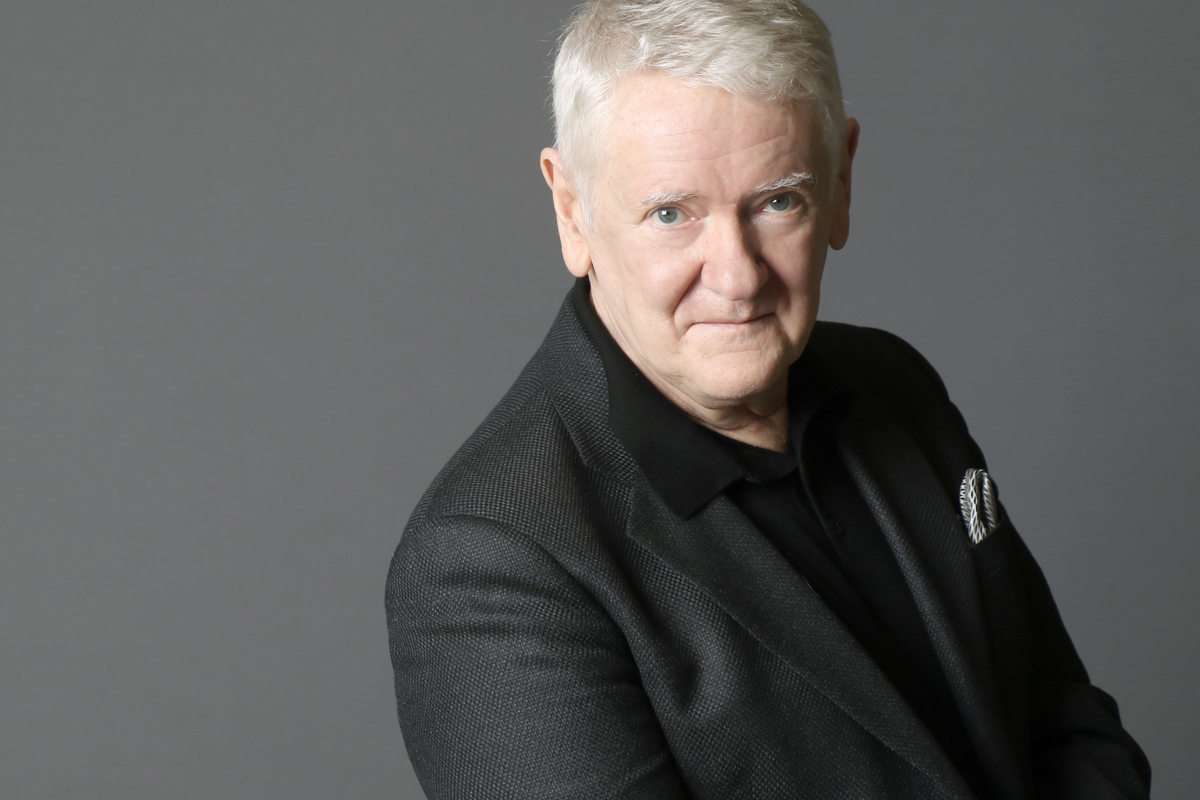 Jim Anderson (Photo: Cecile Vaccaro)
GB: During recording, did you need a lot of takes, or did everyone just sit down and play?
US: As far as I remember, there was usually one, or at most three or four takes, and it was always clear which one was the master.
PB: We're constantly talking to each other in between takes. Because the band had been playing these tunes a lot, we were very rehearsed. It wasn't a group thrown together in a studio. Most of what you're hearing is a live band playing together very much as we did in concert. There were very few "mistakes," very few times where we had to do something over. And if we did, it was just a small fix.
JA: When the band feels comfortable with what they've done, there's time to come in, listen to the take, and make sure everyone is happy with the result. There were some little fixes that we did on-site. With Patricia, we would ascertain which takes we wanted to use. There's a real process in not being able to hear musical edits. There was a fair amount of work done on-site, and then a lot of little moments cleaned up in Brooklyn before we went out to California.
US: But it's not like classical editing where you have 100 takes and put them together. We had some fixes where two takes were put together to get the best result. Whatever we did in Brooklyn was just some polishing. This is how good the material was.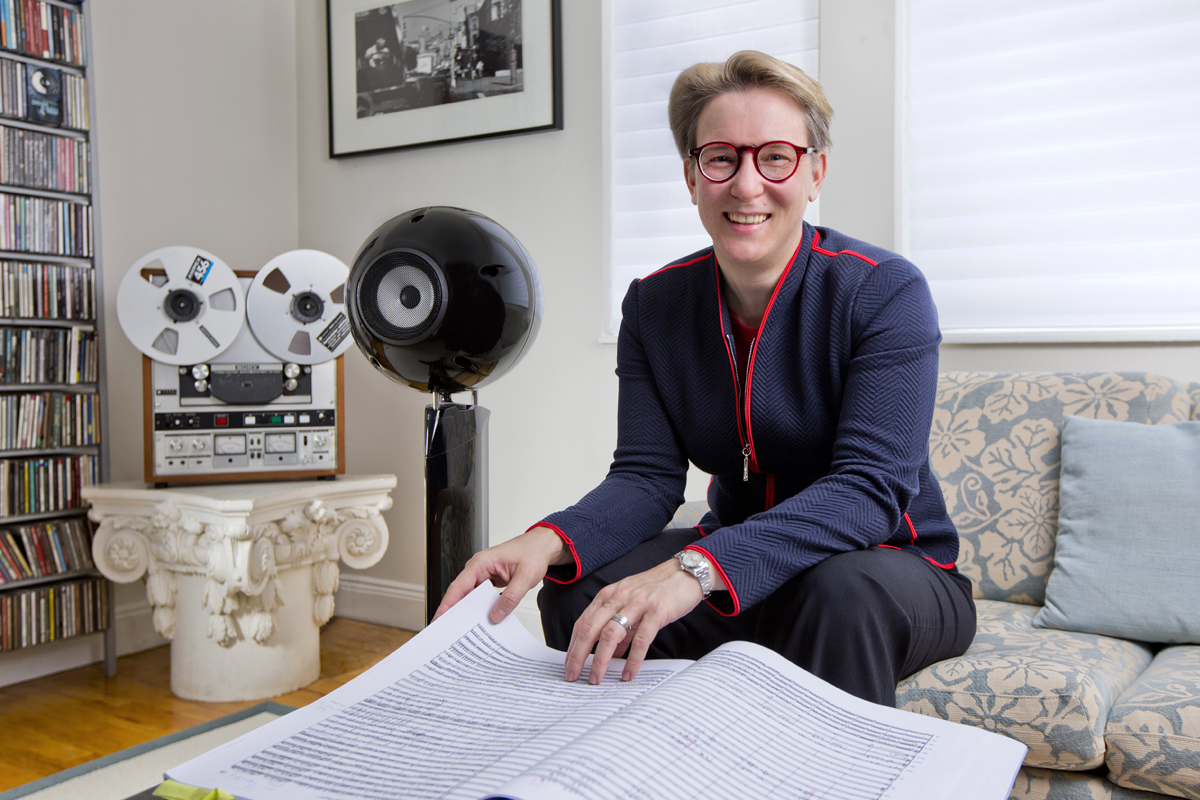 Ulrike Schwarz (Photo: John Abbott)
GB: I've listened to the album a bunch of times, and I've always been struck by the combination of perfection and spontaneity.
JA: To me, that's the highest compliment you can pay to both the technical and musical sides, because that's exactly what we're trying for. We're trying not to have the technical side impinge on the performance. If you have that feeling of spontaneity, that's success.
On recording day, I'm there early setting up, so we're ready when the band shows up around one o'clock. We do a sound check, and when Patricia gets there around three, she can go to the piano and warm up; and then we're ready to roll. We're not going to sit around and work on the bass-drum sound for six hours. We want to get the band playing and get recording.
We actually spent eight or ten hours the day before setting up. I tried to have a setup where Patricia was unaware of anything being different from what we had done before. So when she listened to a take, she was hearing a Pro Tools recording, as we had always done with past projects.
But on the back end, we were recording straight from the microphone preamps to a Merging Technologies Horus system at 32-bit/352.8kHz—super-high resolution. Normally, you'd have to carry a small office's worth of computers to do this kind of work. But Ulrike had had a custom laptop built for her that can record 64 channels of DXD. It was the first one of its kind in the world, and could fit in the overhead bin of an airplane.
Merging Technologies has this absolutely ridiculous clock called Clock-U, which is accurate to 20 parts per billion. In digital, it is so critical to get this stuff lined up properly. That's one reason the quality of Higher and Clique is superb. It's the resolution this clock is giving us. It's the icing on the cake for us.
When we started working on the mix of Higher at Skywalker in the early autumn of 2019, and heard the superb quality of Patty's voice and the piano, we knew we wanted to keep working in this format. We knew we could release it in stereo and 5.1, and maintain that same quality.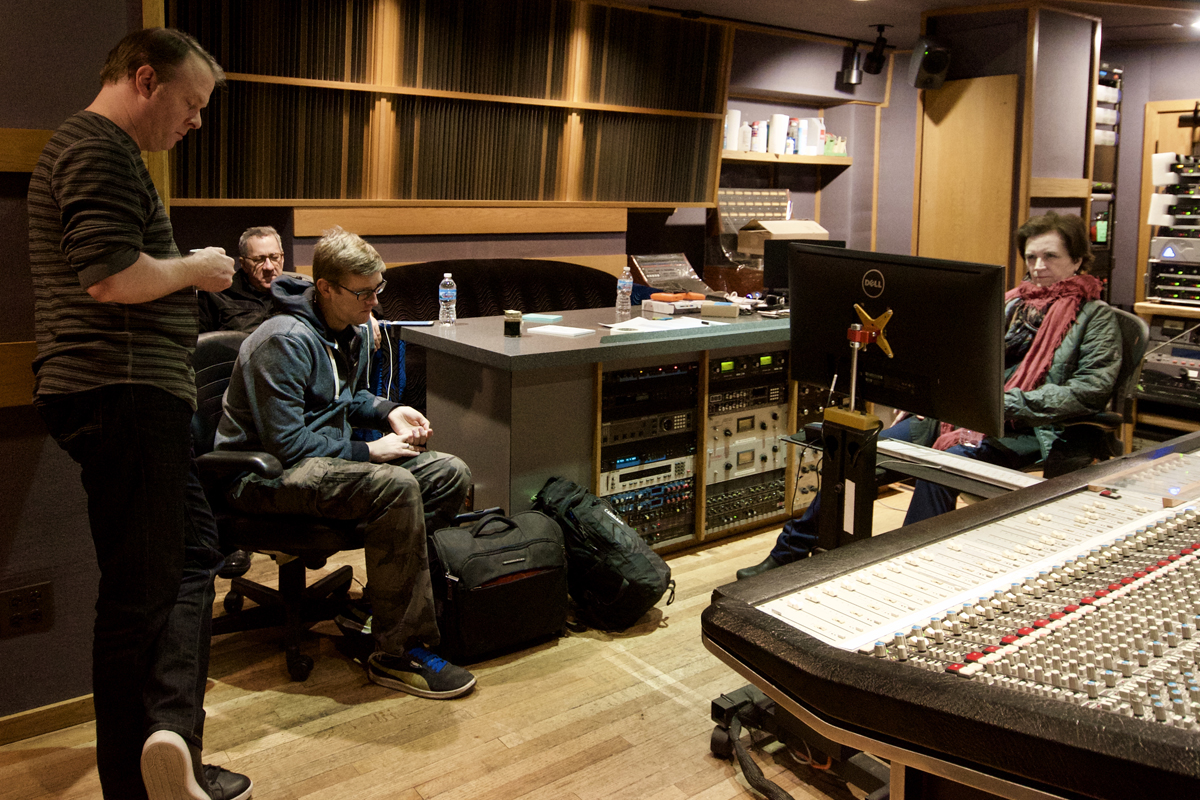 GB: When you talk about the surround mix, I'm curious about the ".1" part. Are you actually using the LFE channel in the 5.1 mix?
JA: Yes we are. We're using it for anything low-end—kick drum, bass, maybe a little bit of the bottom end of the piano. We send it to Bob Ludwig at Gateway Mastering without filtration, and he filters it.
GB: Were Higher and Clique the first recordings you did for Patricia for distribution in 5.1?
JA: No, the first recording we did for Patricia in 5.1 was a remix of Modern Cool in 2012. When we originally recorded Modern Cool in 1998, we did an experimental 5.1 mix, but we didn't have a distribution format. I'm sort of glad it didn't come out then, because of what we learned along the way—which we were able to apply to the 2012 release of Modern Cool on Blu-ray.
GB: During recording, are there things you do differently to account for that fact that it will be released in 5.1 as well as in stereo?
JA: Absolutely. I'll put up extra microphones over the piano, over the drums, maybe over the soloist stations. I'll be capturing extra atmospheres, what an engineer likes to call "air." Because the hardest thing to recreate is the natural sound that's in the room if you're trying to go in a three-dimensional mode. I have tracks that I may not use in the stereo mix, but I'll use them in the 5.1 mix.
GB: How do you capture "air in the room" if everyone is in some kind of booth?
JA: In the mixing process, the idea is to make it sound like all the musicians are in the same room. That's what we're able to do at Skywalker Sound. We do what's called a "live chamber." On Modern Cool, I did it in a quad configuration, and on Higher and Clique, we did in it a four-over-four—quad-over-quad—live chamber. In the notes, we say we're using no digital reverb. We're using natural analog reverb. We're sending it out into the room, and that room becomes the "glue" that pulls everything together.
GB: You said that Ulrike's laptop could record 64 channels of DXD. Did you use them all? Were the track widths different for different songs on the album?
US: Yes, they were. Sometimes we had guests—Jim Gailloreto on saxophone or Neal Alger on guitar. But I think the maximum number of channels we used was 32.
GB: Is recording a challenge when you are going to have so many distribution formats?
US: No, not if you're used to that; and we both are.
JA: We are both strong believers in not upmixing or downmixing. If you're listening to the 5.1 mix, you're hearing a mix we did specifically for 5.1. If you're listening to the stereo mix, that's a mix we did for stereo. We're not going to compromise by folding down a 5.1 mix into stereo.
GB: What aesthetics were you looking for from the stereo and 5.1 mixes, and how did you achieve them?
JA: For stereo, the aesthetic we're looking for is for the technical side to be totally transparent. You're not aware of the fact that a recording has been made—you're experiencing a performance. I want to hear every syllable Patricia sings. She's telling a story, and I want a clarity of voice that communicates it. First and foremost, I want her in front of the band, like she's sitting right there.
In the surround aesthetic, I want to put you sort of inside the band, and have them all around you. But, I don't want to make it feel like a gimmick. I want it to be very plausible—like this is the way it could have been. It's not like a demonstration record, where you have ping-ponging from left to right, and front to back. I want to give you some ear candy; I want to give you some things to listen to. But I don't want to upstage the musical experience. If that happens, then I've failed.
GB: During the mixing process, how much back-and-forth is there between you and Patricia, and with the other musicians?
JA: I'll send Patricia final mixes, and she'll listen to them. It'll be either a thumbs-up or a thumbs-down. I try not to waste her time by having her listen to mixes that are substandard. I try to send her really good, polished mixes.
GB: After mixing, is the same 5.1 mix used for the SACD and the download? Are all the stereo mixes for reel-to-reel, 33 and 45rpm LP, and CD the same? Or do you tweak for different distribution formats?
US: That's actually a very good question. I traveled to Gateway Mastering for the mastering process. With Bob Ludwig, who of course knows every format, the main course was the ultra-high-definition master, in stereo and surround—two completely uncompressed masters. But for CD, it was a little popularized for the lower-quality format. That's where MQA came in. Bob always plays me MQA music, and I'll say, "I like it on this song, but not on that one." I liked what MQA did for Clique, so that's why we decided to release an MQA CD—to take it one step further.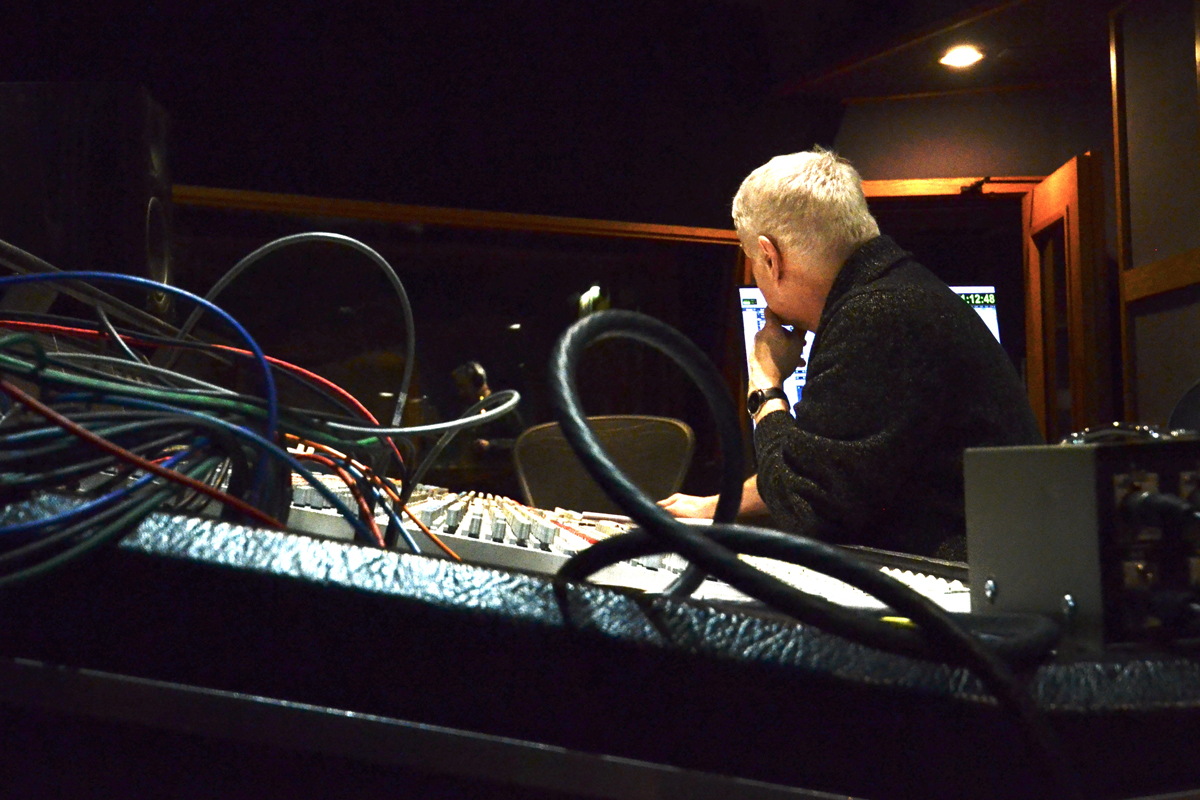 GB: Describe that "one step further." What does MQA give you that Red Book doesn't?
US: If your system has an MQA decoder, it will unfold back to the ultra-high-definition master. If it does not, you will just hear the conventional PCM version. All bases are covered, so we made sure that everybody can hear the best sound we can deliver for each format.
GB: What about vinyl?
US: Bernie Grundman is cutting from Bob's uncompressed master. At the moment, we're in the process of cutting the 33, and probably in about a year, we'll be cutting the 45. The reel-to-reel will come from the DXD file. That is going to Masterdisk Studios in Peekskill, NY. Scott Hull will be responsible for that, together with me.
GB: Which formats will you have ready for August 6, and which are coming later?
US: On August 6, we will have the MQA CD, and the SACD with DSD64. NativeDSD.com will have high-resolution downloads in DXD, and DSD from DSD64 to DSD1024, for both stereo and 5.1. Clique will be the first album released in DSD1024. And it will be on Apple Music, Spotify, Tidal, and Qobuz. Tidal will have Clique in MQA Masters. Qobuz will have it in 24/192 FLAC.
GB: So far, surround music has been a niche within a niche. Do you think what Apple and Tidal are doing with spatial audio can bring surround music more into the mainstream?
US: Yes and no. Jim and I are both big fans of surround audio, and immersive as well. We've done symphonies and all kinds of things in immersive. But for now, we'll deliver our ultra-high-definition projects in channel-based formats. The translation into object-based audio, the data reduction, the renderer during playback, and then a secondary binaural renderer for headphones—all this compromises the results too much.
We were invited to mix for Dolby Atmos, and brought out our computer with 352.8kHz files. But for this project, we felt the results would just be too compromised. We are very proud of everything Patricia does with such clarity and brilliance, and decided Atmos did not meet our standards at the moment. We hope that Tidal and Apple will get to use immersive audio as Dolby intended, because at the moment they don't.
GB: Would you ever see doing a true binaural mix for headphone listening?
US: Yes! If it's a true binaural mix, we would love to do that. But not a rendered binaural mix.
GB: Would that be in the cards for Clique, or for a future project?
US: I think that would have to be a future project, because you have to set up the mikes for that.
GB: You can get great binaural recordings in concert halls and cathedrals. But in a setup like you had for Clique, with musicians in booths, can you get a good binaural recording?
US: If you have a lot of the right microphones, yes.
GB: Do you have a favorite distribution format of Clique? If you were putting it on at home to listen for your own pleasure, what format would you choose?
US: For me, it would be the DXD 5.1 version.
. . . Gordon Brockhouse
This email address is being protected from spambots. You need JavaScript enabled to view it.