First Amazon, then Spotify, and now Apple. With the company's May 17 announcement that it was planning to make the 75 million songs in its Apple Music catalog available in lossless format, and that a substantial number of tracks would be available in high resolution (up to 24-bit/192kHz ALAC), all the major streaming services have now joined the lossless party.
In fact, it would make sense to flip the order around. Spotify announced plans for a lossless tier during the company's Stream On event on February 22. But it has not yet launched Spotify Hifi, or announced details such as pricing. Apple began offering lossless and hi-rez music on June 7, day 1 of its 2021 Worldwide Developers Conference. So, strictly speaking, Apple got to the party before Spotify—but after Amazon.
Of course, many smaller services, including Deezer, Idagio, Primephonic, Qobuz, and Tidal, have had lossless tiers for years. Primephonic, Qobuz, and Tidal also offer hi-rez content—but Apple Music provides lossless and hi-rez music at no additional cost. A single-user subscription to Apple Music costs $9.99/month (all prices in USD). Amazon Music HD also costs $9.99/month, or $7.99/month for Prime members. By contrast, Tidal charges $19.99/month for its hi-rez tier. A Qobuz Studio subscription costs $14.99/month.
Along with the launch of its lossless and hi-rez streaming service, Apple made another announcement: the availability of "thousands of songs in Spatial Audio from some of the world's biggest artists and music across all genres, including hip-hop, country, Latin, pop, and classical." Spatial audio tracks are encoded using Dolby Laboratories' Atmos immersive audio technology. Apple does not charge extra for spatial audio, and this feature also went live on June 7.
Extra bits
Until June 7, Apple Music streamed audio in the lossy Advanced Audio Coding (AAC) format at 256kbps. It will continue to stream in AAC format—the lower data rate is obviously advantageous for subscribers streaming over cellular networks.
The company clearly believes the gains from lossless and hi-rez playback are incremental rather than transformative: "While the difference between AAC and lossless audio is virtually indistinguishable," the company states on a support page for lossless playback, "we're offering Apple Music subscribers the option to access music in lossless audio compression."
To stream lossless and hi-rez audio from Apple Music, you need an iPhone running iOS 14.6, an iPad running iPadOS 14.6, an Apple TV media adapter running tvOS 14.6, or a Macintosh running macOS 11.4. Those are the latest iterations of Apple's operating systems as I'm writing this article; of course, lossless and hi-rez playback will work with later versions as well.
On all of these devices, lossless playback is turned off by default. Until you turn it on, Apple Music will continue to stream to your device in the AAC format.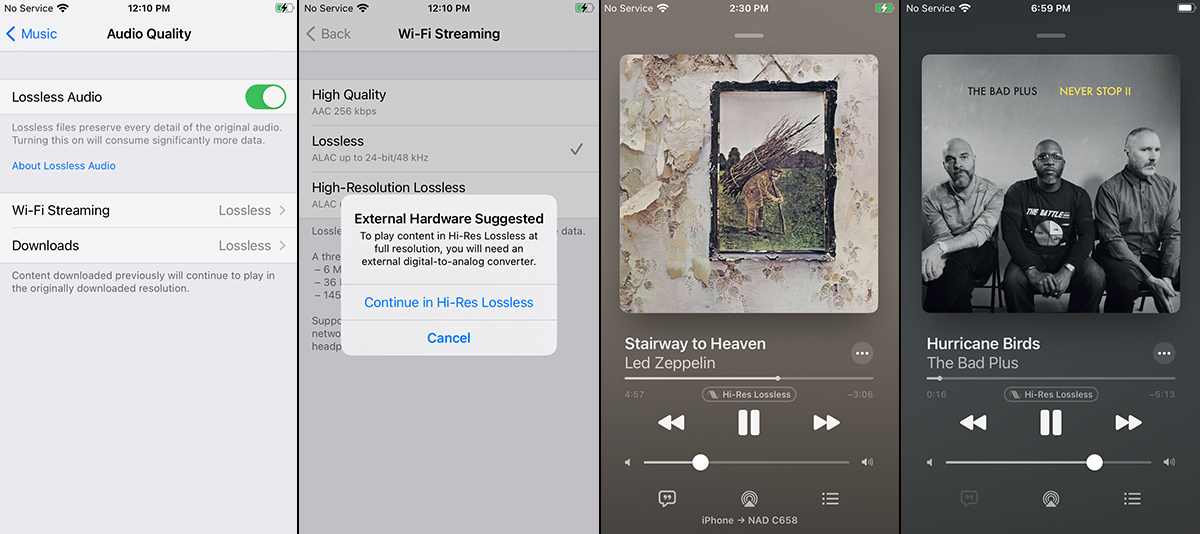 To stream lossless and hi-rez music on an iPhone or iPad, go to the Music section of the Settings menu, and then tap Audio Quality. In the next screen, turn on the Lossless Audio switch. You'll then see menu items for Wi-Fi Streaming and Downloads. The default setting is Lossless, which allows streaming in ALAC (Apple Lossless Audio Codec, or Apple Lossless) format at resolutions ranging from 16/44.1 (CD resolution) to 24/48. If you choose the High-Resolution Lossless option, you can stream at up to 24/192.
Lossless and hi-rez streaming isn't supported over a Bluetooth connection. With Apple's Lightning to 3.5mm Headphone Jack adapter, maximum resolution is 24/48. To go beyond that, you need to use an external digital-to-analog converter (DAC).
I connected an AudioQuest DragonFly Cobalt DAC-headphone amplifier ($299.99) to my iPhone 8 via an Apple Lightning to USB 3 Camera Adapter ($39), and plugged in my NAD Viso HP50 headphones (discontinued). Then, in the iPhone's Settings menu, I turned on lossless playback for the Music app, and activated the high-resolution option.
By toggling those settings, I was able to compare the hi-rez and lossless streams of tracks in Apple Music's catalog with their standard versions. When the hi-rez versions of "Hurricane Birds" by the Bad Plus, from their album Never Stop II (24/96 ALAC, Legbreaker), and "Stairway to Heaven" from Led Zeppelin IV Remastered (24/96 ALAC, Atlantic) played, the dragonfly logo on the Cobalt's case lit up light blue, indicating that it was receiving a 24/96 stream. When I played CD-resolution lossless albums, the logo glowed dark green, indicating a 16/44.1 stream.
Apple's claims notwithstanding, on both "Hurricane Birds" and "Stairway to Heaven," I found the differences between the standard 256kbps AAC and hi-rez 24/96 ALAC streams more than "virtually indistinguishable."
In the second half of "Stairway to Heaven," when the band really begins rocking, the hi-rez ALAC stream sounded more transparent, and the AAC stream more congested. It wasn't a huge difference, but it was noticeable. And compared to the ALAC stream, through my NAD HP50 headphones, the lossy AAC stream of "Hurricane Birds" sounded more closed-in, less alive. It wasn't night and day; but again, it was easily noticeable. However, the differences between Apple's 48kHz lossless and 96kHz hi-rez streams of "Hurricane Birds" were extremely subtle—virtually indistinguishable, to use Apple's phrase.
Limitations
What if you want to play hi-rez music from Apple Music through loudspeakers? You could always hard-wire your i-device and external DAC to a full-blown audio system. Right now, that's the best option for out-loud listening, because the alternatives involve serious compromises.
Other than Sonos, I know of no streaming components with integrated support for Apple Music. Of course, there are loads of streaming components with support for AirPlay or AirPlay 2. So you can cue up a song on an i-device, tap the AirPlay icon in the Now Playing window or the Control Center for iOS or iPadOS, choose an AirPlay device on your home network, and that device will begin playing the music you've selected.
But even if you're streaming high-resolution music to your i-device, and the AirPlay component you want to use supports hi-rez, what you'll get is CD resolution. With audio, AirPlay streams everything in 16/44.1 ALAC format, regardless of the resolution of the source file—as I confirmed with the following experiment.
While listening to "Hurricane Birds" in 24/96 on my iPhone 8, I tapped the AirPlay icon, and directed playback to a Bluesound Node streamer, whose coaxial S/PDIF output was connected to the coaxial input on an exaSound Audio Design e32 Mark II DAC. The display screen on the exaSound DAC indicated that it was receiving 16/44.1 data.
Given my experience of listening to lossless and hi-rez streams of "Hurricane Birds" through headphones, this may not be a big deal. But if you're an Apple user and your main system supports hi-rez playback, it would be nice to be able to use it to listen to your streaming music at the same resolution.
Hopefully, Apple will update AirPlay and/or AirPlay 2 to support high-resolution audio. But if they do this, will the updated version be supported by current AirPlay devices?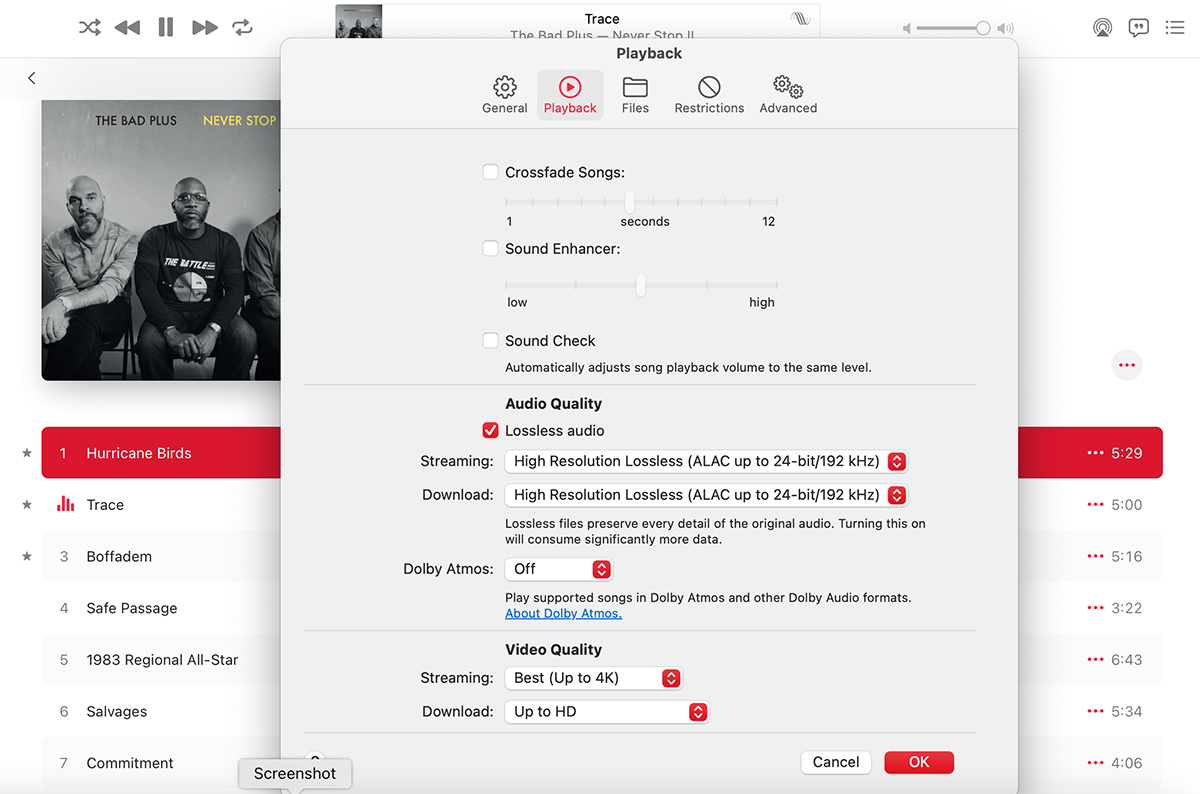 What about connecting a Mac to an external DAC? That could work, but again, there are some complications.
To enable hi-rez playback on a Mac, you select the Playback option in the Preferences menu for the Apple Music app, check the Lossless Audio box, and select the hi-rez option in the Streaming and Download dropdown menus.
The problem is that the Apple Music app will not automatically play music at native resolution. Instead, the Mac sends audio to a connected DAC at the resolution set in macOS's Audio MIDI Setup utility. If you're streaming a 24/96 track from Apple Music, but you've set the resolution for the connected DAC to 16/44.1, your Mac will send a downsampled CD-resolution stream to the connected DAC. If you're streaming a lossless CD-resolution track in Apple Music, and have set resolution of the connected DAC to 24/96 in Audio MIDI Setup, macOS will upsample the stream to 24/96 before sending it to the DAC.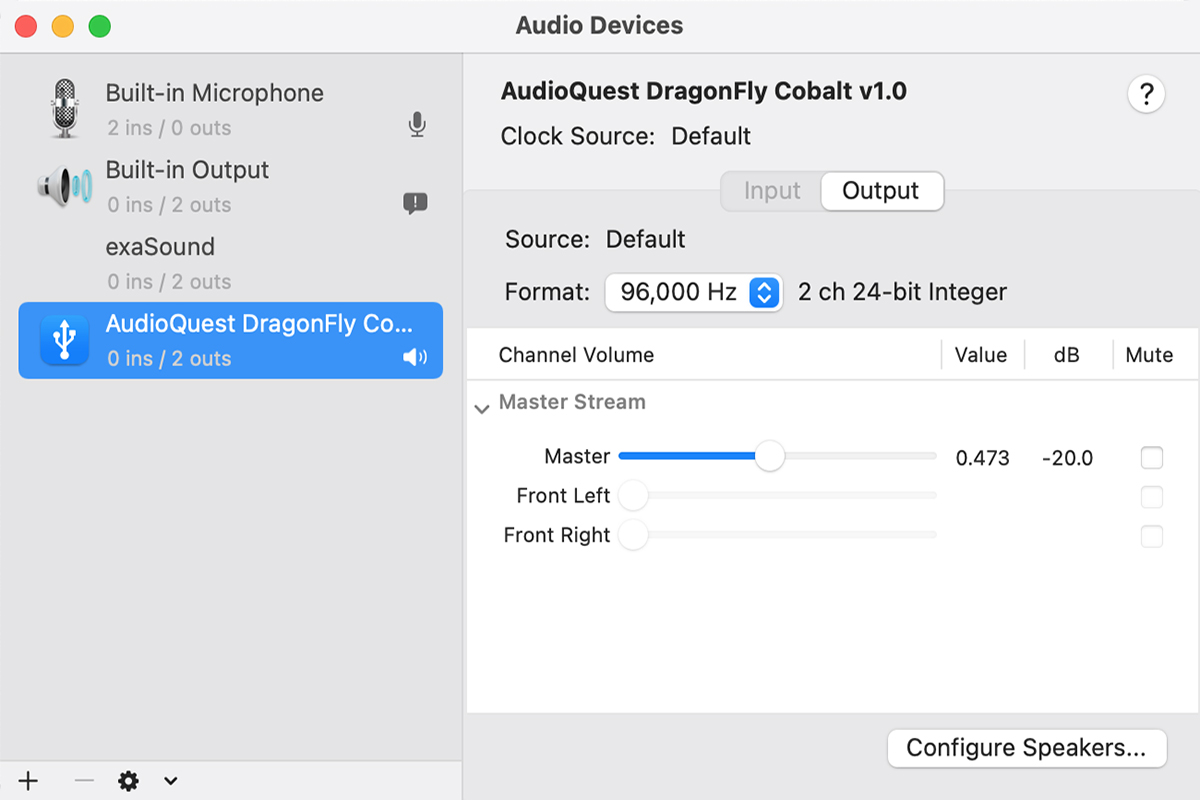 It doesn't have to be this way. Tidal's and Qobuz's desktop apps operate in exclusive mode—bypassing macOS's Core Audio engine—and communicate directly with the DAC. So they can automatically send audio to a connected DAC at native resolution. Apple Music can't.
Maybe I'm being unfair, but I get the feeling that Apple Music's commitment to hi-rez audio is lukewarm. Amazon already offers lossless and hi-rez music, and Spotify is about to introduce a lossless tier, and it looks like Apple wanted to check the same feature box. It also looks like Apple rushed the hi-rez rollout a little, pushing it out before AirPlay and macOS were ready to handle it.
By contrast, it's clear that spatial audio is a very big deal for Apple. When the company's hi-rez service went live on June 7, Apple Music's Browse option already had a section full of playlists and albums with Dolby Atmos music, spanning every genre.
Refresher course
Before explaining how spatial audio works for headphone and out-loud listening, it's worth explaining what Dolby Atmos is, and how it differs from traditional channel-based surround-sound formats. This will be familiar fare to many readers, and they can skip ahead to the next section.
In home applications, a Dolby Atmos system can have five or seven "floor" speakers, just as in a conventional Dolby Digital 5.1 or 7.1 home-theater system: front left, right, and center speakers; and two or four surround speakers beside and/or behind you. The floor speakers don't have to be physically on the floor—the adjective is meant to convey that they're at or close to ear level. Like Dolby Digital soundtracks, Dolby Atmos soundtracks have a low-frequency effects channel that's almost always played through a subwoofer—the ".1" part of the numerical description. But they also have "height effects."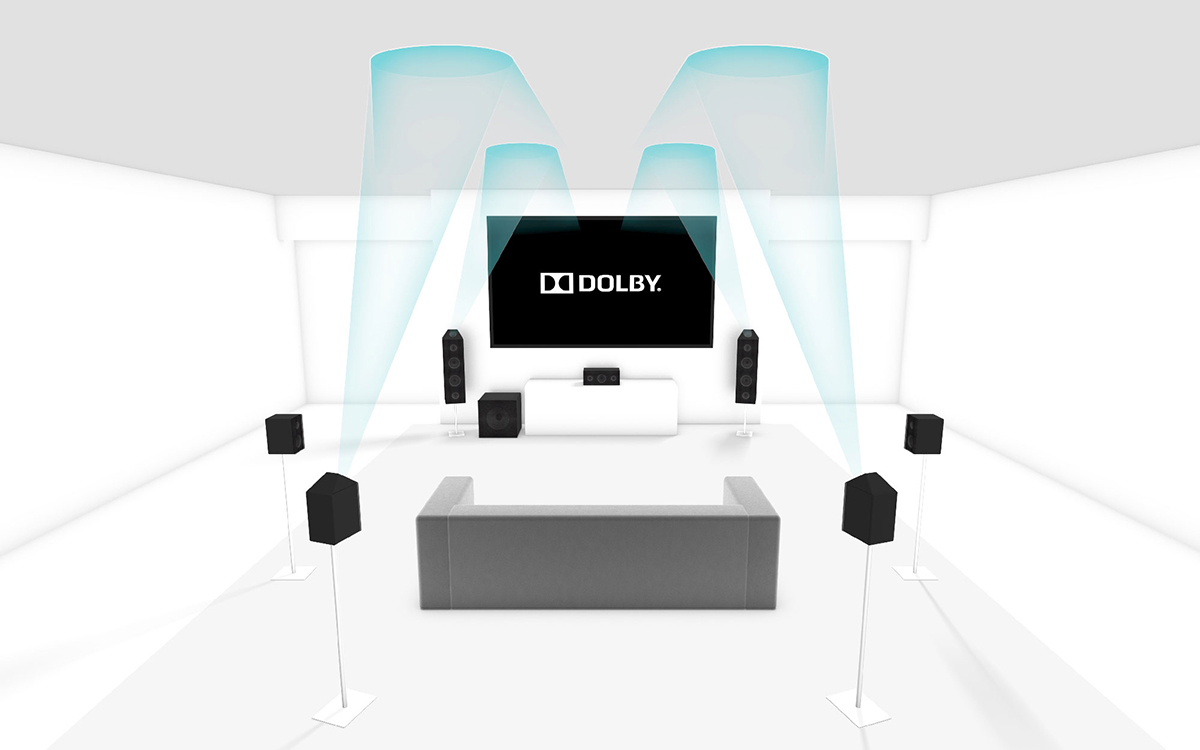 Dolby Atmos home-theater systems can have two or four additional speakers for height effects. These can be speakers mounted on or in the ceiling, or upward-firing, "Atmos-enabled" speakers, which are usually placed atop the floor speakers and bounce sounds off the ceiling. These height-effects speakers, along with digital signal processing (DSP) of the soundtrack, provide some psychoacoustic trickery that creates the illusion of sound coming from above.
An additional digit is needed to describe the layout of an immersive audio system. A 5.1.4 (pronounced five-dot-one-dot-four) system has five floor speakers (front left, right, and center, and two surrounds), one subwoofer, and four height-effects speakers, either Atmos-enabled or ceiling-mounted. A 7.2.2 system has seven floor speakers (front left, right, and center, and four surrounds), two subwoofers, and two height-effects speakers. The diagram above shows a 7.1.4 system that employs Atmos-enabled height-effects speakers. There are other variants, but you get the picture.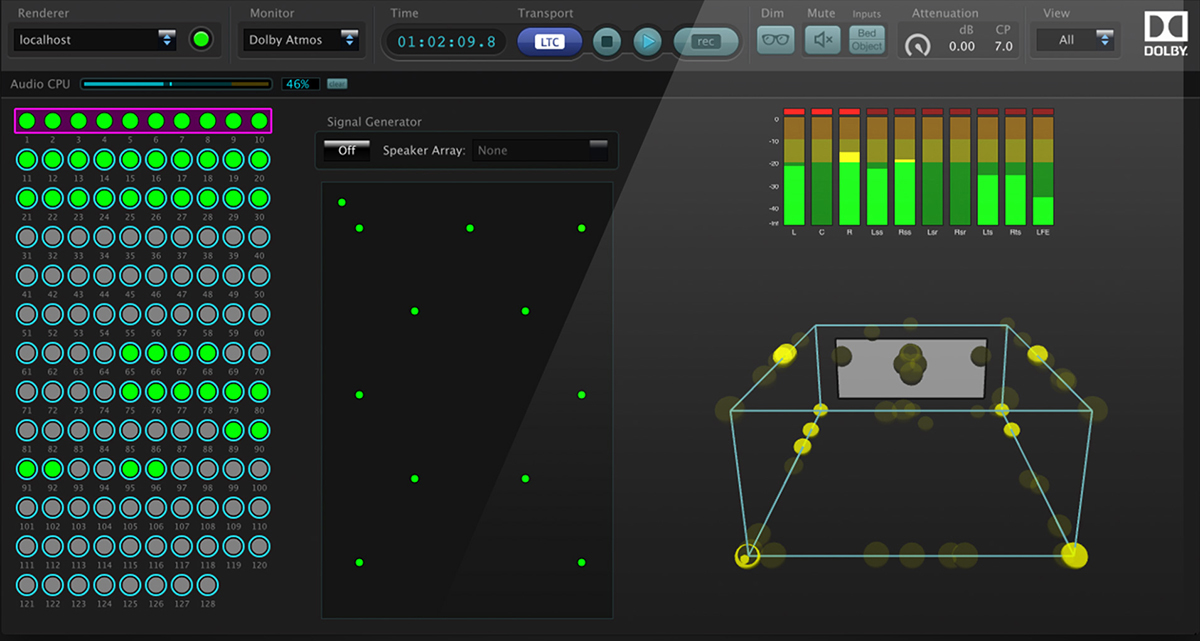 A Dolby Atmos soundtrack can have up to 128 separate tracks. These can be assigned to any of the seven floor channels, or mixed between them and panned about, just as with traditional channel-based surround formats. But sounds can also be treated as objects—that is, the sound engineer can use a digital audio workstation to specify their positions in a three-dimensional soundfield, and move them about as desired. The position of each object at any given moment is stored as metadata. In playback, the Dolby Atmos processor uses the metadata to map those objects to the specific speaker layout in the listening room.
Surround sound, out loud
A full-blown multi-speaker setup is the best way to experience Dolby Atmos, but there are other possibilities.
Many companies make Dolby Atmos soundbars that use DSP-enabled virtualization to fool our ear/brain systems into perceiving sound as coming from above, beside, or behind us, when it fact it's coming from the front. I reviewed one such soundbar on Simplifi in March 2020. Sennheiser's Ambeo is probably the best soundbar on the planet right now. At $2499.99, it's also the most expensive.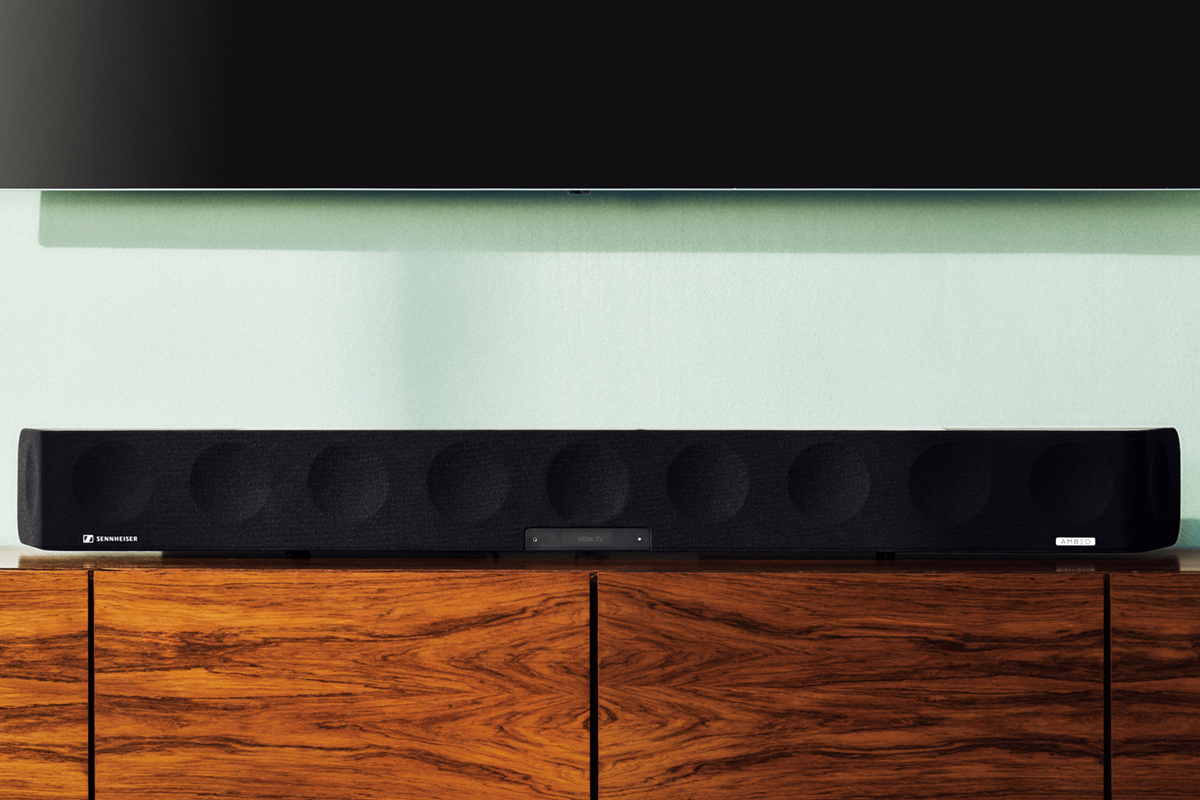 For out-loud listening to Apple Music in spatial audio, you need an Apple TV media adapter running tvOS 14.6, with Atmos decoding enabled. In Settings, choose Music in the Apps menu, select Dolby Atmos, and set it to Automatic. If the Apple TV is connected to a HomePod speaker, or an audio system with Dolby Atmos, it will send out a Dolby Atmos stream.
I did not have access to an Atmos-enabled soundbar or home-theater system while I was writing this article. But I did write about listening to Atmos Music through my Apple TV 4K and an Ambeo soundbar in my article last September on Tidal's surround music offering. I strongly believe that Apple Music would provide identical listening experiences through the Ambeo soundbar.
Out of your head
Another possibility is listening through headphones. Sound editors can create and distribute binaural downmixes of Atmos soundtracks for headphone playback, or a binaural mix can be generated from an Atmos stream by the playback device. Intended solely for headphone listening, conventional binaural recordings are made using two microphones, one inserted in each ear canal of a dummy head—the idea being that the listener hears what the dummy would have heard had it been a human being.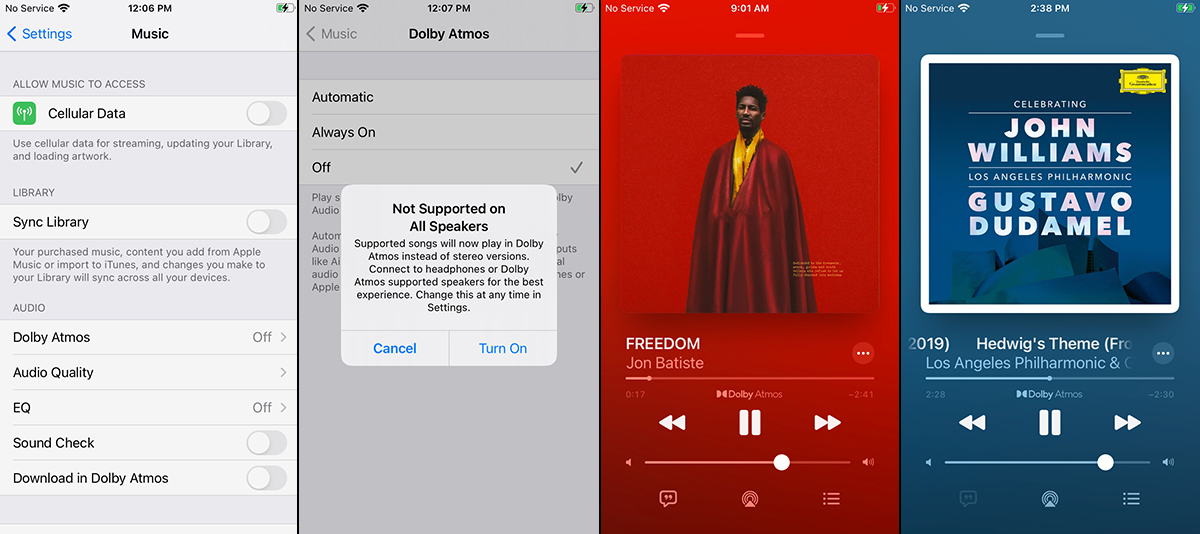 To listen to spatial audio streams from Apple Music, you have to enable Dolby Atmos processing on your device. On iPhone or iPad, in the Music section of the Settings menu, tap the Dolby Atmos option. In the page that follows, you'll see three settings: Automatic, Always On, and Off. With Automatic selected, your device will automatically play a spatial audio track in Atmos format if you're listening through select Apple AirPods or Beats headphones. To listen with Atmos through other headphones, choose Always On.
I listened to several spatial audio albums through my DragonFly Cobalt and NAD HP50 headphones. Compared to the lossless 16/44.1 version, the sound of "Freedom," from Jon Batiste's wonderful album We Are (Verve), was more noticeably outside my head when Dolby Atmos was enabled; and there was more space separating the musicians. The whole presentation was bigger and more transparent. I enjoyed the Atmos stream more.
On "Hedwig's Theme," from John Williams's score for Harry Potter and the Philosopher's Stone, played by the Los Angeles Philharmonic Orchestra and conducted by Gustavo Dudamel (Deutsche Grammophon), the Atmos presentation was more spacious; the soundstage extended beyond my left and right ears. But with the two-channel 24/96 ALAC stream, the middle was more filled-in, the brass instruments had a little more bite, and the violins a little more shimmer. This one was a toss-up.
Conclusion
Audiophiles tend to live in a cocoon. I'm sure most people would be able to hear the difference between a high-quality lossy stream and a lossless stream, but even so, I wonder how many of them would actually care. High-resolution audio is a big deal to audiophiles—to the rest of the world, not so much. But I also think that most audiophiles will be disappointed by Apple's half-assed implementation of hi-rez streaming.
The situation with spatial audio is almost the complete reverse. Audiophiles with serious two-channel setups may not care about spatial audio, but many listeners will be intrigued, and some will be seduced. Dolby Atmos music has the potential to shift people's expectations about how reproduced music should sound. Last September, when I wrote about Tidal's Dolby Atmos offering, I asked rhetorically if the time had come for surround music. Following Apple's embrace of the technology, I think the answer to that question could be "yes."
. . . Gordon Brockhouse
This email address is being protected from spambots. You need JavaScript enabled to view it.