On the various websites of the SoundStage! Network you'll find reviews of all kinds of source components -- CD players, streamers, DACs, turntables, cartridges, and phono stages. But to my knowledge, in its 24-year history SoundStage! has reviewed only one smartphone: the LG G7 ThinQ.
That's understandable -- while mobile devices have become the default music source for legions of listeners, on most phones audio is something of an afterthought. Couple that with the fact that most music played on smartphones uses some kind of lossy compression -- AAC for iTunes and Apple Music, Ogg Vorbis for Spotify -- and smartphone audio can seem like a compromise to anyone who's serious about sound.
It doesn't have to be that way. A few smartphones do take audio seriously, including LG's G8 ThinQ, which supersedes the G7, which I reviewed in this space a year ago. Accessories, such as AudioQuest's DragonFly micro-DAC-headphone amplifiers, let you enjoy high-resolution sound from pretty well any smartphone.
As to content, smartphone users can choose among three hi-rez streaming services -- Tidal, Qobuz, and now Amazon Music HD -- plus a couple of specialized services: Primephonic for classical music, and nugs.net for live concerts. And, of course, there are hi-rez downloads for those who'd rather buy than rent music.
Downloads and streaming
For Android users, playing hi-rez downloads is pretty straightforward. To get music from your computer onto your phone, connect your phone to a USB port on your computer. You'll see a message: "Charging this device via USB." Tap that message, and select the option that lets you use USB for file transfer. If you're using a Windows PC, a file-transfer window will open. Mac users will need a free utility called Android File Transfer. In either case, you just drag the desired files and folders into the Music folder on your Android device.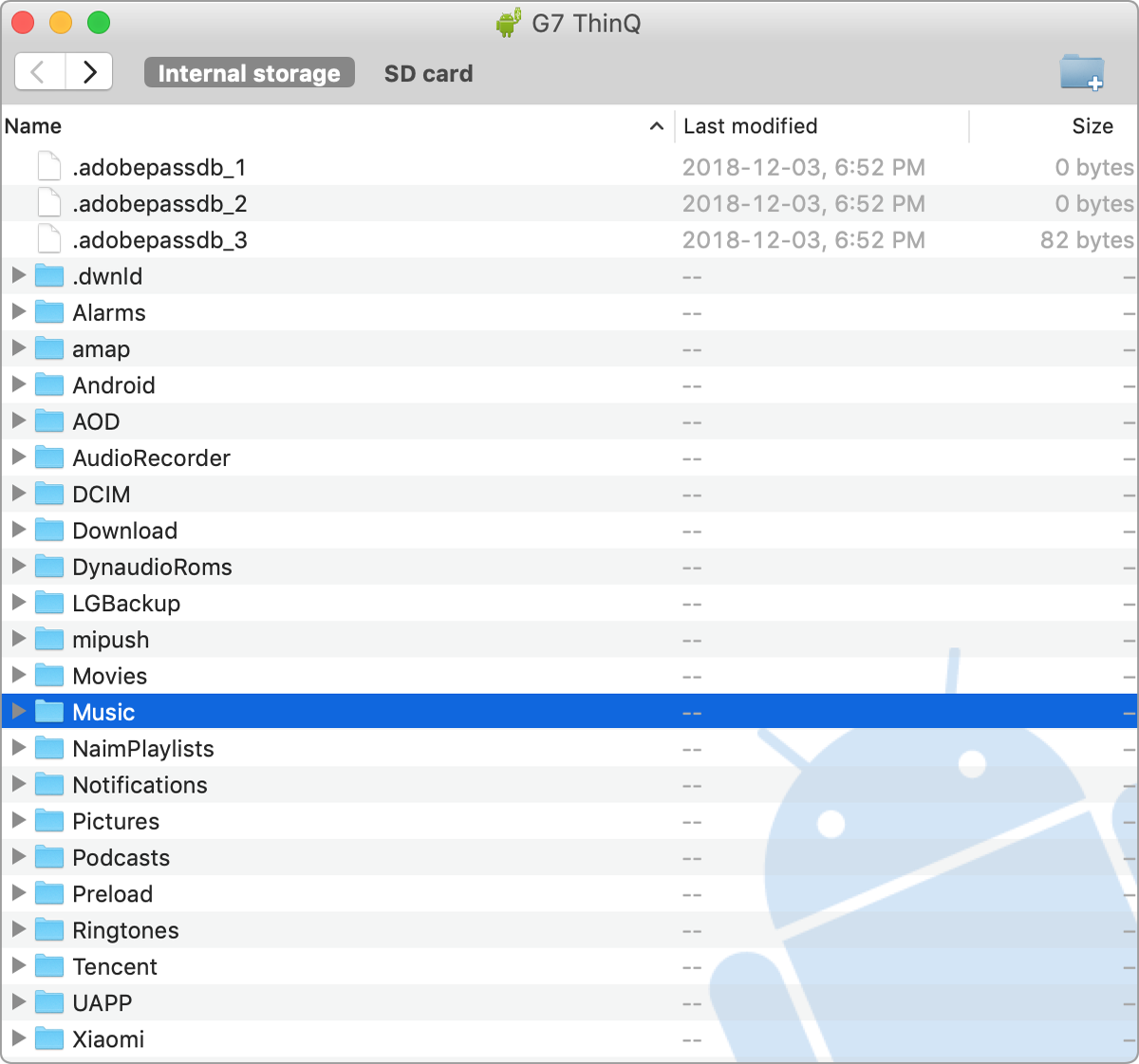 Or, if your computer and phone both have memory-card slots, you can load the music you want onto a card and insert the card in your phone.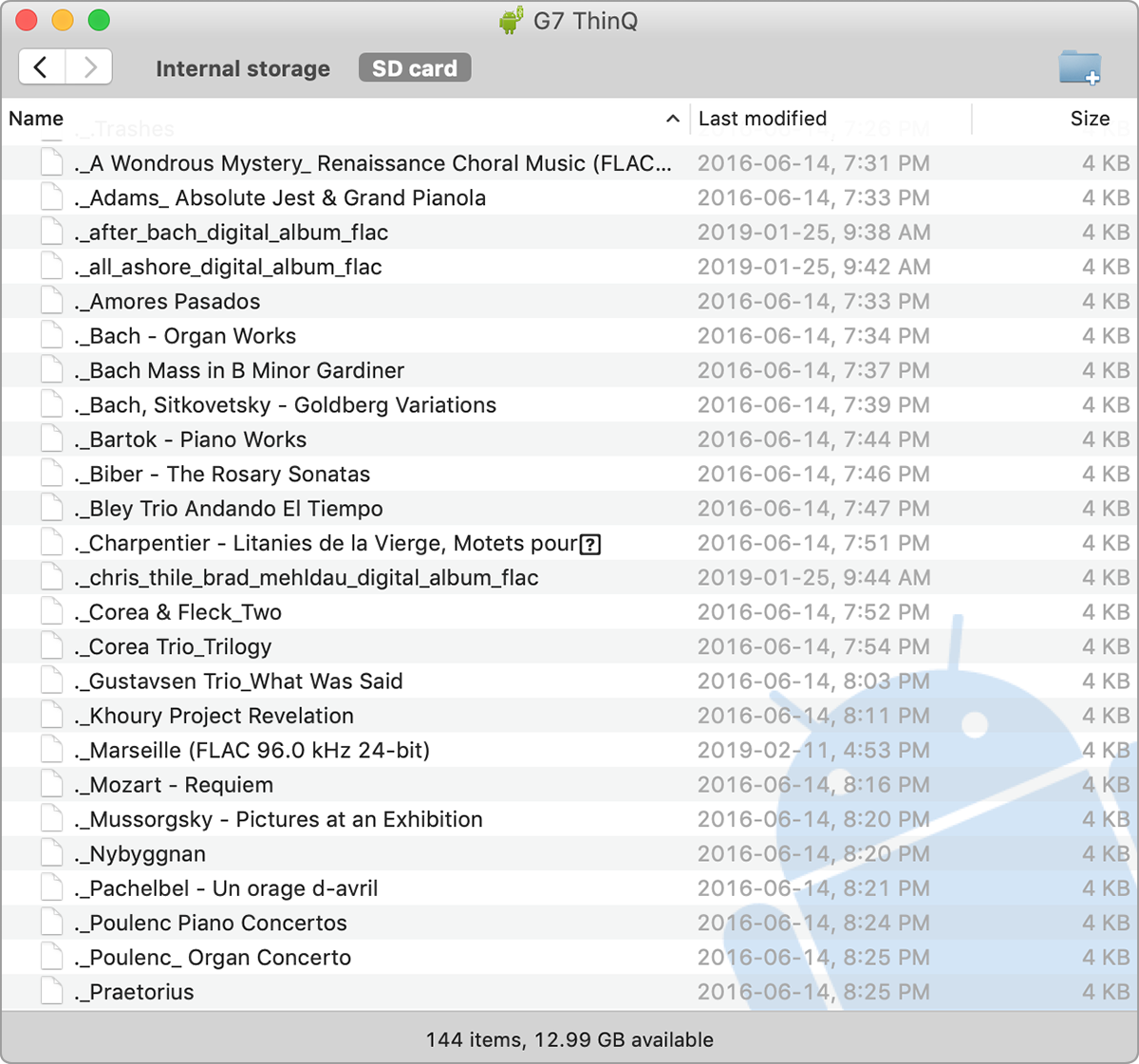 You'll also need a music-player app with hi-rez capability. The music app that came bundled with my LG G7 ThinQ supports hi-rez, including DSD. On Google Play you can find many very capable hi-rez music players, such as Poweramp v3 and Onkyo HF Player.
It's more complicated with iOS, whose music-player app doesn't support resolutions higher than 16-bit/48kHz. Nor does iOS support FLAC or DSD. For hi-rez playback, you'll need a third-party app like Onkyo HF Player, available for iOS and Android. Onkyo HF Player is available free from Apple's App Store, but hi-rez playback requires an in-app purchase that costs $9.95 (all prices USD).
The next challenge is transferring hi-rez files to your phone, which you have to do through iTunes. Here, Apple's propensity for making things harder than they need to be, and breaking things that work just fine, rears its ugly head. The iOS version of Onkyo HF Player has an Audio File Transfer Guide, but the method it describes doesn't work in the current version of iTunes (12.9). Similarly, some of the guides available on the Internet, some published as recently as this summer, are now out of date.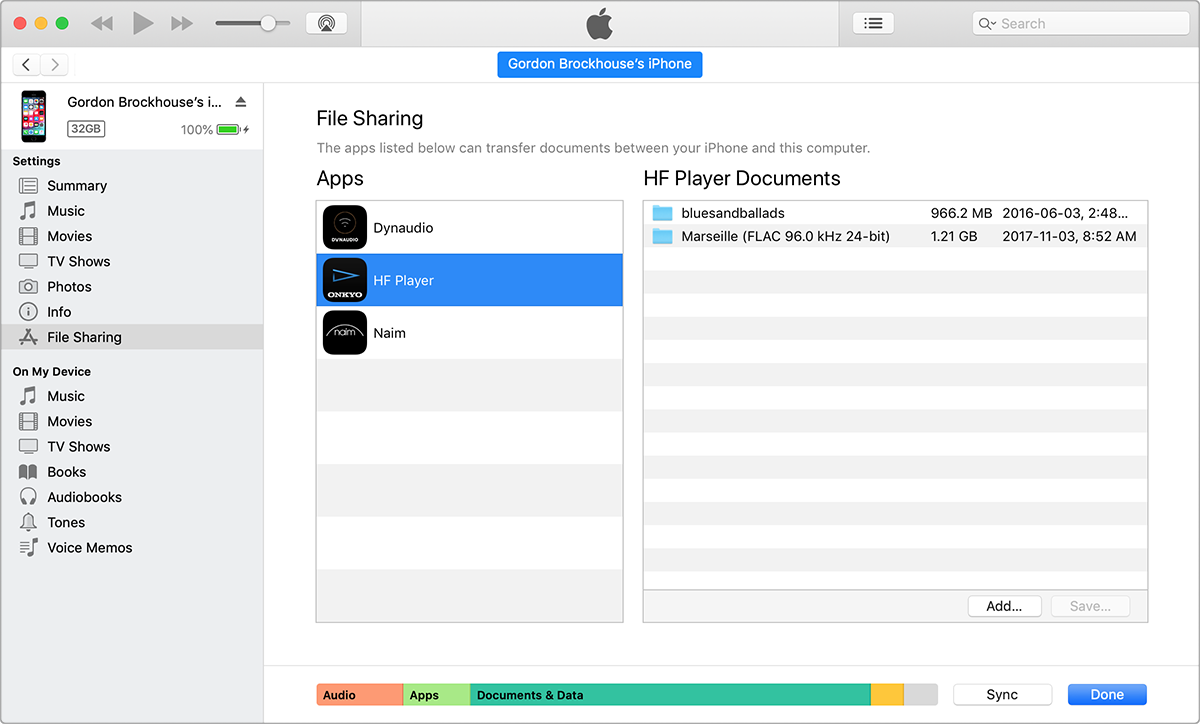 Here's what you do in the current versions of iTunes (12.9) and macOS (10.14 Mojave). After you connect your iPhone to your computer, launch iTunes and click the iPhone icon on the top menu bar. Click the File Sharing option in the sidebar on the left, and in the pane to the right, choose HF Player. Then drag the folders with the music you want into the HF Player Documents pane. It's kludgier than it should be, but it works -- at least until Apple's next software update. The other problem with playing hi-rez downloads on iPhones is limited storage. Most Android phones have slots for microSD cards, but iPhones don't.
Playing hi-rez music from subscription services is more straightforward. On September 16, just as I was putting this feature to bed, Amazon shook up the audio world with its announcement of Amazon Music HD, which offers lossless and hi-rez streaming up to 24/192. Like Tidal and Qobuz, and classical-music specialists Primephonic and Idagio, Amazon Music HD has mobile apps for iOS and Android. Just plug in your headphones, and cue up the music you want in the app for your service.
Tidal is an outlier here, as music on its hi-rez Masters tier is encoded in MQA -- for lossless CD-resolution audio, Tidal uses the non-proprietary FLAC format. The other hi-rez services use FLAC for both lossless and hi-rez streaming. Tidal's iOS and Android apps now do the first "unfold" of MQA-encoded Masters content, permitting resolution up to 24/96 even without an MQA-capable DAC.
Upgraded audio
If you care enough about audio to want hi-rez playback, chances are you won't be satisfied with your smartphone's audio circuits. AudioQuest's new flagship micro-DAC, the DragonFly Cobalt ($299.95), represents a major upgrade over standard smartphone sound -- even a model like the LG G7 ThinQ, which sports a premium ESS DAC chip with maximum resolution of 32/384 PCM and DSD256. AudioQuest offers two lower-priced DragonFlys: the Black 1.5 ($99.95) and the Red ($199.95). All DragonFly models can perform MQA rendering.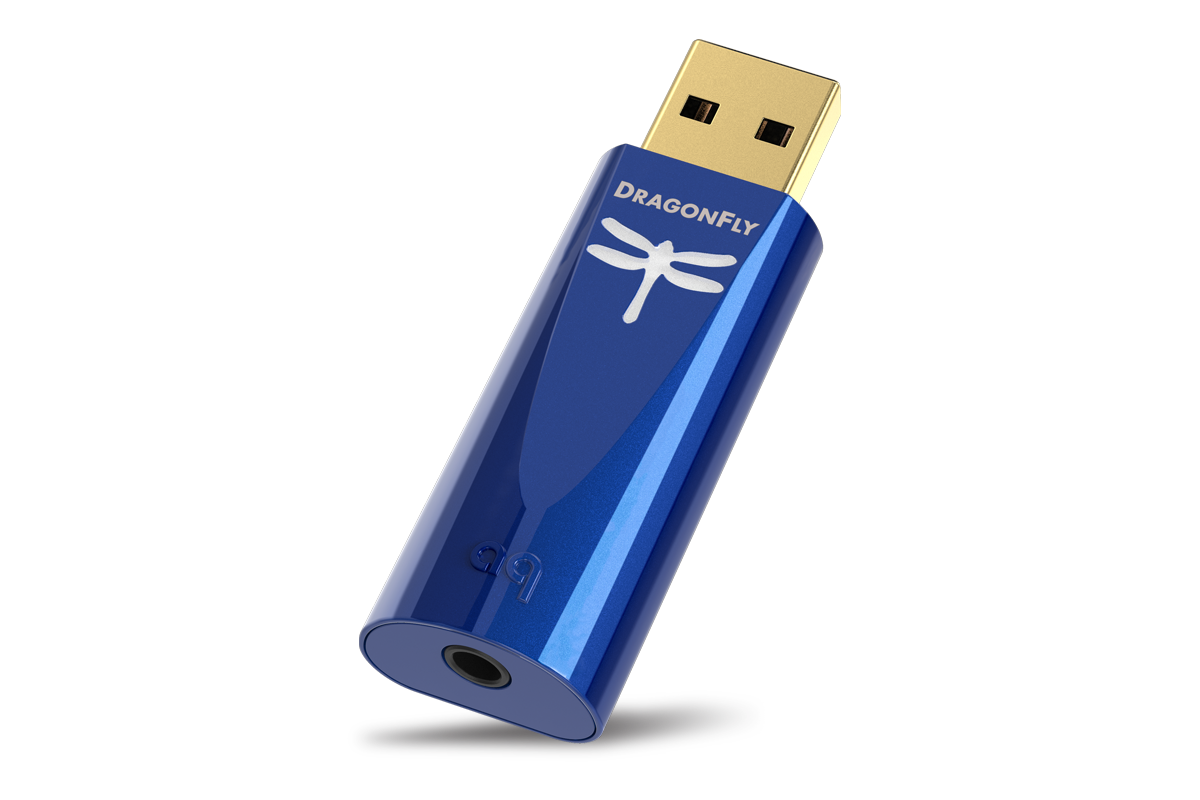 The DragonFly Cobalt has a more advanced DAC chip and a more powerful processor than the Red, and new power-supply filtering with better immunity to RF noise. Several hours of listening through headphones and speakers confirmed for me that the Cobalt is a significant upgrade over its lower-priced stablemates.
The Cobalt ships with a DragonTail USB-C-to-A adapter, for use with Android phones. iPhone users will need to shell out $39 for a Lightning-to-USB Camera Adapter. Other than having to buy a cable, it's more straightforward to use the DragonFly with iOS than with Android. Connect the DragonFly to a Lightning-to-USB adapter, plug it into your iPhone, and you're ready to go
Listening through headphones
For headphone listening, I used my HiFiMan Edition X V2 planar-magnetic 'phones. It might seem a stretch to use planars with a micro-DAC like the Cobalt, but the Edition X V2 is a low-impedance, high-sensitivity model, and so fairly easy to drive.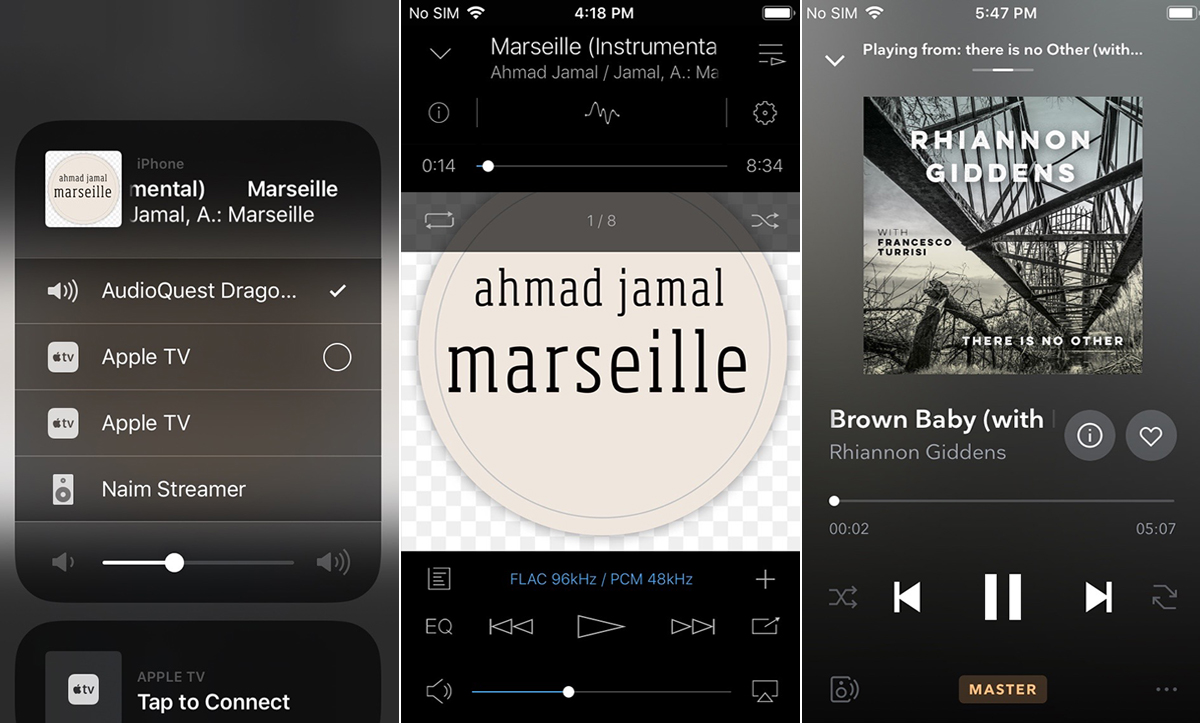 When I played a hi-rez download of Ahmad Jamal's Marseilles (24-bit/96kHz FLAC, Jazz Village/ProStudioMasters) in Onkyo HF Player, the DragonFly Cobalt's color-coded logo lit up light blue, indicating that it was receiving a 24/96 stream. The Cobalt had no trouble producing very satisfying levels with my HiFiMan Edition X V2 planar-magnetic 'phones, with no hint of strain or congestion. The sound was dynamic and transparent. With the Edition X headphones plugged into my iPhone SE's 3.5mm headphone jack, the same track sounded somewhat muffled and compressed.
Next I cued up "Brown Baby," from Rhiannon Giddens's There Is No Other (24/96 MQA, Nonesuch/Tidal), in the Tidal app on the iPhone. The DragonFly logo turned magenta, indicating MQA playback. Again the DragonFly drove the planar cans easily, producing very satisfying levels before volume was even two-thirds of the way to max. Giddens's minstrel banjo had deliciously woody transients, and Francesco Turrisi's big piano chords had impressive body and sparkle.
Some surprises awaited me when using the DragonFly Cobalt with my LG G7 ThinQ. Regardless of what I played through the Cobalt, the DragonFly logo lit up dark blue, indicating a 16/48 stream. That happened with hi-rez files stored on a microSD card, hi-rez streams from Qobuz, and MQA streams from Tidal.
I e-mailed AudioQuest about this. "There are two problems with Android straight out of the box," responded Gordon Rankin, Electronics Design Engineer for AudioQuest and Wavelength Audio. "First, the volume control is digital and handled in the Android OS. It's not very pretty. Second, Android resamples everything to one sample rate out of the box."
That would explain the dark-blue DragonFly logo when I was playing hi-rez music through the G7 and DragonFly Cobalt. Android was resampling audio to 16/48 before sending it to the USB-C port. Moreover, Android was controlling volume with its internal digital volume control, which sacrifices resolution, rather than letting me use the DragonFly's 64-bit hardware volume control.
Rankin suggested I download and install USB Audio Player Pro (UAPP), available for $7.99 on Google Play -- Tidal subscribers can add an MQA Core decoder through a $3.99 in-app purchase. As noted in the Android section of AudioQuest's DragonFly FAQ webpage, "UAPP includes its own USB audio device driver that is compliant with the USB Organization's USB Audio Host Mode Class specification."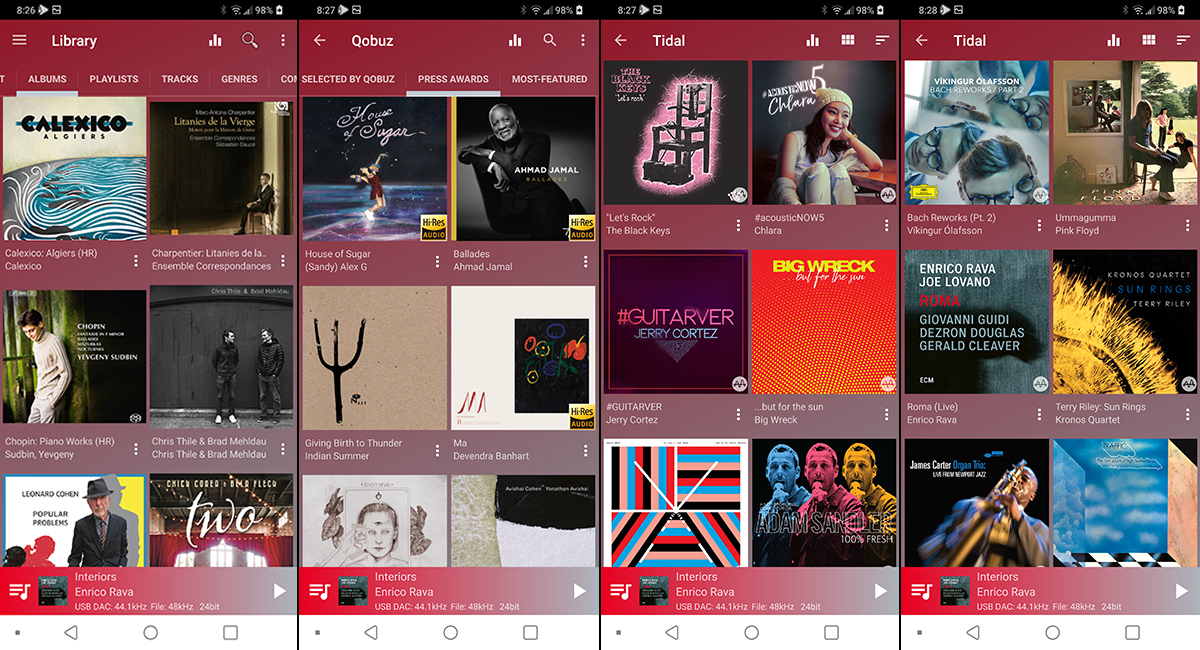 UAPP has built-in clients for Tidal, Qobuz, and Google Play Music, so it can stream music from those services in addition to playing music stored on your phone. When I streamed Masters albums from Tidal through UAPP and the Cobalt, the latter's logo turned magenta, indicating an MQA stream. Playing 24/96 content from Qobuz and the phone's library, the logo turned light blue, as expected. My only complaint is that you have to go into the app's Audio menu to adjust the volume. You can enter that menu just by pushing one of your phone's volume buttons. In the Audio menu, choosing Hardware Volume will take you to a mostly black window with a slider control on the left, which adjusts the DragonFly's hardware volume control.
One of the songs I cued up was "Interiors," from Roma, a live album featuring Italian trumpeter Enrico Rava and American saxophonist Joe Lovano, with a rhythm section of pianist Giovanni Guidi, bassist Dezron Douglas, and drummer Gerald Cleaver (24/48 FLAC, ECM/Qobuz). Through the DragonFly, the planars sounded far more dynamic than when driven by the G7's built-in headphone amp. Rava's flugelhorn had more sheen and bite, Cleaver's drums more snap, and Douglas's plucked double-bass notes more impact. Microdetail was significantly better -- Guidi's arpeggiated chords were presented more clearly. Soundstaging, too, was better, with way more air around the instruments.
In quiet passages, the sound of the DragonFly Cobalt came very close to that of my desktop rig: an iFi iDSD Micro Black Label DAC-headphone amp ($599) plugged into a USB port of my Mac Mini computer. The iFi amp definitely sounded more dynamic, delivering this track with greater ease. As the music picked up stream, the G7-Cobalt combo couldn't deliver as much drama as the Mac Mini and iFi. Microdetail was also better through the iFi. With Rava's trumpet and Lovano's tenor sax, I had a clearer sense of human lungs blowing into wind instruments; with Cleaver, a better sense of drumsticks hitting skins; and with Douglas, a better sense of fingers plucking bass strings.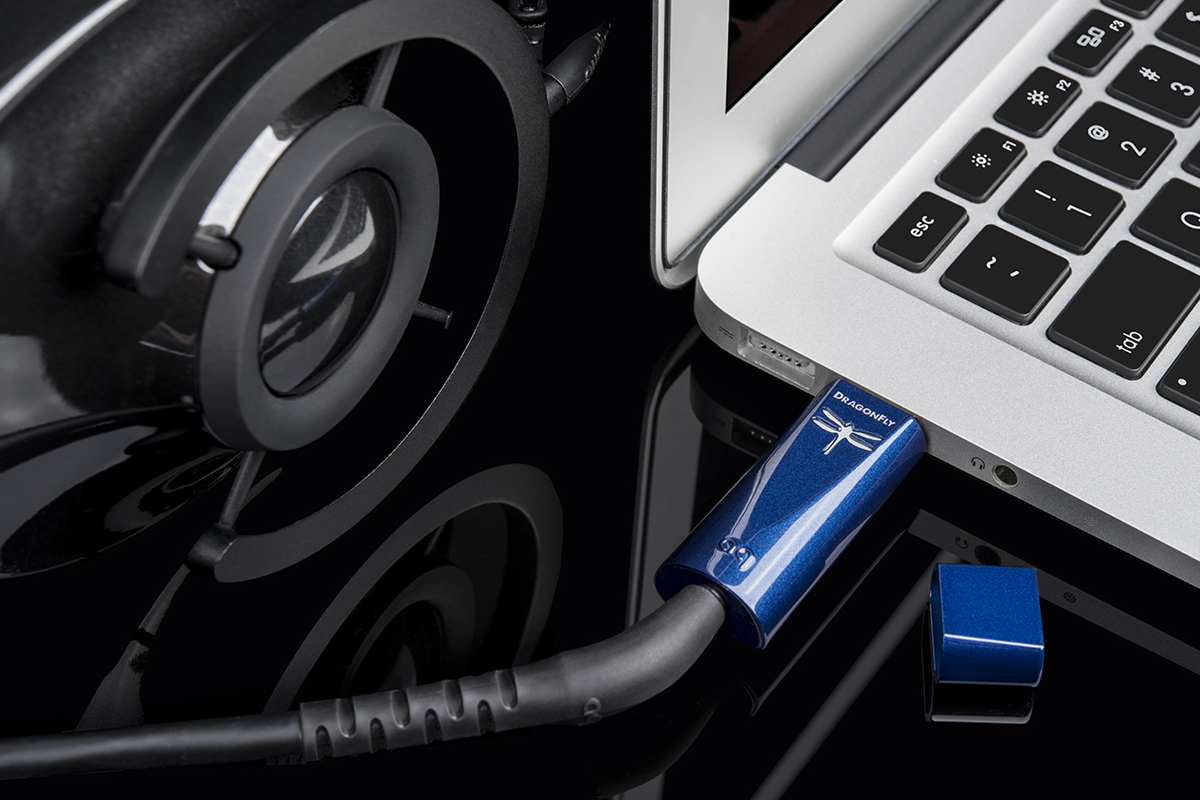 A little perspective: The DragonFly Cobalt is a truly portable product. While the iFi iDSD Micro BL is battery-powered, it's too big to be considered portable -- I'd call it transportable. I use it strictly for listening at home.
Listening through loudspeakers
Smartphones can also function as source components for a home hi-fi. Recently, powered speakers with built-in Bluetooth have become very popular, especially among younger listeners. Two such systems are Totem Acoustic's Kin Play, which I reviewed earlier this year, and Kanto's Tuk, recently reviewed on SoundStage! Xperience by Rad Bennett, and which I'm in the process of reviewing for Simplifi.
These speakers have line-level inputs, which will give better sound than Bluetooth. And using a device such as the DragonFly Cobalt will take the sound to a whole new level, as I confirmed by using my LG G7 and iPhone SE through the Kanto Tuks.
With "Armanda's Rhumba" from Chick Corea and the Spanish Heart Band's Antidote (24/96 MQA, Concord Jazz/Tidal), the Cobalt delivered more dynamic swing and excitement than a direct connection from the G7, and it really opened up the mix. Niño Josele's flamenco guitar runs were resolved better by the Cobalt -- with a direct connection, they were more blurred. Michael Rodriguez's trumpet had more bite, and the overall sound was more spacious. With a direct connection, the sound was flatter, more mushed-together. And remember -- for a smartphone, the G7 has an unusually capable audio section.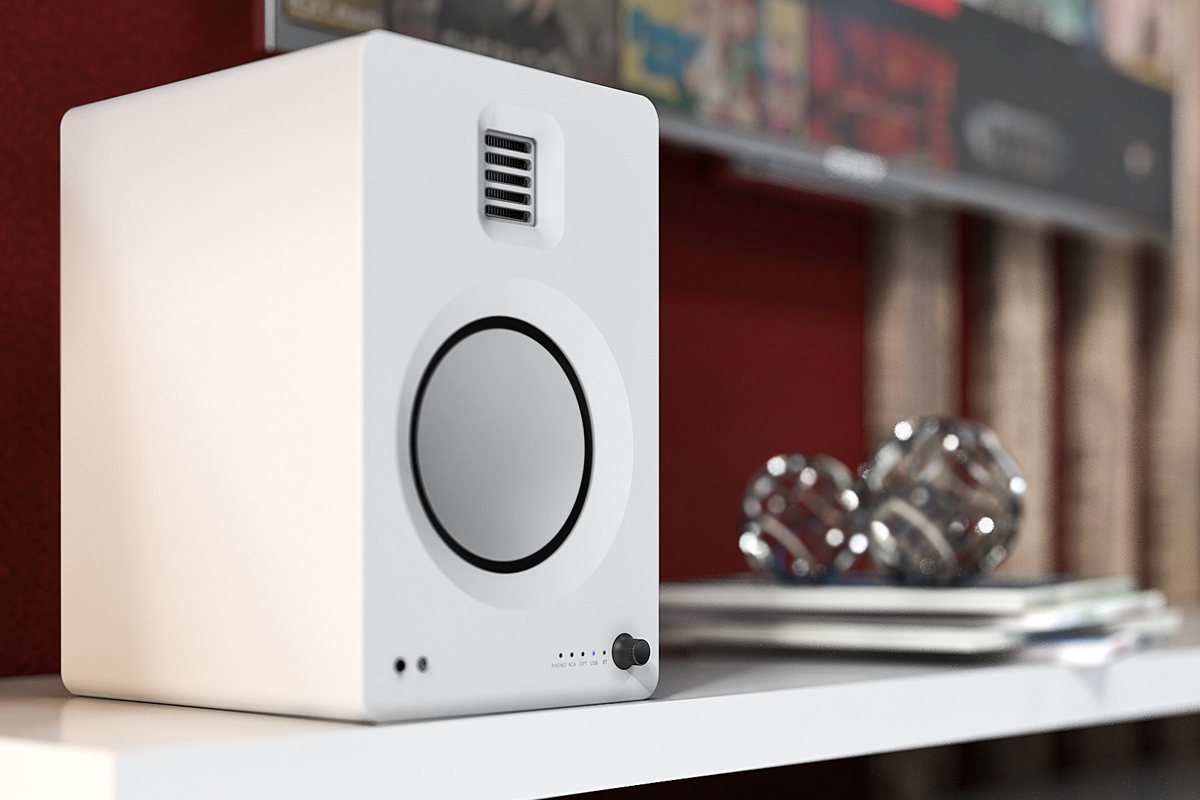 The differences were even greater between the iPhone SE's built-in audio circuits and the Cobalt. Streaming Rhiannon Giddens's "Brown Baby" from Tidal, the Cobalt delivered much more open, transparent sound to the Tuks. The direct feed from the iPhone was harsher and more muffled.
You might ask if a $300 micro-DAC like the Cobalt is overkill for an $800 pair of powered speakers. I don't think so. I think few listeners would question the merits of spending $300 on a turntable and cartridge to use with the Tuks, or similar powered speakers. In my view, what's good for the analog goose is good for the digital gander. Comparing the DragonFly Red and DragonFly Cobalt through the Tuks, the Cobalt sounded more dynamic and exciting. Transients had more snap, and there was more space around instruments.
Casting
There's one more option for getting hi-rez audio from a smartphone to a home stereo: Chromecast. Whereas Apple AirPlay resamples everything to 16/44.1, Chromecast can support resolutions to 24/192. Quite a few amplifiers, receivers, and streamers now have Chromecast Built-in, and it's a worthwhile feature.
To stream to a Chromecast component, you need a Cast-capable app. The iOS and Android apps for Amazon Music HD, Qobuz, and Tidal all support Casting, but with Tidal there's a catch. Tidal's mobile apps perform MQA Core decoding on Masters content, but only with a hardwired connection. When you try to Cast an MQA-encoded Masters track from Tidal, it will transmit a 16/44.1 stream.
You can Cast hi-rez music from Qobuz -- and it sounds better than AirPlay. To use this feature, tap the Cast icon in the upper-right corner of the Listening window in the Qobuz app. You'll see all the Chromecast-capable players on your home network. Choose the one you want, and playback will shift to that device.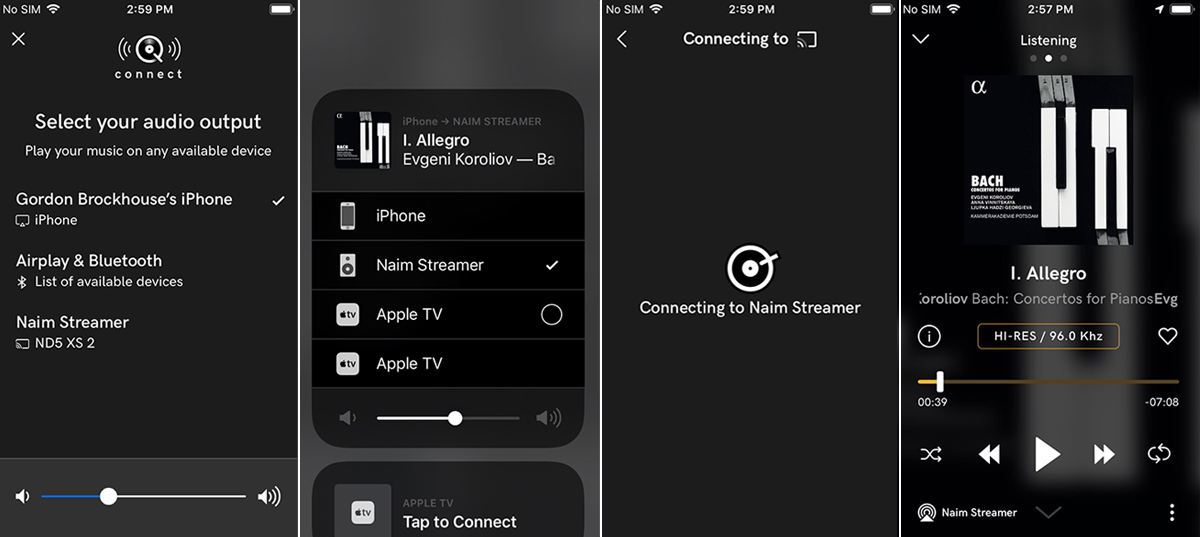 With my iPhone SE, I used AirPlay and Chromecast to play a new recording of J.S. Bach's Keyboard Concerto No.1, played by pianist Yevgeny Koroliov, with the Potsdam Chamber Academy conducted by Ljupka Hadzi-Georgieva (24/96 FLAC, Alpha Classics/Qobuz) through the Naim ND5 XS 2 network streamer ($3495) and Elac Navis ARF-51 active speakers ($3999.96/pair). The 24/96 Chromecast stream sounded more spacious than the 16/44.1 AirPlay stream, with sweeter string tone and slightly better microdynamics.
A 24/96 feed to the Naim streamer from Roon sounded even better, with more air around instruments, and superior microdetail that made it a little easier to appreciate Koroliov's phrasing. I found this comparison telling -- while the Roon feed sounded better, the difference wasn't night-and-day.
All of this listening has confirmed to me that, with the right software and accessories, a smartphone can indeed be a serious audio component. Think of it as a server and streamer that fits in your pocket.
. . . Gordon Brockhouse
This email address is being protected from spambots. You need JavaScript enabled to view it.