To my knowledge, in the 24 years of the SoundStage! Network only one product has ever been retroactively granted a Reviewers' Choice award. That product was the Hegel Music Systems Röst integrated amplifier-DAC, reviewed for Simplifi by Al Griffin in February 2017 -- in fact, the Röst was the first integrated amplifier to be reviewed on this site.
After his review was published, Al continued living with the Röst, using it with a variety of speakers, and comparing its DAC section to competing products. In a follow-up six months later, he praised the Röst's "consistently clean and dynamic quality" and "well-controlled bass and crisp rendering of transients," and concluded that "the Röst rules." And so, six months after its publication, a Reviewers' Choice badge was added to Al's original review.
Inside and out
Announced earlier this fall, Hegel's H120 ($3000, all prices USD) succeeds the Röst. Like its predecessor, the H120 combines in one elegant case an amplifier specified to output 75Wpc into 8 ohms and a high-resolution DAC.
Hegel is based in Oslo, Norway, and true to its Scandinavian origins, the H120 is a thing of minimalist beauty. Hegel provided me with a sample finished in a lovely warm white: matte on the vented top and sides, and gloss on the front panel, which curves gracefully outward. The H120 is also available in black.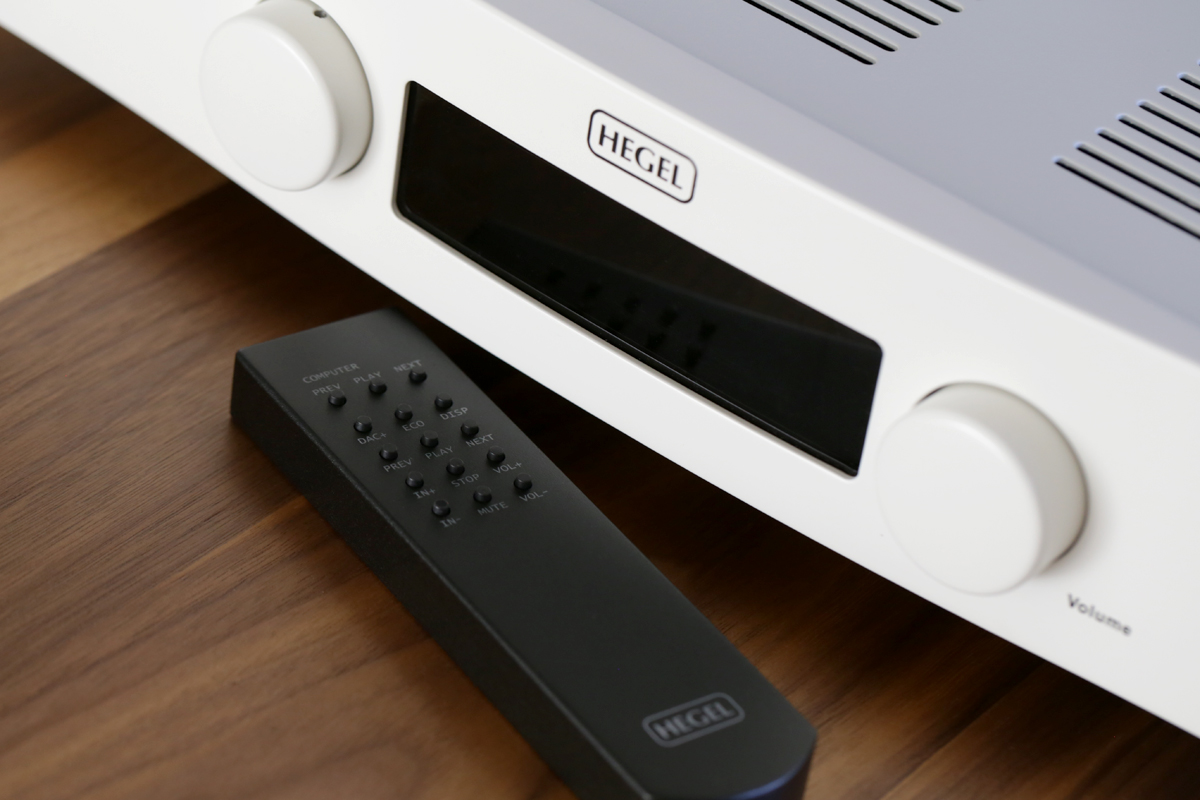 In the center of the front panel is a 5"W x 1.5"H monochrome OLED screen that displays the source name, volume level, and other information, such as sampling rate during digital playback. At lower right is a 6.3mm headphone jack. To the left of the display is a large knob for source selection, and to the right, another for controlling volume. The controls have a solid, silky feel, with detents that provide just the right degree of resistance during operation. This component should inspire in its buyer pride of ownership.
Like the H120 itself, the supplied remote control feels satisfyingly solid. It has buttons for adjusting and muting volume, cycling through sources, and controlling playback from a computer attached to the H120's USB port. You can pause and resume playback, and skip to the next or previous track. The play/pause button worked fine with all the music apps on my MacBook Pro. The track-skip buttons worked well with most apps, but not with Audirvana. There are also buttons for operating Hegel DACs and CD players.
While its outer dimensions (16.93"W x 3.15"H x 12.2"D) are slightly smaller than the norm for an integrated-DAC, the H120 is a very solid piece of kit weighing 21.8 pounds -- a testament to its premium materials and hefty power supply.
Like all Hegel amps, the H120 has two power supplies: one for the power amp's current output stage, another for the input and voltage gain stages. This, Hegel says, prevents high current demands in the output stage from affecting the sensitive input and gain stages. For both supplies, the H120 uses toroidal transformers. The larger transformer, for the output stage, has separate secondary windings for each channel, these feeding separate rectifier blocks and filter capacitors, which on the H120 provide 40,000µF of energy storage.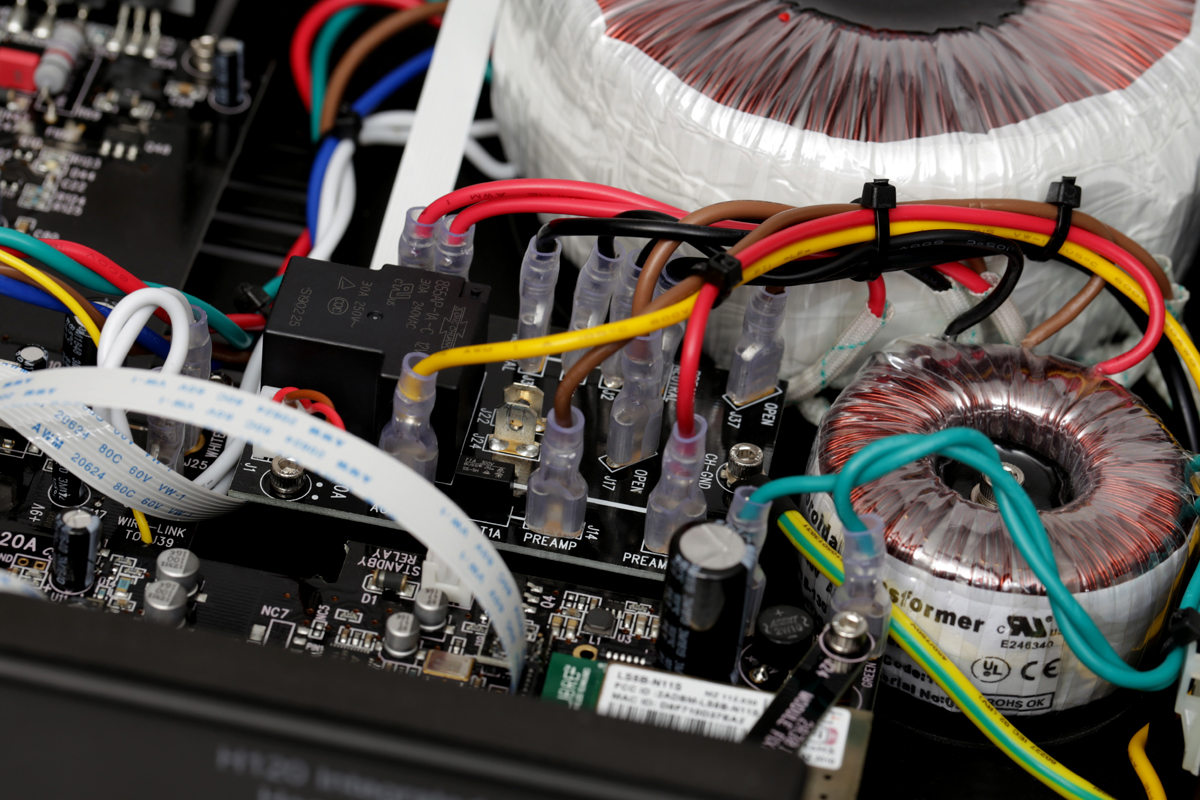 The signature feature of all Hegel amplifiers, including the H120, is their SoundEngine distortion-reduction technology, now in its second generation. This needs some explanation.
An audio amplifier has several gain stages, each of which adds distortion; along with the signal, that distortion is passed along to subsequent stages and further amplified. Most analog amplifiers use global negative feedback to reduce such distortion. The signal is taken from the amplifier output, inverted, passed through a resistor to lower its level, and added back to the input, the idea being that this inverted version of the original distortion will cancel the distortion introduced in all of the amplifier's gain stages. However, as Hegel points out, the slight time delays introduced in each gain stage mean that global negative feedback can't be used to correct high-frequency distortion, as this will cause amplifier instability.
SoundEngine works differently. It's a dynamic, multistage, feed-forward system. After each gain stage, an analog computer compares that stage's input and output -- the assumption is that any difference (other than in level) represents some kind of distortion. If the computer determines that the distortion will be audible, the SoundEngine circuit adds an inverted version of that distortion to the signal. The result, Hegel says, is wider dynamic range and lower distortion -- not only less steady-state harmonic and intermodulation distortion, but reductions in the dynamic distortion that arises from complex musical signals. At the power-amp output, Hegel claims, SoundEngine eliminates the crossover distortion inherent to conventional push-pull class-AB designs.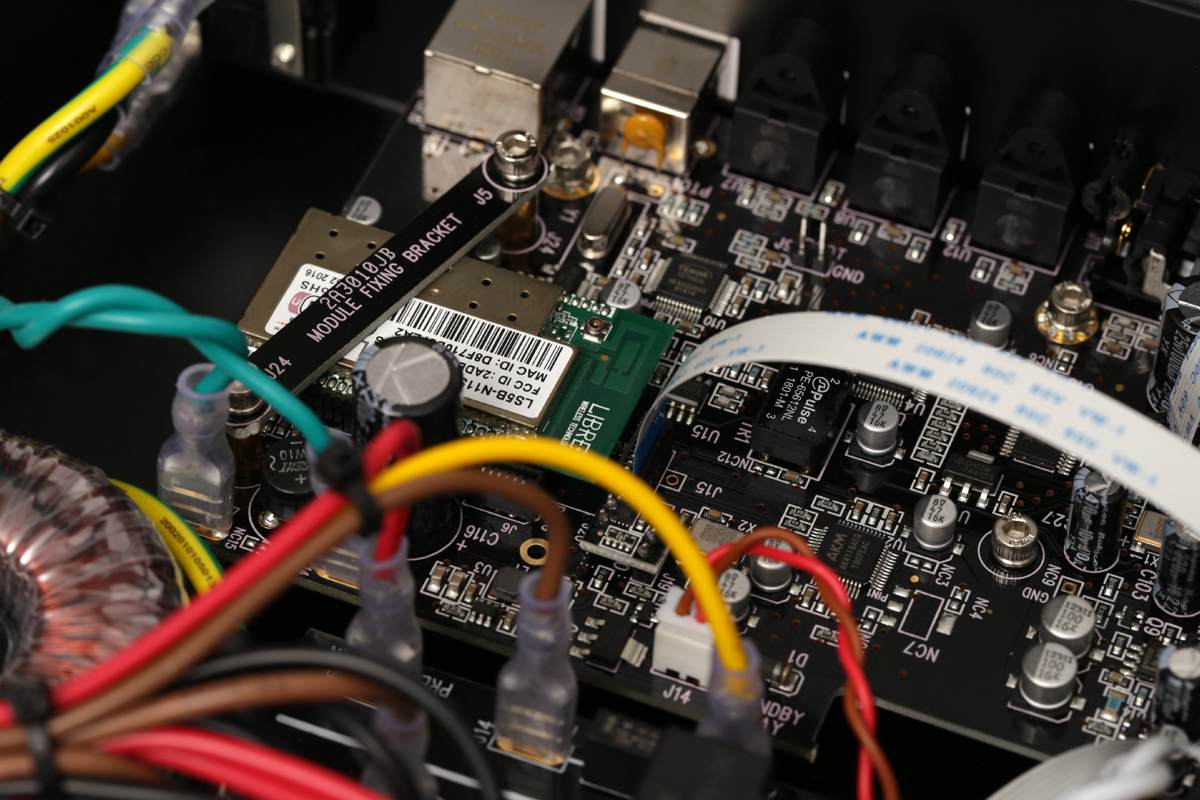 Another hallmark of Hegel amplifiers is their unusually high damping factor: 2000, in the case of the H120 and, before it, the Röst. An amp's damping factor is the relationship between its output impedance and the loudspeaker load, and indicates the amp's ability to damp unwanted motions of the woofer cone(s), to better control the bass. This was borne out in my listening tests.
On the H120's rear panel are a three-pole IEC power inlet, one coaxial and three TosLink S/PDIF inputs, a USB Type-B port for connection to a computer, one pair of balanced (XLR) and two pairs of unbalanced (RCA) line-level inputs, an Ethernet port, a pair of variable unbalanced (RCA) line-level output jacks, and one pair of speaker terminals that accept spade lugs, banana plugs, and bare wire.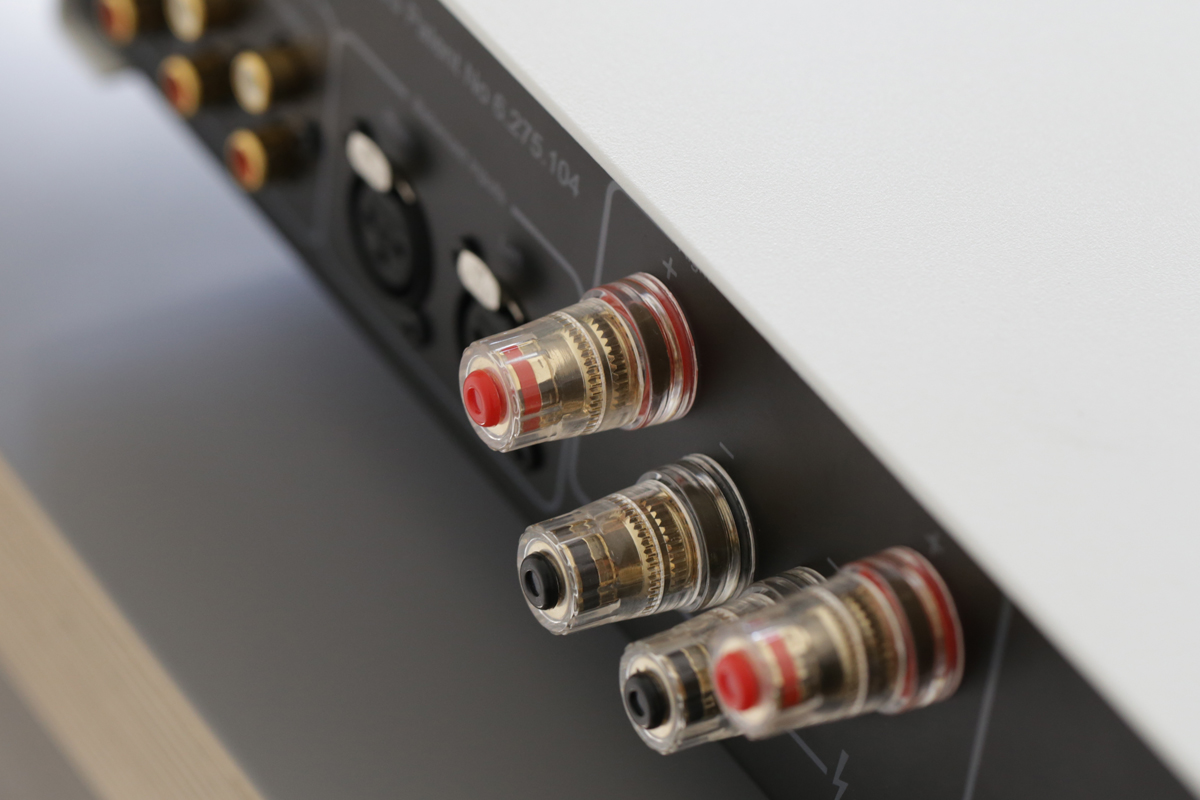 The main claimed improvements over the Röst are in the H120's digital section, I was told by Anders Ertzeid, Hegel's VP of sales and marketing, in an e-mail exchange. The Röst supported Apple AirPlay, to which the H120 adds support for Spotify Connect. To use these features, the H120's Ethernet port must be connected to a router or (as I did) to a Wi-Fi access point. A firmware update due in early 2020 will make the H120 Roon Ready, allowing users to stream to it directly from Roon. Ertzeid also said that the H120's DAC sounds better than the Röst's.
While the basic layouts of the H120's and Röst's analog sections are the same, the H120's main and local power supplies have been upgraded, Ertzeid told me, to improve the smoothness and fluidity of sound.
Setup
I tested the H120 in the ground-floor living room of my home in Toronto. Because the H120 lacks Wi-Fi, to test its network functions I connected a Google Wifi access point to the H120's Ethernet port.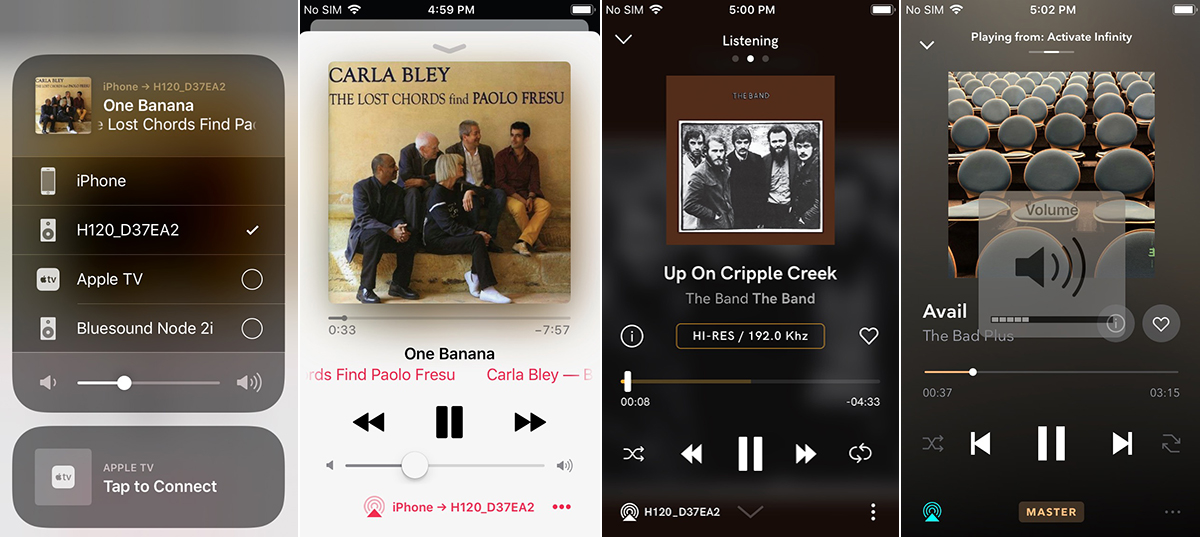 I'm not a Spotify subscriber, so couldn't test the Spotify Connect feature. AirPlay worked perfectly -- I had no problem streaming music from the Apple Music, Qobuz, and Tidal apps on my Apple iPhone SE. I just tapped the sharing icon in the Now Playing window of each app and selected the H120 as the playback device, after which playback shifted from iPhone to Hegel. Easy-peasy.
Like the Röst, the H120 supports network playback via UPnP/DLNA. I had no problem streaming via UPnP from the Audirvana music-player app installed on my mid-2015 MacBook Pro. After selecting "UPnP: H120" as the playback device in Audirvana's Preferences menu, I was able to send music via my network to the H120. But I had no luck streaming via UPnP/DLNA from my LG G7 ThinQ smartphone. Even though I'd enabled its Media Server function in the Settings app, I got "Unexpected Error" messages whenever I tried to stream from any of the music apps on the phone. I can't fault the H120 for this -- in my experience, UPnP/DLNA is maddeningly temperamental.
My primary music source for this review was my Apple MacBook Pro, which I connected to the H120 with a 2m-long AudioQuest Cinnamon USB link. Some of the music I played was stored on the MacBook's internal drive -- for this, I used Audirvana 3.2.18 music software. I also used Qobuz's and Tidal's desktop apps to stream music from those services, and the Roon app on my MacBook to stream music from the mid-2011 Mac Mini in my second-floor office -- my music library is stored on that computer, which runs Roon Core 1.6.
While the Qobuz and Tidal apps could "see" the Hegel H120 and play to it, with Idagio, I had to use the macOS System Preferences utility to set the H120 as the output device -- I couldn't get the Idagio app to play directly to the H120. But again, that's a problem in the Idagio app, not the Hegel H120.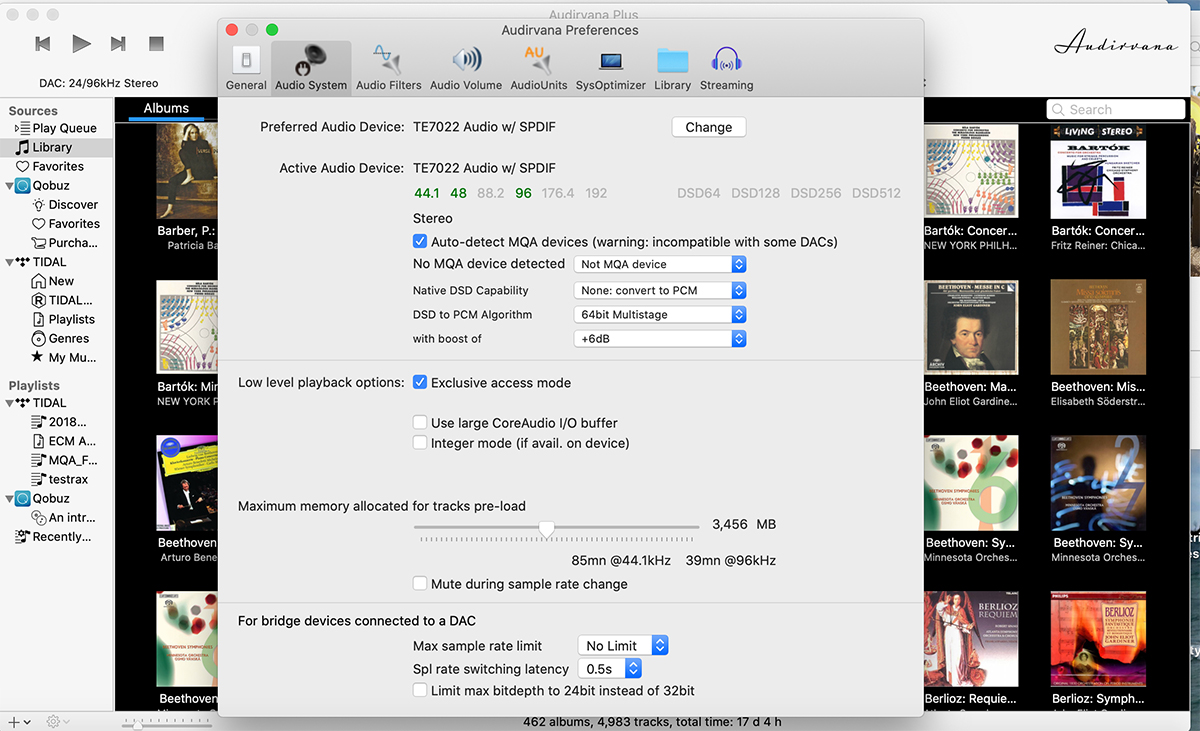 It's not immediately obvious how to get these apps to play to the H120, because it shows up as "TE7022 Audio w/SPDIF" in their setup menus, and in the Sound menu in the Mac's System Preferences utility.
Listening I -- the DAC alone
To assess the Hegel H120's DAC section independent of its amplifier section, I connected its variable line-level outputs to the RCA inputs of my Elac Navis ARF-51 active floorstanding speakers ($4000/pair) using 2m and 5m AudioQuest Mackenzie interconnects. I know that's not how anyone will actually use an H120, but as you'll read below, it was instructive.
It's easy for digital audiophiles to get hung up on numbers, particularly resolution specs. But numbers don't tell you everything you need to know about the sound quality of a given DAC, as my experience with the H120 confirmed. Time after time, I was wowed by the amounts of exquisite microdetail the H120 was pulling from my digital files.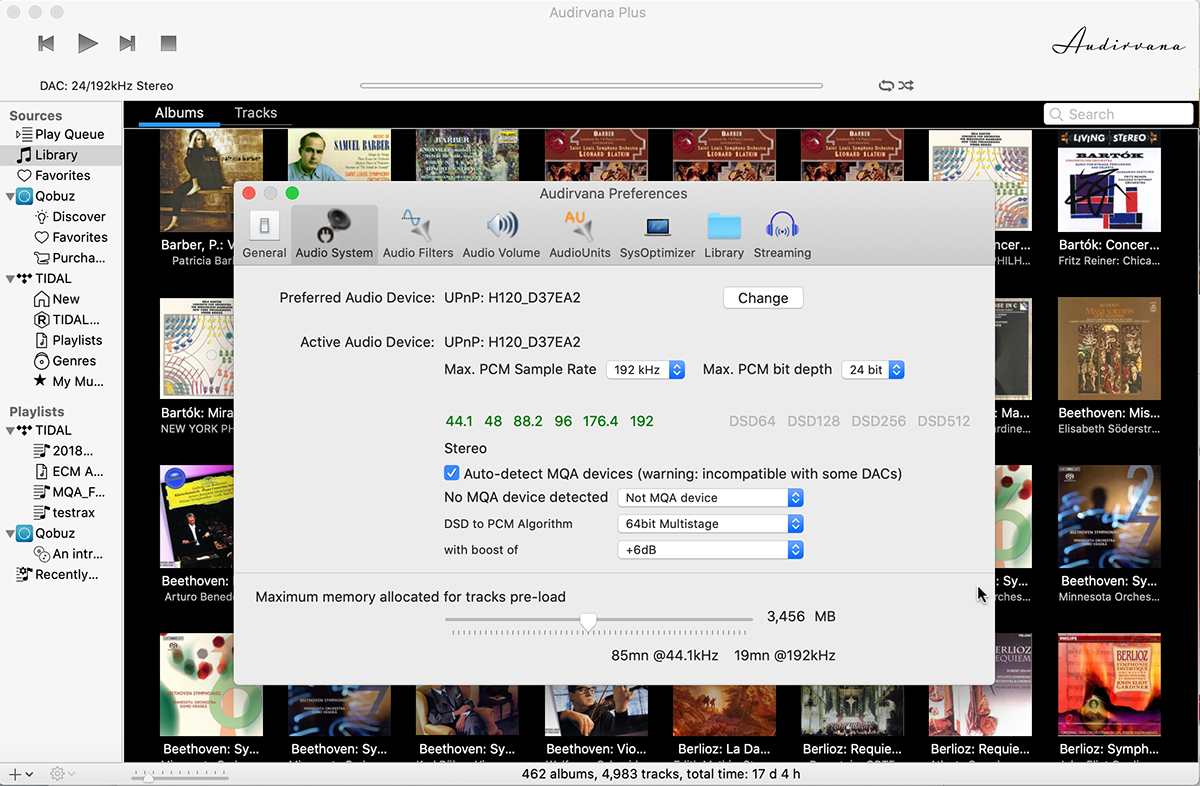 As confirmed by Audirvana's Preferences menu, the H120's DAC supports only three sampling rates via USB: 44.1, 48, and 96kHz. Via UPnP, it supports PCM up to 24-bit/192kHz. That's a limitation in the Tenor USB receiver Hegel uses in the H120 (and the H90 and H190 as well), Ertzeid told me. Hegel chose this part for "its very high cost/performance ratio," Ertzeid said, explaining that "the money saved allowed big improvements in other sections of the DAC."
The H120 will play files with other sampling rates -- and DSD files -- but it will have resampled these files before sending them on to the DAC. This was confirmed by the H120's display, which showed a sample rate of 44.1kHz when I played DSD files from Audirvana via USB, and 96kHz when I played 24/88.2 files.
One of those files was a wonderful performance of Lennon-McCartney's "And I Love Her" by the Brad Mehldau Trio, from their album Blues and Ballads (24-bit/88.2kHz FLAC, Nonesuch), which I played from the MacBook Pro via Roon. At various points throughout the song Mehldau suddenly strikes the ivories more forcefully, and the H120-ARF-51 combination tracked these gestures beautifully. However, Mehldau mostly plays this song in a gentle, legato style, and I loved the way the H120's DAC illuminated subtle details in his phrasing, and the wonderfully natural transitions from attack to sustain to decay.
I admired the H120's excellent microdetailing of Jeff Ballard's drumming. Not only did his cymbals have ideal sheen, their initial attacks decaying naturally into the background, but I was able to better appreciate the sound of stick striking cymbal -- I heard the metal and the wood. Similarly, Ballard's floor tom sounded marvelously tactile, with the distinct quality of a felt-covered mallet gently striking a tautened drumhead.
The H120's excellent microdetail also paid dividends in "Almost Like the Blues," from Popular Problems, the penultimate studio album Leonard Cohen released while he was alive (24/96 ALAC, Columbia/HDtracks). Cohen's voice in that track, played from my MacBook Pro's internal drive via Audirvana, sounded big and full-bodied, but also wise and weakened by age. His gravelly consonants, the whispery finishes to his sibilants, his half-spoken snarls -- all were beautifully illuminated without being spotlit, and revealed another layer of expressiveness in Cohen's singing of his disturbing lyrics.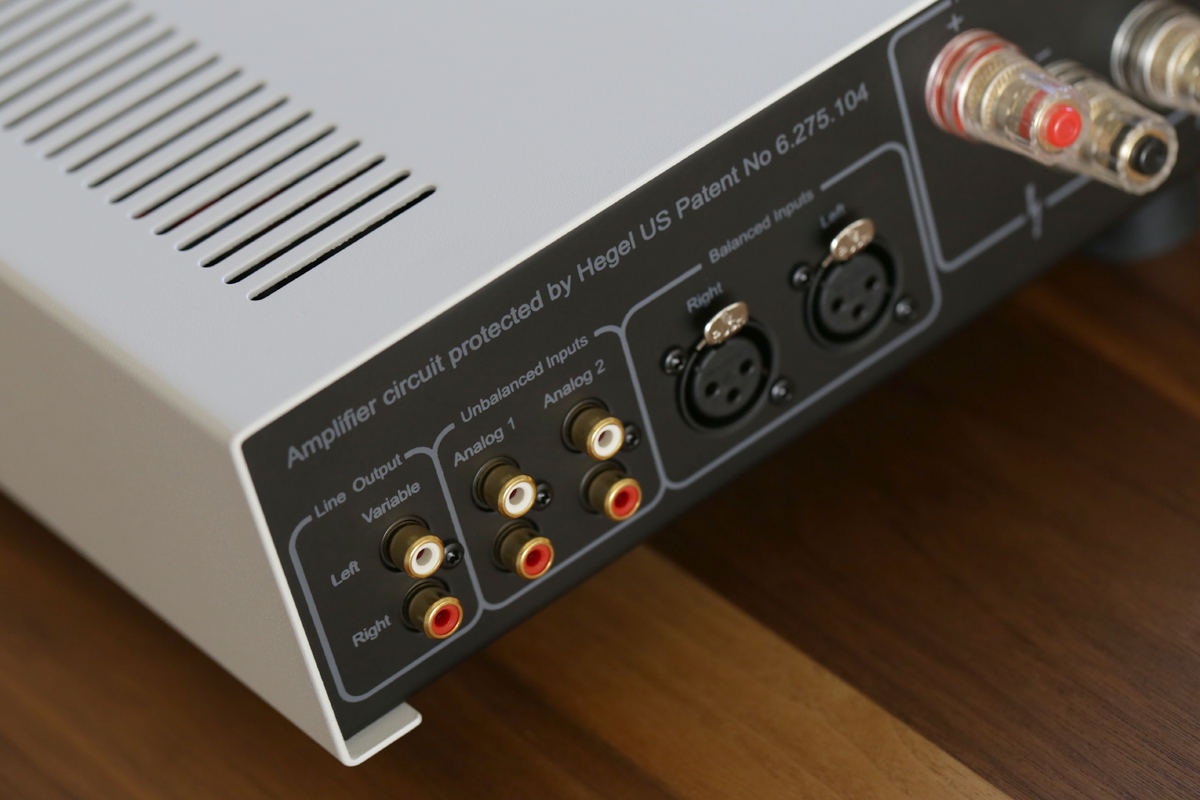 The same virtues were apparent in the instrumental accompaniment. With strings, there was just the right amount of bite in the way the bows grabbed the strings. And with horns, the attacks of air emerging from bells seemed ideal, neither edgy nor overdone.
In the intro to Cole Porter's "Get Out of Town," from the Holly Cole Trio's Don't Smoke in Bed (24/176.4 FLAC, Blue Note/Super Hi-Rez), double bassist David Piltch plays several bars' worth of harmonics, and these sounded delicious through the H120-Navis combo. Initial transients were fast but not etched, followed by decays that seemed to go on forever. Throughout the track, Cole's subtly inflected singing hovered just at the edge of awareness, where they belong -- she wasn't wearing her sauciness on her sleeve.
Comparison I
Because I find it challenging to assess the sound quality of a capable digital source component in isolation, it was helpful to compare the H120's DAC with NAD's C 658 BluOS streaming DAC ($1649), which I connected to the Navis ARF-51s' XLR inputs using 2m-long Argentum Acoustics Mythos interconnects. For this comparison, I made sure to disable the C 658's Dirac Live room-correction feature.
Overall, I found the C 658 a little faster and more exciting than the DAC section of the H120, and the H120 a little warmer and more inviting, if also more muted.
In the Brad Mehldau Trio's cover of "And I Love Her," Mehldau's piano attacks were better defined through the NAD, but through the Hegel the transitions from attack to sustain to decay were more natural, and I was a little more aware of subtleties in Mehldau's phrasing. Larry Grenadier's double bass and Jeff Ballard's floor tom had greater tactility through the H120 compared to the C 658, and when Ballard brushed his cymbals, the shimmering was slightly more extended.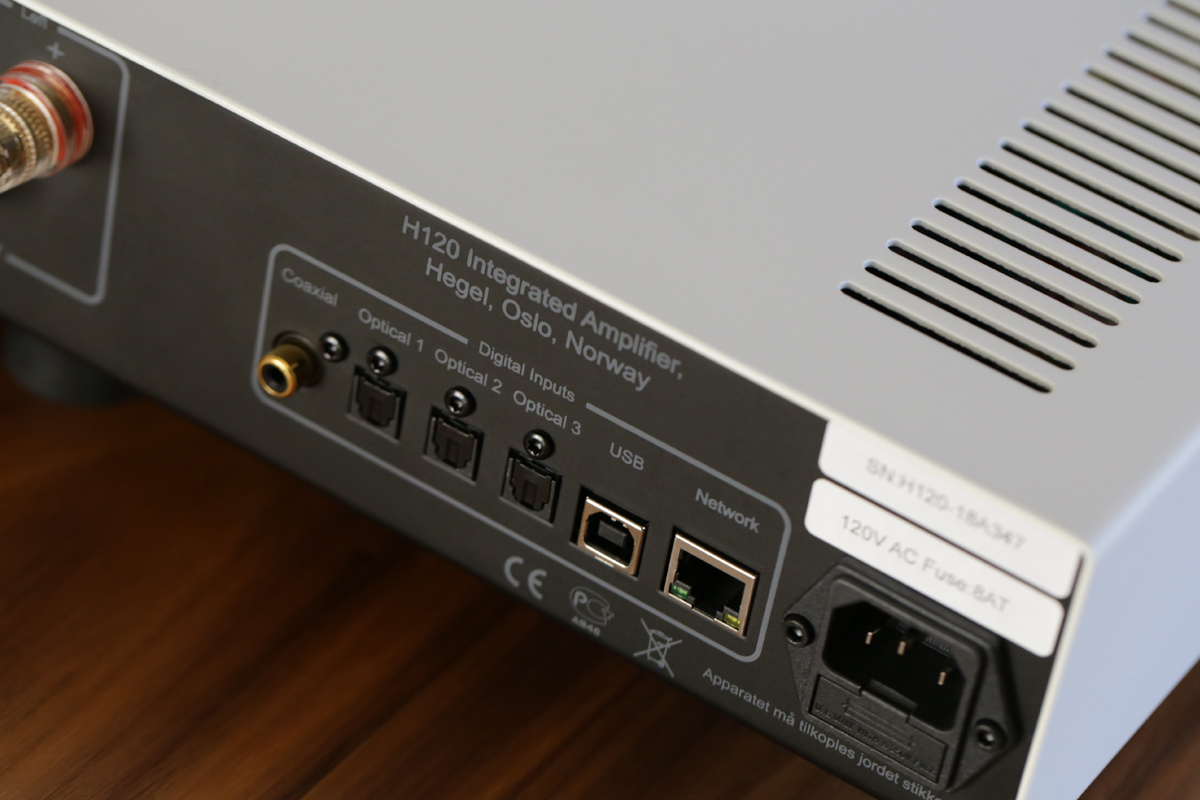 Through the Navises, the H120 and C 658 both produced wide, deep soundstages with very good specificity of aural images. But images were slightly more embodied, more three-dimensional, through the Hegel. There was also a bit more air around them, as opposed to space.
In Cohen's "Almost Like the Blues," which I played from a USB drive connected to the C 658's USB port under control of the BluOS app, the bongos, piano, and bass guitar all sounded sharper and better defined, which added an extra degree of urgency -- and a bit of edge. Cohen's voice, too, sounded a bit more urgent. But I thought the Hegel presented a slightly fuller reproduction of his words and phrases. His voice sounded more human -- I was more aware of his age and infirmity, and of the self-absorption of the song's persona.
Similarly, with "Get Out of Town," Aaron Davis's piano and Piltch's double bass were better defined through the NAD C 658. But Cole's voice was a bit more expressive through the Hegel. The H120's ability to deliver microdetail helped convey more of her word-painting, putting her worldly-wise sauciness just a bit more in the foreground.
Listening II -- amplifier and DAC together
Listening II was much more representative of real-world use than Listening I. I connected a pair of Totem Acoustic Sky Tower speakers ($2250/pair), favorably reviewed on SoundStage! Hi-Fi a year ago by Philip Beaudette, to the H120's speaker terminals with a 10' pair of AudioQuest Q2 cables, and put them in the same places normally occupied by my Elac ARF-51s: 7' apart and to either side of a faux fireplace, slightly toed in, their rear panels 18" from the wall behind them, and the speakers describing an equilateral triangle with my sweet spot on the end cushion of a sectional sofa.
One of my go-to tracks for evaluating bass control is "Regular Pleasures," from Patricia Barber's Verse (16/44.1 ALAC, Premonition/Blue Note), which I streamed to my MacBook Pro via Roon. Michael Arnopol plays a big, bold double-bass line throughout, mainly in the lower strings, and drummer Eric Montzka punctuates the end of each bar with a huge bass-drum thwack. While there's nothing subterranean here, there's loads going on in the 32-64Hz octave.
Through the H120 and Sky Towers, Arnopol's bass had very satisfying snap and definition, and Montzka's big bass drum was reproduced with impressive impact and control. The rest of Montzka's kit -- cymbals, snare, hi-hat -- had wonderful snap and drive. Attacks were fast but not edgy, and the shimmer of the hi-hat and cymbals decayed naturally into the background.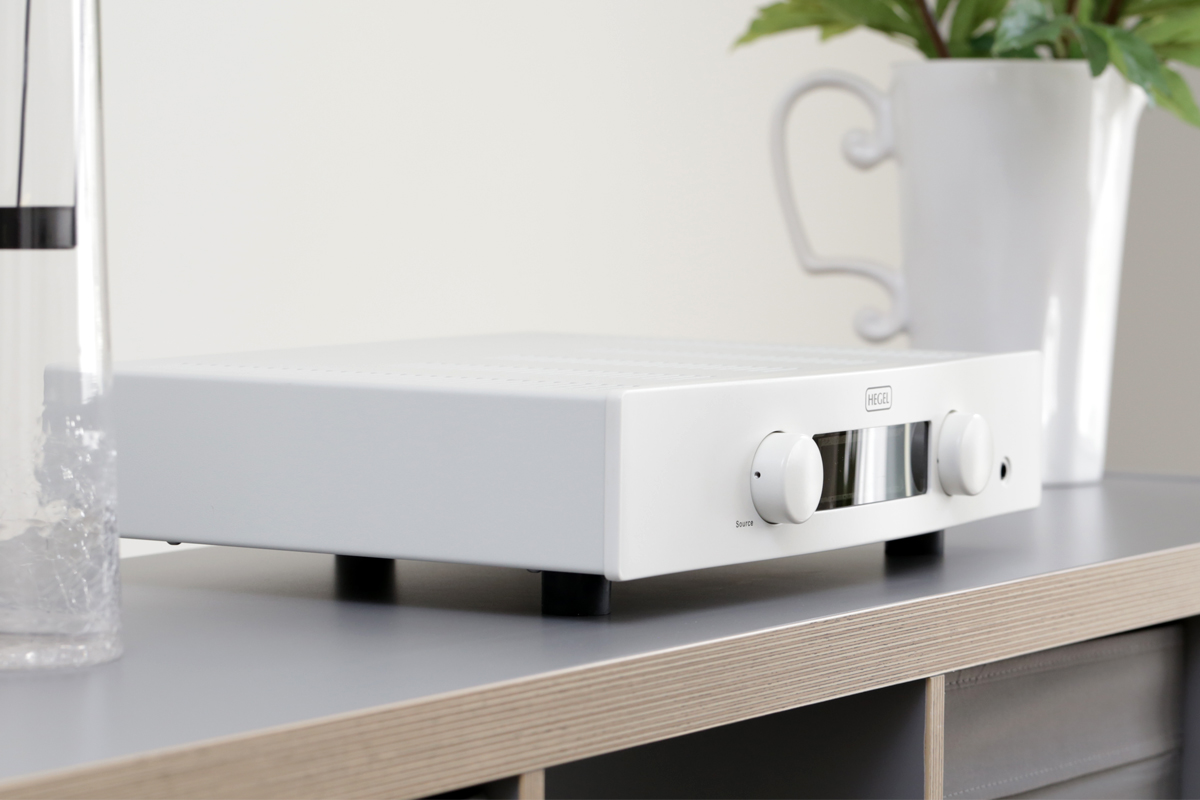 Turning to a more tender track from the same album, I loved the way the H120 and Sky Towers rendered Neal Alger's finger-picked acoustic guitar in "If I Were Blue." His attacks in his accompaniment, mainly in the upper strings, sounded fast and precise but also completely natural -- not too sharp or etched. And during Alger's solo, especially when he plays the middle and lower strings, I admired the way the decay revealed the guitar's woody, resonant quality.
The H120 also revealed subtle qualities in Barber's singing in both tracks -- not only her word-painting, but also her superb breath control. Her voice descends to a whisper to convey the ennui and cynicism of the persona in "Regular Pleasures," and swells to express longing and loss in "If I Were Blue." The H120 tracked these dynamic shifts beautifully.
Could the H120 and Sky Towers bring down the house? Not quite -- but the combination came pretty close with The Battle on Ice, from Prokofiev's cantata Alexander Nevsky. The work is based on Prokofiev's score for Sergei Eisenstein's 1938 film, which portrays the defeat of the invading Teutonic Knights by a ragtag army led by Nevsky in April 1242. I streamed the 2004 remastered version of Claudio Abbado's 1980 analog recording with the London Symphony Orchestra and Chorus (16/44.1 FLAC, Deutsche Grammophon/Qobuz), from the Qobuz app on my MacBook Pro to the H120 via USB.
The Battle on Ice is a reenactment in sound of the climactic battle between Nevsky's foot soldiers and the German knights on the frozen surface of Lake Chud, on Russia's western border. It begins with it an eerie theme in the strings and woodwinds, timpani rolling threateningly in the background. I marveled at how the H120 illuminated the expressive bowing of the LSO's string players, confirming its excellent microdynamics.
At the two-minute mark, the tempo and volume ramp up dramatically as a dissonant theme for full orchestra portrays the rush of the Teutonic Knights into battle, the male chorus singing their cryptic Latin chant. Two minutes later, a jollier theme announces the arrival of the Russian army -- then battle is joined and chaos erupts. I could imagine a 75Wpc integrated and small two-way floorstanders turning these dramatic passages into a harsh, compressed mush, but that was assuredly not the case here. The H120 showed off its macrodynamic chops, presenting this section with impressive ease and transparency, if without the visceral impact you'd experience with a more powerful amp and larger speakers -- or in a concert hall. That would be expecting too much.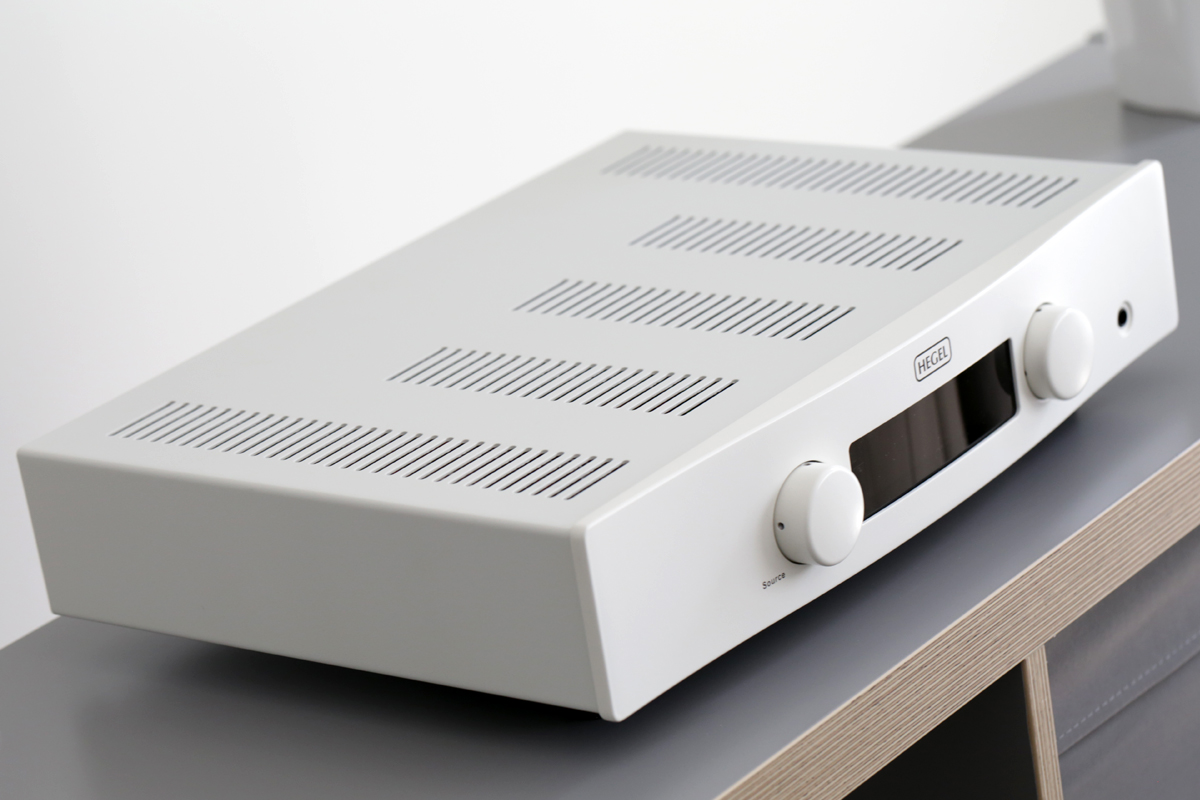 In the next movement, Field of the Dead, mezzo-soprano Elena Obraztsova sings a mournful lament about a young woman searching in vain for her fallen lover. The H120 tracked her expressive modulations beautifully, capturing not just her sudden swells, but her subtle vibrato in her upper range. And the subdued orchestral accompaniment was exquisitely transparent.
"Nobody in Charge," from Van Morrison's Three Chords and the Truth (24/96 FLAC, Exile/Qobuz), revealed another aspect of how the H120 handles voices. Morrison really belts out this number, and can go from loud to louder in a heartbeat. The H120 handled these sudden transitions with aplomb and subtlety. Although the transitions are very fast, the H120 made these sudden dynamic shifts sound natural and organic, as opposed to abrupt and electronic. I was also impressed with how the H120 conveyed Morrison's growling inflections in his alto saxophone solos, and how Jay Berliner's acoustic guitar phrases emerged from the right side of the soundstage. Through the H120 and Sky Towers, this track had irresistible groove and swing, and made tapping my toes almost mandatory.
Comparison II
The next product in my review queue is Cambridge Audio's CXA81 integrated-DAC ($1299), which is specified to output 80Wpc into 8 ohms, and has a built-in DAC with maximum resolutions of 32/384 PCM and DSD256, and a Bluetooth receiver that supports aptX HD.
The two integrateds' reproductions of Patricia Barber's "Regular Pleasures" was pretty close. Barber's voice was a bit more embodied through the Hegel, whose superior microdetailing produced a flesh-and-blood quality the Cambridge couldn't quite match. Barber's voice was slightly more forward on the soundstage through the CXA81, but the soundstage thrown by the H120 was bigger, and the spaces between instruments and voice were more filled in. Both amps did admirable jobs of impact and control with the big bass drum and double bass, but the H120 delivered snare attacks with just a tad more snap.
The recording of Prokofiev's Alexander Nevsky made it obvious why the H120 costs more than twice the CXA81's price. Through the Cambridge, the brooding opening of The Battle on Ice was a little more opaque than through the Hegel. And in the intense middle section portraying the attacks of the Teutonic Knights, the CXA81 just couldn't keep up with the H120 -- the sound was a little harsher and more congested, the dynamic swings less dramatic. This is an incredibly dramatic and densely orchestrated passage, and the H120 unraveled it more effectively. The soundstage created by the H120 was more expansive than the CXA81's, and more realistically filled in as well.
Through the CXA81, Van Morrison's voice in "Nobody in Charge" had a touch of hardness it didn't have through the H120, and sudden dynamic shifts were coarser -- his singing went from loud to louder more abruptly than with the H120. The spatial presentation was flatter, and little details, such as Jay Berliner's guitar phrases, didn't materialize as magically as they did with the H120, but stayed more in the background.
Headphone listening
Hegel's H190 integrated-DAC ($4000), reviewed for Simplifi in November 2017 by Al Griffin, has a dedicated headphone amp. But as Anders Ertzeid confirmed when I asked him about it, the H120's headphone output is pulled down from the speaker outputs. He added, however, that the H120's headphone output is quieter than the Röst's.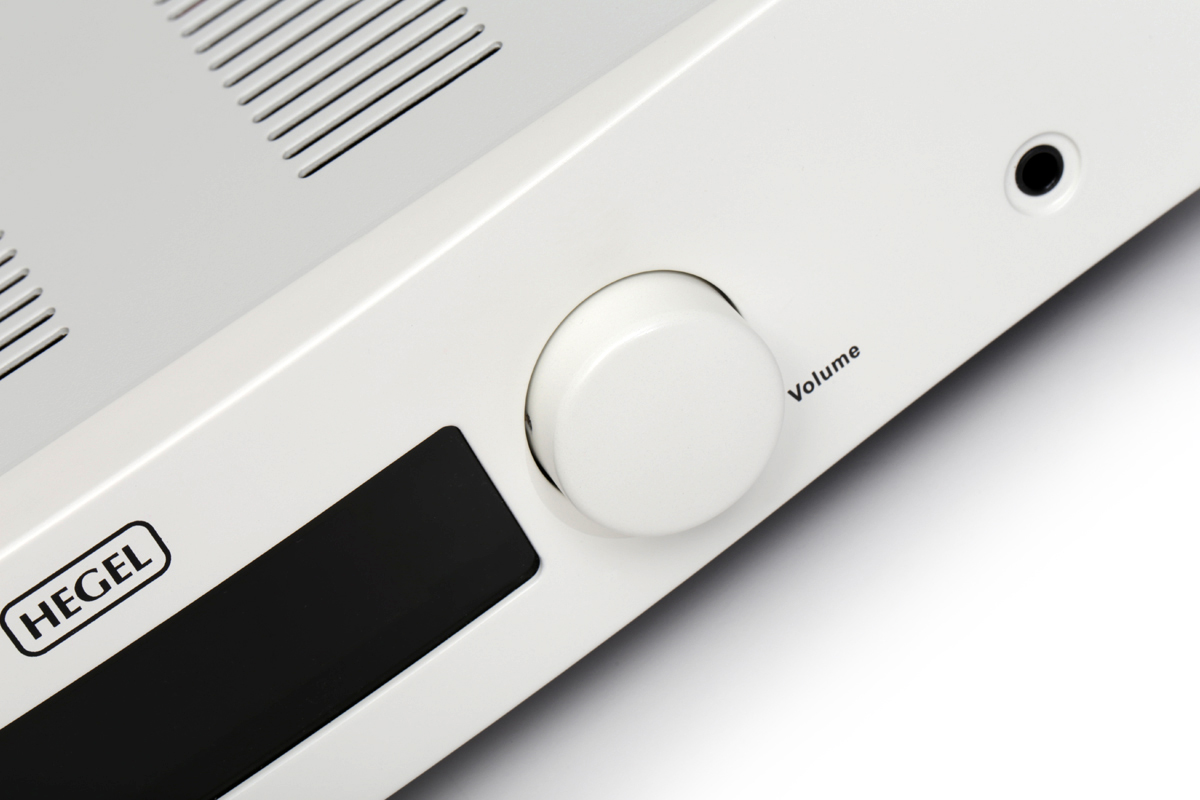 Through my HiFiMan Edition X V2 planar-magnetic headphones, the H120's headphone output proved its mettle with The Battle on Ice -- it's clearly more than a convenience feature. Orchestral textures in the eerie opening were beautifully transparent, and the violins evoking the creaking ice had good bite. The H120 had no trouble producing very satisfying levels in the shattering central sections depicting the battle between the Teutonic Knights and Russian army, but the sound got just a bit harsh.
This was brought home when I played the same passage through NAD's C 658 BluOS streaming DAC, which has a dedicated headphone amp -- the NAD sounded a little smoother and more composed. But through the Hegel brasses had a bit more bite, and orchestral textures were slightly more transparent.
Conclusion
If all you did was scan lists of specs and features, you might conclude that Hegel Music Systems' H120 integrated amplifier-DAC is overpriced. That would be a mistake.
Granted, the H120 lacks Wi-Fi and Bluetooth. While its network streaming features aren't as slick as those on streaming amplifiers from companies like Naim and NAD, it covers the basics well, with support for AirPlay, Spotify Connect, and UPnP/DLNA. And as noted, a forthcoming firmware update will make the H120 Roon Ready.
Also granted, the H120 is more expensive than even comparably specced integrateds. But measurements are unreliable indicators of sound quality or build quality, and in both areas the Hegel H120 delivers a lot. This component should keep delivering satisfaction not only for years, but for decades.
. . . Gordon Brockhouse
This email address is being protected from spambots. You need JavaScript enabled to view it.
Associated Equipment
Speakers -- Elac Navis ARF-51 (active), Totem Acoustic Sky Tower (passive)
Sources -- Apple MacBook Pro (early 2015) running Roon 1.6 and Audirvana Plus 3.2.18, Apple Mac Mini (mid-2011) running Roon 1.6, Apple iPhone SE and LG G7 ThinQ smartphones
Integrated amplifier-DAC -- Cambridge Audio CXA81
Streaming DAC -- NAD C 658
Headphones -- HiFiMan Edition X V2
Speaker cables -- AudioQuest Q2 (10', terminated in banana plugs)
Interconnects -- AudioQuest Mackenzie (2m and 5m, unbalanced, from Hegel to Elac active speakers), Argentum Acoustics Mythos (2m, balanced, from NAD streaming DAC to Elac active speakers)
USB link -- AudioQuest Cinnamon (2m)
Power cords -- Wireworld Stratus 7 (2m, for amp), AudioQuest NRG-Y3 (for Elac active speakers)
Network -- Google Wifi three-node mesh network
Hegel Music Systems H120 Integrated Amplifier-DAC
Price: $3000 USD.
Warranty: Two years parts and labor.
Hegel Music Systems AS
PO Box 2, Torshov
NO-0412 Oslo
Norway
Phone: +47 22-60-56-60
Fax: +47 22-69-91-56
E-mail: This email address is being protected from spambots. You need JavaScript enabled to view it.
Website: www.hegel.com