As a listener, I'm new to Hegel the audio equipment maker. As a reader, I'm familiar with Hegel the German philosopher, mostly due to his influence on the thinking of Karl Marx. Georg Wilhelm Friedrich Hegel (1770-1831) is associated with the Hegelian Dialectic, in which things and ideas evolve in a continual process of change that finds synthesis in an ideal reality. Marx, among other things, is known for turning Hegel on his head by shifting the Hegelian Dialectic from the ideal world back to the material one.
The Röst is the latest integrated amplifier ($3000 USD) from Norway's Hegel Music Systems. What, you might be wondering, does dialectic thinking have to do with a new integrated amp? Well, the Röst represents an example of the dialectic in action, if not a turning on its head of the standard concept of the integrated amplifier.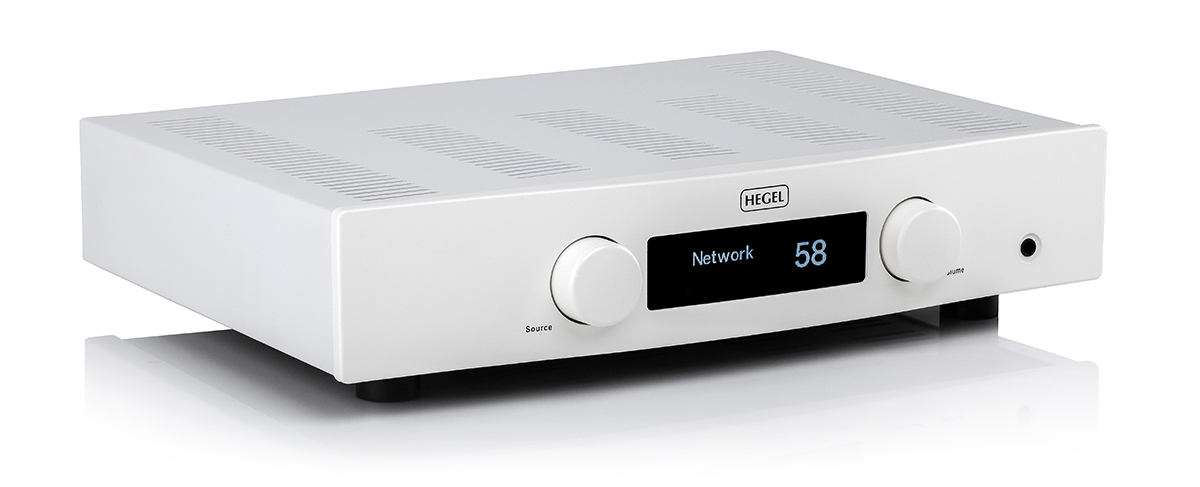 At least, those were my thoughts after reading a paper composed by Hegel Music Systems to introduce the Röst. In it, the audio manufacturer describes the development of its new integrated amp, a process that sought to synthesize current -- and future -- ways people get access and listen to music with the basic engineering principles that have long informed the company's designs.
At the top of the new list is IP-control. Control4 software comes preinstalled on the Röst to allow for quick integration with Control4-based home automation systems. Since the Röst's IP-control is fully open, DIY tinkering is possible, and drivers can be written for other systems, including Crestron, Savant, Vantage, and Elan. And in keeping with the smart-home spirit, Hegel has opted to make the Röst available only in white.
Apple AirPlay and DLNA capability are two more features that set the Röst apart from traditional integrateds, though both have appeared in previous Hegel products, such as the H360 and H160. AirPlay and DLNA streaming with the Röst requires connecting it to your network via an Ethernet cable plugged into the LAN port on the amp's rear panel. That done, you can extend streaming options beyond the iOS realm with an Android UPnP app like Bubble, which lets you use the Röst as a media renderer for music-streaming services, including Tidal.

Pre-existing Hegel technologies included in the Röst include SoundEngine, which reduces crossover distortion in the class-A/B amp and boosts the damping factor beyond 2000, to accommodate a wide range of speakers despite the Röst's moderate power output of 75Wpc into 8 ohms. The Röst's DAC, the same one found in the H160, includes synchronized upsampling technology to reduce jitter error and distortion with both streamed sources and sources connected to the Röst's digital inputs. Lastly, in keeping with other Hegel gear, volume control is carried out in the analog domain using high-precision chips originally designed for use in test gear.
Unless Hegel's concept paper for the Röst is putting us on, the push and pull between old and new even manifested in a discussion of whether to incorporate the classic video game Pong into the black-and-white OLED display on the Röst's front panel, something the two large knobs flanking the display actually would make possible.
The bold whiteness and minimalist, curved faceplate of the all-aluminum-and-steel Röst really does make a statement -- I can't say I've ever seen a serious piece of hi-fi gear with such a lifestylish look. With the power button cleverly concealed on the bottom plate, the only feature up front, other than the Source and Volume knobs, is a headphone jack.
Analog audio inputs on the rear panel include balanced (XLR) and two sets of unbalanced (RCA). The second pair of RCAs can also be configured, in the setup menu, as a home-theater input for integration with a surround-sound system. (In this case, volume for that input will be set at a fixed high level so you can use your surround preamp or receiver's volume control when watching movies.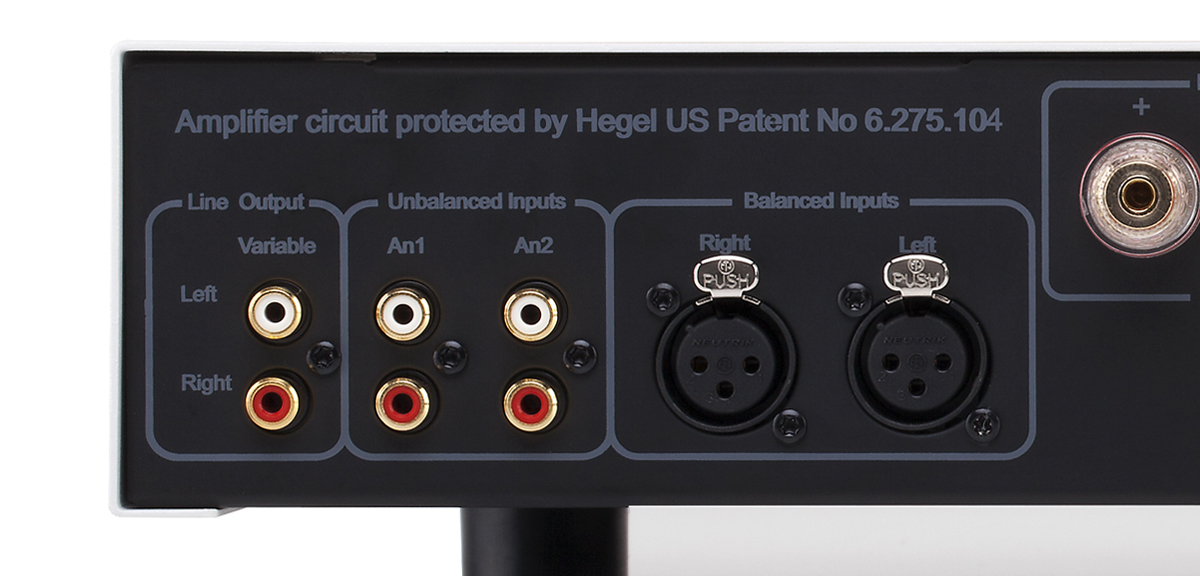 The Röst's digital audio inputs include one coaxial and three optical jacks, and a USB port for direct connection to a computer with support for up to 24-bit/96kHz playback. Lastly, there's a variable-level RCA output for connection to an external power amp.
Hegel's literature makes much of the RC8 remote control, which comes with the Röst. Built from a single aluminum block, the RC8 has impressive heft and a spare, elegant look, with a bank of small control buttons confined to the upper half of its top surface. Apart from basic controls for volume and input selection, the buttons let you skip and play/pause tracks using the media player on a USB-connected computer. I liked handling Hegel's remote, but found it a challenge to find a specific button in dim lighting. Also, its limited IR range compared to my other remotes made me wish I had a Control4 home automation system installed.
Setup
Setting up the Röst in my system involved connecting it to my home network using a powerline adapter and Ethernet link. Once that was done, I could stream tracks via AirPlay, and from a MacBook Pro in my upstairs home office running JRiver Media Center 21. I also connected a Pioneer BDP-88FD Blu-ray player, and used both its coaxial digital and analog RCA outputs to evaluate the performance of the Röst's built-in DAC.
Network connectivity proved extremely reliable -- I can't recall a single instance of the Röst failing to stream tracks using AirPlay, or when I'd selected it as a designated media renderer within JRiver Media Center. Given that the remote's limited IR range was a problem in my system, where a direct beam to the gear rack isn't convenient (I usually bounce IR commands off the front wall), I mostly defaulted to app control to adjust system volume.
Sound
To evaluate the performance of the Hegel Röst's DAC, I cued up a CD of Nick Cave and the Bad Seeds' Push the Sky Away (CD, Bad Seeds Ltd. BS 001DLX) and played "Jubilee Street," switching between the amp's coaxial digital and analog inputs. Compared with the Pioneer player's ESS Sabre32 DAC, the Röst's DAC provided better definition of the kick drum and bass guitar. Cave's menacing sing-speak also sounded a bit smoother than through the Pioneer's DAC. Interestingly, the Hegel's conversion of digital signals to analog also seemed to affect soundstage depth: Through the coaxial input, a long violin note halfway through the song emanated from a point to the left and deep back in space; through the analog input, the same sound appeared to be panned hard left, resulting in a flatter overall presentation.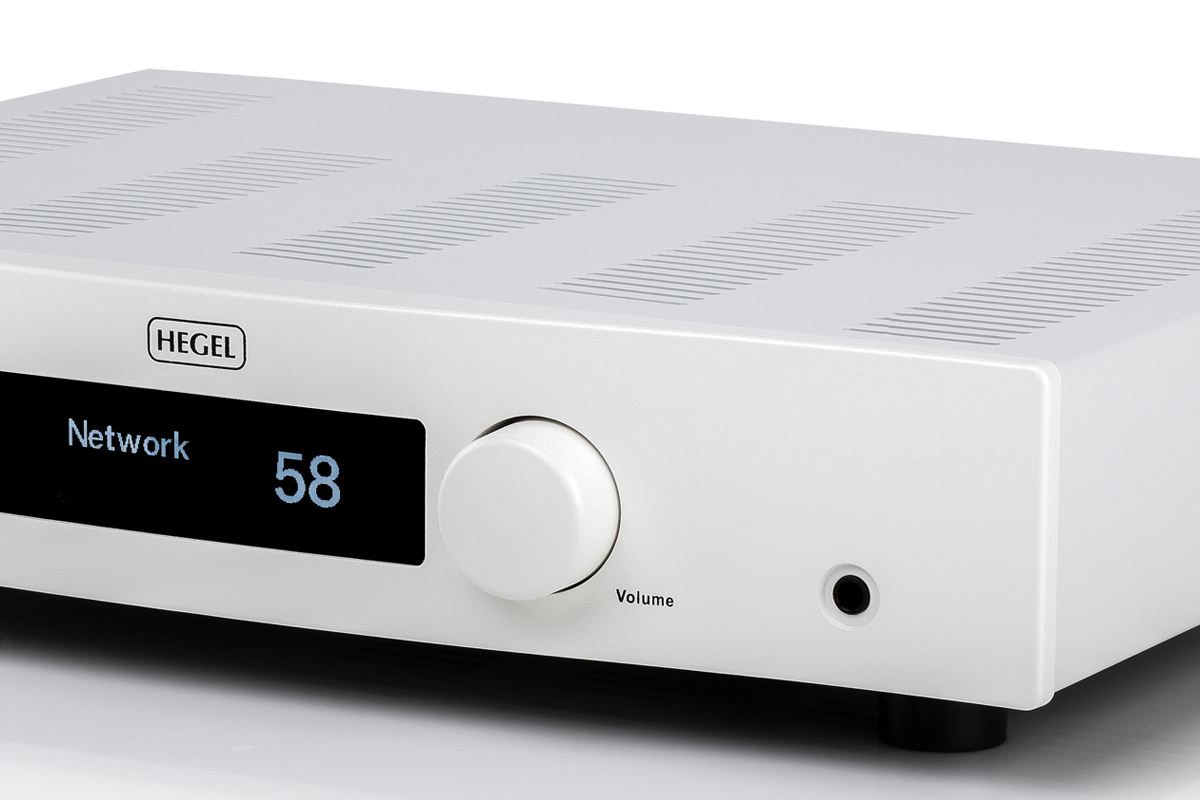 I experienced the same spatial effects when I streamed tracks from Tidal via AirPlay. When I listened to Debussy's ballet Jeux, performed by the San Francisco Symphony conducted by Michael Tilson Thomas (16-bit/44.1kHz FLAC, San Francisco Symphony/Tidal), the Röst conveyed a vivid sense of the orchestra's size, from skittering percussion at the rear of the stage to churning double basses up front. The sound was consistently detailed, but also displayed a warmth and fullness that was evident in the swells of sound during crescendos.
Shifting to more intimate music, I listened to the instrumental "A Dog Named Pepper," from guitarist Daniel Bachman's recently released eponymous album (16/44.1 FLAC, Three Lobed/Tidal). Arpeggios played by Bachman on his steel-string sounded dynamic and finely textured, and I could clearly hear the resonance of the guitar's body. Spaces between notes were also palpable, the sounds of strummed strings decaying into deep, ultra-"black" silence.
Comparison
To get a firmer grip on the Röst's sound, I compared it with another integrated amp I had on hand for review, Rotel's A12. At 60Wpc vs. the Hegel's 75Wpc, their power outputs are reasonably similar, though at $899, the Rotel costs less than one-third the Röst's price. As I listened to the Bachman track via Tidal, in this case streamed to both amps via an Astell&Kern AK240 player connected to an optical digital input, the Rotel exhibited slight treble glare in comparison with the Röst, which also made guitar strings sound more fully fleshed out.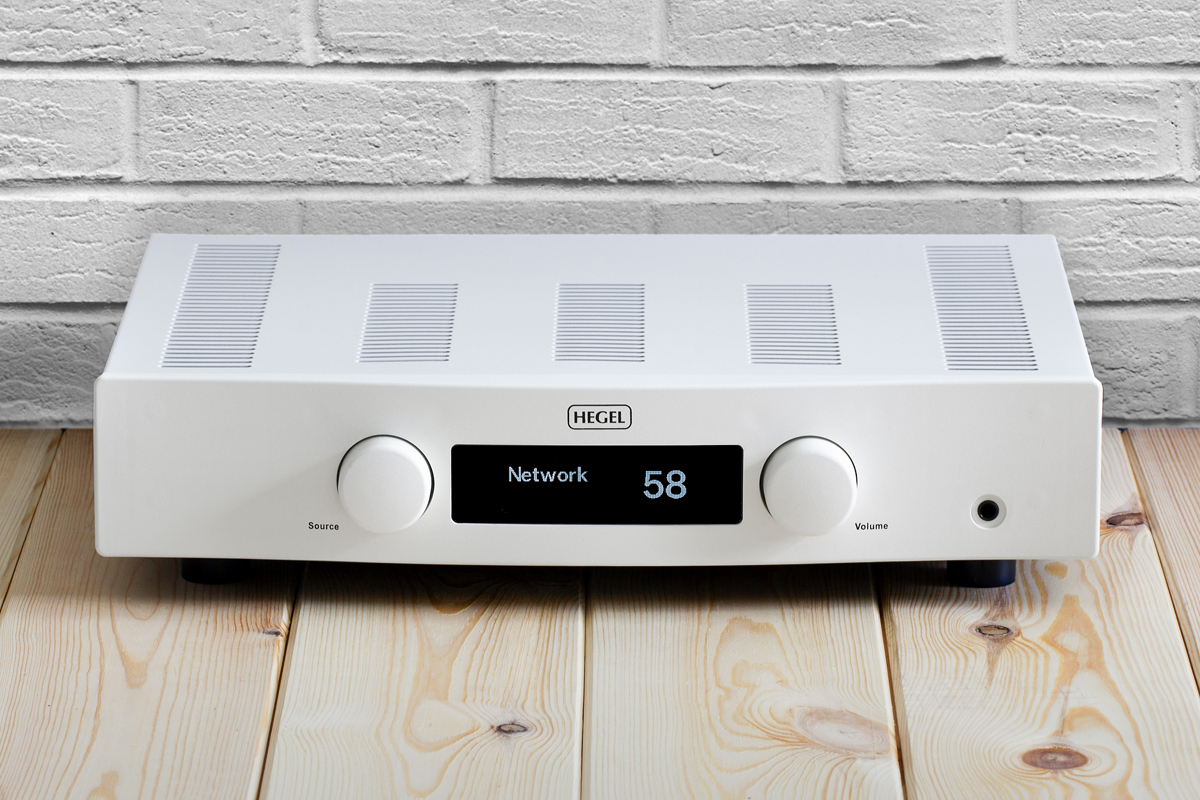 When I checked back in with Debussy, sounds emerged from deeper, more silent space with the Röst, which also delivered superior dynamics. This carried over when I played "Barfly," from Ray LaMontagne's Till the Sun Turns Black (16/44.1 FLAC, RCA/Tidal), which had more muscular bass and slighter warmer vocals over the Hegel. While the Röst outmatched its rival, I emerged from the comparison seriously impressed by how well the Rotel stacked up. (Look for a review of the Rotel soon on SoundStage! Access.)
Conclusion
A good example of the dialectic in action, Hegel Music Systems' Röst is also a versatile, forward-thinking hi-fi component -- I can't think of another integrated amplifier with connectivity options that address not only the needs of audiophiles, but also those of the custom-installation market. It looks interesting, it sounds great, and it has AirPlay -- to hear uncompressed music, you need only whip out your iPhone. It would be cool to add Pong to that list of capabilities, but as it stands, I'm satisfied with what the Röst already can do.
. . . Al Griffin
This email address is being protected from spambots. You need JavaScript enabled to view it.
Associated Equipment
Sources -- Pioneer BDP-88FD Blu-ray player, Astell&Kern AK240 digital player, Apple iPhone 6, Apple iPad 2, Apple MacBook Pro computer running JRiver Media Center 21, Apple Music, Tidal HiFi
Speakers -- Bowers & Wilkins 685 S2, GoldenEar Technology Triton Five
Integrated amplifier -- Rotel A12
Speaker cables -- Monster S14-2RCL
Analog interconnects -- AudioQuest Victoria (RCA)
Hegel Music Systems Röst Integrated Amplifier
Price: $3000 USD.
Warranty: Three years parts and labor.
Hegel Music Systems AS
PO Box 2, Torshov
NO-0412 Oslo
Norway
Phone: +47 22-60-56-60
Fax: +47 22-69-91-56
E-mail: This email address is being protected from spambots. You need JavaScript enabled to view it.
Website: www.hegel.com
North American distributors:
USA
Hegel USA
East Long Meadow, MA
Phone: (413) 224-2480
E-mail: This email address is being protected from spambots. You need JavaScript enabled to view it.
Website: www.hegel.com
Canada
Hegel Canada
CP 8, Westmount Station
Montreal, Quebec H3Z 2T1
Phone: (514) 931-1880
Fax: (866) 708-1352
E-mail: This email address is being protected from spambots. You need JavaScript enabled to view it.