Do you have to be a propeller-head to enjoy Simplifi'd hi-fi? The question might seem nonsensical, but when you think about this site's mandate -- to cover "convenient, lifestyle-oriented audio" -- it makes a perverse kind of sense, and the product reviewed here illustrates my point.
Lumin's new T2 network music player ($4500, all prices USD) combines a high-resolution DAC and network streamer in one case. The T2 can play all your downloaded and ripped music files, as well as lossless and hi-rez music from Tidal and Qobuz, under control of an app running on an iOS or Android device. If that's not convenient, I don't know what is!
You might have to do a little work to make this happen; convenience doesn't always take care of itself. Getting the T2 on to your home network is a piece of cake -- but to play files, you also have to configure a network drive so that the T2 can see its contents. Depending on your system configuration, that could be a little challenging. However, I think you'll find the effort worth your while.
Inside and out
Measuring 13.8"W x 2.4"H x 13.6"D and weighing 13.2 pounds, the T2 projects an aura of minimalist luxury fully in keeping with its premium price. My review sample was finished in brushed, black-anodized aluminum; raw brushed aluminum is also available. In both finishes, the machined top and side panels have been treated to achieve an elegant grained effect.
The back-raked, matte-finished front panel bows gracefully outward. At the center, a rectangular OLED screen shows Now Playing information: track name at top, artist name below that, file format and resolution at bottom, track number at right, and elapsed time at far right. That's a lot of information, but the display doesn't look at all busy, and it's readable from several feet away.
The T2 is intended strictly for network playback. It has no analog inputs, no S/PDIF inputs for connecting source components such as CD transports, no USB inputs for connecting a computer. A USB port on the rear panel can be used for connecting an external USB drive, or for connecting the T2 to an external DAC. There's also a BNC S/PDIF port for digital output. The T2's maximum output resolutions are 32-bit/384kHz PCM and DSD512 via USB, or 24/192 and DSD64 for BNC S/PDIF.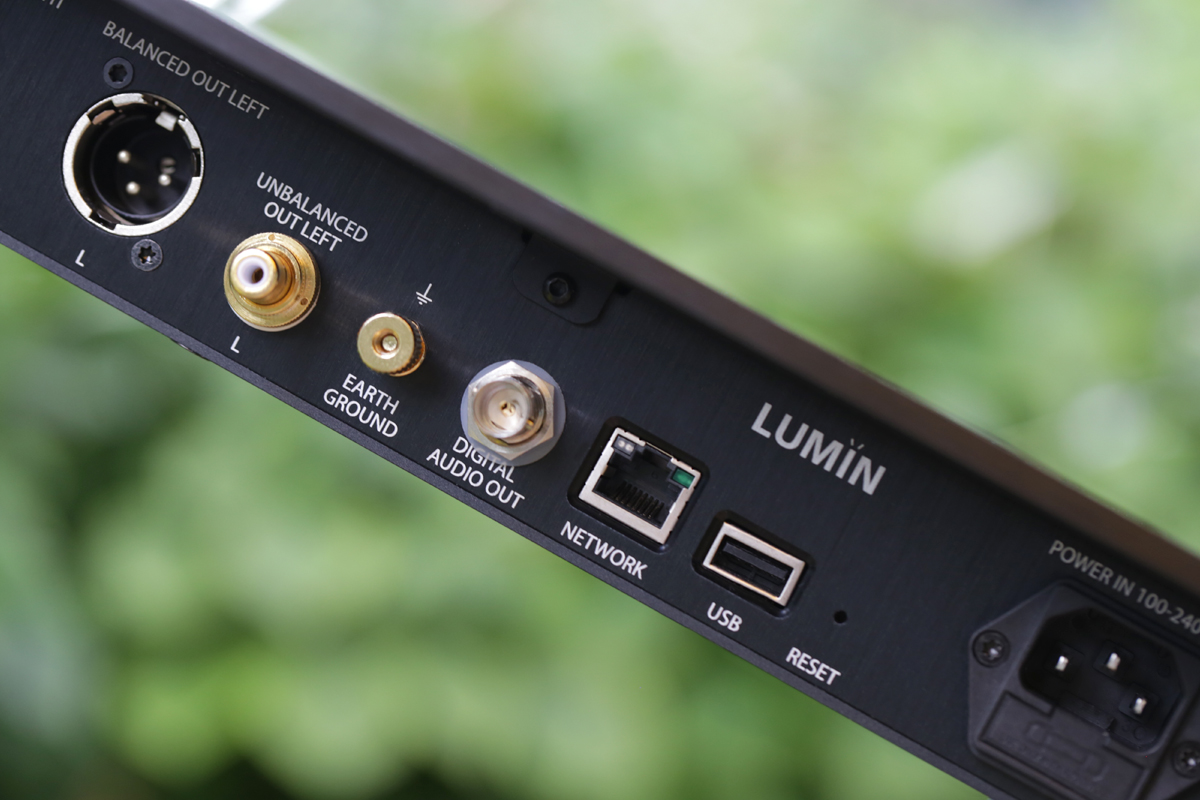 As Lumin offers network transports for listeners who want a DACless streamer, I'm sure the vast majority of people who buy a T2 will use its analog outputs, either balanced (XLR) or unbalanced (RCA). Employing two ESS ES9028PRO Sabre DACs in dual-mono configuration, the T2 has maximum resolutions of 32/384 PCM and DSD512. Using the Lumin app, listeners can configure the T2 to upsample PCM and DSD streams. The T2 has a fully balanced analog stage, and a redesigned, ultra-low-noise output buffer derived, Lumin says, from its flagship network player, the X1 ($13,999).
The T2 does not have built-in Wi-Fi or Bluetooth. To connect the player to your home network, you have to run a network cable from its Gigabit Ethernet port to your network router. If your router is in a different room from the T2, you can do as I did and connect it to a Wi-Fi access point.
In addition to TuneIn Internet Radio, the T2 has clients for Qobuz, Spotify, and Tidal -- with Tidal, it can perform MQA core decoding and hardware rendering. The T2 also supports Apple AirPlay and Spotify Connect, and is Roon Ready. During my testing, I had no problems at all streaming from my iPhone SE and iPad Mini via AirPlay, or from the Mac Mini in my home office via Roon.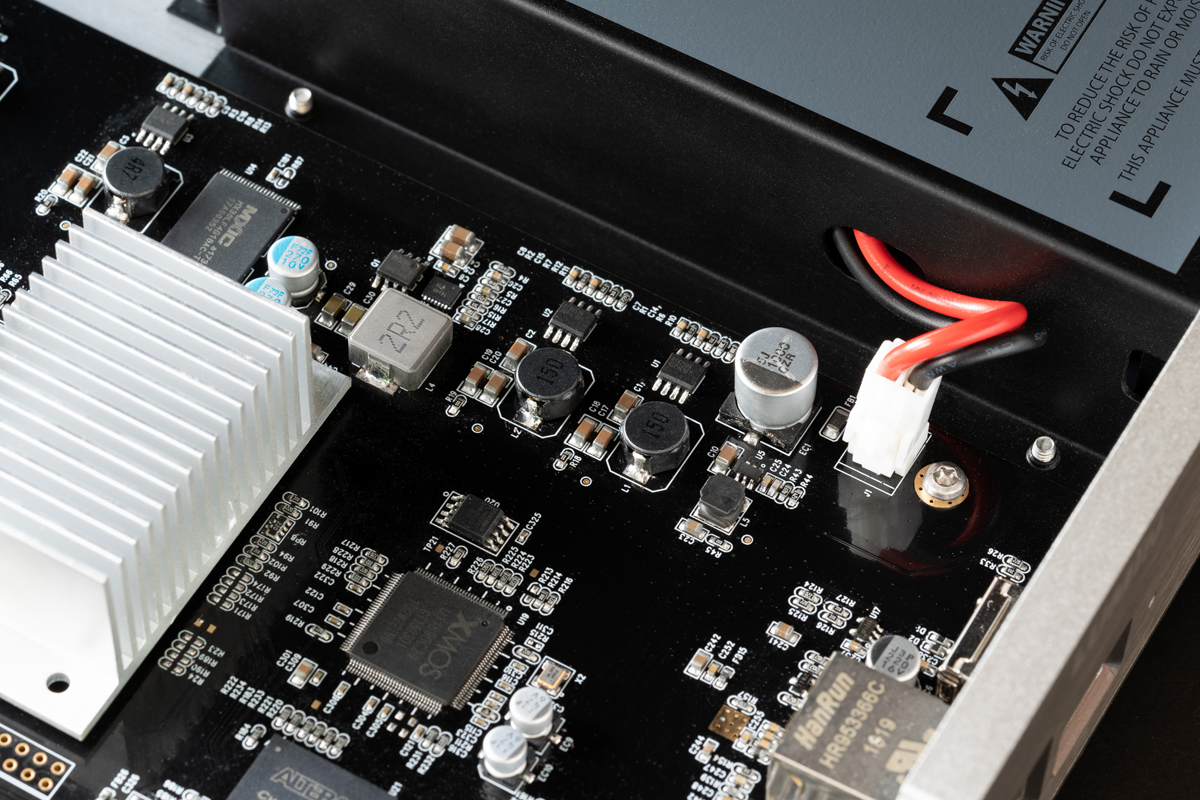 With its 32-bit digital volume control, the T2 can be connected directly to a power amp or to a set of active or powered speakers -- which is how I used it. Volume is then controlled from the Lumin app -- or, if you use the T2 as a Roon endpoint, from the Roon app.
Software and setup
The T2 comes with the Quick Start leaflet shared by Lumin's five network players (all of which have built-in DACs) and its two network transports (which have only digital outputs). The leaflet covers the basics of setup and system configuration, but assumes considerable expertise, especially in playing files. Users should definitely consult the support pages on Lumin's Website, which includes sections on hardware settings and using the Lumin app. I found these pages commendably detailed and easy to understand.
Before you install the player, the Quick Start guide instructs you to download the Lumin app to your iOS or Android device, and then "Prepare Your Music." You can play ripped and downloaded music files from Lumin's L1 music server ($1200 with 2TB of storage, $1700 with 5TB) -- that should be pretty much a plug-and-play option. If your music is stored on a computer or network-attached storage (NAS) system, you'll need a Universal Plug and Play (UPnP) media-server application. Lumin recommends that NAS users work with a UPnP server app called MinimServer instead of the default app.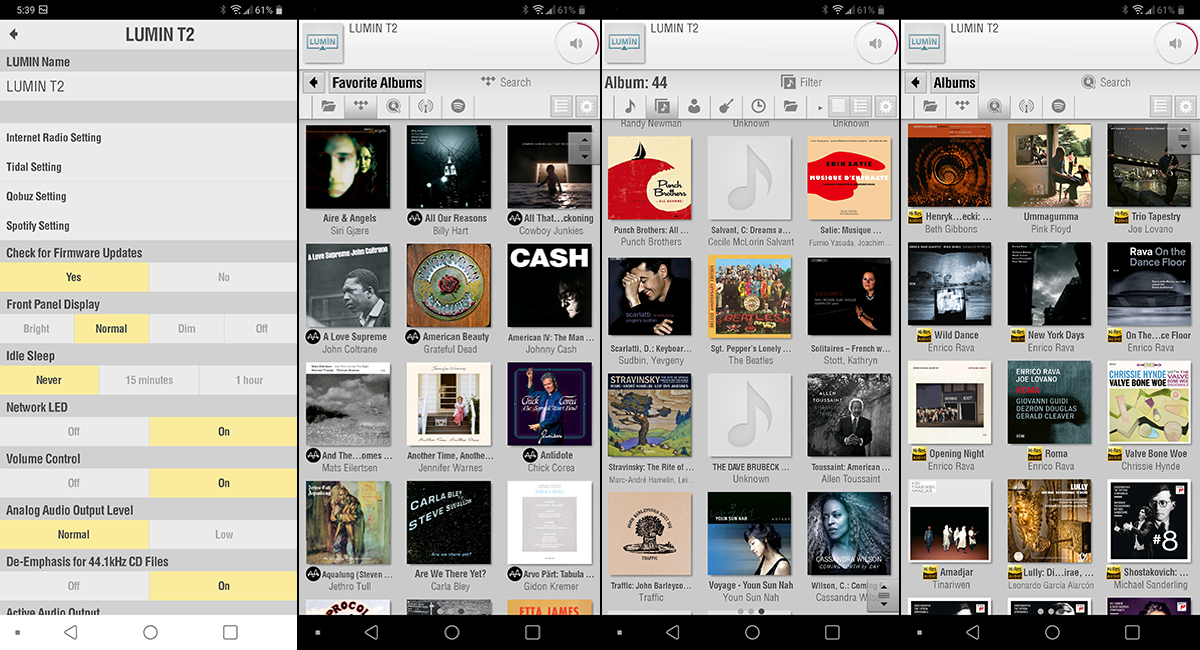 I've tried running UPnP server apps on the Mac Mini that stores my music library, but have always found that problematic -- it's too far into geek territory for me. Fortunately, I had on hand Naim Audio's UPnP-compliant Uniti Core CD ripper/music server, which I reviewed in April 2019. I connected an Adata 256GB SSD loaded with music files to one of the Uniti Core's USB ports, and connected the Core (which lacks Wi-Fi) to a Google Wifi access point. The Lumin app immediately found and displayed that library. I also loaded a thumb drive with music and inserted it in the T2's USB port -- the Lumin app found those files as well.
The Guide instructs you to connect the Lumin to your amplifier using balanced or unbalanced interconnects, balanced (XLR) being preferred. I used a pair of Argentum Acoustics Mythos 2m balanced interconnects to link the T2 to my Elac Navis ARF-51 active speakers (reviewed in September 2019). For comparison purposes, I connected Naim's ND5 XS 2 network player (also reviewed in September) to the ARF-51s' unbalanced inputs using 2m and 5m AudioQuest Mackenzie unbalanced interconnects (RCA).
In the Lumin app's Setup menu, accessed by tapping the little gear icon at upper right, are Options for Volume Control (On by default) and Active Audio Output (Analog by default; the other options are S/PDIF and USB). The default settings were perfect for my application.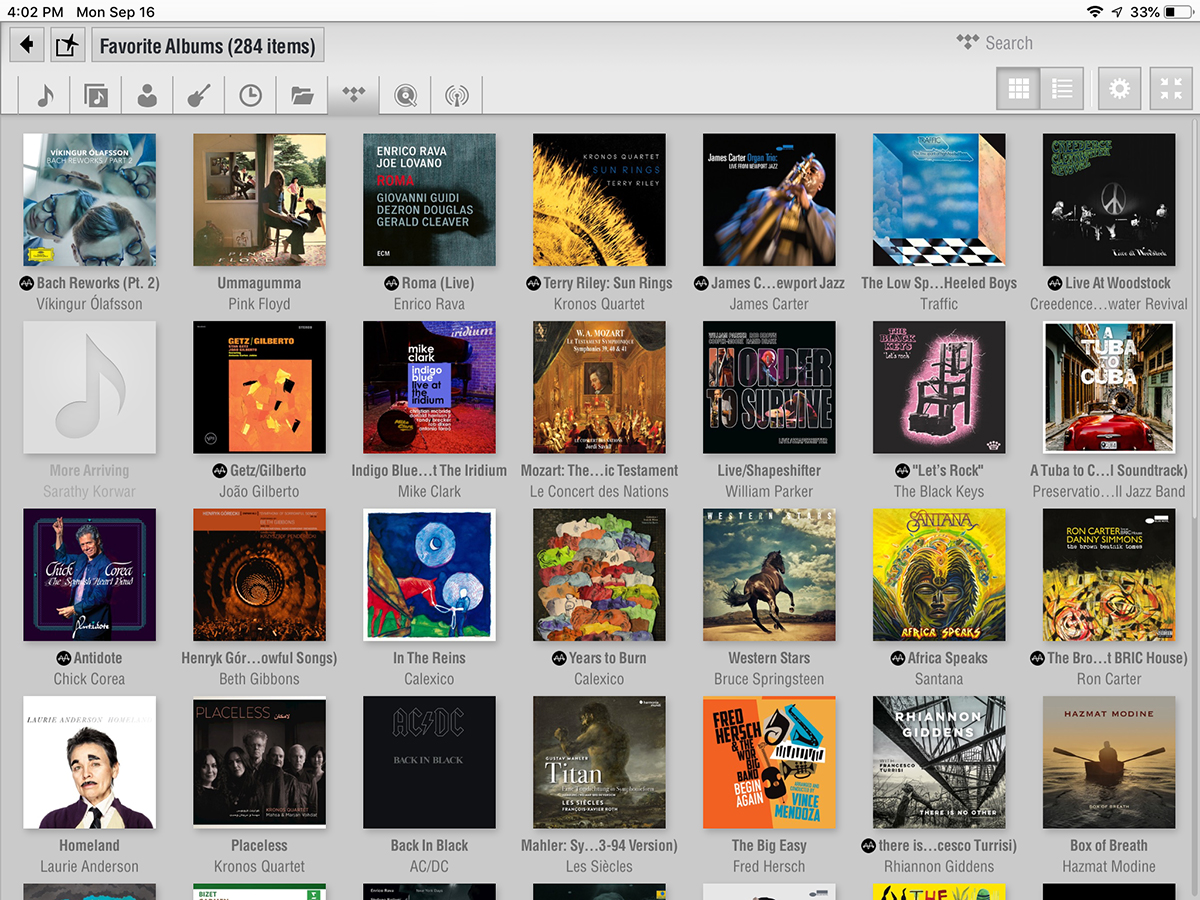 The Options area of Setup also has settings for Tidal, Qobuz, and Spotify. Enter the login information for your service(s), and you can access it from within the Lumin app.
The logos of my streaming services, Tidal and Qobuz, appeared in the menu bar of the Lumin app. The app correctly displayed my Qobuz Favorites and, in Tidal, My Collection, and incorporated some of the features I most like about each service, such as Qobuz's Press Awards. Other features were missing, such as the ability to view liner notes in Qobuz. But the app helpfully included an MQA logo for Tidal Masters albums, and a High-Res Audio logo for hi-rez albums in Qobuz.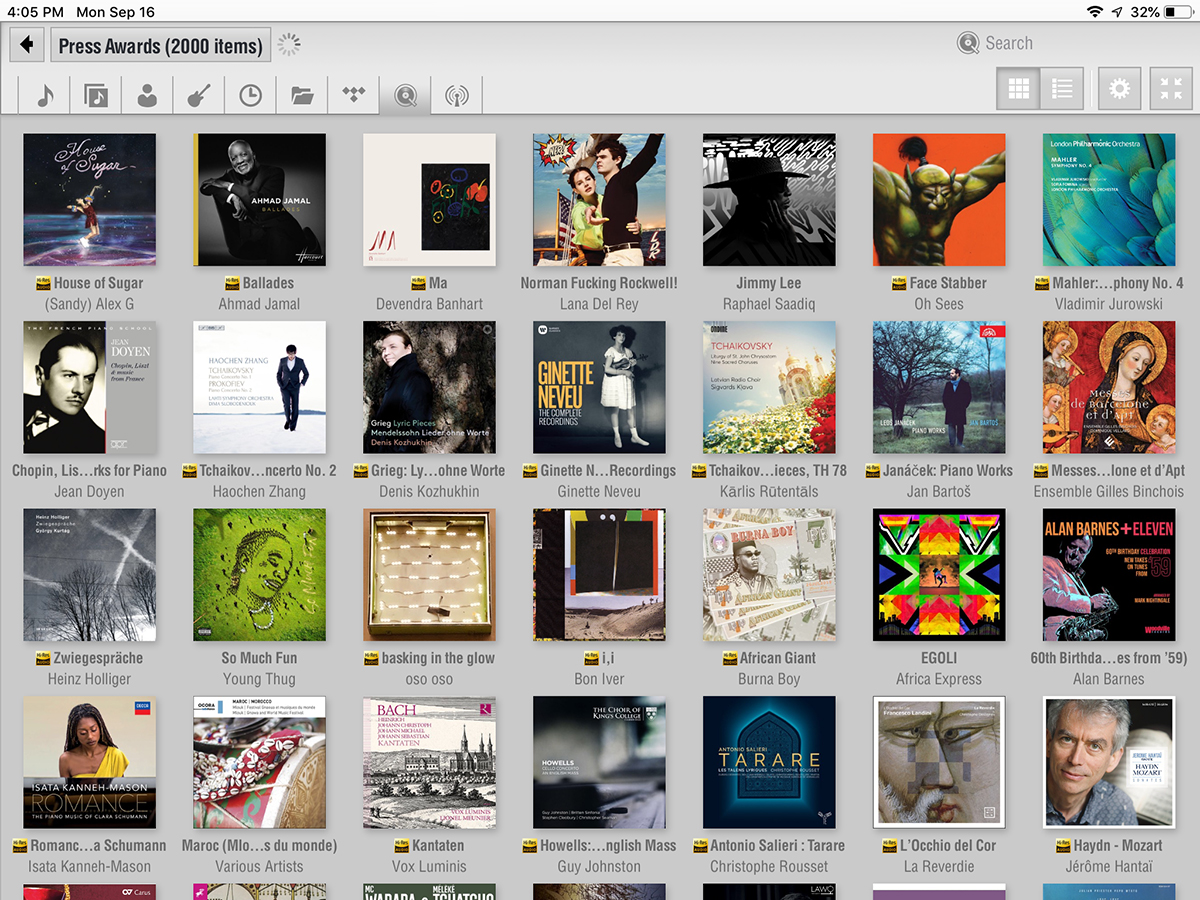 From the Lumin app you can also access music stored on network and USB drives -- the Setup menu has an option for choosing your music library. In my case, the options were the Uniti Core music server and the thumb drive I'd inserted in the T2's USB port. With the Uniti Core, the Lumin app let me sort by song title, album title, album artist, and genre, as well as by folder and file names, by tapping icons on the menu bar. With the thumb drive, I could view only folder and file names -- no metadata.
Listening
More than any other digital source component I've had in my system, the Lumin T2 got out of the way and delivered the music. This quality shone through with one of my favorite albums of 2019, Antidote, by Chick Corea and the Spanish Heart Band (24-bit/96kHz MQA, Concord Jazz/Tidal), which I streamed to the Lumin T2 and Naim ND5 XS 2 using those players' apps.
"Zyryab," composed by the late Paco de Lucía, is full of rapid flourishes on flute, guitar, bass, and drums, all beautifully illuminated by the Lumin without being excessively spotlit. It wasn't just the T2's speed and articulation that impressed -- I was equally drawn in by its warmth and tonal color.
In Niño Josele's virtuosic flamenco guitar runs, transients were lightning-fast but also beautifully rounded. The same was true of Carlitos Del Puerto's double-bass solo. The T2's excellent microdynamics made it easy to appreciate flutist Jorge Pardo's phrasing and breathing, Marcus Gilmore's quick little drum rolls, and Corea's wonderfully varied touch on piano. The thrilling conclusion, which features handclaps by percussionist Luisito Quintero and stomping by flamenco dancer Nino de los Reyes, showed off the T2's superb macrodynamics.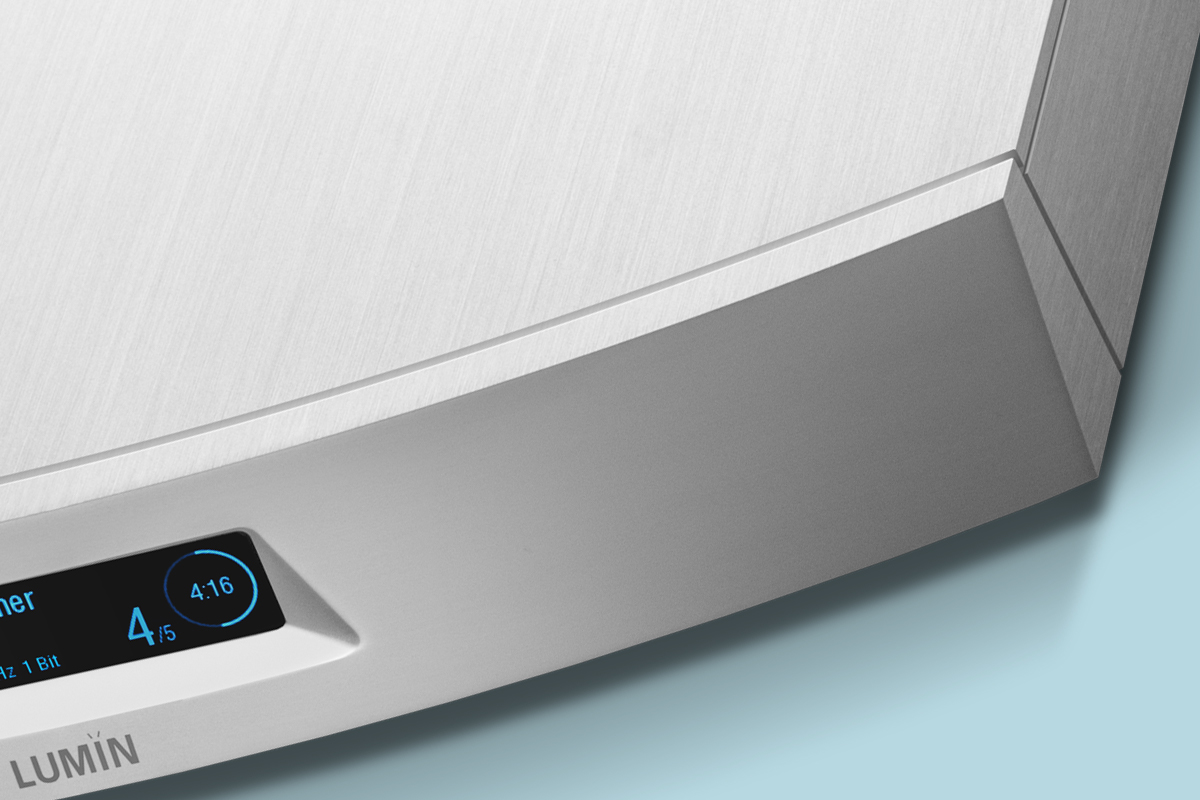 Most important, the T2 presented all of these elements as an integrated whole on a wide, deep soundstage, simultaneously highlighting each musician's contribution and their inspired interplay. The whole track swung irresistibly, and sounded effortlessly natural.
The Naim ND5 XS 2 doesn't support MQA, and so played this track in 16/44.1 FLAC format. It didn't sound as fast and articulate as the Lumin, or as dynamic. Through the T2, Josele's guitar runs were resolved with greater clarity, Corea's piano had more sparkle and Gilmore's snare rolls more snap, and Del Puerto's bass was more impactful and better controlled. In particular, the T2 delivered the percussive conclusion with greater excitement. However, the ND5 XS 2 had a little more rhythmic swing, along with a warm, romantic quality that really pulled me into the music.
One of the best-selling classical records of all time was a 1992 Nonesuch release of Henryk Górecki's Symphony No.3, Symphony of Sorrowful Songs, with American soprano Dawn Upshaw and the London Sinfonietta, conducted by David Zinman. It sold over a million copies. For me, this landmark recording is trumped by a new release featuring Beth Gibbons, lead singer of the English trip-hop group Portishead, in a 2014 live performance with the Polish National Radio Symphony Orchestra, conducted by Krzystof Penderecki (16/44.1 FLAC, Domino/Qobuz), which I streamed to the T2 and ND5 XS 2 via Roon.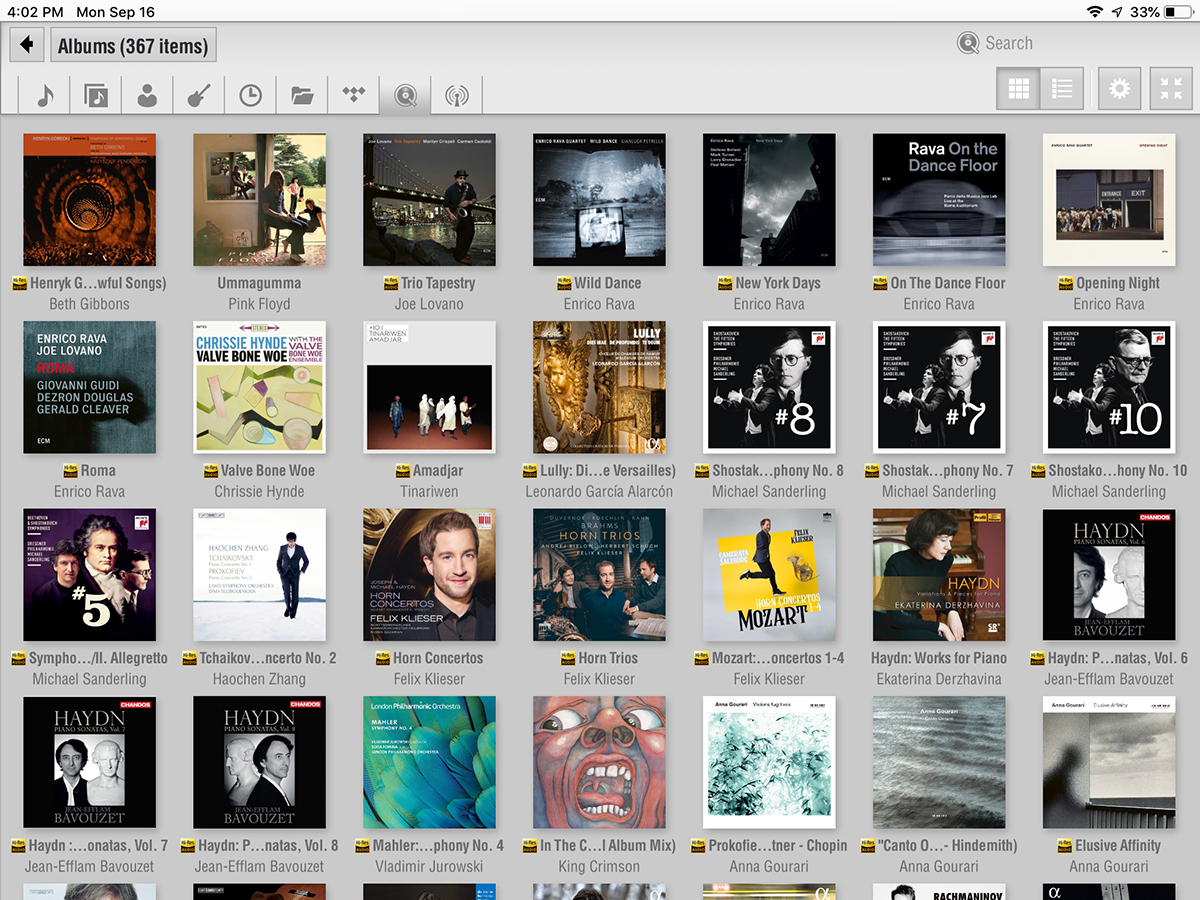 The first movement begins in the double basses, which sounded a little more woody and growly through the Lumin than through the Naim. From this beginning, a slow, melancholy canon steadily builds, as the cellos, violas, and violins enter in sequence. As the movement proceeded, with the Lumin I found the orchestral layering better -- the dense counterpoint was more clearly resolved -- and the soundstage bigger. But as the canon rose through the lower strings to the violins, string tones were sweeter through the Naim.
Halfway into the movement the canon ends, and a piano note and quavering violins introduce a 15th-century lament, sung by Gibbons. Her voice sounded warmer through the Naim -- it was a little papery through the Lumin. But the Lumin was better in its portrayal of Gibbons's voice reverberating in Warsaw's National Opera Grand Theatre.
The same pattern repeated itself in the final movement, scored mainly for voice, piano, and upper strings. Through the Naim, the violins sounded warmer and less steely, Gibbons's voice fuller and less papery. But through the Lumin, orchestral textures were more transparent. And the T2 tracked Gibbons's dynamic shifts a little more faithfully. This heightened the anguish of this passage, in which the singer sings of a mother searching for her lost son. Again, the Lumin sounded more expansive, delivering a more convincing sense of the hall.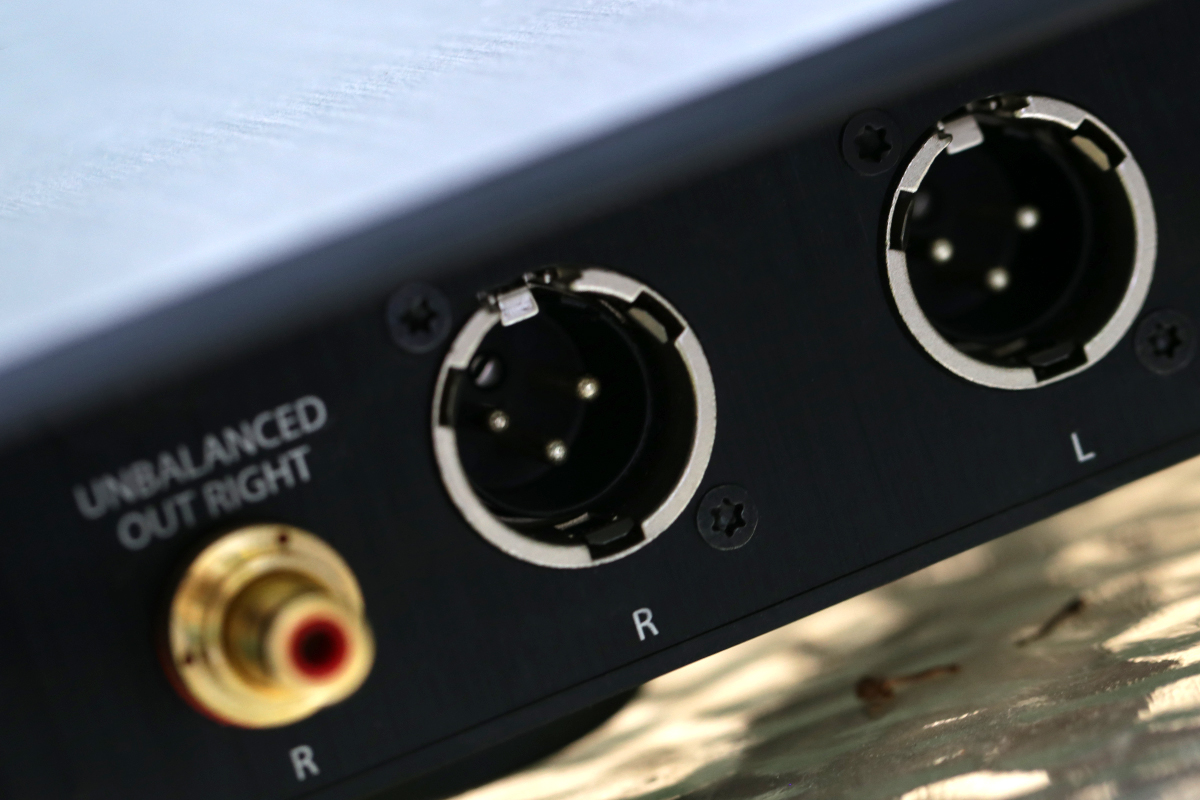 Playing a downloaded version of Calexico's Algiers (24/88.2 ALAC, Anti-/HDtracks) from the Naim Uniti Core, and using the Lumin and Naim control apps on my iPad Mini, I found the Lumin T2 more dynamic and expressive than the Naim ND5 XS 2 -- and the Naim a bit more romantic and inviting.
I loved the way the T2 tracked Joey Burns's haunting singing in "Para," which made the pain and loss that pervades that song hugely affecting. John Convertino's Mexicali drumming really hit hard, especially the big kick-drum beat that punctuates the first syllable of every line of the chorus. Through the Naim ND5 XS 2, Burns's voice sounded a little more rounded. But through the Lumin, his subtle phrasing and expressive swells were more in the foreground than they were through the Naim, and Convertino's drumming was more forceful.
Through both players, the acoustic-guitar solo at the beginning of "The Vanishing Mind" sounded deliciously woody, with a bit more body through the Naim, a bit more clarity through the Lumin. Once again, the Lumin tracked Burns's vocal modulations a little more precisely than the Naim, highlighting the sense of loss and concern in this beautiful song about caring for a loved one with dementia. The T2 also resolved this track's Tex-Mex arrangement -- for piano, trumpets, pedal steel, bass, and string quartet -- a bit more clearly than the ND5 XS 2, which sounded slightly dense by comparison.
Conclusion
Throughout my listening, I was struck by the Lumin T2's easy delivery and big, open sound. What was especially impressive was how it reconciled what might seem aural opposites: clarity and warmth, delicacy and strength, speed and color.
As noted, there's a geek factor to consider, but that applies only to setting up a drive for network playback. In daily use, Lumin's app worked solidly on both my iPad Mini and my LG G7 ThinQ Android smartphone. The app was a little confusing at first, but I got the hang of it fairly quickly, thanks in part to the guidance offered on Lumin's support pages. If you want a more polished interface, Roon's is a very good option, though adding a lifetime Roon subscription bumps your outlay by 11% -- a worthwhile investment, in my opinion.
Given the rapid changes occurring in digital audio playback, it's risky to characterize any digital source as a potential endgame purchase. But that's how I feel about the Lumin T2. I think it will be a long, long time before anyone buying a T2 experiences upgrade fever.
. . . Gordon Brockhouse
This email address is being protected from spambots. You need JavaScript enabled to view it.
Associated Equipment
Active loudspeakers -- Elac Navis ARF-51
Sources -- Apple Mac Mini computer running Roon Core 1.6, Naim Uniti Core music server with Adata 256GB SSD, Naim ND5 XS 2 network player
Interconnects -- Argentum Acoustics Mythos 2m balanced (XLR), AudioQuest Mackenzie 2m and 5m unbalanced (RCA)
Control devices -- Apple iPad Mini, LG G7 ThinQ smartphone
Network -- Google Wifi three-node mesh network
Lumin T2 Network Music Player
Price: $4500 USD.
Warranty: Three years parts and labor.
Lumin
Pixel Magic Systems Ltd.
Unit 603-607, IC Development Centre
No. 6 Science Park West
Hong Kong Science Park
Hong Kong
E-mail: This email address is being protected from spambots. You need JavaScript enabled to view it.
Website: www.luminmusic.com