When I recently reviewed Yamaha's R-N803 network stereo receiver ($749.95 USD), one highlight turned out to be the company's Yamaha Parametric Acoustic Optimizer (YPAO) room-equalization software, which I found benefited the sound. YPAO has long been a feature of Yamaha's A/V receivers, but the R-N803 marked its debut in a stereo receiver. Which led me to wonder: Why had it taken so long? It also got me wondering: Why there aren't more stereo-only products with room-correction software?
Anyone who's spent time fussing with hi-fi knows that the environment stereo speakers are placed in affects the sound quality. Bass problems can be especially difficult to fix without equalization to adjust for the standing low-frequency waves that result from the interaction of the speakers' output with parallel walls. Home-theater enthusiasts know all about this -- their systems typically use one or more subwoofers to extend the response of the main speakers and to reproduce the low-frequency effects (LFE) channels of film soundtracks. It makes perfect sense, then, that most multichannel preamplifier-processors and receivers would provide room correction.
Anthem, Onkyo, Pioneer, Sony, Yamaha, and other companies incorporate into their products their own proprietary room-correction processing, while others -- e.g., Denon, Marantz, McIntosh -- use some variant of Audyssey. Another player is Sweden's Dirac, which licenses its Live room correction for use in AVRs and pre-pros from companies that include Arcam, Emotiva, and NAD. Dirac Live differs from Audyssey in using a mix of finite impulse response (FIR) and infinite impulse response (IIR) filters to apply time-domain correction, along with room equalization. At present Dirac Live can be found only in multichannel products, though it's also included as an option in Sonic Studio's Amarra music library and playback software.
Anthem Room Correction (ARC) emerged from research conducted at Canada's National Research Council, and has been available in Anthem's pre-pros for nearly ten years now. Anthem recently incorporated ARC in its STR integrated amplifier ($4499), and ARC is also available in their new STR preamplifier ($3999), both considerably more pricey options than the Yamaha for getting room correction in a stereo component. That said, ARC is a sophisticated software that, among other things, lets you vary the frequency cutoff for EQ, and set room correction separately for left- and right-channel subwoofers in dual-sub systems.
Yet another player in high-end room correction is Trinnov Audio. Like Dirac's, Trinnov's software can be found in pricey, esoteric multichannel pre-pros such as the company's own Altitude32 and Altitude16 models. But Trinnov also makes two stereo preamps, the Amethyst ($10,000) and ST2 HiFi ($6000), that incorporate its Trinnov Optimizer loudspeaker/room-optimization technology. A distinguishing feature of Optimizer is its flexibility: after time-domain measurements are carried out using a special 3D microphone, corrections are made for early reflections while late reflections are left untouched. A second measurement stage identifies resonance modes and room reverberations, with compensation filters provided to correct for them.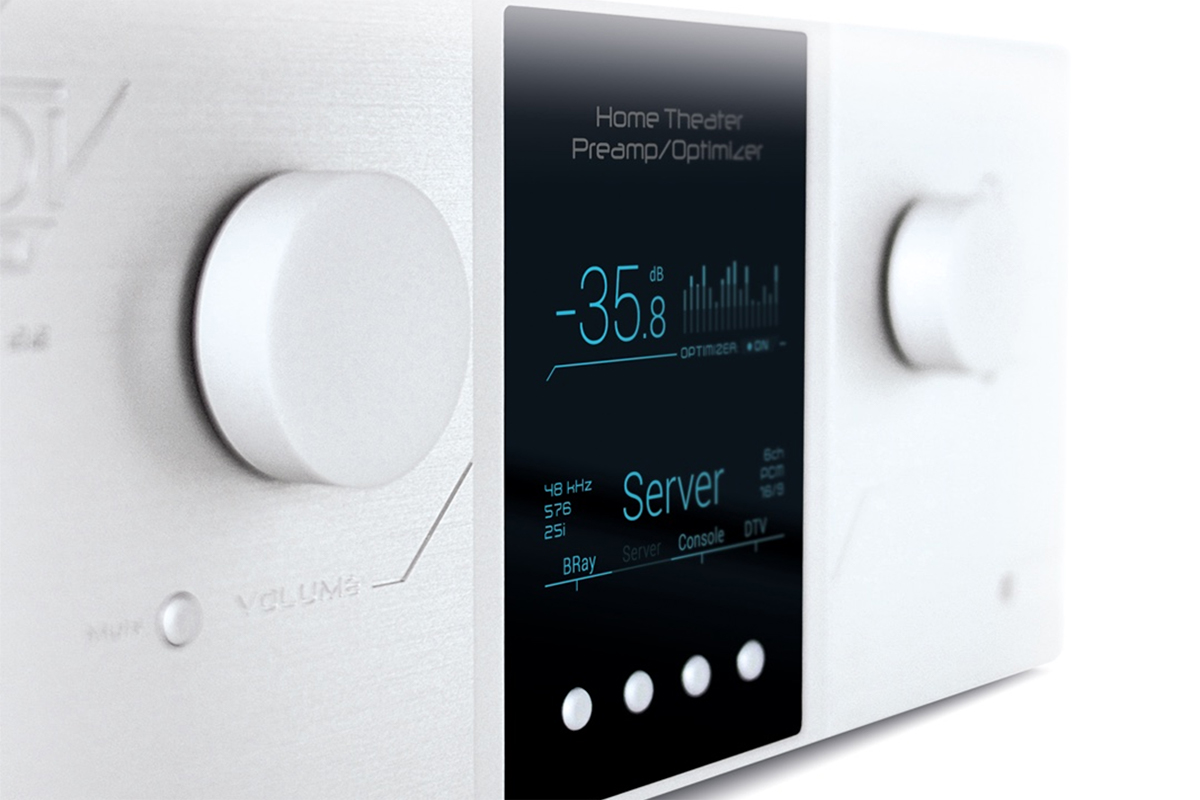 Optimizer has been demonstrated in two-channel systems at audio shows, including at Munich's High End, where in 2016 Trinnov's Altitude32 processor, which includes a four-way active crossover, was used to quad-amp a pair of Vivid Audio Giya G2 speakers. At High End 2017, the company literally stepped things up with a demo of Auro-3D music recordings from Norway's 2L label that contained surround and height information. That system used 12 channels of the Altitude32 to feed a 4.0.2 speaker array: Vivid Giya G1s for the main front channels, Giya G2s for the rear channels, and Oval V1s for the front height channels.
Asked about the effect Optimizer has on two-channel playback, Jon Herron, Trinnov Audio's Director of Sales, Americas, said: "We are big proponents of doing whatever is possible with passive room treatment to get the room as good-sounding as possible before our digital acoustics are brought to bear. But even the best speakers in the best rooms benefit from our Optimizer, which operates in both the amplitude and time domains. Imaging becomes more focused and seamless, and many details that can otherwise get blurred in the time domain get cleaned up rather dramatically. With the ability to fine-tune the target curve in 0.1dB increments across the board, you have a truly powerful tool for getting the sound you want."
Roon EQ
Roon users can also have the option of implementing room correction, though you'll need to cobble together a DIY measurement system to make it happen. Version 1.3 of Roon, released in early 2017, incorporates a DSP Engine that includes parametric EQ and adjustments of speaker phase and delay; its Convolution feature can be used to upload and apply impulse-response filters. To get going, you'll need a calibrated measurement mike ($100 or less), plus the free Room EQ Wizard software. A step-by-step guide is posted on the Roon Labs blog, though I can state from personal experience that Room EQ Wizard has a steep learning curve.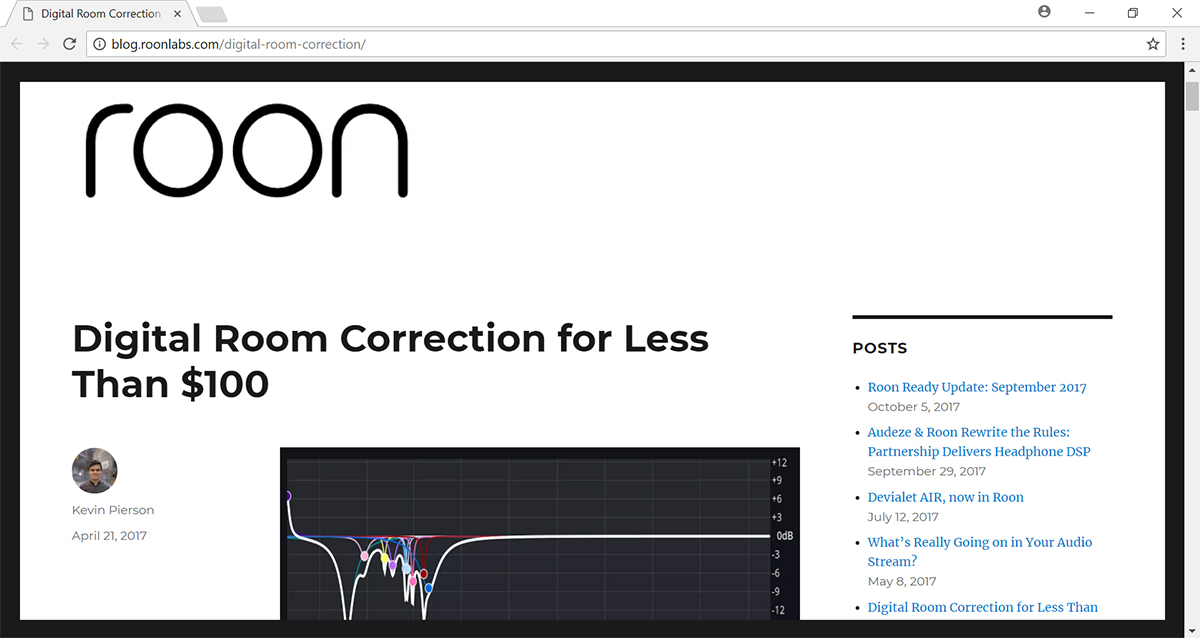 It's fair to say that a general dread of equalization among audiophiles has been partially responsible for the lack of room-correction processing in stereo components. Home-theater enthusiasts tend to be more comfortable with the technology, having embraced it to deal with the problem of booming, muddy bass from subwoofers. But with the arrival of more mainstream products like Anthem's STR integrated amp and preamp and Yamaha's new R-N803 receiver, room correction appears to at last be crossing over to the two-channel world. I think it's a good thing, and a development long overdue. In the meantime, you'll find me hammering away with Room EQ Wizard to get my system to sound its best with Roon.
. . . Al Griffin
This email address is being protected from spambots. You need JavaScript enabled to view it.