Stereo receivers are now a thing. Yamaha's R-N803 ($749.95 USD) is the third model I've tested in the last two months, the other two being Onkyo's TX-8270 ($499) and Outlaw Audio's RR2160 ($799). While the Outlaw review was posted in October on SoundStage! Access, the Onkyo's wired and wireless network streaming capability made it a better fit for Simplifi, also reviewed in October. How does Yamaha's take on the network stereo receiver compare?
Besides networked audio, the Yamaha R-N803 offers many of the features found in the Onkyo TX-8270, including integrated support for Tidal, Pandora, Spotify, SiriusXM, Deezer, and TuneIn. It also supports streaming via AirPlay, DLNA, Bluetooth, and from mobile devices using a Wi-Fi Direct connection. Unlike the Onkyo, the Yamaha lacks HDMI switching, though that feature will be missed only by folks who have an HDTV connected to their stereo.
A distinguishing feature of the R-N803 is Yamaha Parametric Acoustic Optimizer (YPAO), an automatic room-equalization function previously found only in Yamaha's multichannel receivers. YPAO uses an included microphone to measure the room shape, wall material, and speaker positions, and applies equalization in the digital domain with 64-bit/192kHz precision to adjust the system's sound to best suit your space. Once YPAO is applied, you can view and tweak some of its settings, such as speaker distance and level and subwoofer crossover settings, using Yamaha's MusicCast app.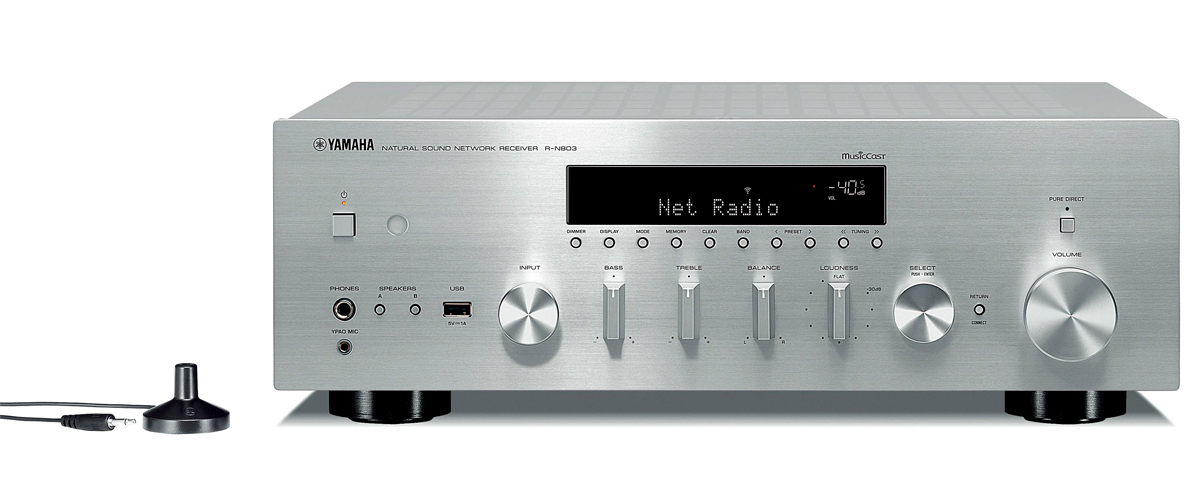 The R-N803's class-AB amp is specced to deliver a minimum RMS output of 100Wpc into 8 ohms (20Hz-20kHz, 0.019% THD), and a maximum output of 145Wpc into 8 ohms (1kHz, 10% THD). Its ESS Sabre 9006AS DAC supports up to 24/192 PCM, FLAC, and AIFF formats, as well as ALAC up to 24/96, and DSD 2.8/5.6MHz. According to Yamaha, the R-N803 is housed in a high-rigidity, low-vibration enclosure and uses a "symmetrical left/right circuit layout" with the "straightest, shortest signal paths."
While the R-N803 has the boxy shape and, on my review sample, the black finish typical of receivers, its front panel is more stylish than most. A large volume-control dial on the right offers a satisfying level of resistance when turned. A row of vertical control bars for adjusting Treble, Bass, Balance, and Loudness provides a visually pleasing counterpart to the Input and Select knobs to either side of them. Other front-panel features include small buttons for Power on/off, Pure Direct, Speaker A/B, and a row of smaller buttons for the AM/FM radio-tuner presets. You will also find a headphone output, a USB port for thumb drives, and a jack for the YPAO measurement mike.
Rear-panel connections include two coaxial and two optical digital inputs, four stereo analog RCA inputs (two with Record loop outputs), a subwoofer output, and a phono jack for hooking up a turntable with a moving-magnet cartridge. Also included: an Ethernet port, wireless and AM/FM antenna connections, and an IR trigger output. The Yamaha's Speaker A/B binding posts accept banana plugs, pins, and bare wire. About the only thing missing that I'd have expected to see is a preamplifier output, for future amplifier upgrades.
The R-N803 makes possible multiroom audio through its MusicCast feature. This lets you control and wirelessly stream audio to other MusicCast-enabled Yamaha products, such as Wi-Fi speakers and soundbars, using the MusicCast app. You can use MusicCast to wirelessly stream to multiple rooms audio from external sources such as a CD player or turntable connected to the R-N803, as well as such services as Spotify and Pandora.
Setup and use
The first R-N803 Yamaha sent me powered up, but wouldn't display any information on its front panel. A replacement unit worked fine, and I set it up by first running an Ethernet cable from a powerline adapter to its Ethernet port. While the R-N803's firmware can be updated over a network, I had trouble making that happen and was forced to update via USB stick. Sources used for this review included a Pioneer BDP-88FD universal BD player, a Pro-Ject Debut turntable, JRiver Media Center 21 running as a DLNA media server on my MacBook Pro, and Tidal and Apple Music for network streaming. The speakers were GoldenEar Technology Triton Five towers.
I wasn't keen on the R-N803's remote control, which is small and crowded with tiny, hard-to-find buttons. For the most part, I preferred to use Yamaha's MusicCast app, which lets you switch external input sources and select streaming services from a unified panel. While MusicCast lacks the elegance of the best control apps out there, it can be used to browse music libraries by album-cover art, including when you're streaming to the R-N803 from a music server via DLNA. I also appreciated MusicCast's Recents tab, which gives you an image-based list of recently played albums and tracks for instant recall.
Sound
After comparing the before and after effects of YPAO on my system's sound, I opted to leave it on. YPAO tightened up the bass in my room and, particularly with voices, enhanced midrange clarity and focus. Enabling the Pure Direct feature, which removes the receiver's tone controls from the signal path, had a less noticeable effect on the sound than YPAO, but I left that on as well.
Comparing the Yamaha's built-in digital-to-analog conversion with that of a Pioneer BDP-88FD universal BD player, I heard little difference in sound quality -- not a surprise, as both use an ESS Sabre DAC. In "Lady Day," from Charles Lloyd's The Water Is Wide (CD, ECM 1734), Brad Mehldau's piano had a fluid, room-filling quality that contrasted nicely with Lloyd's crisp tenor-sax leads and Billy Higgins's brushed snare drum and cymbals. I expect to hear warm, full sound from this CD, and the Yamaha delivered it.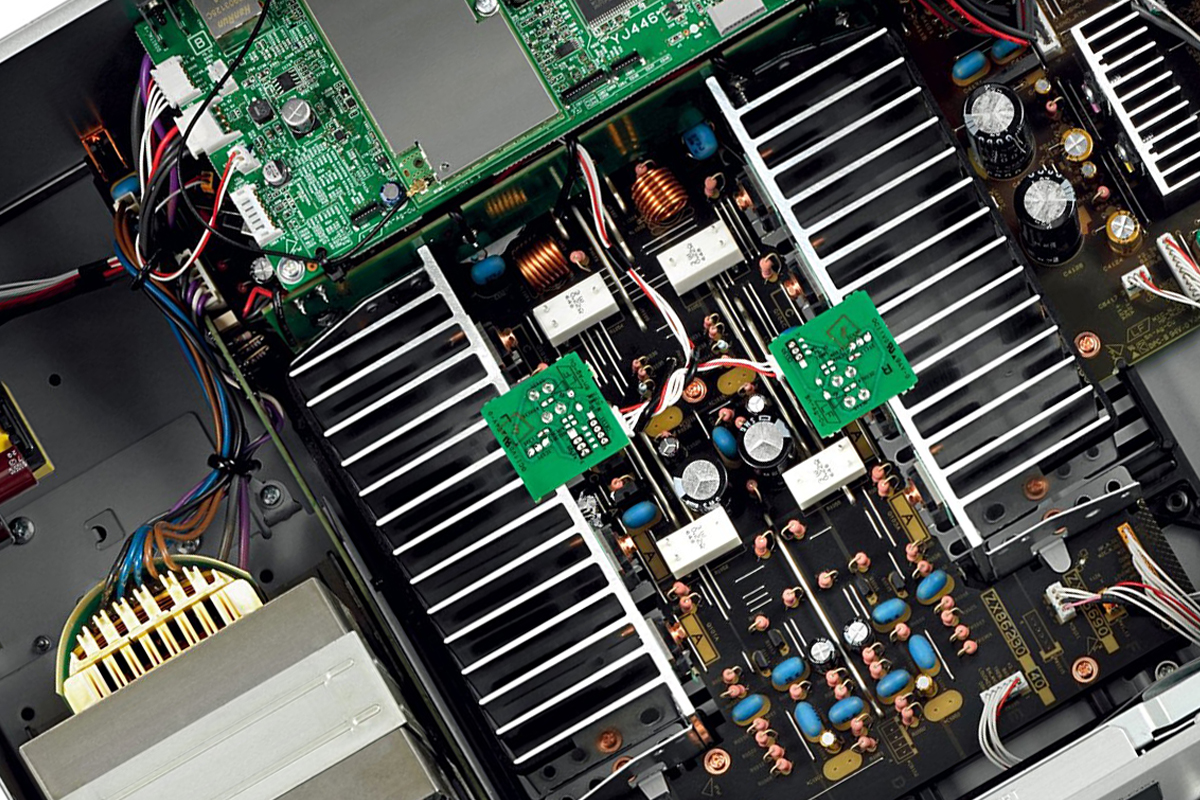 Robert Plant's new album, Carry Fire, is full of surprising turns. One is "A Way with Words" (16-bit/44.1kHz FLAC, Nonesuch/Tidal), which finds the former Led Zeppelin frontman in 1990s trip-hop mode. Plant's quiet crooning sounded larger than life through the Yamaha, and the mix of piano, strings, and electronics had a dense, opaque quality. Even so, there was a good feel of weight to the sound, and when Plant's singing eventually strode into familiar Zeppelin territory, the effect was dynamic and unstrained.
Reaching back for real old-school trip-hop, I next played "Teardrop," from Massive Attack's Mezzanine (16/44.1 FLAC, Virgin/Tidal). The R-N803 was also up to the task of delivering this track's dynamics: the bass synth had a deep, powerful envelope, and the rim shots on snare were crisp and resonant. Those qualities remained in evidence when I cranked up the volume, the Yamaha retaining its full, rich tone.
While the Yamaha's sound struck me as being on the warm side, it didn't lack detail. The crisp, sprightly character of the acoustic guitars in "Dragonfly," from Bill MacKay and Ryley Walker's SpiderBeetleBee (256kbps AAC, Drag City/Apple Music), were offset by the smooth, meandering sound of Katinka Kleijn's cello. All said, the Yamaha did an impressive job of rendering both the atmosphere and the instrumental layers of this recording.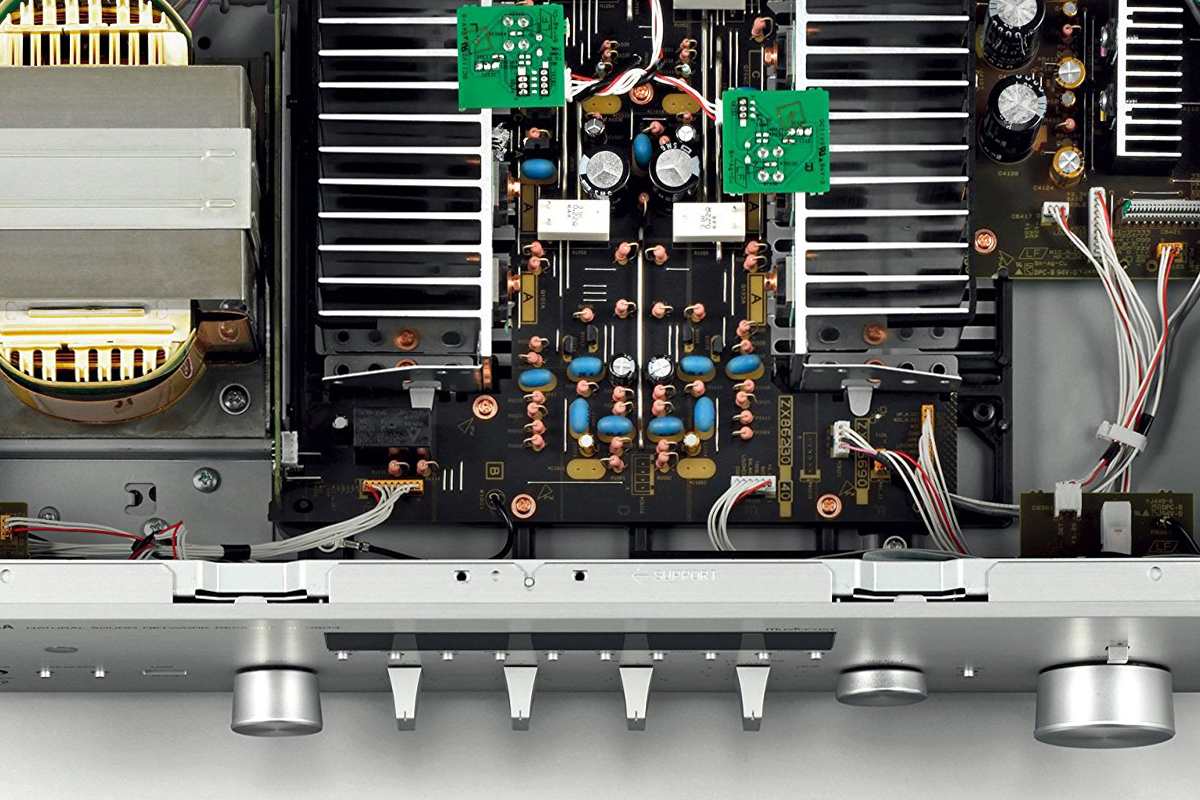 When I then spun vinyl, the R-N803's sound remained consistent. In the title cut of the Bill Evans Trio's Waltz for Debby (LP, Riverside/Analogue Productions APJ009), Evans's piano had a rich, natural tone, and Scott LaFaro's double bass was taut and well defined. Paul Motian's drums, in contrast, were crisp and upfront in the mix, the cymbals seeming to float in space. This LP's quieter passages were also conveyed against a noise-free background that struck me as impressive for an affordable receiver.
Comparison
When I compared the Yamaha R-N803 with Onkyo's TX-8270 network stereo receiver ($499), the Onkyo, too, nicely conveyed the Robert Plant track's dense, trip-hoppy mix, but his voice sounded a bit dry and not as smoothly integrated. The same thing happened when I played the Massive Attack: the Onkyo's brighter sound drew percussive elements such as rim shots forward, while the piano and electric bass sounded farther back.
Perhaps the best example of the differences I heard between the two receivers was with the MacKay-Walker track. Both musicians' acoustic guitars had a sharper tone through the Onkyo; through the Yamaha, they sounded more mellow and rounded. I can see how some listeners might prefer the Onkyo's crispness; for me, the Yamaha's superior delivery of the ambience and intricate layering of instruments in this track made it the more compelling option.
Conclusion
Yamaha's R-N803 isn't the most feature-packed network stereo receiver in its category, but with AirPlay, DLNA, and an MM phono stage to supplement its wired and wireless network connections, it has all the features most people will need. More important, it has YPAO auto-EQ, a feature previously limited to Yamaha's multichannel receivers that can substantially improve its sound in a given room. For a mass-market stereo receiver, the R-N803 delivers warm, dynamic sound that's easy on the ears. The fact that it's also easy on the eyes and wallet makes it easy to recommend.
. . . Al Griffin
This email address is being protected from spambots. You need JavaScript enabled to view it.
Associated Equipment
Sources -- Pioneer BDP-88FD universal BD player, Pro-Ject Debut turntable with Clearaudio Aurum Beta/S MM cartridge, Apple MacBook Pro and iPhone 6, JRiver Media Center 21, Apple Music, Tidal
Speakers -- GoldenEar Technology Triton Five and Triton Two
Stereo Receiver -- Onkyo TX-8270, Outlaw Audio RR2160
Speaker cables -- Nordost Purple Flare
Analog interconnects -- Nordost Purple Flare (RCA)
Yamaha R-N803 Network Stereo Receiver
Price: $749.95 USD.
Warranty: Two years parts and labor.
Yamaha Corporation of America
6600 Orangethorpe Avenue
Buena Park, CA 90620
Website: usa.yamaha.com