Are you aware of Roon? Launched in 2015, the music library, discovery, and playback software has since been written up in several feature articles and reviews appearing on SoundStage! sites. The consensus here is that we like Roon, and recommend it despite the relatively steep cost of entry: $119 USD per year, or $499 lifetime.
Why would you want Roon? The main reason is that its visually rich, metadata-driven interface provides a user experience superior to those available with other music softwares. Whether you're at your desktop or in front of a stereo, iPad in hand, Roon delivers the satisfaction of holding an LP, with its big art and readable liner notes -- something left by the wayside in the eras of the Compact Disc and iTunes downloads. It also brings the browsing pleasure that clicking through links on music-review websites like AllMusic.com provides. No surprise there, as Roon gets its editorial content from AllMusic, though in this case you don't have to leave Roon to read it -- something I often found myself doing before I started using the software.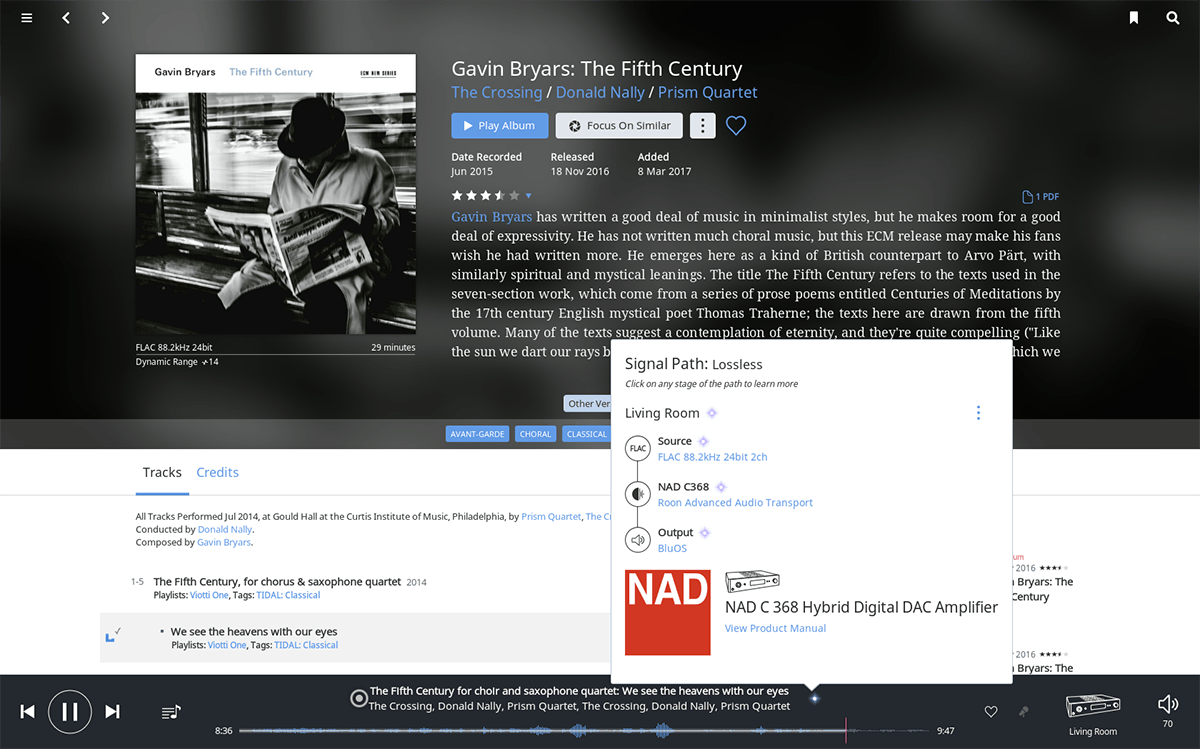 Roon is also a fantastic option for Tidal users, because it was engineered for tight interoperability with that service. Your Tidal library shows up in the Roon interface, alongside ripped and downloaded content stored in your local library on a computer or NAS. You can even add to Tidal albums and tracks from within Roon, as well as import playlists created in Tidal's app.
In the past, for me, listening to music involved jumping among Tidal, Apple Music, and JRiver Media Center 21. This schizophrenic practice was necessary because no single portal gave me access to all of my music library, cloud-based and local. JRMC offered the benefit of letting me play my standard-resolution files and hi-rez FLAC downloads without my having to worry about switching sound-output settings, or using add-on software like Audirvana to achieve the same outcome -- something I used to do when iTunes was my primary music-playback software. But despite its many advantages, including flexible and reliable handling of metadata and cover art plus solid UPnP media-server performance, JRMC lacks Tidal integration -- the key feature I was missing.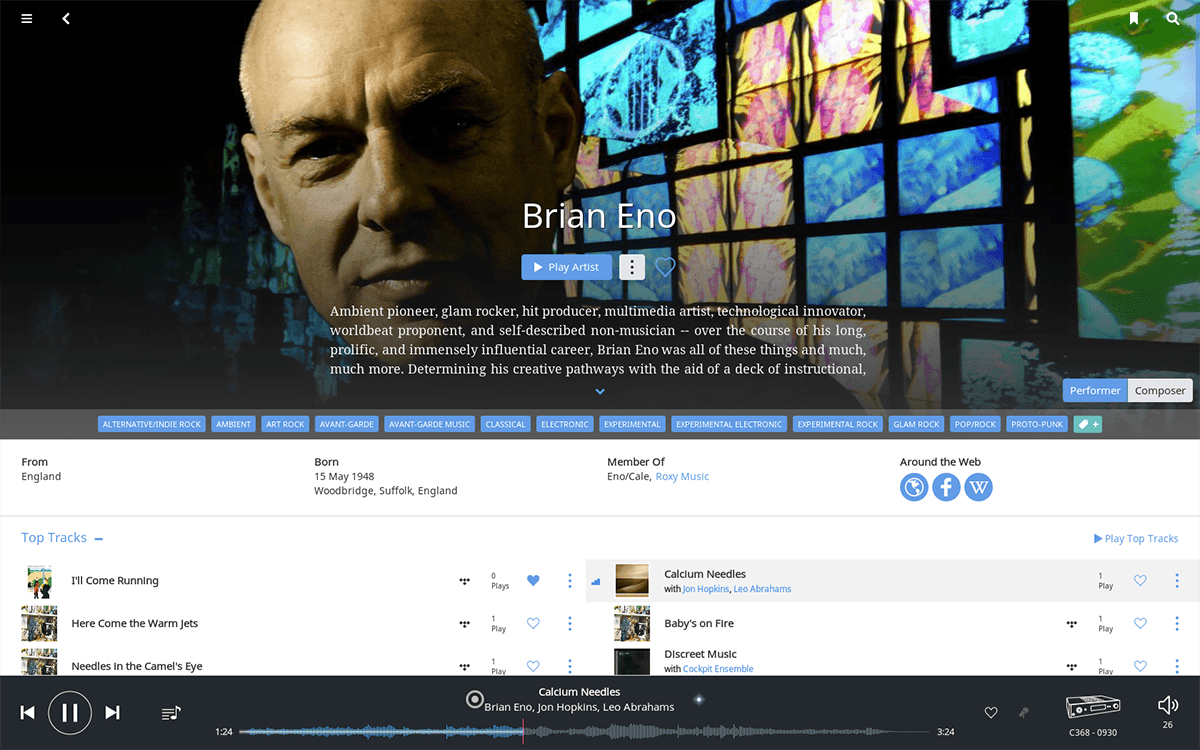 I mentioned Roon's visual aspect. Roon scours the Internet to create a deep archive of images and related data, so that when you browse your library you're presented with not only high-quality LP cover art, but artist pictures and even, where available, lyrics and liner notes. The process of browsing your collection by Artist or by Tag -- something I discuss in more detail below -- is almost a form of entertainment in itself. There's nothing else out there quite like Roon, other than, possibly, Kaleidescape -- another premium media-library solution, though its focus is on films.
Here's an example of a trip down the rabbit hole you might take when listening to music with Roon and Tidal subscriptions. Arrayed horizontally across Roon's Artist or Album page is a series of Tags that Roon (or, rather, AllMusic) has determined are relevant to the listening selection. Clicking any of these will take you to another page with images and links to related artists in your collection, album highlights, and related musical subgenres. You could, say, start out listening to Brian Eno's ambient album Discreet Music, and -- click click click -- Roon's metadata map might lead you to Nick Cave's rocking side project Grinderman. If you like where you've landed, the Focus on Similar tab in the Roon GUI would then turn up complementary artists such as the Clash and Johnny Cash to listen to.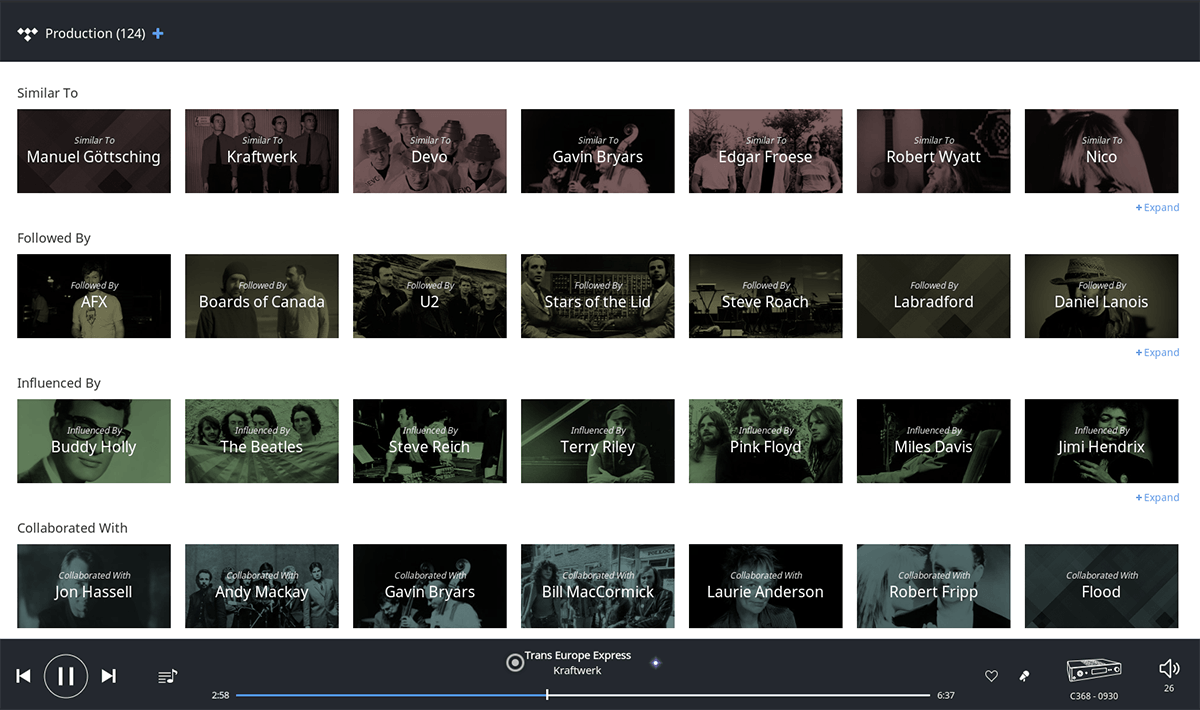 Another great way to discover music with Roon is to scroll down the Artist page and click on the Appearances, Production, and With Various Artists sections. For example, when I explored the Artist page for musician and producer Jon Brion -- someone I know of through his work with singer Aimee Mann on the soundtrack for the film Magnolia -- I learned that he's played on albums by musicians ranging from Robyn Hitchcock to the Crystal Method. Brion has also produced albums by two artists I like, Elliott Smith and Spoon, and composed "Little Person," a song on an album by jazz pianist Brad Mehldau that I've often used in audio reviews. Before I began browsing with Roon, I hadn't known any of this.
While it's easy to wander far from your starting point in a listening session, Roon's History view, accessible from the main menu, shows you everywhere you've been by displaying a list of previously played tracks. The info goes back all the way to when you first started using Roon, and controls are available for actions such as favoriting a track, adding it to a playlist, or bookmarking it. Bookmarks provide the benefit of letting you easily zip back to artists or albums that you listen to regularly. An even more powerful tool is Personal Tags, which let you create your own custom tags that show up alongside the stock ones added by Roon. For example, you might create a Personal Tag called "1970s Jazz-Rock," and apply to Miles Davis's Bitches Brew and other fusion albums of that decade. Clicking on My Tags in the main menu calls up a view showing all of your Personal Tags, which you can then click on to view and sort through the lists of tracks they contain.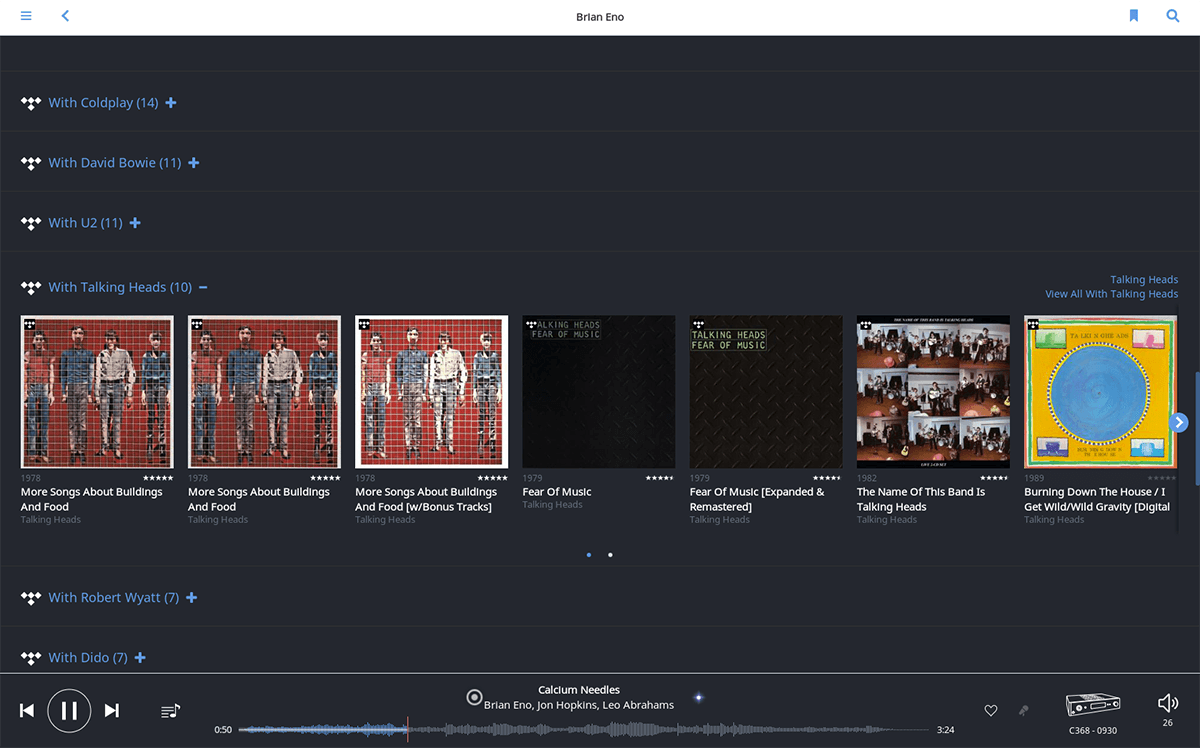 Early this year, Roon launched version 1.3 of its software. The update provides numerous GUI tweaks, including accelerating the experience of browsing content to lightning-fast, advanced volume leveling, and dynamic-range measurement and display for locally stored tracks. A number of DSP-related features also arrived with 1.3, including room correction, parametric equalization, and headphone crossfeed processing. And while the universe of high-end Roon Ready products continues to expand, the new update also addresses the mass market with support for Sonos Wi-Fi speakers.
Perhaps the best thing about Roon is the active engagement it brings to music listening by making your library visible. With Roon, a digital audio collection is no longer just a collection of files stored on a hard drive or in the cloud; it's a compelling series of images and text that flows across your computer, tablet, and smartphone screens. Not only does this encourage discovery; it becomes a form of treasure-hunting as you make connections and unearth gems you were previously unaware of, or had long forgotten.
. . . Al Griffin
This email address is being protected from spambots. You need JavaScript enabled to view it.