Sometime last spring, it became clear to me that I'd be upgrading my hi-fi setup before the year was out. Not that I was dissatisfied with the gear I already owned—quite the contrary. I loved listening to that system, which comprised an NAD C 658 streaming DAC-preamp ($1999, all prices in USD), a pair of Elac Navis ARF-51 active floorstanding speakers ($3999.96/pair), and an SVS Micro 3000 subwoofer ($899.99). That system has provided countless hours of listening pleasure for me, my music-loving missus, and visitors to our home.
The issue was visual clutter. As I described in my kickoff feature for Simplifi, my wife and I moved into a smaller home in 2018. In our downsized abode—a 1920s rowhouse in Toronto's west end—there's no space for a dedicated media room. Our hi-fi is set up in our living room, which we also use for hanging out, watching TV, and entertaining. There was no way I could clutter this multipurpose space with speakers, amplifiers, source components, and cables. So I bought a pair of Dynaudio Focus 200 XD active standmount speakers, Dynaudio 6 stands, and a Dynaudio Connect wireless transmitter. The only visible components were the speakers and stands. The only wires were the AC cords.
Scope creep
I'm a minimalist at heart, so this small-footprint system suited me to a tee. But soon, my system started growing. I replaced the Dynaudio standmounts with a pair of tower speakers (the active Elacs), then added a streaming DAC-preamp (the NAD C 658), and later, a subwoofer (the little SVS).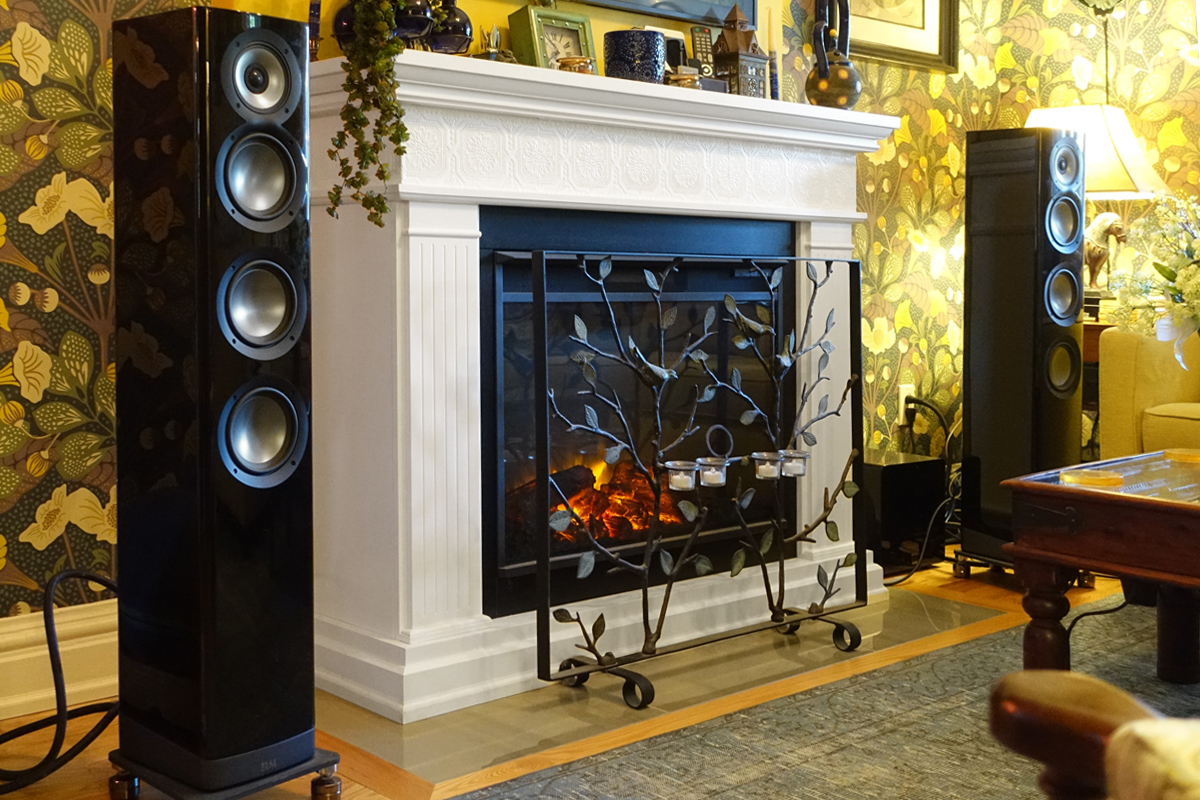 When I reviewed the Elac active floorstanders in mid-2019, I was won over by their ability to pressurize my room with big, glorious bass, so I purchased the review samples. There was another attraction. The Navis ARF-51 is an all-analog design, which meant I could use the speakers as a test bed for reviewing streamers, DACs, and preamps. With the Dynaudio system, signals would have gone through an extra A-to-D and D-to-A cycle: digital streams would be converted to analog by the component under test, then back to digital by the Dynaudio speakers, which have DSP-based crossovers.
Initially, I used a Bluesound Node 2i streaming DAC as my primary source for the Navis speakers. But after reviewing the NAD C 658 in late 2019, I purchased the review sample. A big draw was Dirac Live room correction, which enabled the C 658 to compensate for serious problems in the acoustics of my living room.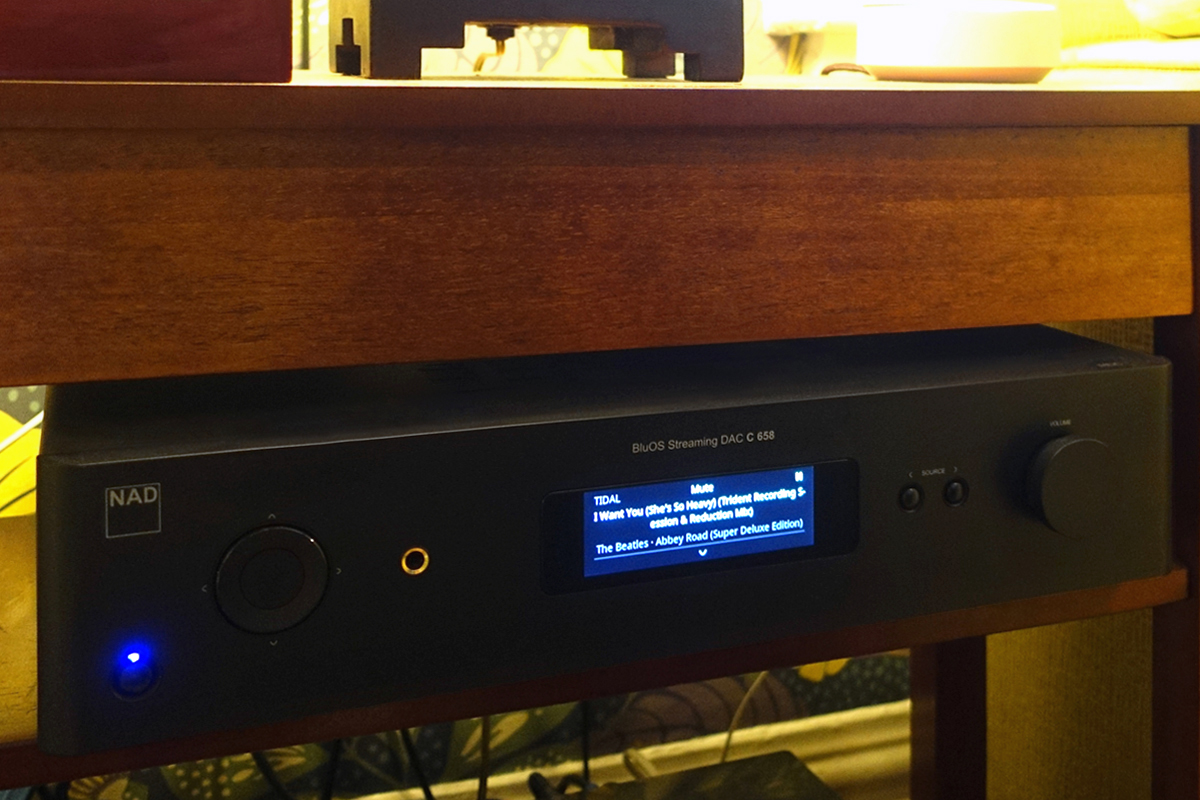 I placed the C 658 on a small table next to our sectional sofa. It's a full-size component, so it overhung the shelf it sits on by a couple of inches in front and behind. It was also a pain in the butt changing connections. And now, there was a pair of XLR interconnects carrying audio to the two speakers. First-world problems, I know, but there you go.
Then in 2021, I reviewed SVS's Micro 3000 sub, and loved the way it filled in the bottom octave without visually dominating our living room. After I bought the review sample, the little sub took up a position to the right of the electric fireplace. Another component, and another cable.
Don't get me wrong; the Elac-NAD-SVS setup fit gracefully into our living room. My design-conscious wife wasn't at all bothered by it, and neither was I. In no way did this system interfere with other activities that go on in our living room. Still, whenever I reviewed all-in-one active speakers with built-in streamers, or active speakers that work with a small wireless hub, I enjoyed the greater simplicity and the reduction in visual clutter. But I never experienced upgrade itches—until last spring.
Feeling the itch
The first bite came in early May, when KEF announced the LS60 Wireless ($6999.99/system). Created to commemorate the company's 60th anniversary, the LS60 system incorporates a boatload of groundbreaking technology. Each cabinet houses two side-firing Uni-Core woofer arrays, each comprising two 5.25″ woofers mounted back-to-back in a force-canceling configuration. The two woofers in each array share a single motor structure, which enables a very slim enclosure design—each speaker is only 5.1″ wide.
The LS60 Wireless is a self-contained music system: it has Bluetooth, ethernet, and Wi-Fi connectivity, along with a built-in network streamer that supports Apple AirPlay 2, Google Chromecast, UPnP/DLNA, Spotify Connect, and Tidal Connect. And the LS60 is Roon Ready. You can connect other components to the primary speaker, but you don't have to.
As soon as I heard about the LS60, I fired off an email to KEF America requesting a review sample, but got a disappointing response: "Unfortunately, it's not looking like we're getting any review units of this [product], at least not anytime soon." Then, on June 9, the company informed me it could supply a system after all—hallelujah! The speakers arrived at my home on June 28.
A week after the LS60 was officially announced, the upgrade bug bit again. On the first day of the High End show in Munich, Germany, Dynaudio introduced new versions of its Focus lineup of active speakers. The new series comprises the Focus 10 two-way standmount ($5500/system), the Focus 30 2.5-way, three-driver floorstander ($8250/system), and the Focus 50 three-way, four-driver floorstander ($11,000/system).
Like KEF's LS60 Wireless, Dynaudio's new Focus systems are Roon Ready, and support Apple AirPlay 2, Google Chromecast, UPnP/DLNA, Spotify Connect, and Tidal Connect. While the driver configurations of the three models are the same as the previous Focus XD series, the driver designs, amplifiers, and enclosures have all been upgraded, and the DSP engines have been retooled. Dirac Live room correction can be added to all three models. As I've experienced with the NAD C 658, this is a killer feature.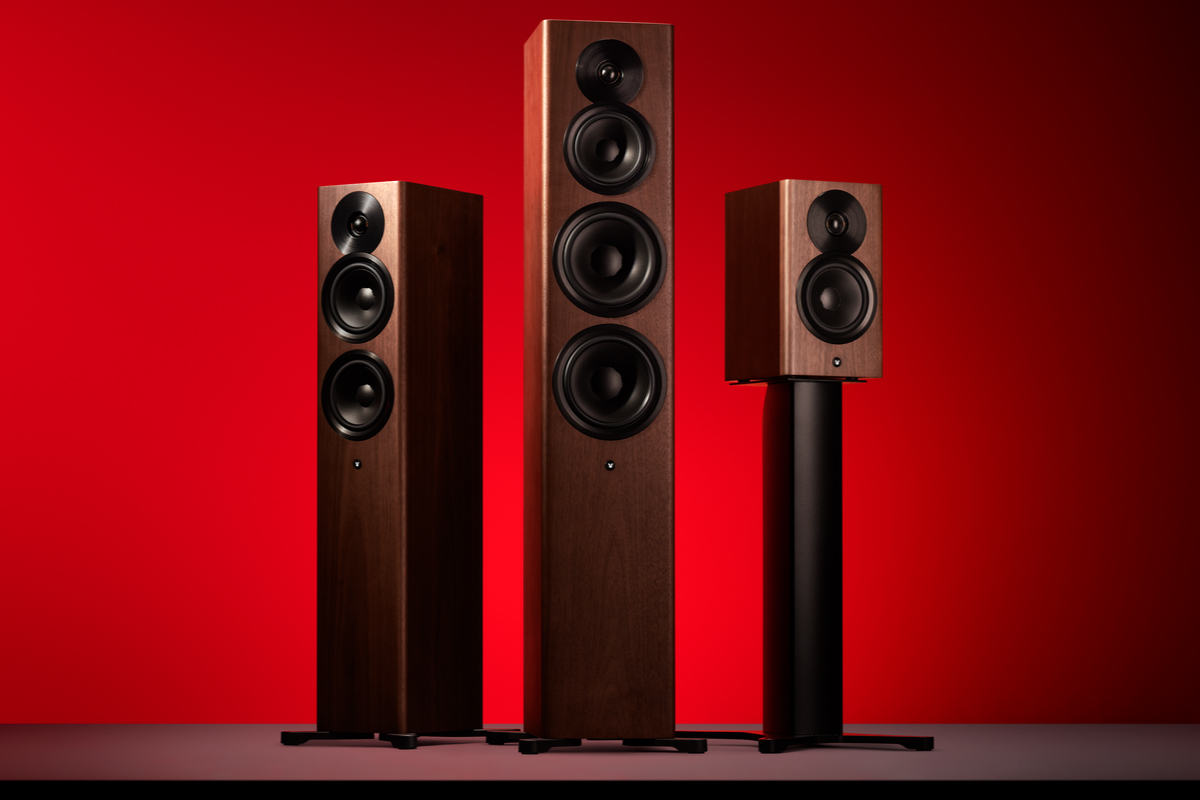 Within minutes of reading about the new Focus series, I fired off an email to Michael Manousselis, president (Americas) of Dynaudio North America, asking for a review sample of the Focus 30, which I thought would be the best fit for my listening space. "Consider it done," Manousselis replied, a mere 11 minutes later. It took a little longer to make this happen. Manousselis informed me on September 13 that he had secured a review sample for me—fantastic news! The speakers arrived at my home on September 29.
What followed were two of the most gushing reviews I've ever written. The LS60 Wireless and Focus 30 both received Reviewers' Choice awards when they were reviewed on Simplifi. On September 15, the LS60 Wireless was named a Recommended Reference Component on SoundStage! Hi-Fi; the same recognition was bestowed on the Focus 30 on December 15. Also on December 15, both systems received 2022 SoundStage! Network Product of the Year awards: KEF's LS60 Wireless for Innovation in Design, Dynaudio's Focus 30 for Outstanding Performance.
Scratching the itch
When I requested review samples of these two systems, I had a strong inkling that I'd end up buying one of them. So it proved; in mid-November, I finalized the purchase of the KEF system. But it could easily have gone the other way—I could have ended up buying the Dynaudio system. Here are some factors that influenced my choice. Spoiler alert: the decisive factor will come as a surprise to most readers.
Price: As a pensioner and part-time audio reviewer, I'm not earning like I was in my prime, so I've got to watch my pennies. The Focus 30 costs $1250/system more than the LS60—$1500 more if you factor in the cost of a license for the full version of Dirac Live. That's not a huge difference, but it is something I considered.
Styling: If a new pair of speakers was going to take up permanent (or semi-permanent) residence in our living room, they had to look like they belonged. The KEF and Dynaudio systems both did.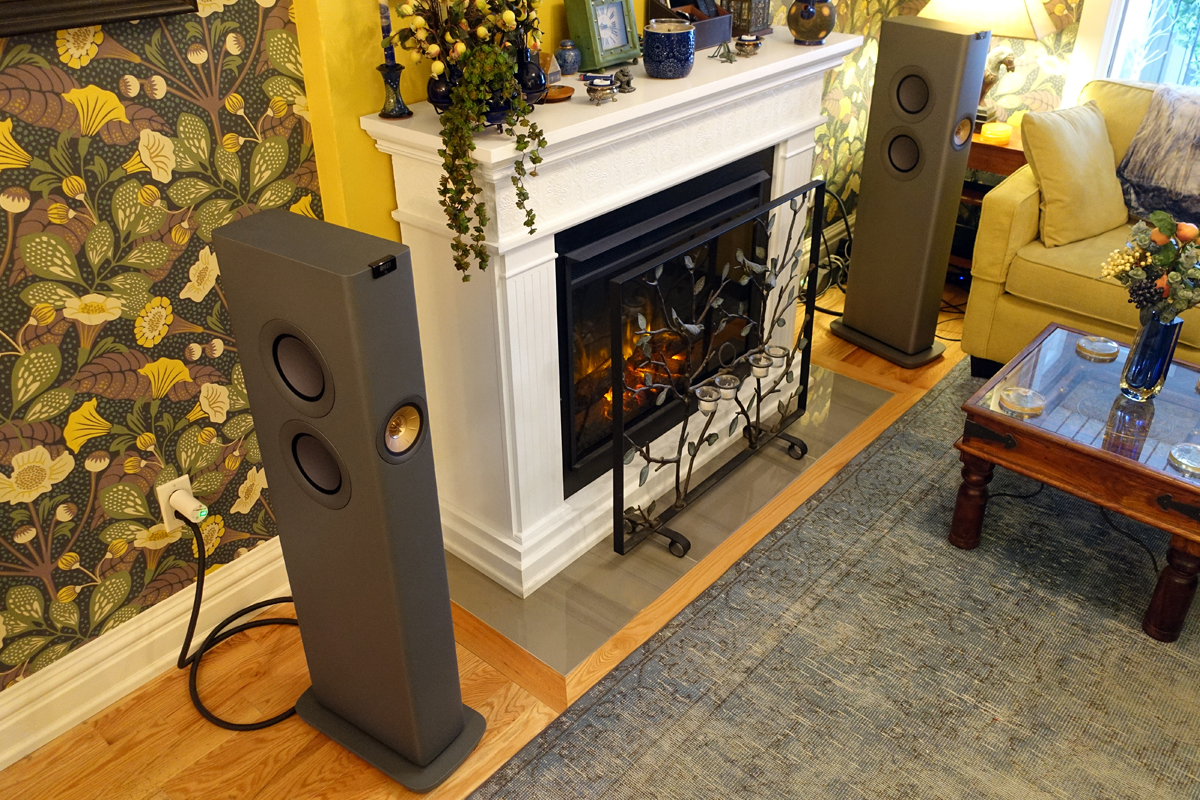 The LS60 Wireless is available in three painted finishes: Royal Blue, Mineral White, or Titanium Grey. I had hoped that KEF would provide a sample with the Mineral White finish, which I thought would look great in our room, but it had the Titanium Grey finish. No matter; I loved the way the speakers looked. The pearlescent paint picks up a sage-green tone from the floral wallpaper behind the speakers, so the speakers blend right in. With the Uni-Core woofer arrays on the sides and the Uni-Q driver array on the front, the slim, columnar enclosures really make a statement. It's like having modern sculptures on either side of our fireplace.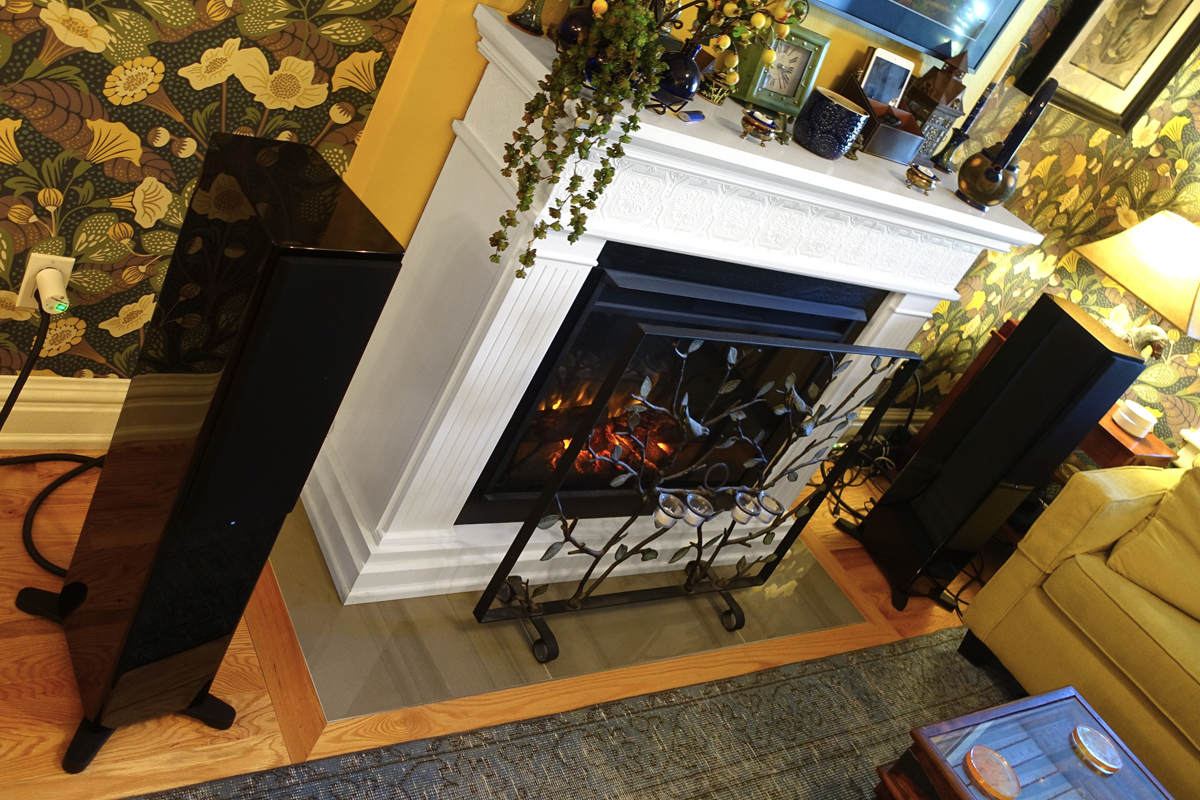 Dynaudio's new Focus speakers are available in Black High Gloss, White High Gloss, Blonde Wood, and Walnut Wood finishes. I had hoped that my review sample would have the walnut finish, but it was the black. Again, no matter. My Elac Navis floorstanders also had a high-gloss black finish, and the Dynaudio Focus system I owned before the Elacs had satin-black enclosures. Both of those systems fit our living room very nicely, and so did the Black High Gloss Focus 30 system.
While I preferred the more dramatic look of the LS60 Wireless, my better half preferred the Focus 30's more traditional design. But both systems looked great in our home.
Feature set: As I've already mentioned, the LS60 Wireless and Focus 30 both have built-in network streamers that support AirPlay 2, Chromecast, UPnP/DLNA, Spotify Connect, and Tidal Connect. And both are Roon Ready. The LS60 has an HDMI ARC port, but the Focus 30 doesn't. If I wanted to play audio from my TV, I'd have to use the optical S/PDIF (TosLink) input. On both systems, the primary speaker can send digital audio at up to 24-bit/192kHz resolution over a wired connection, or 24/96 wirelessly. I used wireless pairing in both reviews, and it worked flawlessly.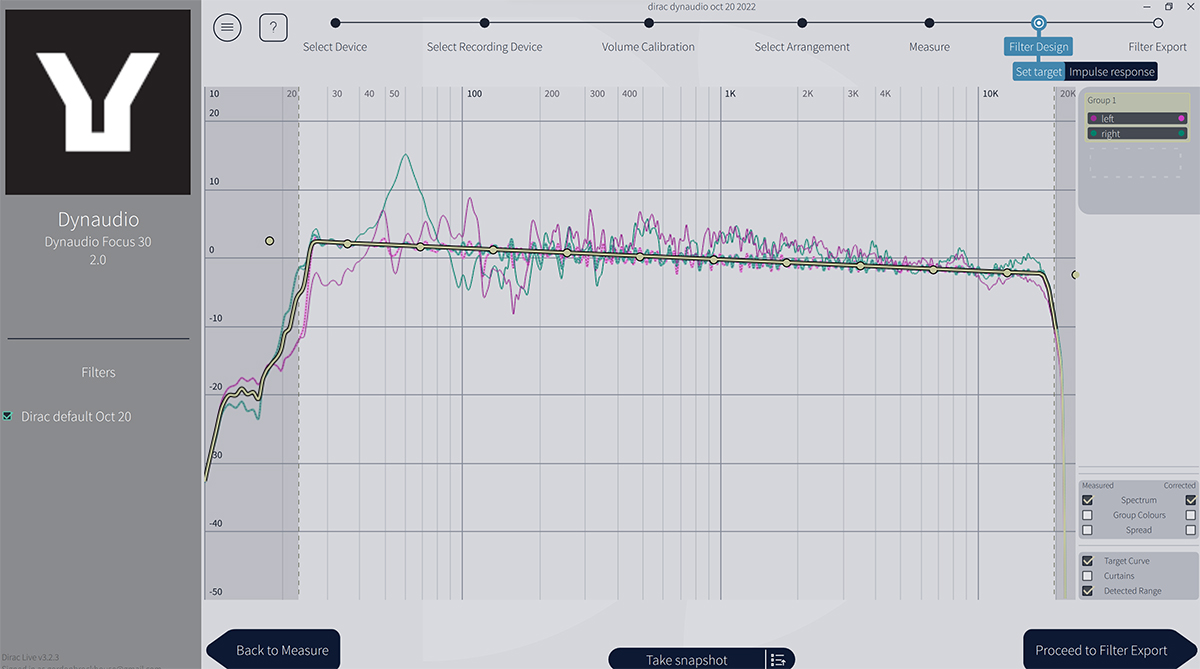 The biggest difference is Dirac Live room correction, which can be added to the Dynaudio system with the purchase of a license from Dirac Research. As you can see from the screen grab above, Dirac made a huge improvement to the sound of the Focus 30 system in our living room. Bass definition was far better, aural images were more precise and had more convincing three-dimensionality, and dense orchestral passages were more transparent.
Working the room
There was no way I could replicate what Dirac did with the Focus 30. But I could close the gap. With the KEF speakers in their intended listening positions, on either side of the electric fireplace, I connected the C 658's unbalanced preamp outputs to the RCA analog inputs on the primary speaker, and then initiated a Dirac Live calibration on the C 658.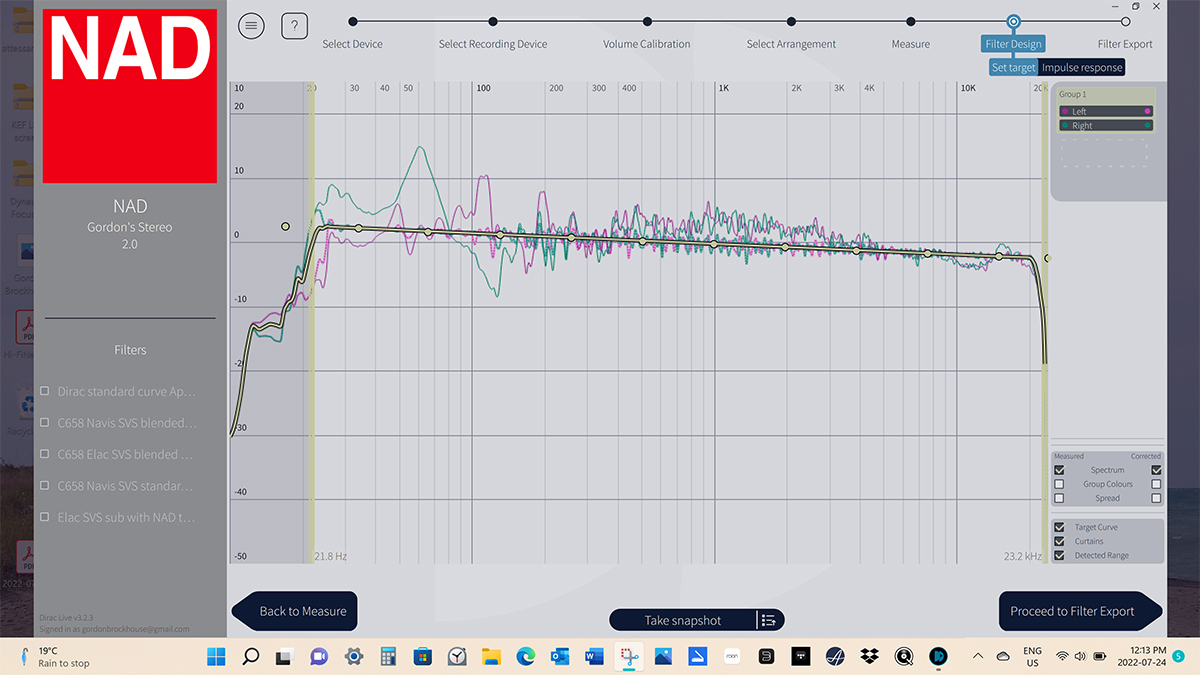 I wasn't going to upload the resulting correction curves to the C 658. The point of this exercise was to identify the frequencies most affected by my living room's acoustics, and use that information to adjust the sound of the KEF system.
In the screen grabs above, the faint purple trace shows the measured in-room response for the left channel, and the faint green trace shows the in-room response for the right channel.
As you can see, the peaks are much worse in the right channel than in the left. On the right side of my room, the distance from the front to the back wall is almost exactly 9′; the ceiling is 9′ high. That corresponds to half the wavelength of a 62.5Hz tone, which is right where we see a huge peak—about 12dB. There's a 6dB dip at 125Hz, which corresponds to a full 9′ wavelength. My living room opens through a large archway into an adjoining dining room. The combined width of the two rooms is approximately 23′, which is about half the wavelength of a 25Hz tone—right around where Dirac shows another peak. The room dimensions around the left speaker are more random, which is why the left-channel in-room response isn't as messy. There's a small peak around 50Hz, and larger ones around 110Hz and 195Hz.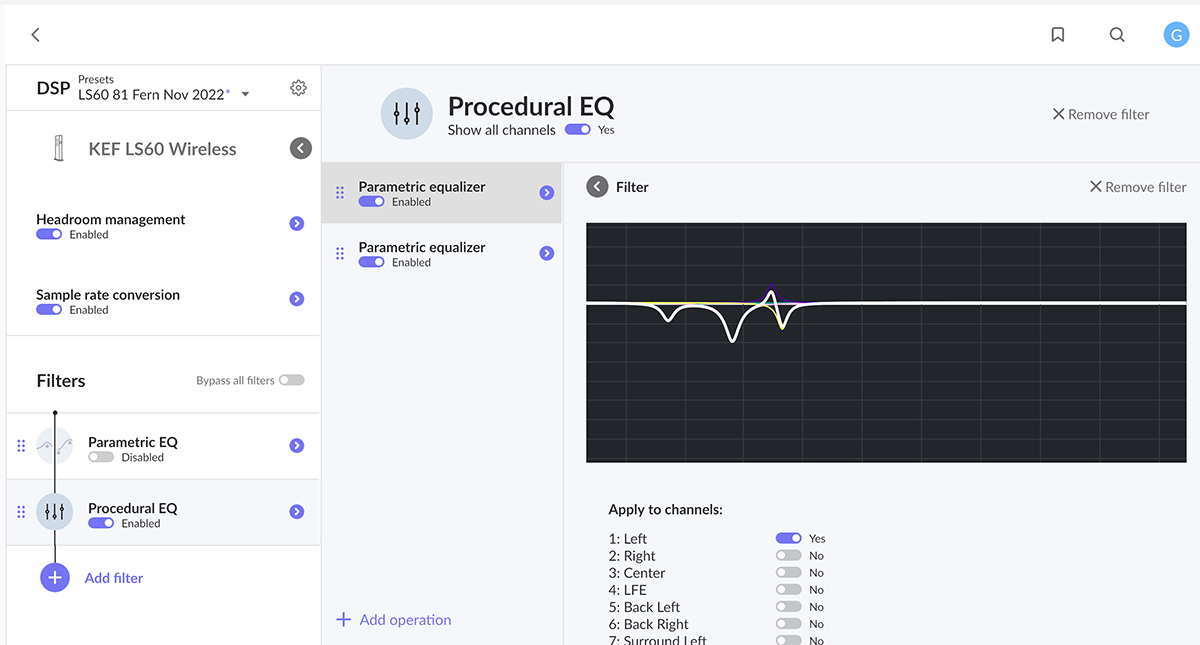 I used these Dirac measurements as the basis for some EQ filters in Roon, essentially creating mirror images of the worst peaks and dips that Dirac identified (and my back-of-the-envelope calculations confirmed).
Roon's DSP adjustments include a Parametric EQ function that applies filters globally to all channels. But there's also a Procedural EQ function that lets you equalize channels independently (left and right in stereo; and up to eight channels for surround). That's the tool I used. You can see the adjustments I made to the left channel in the screen grab above, and those I made for the right channel in the screen grab below.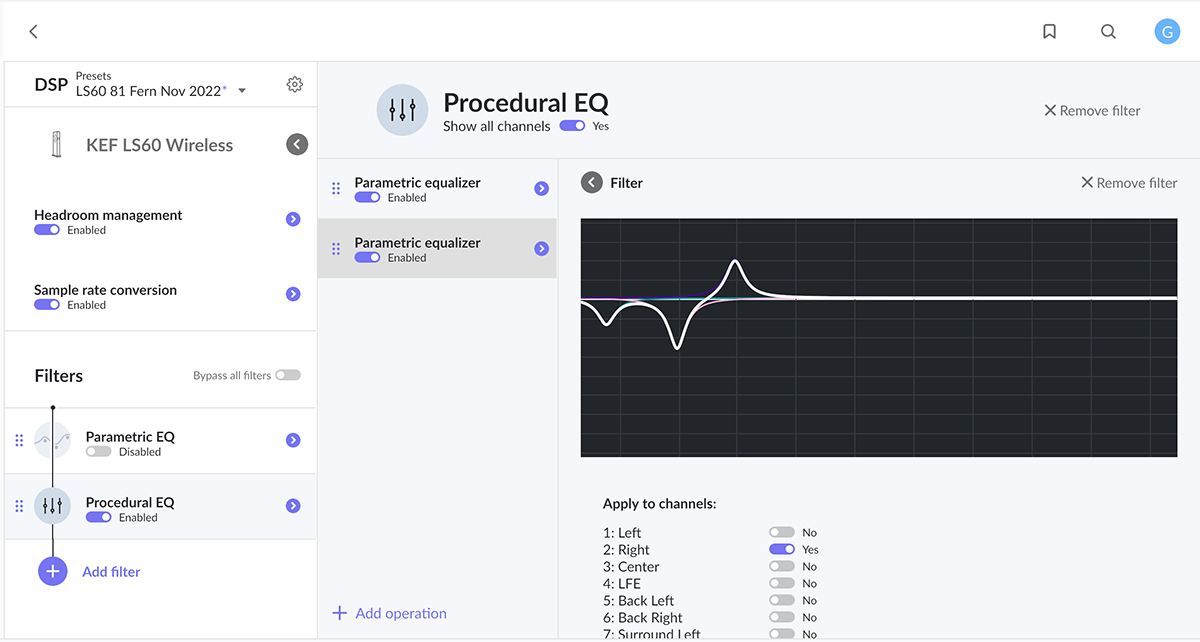 You'll see that I enabled filters that boosted output at certain frequencies; a measure that could well have induced digital clipping. To prevent this potentially catastrophic outcome, I used Roon's Headroom Management tool to apply a 10dB cut, which I figured was more than enough to prevent the 6dB boost I applied at 125Hz in the right channel from clipping the signal.
I might experiment a little further with these settings, but essentially, they're doing exactly what I hoped they would: eliminate (or at least minimize) bass bloat. One of my favorite tracks for assessing bass performance is Patricia Barber's "Regular Pleasures," from her album Verse (16-bit/44.1kHz ALAC, Premonition / Blue Note). Throughout this track, double-bassist Michael Arnopol plays a big, bold bass line, mostly on the lower strings, and Joey Baron adds a huge bass-drum beat at the end of each bar. There is a lot going on in the 32–64Hz octave.
With Roon's Procedural EQ function disabled, Baron's bass-drum thwacks sounded big and powerful, but also bloated and boomy—they swamped the whole presentation. The lowest notes of Arnopol's double-bass riffs sounded thuddy and indistinct. Of course, the problem wasn't the KEF speakers; it was my room. With my EQ settings enabled, Baron's bass drum had much better definition. Instead of an indistinct boom, I could now hear the mallet hitting the drumhead, followed by the resonance of the drum body. Likewise, Arnopol's low notes had more texture and detail; I could now hear him plucking the strings of the instrument, and the vibration of the strings themselves.
With the LS60 system, those EQ settings are only available when I'm using Roon. If I cast audio from the Qobuz app on my Google Pixel phone, or stream audio via AirPlay from my MacBook Pro or iPhone, I'm hearing unequalized sound—the boom is back. Ditto for TV audio—the primary speaker is connected via HDMI ARC to the One Connect breakout box for my 55″ Samsung Frame TV. However, when I'm listening seriously, I'm almost always using Roon.
With the Focus 30, Dirac Live room correction worked on all sources: Roon, Chromecast, AirPlay, and TV audio (via optical S/PDIF). And of course, with Dirac, calibration is automated. For the LS60, I had to create those Roon filters manually, though I did have some help from the Dirac calibration I performed.
Who's on first?
What about the sound? While those Roon filters improve the LS60 system's sound a lot, they're no match for what Dirac did with the Focus 30. On some passages, bass sounded a little thuddy through the LS60 with Roon's filters enabled, but this thuddiness was absent on the Focus 30 with Dirac enabled. On almost all content, bass definition was better through the Focus 30 with Dirac enabled than it was through the LS60 with the EQ settings I had enabled in Roon.
Dirac does more than just apply EQ; it also optimizes impulse response. Not surprisingly, imaging, soundstaging, and transparency were all improved with Dirac enabled on the Focus 30.
But there were some things I liked better about the sound of the LS60. It had greater heft and authority, so that it delivered a more convincing sense of scale—more evocative of a live performance. As I said in my Focus 30 review, I loved the way both systems sounded in my living room. So why did I choose the KEF LS60 Wireless? What was the decisive factor? Simple: it got here first.
After I finished the KEF review, I was very resistant to the idea of returning the review sample, so I asked about buying it. Because of the hectic nature of people's schedules, it took a little while to iron out the details; but once I had declared my intentions, I considered this deal done.
If the Focus 30 system had arrived first, rather than the LS60 Wireless, might I have bought it instead? Very possibly. For sure, I would have found it hard to return the sample to Dynaudio after experiencing it firsthand, just as happened with the LS60.
Do I wish I'd bought the Focus 30 rather than the LS60? That's not a question I ever ask myself. I'm too busy enjoying my new system to even think about that.
I think that's a good way to approach all areas of life, not just audio. Whether you're choosing a sound system, a romantic partner, a new home, or a new shirt, weigh your decision carefully, and involve your head, your heart, and your senses. Then make your decision, enjoy the results, and don't second-guess yourself.
The fact is, KEF's LS60 Wireless and Dynaudio's Focus 30 are both magnificent systems, fully deserving of the honors the SoundStage! Network has bestowed upon them.
. . . Gordon Brockhouse
This email address is being protected from spambots. You need JavaScript enabled to view it.