How would you rather spend a glorious Canadian autumn weekend? Walking in the park? Taking a drive in the country? Raking the leaves? Or roaming the halls of a generic suburban hotel?
On the weekend of October 20–23, a few hundred Toronto-area audiophiles decided they'd like to stay indoors. Held at the Westin Airport Hotel on Toronto's airport strip, the 2022 edition of Toronto Audiofest was a livelier affair than the 2021 show, when COVID-19 restrictions were still in place.
There was a lot for visitors to see—and hear—at the TAF, including a few products that received their worldwide debuts at the show. Doug Schneider has already covered many of these in his show report on SoundStage! Global, which focused on high-end component hi-fi. My focus here is on streaming components that fit Simplifi's mandate to cover "convenient, lifestyle-oriented hi-fi."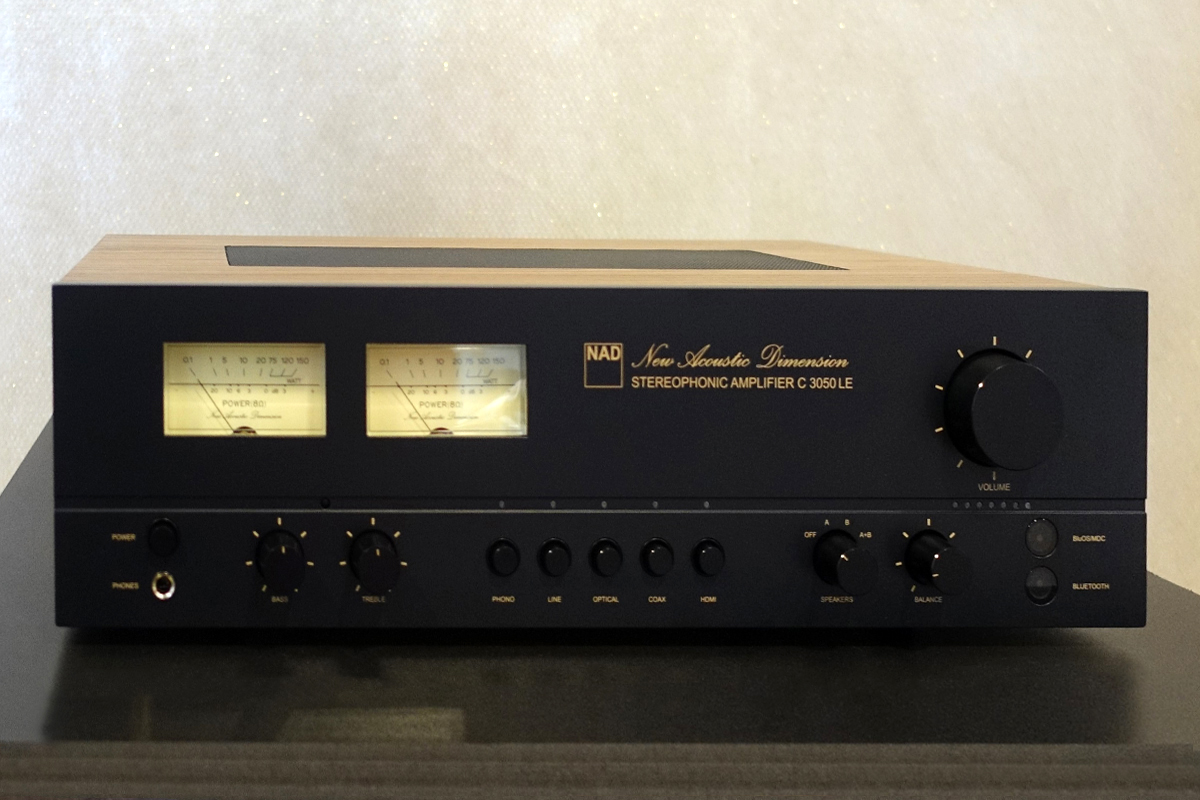 NAD C 3050 LE integrated amplifier
At Toronto Audiofest, NAD kicked off its 50th-anniversary celebrations, which will continue until May 2023 at the High End show in Munich, Germany. Making its debut at TAF was the C 3050 LE, a limited-edition amplifier that marks NAD's founding in 1972. Just 1972 units will be produced, each with a numbered plaque on the back panel. Shipments begin in mid-November, and the amp will retail in Canada for $2572 (all prices in CAD unless stated otherwise); stateside, the C 3050 LE will sell for $1972 USD.
The C 3050 LE takes its design cues from NAD's 3030 integrated amp, a 30Wpc class-AB design from the late 1970s. Clad in a walnut-veneer sleeve, the limited-edition amp features front-panel VU meters, pushbutton controls for source selection, and a dark-gray front panel bearing the brand's original name (New Acoustic Dimension) in the distinctive 1970s cursive script.
The C 3050 LE employs a HybridDigital UcD class-D output stage that can deliver 100Wpc continuous and 135Wpc instantaneous peak power into 8 or 4 ohms. Input options include MM phono, HDMI with eARC and ARC support, coaxial (RCA) and optical (TosLink) S/PDIF, and line-level analog (RCA).
The amplifier incorporates the latest version of NAD's Modular Design Construction technology, which lets users add new functions by inserting one of a range of modules into a rear-panel slot. Unlike the original version of MDC, MDC2 allows two-way communications between the module and host component. The C 3050 LE comes preinstalled with the MDC2 BluOS-D module, which adds two compelling features: BluOS hi-rez multiroom streaming and Dirac Live room correction.
Thanks to MDC2's bidirectional architecture, Dirac room correction applies to all sources connected to the host amplifier, and audio from any source component connected to the amplifier can be streamed to BluOS-enabled components in other rooms.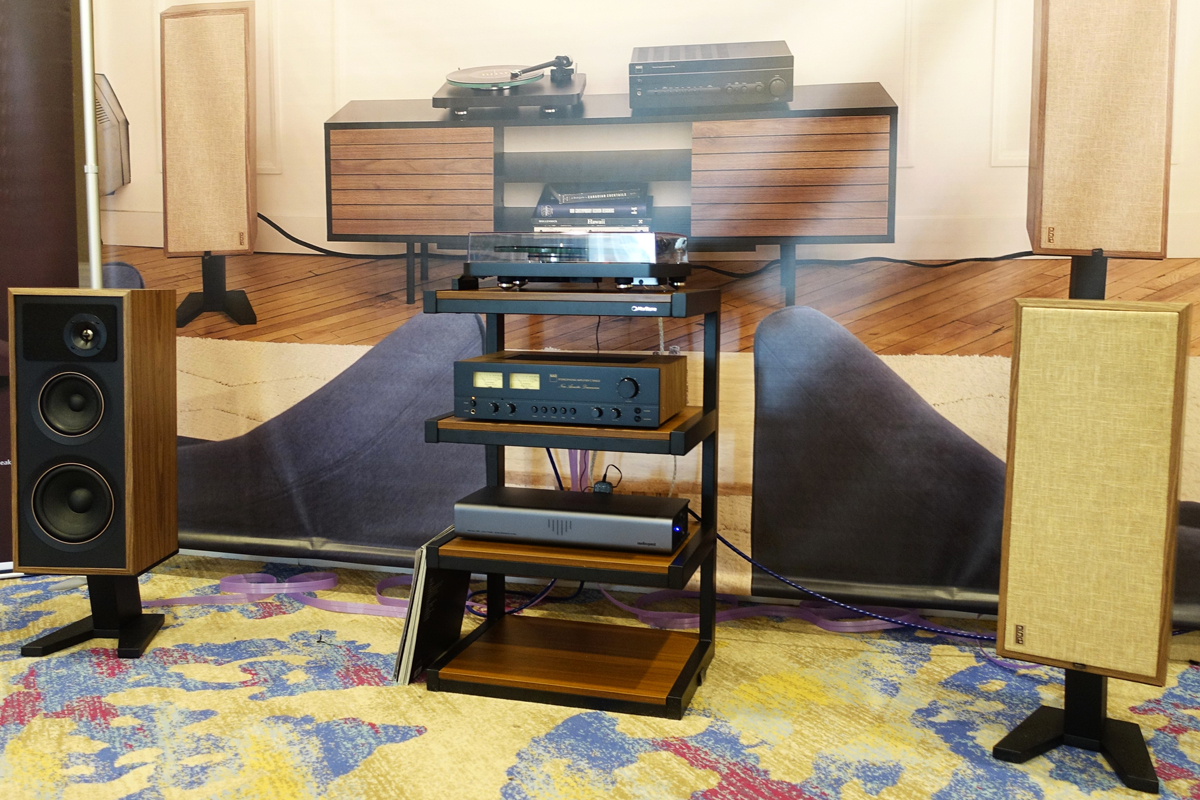 Lenbrook International, NAD's parent company, demonstrated the C 3050 LE in a system that included PSB's Passif 50 loudspeakers ($3299/pair, including dedicated stands). PSB, another Lenbrook brand, is also celebrating its golden anniversary in 2022. Employing a 1″ titanium-dome tweeter, 6.5″ midrange-woofer, and 8″ passive radiator, the retro-styled Passif 50 pays tribute to PSB's Passif II, which was launched in 1974.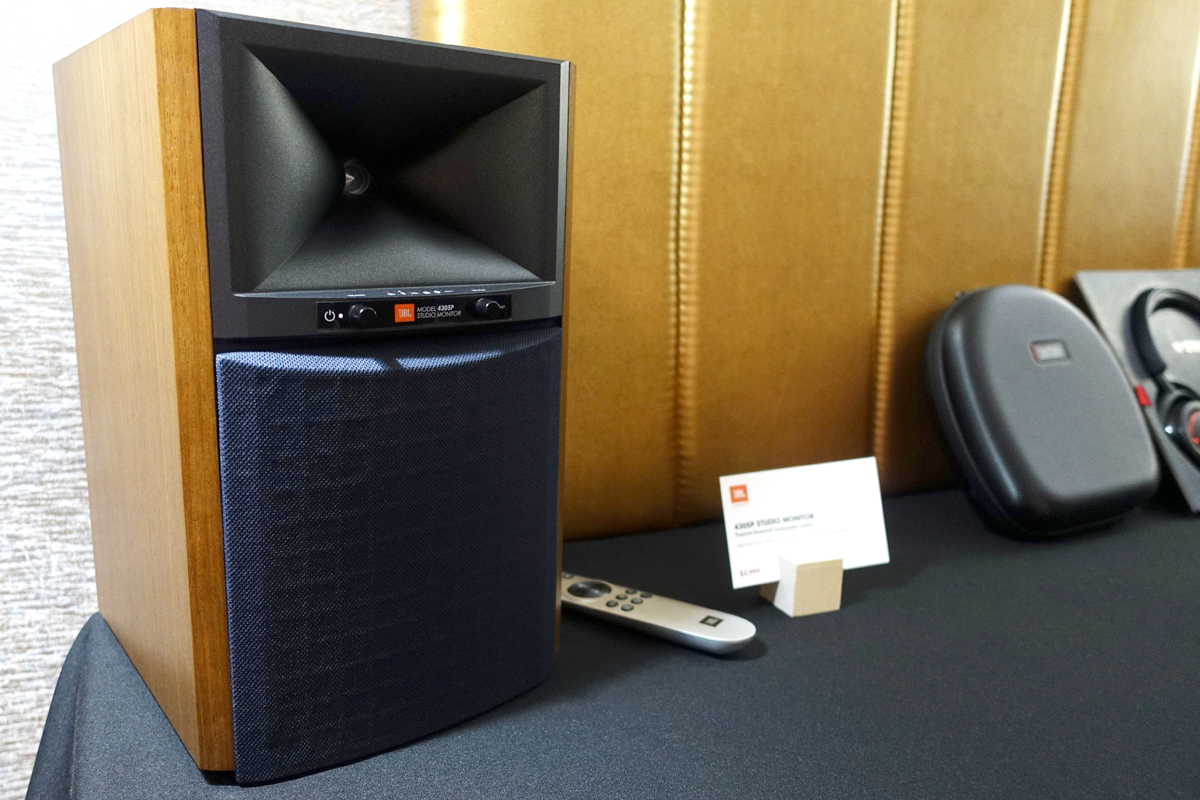 JBL 4305 active loudspeaker system
In one of its rooms, Montreal-based distributor Erikson Consumer was demonstrating a system with a Mark Levinson N⁰ 5802 integrated amplifier and a pair of Revel F328Be floorstanders. But what really piqued my interest was a pair of JBL 4305P Studio Monitors ($2999/system) on a table on an adjacent wall. Erikson received its first shipment of the 4305P a couple of weeks before the show.
Each 4305P enclosure houses a 5.25″ pulp midrange-woofer powered by a 125W class-D amp, and a horn-loaded 1″ compression-driver tweeter powered by a 25W amp. The primary speaker has balanced (XLR) and unbalanced (3.5mm) analog inputs, a USB Type-B input, and an optical (S/PDIF) input. The system also has Bluetooth, ethernet, and Wi-Fi connectivity, and a network streamer that supports Google Chromecast and Apple AirPlay 2.
Mario Cadoret, Erikson Consumer's national sales manager, played a bass-heavy blues track through the JBL 4305P system after we had listened to the Levinson/Revel setup for a while. Of course, the compact JBL active system was not as revealing or dynamic, but it definitely wasn't shamed by the higher-end system. Bass was powerful but well controlled, and dynamics were effortless. This little system can clearly kick ass.
The day after TAF wrapped up, UPS dropped off a review sample at my home. Look for a full review of JBL's 4305P Studio Monitor system on Simplifi in December.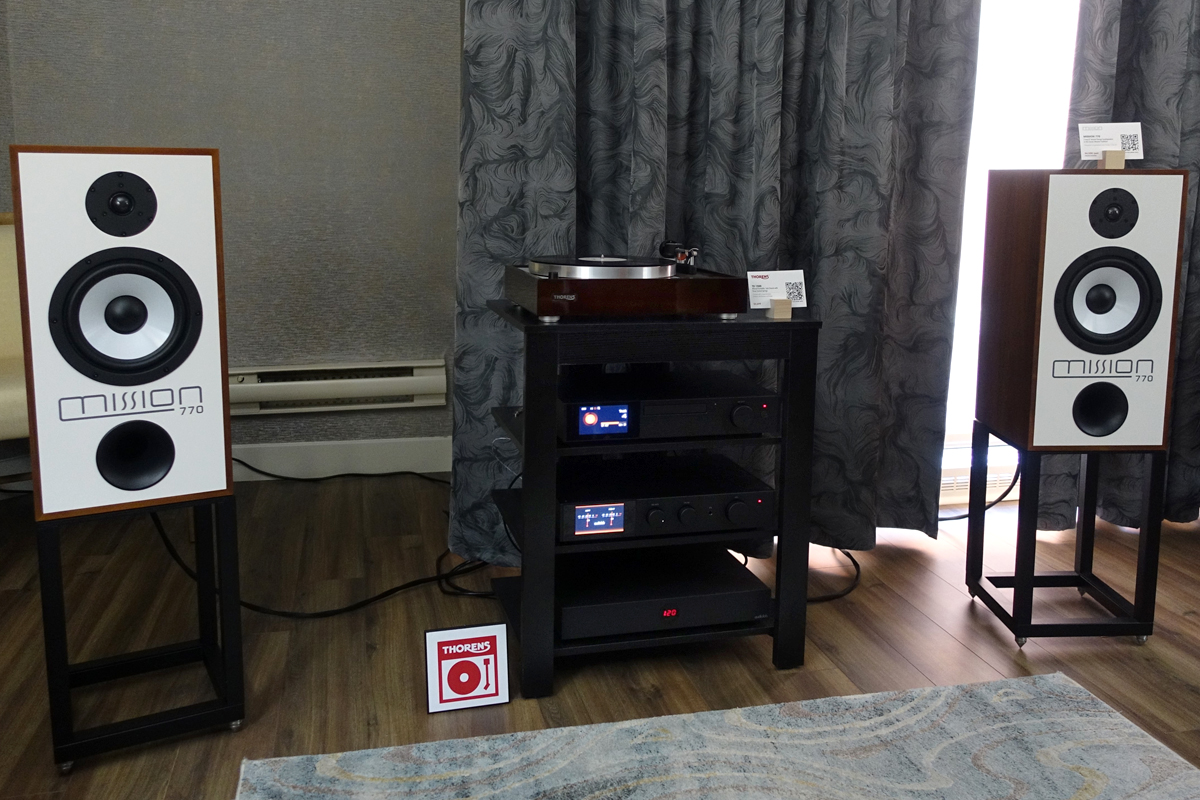 In another room, Erikson Consumer was demonstrating a system comprising the retro-styled Mission 770 standmount speakers ($6500/pair including dedicated stands), Audiolab 9000A streaming integrated amplifier ($3499), and Audiolab 9000CDT CD transport ($1749). Audiolab hadn't even announced its 9000-series components while TAF was underway. The official launch was still pending, so this was probably the first public showing of the new products anywhere. The 9000A will ship in late November.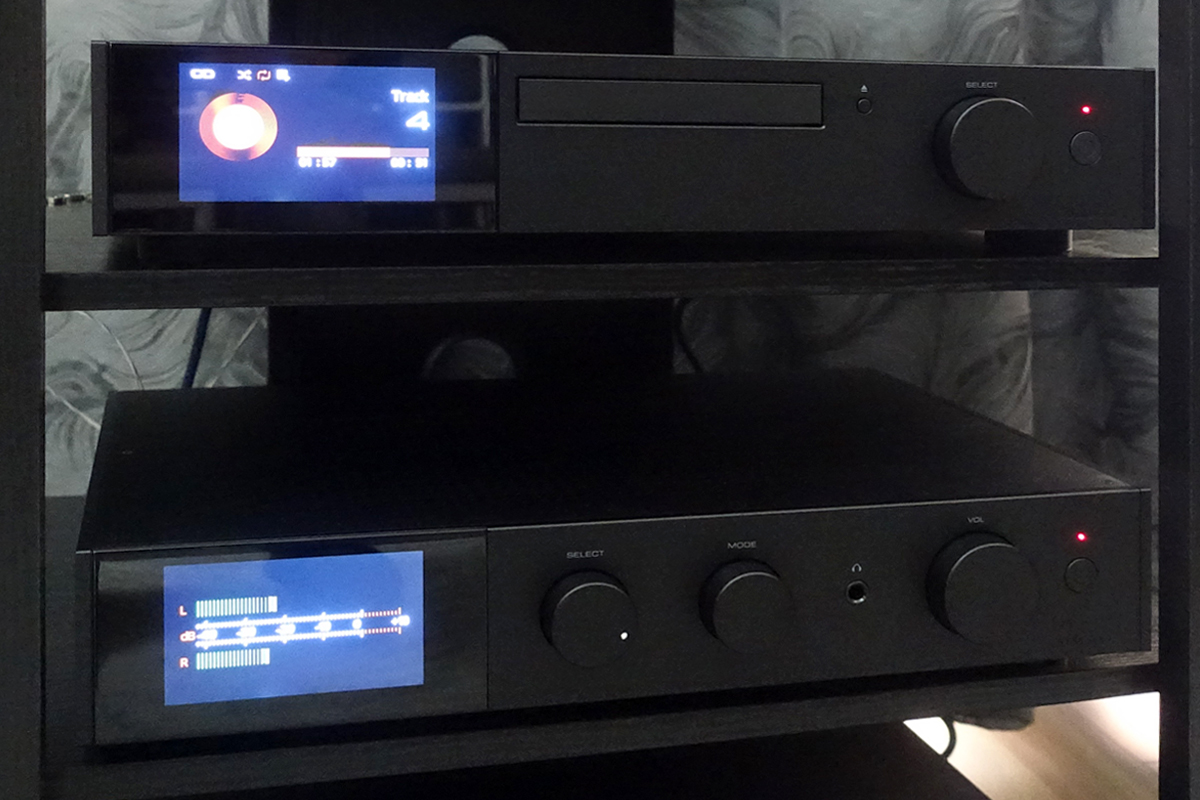 Audiolab 9000CDT CD transport (top) and 9000A streaming amplifier (bottom)
The 9000A is a class-AB design with specified output of 100Wpc into 8 ohms or 160Wpc into 4 ohms. The digital section is built around ESS Technology's ES9038PRO Sabre DAC. It can accept digital streams up to 32-bit/768kHz PCM and DSD256 via its USB Type-B port, and 24/192 via its two coaxial (RCA) and two optical (TosLink) S/PDIF ports, and has full MQA hardware decoding. The 9000A has Bluetooth, Wi-Fi, and ethernet connectivity, a network streamer based on DTS's Play-Fi platform, and a 4.3″ 800 × 480 display. In addition to an MM phono input, the 9000A has four sets of unbalanced (RCA) and one set of balanced (XLR) line-level inputs.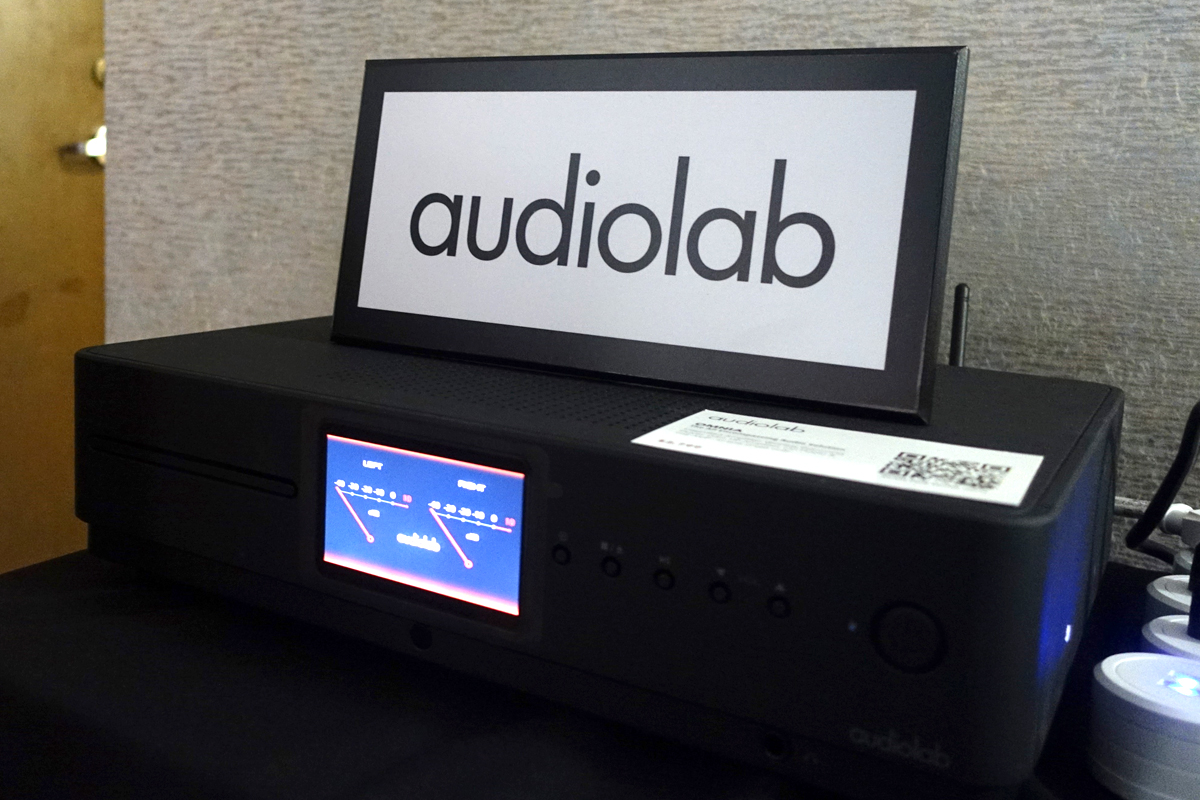 Audiolab Omnia all-in-one music player
On static display in the same room was Audiolab's Omnia music player ($2799), which has been available for about six months. Essentially, the Omnia combines Audiolab's 6000A integrated amplifier, 6000CDT CD transport, and 6000N network streamer into one component. Like the 6000A, the Omnia features a class-AB output section rated at 50Wpc into 8 ohms or 75Wpc into 4 ohms. The player has Bluetooth, Wi-Fi, and ethernet connectivity, plus Play-Fi music streaming; other input options include USB Type-A and Type-B ports (the former for connecting a drive with music files, the latter for a PC or Mac), two coaxial (RCA) and two optical (TosLink) S/PDIF inputs, an MM phono input, and three line-level analog (RCA) inputs.
Elac Debut ConneX DCB41 powered speaker
Trends Electronics, a Canadian distributor based in Burnaby, British Columbia, was playing Elac's new Debut ConneX DCB41 compact powered speakers ($849.98/system): a rear-ported design employing a 4.5″ midrange-woofer and 0.75″ soft-dome tweeter powered by a 50Wpc class-D amp inside the primary speaker. The primary speaker has a pair of RCA analog inputs that are switchable between MM phono and line-level operation, plus an HDMI ARC interface, USB Type-B port, and optical (TosLink) S/PDIF input. Maximum resolution via USB and TosLink is 24/96. The ConneX DCB41 also has Bluetooth connectivity with aptX support. Three finishes are available, which the company calls: Black Ash, Walnut, and Royal Blue. Many brands are launching powered bookshelf speakers with Bluetooth connectivity, but with their wide range of inputs, these new Elacs are more versatile than most products of this type. I've requested a review sample.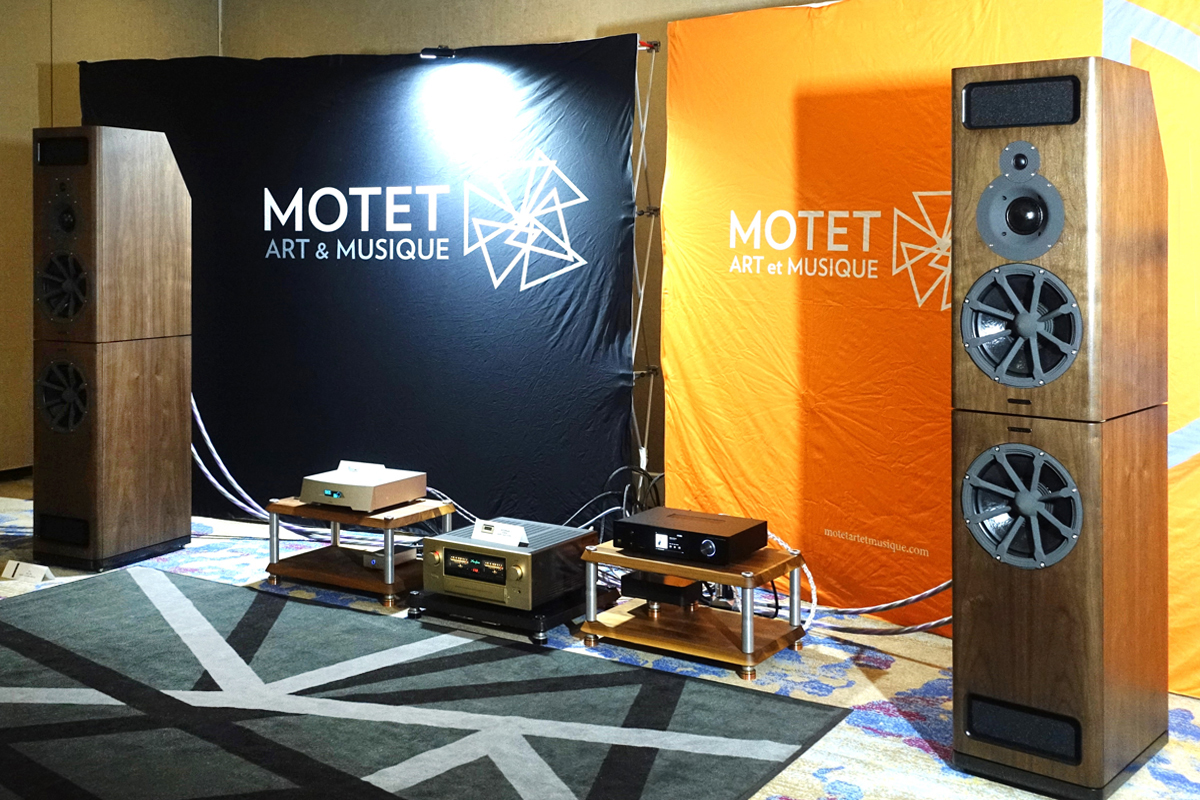 In one of Motet Distribution's rooms, the Montreal, Quebec-based distributor was demonstrating a no-holds-barred system comprising a pair of PMC MB2 XBD four-driver, three-way floorstanding speakers ($80,000/pair), an Accuphase E-5000 integrated amplifier, and Zidoo's Neo Alpha streaming media player ($3999). The Neo Alpha is the flagship of the Chinese company's line of media players and is brand-new to the Canadian market.
When I reviewed Zidoo's Neo S media player ($1999) in July, I described its fit and finish as "a tad short of luxurious, but far beyond utilitarian." The build quality of the Neo Alpha is even better.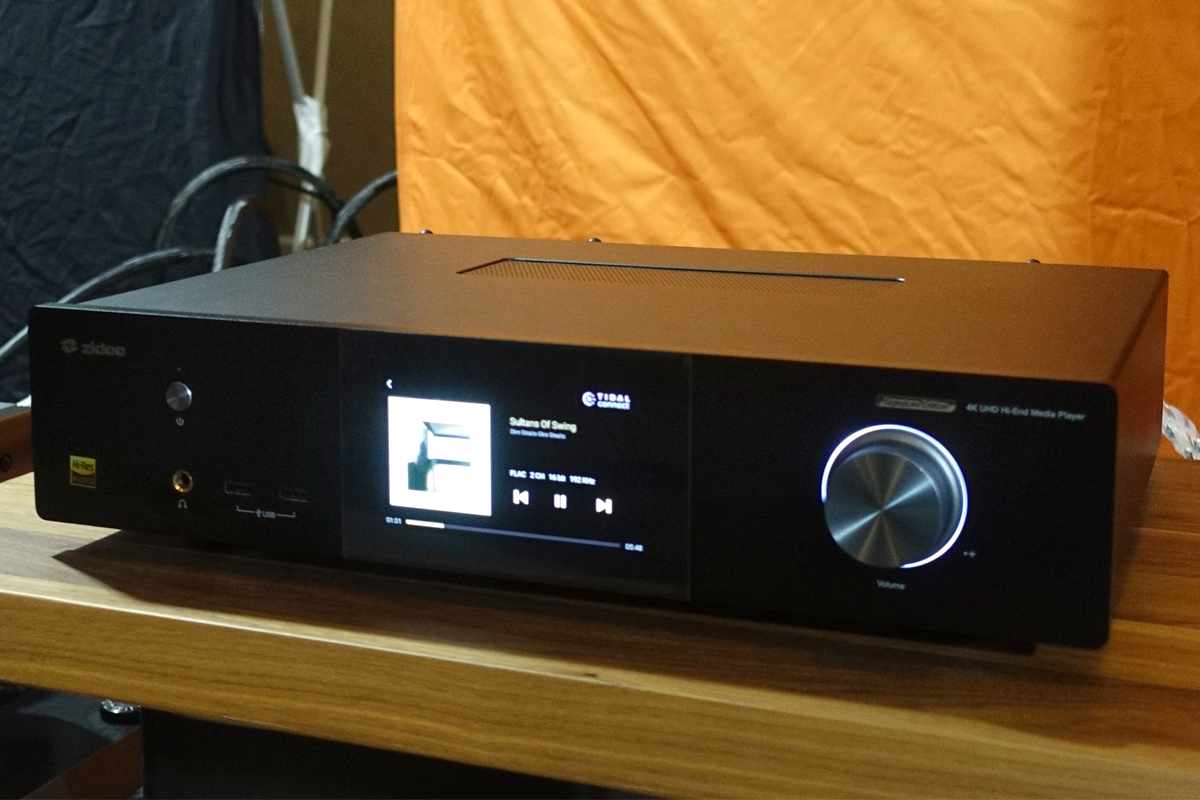 Zidoo Neo Alpha media player
Like the Neo S, the Neo Alpha has balanced and single-ended line outputs with volume control, a built-in headphone amp, separate power supplies for the digital and analog sections, separate clocks for 44.1kHz and 48kHz PCM streams (and multiples thereof), an aluminum alloy chassis, and a 4″ × 3″ glass-covered OLED touchscreen display. But the Neo Alpha has a more powerful processor, higher-precision clocks, more memory (4GB compared to 2GB), more eMMC storage for the operating system and applications (32GB compared to 16GB), and a higher-capacity SSD for storing music and videos (512GB, compared to 256GB). The Neo Alpha also has a higher-end DAC: ESS Technology's ES9038PRO Sabre.
For owners of surround-sound systems, one very intriguing feature is the Neo Alpha's ability to process multichannel DSD audio, and to output 5.1-channel DSD through a second HDMI port.
I had thought that the Neo S delivered outstanding audio performance for the asking price, and my impressions were confirmed by its excellent measured performance in the SoundStage! Audio-Electronics Lab. But I was disappointed by Zidoo's software. For example, when playing albums stored on the internal 256GB SSD, the Neo S played songs in alphabetical order, rather than by track number. During TAF, Motet founder Lily Luo told me that Zidoo has issued software updates that address the issues I found. If that's the case, Zidoo's Neo Alpha could serve admirably as the front end of a high-performance digital music system.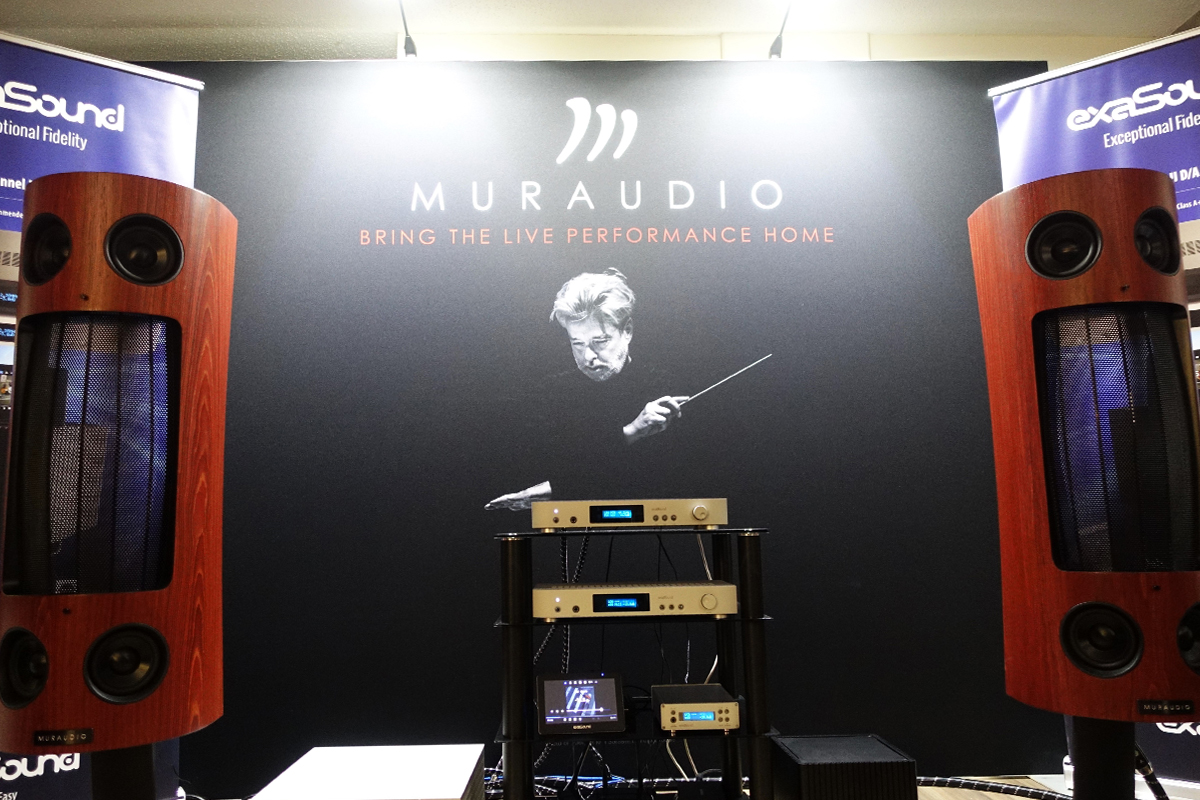 At TAF, Toronto-based exaSound Audio Design launched a new version of its Delta Music Server, which it demonstrated along with the new s82 streaming DAC-preamp ($6499 USD), Constellation Audio Inspiration Integrated 1.0 amplifier, and Muraudio SP1 hybrid electrostatic-dynamic speakers.
The Delta Music Server M100's improvements over the company's Delta Music Server Mark II ($2999 USD—the same price as the original model at launch) include a more powerful 12th-generation 12-core Intel i7 processor, more memory (32GB, compared to 8GB on the original Delta's standard configuration), a higher-capacity SSD (2TB compared to 128GB in the original's standard configuration), more USB ports (six, compared to four), and an upgraded power supply. The increased horsepower will enable even more intensive signal processing, and upsampling from Roon.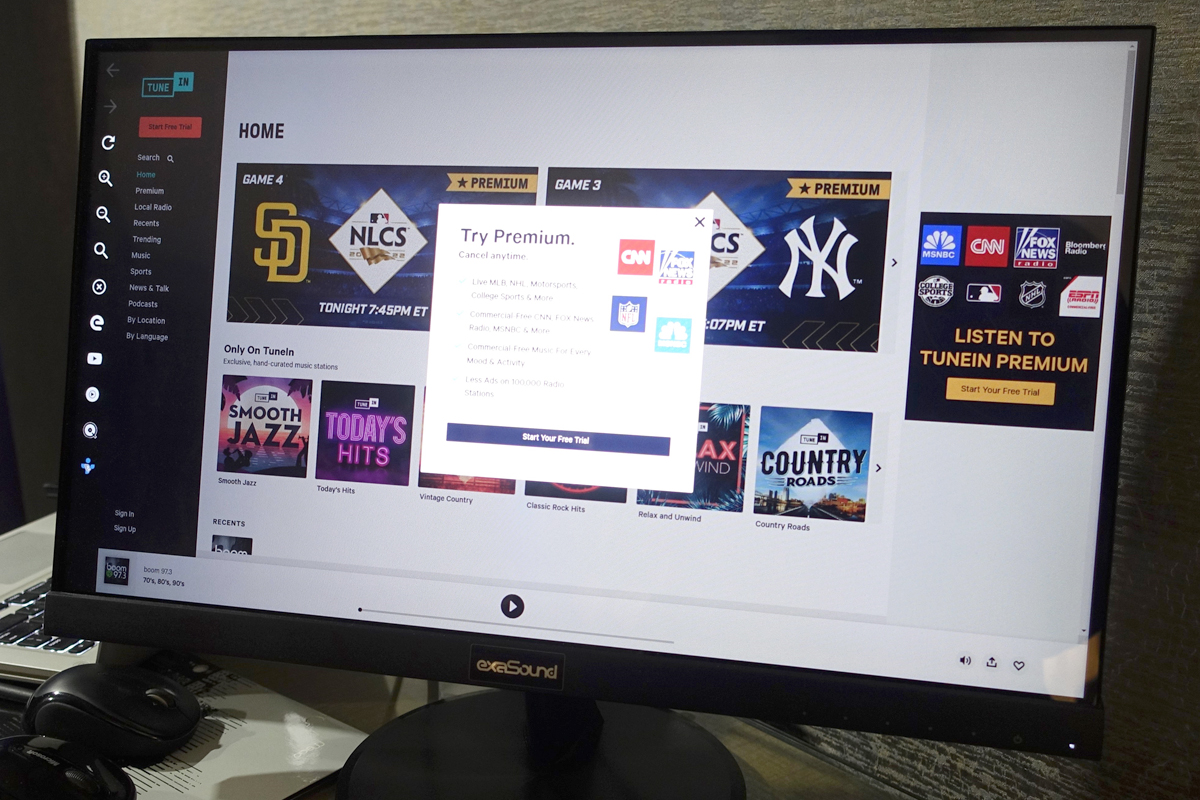 New exaSound user interface
Also on show at TAF was exaSound's updated firmware for its s82 and s88 multichannel streaming DACs, original Delta Music Server, and Delta Mark II. The new firmware adds built-in support for Qobuz, web radio, YouTube, and YouTube Music. Connect a display to the HDMI port on the s82, s88, Delta, or Delta Mark II, and you'll see a new interface that, among other things, lets you stream YouTube concerts.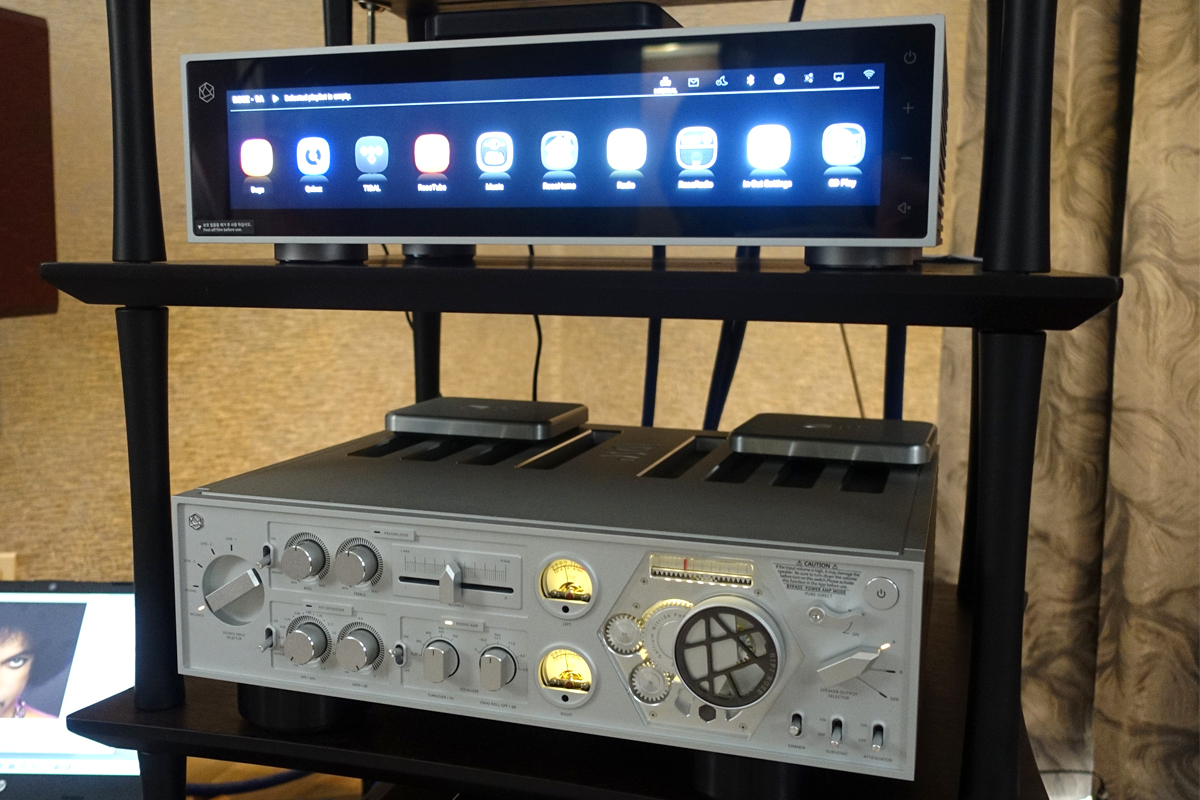 HiFi Rose RS150B streaming DAC-preamp (top) and RA180 integrated amplifier (bottom)
In its room, Toronto retailer Executive Stereo exhibited the RA180 integrated amplifier ($9995) and RS150B streaming DAC-preamp ($6995) from South Korea's HiFi Rose.
TAF marked the first public showing of the RA180 in Canada. The RA180 is nowhere near as wild-looking as the Angela Yeung–Gilbert Yeung AG2-22 amplifier that Doug Schneider and Jason Thorpe listened to in Entracte Audio's room, but it's pretty wild. With its gear-like volume control, circular power meters, and prominent knobs and switches, the RA180 exudes a funky steampunk vibe. I've never seen anything like it.
Under the hood, it's just as unique. The RA180 has four amplifier modules that HiFi Rose terms "class-AD." The modules employ gallium nitride field-effect transistors, which have a much faster switching speed than silicon FETs, resulting in lower distortion and greater bandwidth. Each amplifier module is specified to output 200W. The four modules can be used to biamp a pair of speakers, and the RA180 has an adjustable active crossover for this purpose. The crossover can be bypassed if the amp is being used with biampable speakers that have passive crossovers. Alternatively, the four modules can be bridged to deliver a 2 × 400W output. Another unusual feature of the RA180 is the adjustable EQ of its MM/MC phono stage. However, the stage's load impedance and capacitance are not adjustable.
HiFi Rose's RS150B streaming DAC-preamp also looks stunning. A 14.9″ IPS touchscreen occupies almost the entire front panel. Besides displaying the user interface, the screen can be used for viewing video content (there's also an HDMI output for an external display). The RS150B's case is milled from a single block of aluminum.
The component has a huge range of inputs and outputs, including AES/EBU in and out, USB Type-B, optical (TosLink) and coaxial (RCA) S/PDIF in and out, I2S out (DVI and RJ45), balanced (XLR) and unbalanced (RCA) analog in, HDMI ARC in, HDMI 2.0 out, and a microSD slot. The RS150B is Roon Ready, and supports Apple AirPlay and UPnP/DLNA. The companion app has integrated support for Tidal and Qobuz, and the player has MQA-decoding hardware. It's not hard to understand why there's been so much buzz about this product over the past year and a half. This thing is a powerhouse, and drop-dead gorgeous to boot.
. . . Gordon Brockhouse
This email address is being protected from spambots. You need JavaScript enabled to view it.