One thing that differentiates enthusiast audio from other areas of consumer electronics is the amazing proliferation of brands. Most CE categories are dominated by a few big names -- think TVs (LG, Samsung, Sony, TCL, Vizio), or smartphones (Apple, Huawei, Samsung again). But audiophiles shopping for speakers, amplifiers, source components, or cables can choose from among literally hundreds of brands.
Until recently, I was only peripherally aware of the Swedish manufacturer Primare, who make preamplifiers, power amps, integrated amplifiers, phono stages, and digital streamers. Particularly interesting to me is Primare's Prisma range of products, each of which includes a network streamer that supports Apple AirPlay, Chromecast Built-in, Spotify Connect, and DLNA/UPnP. The Prisma series includes two CD players, two preamplifiers, and three integrated amplifiers. All models have Bluetooth, Ethernet, and dual-band Wi-Fi with 802.11ac support. The amps and preamps also have TosLink optical, S/PDIF coaxial, and USB inputs, allowing them to operate as external DACs.
Because I use active speakers in my living room, I opted to review the SC15 Prisma DAC-preamp-network streamer ($1795, all prices USD). However, everything I write here about the SC15 Prisma's capabilities as a streamer and DAC also applies to these Prisma models: the I15 integrated amplifier, and the versions of the PRE25 preamp and the I25 and I35 integrated amps that incorporate the Prisma streaming module.
Well connected
Measuring 13.8"W x 2.87"H x 12.95"D and weighing 14.11 pounds, the SC15 has a three-quarters-sized enclosure that makes it a little easier to fit into compact living spaces. It's beautifully built, with a case of black aluminum, and a thick cast-metal faceplate available in black and titanium finishes.

True to its Scandinavian roots, the SC15's front panel is minimalist in design. In the middle is a small OLED display. To its left are two pushbuttons: one for switching in and out of standby mode, the other for selecting among sources. To the right of the screen are up and down buttons, for adjusting volume and navigating menus.
On the left side of the rear panel are analog output and input jacks (RCA). The outputs can be configured in the SC15's setup menus for fixed or variable level. Next to the analog jacks are three TosLink digital inputs, one S/PDIF coaxial input, and a combined optical/3.5mm stereo analog input, all of which support PCM audio to 24-bit/192kHz. There are two USB ports. Intended for playback of music stored on an attached USB drive, the USB Type-A port accepts PCM audio up to 24/192, as well as DSD64 and 128. The USB Type-B port enables the SC15 to function as a USB DAC, with support for PCM up to 32/768, and DSD256 (11.2MHz) and lower. Completing the rear panel are an Ethernet port and Wi-Fi and Bluetooth antennas. With network streaming via Wi-Fi or Ethernet, the SC15 can handle PCM streams to 24/192, as well as DSD64 and 128.
All of this connectivity makes the SC15 a versatile piece of kit. You could connect the audio output of your TV to one of the SC15's TosLink inputs, and a game console to another. If you spin shiny discs, you could connect a player to the S/PDIF or a TosLink input. Primare's DD15 CD transport is an ideal match, as it shares the SC15's dimensions and styling. For serious solo listening, especially with high-resolution content, the best option is to connect a notebook computer to the SC15's USB Type-B input.
With smart devices playing ever-larger roles in people's musical lives, network playback makes the SC15 Prisma especially appealing. You can stream from Spotify on a smartphone or tablet, controlling volume from within the Spotify app. You can cast from any app that supports Chromecast, again controlling volume with the app. I did this with Qobuz and Tidal, using an LG G7 ThinQ Android phone running Android 8.1 Oreo, as well as an iPhone SE and iPad Mini -- it worked like a charm. You can use AirPlay to stream from iTunes or Apple Music (or from any app without casting capability) on an iOS device. Especially for hi-rez streaming from Qobuz on an iOS device, Chromecast is the better choice, because it supports resolutions up to 24/96; AirPlay maxes out at 16/48.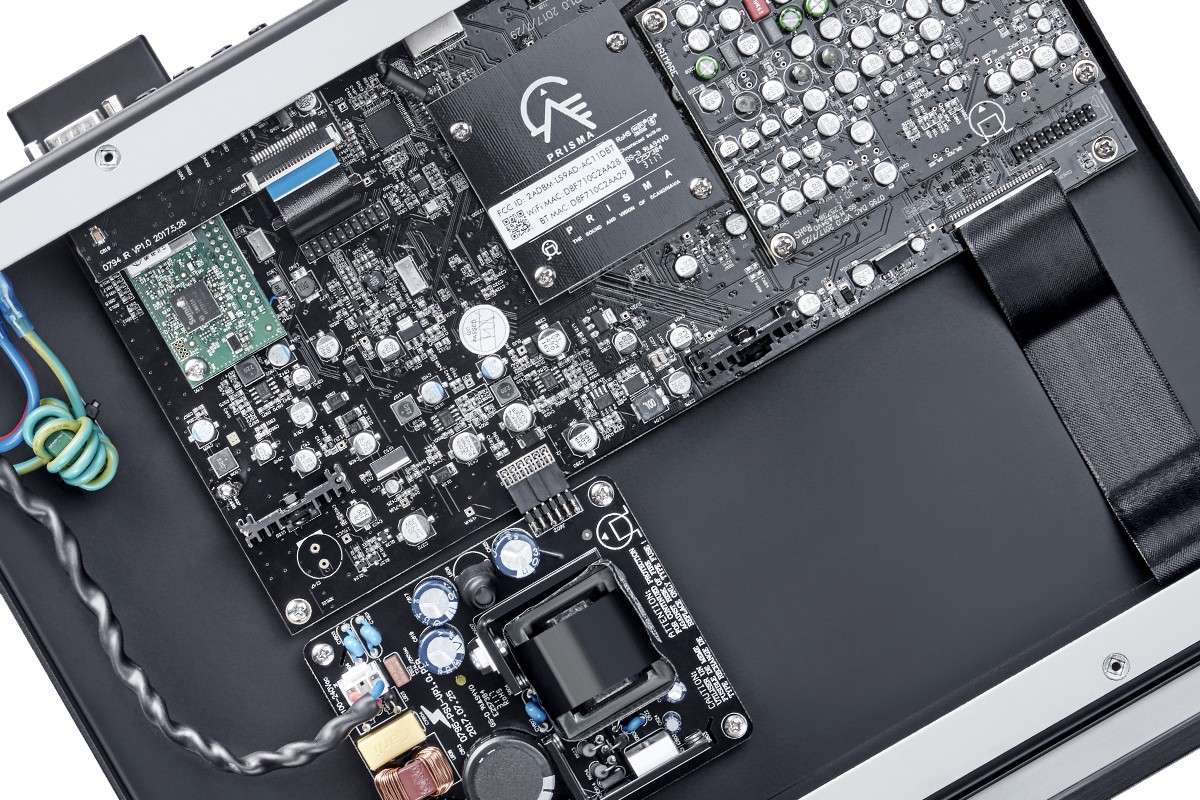 These capabilities can be a lot of fun when you're entertaining. Have your guests log on to your Wi-Fi network, and they can stream from their devices to the SC15 without having to go through Bluetooth pairing. Visitors can take turns playing their favorite songs from their music libraries and streaming services.
Users can select sources and adjust volume with the SC15's supplied remote control, or with the Prisma app (available for iOS and Android). When streaming via Chromecast, the remote and streaming app communicate, and you can adjust the volume from either. You use the app to select music, but you can also use the remote's arrow keys to skip tracks, forward or backward.
The SC15 isn't quite a Swiss-army-knife preamp -- it has no phono stage or headphone output -- but it's close. Although it's not Roon Ready, you can use the SC15 as a Roon endpoint, thanks to Roon's support for Chromecast and AirPlay. But, as noted, Chromecast maxes out at 24/96 and AirPlay at 16/48, so if you're using Roon's DSP capabilities to upsample, and/or you're playing DSD and very-hi-rez PCM content from Roon, there could be an impact on sound quality when playing to the SC15 from Roon. Moreover, the fact that the SC15 isn't Roon Ready means you can't group it with other Roon players for synchronized multi-zone playback.
Setup and software
For audio output, the SC15 offers several options. You can use its analog outputs and enable fixed output level, then connect it to the analog inputs of powered or active speakers, controlling volume from the speakers' remote control. You can select variable output and connect a power amp, or the analog inputs of a pair of powered or active speakers, and control volume from the SC15. You can use the S/PDIF output, and connect the SC15 to active speakers or an amplifier with S/PDIF input.
A future firmware update will enable the SC15 to wirelessly send audio to powered and active speakers that support the Wireless Speaker & Audio (WiSA) protocol. WiSA speakers are available from only a few manufacturers, including Bang & Olufsen, Harman/Kardon, and Klipsch. But the combination of the SC15 and a pair of WiSA speakers would make possible clean, clutter-free hi-fi in small, multipurpose spaces -- such as the living room of my Edwardian row house in Toronto.
I used two of these options, connecting the S/PDIF input of my Dynaudio Focus 200 XD active speakers (a firmware update has made them equivalent to the current Focus 20 XDs) to the SC15's S/PDIF coaxial output, using 2m- and 5m-long AudioQuest Carbon interconnects, and controlling volume with the speakers' remote. With a wired connection, the Dynaudios' maximum resolution is 24/192. To assess the SP15's DAC, I connected a pair of Elac Navis ARB-51 analog active speakers, which I recently reviewed for Simplifi, to the SC15's analog outputs using 2m and 5m AudioQuest Mackenzie interconnects, with variable output selected in the SC15's setup menus. Here, I used the SC15's remote to adjust volume.
When you turn on the SC15 for the first time, its screen displays a message asking whether you want to connect it to your network using Wi-Fi or an Ethernet cable. My router is on the second floor of my home, and I was using the SC15 in my main-floor living room, so I chose Wi-Fi. Per the manual, I downloaded the Google Home app (available for Android and iOS) to my LG G7 ThinQ. When I launched the app, it invited me to create a home, and then to give my home a nickname (I entered "BrockHouse"). The app found my Ecobee smart thermostat and light switch. I selected the Add option so I could connect the SC15, and in the next screen selected Set Up Device. Google Home then found the Primare SC15 and asked if I wanted to set it up. Of course! The app connected to the SC15, then asked me to specify the room where it was installed and confirm my network name. After I'd told Google Home to send my network password to the SC15, the preamp was online.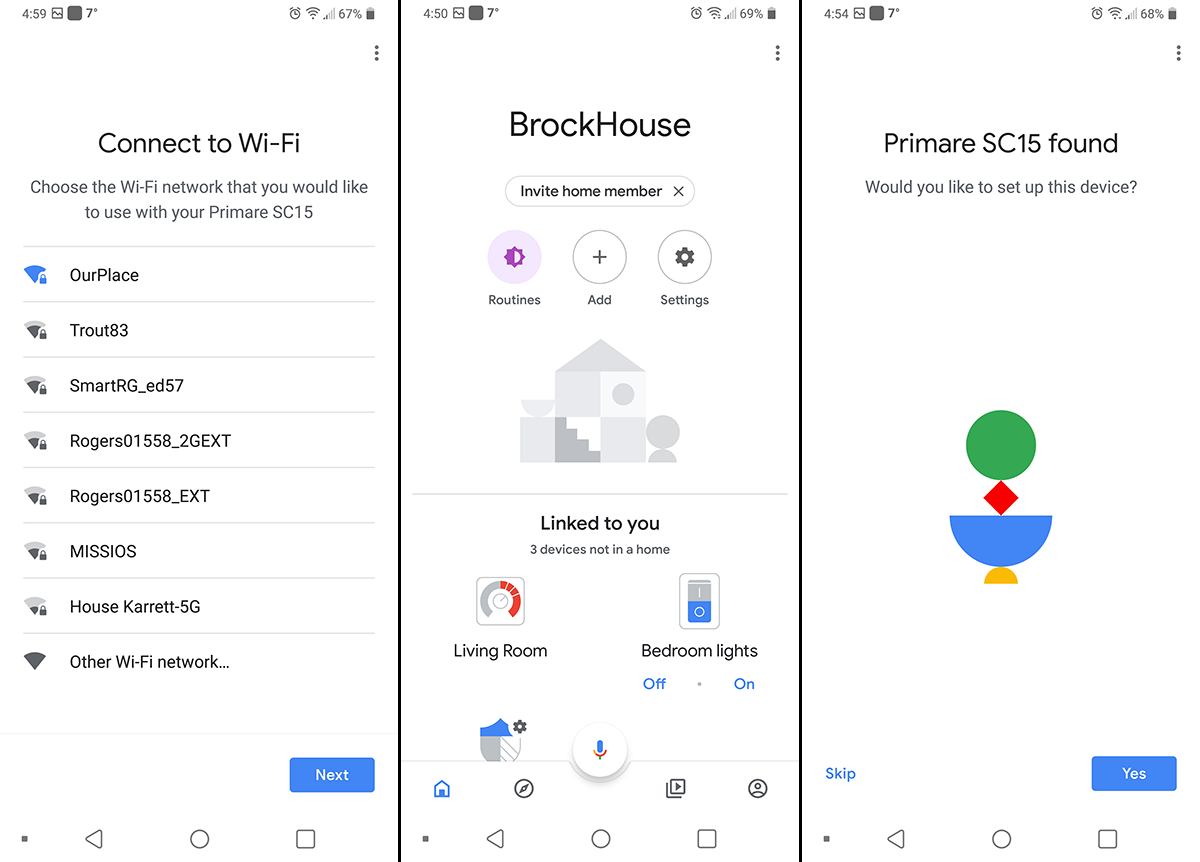 The SC15's manual skims over this process, but the sequence is logical, and well explained by the Google Home app -- I doubt many will be stumped by it. Not only does Google Home connect the SC15 to your network, it enables Cast capability. At the end of the setup process, Google Home offers a tutorial on how to cast audio from apps such as TuneIn and Google Play Music.
It's also worth downloading the Primare app, with which it's far easier to configure the SC15's setup menus than to use the front-panel buttons and display. This is particularly true for functions such as specifying an alias for connected components (TV instead of D1, for example). For daily use, the Primare app serves as a hub for cuing up music from connected sources and streaming services.
Tap Tidal or Qobuz (which the Primare app misspells Qobus), and the app for that service opens on your device. You can also go to those streaming apps directly rather than through the Primare app. In the lower-left corner of the Now Playing screens of the Tidal and Qobuz apps is a little Cast icon -- tap it to bring up a screen on which you can select the device you want to use to play music. The Primare app will also let you send to the SC15 music stored on your Android device.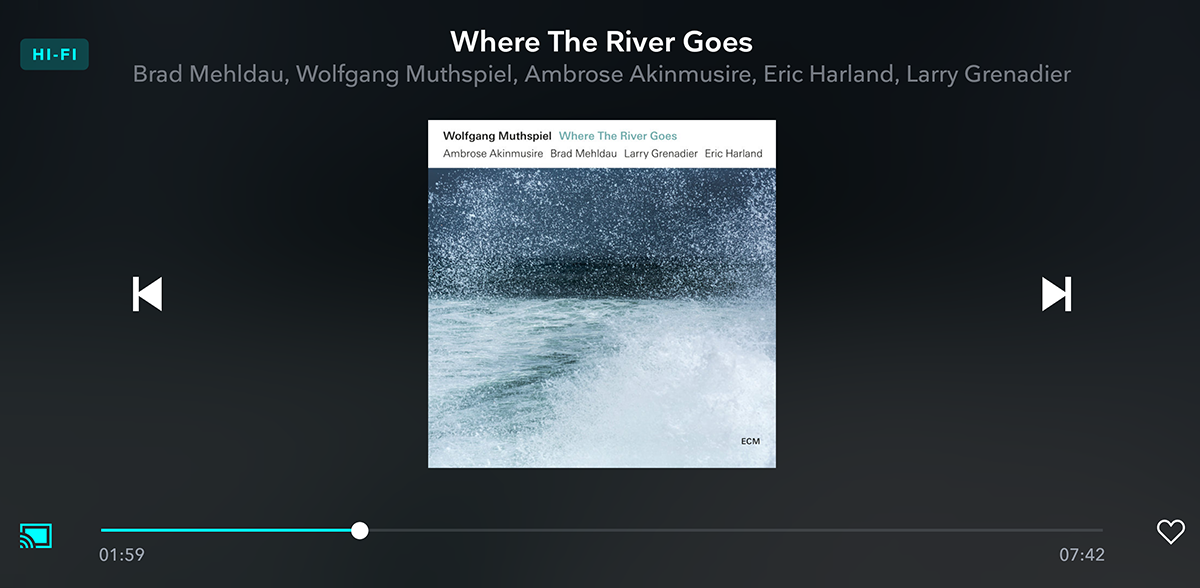 Streaming music from my LG G7 ThinQ to the SC15, I ran into no hitches at all. The function also worked perfectly with Tidal, Qobuz, and music stored on my phone. I was also able to cast music from the Tidal and Qobuz apps on my iPhone SE and iPad Mini. However, to stream music from the iTunes app on an iOS device, you have to use AirPlay.
I used only one hardwired source: an early 2015 Apple MacBook Pro running Audirvana Plus 3.2.16 and Roon 1.6, which I connected to the SC15's USB Type-B input using a 1.5m AudioQuest Pearl USB link. In both Audirvana and Roon, I enabled maximum power-of-two upsampling.
I also loaded several albums onto a FAT32-formatted thumb drive and plugged it into the SC15's USB Type-A input, controlling playback from the Primare app. The app displayed albums by folder name, in a seemingly random sequence. Tracks were out of sequence as well. I can't figure out the logic the app uses to determine track order -- they were listed neither alphabetically nor by track number. This won't be a problem if you're using a Prisma component for only network streaming and/or hardwired sources, but it could be a very big deal if you want to attach a drive full of ripped and downloaded music, and control playback from the app.
I ran into one other glitch. Occasionally, after streaming music to the SC15 via Chromecast or AirPlay, if I switched to the PC/Mac input to play music from my MacBook Pro, the software would show that music was playing, but the SC15 produced no sound. I couldn't identify any sequence that caused this problem, which each time was rectified by a hard shutoff and restart of the SC15.
Other than these two problems, the SC15 worked fine. Primare says that hundreds of SC15s are already in use, over a dozen reviews of the model have been published, and that neither Primare nor those reviewers have encountered either issue in the field. Although Primare was unable to duplicate the problems I experienced, they say they're trying to explore them to ensure that they don't affect other users. Moreover, they told me, they're updating the control function for the Prisma's interface, so that it operates as robustly as the Prisma's NAS (network-attached storage) interface.
Comparative listening
I usually find it impossible to describe the sound of a digital source component in isolation -- it's much easier to make these assessments in comparison to another component.
Recently, I bought a Bluesound Node 2i streaming preamp ($499) to use as the main source for my living-room music system. I stream from Qobuz and Tidal direct to the Node 2i using the BluOS app. I also use the Node 2i as a Roon endpoint, playing music from a library stored on a LaCie 2Big Thunderbolt RAID system connected to a mid-2011 Apple Mac Mini running Roon Core. It seemed natural to compare the Primare SC15 with the Bluesound Node 2i.
Products like the SC15 invite other kinds of comparisons. Does music streamed via Chromecast or AirPlay sound as good as music played from a computer connected to a USB input? Especially with hi-rez content, do Chromecast and AirPlay sound different? There are dozens of such permutations, and I spent many days exploring them.
I began by streaming Never Stop II, the most recent album by the jazz power trio The Bad Plus (16-bit/44.1kHz WAV, Legbreaker), via Roon to the two streamers, whose S/PDIF outputs were connected to my Dynaudio active speakers. In track 1, "Hurricane Birds," drummer Dave King's rim shots and snare rolls had a little more snap played from the Primare SC15, and cymbals a little more delicacy. Orrin Evans's piano attacks were just a tad faster.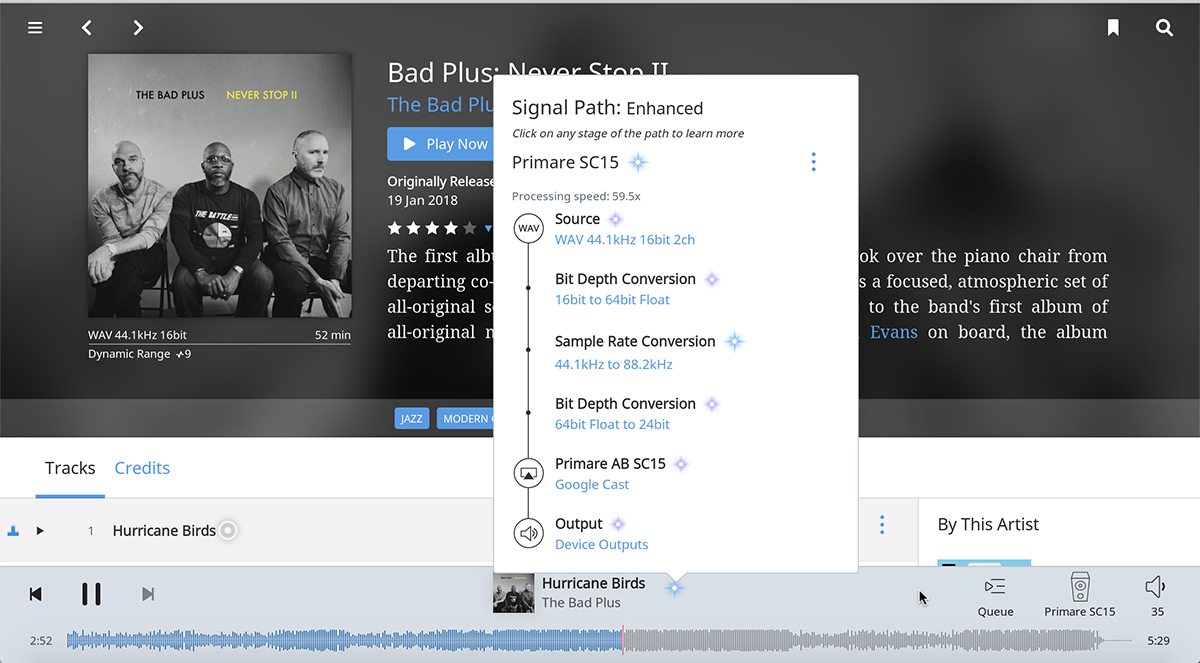 As noted, Roon streams to the SC15 via Chromecast. I've set Roon's DSP function to maximum power-of-two upsampling, which means Roon would upsample Never Stop II to 24/88.2 when playing through the SC15, and to 24/176.4 when playing through the Node 2i.
Next, I played the same album through my MacBook Pro, which I connected to the SC15's USB Type-B port. With this configuration, Roon upsampled Never Stop II to 24/705.6. I found the sound less glary than the 24/88.2 Chromecast feed from Roon. It had greater clarity and impact, but also greater refinement. I don't want to make too big a deal of this -- streaming from a computer connected to the SC15's USB input sounded better than streaming via Chromecast, but if that connection weren't convenient in terms of system layout, I wouldn't bother with it.
Switching to the Elac ARB-51s, I played the Cowboy Junkies' cover of Lou Reed's "Sweet Jane," from The Trinity Session (16/44.1 ALAC, RCA), from thumb drives attached to the SC15 and Node 2i. The SC15's sound was slightly more revealing, the Node 2i's a bit warmer and rounder. Through the SC15, I was more aware of Margo Timmins's expressive vocal modulations, Michael Timmins's muted attacks on strummed electric-guitar chords, and the echoic acoustic of Toronto's Church of the Holy Trinity, where this iconic album was recorded on November 27, 1987.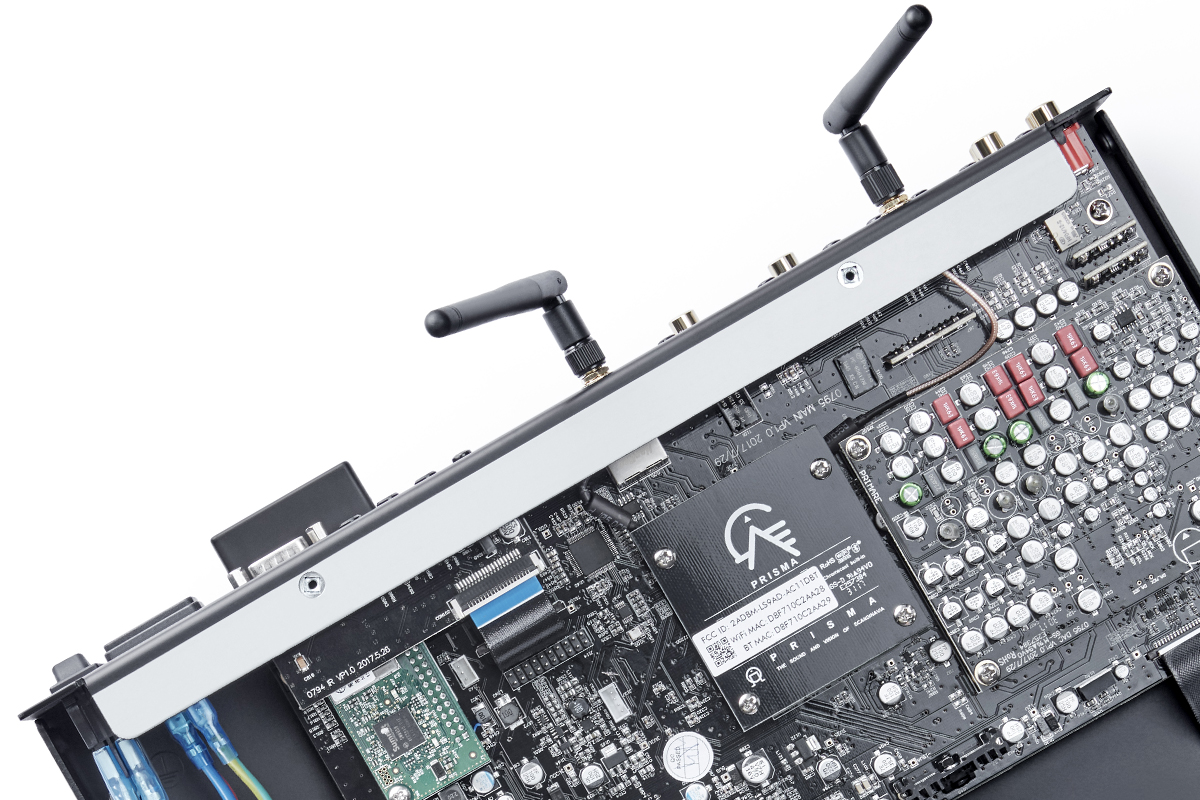 My experience was similar with a wonderful album of music by Philip Glass performed by harpist Lavinia Meijer (24/192 FLAC, Channel Classics), also played from thumb drives attached to the two players. Meijer plays "The Poet Acts," from Glass's score for The Hours, mainly on her instrument's lower strings. This music had more body and resonance when played from the Bluesound. "An Unwelcome Friend," scored mainly for the upper strings, had greater clarity and presence when played from the Primare. But with both the Glass and Junkies albums, these differences were so subtle as to be hardly worth worrying about.
Streamed from Roon to the MacBook Pro and SC15, a performance of "Fever" by Ray Charles and Natalie Cole, from Charles's Genius Loves Company (DSD64 rip from SACD, Concord), sounded a little livelier than when played through the Bluesound Node 2i. For the Node 2i, Roon downsampled the DSD file to 24/176.4, but streamed native DSD64 to the MacBook. Every element in the mix stood out more distinctly through the SC15, and rim shots and electric-guitar chords were snappier -- again, definitely not a huge difference, but noticeable.
Wanting to hear how the SC15 sounded streaming from a smartphone, I cued up some hi-rez music in the Qobuz app on my LG G7 ThinQ: a new album of concertos by J.S. Bach transcribed by organist Bart Jacobs for organ and strings, and performed by Jacobs and the Belgian early-music ensemble Les Muffatti (24/88.2 FLAC, Ramée). String tone was a bit steelier when streaming from the phone, compared to streaming from Roon via Chromecast. Playing this music through Roon, I was more aware of microdynamics in the bowing of the violins carrying the main themes of these works. The acoustic of the Belgian church where the album was recorded was portrayed more convincingly via Roon.
Next, I set Roon to stream to the MacBook Pro, which was connected to the SC15's USB Type-B port. The sound became livelier, more dynamic, more incisive. Orchestral textures were clearer, compared to streaming from Roon via Chromecast.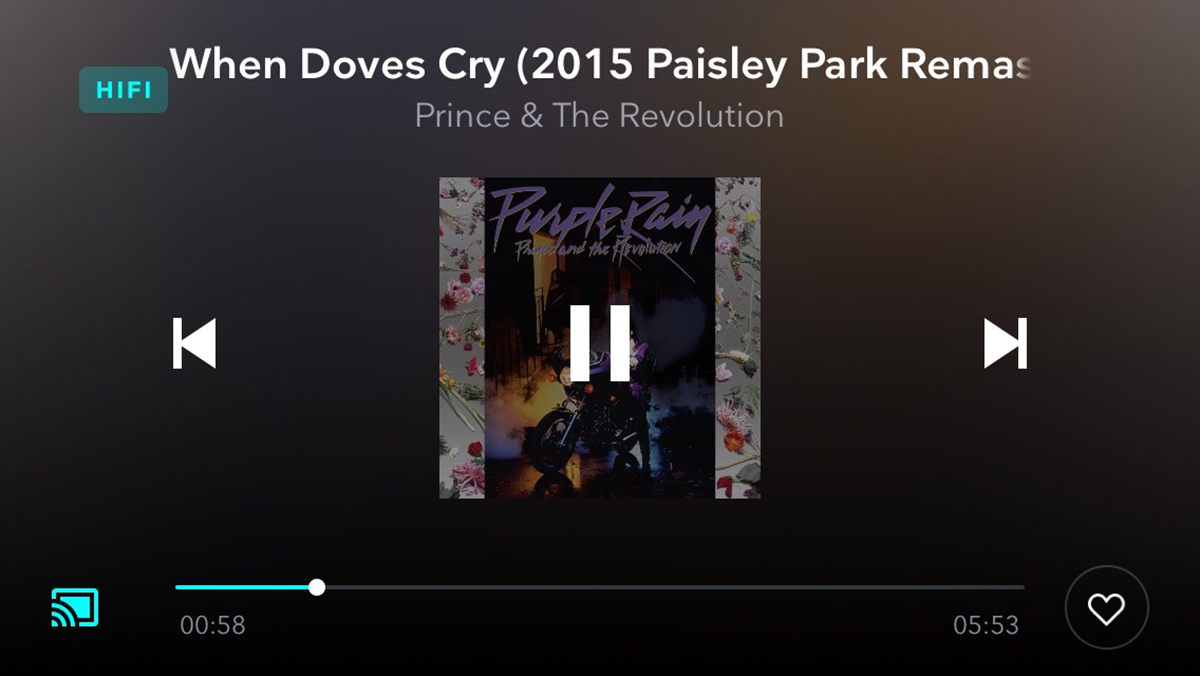 To compare AirPlay and Chromecast playback, I cued up from Tidal "When Doves Cry," from the expanded, Deluxe edition of Prince's Purple Rain (24/192 MQA, Warner Bros.). Tidal's iOS and Android apps now do the first unfolding of MQA files, but don't appear to do this when casting to another device. That meant the iPhone was sending CD-resolution audio to the SC15 Prisma via Chromecast and AirPlay. Surprisingly, the AirPlay feed sounded noticeably harder. But streaming the same song from Roon to the MacBook Pro, and from there to the SC15 via USB, made a greater improvement. With this configuration, Roon did the first unfolding of Tidal's MQA stream. Elements in this dense mix were better differentiated. Percussion was more articulate and impactful, and at the same time less harsh. These differences were audible with both an analog connection to the Elac ARB-51s and a digital connection to the Dynaudio Focus 200 XDs.
While it was interesting to hear these differences, it's important to keep them in perspective. The SC15 delivered wonderful listening experiences when streaming from a smartphone. But playing from a good music player on a PC or Mac connected to its USB Type-B port noticeably improved the sound quality.
Conclusion
The audible differences between Primare's SC15 Prisma ($1795) and the Bluesound Node 2i ($499) aren't nearly as great as the $1296 difference in price might suggest -- but there are major differences in features and connectivity. The SC15 has many more inputs, so you can connect several components -- the Node 2i has only a 3.5mm combined optical/analog input. Both products can serve as Roon endpoints, but the Node 2i is Roon Ready, allowing for full hi-rez support and multi-zone playback. The Node 2i supports AirPlay 2 and Bluetooth aptX HD, while the SC15 has only basic AirPlay and Bluetooth support. But the Primare streamer has Chromecast Built-in -- the Bluesound doesn't. For streaming from a mobile device, Chromecast has advantages over AirPlay, especially with hi-rez content.
The Node 2i wins on software: Lenbrook's BluOS software is far more functional and polished than the Primare app. But the SC15 Prisma wins on build quality. One irritation I have with the Node 2i (and Bluesound's Vault 2i) is that its RCA jacks don't hold heavy interconnects and digital coax cables very securely. I often have to fiddle with my AudioQuest interconnects to get a connection with my active speakers, and occasionally the wires still fall out of place.
Primare's SC15 Prisma streaming preamplifier is a beautifully built, fine-sounding component that can accommodate a plethora of digital sources as well as high-quality streaming from mobile devices, and its small footprint makes it very attractive for use in multi-purpose living spaces. But its software, while functional, could use a little polishing. Based on my exchanges with Primare, it's clear that the company is already on that job.
. . . Gordon Brockhouse
This email address is being protected from spambots. You need JavaScript enabled to view it.
Associated Equipment
Speakers -- Dynaudio Focus 200 XD, Elac Navis ARB-51
Sources -- Apple iPhone SE, LG G7 ThinQ smartphones; Apple iPad Mini, Apple Mac Mini computer running Roon Core 1.6, Apple MacBook Pro computer running Roon 1.6 and Audirvana Plus 3.2.16
Cables -- AudioQuest: 2m and 5m Carbon coaxial digital coax, 2m and 5m Mackenzie RCA interconnects, 1.5m Pearl USB link
Network -- Google Wifi three-node Wi-Fi network
Primare SC15 Prisma Streaming DAC-Preamp
Price: $1795 USD.
Warranty: Three years parts and labor.
Primare AB
Limstensgatan 7
SE-216 16 Limhamn
Sweden
Website: www.primare.net