Pro-Ject Audio Systems' Juke Box E shows how stereo systems ain't what they used to be. That statement is not a lament for an imagined better past, but an observation of what kinds of systems today's listeners want and need. The Juke Box E ($499 USD) caters not to the traditional audiophile, but to a new generation with different listening habits. It combines a turntable, phono stage, integrated amplifier, and Bluetooth receiver, all in a package no larger than a typical budget turntable. All you add is speakers.
Few audiophiles would want all these functions built into a single component -- but someone like my sister-in-law would. She bought her first new stereo in decades because she wanted to get back into vinyl. When I asked what other sources she'd be using, she mentioned only her phone. She ended up with an Audio-Technica AT-LP60BK-BT turntable, connected via Bluetooth to a pair of Samson BT4 powered speakers and, at my insistence, an Amazon Echo Dot. She loves her new system -- and if she'd move those speakers more than 2' apart, it would sound pretty decent for its total cost of less than $300.
A close look is needed to distinguish the Juke Box E from some of Pro-Ject's budget turntables. It appears to combine the plinth, motor, and platter of Pro-Ject's Essential III turntable with the tonearm of their Elemental 'table. That arm accommodates standard cartridges, but the only adjustment offered is vertical tracking force (VTF) -- the vertical tracking angle (VTA), azimuth, and antiskate settings are fixed. The Juke Box E comes fitted with and preconfigured for an Ortofon OM 5E moving-magnet cartridge ($70 if purchased separately).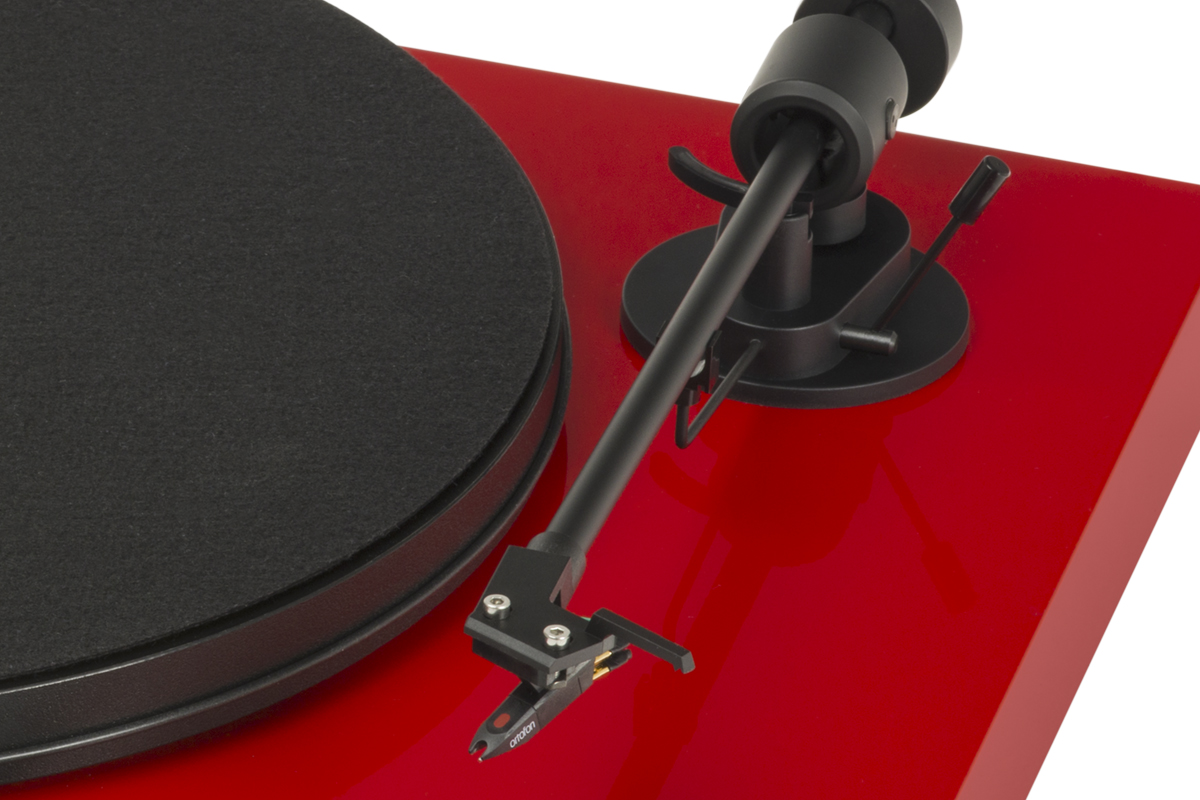 All functions of the Juke Box E can be controlled through a knob/pushbutton up front, an alphanumeric display atop the plinth, and switches on the bottom of the plinth for master power and turntable motor on/off. It also includes a remote control with buttons for Power, Mute Volume, Bass ±, Treble ±, and Loudness.
If need be, the Juke Box E can fit into a system of separates. It has line outputs for connecting an external amp; RCA line inputs for connecting a DAC, CD player, radio tuner, or TV; and RCA phono outputs (with ground screw) for use with a separate phono stage, preamp, or integrated amp.
In the box
There's a lot packed into the Juke Box E's box: the unit itself, a plastic dustcover, a lump-in-the-line AC power supply, a Bluetooth antenna, a nice set of phono cables with a ground cable, a 45rpm spindle adapter, a VTF gauge with a setup protractor that lets you fine-tune the cartridge position (if you ever buy a new one), and a manual that includes another protractor printed on thick, glossy paper.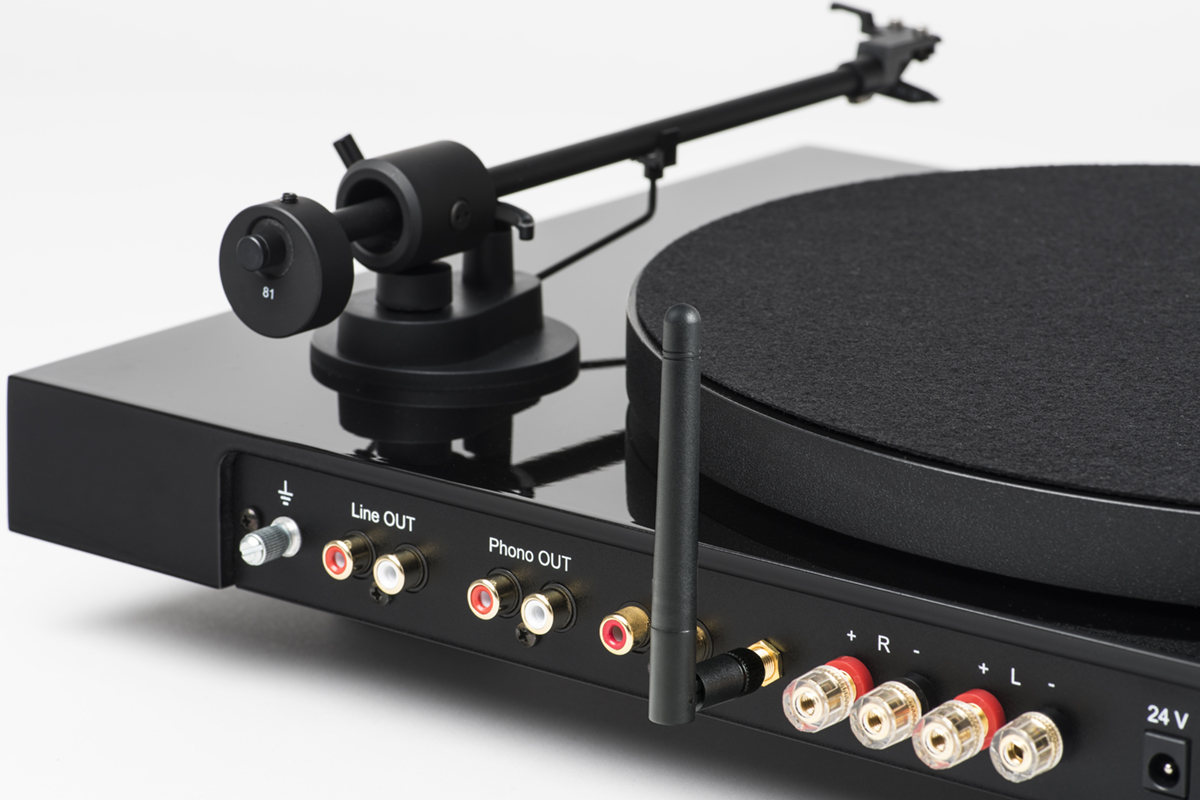 Use
The only setup required for the Juke Box E's turntable section is installing the drive belt, which you simply wrap around the platter and the motor spindle (it has pulleys for 331⁄3 and 45rpm), and removing the cartridge's stylus cover. I measured the factory-set VTF at 1.8gm -- just right for the Ortofon OM 5E.
Bluetooth pairing is simple. The Bluetooth antenna threads onto a connector on the back of the Juke Box E, and provided enough Bluetooth range that I could walk all around a typical suburban ranch house with my phone in my pocket and experience few, if any, signal dropouts. The Juke Box E supports only the standard SBC Bluetooth codec, not the optional aptX or AAC codecs, but in my view that matters far less than most people think. (If you're curious about why, check out my online Bluetooth blind test.)
The tiny binding posts accept banana plugs, bare wire (of relatively thin gauge), metal pins, or small spade lugs.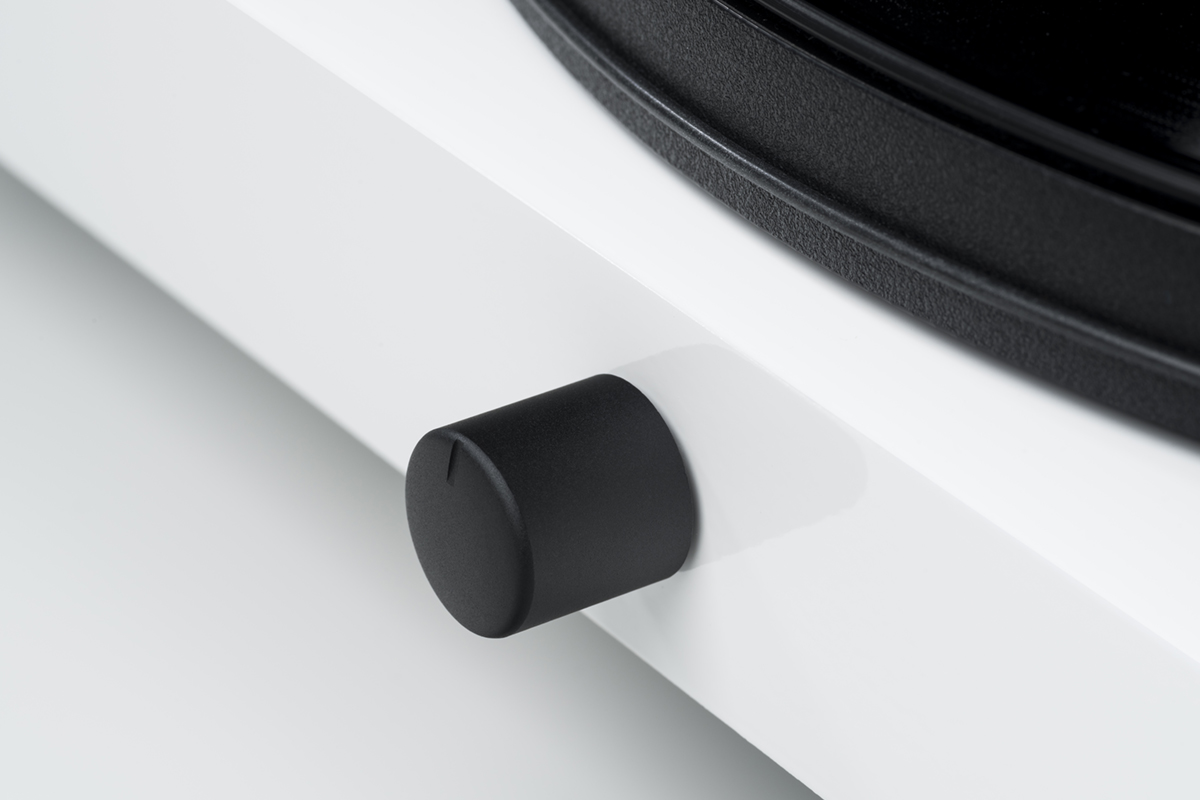 The single knob/pushbutton on the front isn't particularly intuitive, but I got used to it pretty quickly. A long push turns the Juke Box E on or off. Shorter pushes select among the Bluetooth, turntable, and line inputs, and turning the knob raises or lowers the volume. The Bass, Treble, and Loudness controls appear only on the remote, but the display atop the plinth shows the settings.
Bass and treble can be adjusted through a range of ±14dB in 2dB increments. That's a huge range of adjustment -- way more than is needed to compensate for lousy recordings and tonal-balance flaws in your speakers -- but 2dB increments aren't precise enough for fine-tuning. I'd much prefer controls with a range of ±7dB in 1dB increments, especially considering that I did find myself using the tone controls -- a feature sometimes needed to deal with the gain/power issues I detail below.
I used the Juke Box E with a variety of speakers. For serious listening, I used my Revel Performa3 F206 tower speakers. For more casual yet still revealing listening I used a pair of Parts Express Overnight Sensations, a great-sounding bookshelf speaker available only in kit form. To get the system cranking louder, I also used a pair of Klipsch CP-6 indoor/outdoor speakers with a specified sensitivity of 94dB/W/m.
The pushbutton action on the single front control was a little unpredictable. It was hard to get a feel for just how long I had to press that button to change sources, vs. turning the Juke Box E off -- I sometimes did one when I meant to do the other. That said, I found overall that having just a single component to control -- and, really, just a single control on that component -- a wonderful and refreshing change of pace from today's complicated stereo systems. It made me want to listen to music through the Juke Box E more often. I have to think such simplicity will make owning a turntable much less daunting for non-audiophiles.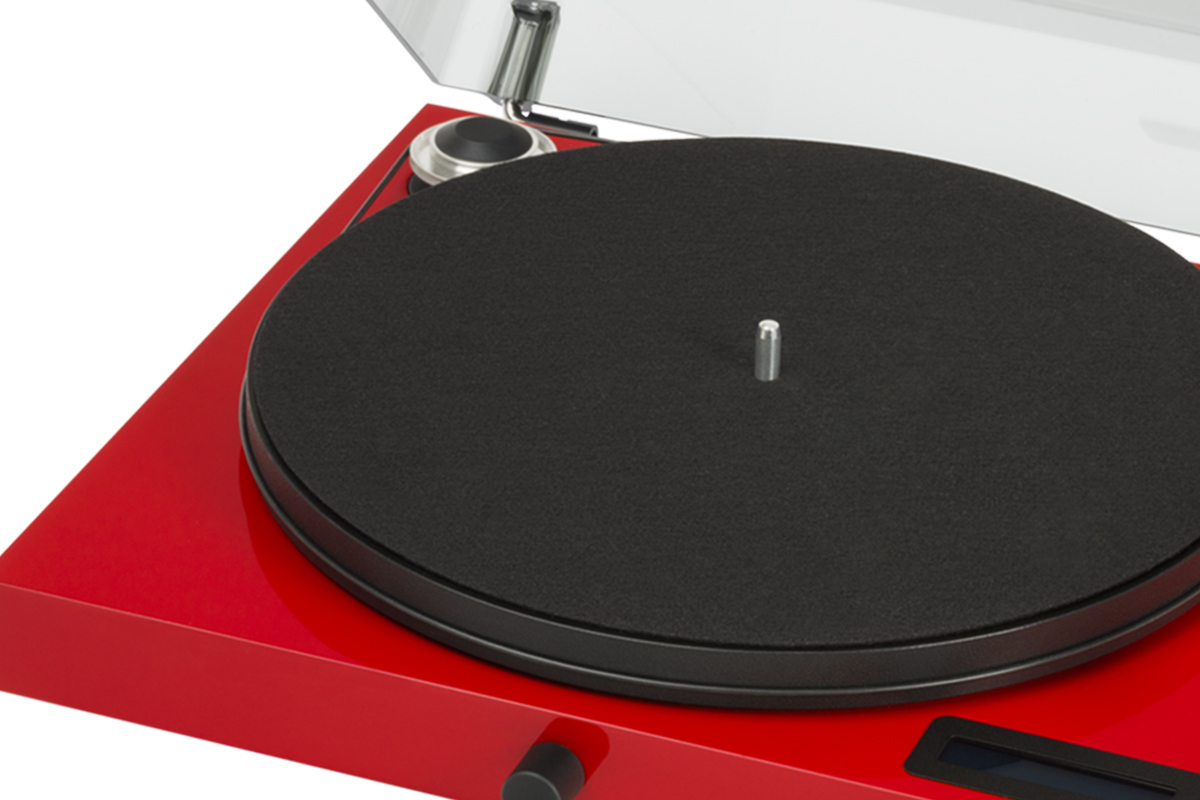 Sound
Connect the Juke Box E to a decent set of speakers; put on a well-recorded, well-mastered record, such as jazz bassist Ben Allison's Layers of the City (LP, Sonic Camera); and you'll be rewarded with surprisingly satisfying sound. Yep, it sounds like vinyl, but like the other Pro-Ject budget 'tables I've tried, the Juke Box E delivered the sound in a tonally neutral fashion with no troublesome colorations. I was surprised at how much I enjoyed the sound. At moderate volume levels, it wasn't a huge departure from what I hear from my usual rig of Music Hall Ikura turntable, Parasound Halo P 5 preamp, and Outlaw Model 2200 monoblocks -- roughly $3000 worth of gear.
In fact, with the Juke Box E playing Layers of the City through the Revel F206es at a moderate level that averaged about 79dB, I wondered, What more could you really want? I spent the better part of a morning playing this record over and over again because the sound reminded me so much of hearing Allison's group in Los Angeles's bluewhale jazz club, which holds about 100 people. The sound of Frank Kimbrough's piano was focused, yet reverberant on a small scale. Jeremy Pelt's trumpet sounded intimate and close, maybe 10' or 12' away. Steve Cardenas's effects-heavy electric guitar sounded, well, out of this world. Most important to this bassist, the tonal balance on Allison's double bass was flat, with a full yet detailed sound but no notes booming out and none deemphasized. It sounded just the way a miked double bass should sound, and actually better than his live sound -- at gigs, Allison uses a piezoelectric pickup with an amp.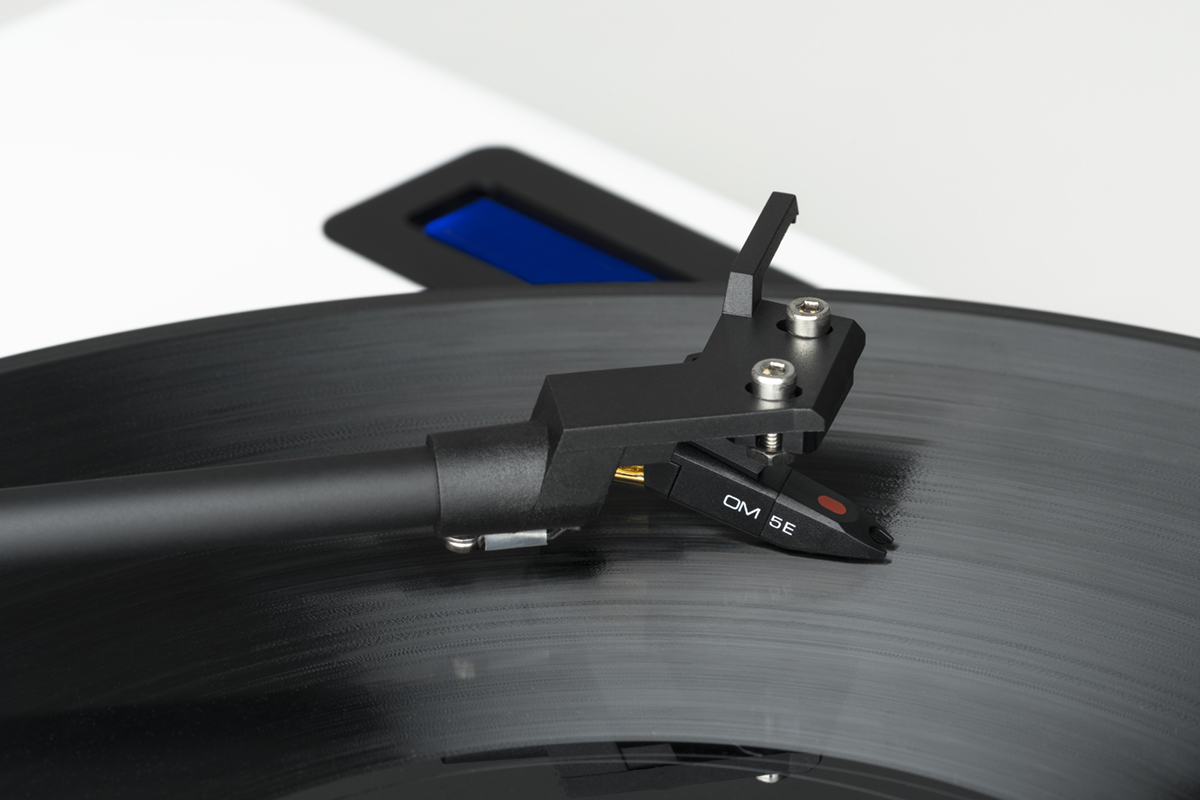 Bob Dylan's Bringing It All Back Home (LP, Columbia) isn't a great-sounding recording, but the Juke Box E was able to reproduce Dylan's voice -- obviously the element the recording engineers considered most important -- clearly and without any readily identifiable coloration. Given how fussy vinyl can be, and that I was hearing more or less the equivalent of a $250 turntable with a $250 integrated amp, I was pleasantly surprised at how clean and natural Dylan's voice sounded; through many systems, his voice turns (even more) annoyingly reedy and thin.
Guitarist Kazumi Watanabe's 1980s tech-fusion rave-up Mobo Club (LP, Gramavision) showed that the Juke Box E's little internal amp could kick out some jams when conditions were right. Like many fusion guitar-player records of that era, from artists such as Steve Khan and Mike Stern, Mobo Club is heavy on big kick drum and funky bass, and thus presents substantial dynamic demands. Yet even through the relatively large and only medium-sensitivity Revel F206es (specified as 88dB, but measured at 86dB by SoundStage!), the Juke Box E delivered plenty of oomph from Mobo Club's muscular rhythm section.
Pro-Ject capped the output of the Juke Box E's internal amp so that (to my ears, at least) it just barely starts to distort when fully cranked with recordings that have a high average signal level. The Juke Box E's internal class-D power amp is specified as putting out 50Wpc into 4 ohms, but I'd guess it's more like 30-35Wpc into 8 ohms. It was no powerhouse, and because it's not allowed to distort, the system's maximum volume may be inadequate with recordings mastered at a low average volume level.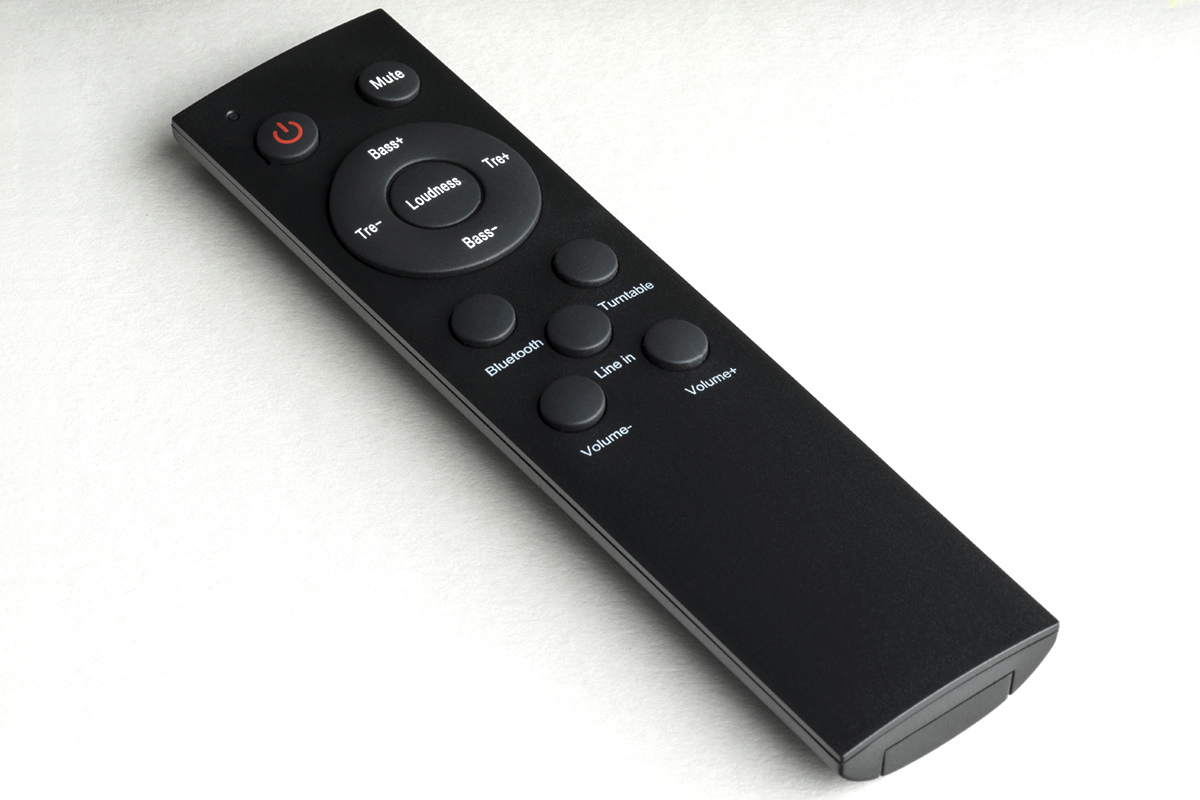 For example, when I played the original version of "Harborcoat," from R.E.M.'s Reckoning (320kbps Ogg Vorbis, A&M/Spotify), from my Samsung Galaxy S9 phone via Bluetooth, the average level with the Revel F206es and the Juke Box E turned all the way up was only about 75dB during the verses. That's loud enough for light listening, but I really wanted at least 3dB more volume. Fortunately, when I played this song from the remastered Deluxe Edition of Reckoning, the Juke Box E gave me about 10dB more volume without distortion.
Bluetooth speakers often have this same problem -- obviously, it's desirable to cap the max level just at the point where the speaker starts to distort slightly with signals that are close to 0dB full-scale -- but that means that recordings with a low average signal level may not play at a satisfying level. For this reason, I recommend pairing the Juke Box E with fairly sensitive speakers. The Klipsch CP-6 indoor/outdoor speakers I had on hand have a sensitivity spec of 94dB. While the results weren't great -- the CP-6es sound rather harsh compared with the other speakers I used, forcing me to turn the Juke Box E's treble down 2dB -- the sound was always loud enough, with ample bass.
The bass was another problem. Normally, it was quite good for such a low-powered device, but because of the limitations of the Juke Box E's amp and/or the way its gain structure and limiter are configured, the Pro-Ject could sound a bit feeble with some music, and its bass control might not be able to fix it. For example, Sam Jones's double bass on Cannonball Adderley's Somethin' Else (LP, Blue Note) sounded a little thin through the Revel F206es, and thin just wasn't Jones's sound. Bumping up the bass 2dB on the Juke Box E helped some, but not enough, and turning it up higher than that basically did nothing -- apparently, the amp was already running at max and couldn't boost anymore. When I switched to the Parts Express Overnight Sensations, which have small but competent 4" woofers, the sound didn't seem as thin: The Juke Box E's amp was able to get the much smaller woofers moving more easily than it could control the two 6.5" woofers on each F206.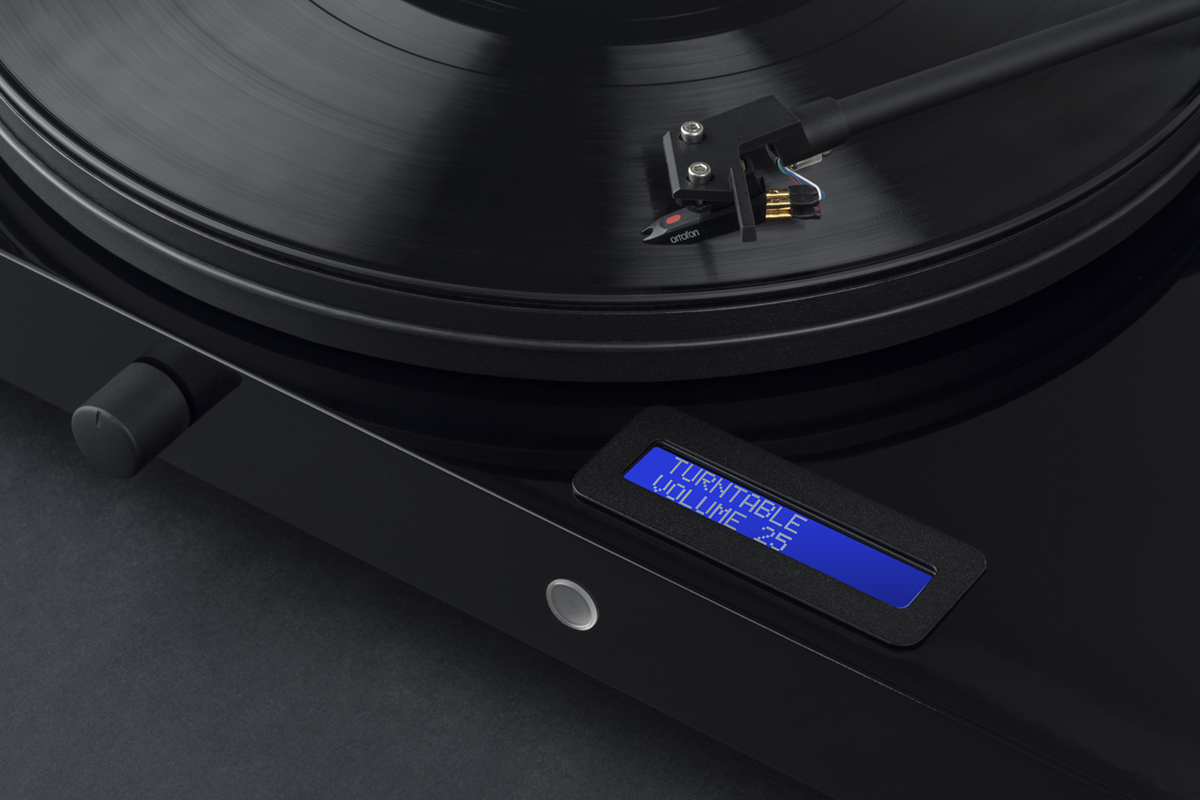 I recommend using the Juke Box E with speakers of at least 90dB claimed sensitivity, and to use bookshelf speakers with woofers no bigger than 5.25" or 6.5", or a relatively small tower speaker with a single 6.5" or two 5.25" woofers. That should give you a well-rounded, satisfying sound that's almost always loud enough. Bigger speakers such as the Revel Performa3 F206 are a riskier choice -- they'll likely have been voiced on the assumption of being paired with amps powerful enough that the woofers can keep up with the tweeters, so to speak. Of course, if you want more power with the same convenience, the Juke Box E's line output lets you connect a bigger amp.
Comparison
I'm aware of no direct competitors for the Juke Box E; in my view, its real competition is a standalone budget turntable with an affordable stereo receiver. Fortunately, I happened to have both on hand: a roughly 23-year-old Pro-Ject 1.2 turntable fitted with an Ortofon OM 5E cartridge, and an Onkyo TX-8020 stereo receiver ($199) with a built-in phono preamp and a class-AB power-amp section specified at 50Wpc into 8 ohms. Considering that the Pro-Ject 1.2 is more or less the equivalent of Pro-Ject's current Essential III ($299), the two systems cost about the same. (To better match the systems' capabilities, you could easily add a cheap Bluetooth adapter to the Onkyo, or a cheap headphone amp to the Juke Box E.)
With the Revel Performa3 F206es connected, I was able to get the levels of the two systems matched to about ±0.3dB, the closest permitted by the steps of the volume controls of the Juke Box E and TX-8020. Tonally, the two systems sounded similar: the Juke Box E was a little more lively and detailed, the TX-8020 slightly softer. Partly because of that tonal balance, and partly because of the Onkyo's more capable amplifier, the sound of the separates system was fuller and more powerful. But tonally, I slightly preferred the Juke Box E at moderate levels.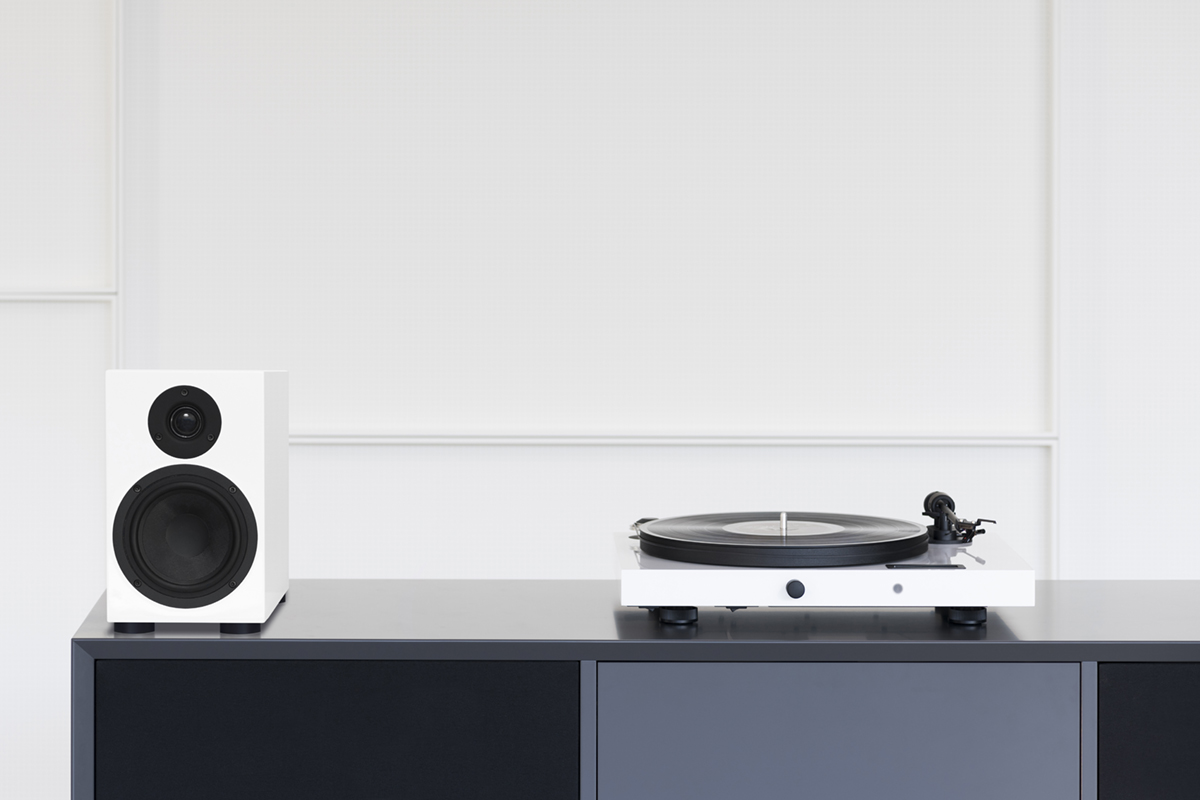 Bottom line: If you want to crank your system up and maybe connect a couple more sources -- and get an AM/FM tuner and a headphone jack in the bargain -- you should get an affordable stereo receiver and a budget turntable from, say, Pro-Ject, Audio-Technica, Rega Research, or Music Hall. But if you don't need to play music real loud and are willing to put a little care into your choice of speakers, you'll get little or no sonic penalty by opting for a Juke Box E.
Conclusion
Pro-Ject's Juke Box E has one big limitation: the power output of its internal amplifier. But that problem can be largely fixed with careful choice of speakers, or the addition of a more powerful outboard amp. Otherwise, it was a delight to listen to and use, and a wonderful way to get a real stereo system into spaces where piles of gear and yards of cables aren't welcome.
. . . Brent Butterworth
This email address is being protected from spambots. You need JavaScript enabled to view it.
Associated Equipment
Speakers -- Klipsch CP-6, Parts Express Overnight Sensations, Revel Performa3 F206
Smartphone -- Samsung Galaxy S9
Pro-Ject Audio Systems Juke Box E Turntable-Integrated Amplifier
Price: $499 USD.
Warranty: Two years repair or replacement.
Pro-Ject Audio Systems
Margaretenstrasse 98
A-1050 Vienna
Austria
E-mail: This email address is being protected from spambots. You need JavaScript enabled to view it.
Website: www.project-audio.com
Pro-Ject USA
c/o Sumiko Audio
2431 Fifth Street
Berkeley, CA 94710
Phone: (501) 843-4500
Website: www.pro-jectusa.com