German audio manufacturer Elac has attracted plenty of attention in the last few years, much of it due to new speaker lines designed by Andrew Jones, an audio engineer who's developed models for companies ranging from KEF to Pioneer. But making speakers isn't all that Elac is up to. The company recently introduced a range of electronics, including an integrated amplifier and a music server, and has even rolled out a high-end turntable. Now, with the Discovery Z3, Elac turns its attention to Wi-Fi speakers.
The Discovery Z3 ($499.98 USD) connects wirelessly with Elac's own Discovery music server, and can also stream music via Apple AirPlay, Bluetooth, and Spotify Connect. But what makes the Z3 stand out from most other Wi-Fi speakers is its ability to act as a 24-bit/192kHz-capable endpoint for users of the Roon music-library and management software. (Only one other maker of Wi-Fi speakers, Bluesound, offers this.) To use Roon with the Z3 you'll either need to have the Elac Discovery Server and its Roon Essentials app, or subscribe to Roon ($119/year or $499/lifetime).
Measuring 11"W x 5"H x 7.5"D, the Z3 is more compact than other stereo Wi-Fi speakers I've reviewed. Its array of front-facing drivers consists of pairs of 1" soft-dome tweeters and 4" Aramid-fiber woofers; on the back are two 4" passive radiators. Four discrete amplifiers deliver 20W to each tweeter and 50W to each woofer.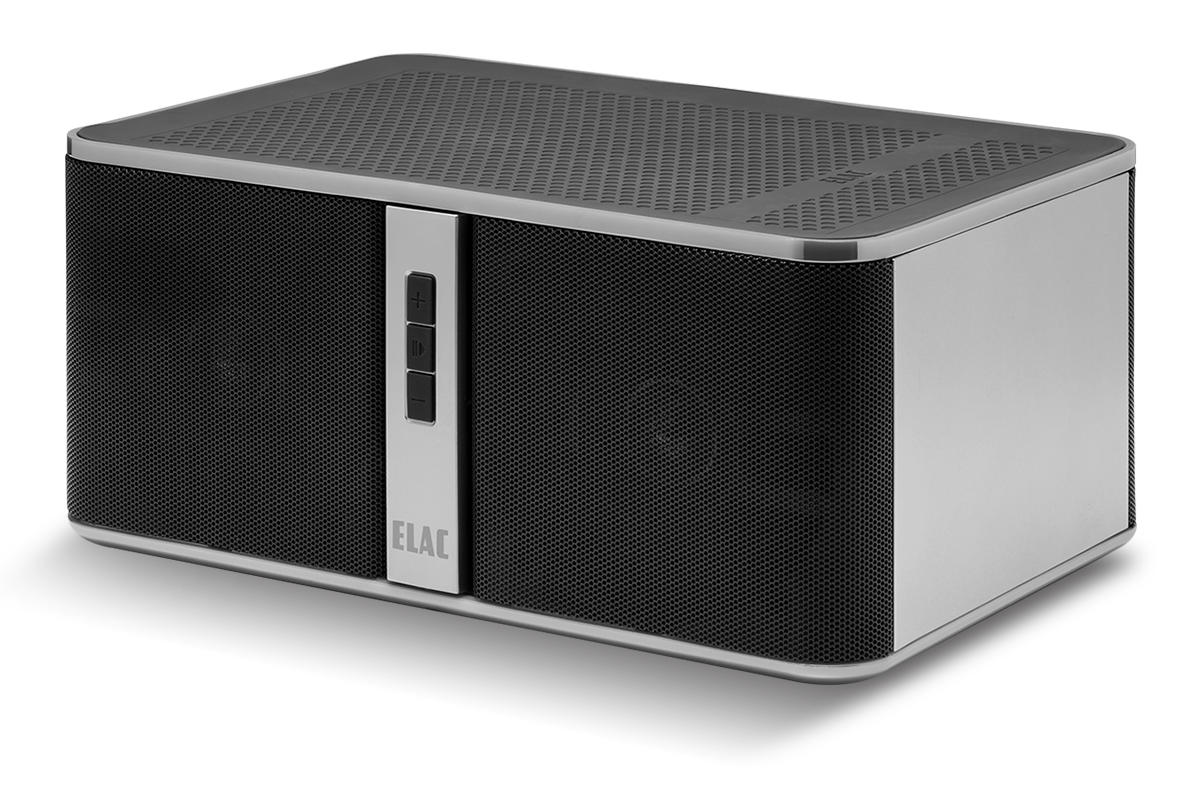 The Z3 looks like a high-tech brick. Its top panel is dimpled black rubber, and its bottom surface is lined with a rubber pad. A vertical strip of metal bisects the Z3's façade; on it are rubber-coated volume-adjustment buttons and a play/pause control that's also used for Bluetooth pairing. The rear-panel input jacks are limited to three: 3.5mm stereo analog, Ethernet, and power (120V/60Hz).
Setup and use
To connect the Z3 to my home's Wi-Fi network, I first downloaded Elac's Z3 Control app to my Apple iPhone. Unlike other Wi-Fi speakers, the Z3 uses only Bluetooth Low Energy (BLE) for app control. The main benefit to this is ease of setup: Instead of slogging through a time-consuming pairing process, the app automatically discovers the speaker via BLE, and you simply select your network and enter a password in the Wi-Fi setup panel. Done! Along with Wi-Fi setup, Z3 Control provides volume, bass, and treble sliders, and can be used to adjust the intensity of the LED indicator light on the speaker's front panel.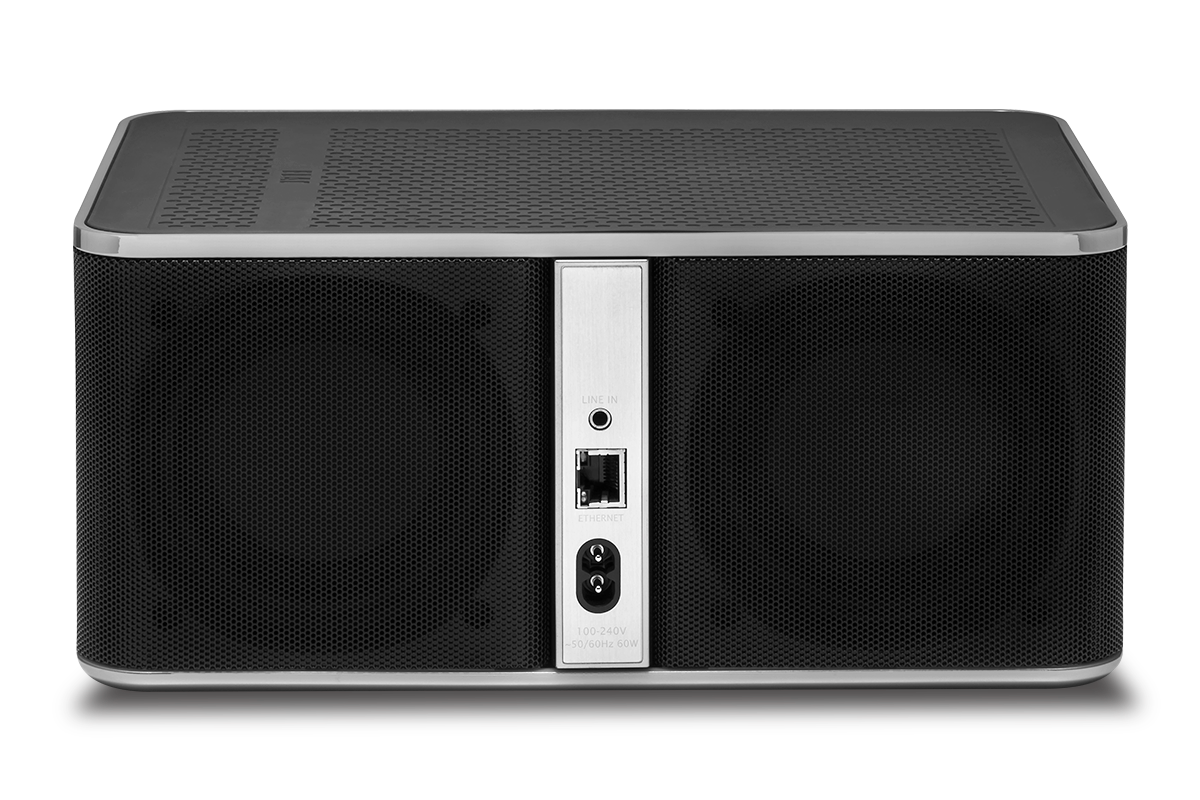 While I tapped both AirPlay and Bluetooth at various times to stream music from Tidal and Apple Music to the Z3, for most of my listening I used Roon running on a MacBook Pro and controlled with the Roon iOS app. In this case, configuring the Z3 as a Roon endpoint involved enabling the speaker as a Roon-ready networked device in the app's Audio settings panel. All listening was done with the Z3 sitting on a low bookcase in my bedroom.
Sound
I began my listening to the Z3 by streaming "Amber Sky," from Lost Horizons' Ojalá (16-bit/44.1kHz FLAC, Bella Union/Tidal). Soffie Viemose's voice sounded effortless and uncolored, and I could clearly hear a slight wash of reverb trailing it. The rhythm section sounded full -- the snare drum was crisp and snappy, the bass guitar clean and sinewy. Elac's speaker also managed to cast an impressively wide soundstage with this track while delivering much of its warmth and atmosphere. As I moved to other positions in the room, the sound quality remained consistent.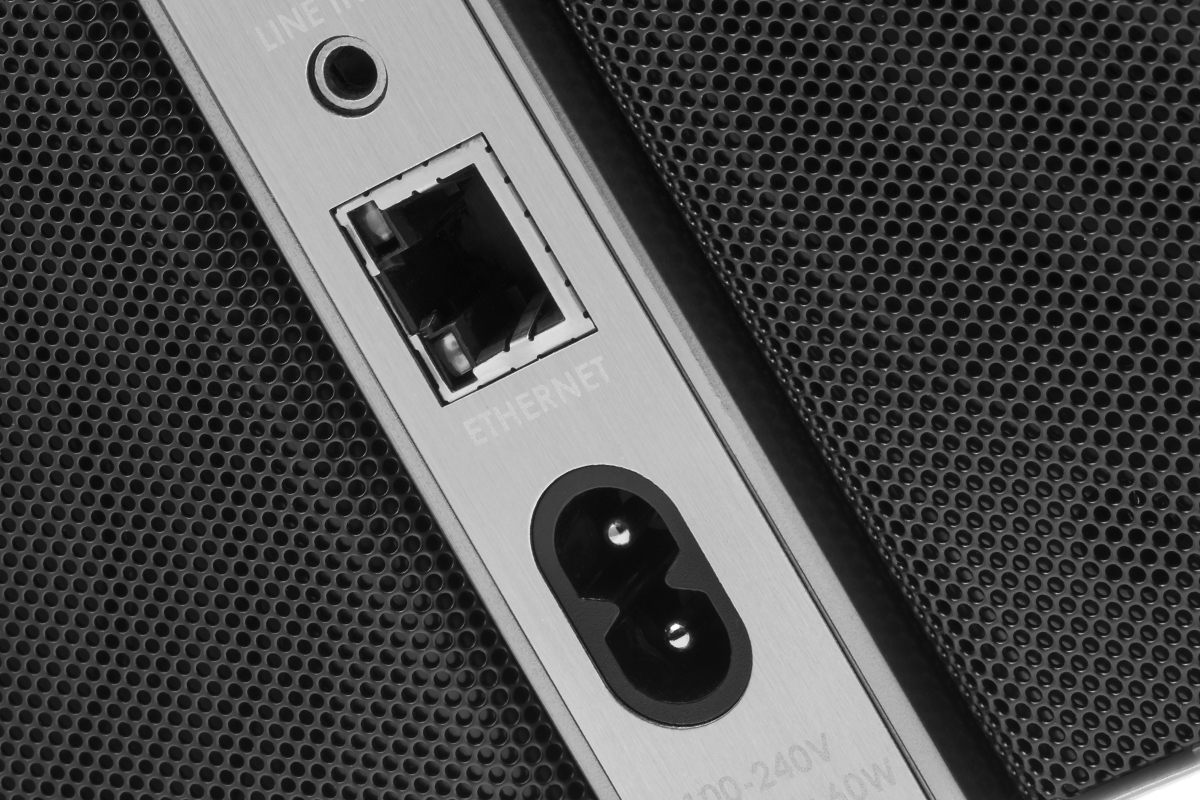 The Z3's natural, unstrained sound was also in evidence when I streamed a CD rip of "Ganges Delta Blues," from Ry Cooder and V.M. Bhatt's A Meeting by the River (16/44.1 FLAC, Water Lily Acoustics). Both Cooder's acoustic bottleneck guitar and Batt's mohan vina sounded detailed and clean, and I got a good sense of the space in which the instruments were recorded: Christ the King Chapel of St. Anthony's Seminary, in Santa Barbara, California. The tabla of Sukhvinder Singh Namdhari enters midway -- the Z3 authoritatively fleshed out the texture of hands hitting drums, rendering the beats as tight and tuneful.
Wanting to set the Elac a more rigorous test, I next played "produk 29 [101]," from Aphex Twin's Syro (16/44.1 FLAC, Warp/Tidal). This track's extreme low bass, combined with a powerful envelope of electronic percussion, makes it a challenge for a small speaker to reproduce. The Z3 weathered the onslaught well: I could push the volume to high levels without hearing distortion, and the bass the speaker delivered tracked evenly with the mid- and high-frequency ranges.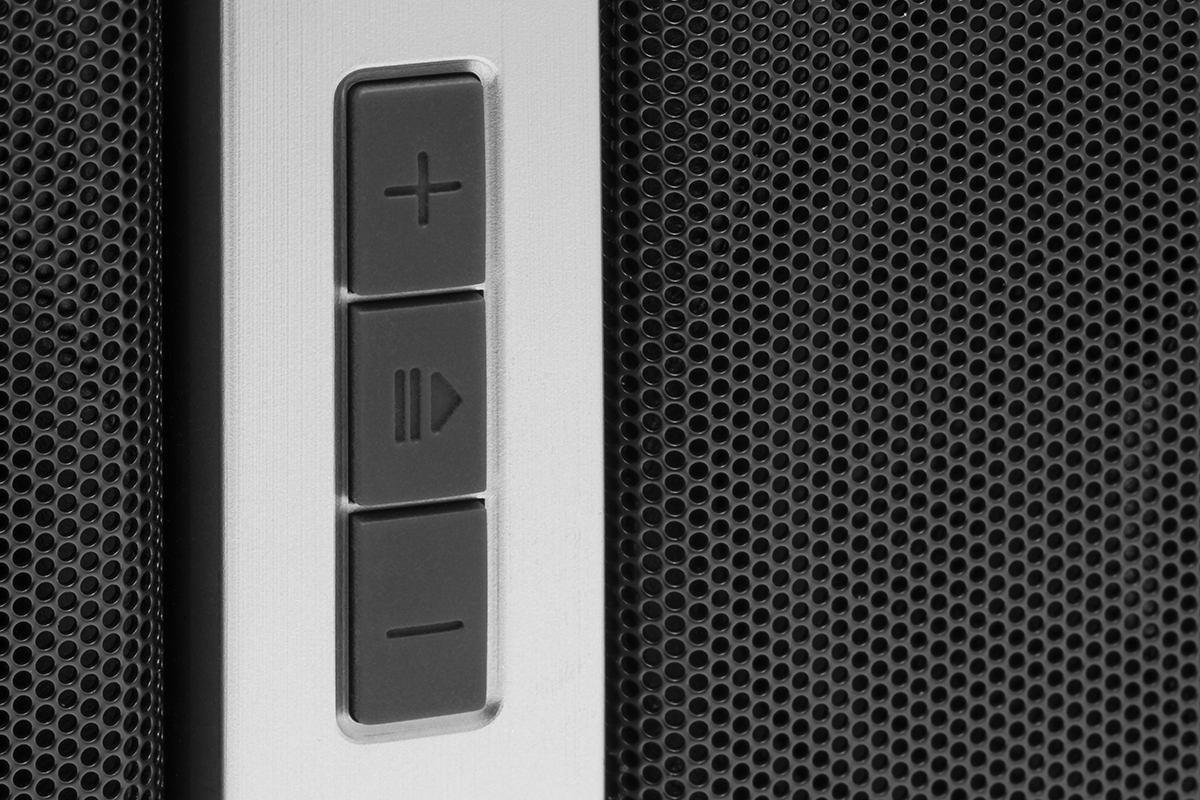 The Z3's detailed, open, dynamic sound was also highlighted when I played a Terry Riley composition, The Palmian Chord Ryddle, performed by the Nashville Symphony Orchestra conducted by Giancarlo Guerrera (16/44.1 FLAC, Naxos/Tidal). The galloping percussion that begins the fourth section, Towards the Clouds, seemed to emerge from a distant point in space. As the woodwinds and strings joined in, I heard a clear sense of layering, with violin and smooth strands of flute in vivid contrast against the background percussion. For a compact all-in-one speaker, the Z3's ability to convey the depth and dynamics of a full orchestra on this track was notable.
Comparison
While testing the Elac, I had on hand Klipsch's Three, a Wi-Fi speaker recently reviewed by me on Simplifi, and as each costs about $500, the playing field was even. I played Lost Horizons' "Amber Sky" through both speakers: the Klipsch had the more expansive sound, with deeper bass. However, the Elac's treble was more linear and refined, and there was a continuity to its sound that reminded me of Naim's also-excellent Mu-so Qb Wi-Fi speaker ($899).
Still, when listening to "Ganges Delta Blues," I felt that the Three's more dynamic presentation gave it the upper hand. The differences between the two were most evident when the tabla kicked in, the Klipsch's more powerful bass impact making for a more exciting, more energetic sound. However, the Elac's natural rendering of these acoustic instruments also made its performance compelling.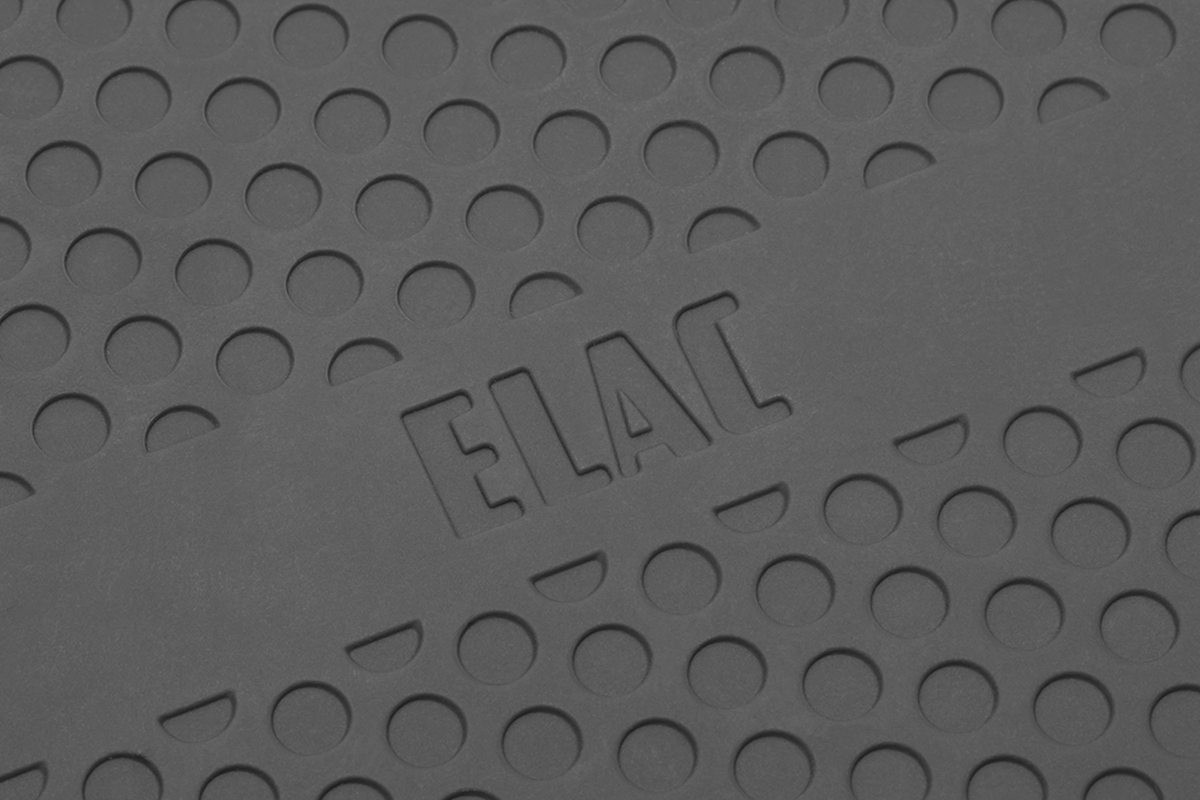 Both speakers sounded great when playing Riley's Towards the Clouds. Here again, the Klipsch had a bigger, more dynamic sound, but I felt that the greater texture and detail I heard from the violins with the Elac evened the score. Ultimately, the main difference came down to this: The Klipsch Three seems designed to sound like a bigger speaker than it is, and for the most part succeeds; the Elac has a more natural sound, with a proper sense of scale.
Conclusion
Elac's first Wi-Fi speaker is a winner on many fronts. The Discovery Z3 has an elegant, understated look that's different enough from other Wi-Fi speakers to avoid being categorized as generic. The sound quality is excellent for the price, coupling refined highs to a detailed midrange and dynamic bass. And Elac's use of Bluetooth Low Energy for its Z3 Control app makes initial setup extremely easy -- something that can't be said for all Wi-Fi speakers. Finally, the speaker's ability to function as a hi-rez-capable Roon endpoint makes it an easy choice for users of that software. With the arrival of the Discovery Z3, we have yet another reason to keep paying attention to Elac.
. . . Al Griffin
This email address is being protected from spambots. You need JavaScript enabled to view it.
Associated Equipment
Sources -- Apple MacBook Pro, Apple iPhone 6, Apple Music, Tidal, Roon
Wi-Fi speaker -- Klipsch Three
Elac Discovery Z3 Wi-Fi Speaker
Price: $499.98 USD.
Warranty: One year parts and labor.
Elac Americas Inc.
11145 Knott Avenue, Suites E & F
Cypress, CA 90630
Phone: (714) 252-8843
Elac Electroacoustic GmbH
Fraunhoferstrasse 16
D-24118 Kiel
Germany
Website: www.elac.com