I bet there are loads of people who would love to have a good audio system in a room where it's impractical to deploy a pair of freestanding loudspeakers. I also bet there are many others whose living space can accommodate freestanding speakers but whose significant other won't.
In fact, I know this, because a large subindustry has evolved to cater to these folks, offering in-wall and in-ceiling speakers designed for custom installation. Some manufacturers, Origin Acoustics, Russound, and Sonance, to name a few, specialize in such speakers, but just about every major speaker brand has a custom division that include such offerings: Bowers & Wilkins, Definitive Technology, Elac, Focal, GoldenEar, JBL, KEF, Klipsch, Monitor Audio, Paradigm, PSB, Totem Acoustic, and many, many others.
But what if you want good sound in a space where it's impossible or impractical to retrofit speakers into walls or ceilings? Most custom-audio projects are a planned part of new construction or become part of a major renovation project, when installation of speakers and routing of wires inside walls are no big deal. Otherwise, in-wall speaker installation can generate ungodly upheaval. In homes with lath-and-plaster construction, such as mine, it may be impossible to build speakers into walls or ceilings and fish wires to amplifiers. And of course built-in speakers are rarely an option for renters.
If in-wall speakers are not an option for you, Ole Witthøft's latest speaker system may be a great alternative. Witthøft is founder and managing director of System Audio (SA), in Denmark. SA's lineup includes the Silverback series of active speakers, all of which can receive audio wirelessly. The newest model in this series and subject of this review is the Silverback 1, a compact two-way design that can be hung on a wall or placed on a shelf.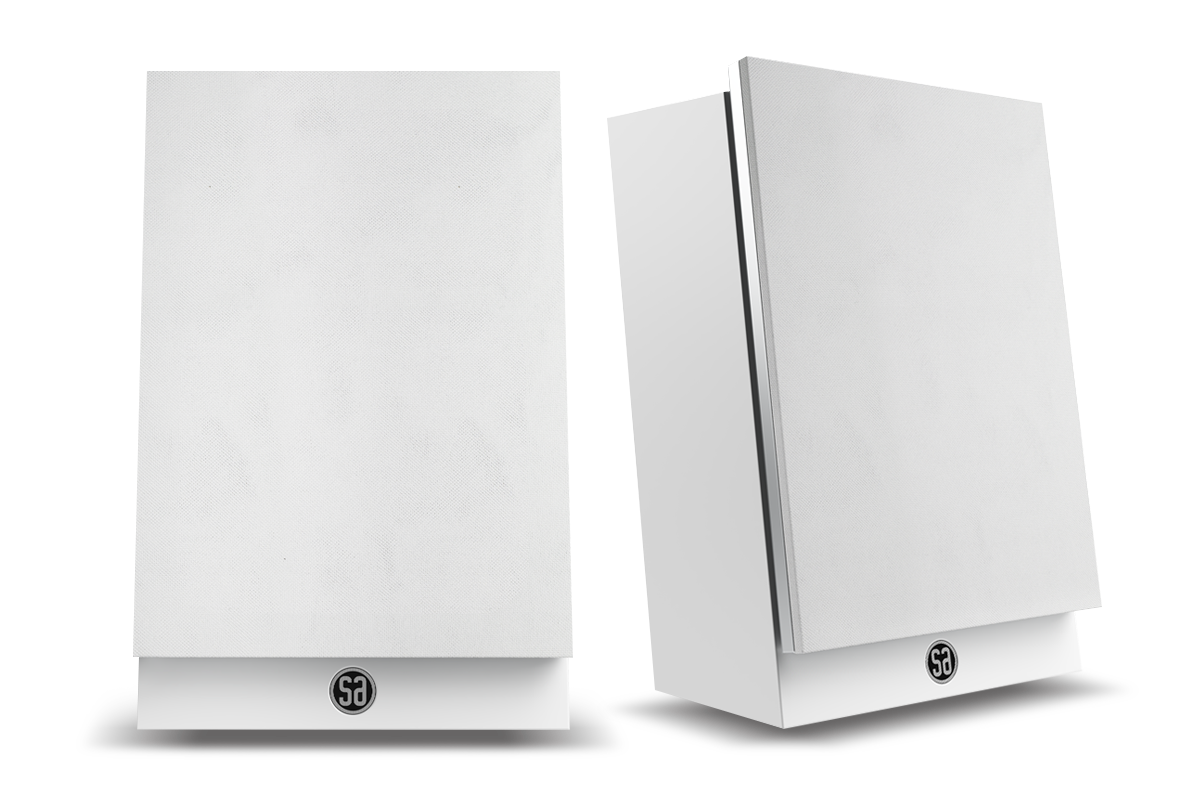 According to the company's website, the Silverback 1 is "the size of a sheet of A4 paper when viewed from the front." For North Americans and others who aren't familiar with ISO paper sizes, that's roughly 8.3″ × 11.7″. Like all Silverback models, the Silverback 1 has built-in amplification and a wireless receiver based on the WiSA standard. Hang a pair on a wall or place them on a shelf, plug each into an AC outlet, pair them with a WiSA device, such as SA's compact Stereo Hub, and you're ready to play music. The only visible cables will be the two AC cords. If you want a nice, clean installation, you can hide each power cord in a plastic conduit and paint it to match the color of the wall.
The speakers
The Silverback 1 is sold in pairs and is priced at $2099 (all prices USD) with shipping, $2575 for a one-box bundle that includes the Stereo Hub. It's available in satin white and satin black finishes—my sample pair was white—and comes with color-matched, magnetically attached grilles. Fit and finish were very good. My only criticism is that the magnets holding the grilles in place aren't very strong; they are easily dislodged.
The enclosures lean back when sitting on a shelf but are perfectly upright when mounted on a wall. Each speaker measures 12.8″H × 12.2″W × 5.3″D. From the front, the Silverback 1 looks like a typical bookshelf speaker. It's a sealed design, employing a 5.5″ midrange-woofer and a 1″ soft-dome tweeter.
The tweeter dome is made of coated silk fiber. It's surrounded by a Diffraction eXpansion Technology (DXT) acoustic lens that is said to provide constant directivity over the tweeter's operating range by narrowing its dispersion at lower frequencies and broadening it at higher frequencies. According to System Audio, this yields smoother off-axis response, a wider sweet spot, better integration with the midrange-woofer's output, and elimination of cabinet diffraction effects.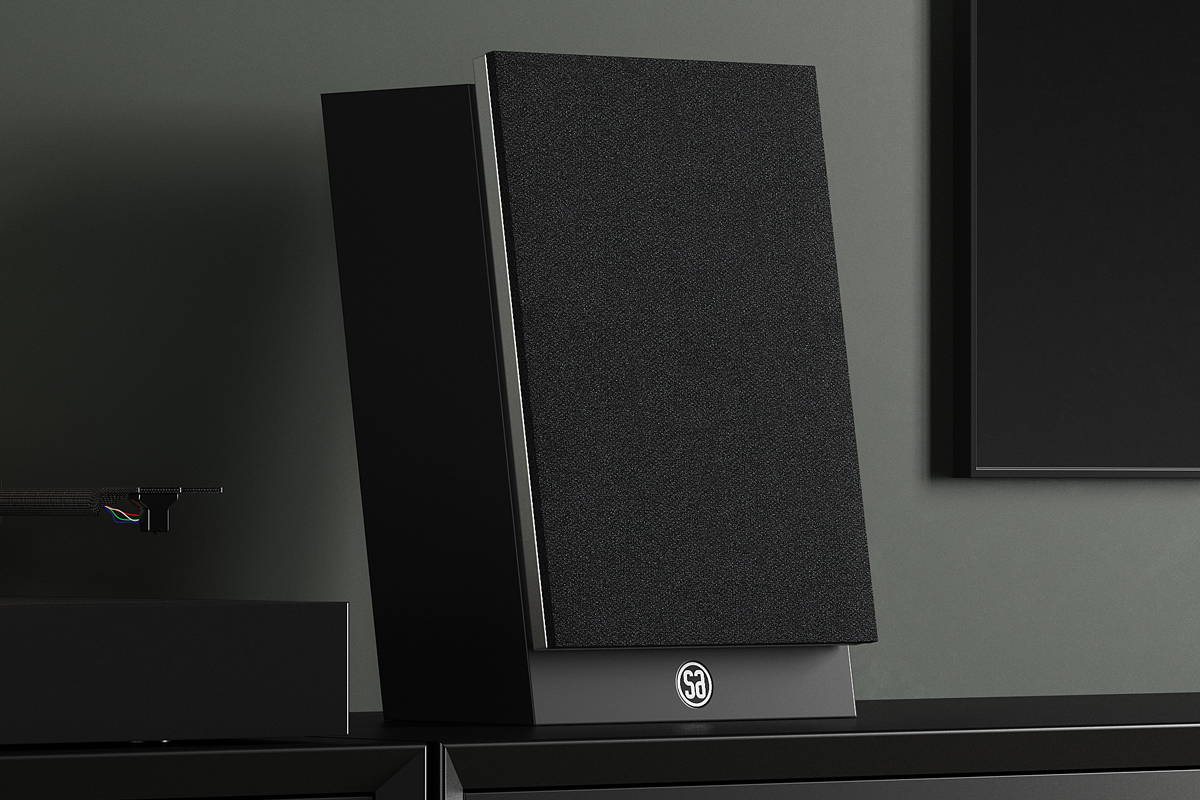 The midrange-woofer is a new design, intended to match the amplifier inside the Silverback 1. "The motor system is similar to other Silverback woofers," Witthøft informed me in an email exchange. "But after several listening tests, we decided to go for a paper cone. We found that the 'fresh sound' of the amplifiers with their limited internal feedback was a great match with the open sound of this relatively undamped paper cone."
The Silverback 1 is designed specifically to be mounted on a wall or to be placed very close to a wall, where it benefits from a 6dB increase in room gain and where it is affected less by room reflections. This provides a smoother response in the bass and lower-midrange regions, SA says.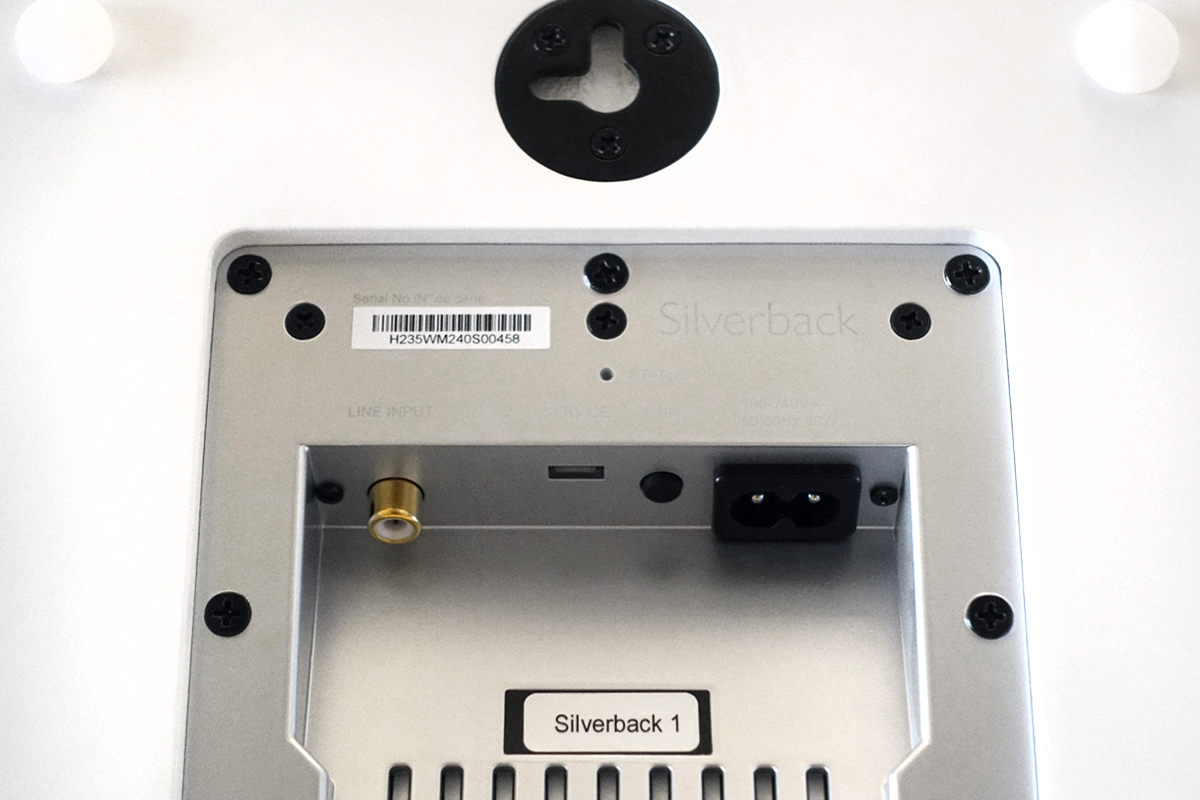 Turn a Silverback 1 around and you'll see the front plate of an electronics module sourced from Platin Audio. Near the top of the module you'll find (left to right) an RCA line-level input, a USB-C service port, a WiSA pairing button, and a two-prong IEC power inlet. Inside the module are the two Texas Instruments power DACs that power the two drivers, an Analog Devices digital signal processor that performs crossover and other functions, and a WiSA radio that receives audio signals from WiSA components, such as the Stereo Hub. The Silverback 1's electronics module is only one-third the size of the module employed in previous Silverback models, which made possible the new speaker's compact size. Line-level audio received by the RCA analog input is converted to digital; audio received by the WiSA radio is, of course, intrinsically digital. From there, everything stays in the digital domain right to the output.
Besides implementing a 24dB/octave crossover centered on 1.9kHz, the DSP performs dynamic equalization and dynamic limiting. "The DSP 'stretches' the bass performance to deeper frequencies," Witthøft explained. "The woofer has relatively high power handling and a long-stroke motor system, but the small cabinet limits its ability to play deep bass. However, with a powerful amp/DSP combination, we can [make] the woofer play deeper frequencies than would be possible with a passive speaker and a separate amp." Specified frequency response is 45Hz–25kHz (±1.5dB).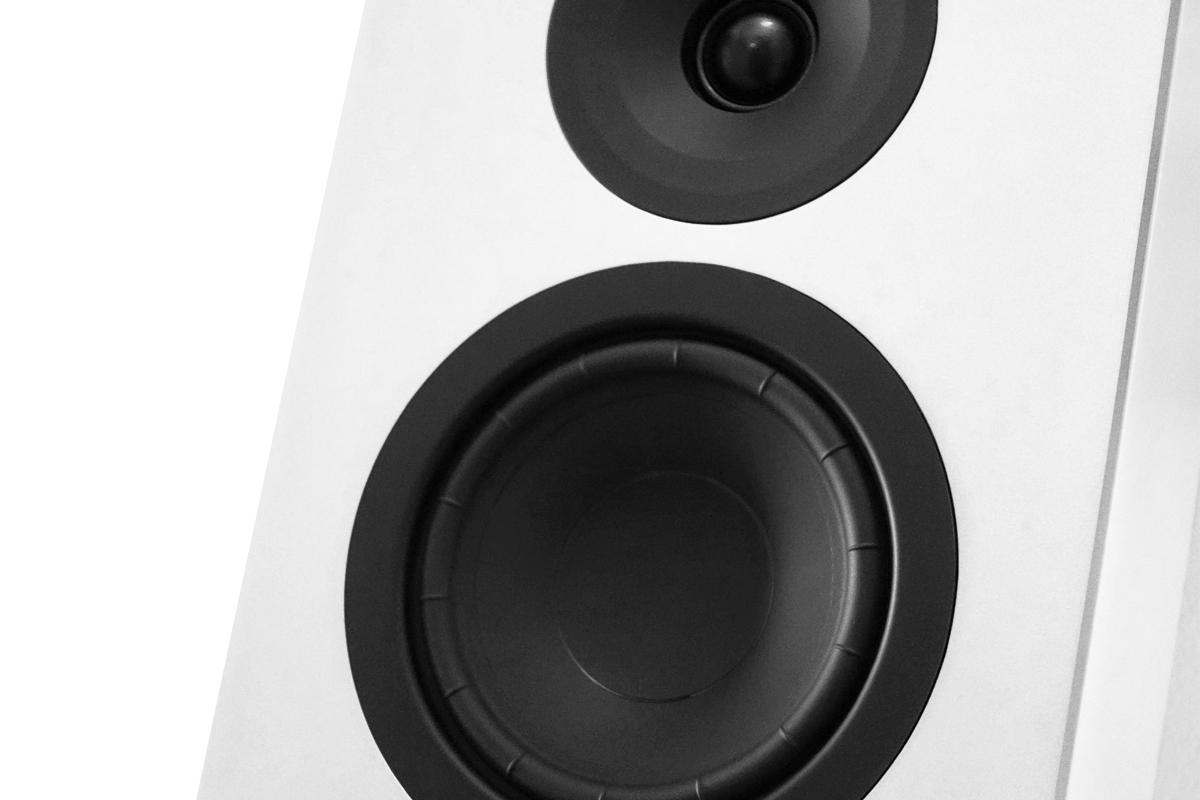 From the DSP, audio flows to the two TI power DACs, each specified to output 80W. A power DAC, as the term suggests, combines digital-to-analog conversion and amplification functions in a single module.
Above the electronics module is a keyhole slot intended to fit securely onto a well-anchored screw for wall-mounting. The supplied 3m (9′ 10″) power cord is routed to the module from the bottom of the enclosure recessed in a channel, which allows a neat, flush installation on a wall. SA includes eight silicone feet with each pair of Silverbacks. These parts are affixed to the rear of the speakers when wall-mounted to allow for air circulation.
The Stereo Hub
Along with the two Silverback 1 speakers, I received SA's Stereo Hub. Measuring 1.6″H × 6.7″W × 3.9″D, it is small enough to stash away in a cabinet completely out of sight. As well as the WiSA transmitter, the Hub has Wi-Fi and Bluetooth connectivity. It supports Apple AirPlay, Google Chromecast, Spotify Connect, and UPnP/DLNA, and it is Roon Ready.
On the rear of the Stereo Hub are one coaxial (RCA) and three optical (TosLink) S/PDIF inputs, a 3.5mm combined analog/optical digital input, a pair of single-ended analog inputs (RCA), an HDMI ARC input for connection to an HDTV, a USB Type-B port for connection to a PC or Mac, a button for pairing the Hub with the speakers and the supplied remote, and an inlet for the 5V wall-wart power supply.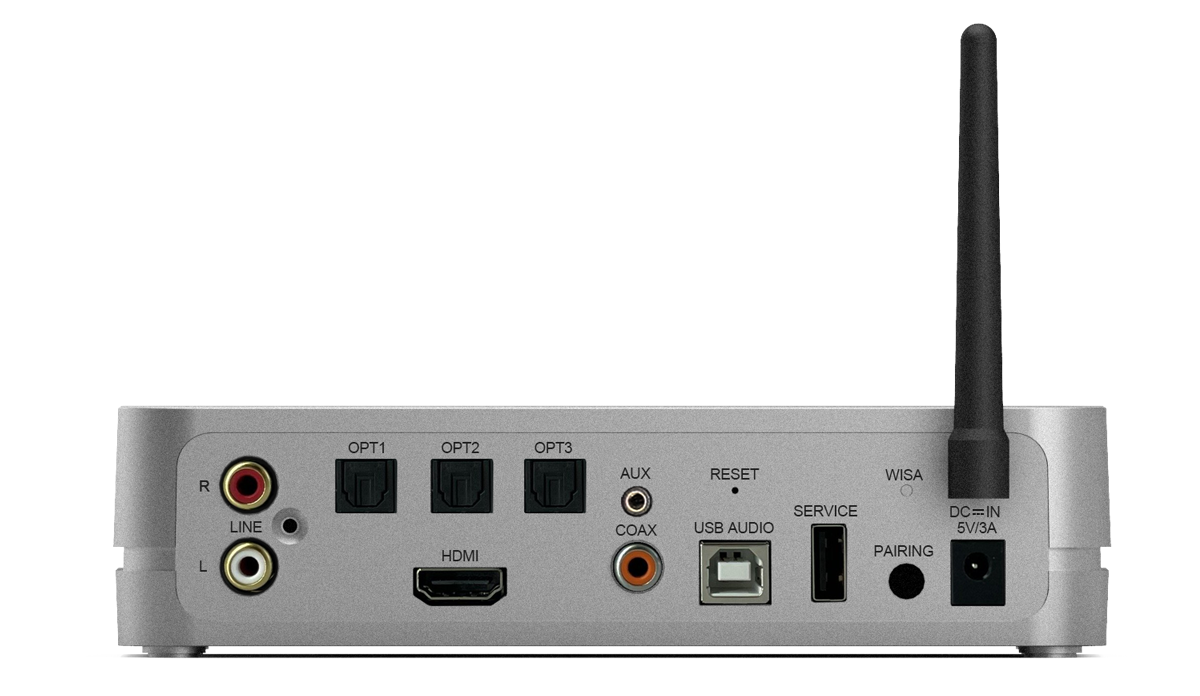 The Stereo Hub's maximum resolution via coaxial, optical, USB, and network connection is 24-bit/192kHz. When streaming via Wi-Fi using Chromecast or UPnP, maximum resolution is 24/96. Apple AirPlay supports streaming at 16/44.1.
Included with the Stereo Hub is a sturdy metal RF remote with source select, volume, mute, on/off, and track-skip functions. Two columns of LEDs indicate the volume and selected source.
Setup and software
Setting up the Stereo Hub and Silverback 1 system went fairly smoothly but involved some awkward steps and strange behavior. After connecting the Stereo Hub and Silverback speakers to power outlets and installing batteries in the remote, the next step is to pair the remote and Stereo Hub. This is easy: push the Pairing button at the back of the Hub for six seconds, and when the WiSA LED starts blinking, press any button on the remote. Next, you pair the Hub with the speakers. Press the Pair button on each speaker's rear panel for two seconds and then the Pairing button on the Stereo Hub. When the connection LEDs on the Stereo Hub and speakers illuminate continuously, they're paired.
To finish the setup, you need the SA Cockpit app, which is available for iOS and Android, even if you don't intend to stream music over Wi-Fi. The electronics modules on SA's previous Silverback speakers had LEDs and small pushbuttons for setting channel allocation. Those hardware controls aren't present on the smaller module used on the Silverback 1. Instead, you set channel allocation in the app.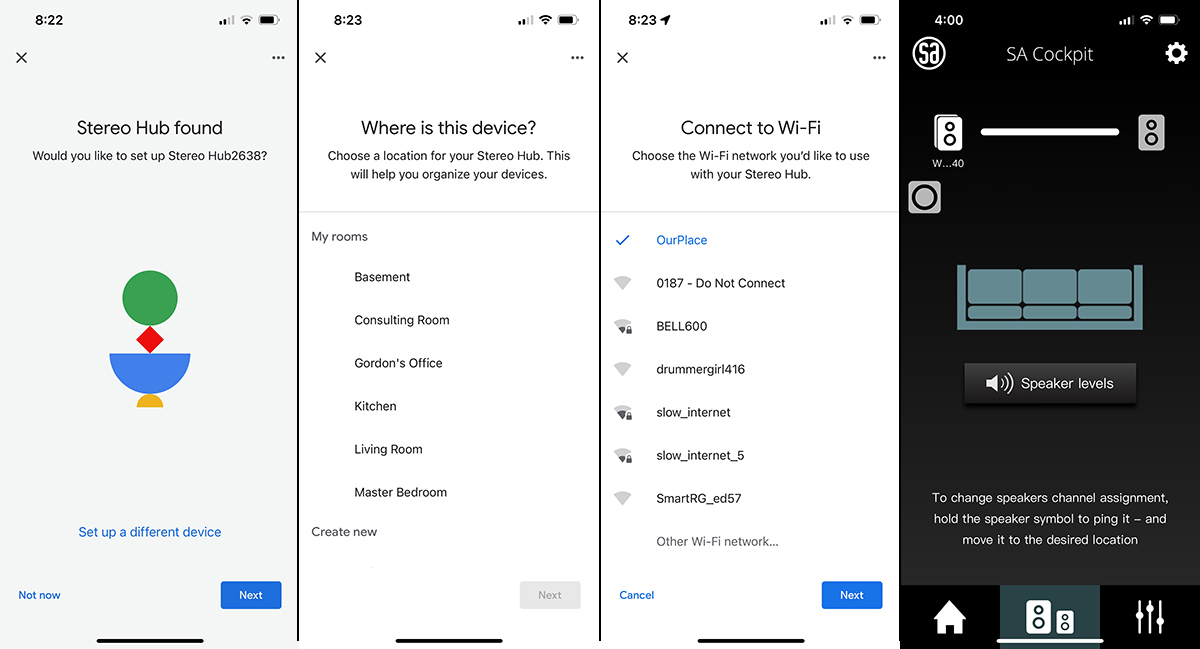 First, you have to get the Stereo Hub on your Wi-Fi network, which you do with the Google Home app. When I launched Google Home on my iPhone 14, the app found the Stereo Hub and asked if I wanted to set it up. I specified the room where I was using the system, selected my network from a list of available networks, entered my network password, and the Hub was connected. The Stereo Hub does not have an ethernet port, so a wired connection isn't an option.
As the Silverback 1 manual explains, out of the box, both Silverback 1 speakers are assigned to play left-channel audio. To get stereo, you open the SA Cockpit app and tap the loudspeaker icon at the bottom. A room diagram appears, showing two speaker icons on the left, none on the right. As Witthøft explains in a YouTube video, to readily identify which icon corresponds to which physical speaker, you touch and hold an icon, and white noise plays on the corresponding speaker. Once you identify which icon corresponds to the right speaker, you touch and hold that icon and then drag it to the right. You now have stereo. It's an unusual and awkward process, but it works.
Another strange experience I had with the SA Cockpit app was that on a few occasions it reported that the Stereo Hub had implemented a 150Hz high-pass filter for one of the speakers. I played a 40Hz test tone through both speakers and it was clear that no filter was being applied to either channel. A few minutes later, I checked the app again, and it no longer showed a high-pass filter for either speaker. Weird, but not a deal-breaker.
SA Cockpit has a feature called Room Service, which is purported to implement room correction. The app plays white noise through the Silverback speakers for one minute while you walk around the room holding your smart device. The app analyzes the sound picked up by the microphone and creates a correction curve. I found this feature flaky with other Silverback models I had auditioned, and found it so with this model too. The app showed a bass dip in a region where I know there is a significant peak caused by a nasty standing wave in my listening room. Not surprisingly, Room Service made the bass sound slightly muddier and boomier. I disabled Room Service for subsequent listening sessions.
Listening
My wife and I reside in a small Toronto rowhouse with a modest-size living room, which is where my reference system is and where I conducted my audition of the Silverback 1 speakers. Our TV is mounted above a fireplace and is flanked on either side by portraits of two of my wife's Danish ancestors. I removed these pictures and hung the speakers in their stead. In that position, the tweeters were about three feet above my ear level, at the sweet-spot listening position on the sofa across the room, roughly 30 degrees vertically off-axis. Not surprisingly, high frequencies sounded a bit soft edged.
For a more balanced sound with high-mounted speakers, SA offers mounting brackets that tilt the speakers down so that the tweeters are pointed more directly at the listener. I did not have access to this accessory and did not wish to disrupt domestic harmony by drilling more holes into the wall. So I repositioned my KEF LS60 Wireless speakers right next to the front wall and placed the Silverbacks on top. There, they were almost flush against the wall, 7′ apart and 9.5′ from my listening position, and their tweeters were much closer to my ear level.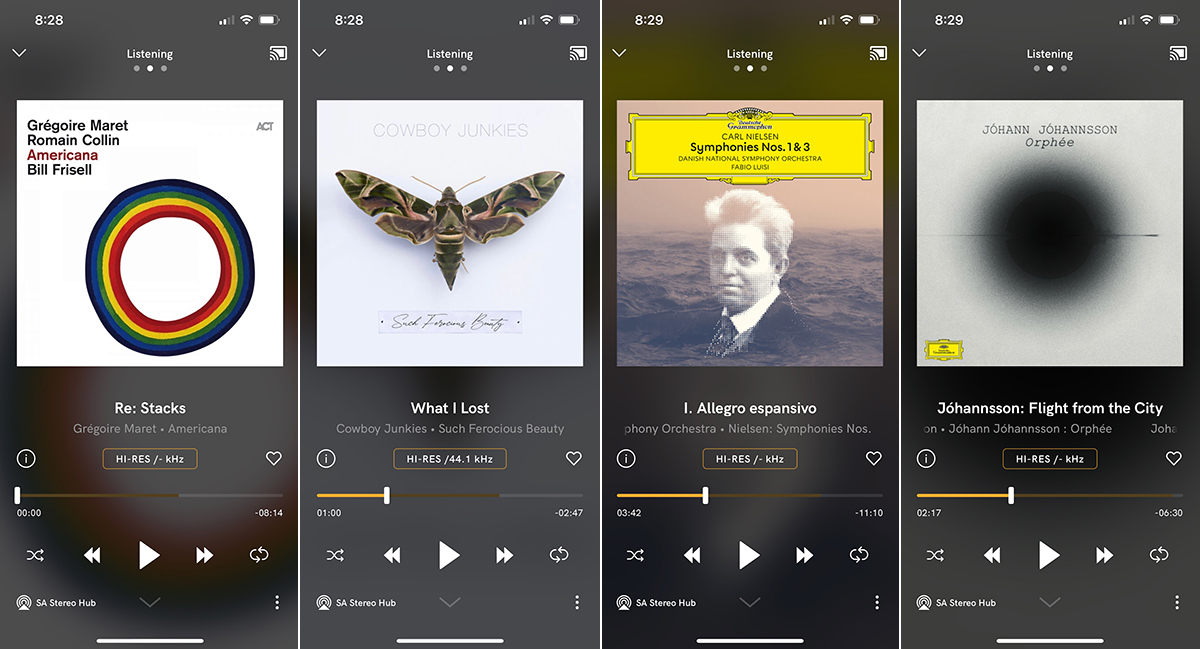 I streamed music to the Stereo Hub and Silverback 1 speakers via Roon and from the Qobuz app via Chromecast. Right from the start, I was blown away by how big these little speakers sounded, even with soft music. On "Re: stacks," from Americana, an instrumental album featuring harmonica player Grégoire Maret, pianist Romain Collin, and guitarist Bill Frisell (24-bit/96kHz FLAC, ACT Music / Qobuz), the lower notes of Collin's piano had surprising authority. On Frisell's acoustic guitar, lower notes and chords had a fabulous body that was buoyed by the woody resonance of the soundbox. On high notes and chords, the steel strings had a gorgeous metallic ring.
The Silverbacks' soundstage seemed not to extend much, if at all, behind the speakers. Maret's harmonica was distinctly projected forward into the room, a couple of feet in front of the speaker plane, where it sang with a sweet, mellow, dark tone. Maret's breathing and phrasing were delivered with such realism that I just basked in his performance.
Any misgivings I may have had about the specified low-frequency response of the Silverback 1 were completely dispelled by this track. At the end of the song, Collin plays a long series of deep notes on a Moog Taurus synthesizer. I did a double take when I heard that passage on the Silverbacks; I could not believe that sounds this deep could be coming from speakers this small. Admittedly, the leading edges of those synth notes weren't as clearly defined as from some bigger speakers I've heard, and the deepest bass notes weren't as weighty. But still—wow!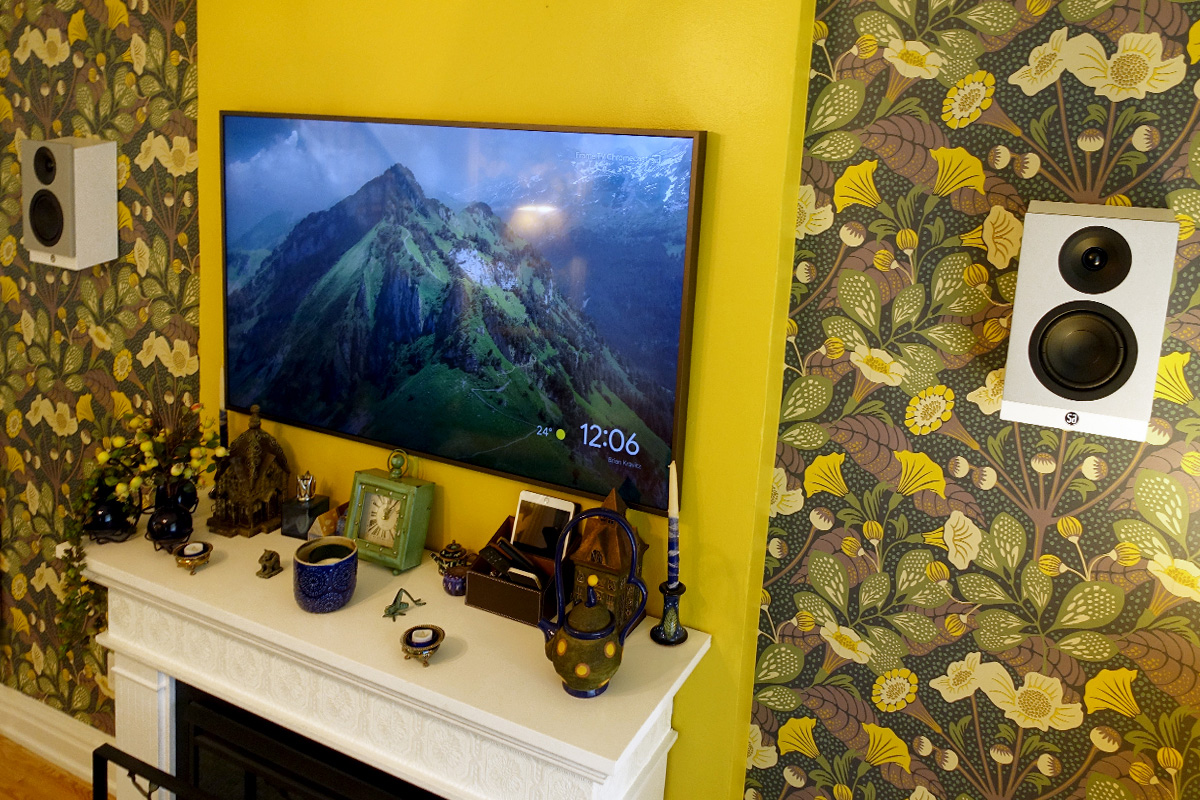 Time for something more intense. In his September 1 column on SoundStage! Hi-Fi, Doug Schneider named "Misguided Angel," from the Cowboy Junkies' landmark album The Trinity Session, one of his favorite test tracks. No argument there, but I'd add "What I Lost," from the band's latest album, Such Ferocious Beauty (24/44.1 FLAC, Latent Recordings / Qobuz), as one of mine. Listening to this song next, I had similar impressions to those I had previously with "Re: stacks." Alan Ashton's pounding electric bass guitar sounded deep and full, pitch differentiation was excellent, but as before, leading edges weren't quite as sharply defined as I would have liked.
Peter Timmins's drumming showed the Silverbacks' impressive dynamic capabilities. Drum strokes had effortless snap and impact; hi-hat rolls, deep metallic shimmer. Michael Timmins's muted acoustic guitar, on the right side of the soundstage, had marvelous realism, as did the electric guitar, screeching eerily on the left and adding to the doom-laden atmosphere.
Again, I had very little sense of soundstage extension behind the speaker plane. The Silverbacks' presentation was three-dimensional—Margo Timmins's grief-laden voice was imaged convincingly—but it was projected forward of the speaker plane. The little Silverbacks differentiated the elements in this dense, moving song beautifully.
When reviewing Danish speakers, I always make it a point to play an orchestral work by Carl Nielsen, Denmark's most famous composer. I cued up the first movement, marked Allegro espansivo, from Nielsen's Symphony No. 3, performed by the Danish National Symphony Orchestra under Fabio Luisi (24/96 FLAC, Deutsche Grammophon / Qobuz). The rollicking introduction showed some limitations of the Silverbacks. This was most apparent in somewhat compressed dynamics; crescendos weren't as powerful as they should have been. While side-to-side imaging was fine, there was little front-to-back layering. Everything was on the same plane of the speakers—strings, woodwinds, brass, and percussion were piled on top of each other. Expectations must be realistic, though. It's a big ask for a small pair of active speakers to faithfully reproduce an orchestra in full tilt. Considering their size, the Silverbacks' performance with this music was more than satisfactory. Even during the most demanding passages, they were never harsh or strident.
The more serene passages of this work were delectable. In a fugal passage that starts around the four-minute mark, although the soundstage was still confined to the plane of the speakers, the intricate instrumental interplay was not in any way obscured. Woodwind timbres were particularly convincing. The gentle waltz that follows was also lovely, though the strings lacked texture, especially the cellos and basses.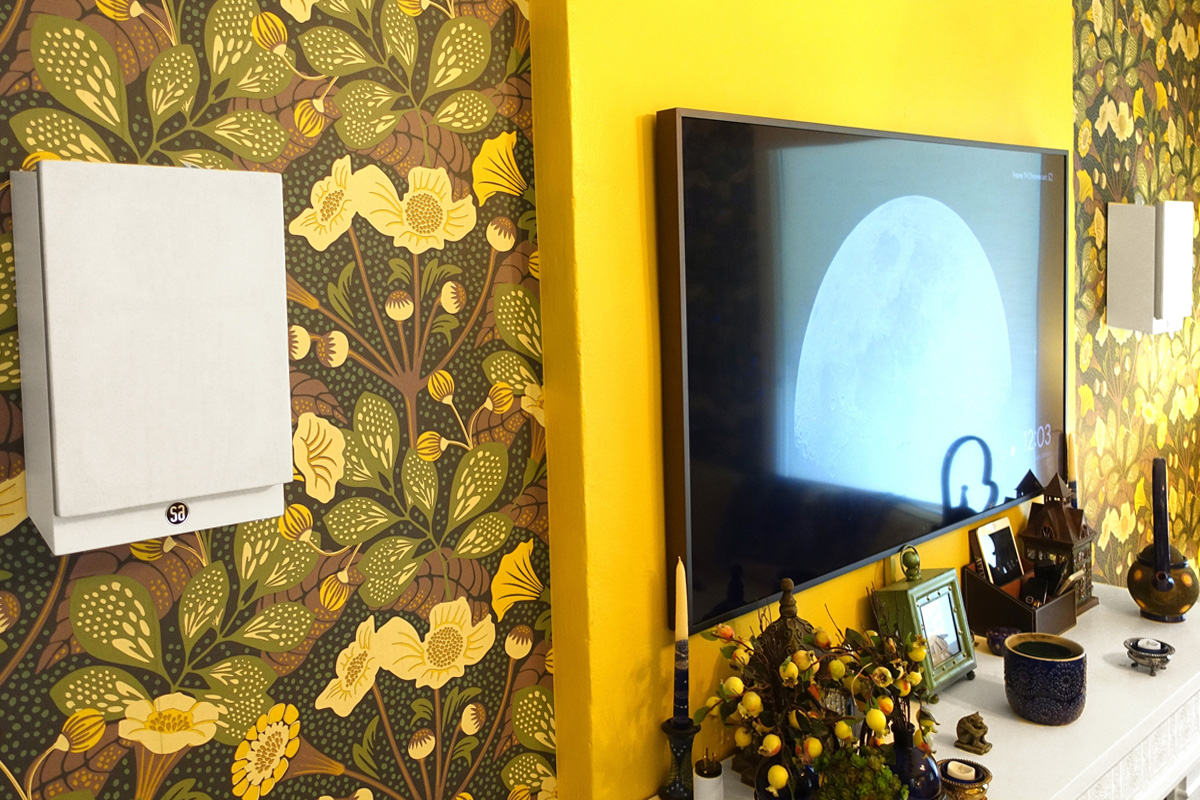 I ended with another Nordic instrumental work, Orphée, by the Icelandic composer Jóhann Jóhannsson (24/48 FLAC, Deutsche Grammophon / Qobuz). Once again, I noted the spatial constriction of the soundstage, but I was struck by the sound nonetheless; the Silverbacks sounded bigger than their size suggested they should.
In the gentle first movement, "Flight from the City," Jóhannsson's piano, playing the main theme, had tremendous authority, as did the deep notes from an electronic keyboard he also plays. In the fourth movement, "A Deal with Chaos," the solo cello, played by Hildur Guðnadóttir, had a mournful singing, almost human, quality. I could hear the action of the bow on the strings and the deep, warm resonance. The sixth movement, "A Sparrow Alighted upon Our Shoulder," was hauntingly beautiful. The solo violin had a lovely silvery tone, and the cellos and double basses of the Air Lyndhurst String Orchestra sounded lush and full, though a tad lacking in texture.
Comparison
I compared the Silverback 1 system with a similarly priced active speaker system, Q Acoustic's Q Active 200 ($2099), which includes a wireless hub with phono, HDMI ARC, and optical S/PDIF inputs. The Q Active system also features built-in Wi-Fi and a Roon Ready streamer with support for Apple AirPlay 2, Spotify Connect, and Chromecast. Each Q Active 200 enclosure houses a rear-firing 4.5″ bass driver powered by a 55W class-D amp and two front-firing 2.25″ balanced-mode radiator drivers, each powered by a 20W class-D amplifier.
I placed the Q Active speakers on 28″ sand-filled speaker stands on either side of the fireplace, 7′ apart and 7′ from my listening position. Their back panels were 16″ from the wall behind. The speakers have a room-boundary-compensation function, which I set to the Open position.
On "What I Lost," by the Cowboy Junkies, the Qs created a soundstage that was deeper and higher than the Silverbacks—not surprising, given their greater spacing from the wall. Margo Timmins's voice sounded a little more natural than with the Silverbacks but appeared farther back, almost in the background. Played against the Q Active speakers, the Silverbacks now seemed to add a slightly closed-in nasal quality to her voice, something I had not noticed during earlier listening sessions. Upper notes on the electric bass guitar sounded powerful and well defined through the Qs, but lower notes were better defined through the Silverbacks. On the Qs, by comparison, the lowest notes sounded a little boomy, their pitches not as distinct. Dynamics were more compressed on the Qs too; Peter Timmins's drums didn't snap as hard.
As with the Silverbacks, intense passages in the Nielsen symphony sounded somewhat congested through the Q Active speakers, but thanks to their better front-to-back layering, it was easier to spatially follow the interplay of instruments within the orchestra. Strings sounded breathier, and bow action was well articulated. Cellos and double basses had more body on the Silverbacks, more detail and texture on the Qs.
Conclusion
My few gripes about the Silverback 1 / Stereo Hub combination—lack of depth, congestion, dynamic compression—are all to be expected from a small two-way design even with the room gain provided by on-wall or near-wall placement and the clever use of DSP. More important, the little Silverbacks never sounded harsh or distressed. Quite the contrary, they consistently delivered more powerful sound and deeper bass than I had expected. The strange behavior of the SA Cockpit app I encountered is disappointing—you don't expect software bugs in a product at this price level—but it's not a deal-breaker, only a minor annoyance.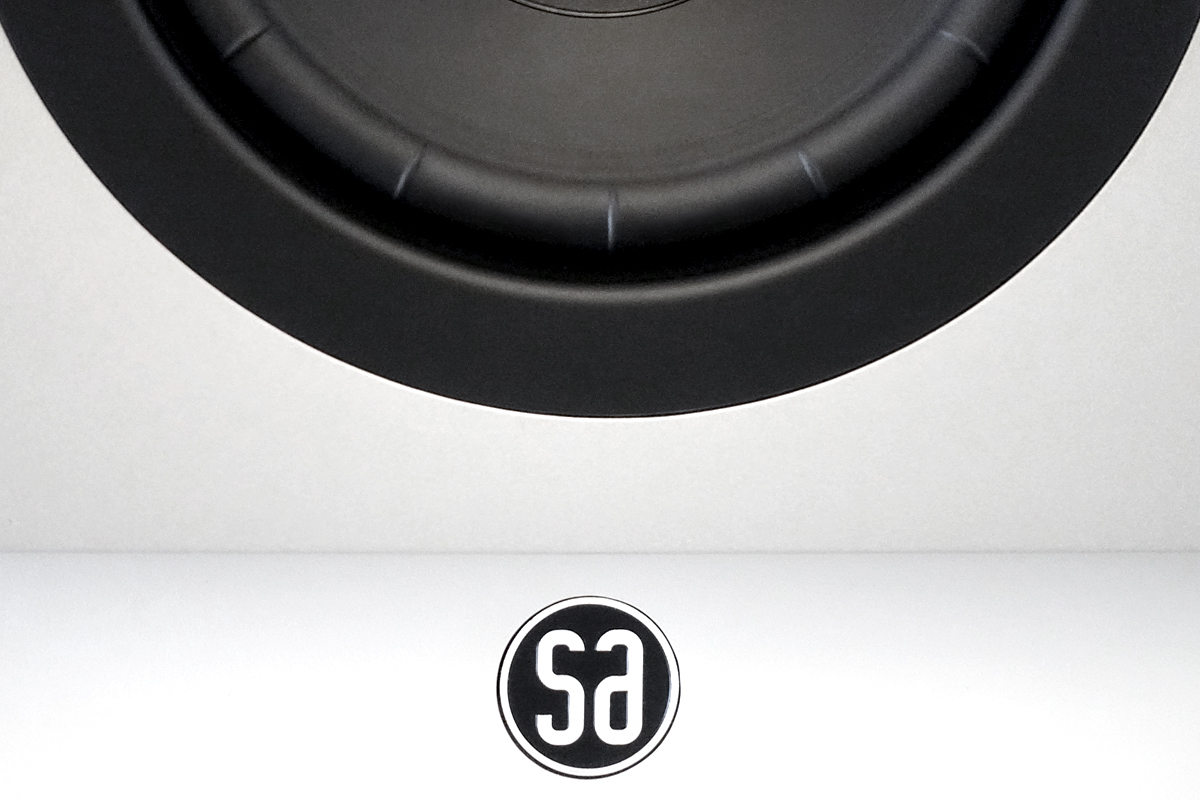 For its presentation to the Expert Imaging and Sound Association (EISA) earlier this year, System Audio cited World Bank data, stating that 56 percent of the world's population lives in cities and that the average size of their living rooms is 25 square meters (269 square feet). The Silverback 1 is "made for this target group and their homes," System Audio noted in that presentation. That's me and my home. Fortunately, my infinitely better half loves music and does not object to floorstanding speakers. If she did, I'd be looking very seriously at the Silverback 1.
... Gordon Brockhouse
This email address is being protected from spambots. You need JavaScript enabled to view it.
Associated Equipment
Active loudspeakers: Q Acoustics Q Active 200.
Sources and control devices: iPhone 14, Google Pixel 4a 5G, HP Spectre x360 convertible laptop computer, Apple Mac Mini (2021, M1) running Roon Core.
Display: Samsung UN-55LS003 UHD television.
Network: Google Wifi four-node mesh network.
System Audio Silverback 1 Active Loudspeakers
Price: $2099 per pair; $2575 with Stereo Hub.
Warranty: Seven years, parts and labor for drivers; two years, parts and labor for electronics.
System Audio A/S
Langebjerg 35A
4000 Roskilde
Denmark
Phone: +45 36 45 80 80
Email: This email address is being protected from spambots. You need JavaScript enabled to view it.
Website: www.system-audio.com