Note: for the full suite of measurements from the SoundStage! Audio-Electronics Lab, click this link.
The fall of 2021 has been a busy time for NAD Electronics. In the past few months, the Pickering, Canada–based company has announced three new integrated amplifiers, all of them with intriguing feature sets.
Part of NAD's premium Masters Series, the M10 V2 streaming integrated amplifier ($2749, all prices in USD) will be reviewed on this site by Vince Hanada early in 2022. Like the original NAD M10, the M10 V2 is a compact design with a 7″ front-panel touchscreen, Dirac Live room correction, and a specified output of 100Wpc. The M10 V2 adds wireless surround-sound capability.
Rated at 150Wpc, and employing the same HybridDigital Ncore amplifier technology as the M10 and M10 V2, the C 399 DAC-amplifier ($1999) is the new flagship amplifier in NAD's Classic Series. In the New Year, Dennis Burger will be reviewing the C 399 on SoundStage! Access, along with the company's MDC2 BluOS-D module ($549), which adds BluOS multiroom music streaming and Dirac Live room correction to the C 399 and future MDC2-compatible components.
The third new model is the Classic Series C 700 streaming amplifier ($1499), the subject of this review. Like the M10 (and M10 V2), the C 700 is a super-compact design with a front-panel LCD. But unlike the 7″ screen on the M10 V2, the C 700's 5″ display does not have touchscreen capability. It shows album art, track progress, system settings, and menus.
The C 700 has a good assortment of inputs for connecting source components like a disc player, game console, and HDTV. But the standout feature is its BluOS-based network music streamer. Developed by NAD's parent company Lenbrook Industries for its Bluesound lineup of multiroom streaming products, BluOS is featured on an increasing number of NAD components, and on products from licensees such as DALI, Monitor Audio, and Roksan.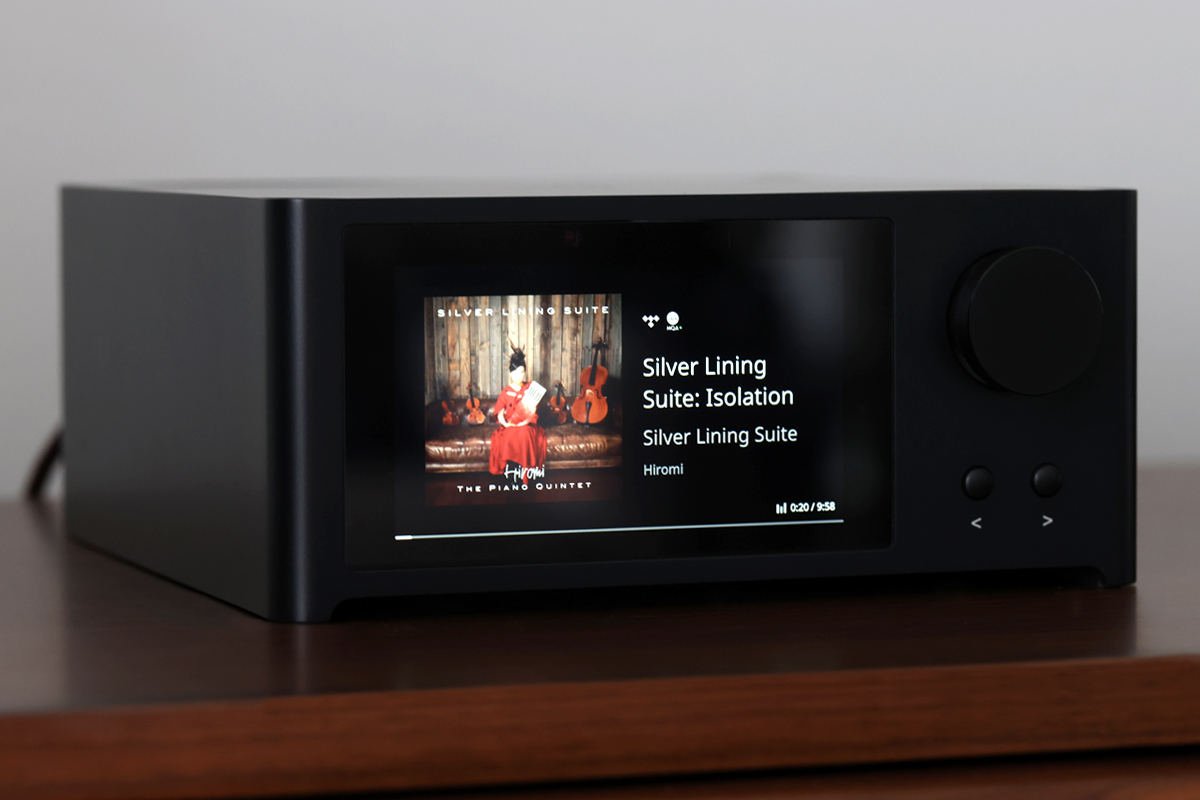 A BluOS-enabled component like the C 700 can be used as part of a whole-home music system with as many as 63 zones. The BluOS Controller app, available for Android, iOS, macOS, and Windows, has integrated support for dozens of streaming services, including several that offer lossless and hi-rez music. These include Amazon Music HD, Deezer, Idagio, Qobuz, and Tidal. All BluOS-enabled components have full MQA decoding and rendering capability, an attractive feature for Tidal HiFi Plus subscribers. You can also play locally stored digital music from a drive connected to the C 700's USB port, or from a network drive.
BluOS supports Apple AirPlay 2, for streaming from any audio app on an iPhone, iPad, or Macintosh computer. Spotify Connect and Tidal Connect are also supported, so you can cue up music in the apps for those services, then transfer playback to the C 700. The C 700, like almost all BluOS-enabled products, is Roon Ready. It also supports Amazon Alexa, Apple Siri, and Google Assistant voice control.
Inside and out
The NAD C 700 measures 8.6″W × 3.8″H × 10.5″D, including knobs, feet, and connectors, and weighs 10.6 pounds. While the C 700 is half the width of most NAD Classic Series components, it shares their no-nonsense styling. The C 700 is not as luxurious as Masters Series components like the M10 V2, but it is solid and well built, with a chunky aluminum case and glass front panel.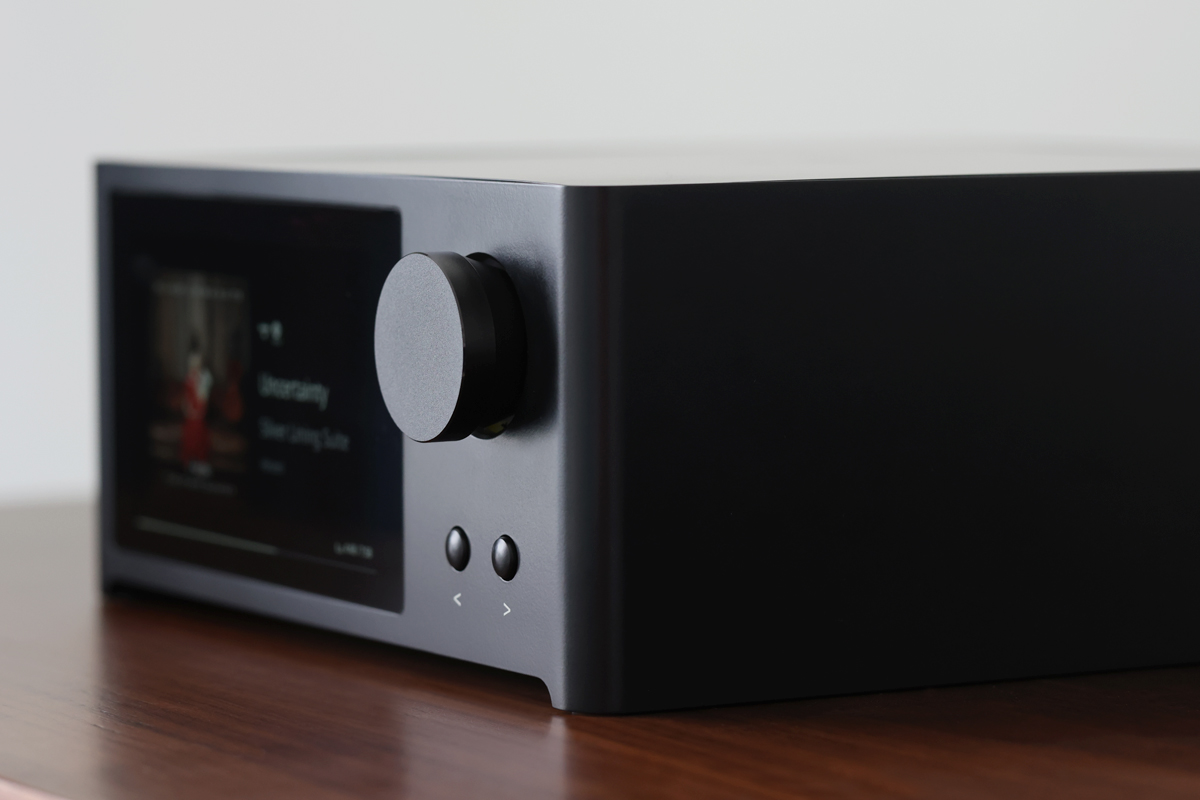 On the top panel is an illuminated NAD C 700 logo that glows and flashes different colors to indicate network status. Filling the left side of the front panel is the 4.25″W × 2.5″H color LCD screen, which shows album art and details of the track playing, along with track progress information, when streaming music. When playing audio from hardwired sources, the LCD shows stylized VU meters for the left and right channels. On the right is a large knob used to adjust volume and select menu items, and below it, two arrow keys for skipping tracks and navigating menus.
On the bottom row of the rear panel are speaker terminals for the left and right channels—they accept bare wire, banana plugs, and spade lugs—and to their right a three-prong IEC power inlet. On the left side of the top row is a 3.5mm jack for an infrared remote sensor, and below it a 12V trigger output (3.5mm) for relaying power on/off commands to connected components. To their right are two sets of line-level analog inputs (RCA); one set of preamp outputs (RCA); monaural subwoofer output (RCA); coaxial and optical S/PDIF inputs; and an HDMI eARC input. A little farther right are an Ethernet port and a USB Type-A port, and on either side of them, a pin switch and micro-USB port for service; and on the far right, the standby button.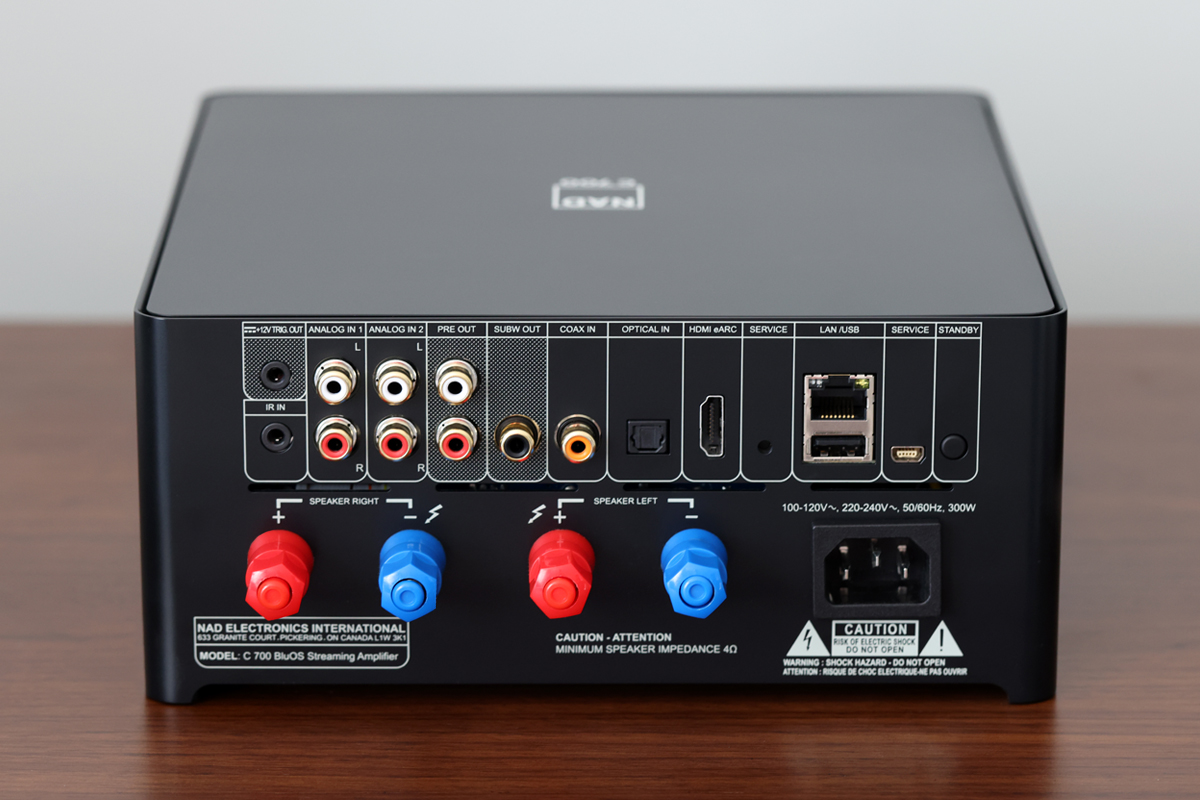 Maximum resolution via the S/PDIF inputs, Wi-Fi and Ethernet, and from files on local and network drives, is 24-bit/192kHz PCM. The C 700 also has bidirectional Bluetooth so that it can output audio to a pair of Bluetooth headphones and receive audio from a smart device.
Rated output is 80Wpc continuous into 8 ohms or 100Wpc into 4 ohms, 20Hz–20kHz, both channels driven, at less than 0.04% THD; and 120Wpc instantaneous power into 4 or 8 ohms. NAD says the C 700's HybridDigital UcD amplifier, a customized version of Hypex Electronics' UcD (Universal class-D) technology, delivers "ultra-low noise and distortion through the entire audioband, regardless of the loudspeaker load."
Setup and software
The Quick Setup Guide provided with the C 700 offers only basic guidance on connecting other components. For more detailed information on setup, configuration, and day-to-day use, it's definitely worth downloading the Owner's Manual. Another valuable resource is Bluesound's "Getting Started with BluOS" web page, which offers an abundance of information on using BluOS software.
For my review, I connected the C 700 to a pair of Totem Acoustic Sky Tower floorstanding loudspeakers, ($2600/pair), a two-way rear-ported design with a 5.75″ midrange-woofer crossed over at 2.5kHz to a 1.3″ fabric-dome tweeter. The speakers were 18″ from the front wall of our living room and 7′ apart, toed in slightly toward the listening position on the end cushion of our sectional sofa on the opposite wall, 7′ away. I also connected the C 700's HDMI eARC input to the HDMI ARC port on the One Connect set-top box for my Samsung 55″ Frame TV, and its subwoofer output to the LFE input of my SVS 3000 Micro subwoofer ($899.99). However, I left the sub turned off for most of my listening.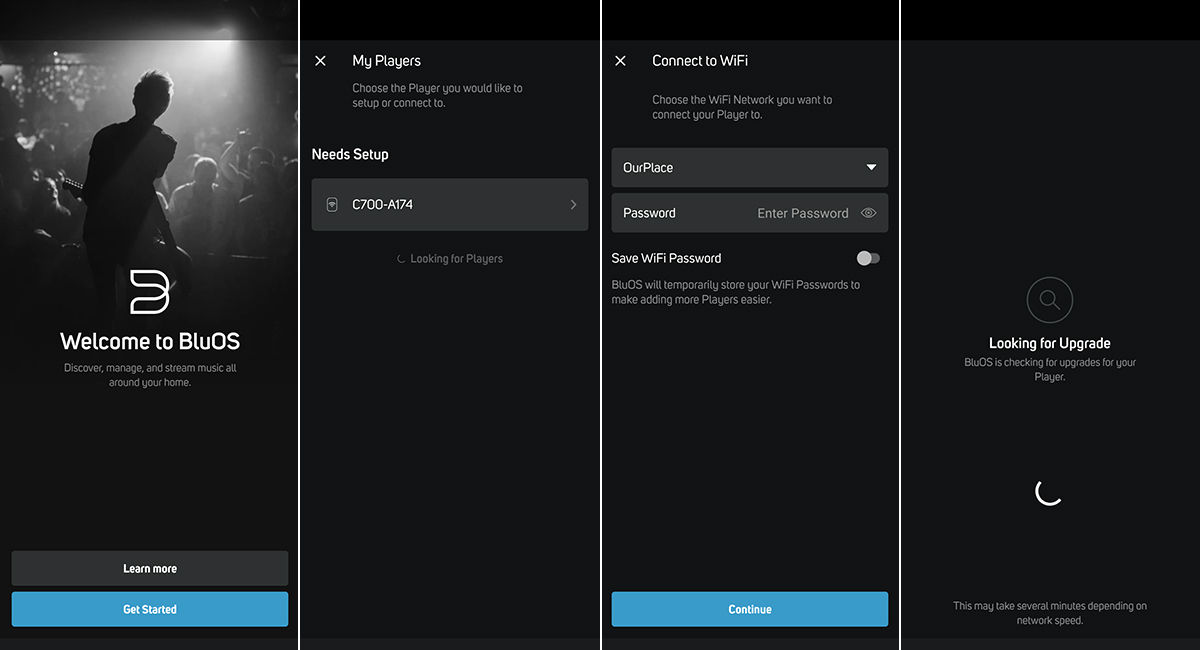 The next step was to get the C 700 on my home network. For this review, I put myself in the position of a first-time BluOS user. I turned off all the other BluOS components on my network, then deleted and reinstalled the BluOS Controller app on my Google Pixel 4a smartphone. I launched the app and clicked the Get Started button; the app then searched for players and found the C 700. The next screen prompted me to choose my Wi-Fi network and enter my network password, and the one after that asked me to specify the room where the amp is installed, or to enter a custom name—I entered "NAD C 700." The app connected the C 700 to my home network, and then installed a firmware update. Job done—easy-peasy.
Now it was time to enable music streaming services in the BluOS Controller app. I have subscriptions to Qobuz and Tidal. In the main menu, I chose Music Services, which took me to a screen with a list of all the services supported by BluOS. I chose Qobuz, entered my username and password, and confirmed the streaming quality. The process was almost identical for Tidal, and now I could see both services on the main menu. I could see the albums, artists, and tracks I had designated as favorites within the apps for each service; check out new releases; create playlists; and cue up the music I wanted to hear. BluOS's integrated clients aren't as rich as the dedicated apps for services like Qobuz and Tidal, but they get the essentials right, and they're easy to navigate. As noted earlier, Tidal, Spotify, and Apple Music subscribers can also choose music from the apps for those services and transfer playback directly to the C 700.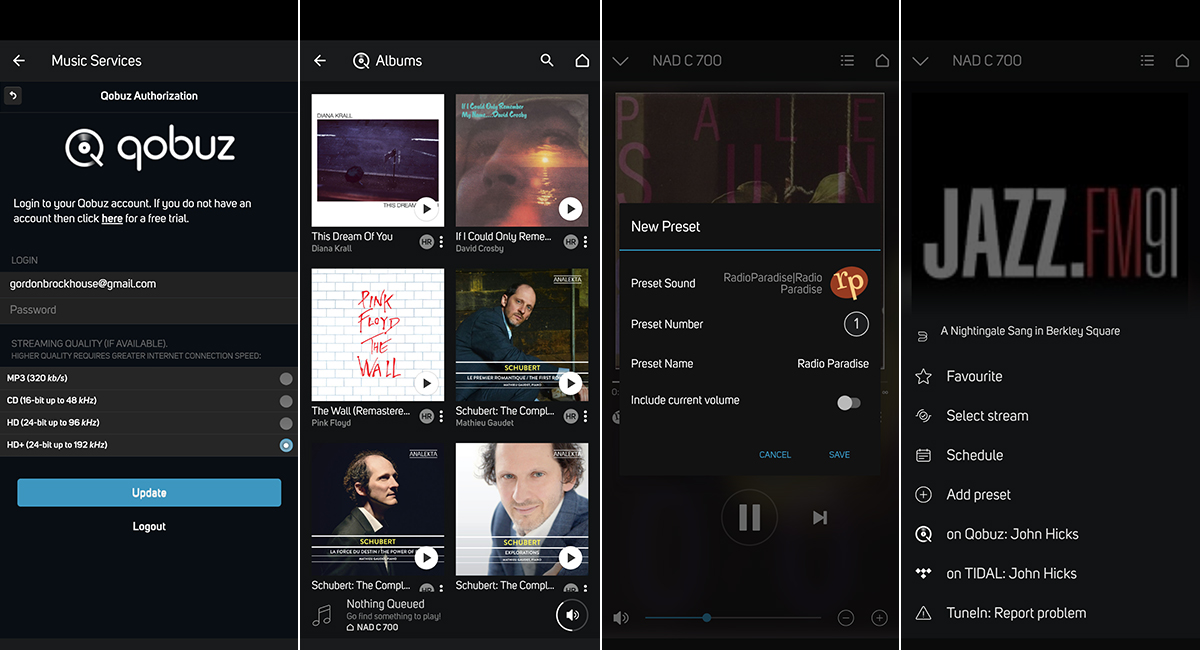 Also as noted, the C 700 can play locally stored music files from a USB drive connected to its USB port. I loaded up an Adata 256GB solid-state drive with a selection of CD-resolution and hi-rez albums. The BluOS Controller app displayed most, but not all, of the album art embedded in these files—otherwise it worked exactly as expected. I could sort music on this drive by album, artist, or track, and easily cue up whatever I wanted to play. I only mention this because I've reviewed other streaming products where these basic functions don't work as expected.
In addition to choosing the music you want to hear, you can use the BluOS app to configure settings on the C 700; for example, renaming sources (e.g., "CD Player" instead of "Optical Input"), enabling the subwoofer and choosing the crossover frequency (more on that later), adjusting bass and treble, and setting display brightness. You can also perform all these functions from the C 700's front panel, navigating menus on the LCD screen and selecting options with the volume/control knob—but most of the time, it's easier and faster with the app.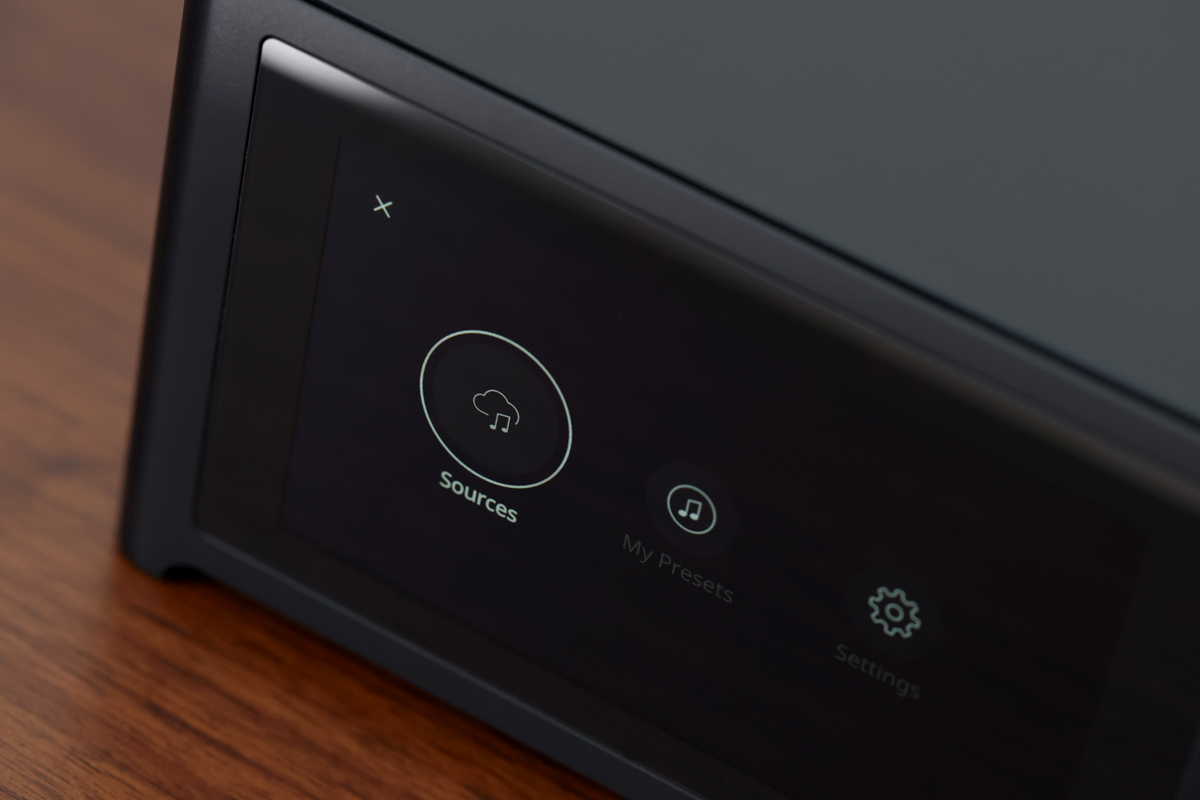 But the front-panel controls have other uses. Besides changing system settings, you can use the volume/control knob to change sources or choose a preset. In the BluOS app, you can store up to 40 internet radio stations or playlists as presets, and then access them using the C 700's front-panel controls. That's a welcome feature when you want a quick musical fix, but don't want to grab a device and use an app to get it.
Listening
Throughout my listening, I was wowed by the C 700's easy-going fluidity, speed and agility, and effortless dynamics. At no point did this little amplifier leave me wanting more of anything.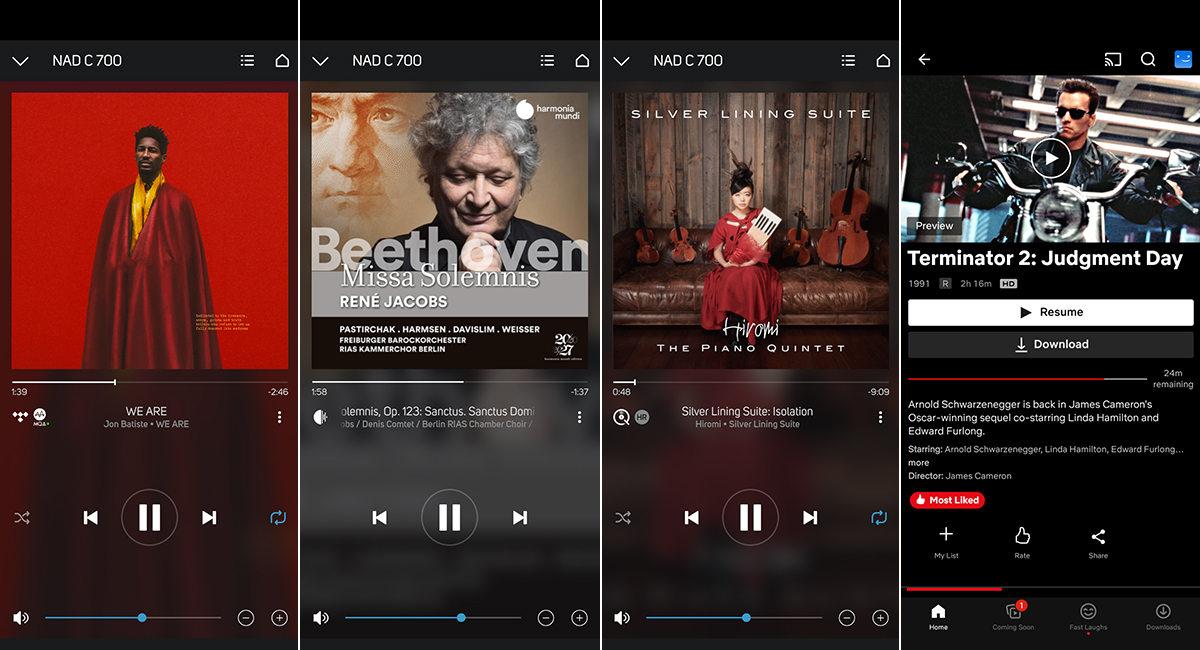 Could an amplifier as cute and compact as the C 700 bring down the house? It sure could, as I confirmed by playing the anthemic title track of Jon Batiste's We Are (24-bit/44.1kHz MQA, Verve Records/Tidal), one of my favorite albums of 2021. The sounds of Batiste's Fender Jazz Bass, and the drums and percussion played by Nate Smith and Pomo, exploded into my living room, with no hint of strain or compression. True, the Jazz Bass sounded a little thuddy, but I can't blame the C 700 or Sky Towers for that. As I've noted repeatedly on this site, my living room has some nasty bass modes, and what I was hearing was room boom. But there are solutions to this problem, as I'll outline later.
The C 700 continued to show its dynamic chops during the big choruses, which feature the New Orleans Gospel Soul Children choir singing, "We are, we are, we are the golden ones / We are, we are, we are the chosen ones" at the rear of the soundstage. These passages sounded big, bold, and enveloping—and completely effortless. Even in the big wall-of-sound passage at the end of the song, with the St. Augustine High School Marching 100 band playing behind Batiste and the Gospel Soul Children, this little amplifier did not seem to break a sweat.
The soundstage was vast—wide, deep, and high—extending far beyond the boundaries of the two Sky Towers. Imaging was likewise superb. I loved the way little details like a chime playing in the right rear of the soundstage appeared out of nowhere.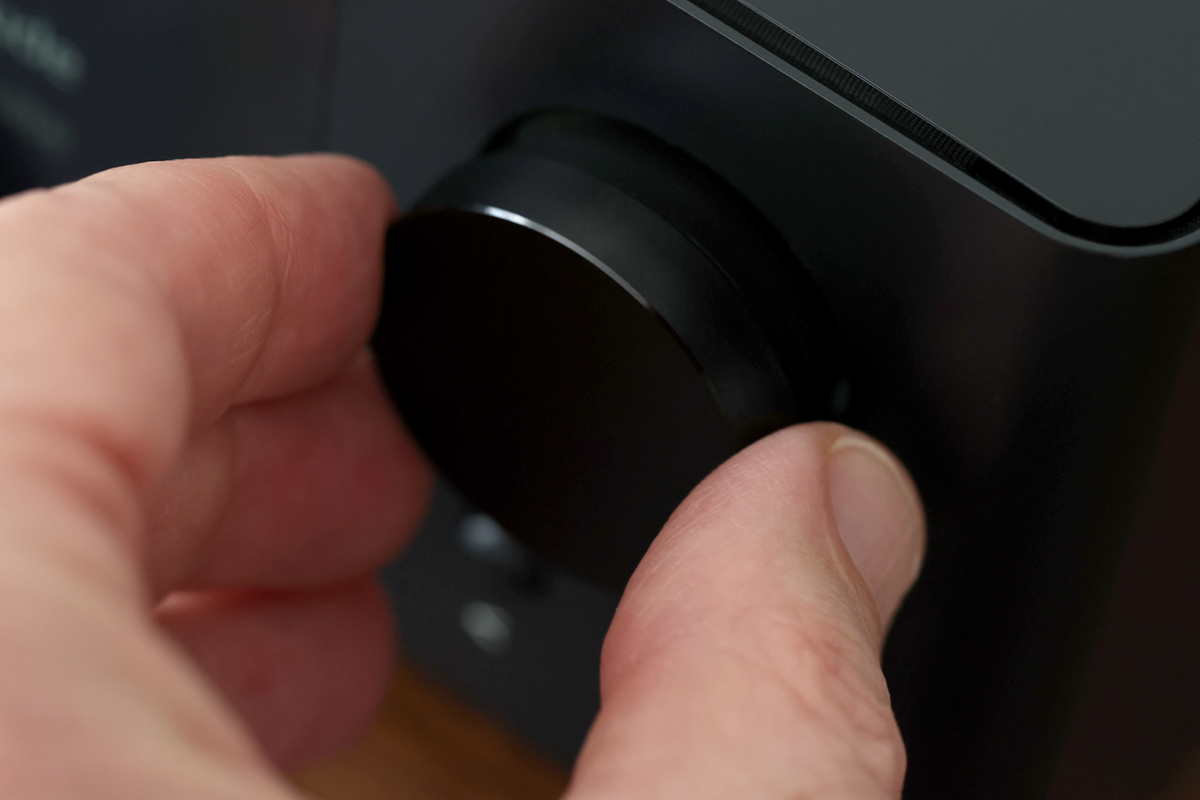 As I confirmed by playing René Jacobs's 2021 release of Beethoven's Missa Solemnis, with the Freiburger Barockorchester and RIAS Kammerchor Berlin (24/96 FLAC, Harmonia Mundi/Qobuz), the C 700 is capable of poetry as well as power. In the Sanctus and Benedictus, the C 700/Sky Tower combination created a wide, deep soundstage, with excellent lateral imaging and front-to-back layering. The aural images of the four vocal soloists—soprano Polina Pastirchak, bass-baritone Johannes Weisser, mezzo-soprano Sophie Harmsen, and tenor Steve Davislim—were clearly arrayed left to right, above the choir and orchestra. The choir was just as clearly placed behind the orchestra. The individual period instruments of the Barockorchester likewise were locked in place: the solo violin that plays throughout the Benedictus in the front left, the timpani punctuating the phrase "In nomine Domini" in the right rear.
I loved the instrumental detail the C 700 pulled from this recording—the sharp blats of the period trombones and trumpets, and especially the solo violin's exquisite legato phrasing and lovely, singing tone during the Benedictus. Choral and orchestral textures were wonderfully transparent throughout both movements. And the ease with which this little amplifier delivered choral and orchestral swells made this sublime music even more affecting.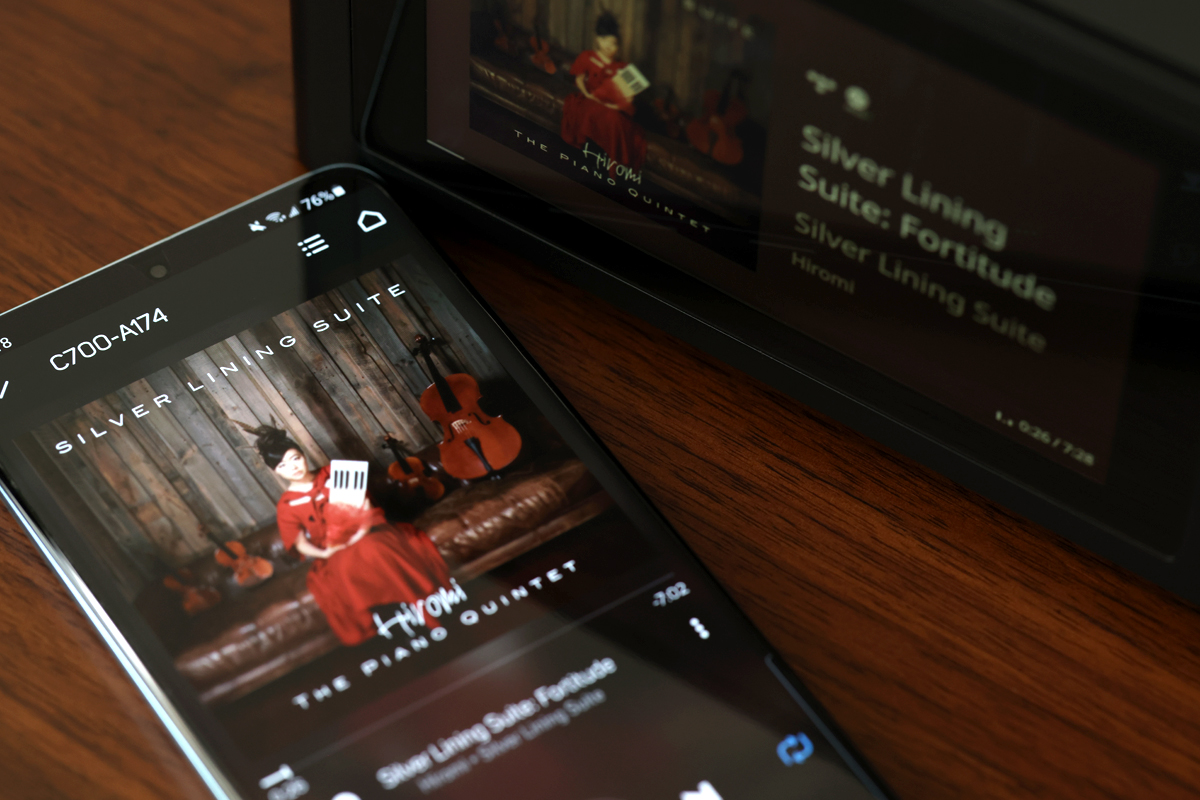 Silver Lining Suite, a new album by Japanese jazz pianist Hiromi Uehara (24/192 FLAC, Concord Jazz/Qobuz), showed off the C 700's speed and agility. On this album, Hiromi, who performs under her first name only, is joined by a string quartet comprising violinists Tatsuo Nishie and Sohei Birmann, violist Meguna Naka, and cellist Wataru Makai. During "Isolation," the first track of the titular four-part suite, I adored the way the C 700/Sky Tower combo rendered Hiromi's playful runs and arpeggiated chords. They had fantastic heft and authority, but also amazing fluidity. I could follow every note, yet the sound was never etched or spotlit. The strings sounded rich and rosiny, with impressive bite on downstrokes, but never etched or steely. Makai's pizzicato walking bass had marvelous body and palpability: his sharp plucks immediately segueing into rich woody resonance.
Woof, woof
I've alluded to the effect of room modes in my living room many times on Simplifi. In my reference system, I deal with this problem by employing Dirac Live room correction on my NAD C 658 streaming DAC-preamp ($1749). This fantastic feature is also offered on NAD's M10 and M10 V2 amps, and on the Arcam SA30 streaming integrated amplifier ($3300).
But if you're considering a subwoofer, and you don't want to stretch your budget to accommodate one of those amps, there are other ways of dealing with room boom—depending on the subwoofer you choose. My SVS 3000 Micro has a parametric EQ function, which you control with the companion SVS app. For situations where I'm not using Dirac Live room correction, I've enabled two filters that address the most severe peaks in my listening room: a 8dB cut at 27Hz, and a 6dB cut at 62Hz. After enabling the subwoofer output in the BluOS Controller app and setting the crossover frequency to 80Hz, I activated those filters in the SVS app and set the subwoofer's output level with the aid of test tones, streamed via Roon from the Apple Mac Mini in my second-floor office.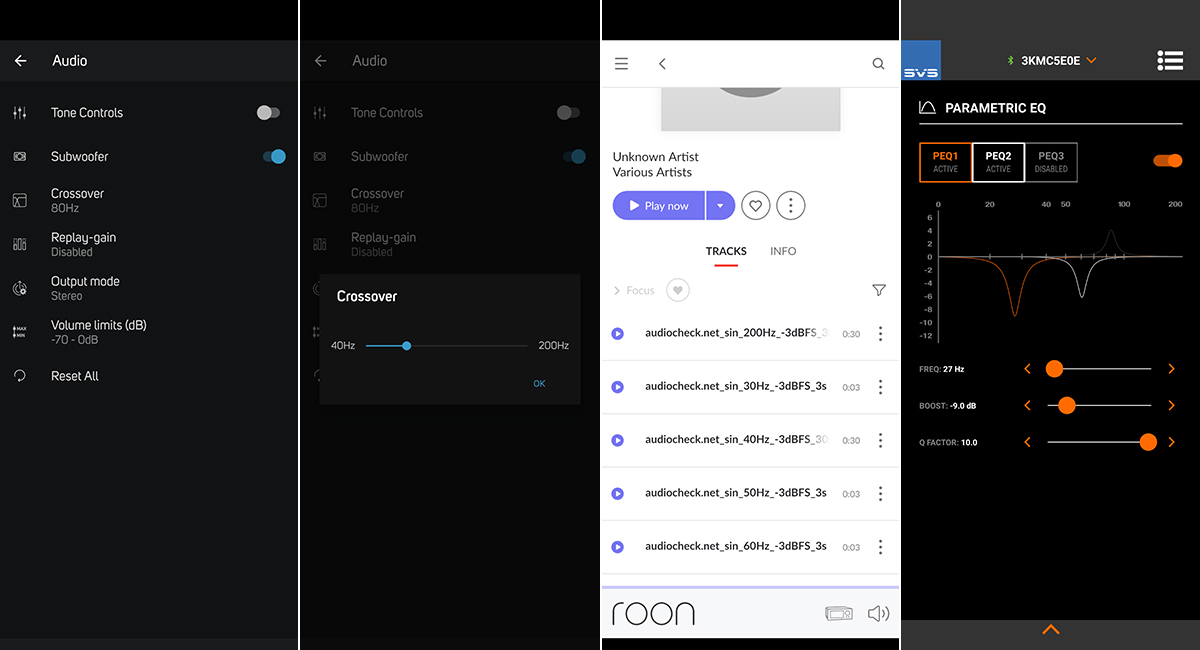 The subwoofer crossover function is a great—and underappreciated—feature of the BluOS Controller app. With the C 700, when you enable the subwoofer output and set the crossover frequency (adjustable from 40 to 200Hz), the C 700 implements a low-pass filter for the sub and a high-pass filter for the mains. This is huge, because it means the main speakers aren't doing any heavy lifting in the deep bass. That almost always translates to more detail in the mid- and upper bass, and in the midrange as well.
So it proved with Batiste's "We Are." With the SVS sub in the mix, the kick drum beats and Fender Jazz Bass notes had more texture and detail, and improved pitch differentiation. And those deep bass notes hit way harder—I could feel them in my stomach and chest. The soundstage was more open, and those big wall-of-sound passages were more clearly resolved. The whole production sounded bigger and more powerful, yet more effortless. The sub and main speakers blended seamlessly—at no point was I aware of sound coming from the sub. I just heard a deeper and more impactful bass, improved dynamics, and greater clarity higher in the audioband. However, the improvements in bass texture, pitch differentiation, and midrange clarity were not as dramatic as the improvements I've experienced with Dirac Live room correction on my C 658 and the M10.
With its HDMI eARC input and configurable subwoofer output, the C 700 can also be used in a 2.1-channel home-theater system. A setup like this won't be as immersive as a full-blown surround system, but as I experienced by streaming Terminator 2: Judgment Day from Netflix to my 55″ Samsung Frame TV, it can be hugely satisfying.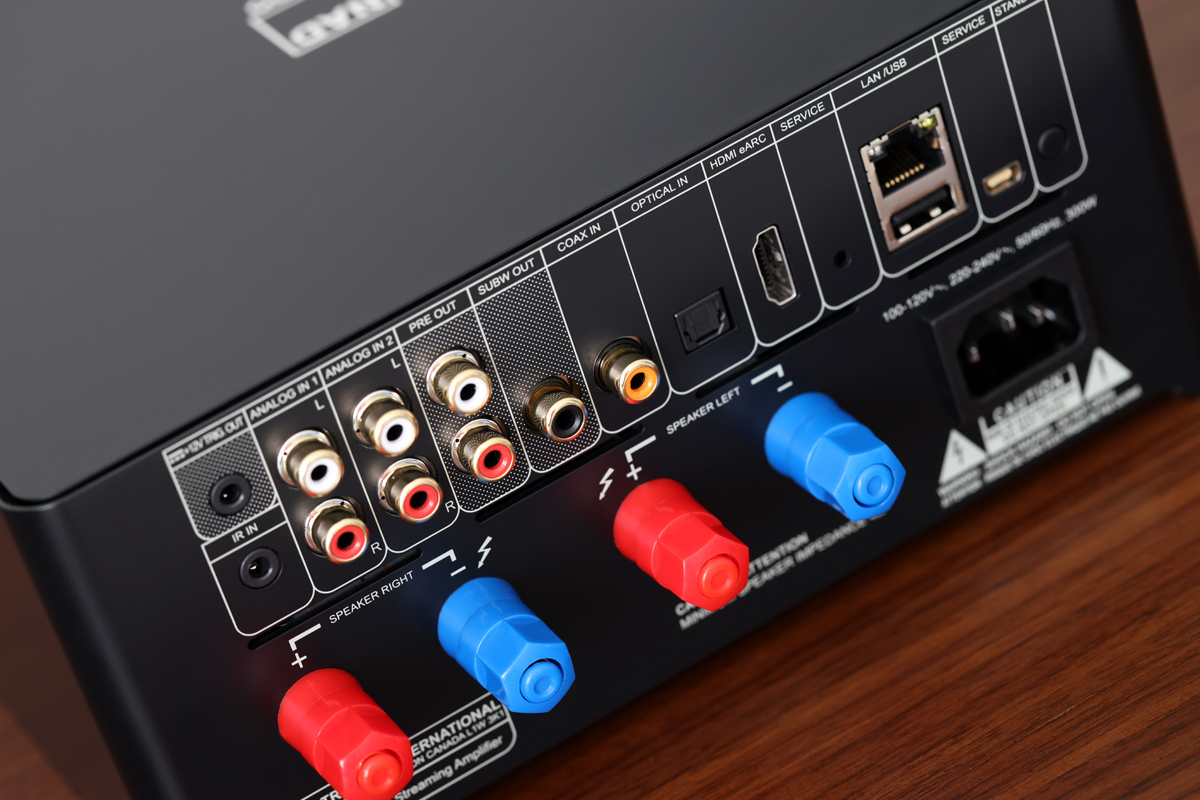 Through the Totems alone, the famous chase scene a half-hour into the movie, where a massive tow truck driven by the evil T-1000 terminator (Robert Patrick) careens off the walls of a drainage canal as he pursues the young John Connor (Edward Furlong), sounded mighty impressive. The Foley effects extended far beyond the boundaries of the two speakers and far out into my listening room, and the percussive music soundtrack extended even further to the sides. While there was no evidence of compression or distress, this was strictly an audio-visual experience.
Switching in the sub turned this scene into a visceral experience—I felt as well as heard those sounds. The blasts of the shotgun fired by the good terminator (Arnold Schwarzenegger) seemed much more dramatic, and the big explosion at the end, after the T-1000's tow truck crumbles under an overpass, shook my room. As with the Jon Batiste track, switching in the sub also delivered benefits higher in the audioband. The mids were less congested and the soundstage was even wider.
Comparisons
I compared the C 700 with two other BluOS-enabled components, the Bluesound Powernode streaming integrated amplifier ($949), and Roksan Attessa streaming amplifier ($3200, review pending). Like the C 700, the Powernode and Attessa amplifiers are rated at 80Wpc into 8 ohms. Unlike the Powernode and C 700, the Attessa is a class-AB design.
I conducted these comparisons without the SVS subwoofer in the mix, partly because I wanted to compare the three amplifiers on their own, but mainly because the implementation of BluOS on the Roksan amplifier does not include a subwoofer setting. The Attessa has a sub output, but you have to set the subwoofer level and crossover frequency on the sub itself, not in the BluOS Controller app, which means that a high-pass filter is not applied to the main speakers.
The Powernode and C 700 have similar feature sets: not just BluOS streaming, but also HDMI eARC connectivity and bidirectional Bluetooth. But the C 700 has that nice color screen and front-panel controls, while the Powernode has a top-mounted touchscreen panel. The Powernode has wireless surround capability—you can add a pair of Bluesound Pulse Flex 2i powered speakers ($299 each) and a Bluesound Pulse Sub+ subwoofer ($749) to configure a 4.1-channel surround system. The NAD C 700 does not have that capability. The C 700 costs almost 60% more than the Powernode; so despite the difference in feature sets, it should sound better—and it did. Not night-and-day better, but noticeably so.
On Beethoven's Missa Solemnis, lateral imaging was as precise through the Powernode as it was through the C 700, but the soundstage was not as deep or as high. Instead, the soundstage was more confined to a plane described by the two speakers. Orchestral and choral textures were a little more congested through the Powernode. The solo violin did not soar quite as beautifully through the Powernode as it had through the C 700, and the period brass instruments did not have quite as much bite. While the Powernode never sounded strained on loud passages, it was dynamically more compressed than the C 700.
Roksan's Attessa streaming amplifier is a full-size component. While it does not have a color screen or HDMI eARC connectivity, it does have a moving-magnet phono preamp, which the C 700 does not.
On Hiromi's Silver Lining Suite, the four string instruments sounded a little smoother through the Attessa amplifier, but had correspondingly less bite. Hiromi's attacks on piano were a little faster and more dramatic through the NAD. While the Roksan seemed to soften percussive elements in her playing, dynamics scaled more naturally—there seemed to be more gradations between soft and loud. Cellist Wataru Makai's pizzicato walking bass lines weren't as rich through the Roksan—I heard more of the slap of the strings and less of the woody resonance that followed. Overall, the Roksan amplifier was slightly smoother and more inviting, and the spatial presentation a little more transparent. But the NAD was a bit more incisive and involving.
Conclusion
In its own way, NAD Electronics' C 700 streaming integrated amplifier exemplifies Simplifi'd hi-fi. Connect it to your home network, add a pair of speakers, activate a streaming service, and you have everything you need to enjoy glorious high-resolution audio. You can connect other components, but you don't have to. And the C 700's compact size makes it ideal for use in real-world, multipurpose living spaces.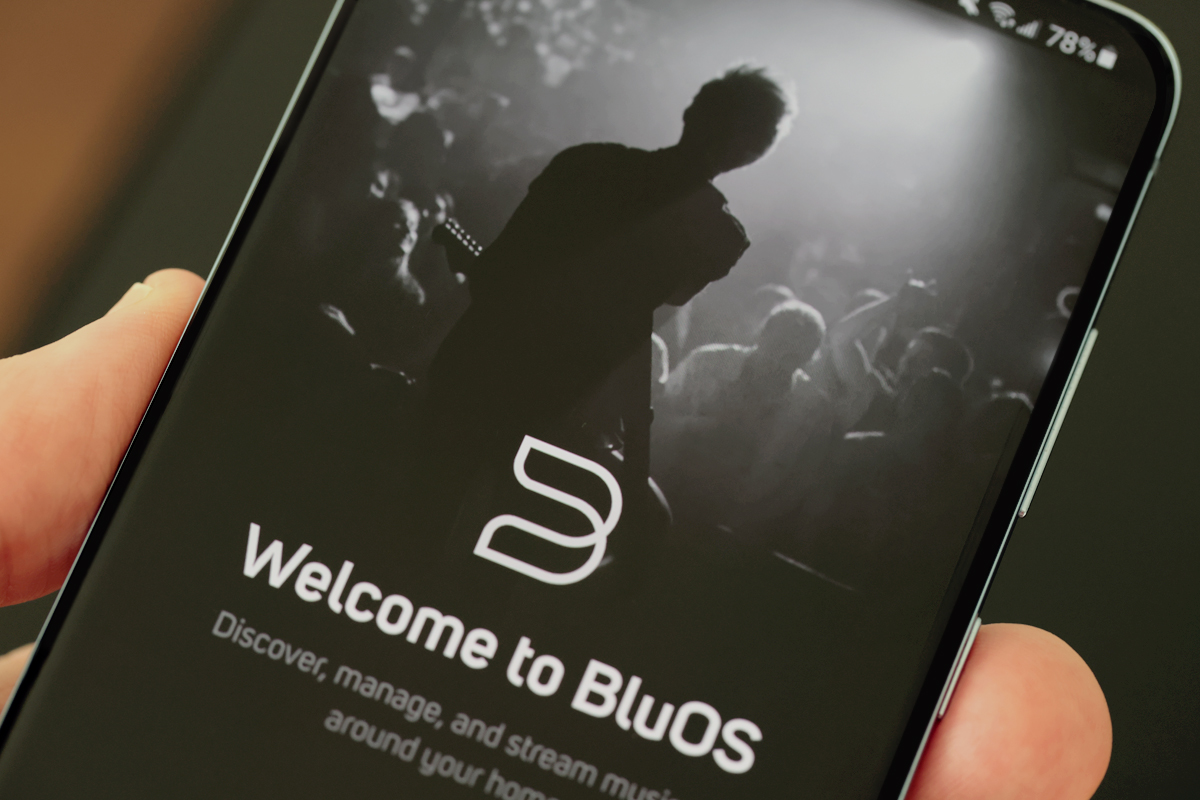 I've expressed my admiration for the rich, robust BluOS platform on this site so often that I must sound like a broken record. Nonetheless, I'll repeat myself. I didn't use the voice control (a feature that I don't find very useful), but I tried just about every streaming protocol supported by the C 700: not just BluOS, but AirPlay, Roon, Spotify Connect, and Tidal Connect. They all worked flawlessly.
As to the sonics, this little amplifier delivers big-time—especially when you consider its attractive price. The C 700 can pack a punch when called upon, but is also capable of finesse and refinement. Highly recommended.
. . . Gordon Brockhouse
This email address is being protected from spambots. You need JavaScript enabled to view it.
Note: for the full suite of measurements from the SoundStage! Audio-Electronics Lab, click this link.
Associated Equipment
Speakers: Totem Acoustic Sky Tower.
Subwoofer: SVS 3000 Micro.
Streaming integrated amplifiers: Bluesound Powernode, Roksan Attessa.
Cables: AudioQuest Q2 speaker cables (10′).
Control devices: Apple iPhone and Google Pixel 4a 5G smartphones, HP Spectre x360 13″ convertible PC.
Display: Samsung UN55LS003 55″ UHD TV "The Frame."
Network: Google Wifi four-node mesh network.
NAD C 700 Streaming Integrated Amplifier
Price: $1499.
Warranty: One year, parts and labor.
NAD
Lenbrook Industries Limited
633 Granite Court
Pickering, Ontario L1W 3K1
Canada
Phone: (905) 831-6333
Website: nadelectronics.com