Most audiophiles know SV Sound (SVS) as a manufacturer of high-performance, high-value speakers and subwoofers. The Ohio-based company's catalog also includes one electronic component: the Prime Wireless SoundBase ($499.99, all prices USD), which combines a powerful integrated amplifier and network streamer in one compact case.
You can connect to the SoundBase such components as disc players and game consoles, but I think most folks will buy it for its streaming abilities. It has built-in Wi-Fi and Bluetooth, and, like SVS's Prime Wireless active speakers ($599.99/pair), employs DTS's Play-Fi music-streaming technology.
One of Play-Fi's most hyped features is its compatibility with many different brands, which lets you assemble a whole-house music system using components made by different Play-Fi licensees. In addition to SVS, these include Audiolab, Harman/Kardon, McIntosh, and Paradigm.
Under control of the Play-Fi app, available for iOS and Android, you can stream music to one or several Play-Fi components over your home network. This can be music stored on the device running the Play-Fi app, music stored on a media server, Internet Radio, or music from a streaming service supported by Play-Fi.
Those services include Amazon Music HD, Qobuz, and Tidal, all of which offer lossless CD-resolution content. Some Play-Fi components, including the SoundBase, support Play-Fi's Critical Listening Mode, which allows high-resolution streaming at up to 24-bit/192kHz. Play-Fi doesn't support MQA, so with Tidal, the SoundBase is limited to 16/44.1. But it can stream hi-rez audio from Amazon Music HD and Qobuz, as well as locally stored hi-rez files.
Inside and out
Weighing 4.9 pounds and measuring 9.1"W x 3.2"H x 8.8"D (including knobs, feet, and speaker terminals), the Prime Wireless SoundBase is a svelte little component. But with a specified power output of 150Wpc into 4 ohms, it packs real punch.
The SoundBase has a matte-black exterior of hard plastic. It looks quite attractive, and the build quality is very good for the price. Embossed at the center of the top panel is a large SVS logo, flanked by ventilation grilles.
On the rear panel are speaker terminals that accept banana plugs, bare wire, or spade lugs; a pair of line-level inputs (RCA); a stereo auxiliary input (3.5mm); a subwoofer output (RCA); a pair of line-level outputs (RCA) for connection to an external amp, so that you can use the SoundBase as a streaming DAC; a digital input (TosLink); a USB Type-A port for servicing; Ethernet input and output ports; a Wi-Fi Setup button and yellow status LED; a Bluetooth Setup button and blue status LED; and a three-pronged IEC power inlet.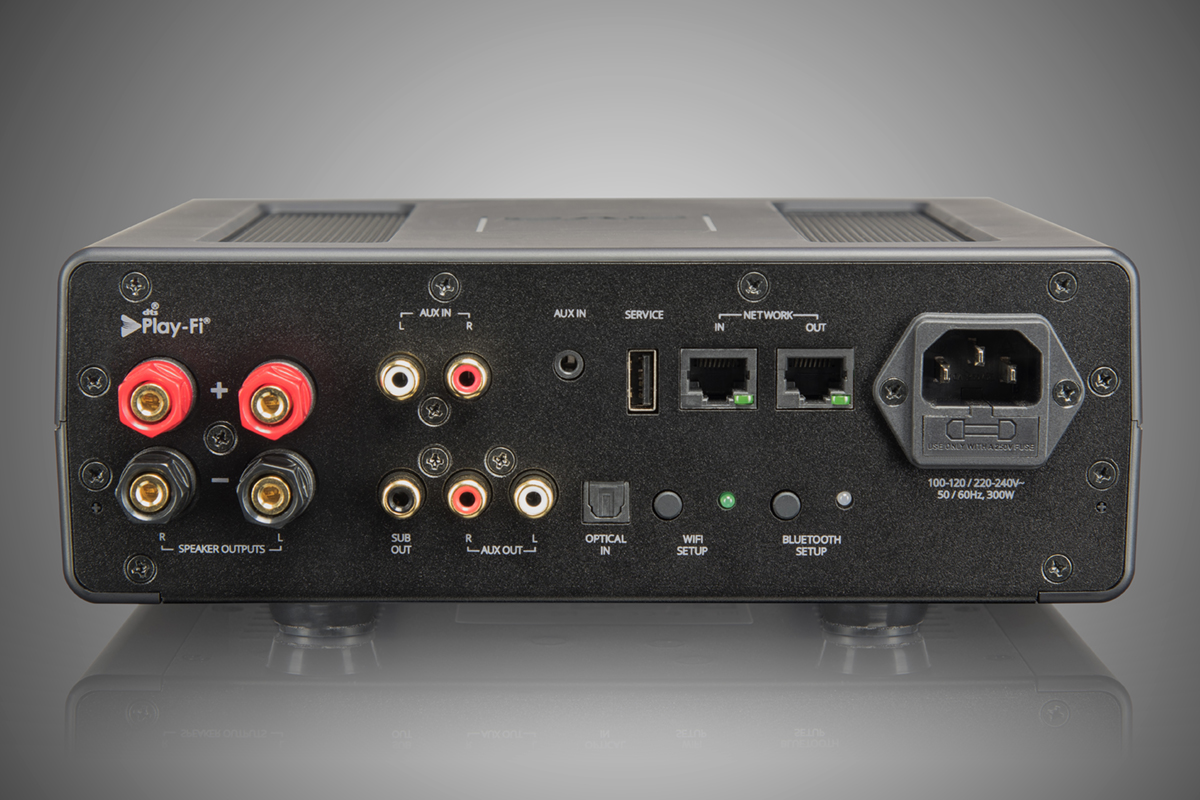 The subwoofer output is not low-pass-filtered -- you'll have to set the crossover frequency on the sub. For digital audio, the maximum resolution is 24/192 via TosLink, Ethernet, and Wi-Fi. The SoundBase supports Bluetooth AAC and aptX, but not aptX HD.
In the lower right corner of the front panel is a 3.5mm headphone jack, and at the center is a 3"W x 1"H blue display that shows the selected source; below that is an illuminated SVS logo. There's no remote control. You operate the SoundBase with its two large knobs, one on either side of the front panel, and/or with the Play-Fi app. The knobs have a nice, solid feel, with well-defined detents.
Turn the left, Source/Preset knob to select sources, and tap it to cycle through six programmable presets. In the Play-Fi app, you can designate favorite Internet Radio stations as presets, and stream audio from them by selecting the corresponding preset with the knob. This is a handy feature for occasions when you (or your resident technophobe) wants to cue up some background music without having to use the app.
Turn the right knob to adjust volume, and tap it to pause or resume playback. The volume control is rather coarse in its operation -- each step changes the level by 3dB. You can make finer adjustments with the Play-Fi app, but this is a little fiddly. When using the app, you can use your device's hardware controls to adjust the playback level, but each step then changes the level by 6dB!
Setup and software
The SoundBase comes with a Quick Start Guide that provides all the guidance most listeners will need for setup and daily use. Those who want more detailed information can download the full manual and stream video tutorials from SVS's website. Another valuable resource is DTS's Play-Fi Knowledge Base.
Connecting speakers and source components to the SoundBase is completely straightforward, as is Bluetooth pairing. To pair the SoundBase with a mobile device, push the Bluetooth Setup button on the back, select Bluetooth as the source by turning the left knob at the front, then open the Bluetooth Settings menu on your device and select SVS Amplifier. Piece of cake.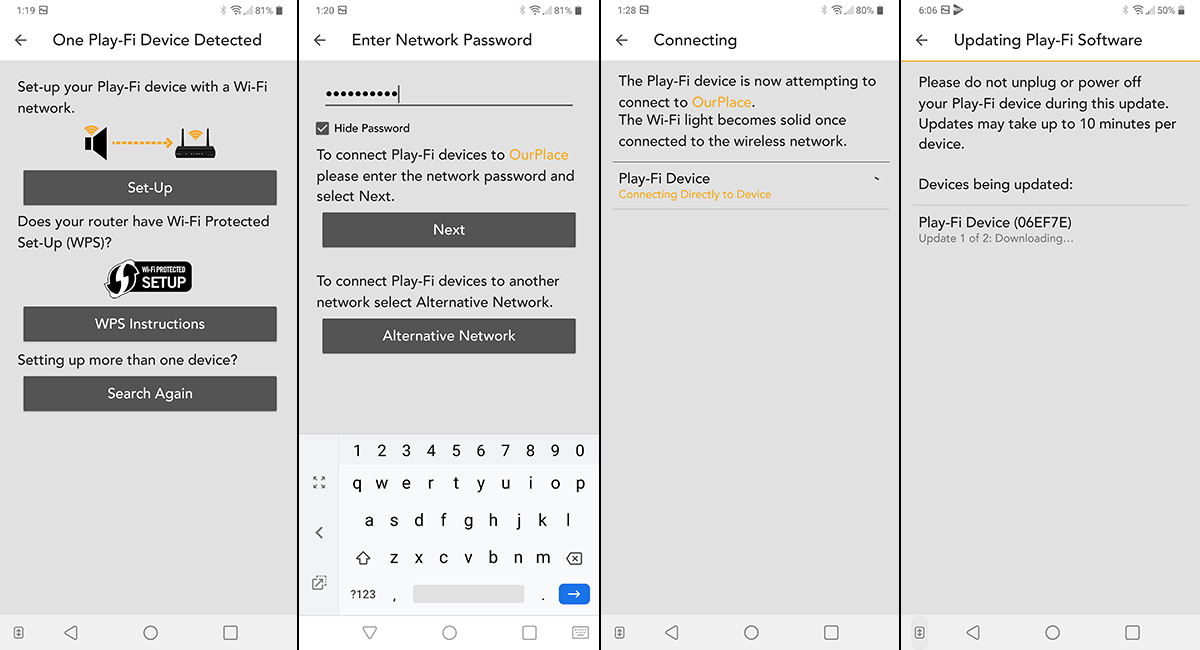 Where things got interesting was connecting the SoundBase to my Wi-Fi network. This requires the Play-Fi app, which I'd previously installed on my LG smartphone. The yellow Wi-Fi setup LED at the back of the SoundBase was flashing rapidly, indicating that the unit was in setup mode. Per the Quick Start Guide, I launched Play-Fi and chose Set Up Play-Fi Device. The app detected the SoundBase and offered two options for getting it connected via Wi-Fi. One of those options, Wi-Fi Protected Setup (WPS), is not supported by my Google Wifi network, so I chose the standard setup option. The next screen prompted me to enter my network password. The app then confirmed that the SoundBase was attempting to connect to my network. This was followed by an error message, Devices Not Found, indicating that no Play-Fi devices were connected to my network. However, my network password was definitely correct. WTF?
After repeating the process several times, always with the same result, I phoned SVS's tech-support number and outlined my experience to a very helpful agent. After doing some research, Ted suggested I delete the app, download it again, and start over. I did this. Same result.
I thought I'd try my luck using the iOS version of the Play-Fi app on my iPad Mini 3. This process is a little different. You have to go into the i-device's Wi-Fi settings menu, and select the hotspot network created by the Play-Fi device. I did this, then launched Play-Fi, per the manual. The result was similar: For several minutes, I watched the spinning iOS beachball as the app tried to upload network information to the SoundBase, then got an error message: Setup Failed.
But this time, the Wi-Fi LED on the back of the SoundBase glowed solid yellow, indicating that the SVS was connected to my network. And when I launched the Play-Fi app on my LG G7, it now detected the SoundBase and offered to do a firmware update. That update completed, I finished the setup process, specifying a custom name for the Play-Fi device (I entered "SoundBase"), and gave the app permission to access media files on my phone so that I could stream them to the SoundBase via Wi-Fi.
In the end, I was able to get the SoundBase connected to my network, but the process was longer and more tedious than it should have been.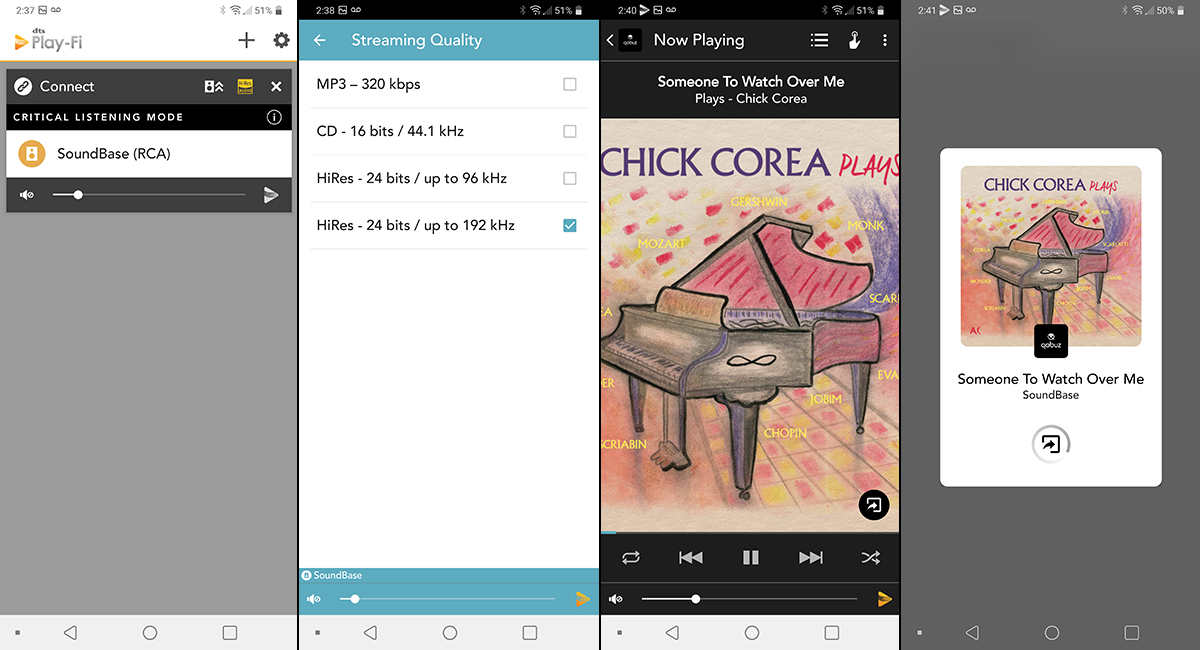 The first time you use a streaming service with the SoundBase, you're prompted to enter your username and password. If you want to stream in hi-rez, you also have to go into Play-Fi's Settings menu for that service and select the desired resolution. By default, Play-Fi chooses the lowest-resolution setting for each service.
Also by default, Play-Fi downsamples hi-rez audio to 16/44.1. To play hi-rez files in their native resolutions, you have to enable Critical Listening Mode: Tap the Hi-Res Audio logo in the top bar of the app's Zone module, which shows all the Play-Fi devices on your network. Critical Listening Mode can be used in only one zone at a time -- you can't stream in hi-rez to multiple zones simultaneously.
DTS continues to enhance the Play-Fi platform, and outlines new features on the Play-Fi "What's New" page. One recent enhancement is Transfer to Speaker mode, which the SoundBase supports.
By default, with Internet streaming services, Play-Fi sends audio from your router to the device running the Play-Fi app, and from there back to your router and then to the Play-Fi component. In my case, that meant data were being sent from my Internet modem to my Google Wifi router, over my home Wi-Fi network to my LG smartphone, back to the router, and from there to the SoundBase. If a call came in while I was streaming music from the Play-Fi app on my phone, playback would pause, then resume when the call ended.
Play-Fi's Transfer to Speaker mode lets you stream directly to a compatible Play-Fi device without going through your phone. To do this, tap the Transfer icon in the lower-right corner of the Now Playing screen. With the SoundBase, it took about 15 seconds for transfer playback. This done, you can control volume, pause and resume play, and skip tracks from your phone -- but you can't cue up other music without first exiting Transfer to Speaker mode, which clears the playback queue.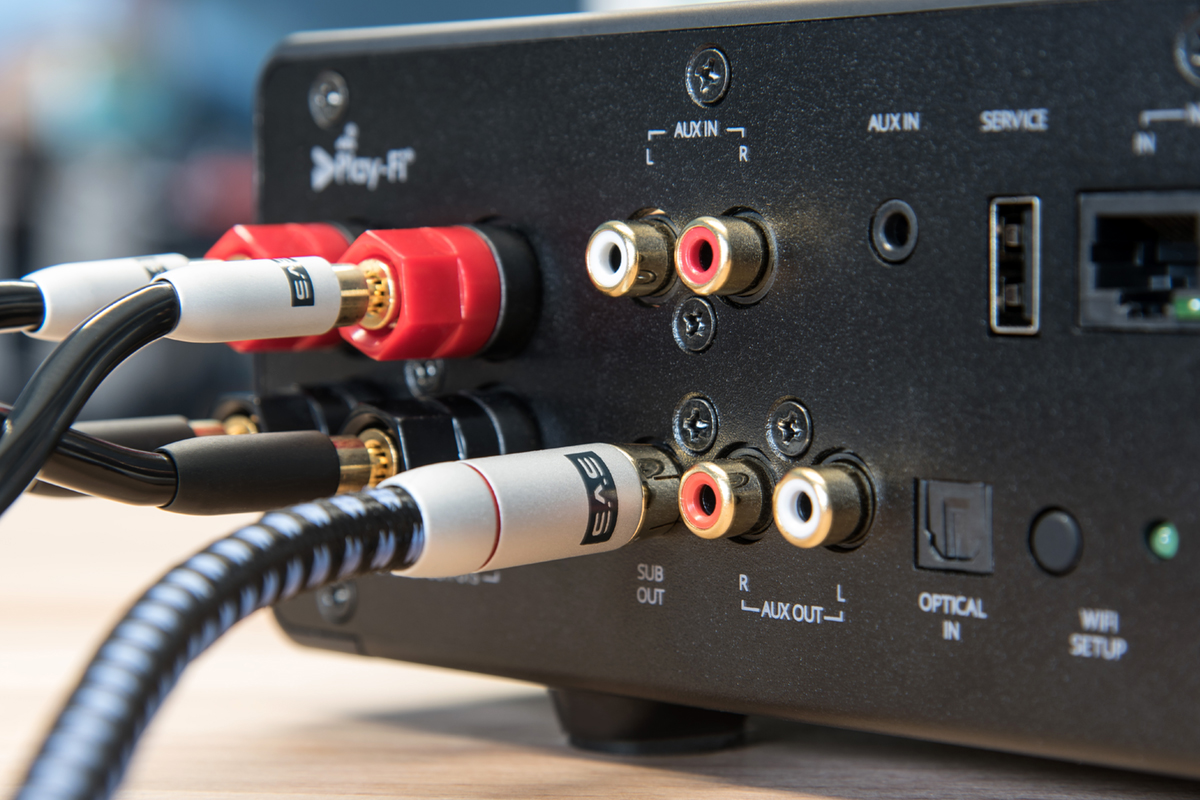 In terms of daily use, Play-Fi has some significant flaws, including its lack of support for gapless playback. With the SoundBase, Play-Fi inserted a six-second gap after each song, which was really annoying with albums in which one track should segue into the next. Gapless playback won't be a problem if you're using Spotify Connect to stream to the SoundBase.
My other beef was Play-Fi's slow response. Typically, when I cued up a song in Qobuz, playback began five seconds later; with music stored on my phone, the delay was about three seconds. The same was true of skipping tracks. This had nothing to do with my network. I tried this in two different locations in my home. In the same locations, cueing up a song in the Qobuz app on my LG smartphone or Apple MacBook Pro computer took a fraction of a second, skipping tracks was instantaneous, and tracks segued from one to the other with true gaplessness.
Other than the slow response and lack of support for gapless playback, I found the Play-Fi app quite satisfactory in day-to-day use. It didn't take me long to get comfortable using it. Now it was time to play some music.
Listening I
There's a lot to like about the Prime Wireless SoundBase, notably its lively, dynamic sound. This little amp punched way above its weight, though at times it could sound a tad edgy.
For my first round of listening, I connected the SoundBase to a pair of Q Acoustics 3020i minimonitors ($314.99/pair) with a 10' pair of AudioQuest Q2 speaker cables terminated in banana plugs. Favorably reviewed by Roger Kanno on SoundStage! Hi-Fi in June 2019, the 3020i is a two-way, rear-ported speaker with a 5" aramid-cone midrange-bass driver that hands off at 2.4kHz to a 0.9" soft-dome tweeter. I placed the speakers on either end of a credenza in my basement family room, atop IsoAcoustics ISO-155 desktop stands, which raised their tweeters to my ear level in my listening position. The speakers were 4' apart, 1' from the wall behind them, and 5' from my listening seat.
I began by streaming "Silence Is the Question," from The Bad Plus Joshua Redman (24-bit/96kHz FLAC, Nonesuch) from my LG phone via Bluetooth. On this album, saxophonist Redman joins the power-jazz trio The Bad Plus: pianist Ethan Iverson, double bassist Reid Anderson, and drummer Dave King. The tender opening was exquisite. Anderson's bass sounded deep and robust, but also well defined. The track ends in a five-minute wall of sound, with ferocious drumming by King, thunderous chords by Iverson, and impassioned wailing by Redman -- the SoundBase produced it all with no evident strain.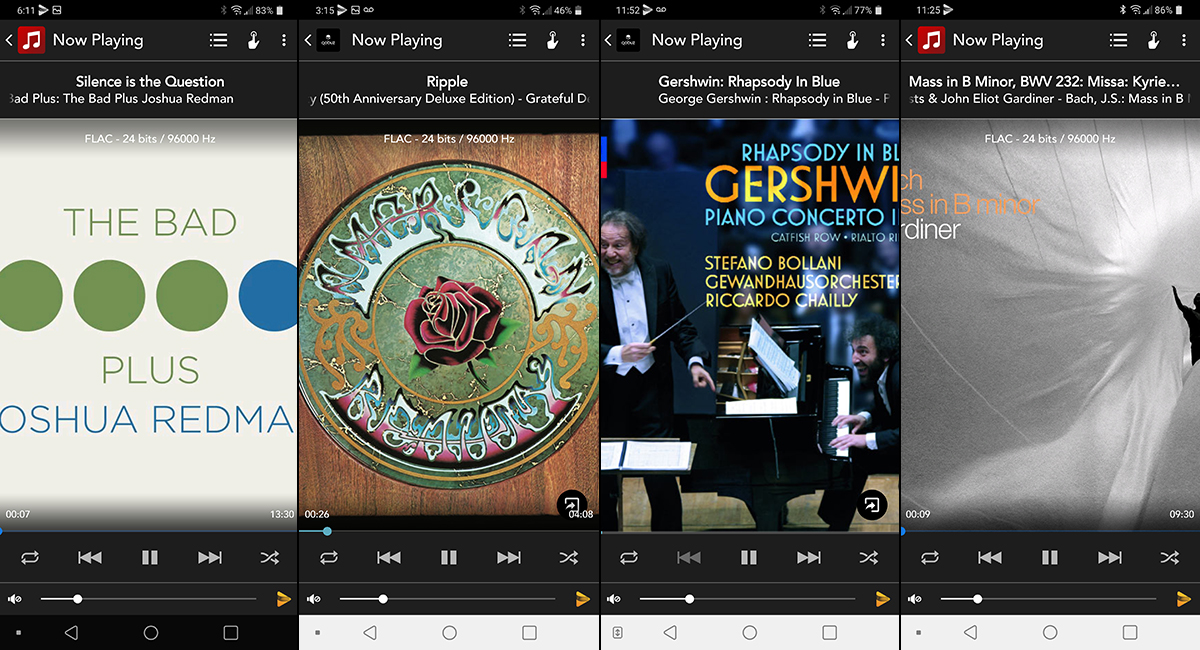 This track sounded noticeably better via Wi-Fi and the Play-Fi app. There was less glary edge, more air around instruments. The soundstage was more filled in, so that instruments sounded more three-dimensional -- via Bluetooth, they sounded more like two-dimensional cutouts. Microdetail was better. I was more aware of Anderson's plucks of his bass strings decaying into the warm, woody glow of the instrument's body. With Iverson's piano, attacks were better defined, decays more extended. The overall sound was much smoother; by comparison, Bluetooth sounded hard and edgy. And the dense, frenetic passages were less congested via Wi-Fi, so that each musician's playing was better differentiated from the other three.
I then played "Silence Is the Question" via the Roon app on my MacBook Pro, which I connected to the SoundBase's optical input. Before playing music from the MacBook Pro, I set the sampling rate in the macOS Audio MIDI Setup utility to match the sample rate of the music I was playing. The Wi-Fi stream sounded a little livelier and better defined; through the MacBook Pro's TosLink output it sounded a tad smoother, but also denser. The differences were minor compared to those I'd heard between Bluetooth and Wi-Fi.
For something more mellow, I streamed "Ripple," from the Grateful Dead's American Beauty: 50th Anniversary Deluxe Edition (24/96 FLAC, Rhino/Warner Bros./Qobuz), to the SoundBase from the Play-Fi app on my LG phone. This folk-rock classic sounded lovely through the SoundBase and Q Acoustics 3020i speakers. The SoundBase produced Phil Lesh's electric bass, which gives this song its heartbeat, with just the right combination of robustness and control. I admired the way this combination rendered the two acoustic guitars, respectively played by Bob Weir and Jerry Garcia at far left and right of the soundstage. Transients were fast and clear -- I had a clear sense of picks striking steel strings -- and decays were warm and extended. The SoundBase tracked Garcia's voice beautifully, highlighting the humanity and compassion with which he sings this song.
Listening II
How would the Prime Wireless SoundBase perform in a larger room, with bigger speakers? To find out, I carried it up to my main-floor living room and connected it to Totem Acoustic's Sky Tower floorstanding speakers ($2400/pair), which stand to either side of our faux fireplace, toed in slightly toward the listening position. The speakers were 18" from the wall behind them, and described a 7' equilateral triangle with the sweet spot on the end cushion of our sectional sofa against the opposite wall. Favorably reviewed by Philip Beaudette on SoundStage! Hi-Fi in November 2018, the Sky Tower is a two-way, rear-ported design with a 5.75" midrange-woofer crossed over at 2.5kHz to a 1.3" fabric-dome tweeter via a first-order filter.
I began with a rollicking performance of Ferde Grofé's jazz-band version of George Gershwin's Rhapsody in Blue, played by jazz pianist Stefano Bollani, with the Leipzig Gewandhaus Orchestra conducted by Riccardo Chailly (16/44.1 FLAC, Decca/Qobuz), streamed to the SoundBase via the Play-Fi app on my LG phone. The tiny SVS amp reproduced the lower octaves of Bollani's piano with really satisfying weight. The transients of his rapid-fire runs in the upper octaves were lightning-fast. The SoundBase-Totem combo also beautifully reproduced Bollani's touch in the middle section, when he plays more legato. But when he played loudly, his piano's tone became a bit clangy.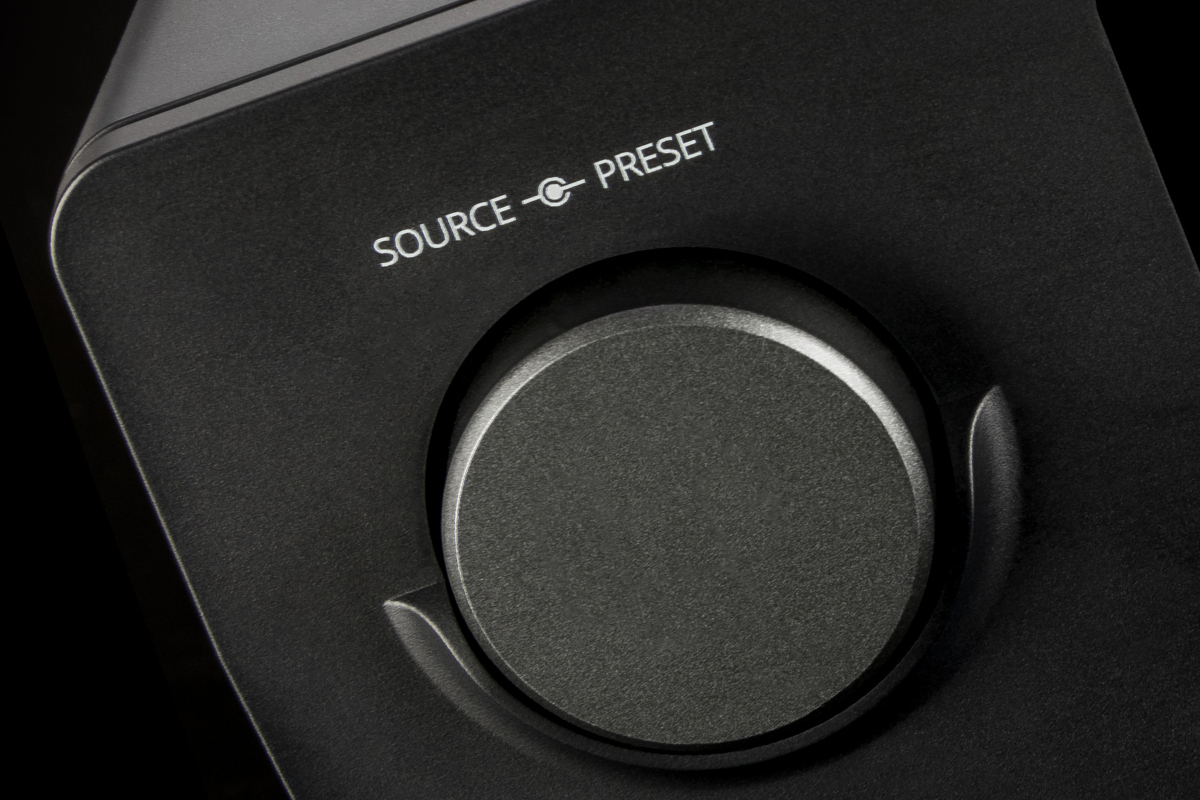 In the opening, the timbres of the wind instruments -- clarinet, muted trumpet, trombone -- were completely convincing, making it easy to appreciate the saucy wit in Gershwin's writing and Grofé's arrangement. Orchestral textures were wonderfully transparent in the quieter sections, such as the beginning of the dreamy interlude that starts about ten minutes in. The SoundBase scaled up impressively when the whole band got swinging, but a little hardness crept in. That said, dynamics were fabulous for an amp of this size and price.
Wanting to hear how the SoundBase would deal with complex, multilayered music, I cued up John Eliot Gardiner's 2015 recording of J.S. Bach's monumental Mass in B Minor, with the English Baroque Soloists and the Monteverdi Choir (24/96 FLAC, Soli Deo Gloria). The first section, Kyrie, begins with all choristers loudly singing "Kyrie Eleison" (Lord, have mercy). That dramatic opening sounded a little dense and harsh -- it was difficult to differentiate individual voices in the chorus. But the ensuing instrumental interlude was really satisfying -- through the SVS amplifier and Sky Towers I could really appreciate the expressive bowing of the EBS strings. When the chorus returns, one group at a time singing quietly, these components let me appreciate the wonderful diction and expression Gardiner elicited from the singers. But as the intensity builds, the sound became denser and the vocal parts somewhat homogenized -- it was harder to unravel Bach's counterpoint. And while the soundstage was wide, it lacked depth; the chorus wasn't as distant from the orchestra as I'd have liked.
Comparison
I compared the SVS Prime Wireless SoundBase with a similarly priced ultracompact amplifier: NAD's D3020 V2 ($449). The D3020 V2 received Reviewers' Choice honors when it was reviewed by Sathyan Sundaram on Simplifi in August 2018, and was later named a 2018 SoundStage! Network Product of the Year for Exceptional Value. The tiny NAD lacks built-in Wi-Fi or streaming, but does have a moving-magnet phono stage. Other input options include line-level analog, TosLink and coaxial S/PDIF digital inputs with maximum resolution of 24/192, and Bluetooth with aptX support. The D3020 V2's specified output is 30Wpc RMS into 4 or 8 ohms -- significantly less than the SoundBase's 150Wpc into 4 ohms.
For this comparison, I turned off the D3020's Bass EQ feature, which boosts frequencies below 80Hz by 7dB. I used my MacBook Pro as the source, connecting it to the two amps' optical inputs. Before conducting the comparison, I used pink noise and a sound-pressure-level meter to match their outputs to within ±0.5dB.
"Silence Is the Question," from The Bad Plus Joshua Redman, really showed off these amps' strengths and limitations. In the tender opening, the D3020 V2 revealed significantly more microdetail -- the SoundBase sounded veiled by comparison. The little NAD beautifully rendered Ethan Iverson's touch on piano -- I could sense the weight he gave each note and chord. Reid Anderson's bass playing was presented with more tactility and expression -- his initial plucks were better defined, the warm, woody decays more extended. But in the frenetic sections the tables were turned: Here the D3020 V2 sounded a tad smoother and more refined, but also more congested, which made it harder to follow musical lines. The SoundBase reproduced this demanding track with greater ease. Given the great disparity in these amps' power outputs, this isn't surprising.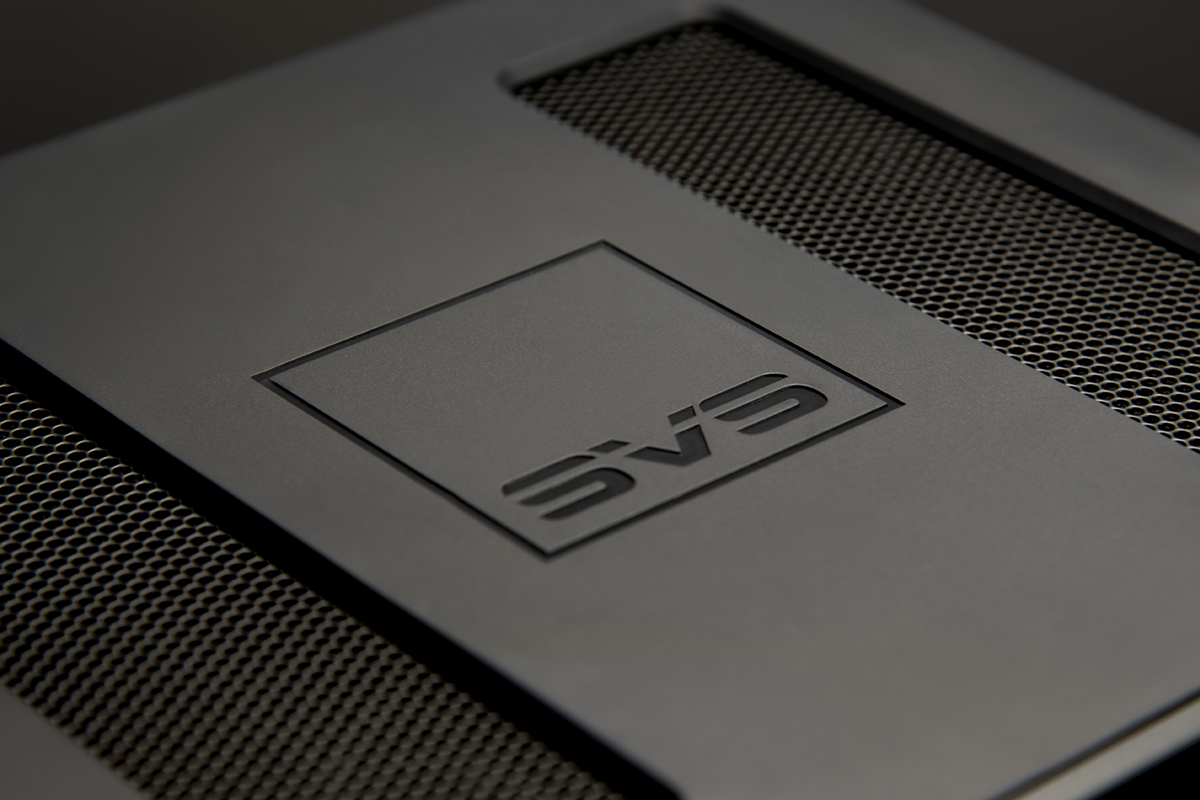 Through the D3020 V2, the Dead's "Ripple" sounded warmer, more inviting. At first, the SVS's sound seemed livelier and more detailed. For example, the transients of the two acoustic guitars' steel strings were spotlit a little more. But further listening confirmed that the NAD was pulling more detail from this half-century-old recording. Through the D3020 V2 I was more aware of the different tonalities of the two acoustic guitars, and Phil Lesh's electric bass had more texture -- by comparison, it was a little indistinct through the SoundBase. Jerry Garcia's lead vocal and Bob Weir's harmonizing sounded a bit smoother and more rounded through the D3020 V2, a bit less electronic.
Playing Gershwin's Rhapsody in Blue in my living room through the Totem Sky Towers, the NAD was a bit more refined than the SVS, but a bit less exciting. Wind instruments at the beginning sounded a bit more etched and electronic through the SoundBase. Through the NAD, Bollani's staccato chords and notes weren't quite as fast, but his trills sounded more natural and expressive, less spotlit. Piano tone was less weighty through the NAD, especially in the lower octaves, and less clangy in the upper octaves. Orchestral tone in loud passages was a little less brash, but dynamics were more compressed.
When I played Bach's B Minor Mass through the D3020 V2 and Sky Towers, the big opening phrase of the Kyrie sounded a bit strained -- reducing the volume slightly made the sound more composed. In the loud choral passages later in this movement, dynamics were more compressed through the NAD than through the SVS. But with the NAD the sound was less congested -- I found it easier to follow Bach's part-writing and counterpoint. The soundstage was deeper through the NAD, giving a better sense of the acoustic of LSO St. Luke's, a deconsecrated London church now used as a recording studio, and better separating the choir and orchestra.
Conclusion
In this review I've raised some concerns about the Play-Fi platform, and maybe I'm not alone. Several Play-Fi licensees, including Anthem, Arcam, Definitive Technology, and Pioneer, have not implemented Play-Fi in their latest streaming products. Not all music lovers will be bothered by Play-Fi's lack of support of gapless playback, but I am. I also found Play-Fi slow in daily use, and finnicky in initial setup. That said, setup is a onetime process, and aside from its slow response, I was happy with how Play-Fi worked during my listening. I think the Play-Fi interface is well thought out; with a little experience, it's easy to find your way around it.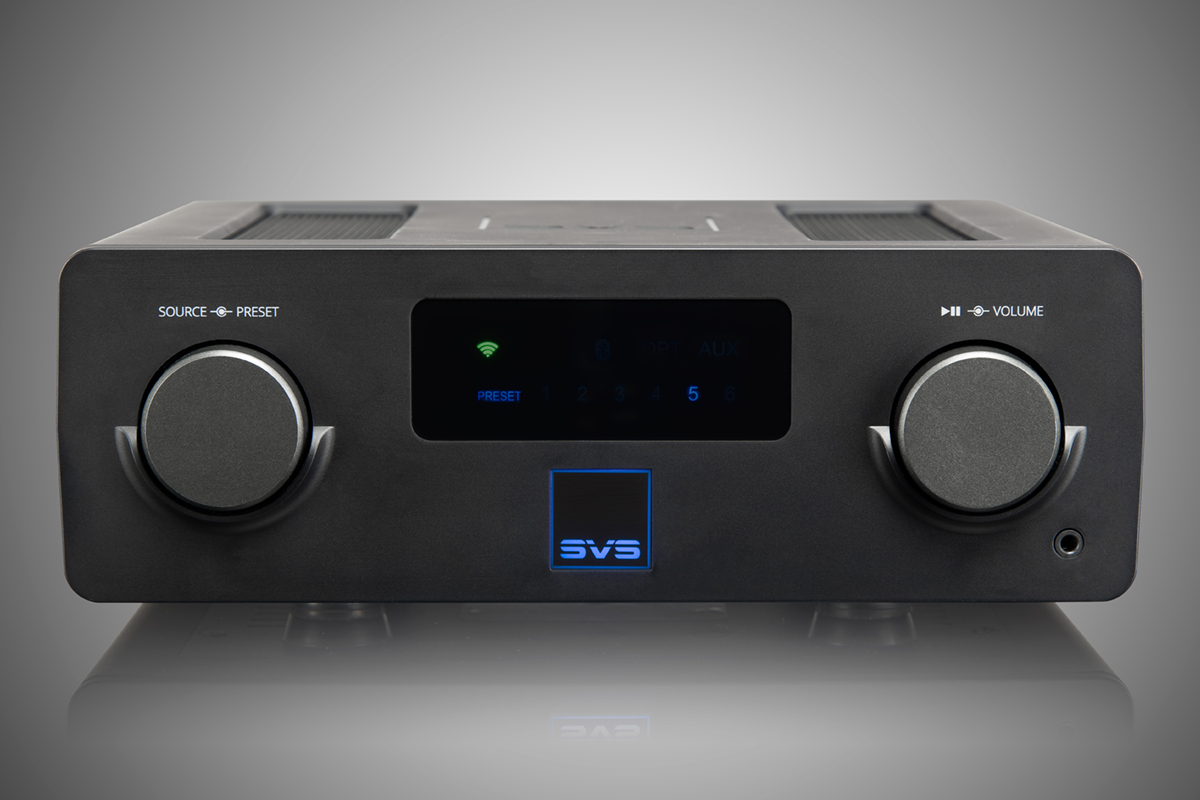 As for the SVS Prime Wireless SoundBase itself, it delivers a lot for the price. While its sound isn't as refined as that of NAD's $51-cheaper D3020 V2, it's more dynamic and exciting. Think of it this way: for a penny under $500, you get a 150Wpc amplifier that can really rock, plus a capable streamer that gives you access to a world of music. The Prime Wireless SoundBase is another example of how SVS has earned its reputation for outstanding value.
. . . Gordon Brockhouse
This email address is being protected from spambots. You need JavaScript enabled to view it.
Associated Equipment
Speakers -- Q Acoustics 3020i, Totem Acoustic Sky Tower
Amplifier -- NAD D3020 V2
Interconnect -- Belkin digital optical cable and 3.5mm adapter (6')
Speaker cables -- AudioQuest Q2
Speaker stands -- IsoAcoustics ISO-155 (desktop)
Source and control devices -- LG G7 ThinQ smartphone, Apple iPad Mini 3, Apple MacBook Pro computer
Network -- Google Wifi four-node wireless network
SVS Prime Wireless SoundBase Streaming Integrated Amplifier
Price: $499.99 USD.
Warranty: Two years parts and labor.
SVS
260 Victoria Avenue
Youngstown, OH 44515
Phone: (877) 626-5623
Website: www.svsound.com