One of the best-kept secrets of home audio is the possibility of building a hi-fi system around a pair of professional studio monitors. As I discussed in my July 1 feature, "Turning Pro," studio monitors offer more bang for the buck than most conventional systems comprising separate electronics and passive speakers.
A case in point is Focal's Solo6 Be ($1499 each, all prices USD), a two-way analog active speaker with a 6.5" woofer powered by a BASH amplifier specified to output 150W RMS, and a 1" inverted-dome tweeter powered by a class-AB amp specced to put out 100W RMS.
As its name hints, the tweeter of the Solo6 Be has a diaphragm of beryllium (Be). Per unit mass, beryllium is seven times more rigid than aluminum or titanium, which means, Focal says, that it can propagate soundwaves several times faster. This translates to extended bandwidth, faster impulse response, greater transparency, and more microdetail. In Focal's high-fidelity range, the least expensive models with beryllium tweeters are the Kanta series. The Kanta No1, a two-way minimonitor with 6.5" woofer and beryllium dome tweeter, sells for $6590/pair. Granted, the Kanta's tweeter is a more recent, more advanced design, with rear loading that lowers distortion.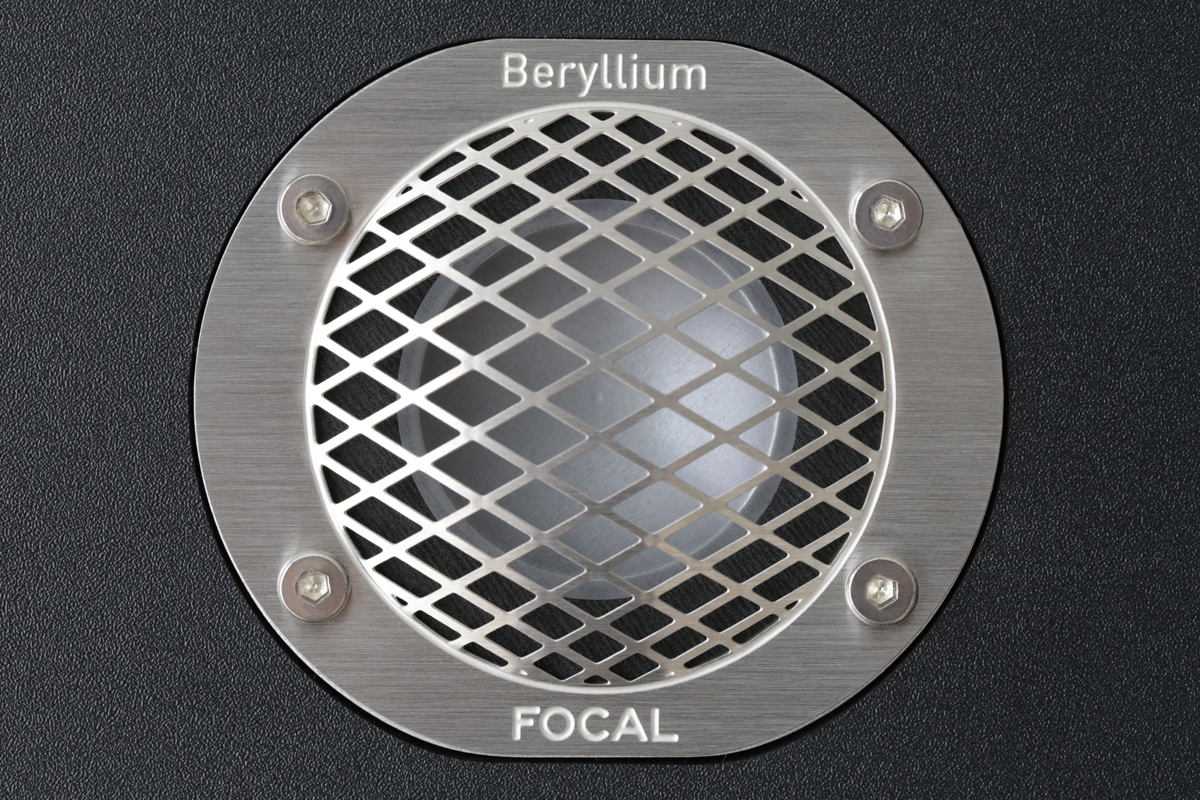 The Kanta No1's enclosure is far more opulent than the Solo6 Be's, but that doesn't negate my point about value, especially when you consider that all of Focal's home speakers are passive designs: The Solo6 Be's price of $2998/pair includes its built-in amplification.
The Solo6 Be's midrange-woofer employs Focal's "W" composite cone (the scare quotes are Focal's), in which two layers of woven glass tissue sandwich a structural core of foam. The outer layers of the "W" composite cone have long, fine fibers of varying length. Combined with the tight molecular bond between the fibers and the resin that binds them together, this results in a diaphragm of low mass, high rigidity, and excellent damping characteristics, Focal says. This makes the cone less prone to flexure, and thus lowers distortion and improves phase response.
In Focal's high-fidelity range, the least-expensive models with "W"-cone woofers are the Sopras. The Sopra No1, a two-way minimonitor with 6.5" woofer and inverted beryllium dome, sells for $9990/pair. Again, the Sopra No1's enclosure is much more luxurious than the Solo6 Be's, and its "W"-cone woofer is a more recent design, with more advanced motor structure and suspension. But I think my point about relative value holds.
The Solo6 Be has been around for over a decade, but earlier this year received small but important updates: a protective grille for the tweeter's beryllium dome, and a tweak to the tweeter's amplifier that compensates for the acoustic effects of the grille, which can't be removed.
Inside and out
Most studio monitors have a utilitarian look that may not suit more elegant décors, and that's partially true of the Solo6 Be as well. From the front, the Solo6 Be looks businesslike. Its front baffle and top panel are painted black, and, the tweeter's little grille aside, the drivers are exposed, the screws securing them to the baffle clearly visible. Below the woofer is a small LED that glows green when the speaker is turned on, and below that a 1.5"W x 1"H metal badge embossed with the Focal Professional logo, and below that a wide laminar port that vents the enclosure, and makes it possible to place the Solo6 closer to the wall behind it than an otherwise similar rear-ported design.
The Solo6 Be's impressively inert enclosure is made of 0.75"-thick MDF. The side panels, veneered in Dark Red natural Burr-ash, give the speaker a more luxurious look. My design-conscious better half liked the way these speakers looked in our living room. Each speaker measures 13"H x 9.5"W x 11.4"D but weighs 24.2 pounds, the latter a testament to its robust construction. Wider than most minimonitors, the Solo6 Be has a somewhat boxy profile.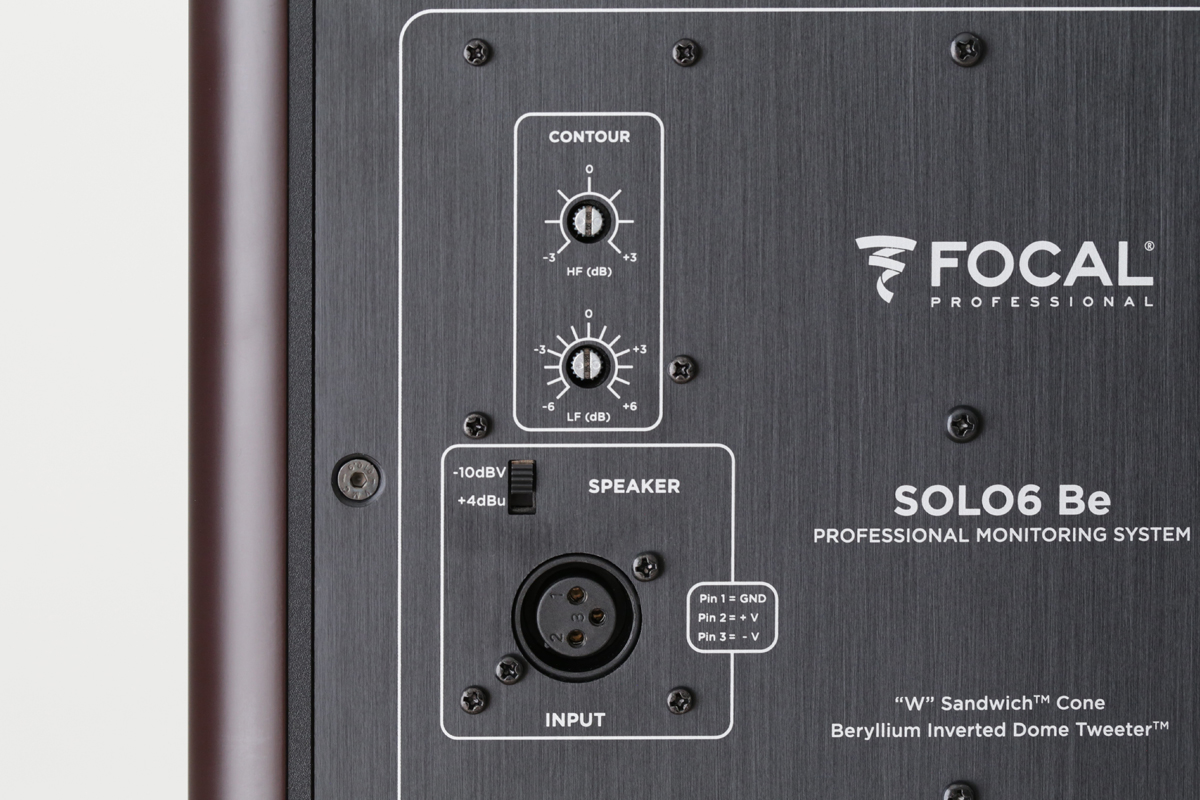 At top left on the rear panel, under the heading Contour, are two shelving controls: HF provides a range of adjustment of ±3dB from 5 to 40kHz, and LF ±6dB of adjustment from 40 to 150Hz. Below these dials is a two-position Input sensitivity switch with +4dBu and -10dBV settings, and a balanced input jack (XLR). The latter is the speaker's only input -- if your source component has only RCA line-level outputs, you'll need an RCA-to-XLR adapter. At bottom right are an on/off rocker and a three-pronged IEC power inlet. The Solo6 Be lacks auto standby -- unless you want to leave them powered up all the time, you'll have to turn them on and off manually.
The Solo6 Be's specified frequency response is 40Hz-40kHz, ±3dB.
Setup and system
Per its user manual, the Solo6 Be is intended to be used in the nearfield -- listeners should sit between 1m and 3m from the front baffles, as I did. I placed the Focals atop 28"-high Monoprice Monolith speaker stands, one on each side of the faux fireplace in the living room of our small Edwardian rowhouse. In those positions, with their rear panels 16" from the front wall, they described a 7' equilateral triangle with the sweet spot: the end cushion of our sectional sofa. I left the speakers' LF and HF shelving dials in their flat positions, and throughout my listening never felt a need to deviate from those settings.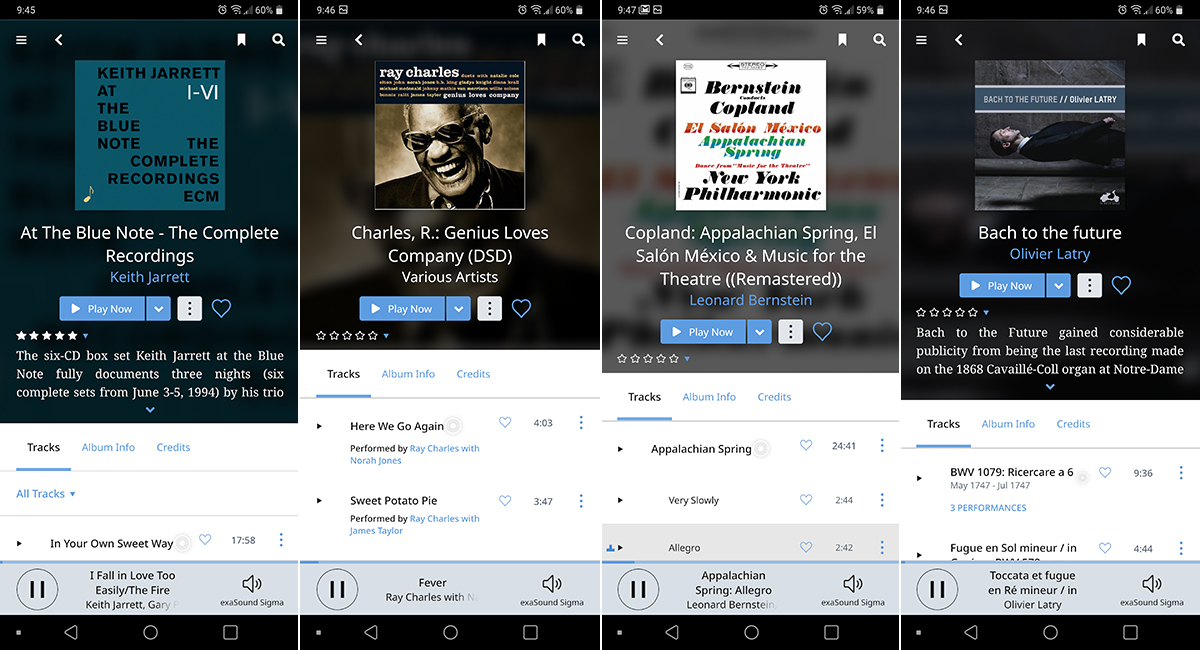 I streamed everything I listened to from the Mac Mini computer in my second-floor office, via Roon and Wi-Fi to an exaSound Sigma streamer ($750) connected with a 2m AudioQuest Cinnamon USB link to an exaSound e32 Mk.II DAC-preamp ($2499, discontinued). The exaSound DAC's balanced outputs were connected to the Focals' balanced inputs with 2m-long Argentum Acoustics Mythos balanced interconnects.
Listening
An album that has been getting gobs of playtime chez Brockhouse is Keith Jarrett's At the Blue Note, with his "Standards" trio (16-bit/44.1kHz FLAC, ECM/Qobuz), documenting six sets played over three consecutive nights in June 1994. The sound of this CD-resolution album is stunning, and the Focal Solo6 Be's did it complete justice.
Streaming "I Fall in Love Too Easily"/"The Fire Within," I was in awe at how the Focals reproduced the sound of Jarrett's piano. It had wonderful weight down low, a beautiful ringing clarity up top -- and no clanginess at all. Piano tone was consistent through the instrument's full range. Just as impressive were the dynamics. When Jarrett hits a chord or phrase particularly hard, the Solo6 Be's scaled up with complete ease. Microdynamics were every bit as satisfying -- it was easy to appreciate the nuances of Jarrett's touches on the keys and pedals.
I also loved how the Focals reproduced Gary Peacock's double bass. Low notes were full and robust, yet superbly controlled. The attacks of plucked notes were lightning-fast but not overdone, segueing perfectly into the buzzing of the strings and then the big, woody glow of the instrument's body. It was magical, yet completely natural.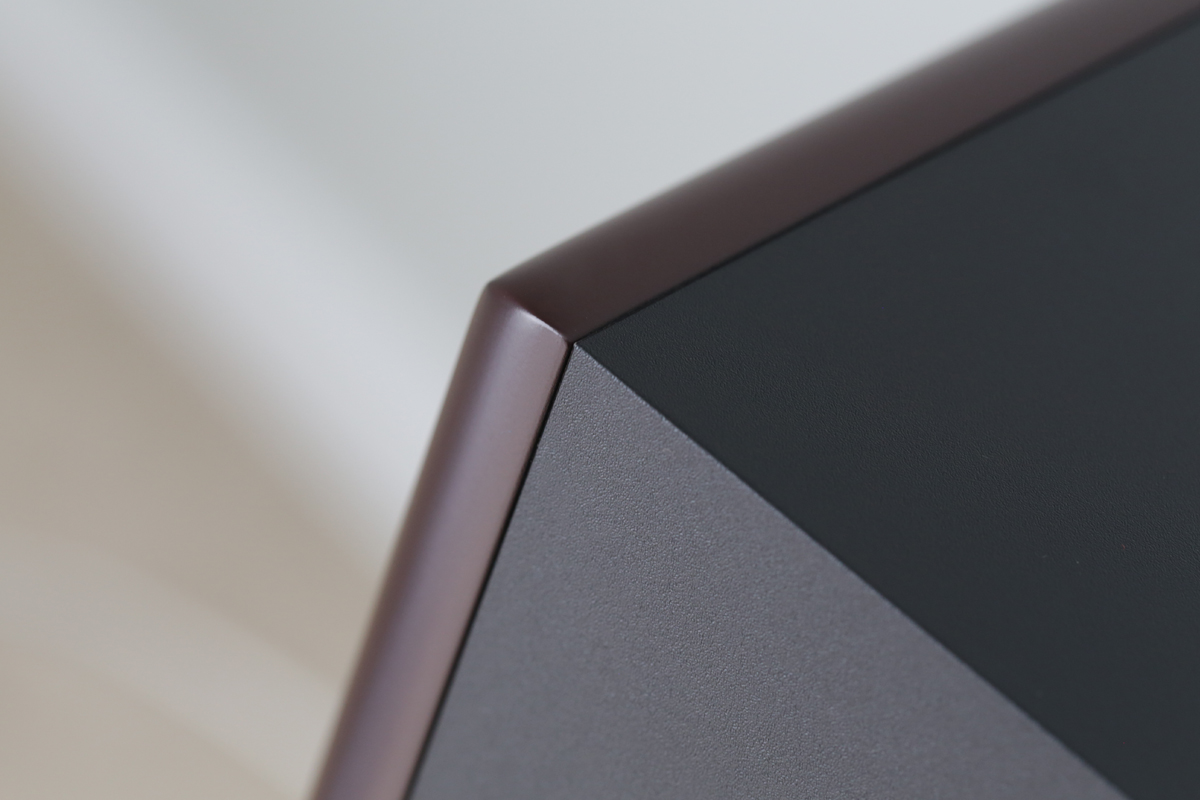 Jack DeJohnette's drumming had fantastic tactility. I could visualize the precise amount of force he used to hit the floor tom with his mallets -- the Focals provided a convincing sense of stretched skin vibrating over a big, hollow body. Cymbals had beautiful shimmer, with long decays -- testaments to that wonderful beryllium tweeter.
The Focals also demonstrated delicious rhythmic prowess with this landmark recording -- my feet tapped throughout this 27-minute track. Soundstaging was superb: wide and deep, with pinpoint imaging of every note and instrument.
To assess the Solo6 Be's ability to reproduce male and female voices, I cued up a DSD rip of "Fever," sung by Ray Charles and Natalie Cole, from Charles's album of duets Genius Loves Company (DSD64, Concord). This was the last studio recording Charles made before his death, in June 2004.
Right from the short instrumental intro, I was hooked. Tom Fowler's double bass had wonderful depth, snap, and texture. Ray Brinker's drumming was super-fast and impactful, but never edgy or overlit. That was enough to get my toes tapping, and they didn't stop for the whole number. The instrumental accompaniment also includes acoustic and electric guitars, keyboards, and string orchestra. Every element was presented on a huge soundstage -- wide, deep, and high -- with laser-like precision.
As for the voices, Charles's was perfect. I could hear every expressive touch, such as little growls at the end of some phrases, and his characteristic slightly nasal drawl. Cole really belts out this number, and the Focals tracked her singing superbly, a testament to their dynamic prowess. I noticed a slightly hard edge at the top of her range, especially when she sang loudly. As I confirmed by listening to this track through NAD Viso HP50 headphones and an AudioQuest Cobalt micro-DAC-headphone amp, this is an element of the recording itself -- but the Solo6 Be's pushed it to the fore.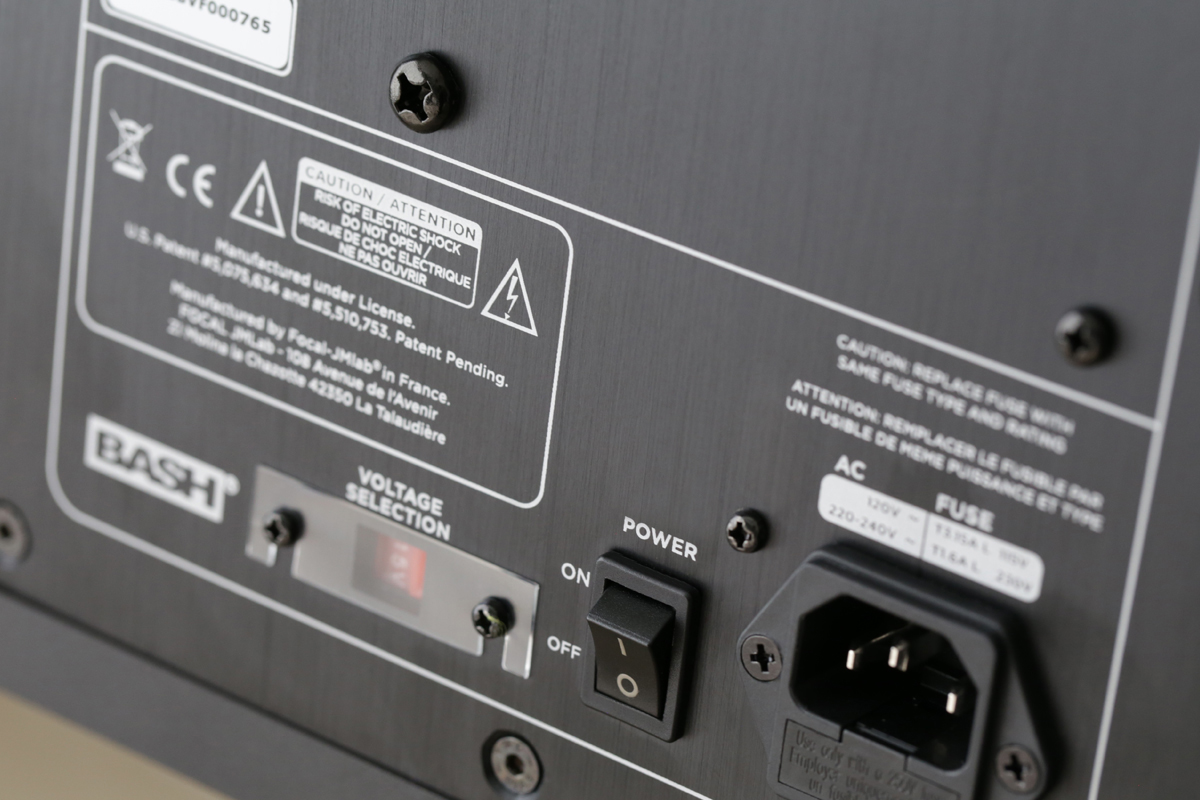 My experience was similar with a remastered version of Leonard Bernstein's legendary 1961 recording of Aaron Copland's score for the ballet Appalachian Spring, with the New York Philharmonic (24/96 FLAC, Columbia Masterworks/Qobuz). One of Copland's most popular works, Appalachian Spring portrays a young couple's wedding and house-raising in rural Pennsylvania.
The quiet first section of woodwinds playing above strings, marked Very Slowly, sounded exquisite. The cellos had a lovely breathy quality, the solo clarinet a ripe, fruity tone. Details such as the rosiny action of the bows on the strings, and the shifting of the players in their seats, were clearly audible. In the celebratory second movement, Allegro, I was bowled over by the Focals' dynamics -- the big dance theme on strongly bowed violins exploded from the speakers. So did percussion instruments, such as xylophone and timpani. Strings, winds, and percussion all had audibly precise positions on a wide, deep soundstage. String tone, however, was rather steely, especially the violins; and flutes were a bit shrill.
Again, listening to this track through my NAD HP50 headphones and AudioQuest Cobalt amp confirmed that these are qualities of the recording that the Solo6 Be mercilessly revealed. So it continued through the entire ballet: Quiet moments were exquisite, dramatic passages a little strident. Throughout all eight sections, orchestral textures remained beautifully transparent -- I could appreciate the back-and-forth dialogs between different groups of instruments.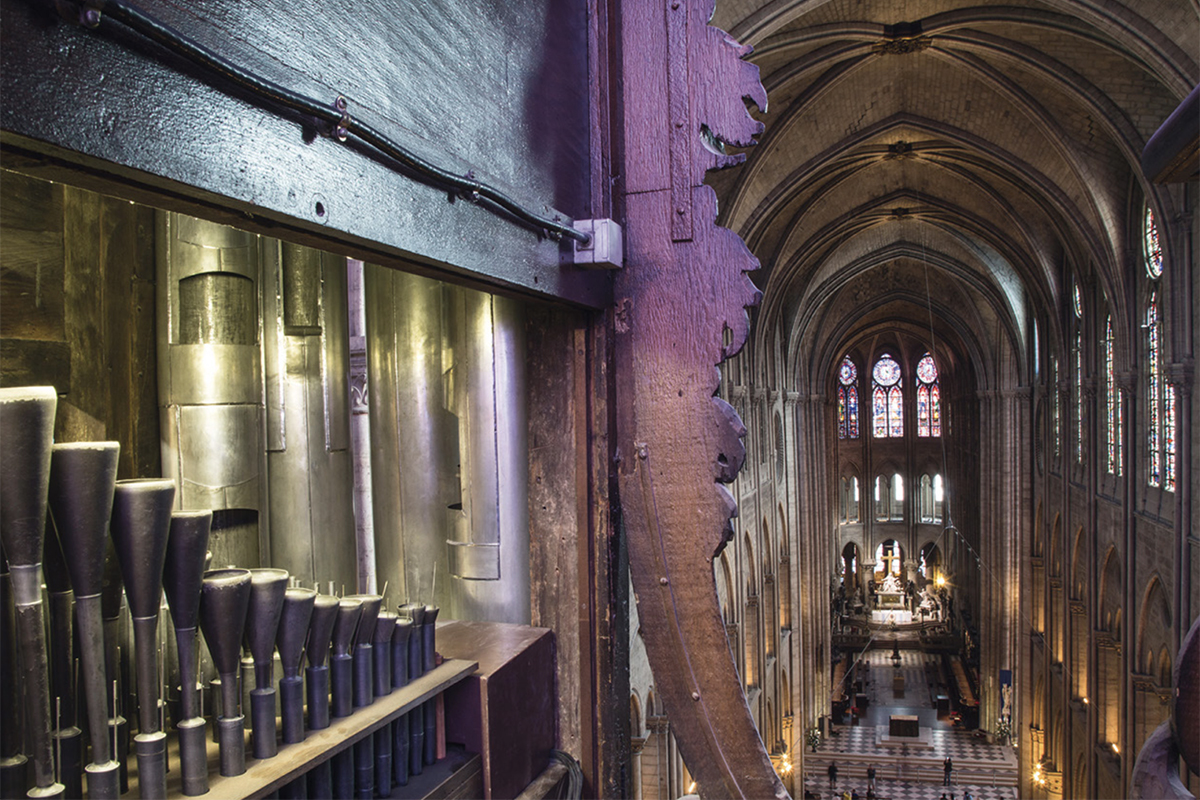 But how would these two-way monitors deal with something really big and dense? I cued up a recording of J.S. Bach's famous Toccata and Fugue in D Minor, BWV 565, by the French organist Olivier Latry, from his Bach to the Future (24/96 FLAC, La Dolce Volta/Qobuz). This was the last recording made on the Cavaillé-Coll five-manual organ in Paris's Notre-Dame Cathedral before the 2019 fire. Inaugurated in 1868 and since restored several times, this huge, symphonic instrument has 32' pipes that can play down to C0 (16Hz), and stops unavailable in Bach's time. Rather than the clarity and articulation characteristic of the baroque organs in the Protestant countries of Northern Europe, this late-romantic instrument creates a huge wall of sound with an incredible range of tonal colors -- capabilities that Latry exploits to the max.
The Focals produced the Toccata's dramatic opening with a power and ease that belied their size, delivering 90dB peaks in my living room with no hint of strain. The only thing missing was really deep bass. The pedal note that follows the opening flourish didn't have as much growl as I'd have liked -- but the huge rolling chord underpinned by that pedal note sounded awesome. The faint pedal note at the beginning of the Fugue was barely audible.
Otherwise, these two-way minimonitors acquitted themselves admirably with this demanding track. It wasn't just the seemingly effortless portrayal of the Cavaillé-Coll organ that impressed, but also the portrayal of the cathedral itself, and its reverberation time of seven seconds. This was especially noticeable in the quieter sections of the Fugue -- the reverb seemed to go on forever. The soundstage was huge, extending horizontally a couple of feet beyond the outer boundaries of the speakers and about a foot above them. This sense of loftiness fully suited the music, the instrument, and the recording venue.
Comparisons
I compared the Solo6 Be to two other active speakers I've recently reviewed for Simplifi: Buchardt Audio's A500 ($4150/pair in standard finishes, including shipping and all taxes and duties), and Focal's Shape 65 studio monitors ($1998/pair), both of which won Reviewers' Choice awards. As I'd done with the Solo6 Be's, I connected an exaSound e32 Mk.II DAC to the Shape 65s' and A500s' balanced inputs, and streamed music via Roon to an exaSound Sigma streamer. Before listening, I used pink noise and a handheld SPL meter to match the speakers' levels to within ±0.25dB.
The A500 has front- and rear-mounted 6" midrange-woofers and a waveguided 0.74" soft-dome tweeter, each driver powered by its own 150W class-D amp. The speaker's DSP monitors the woofers' behavior and adjusts their output in real time, to maximize bass extension and output while minimizing distortion. Depending on how the DSP is programmed, the A500 can operate as a 2.5- or a three-way active speaker. I used the standard 2.5-way tuning.
Keith Jarrett's piano in "I Fall in Love Too Easily"/"The Fire Within" didn't have the same ringing clarity in the upper octaves through the Buchardts, and dynamics weren't quite as forceful. But piano tone through the Buchardts was weightier. Gary Peacock's bass sounded a bit bigger and more robust through the A500s, but not quite as articulate. Through the Focals, I was more aware of all the elements of Peacock's playing -- initial attacks of plucked notes, buzzing strings, and a big woody decay at the end of each note. Jack DeJohnette's drumming was more impactful through the Focals, and more tactile. Cymbals had more shimmer, and longer decays. The Focals threw a deeper, higher soundstage, on which aural images were more precise. Both pairs of speakers sounded wonderful reproducing this track -- the Focals faster and more articulate, the Buchardts a little fuller and more organic.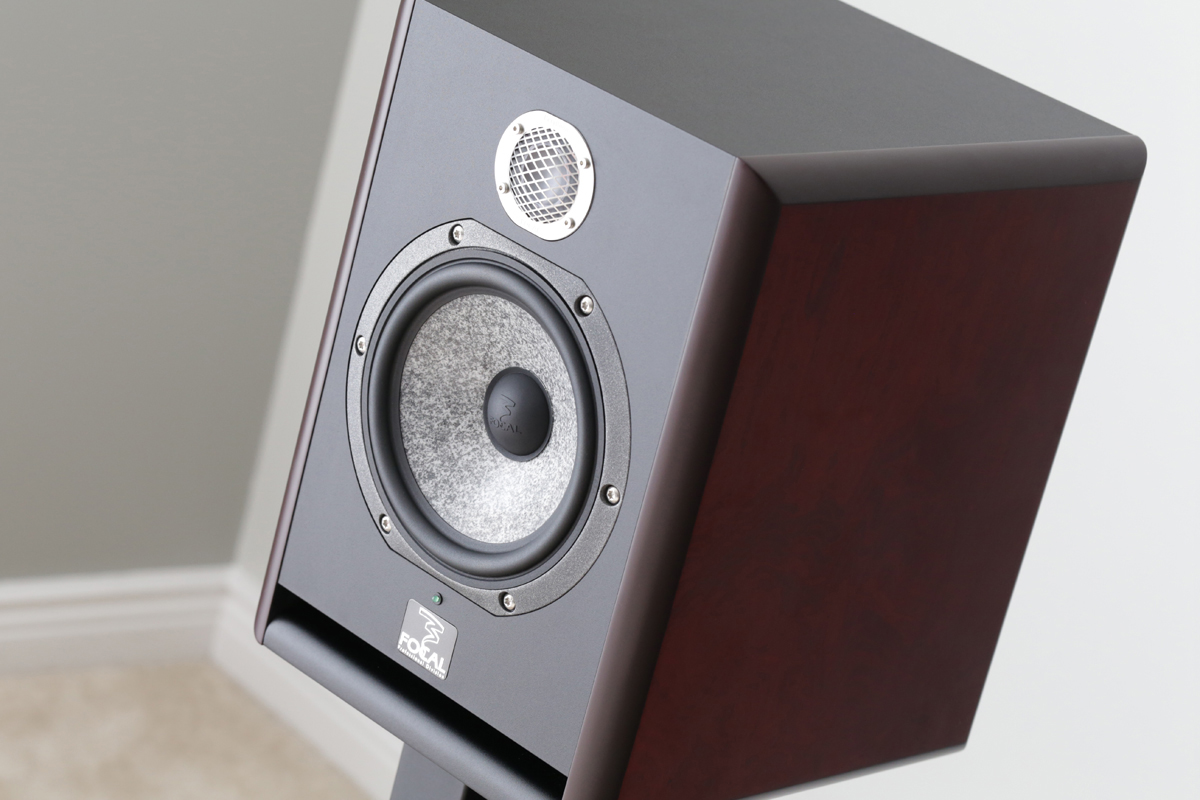 An interesting thing happened when I rose from the sweet spot and walked around the room. The sound from the Buchardts remained coherent, while the Focals became slightly disjointed. Given the Solo6 Be's primary application as a recording-studio monitor, this isn't surprising.
The A500's dual-woofer design and extensive use of DSP allows it to reproduce lower frequencies more fully than can the Solo6 Be. The Buchardt's specified frequency response is 25Hz-40kHz, ±1.5dB, and its deeper bass extension was plainly audible in Olivier Latry's performance of the Bach Toccata and Fugue -- I could hear more of the growly pedal notes that follow the opening flourish, and the faint pedal note at the beginning of the Fugue, virtually inaudible through the Focals, was clearly present with the Buchardts. Through the Focals, the organ's upper voices had a ringing clarity the Buchardts couldn't quite match, and that made it easier to follow Bach's counterpoint. On the other hand, everything sounded a little more integrated through the A500s, highlighting the wall-of-sound character of this big, symphonic French organ.
Focal's Shape 65 combines a 6.5" woofer with a flax-sandwich cone driven by an 80W class-AB amplifier with a 1" aluminum-magnesium inverted-dome tweeter driven by a 25W class-AB amp, and on each side of its enclosure of 0.6"-thick MDF is a 6.5" passive radiator. Launched in 2017, the Shape 65 is a newer design than the Solo6 Be. Its woofer features Focal's Tuned Mass Damping technology, which stabilizes the surround's motion at the driver's resonant frequency, resulting in less distortion and smoother midrange response; and their Neural Inductance Circuit, which Focal says broadens the frequency response and lowers distortion. The tweeter's M-shaped profile minimizes directivity, says Focal, making possible greater flexibility in good listening positions, and a waveguide that produces equal vertical and horizontal dispersion. The Shape has rear-panel equalization controls for low- and high-frequency shelving, plus an EQ dial centered on 160Hz with ±3dB of adjustment. I left all of these in their flat positions.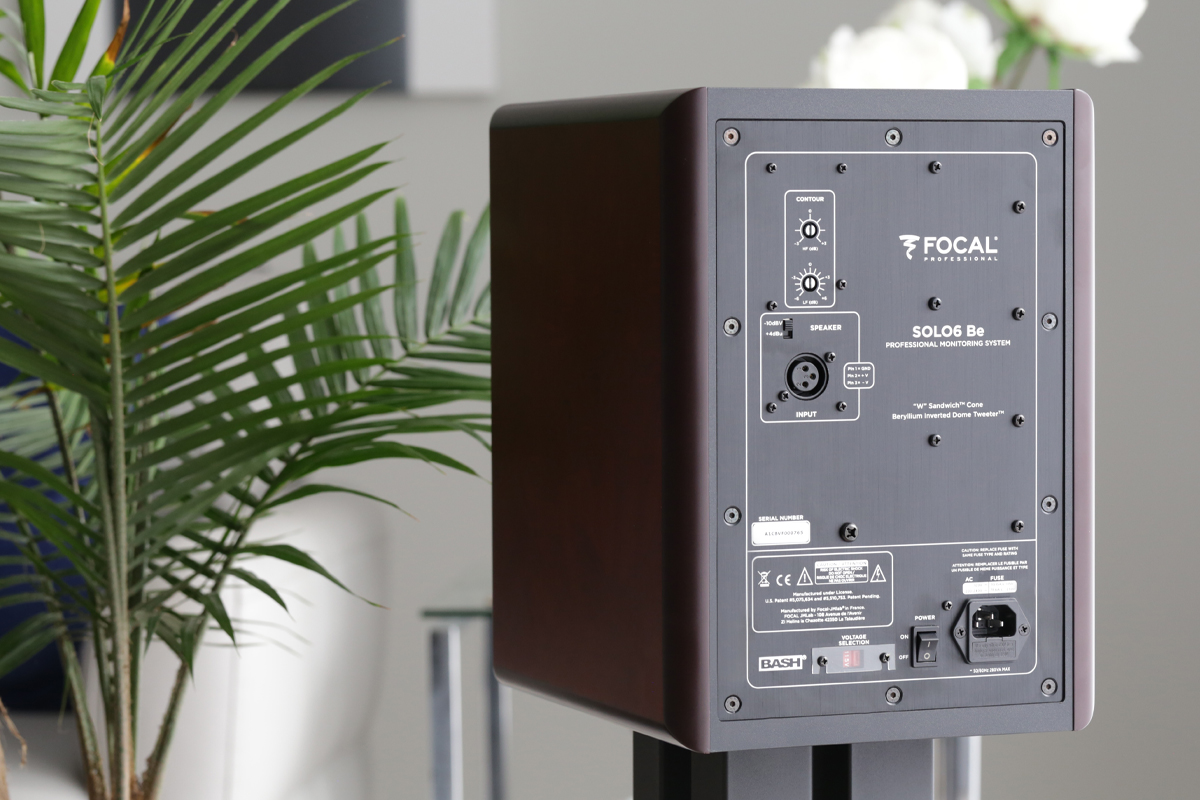 The dynamics in Ray Charles and Natalie Cole's duet recording of "Fever" weren't quite as dramatic through the Shape 65s -- Ray Brinker's drums had more impact through the Solo6 Be's. Tom Fowler's bass sounded a little fuller through the Shape 65s, but had less texture -- it sounded faster and snappier through the Solo6 Be's. The papery edge on Cole's voice that I'd noticed was less evident through the Shape 65s. But through the Shape 65s there was a slight edge to Charles's sibilants that I hadn't noticed with the Solo6 Be's. Dynamics weren't as impressive with the Shape 65s -- the Solo6 Be's tracked both singers' voices better. While the Shape 65s threw an impressively large soundstage, the one created by the Solo6 Be's was bigger in every dimension -- and the images on that stage were more precise.
The solo cello at the beginning of the first section of Copland's Appalachian Spring lacked the breathy tone I'd so enjoyed through the Solo6 Be's. Dynamics in the dramatic opening of the second section weren't quite as exciting, but they were close. The steeliness in the violins and the shrillness in the flutes were just as pronounced but a little different in nature, a result I suspect of the greater finesse of the Solo6 Be's beryllium tweeter. Orchestral tone was a little fuller through the Shape 65s, more open and transparent through the Solo6 Be's.
Conclusion
While Focal's Solo6 Be is designed, first and foremost, as a nearfield monitor for recording studios, it certainly has a place in the home. Its luxurious side panels make this speaker look mighty fine.
And I found its sound amazing. Dynamics were hugely impressive -- at times, almost startling. Bass was excellent. You can't expect a minimonitor with a single 6.5" midrange-woofer to fully reproduce the bottom octave of the audioband, but above 40Hz, the Solo6 Be delivered robust bass with loads of texture. Midrange clarity was excellent, and highs seemed to go on forever. Soundstaging and imaging were both superb.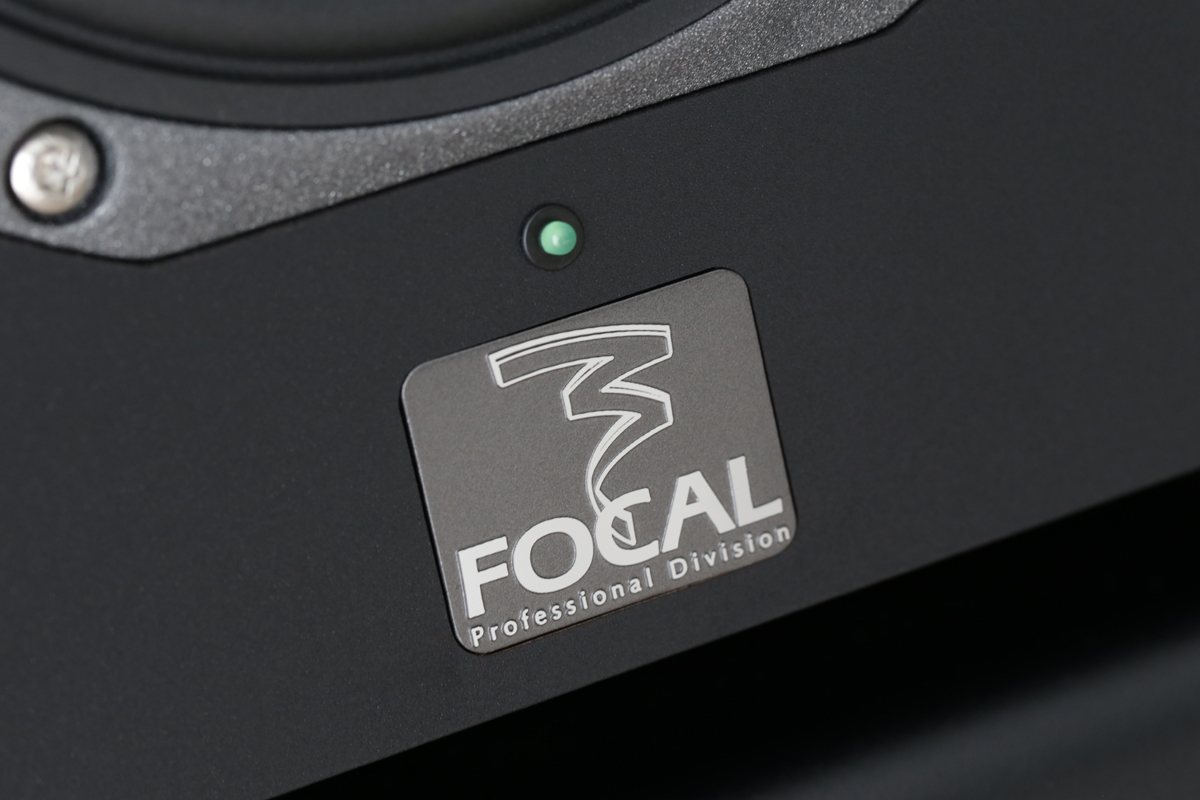 Still, it's worth bearing in mind the Solo6 Be's primary application: the studio. It's highly revealing, at times almost ruthlessly so. It's more suitable for serious sit-down listening right in the sweet spot, no more than 10' from the speakers, than it is for casual listening.
Recent tweaks notwithstanding, the Solo6 Be is now a decade old -- and wears its age well. For $2998, you get a pair of active speakers with 250Wpc of built-in amplification that include two of Focal's signature technologies: the beryllium tweeter and the "W"-cone woofer, albeit from earlier stages of their developments. In my book, that represents true value.
. . . Gordon Brockhouse
This email address is being protected from spambots. You need JavaScript enabled to view it.
Associated Equipment
Active loudspeakers -- Buchardt Audio A500, Focal Shape 65
Headphones -- NAD Viso HP50, AudioQuest Cobalt micro-DAC-headphone amplifier
Sources -- exaSound Sigma streamer and e32 Mk.II DAC, modified Apple Mac Mini computer (mid-2011) running Roon Core 1.7
Interconnects -- Argentum Acoustics Mythos (2m balanced, XLR)
Speaker stands -- Monoprice Monolith, 28"
Network -- Google Wifi four-node mesh
Focal Solo6 Be Analog Active Loudspeakers
Price: $1499 USD each.
Warranty (parts and labor): Drivers, five years; electronics, three years.
Focal Naim America
313 Rue Marion
Repentigny, Quebec J5Z 4W8
Canada
Phone: (800) 663-9352
Website: www.focalnaimamerica.com