There's no doubt about it: Munich's High End is the greatest audio show on earth. But don't let the name scare you. High End isn't only about big, expensive gear -- not that there's anything wrong with that. Many affordable components made their debuts at this year's show.
A lot of the new stuff is right in Simplifi's wheelhouse: high-fidelity sound that fits comfortably into multipurpose living spaces. These products include some great-sounding, self-contained music systems, amplifiers with built-in DACs and streamers (just add speakers), and active speakers with built-in amplifiers (just add a source). Here are nine products that exemplify these trends. All prices are in euros (€) or US dollars ($) unless otherwise noted.
I don't know if it's my imagination, but Simplifi'd hi-fi seems to be bigger in Europe than in North America -- is this because living spaces there are smaller? Whatever the reason, it's one of the things I really loved about this show. I also appreciated finding out about brands we don't see much of on our side of the pond.
All-in-one speakers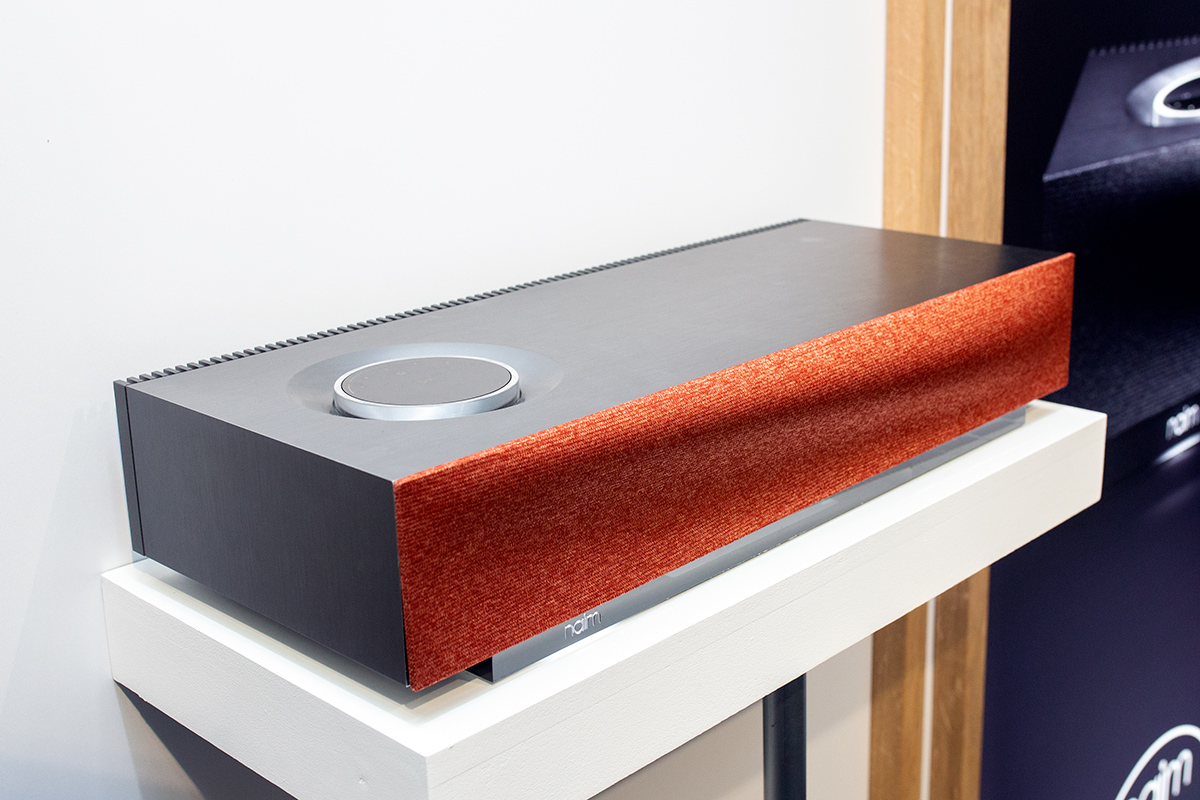 Two years ago, Naim Audio began re-engineering its acclaimed Mu-so tabletop music system, and making its debut at Munich was the Mu-so 2nd Generation (€1500). It looks much the same as the original, but behind its elegant exterior are scores of improvements.
The 2nd Generation's enclosure is 13% larger than the original Mu-so's, allowing for deeper low-frequency response and better bass control. The retooled baffle has an I-beam section, for greater rigidity. Like the original, the Mu-so 2nd Generation is a three-way system, each driver having its own 75W class-D amplifier. But the woofer, midrange, and tweeter have been redesigned in conjunction with Naim's sister company Focal, and the power supply has been upgraded.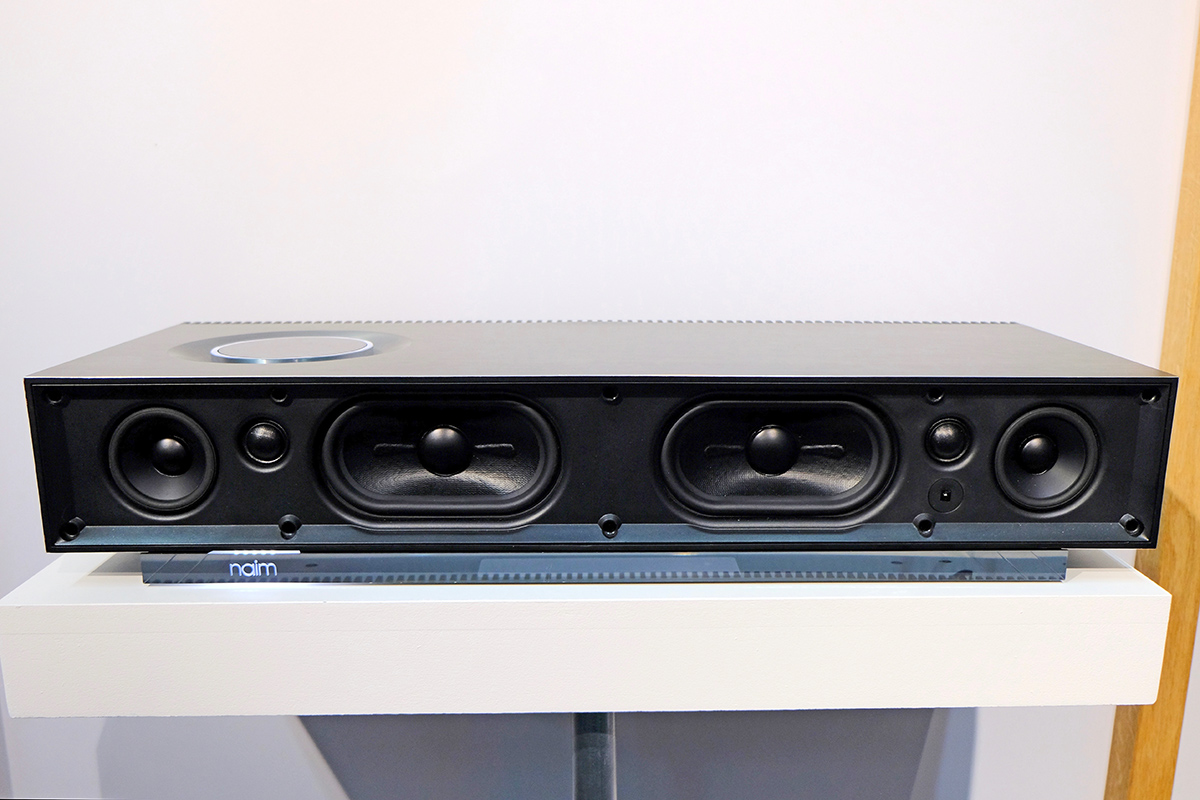 The 16-core digital signal processor (DSP) in the Mu-so 2nd Generation, rated at 2000 million instructions per second (MIP), is 13 times more powerful than the single-core, 150MIP DSP in the original. This permits a higher maximum resolution of 32-bit/384kHz PCM. It also allows for more sophisticated DSP. Bass is elevated at low levels and reduced at high levels, so that there are no subjective differences in tonal balance with changes in volume level. An app setting lets the user specify if the Mu-so 2nd Generation is placed near a wall or a corner.
There are also major changes in connectivity. The new Mu-so has dual-band Wi-Fi with 802.11ac support, and Bluetooth 4.2. In addition to TosLink digital and 3.5mm analog inputs, the Mu-so 2nd Generation has an HDMI-ARC input, for home-theater use. It supports a wide variety of streaming protocols, including Apple AirPlay 2, Chromecast Built-in, and Spotify Connect, and can be operated by voice via Apple Siri or Google Assistant.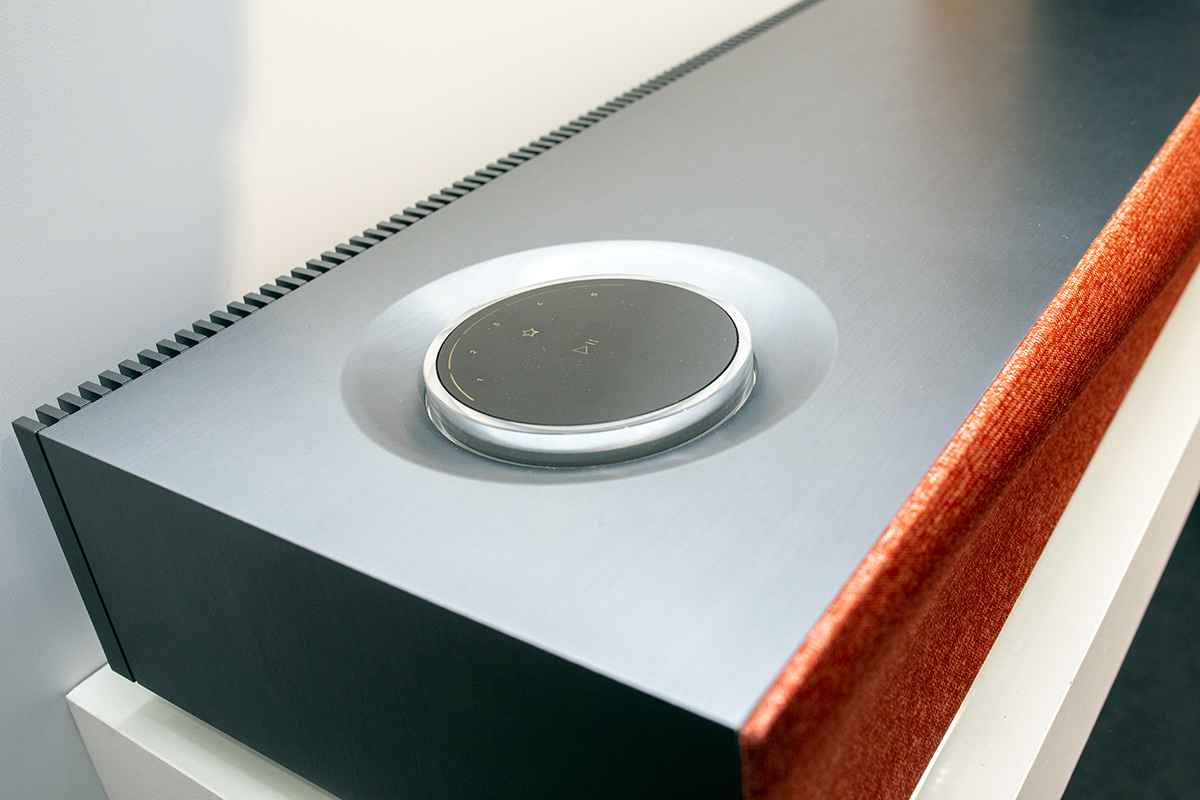 The user interface has been redesigned, with 15 touch-sensitive points on the dial on the top panel. You can toggle inputs, pair with Bluetooth devices, group the Mu-so 2nd Generation with other Naim products for multi-room sound, and access favorite playlists and Internet Radio stations.
As for the sound, it's fantastic. Listening to a Tidal stream of "Blue Monk," from the Chick Corea Trio's Trilogy, I was struck by the portrayal of Christian McBride's double bass -- it had far more depth and impact than I could have imagined coming from a tabletop music system. This thing is the real deal.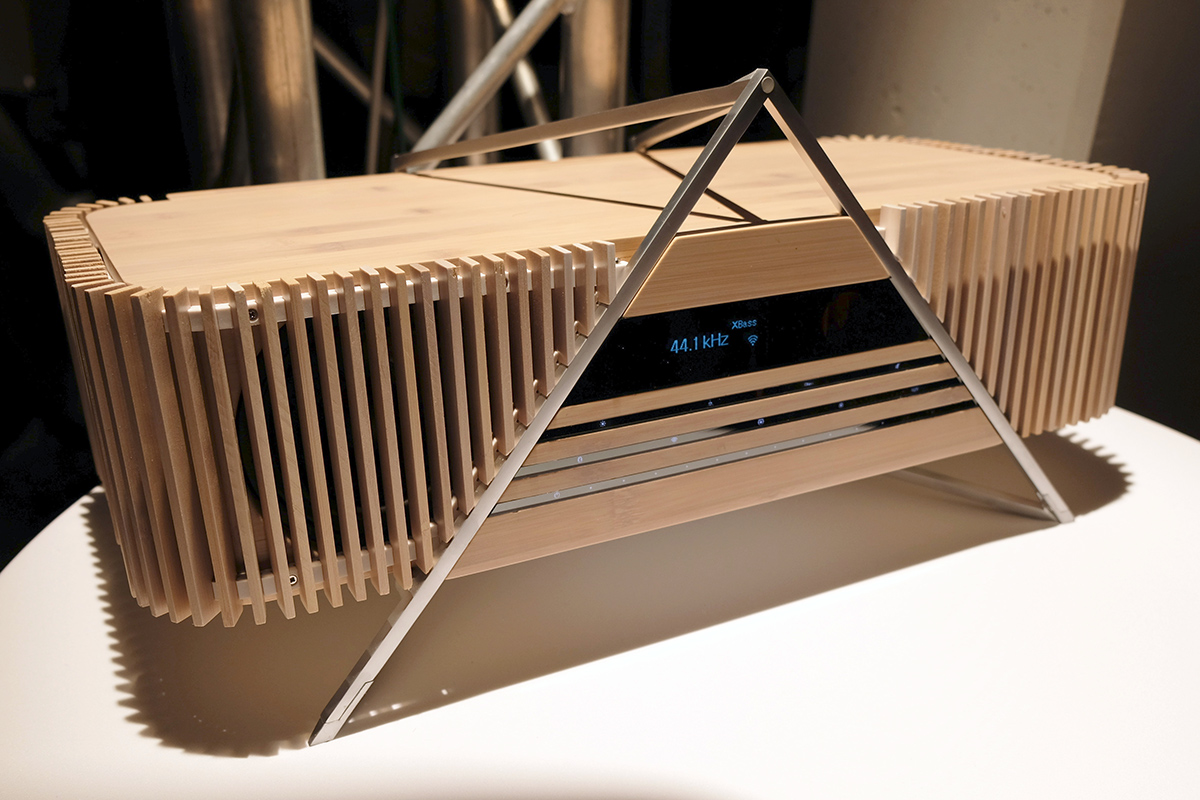 The Aurora music system, from UK-based iFi Audio, has one of the most striking designs I've ever seen. I really like its looks, but it won't be to everyone's taste -- and no one will be neutral about it. Shipping in July for $1299, the Aurora has a wraparound covering made of bamboo slats, and sits slightly raised on an aluminum frame.
The Aurora has built-in Wi-Fi and Bluetooth, as well as TosLink, S/PDIF, USB, and Ethernet. There's also a microSD card slot, and RCA and 3.5mm analog inputs. Maximum resolution is 24-bit/192kHz PCM via TosLink and S/PDIF, and 32/192 via USB, Ethernet, and Wi-Fi. Interestingly, the Aurora has both 12V DC and 120/240V AC power inputs, so it can be used in mobile or marine applications. Multiple Aurora speakers can be combined for whole-house audio, and the system supports Apple AirPlay.
The Aurora immediately converts digital bitstreams to analog with dual ESS Sabre DACs; from that point, all processing occurs in the analog domain. There's quite a bit of that going on, including these features with these claimed effects: SoundSpace, to expand the soundstage; TrueBass, to extend the low-frequency output; and Automatic Room Tailoring (ART), which uses attached microphones to detect the distance of the Aurora from room boundaries, then adjusts the response accordingly.
The driver complement comprises two front-firing and two side-firing 4.7" drivers with long-fiber paper cones, crossed over at 8kHz via a first-order filter to angled 1.1" silk-dome tweeters. Lows are reinforced by two rectangular, downfiring passive radiators, with diaphragms made of a carbon-iron-ethylene composite, which sit in a self-centering, double-ribbed surround. According to iFi, the Aurora achieves a frequency response of 27Hz-35kHz.
There are four 80W power amplifiers -- or "current multiplier circuits," to use iFi's terminology. iFi says these amps' high switching rate -- in the 1.5MHz range -- and the Aurora's output filter and adaptive feedback loop, enable the amps to provide a level of musicality superior to that of typical off-the-shelf class-D modules. The preamp stage uses a pair of Russian 6N3P tubes, these visible behind the front-panel display. Watch for a review of the Aurora in late summer or early fall.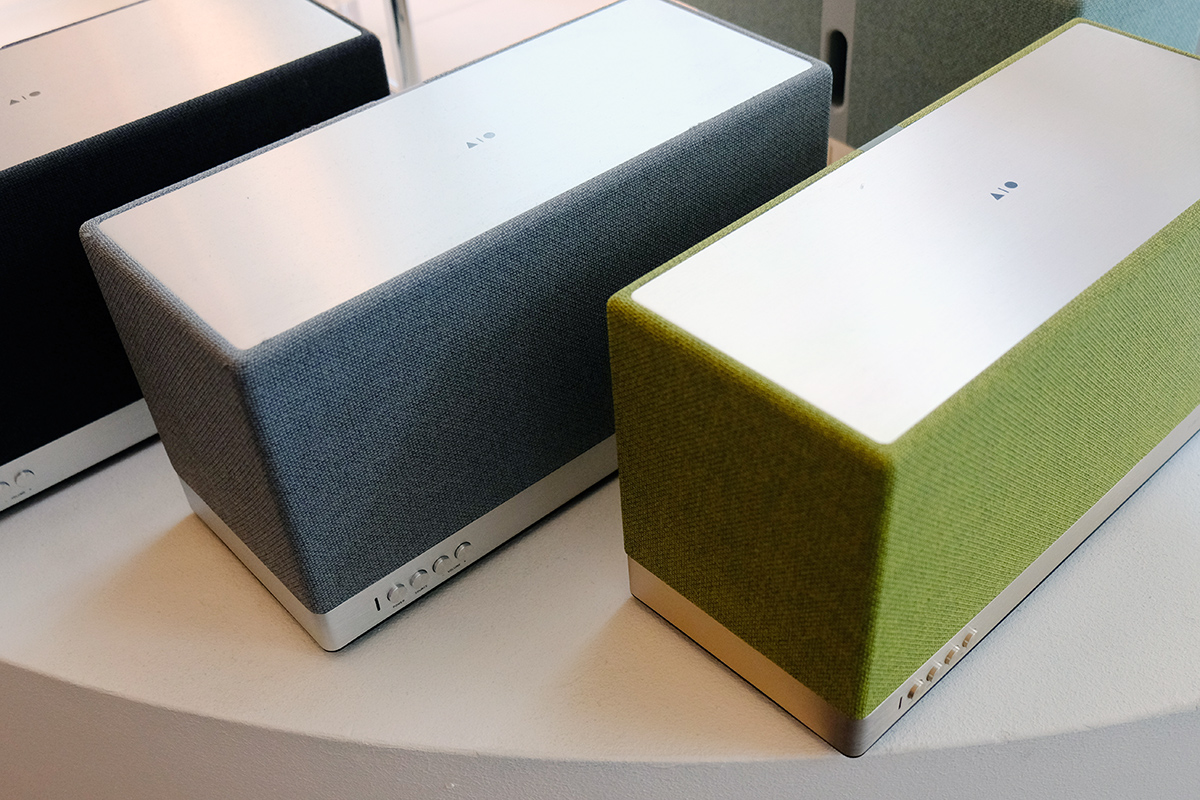 The French speaker manufacturer Triangle enters the whole-house-music fray with its new AIO 3 tabletop speaker ($699), which has Bluetooth and Wi-Fi connectivity along with TosLink and 3.5mm analog inputs. The AIO 3 has lovely retro styling, with a metal-clad MDF enclosure and vintage-style cloth grilles available in black, blue, gray, or green. Each speaker houses two 3.9" woofers and two 1" tweeters, all powered by a 45Wpc amp. Two AIO 3s can be paired for stereo operation, and multiple units can be grouped for whole-house music, under control of an app that runs on iOS and Android. Maximum resolution is 24/192 PCM.
The AIO system also includes a streaming preamplifier, the AIO C ($199). Coming this fall is the LN01 AIO active speaker. Streaming services supported by Triangle's AIO platform include Tidal, Qobuz, Spotify, and Deezer. I'll be reviewing the LN01 AIO and AIO 3 later this year.
Streaming amplifiers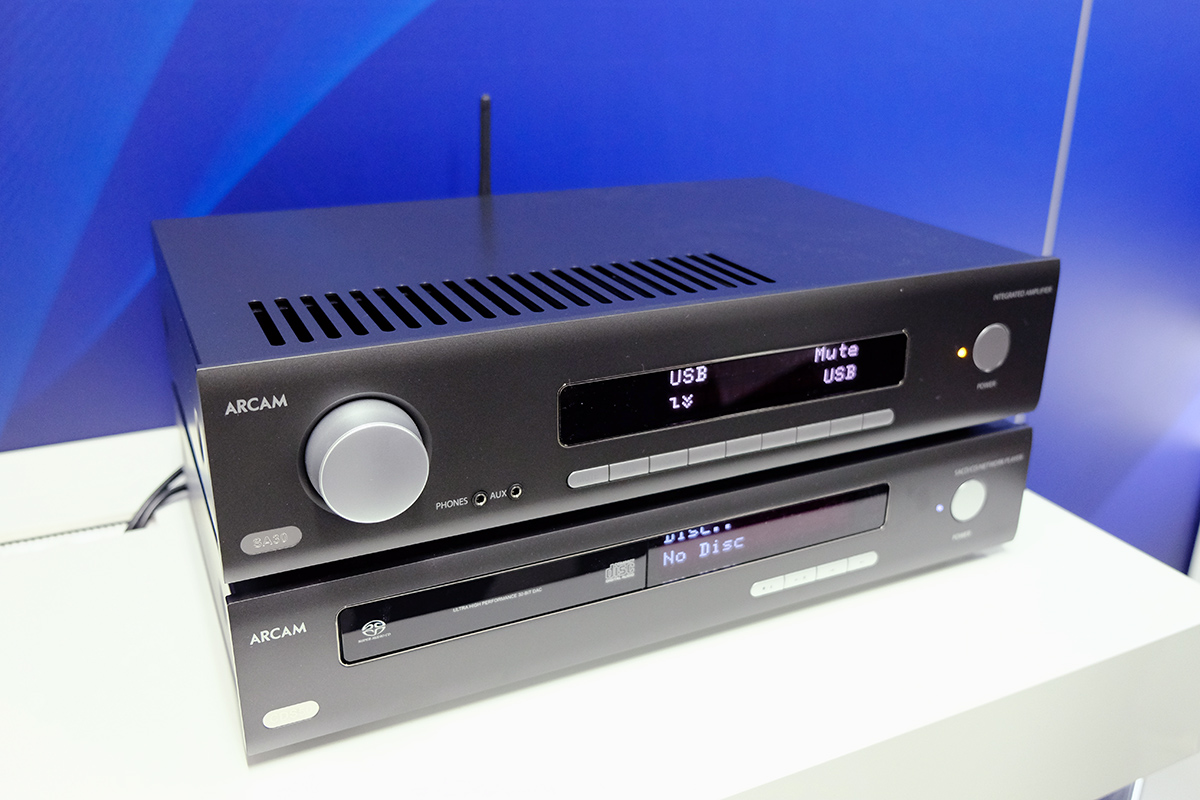 The UK brand Arcam is now part of the Harman Group, which is owned by Samsung. At Munich, Arcam introduced the SA30 streaming integrated amplifier. Specified to output 120Wpc into 8 ohms, the SA30 employs a class-G topology, in which there are two power supply rails for the output stage, the higher-voltage rail switched in only during peaks. This allows the amplifier to operate in class-A most of the time, avoiding the notch distortion that occurs when signal polarity changes. The SA30 operates in class-A up to 20Wpc. Arcam says that the circuitry that switches in the higher-voltage rail is faster in the SA30 than in its previous class-G amps, so the transition from class-A to class-AB operation is more seamless.
This amplifier is loaded with features. There are five analog inputs, including a phono input that supports moving-magnet and moving-coil cartridges; four digital inputs; and HDMI-ARC for two-channel home-theater. Its maximum resolution is 24/192 PCM. The SA30 incorporates full Dirac Live room correction, and can store separate correction curves for three different inputs. It also decodes MQA files, supports Chromecast Built-in and Apple AirPlay 2, and can function as a Roon endpoint. The SA30 will be available in late summer or early fall for $3000. Watch for a review on Simplifi this fall.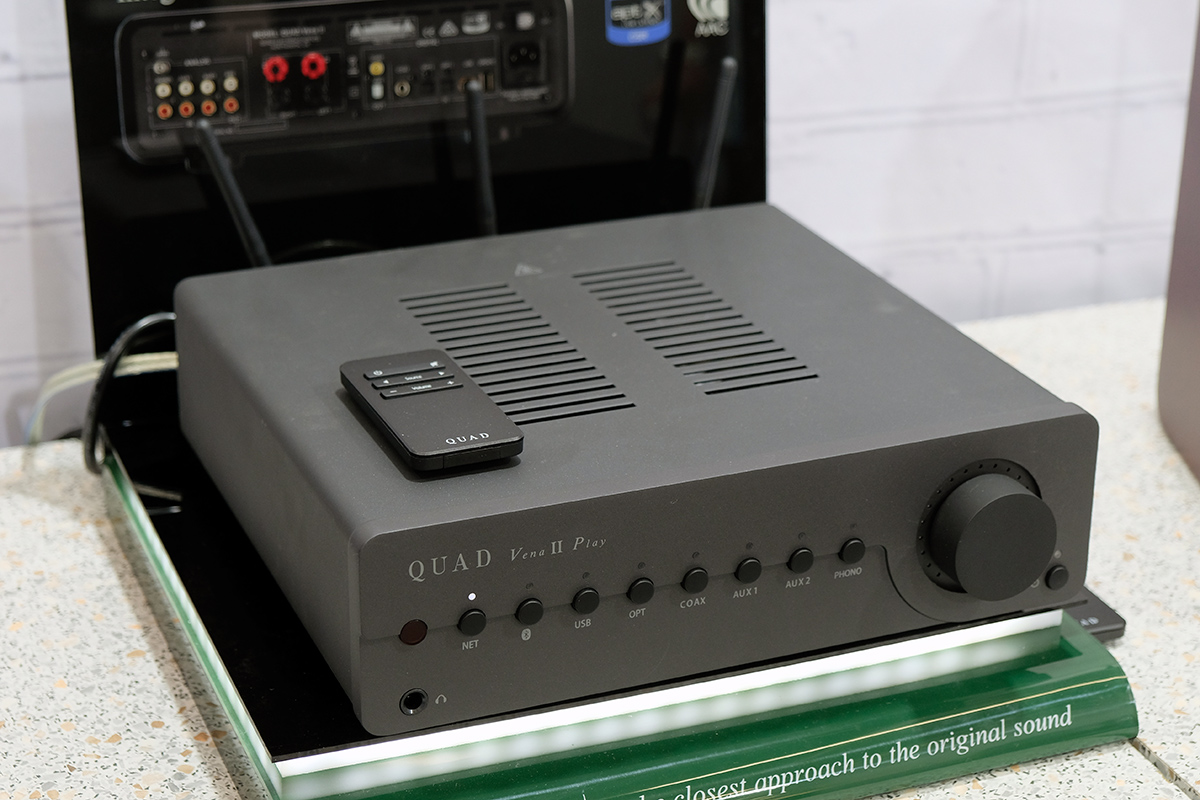 Quad, another venerable UK brand, showed a new version of its compact Vena streaming amplifier. Features new in the Vena II include a moving-magnet phono stage, an upgraded power supply with a 200VA toroidal transformer and 3000µF of energy storage, and a dedicated headphone amplifier (instead of a reduced-power feed from the power amp). Priced at €899 in Lancaster gray finish, or €999 with one of a choice of wraparound wooden sleeves, the Vena II is a class-AB design specified to output 45Wpc into 8 ohms. Its inputs comprise two line-level, optical and coaxial digital, and USB Type-B, and its maximum resolutions via the USB input are 32/384 and DSD256. Built into the Vena II are Wi-Fi and Bluetooth, and it supports DTS Play-Fi whole-house audio technology. The Vena II is also available bundled into a €1299 system that includes a pair of Quad's S1 bookshelf speakers.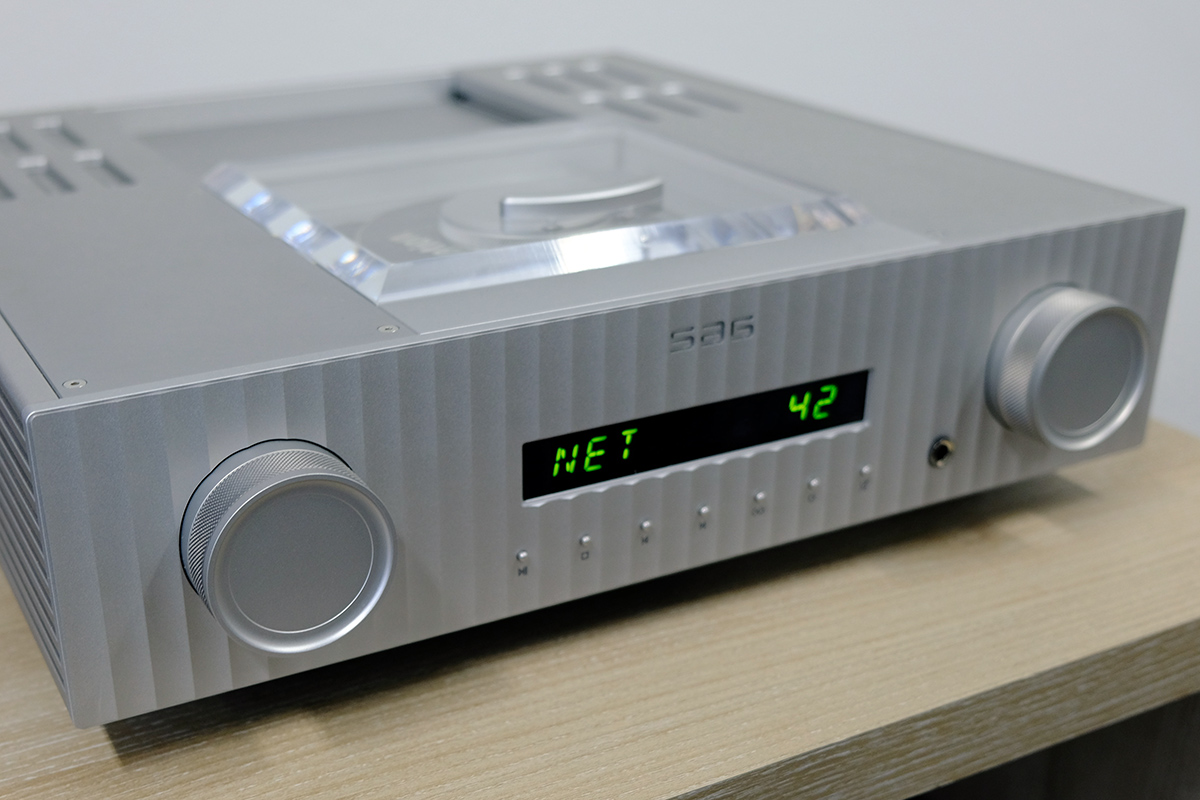 Simon Audio, from Korea, is a brand new to me, and its All-In-One Music Center (AIO) looks really interesting. Priced at €4000, the AIO incorporates a CD player, FM tuner, USB DAC, network player, and 100Wpc class-AB amp in an attractive package. The maximum resolution is 32/384 PCM, and DSD is supported. The AIO has Ethernet and Wi-Fi connectivity, and supports DLNA streaming. Other input options include line-level balanced and RCA, S/PDIF and TosLink, and aptX Bluetooth. I heard the AIO playing through a pair of Courbet No.3 stand-mounted speakers from Davis Acoustics, and thought it sounded impressively dynamic and articulate. With its finned, side-mounted heatsinks, top-loading CD drive, and aluminum case, Simon Audio's AIO has an appealing industrial look.
Active and powered speakers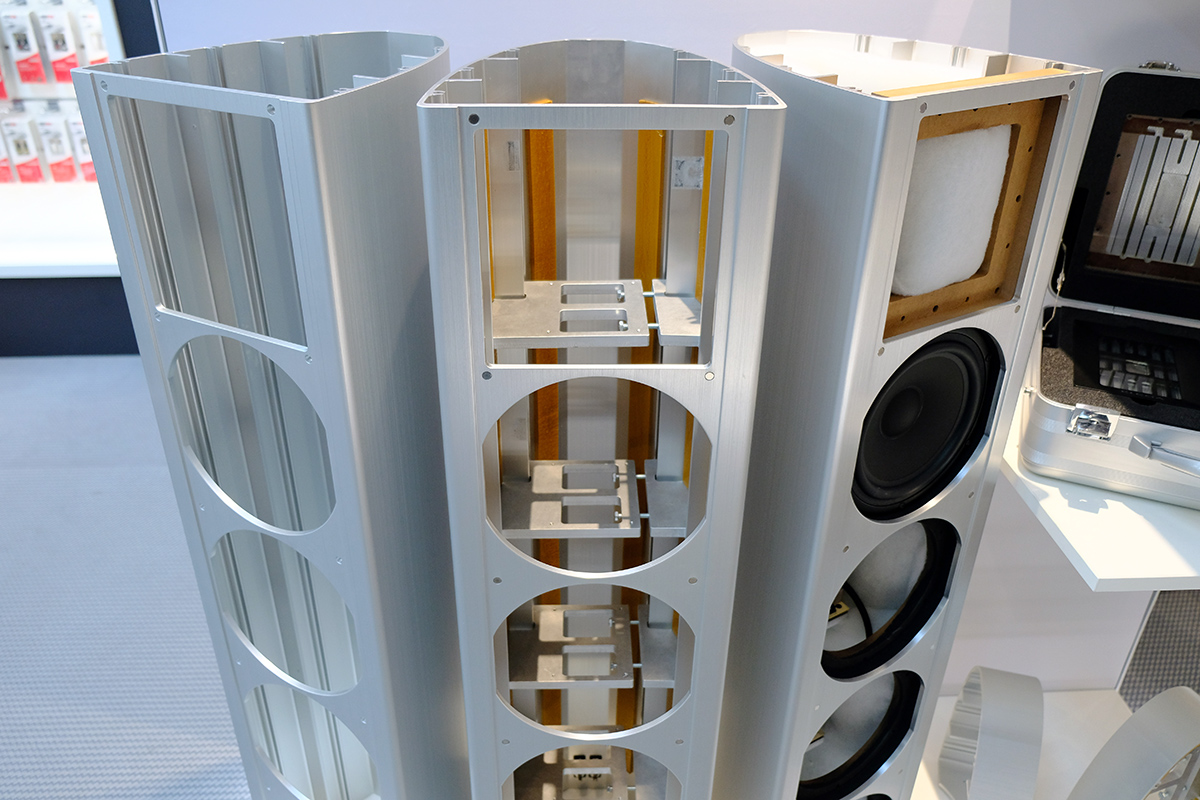 The new Premium Wireless speaker models from the Swiss brand Piega have striking aluminum enclosures that taper elliptically toward the rear, and aluminum grilles -- just like the Premium passive models on which they're based, and with which they share drivers. The Wireless series includes a stand-mounted two-way and two 2.5-way floorstanders, all available in finishes of silver, white, or black.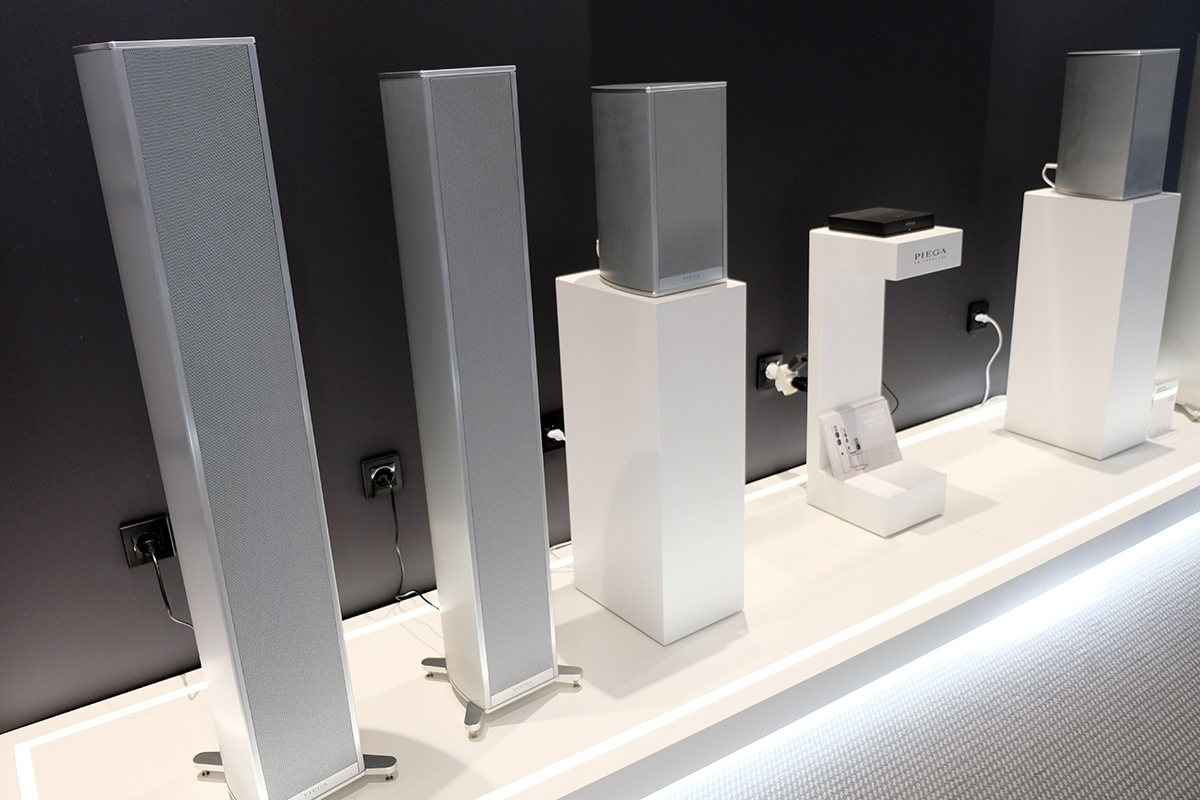 The Premium Wireless 301 speaker (€2500/pair) combines a ribbon tweeter and 5.5" woofer, powered by a 100W amplifier. The PW 501 (€4500/pair), a 2.5-way floorstander, combines a ribbon tweeter and two 4.75" drivers with a 180W amp. The PW 701, also a 2.5-way floorstander (€6000/pair), has a larger ribbon tweeter and two 5.5" drivers, all powered by a 200W amplifier.
All three speakers use DSP to implement dynamic loudness compensation. A rear-panel switch lets the listener tune the DSP for open, wall, or corner placement.
Each speaker has an analog line-level input, for connection to a preamp or DAC, but most buyers will use the Premium Wireless speakers with Piega's Connect module, which has analog and optical inputs along with Bluetooth aptX. Piega Connect uses the ClearNet protocol to send the speakers PCM audio at resolutions up to 24/96. However, it lacks Wi-Fi, and doesn't support streaming services. For that capability, you have to add a device like a Sonos Connect or a Bluesound Node 2i streamer.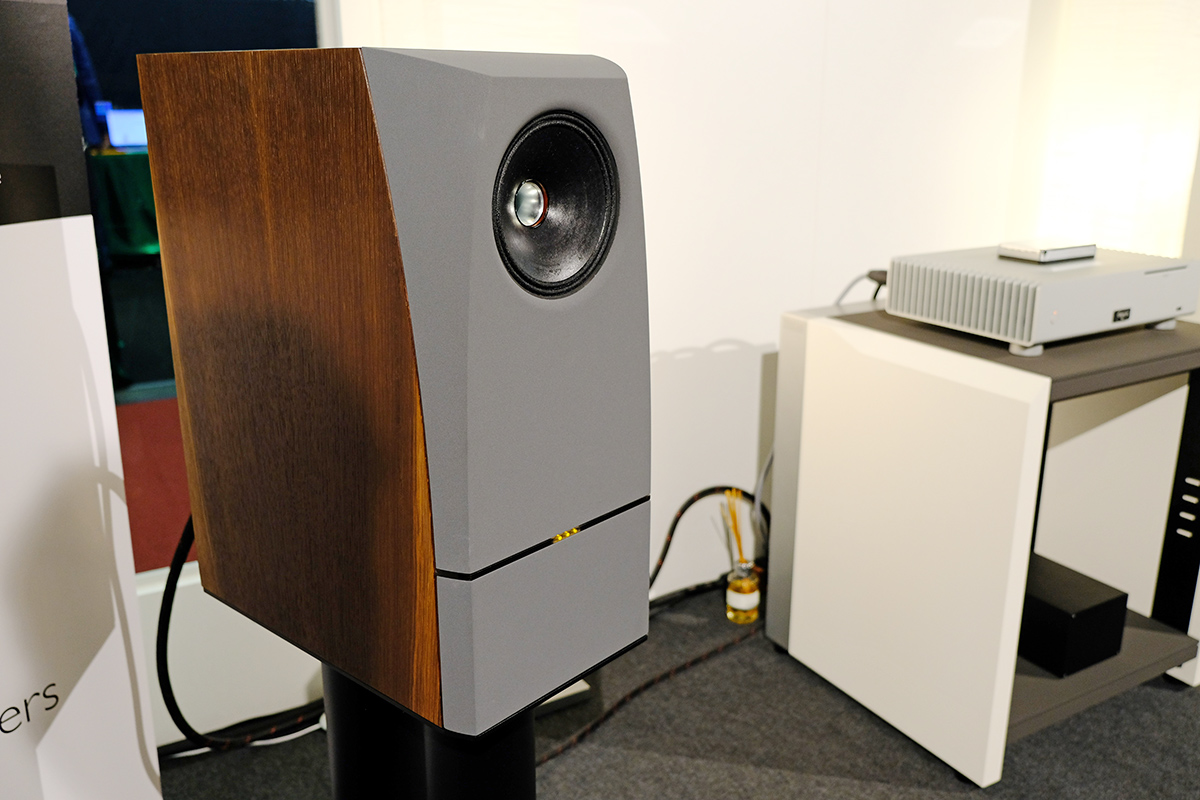 Another brand new to me is Genuin Audio, based in Germany, which showed its new Ava, a DSP-controlled, shelf-mounted active speaker (€19,990/pair) -- a smaller version of the Neo active floorstanding speaker (€24,900/pair) Genuin showed last year in Munich. Each Ava enclosure houses a front-firing coaxial driver with 6.5" midrange and 1" tweeter, and a side-firing 8" long-excursion woofer with 2" voice coil, all powered by a four-channel 1000W UMAC class-D amplifier module. The DSP performs crossover filtering, time correction, and room correction, with settings for open, corner, and wall placement. Each driver is measured at the factory, and the DSP is configured for the individual driver's performance.
I sat in on a demo during which the Killers' "Land of the Free" was played from Genuin Audio's Tars music server, and was completely blown away. The kick drum had huge impact -- the air just exploded into the room, without a hint of overhang. The soundstage was amazingly large and open. These things are stunningly good.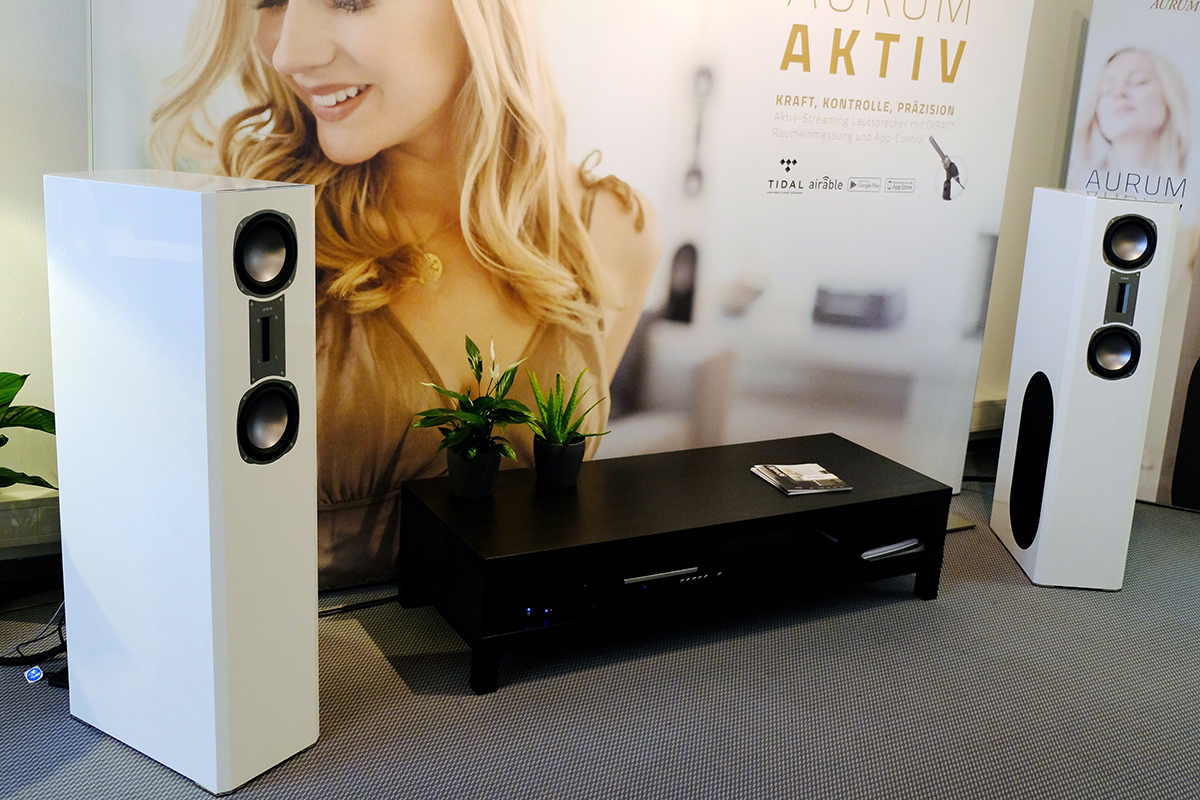 The German brand Quadral launched two new active speakers at High End, both of them five-driver, three-way designs. Priced at €16,000/pair, the Aurum Aktiv Alpha employs an aluminum ribbon tweeter mounted between two 7.1" Altima (aluminum-titanium-magnesium alloy) midrange drivers, with dual side-firing 10.2" Altima woofers in their own subenclosures. The smaller Aurum Aktiv Gamma (€12,000/pair, shown above) has the same tweeter, but smaller midrange and LF drivers (6.1" and 9.2", respectively). In both speakers, class-AB amps are used for the ribbon tweeters, and Ncore class-D amps for the midrange drivers and woofers. The total system power is 700Wpc for the Alphas, 350Wpc for the Gammas.
Both speakers incorporate full Dirac Live room correction, and can store four different curves. A calibrated microphone is supplied. Also included is a wireless bridge that streams 24/96 PCM audio to each speaker. The bridge has analog line-level inputs, a USB Type-A port, and Ethernet and Wi-Fi connectivity. Using Quadral's app, listeners can cue up music from a connected USB drive or play music from Tidal.
Wait -- there's more!
I've only just scratched the surface here -- High End 2019 boasted 551 exhibitors spread across three levels of the Munich Order Center (MOC). I heard some other great active speakers, from AVM and Lyravox, both based in Germany. Another German brand, Lindemann Audio, launched a stylishly compact streaming preamp, the Musicbook: Source, along with two matching power amps. I also came across new network streamers from Lumin and Audiolab that will be the subjects of reviews on Simplifi in the next few months. Cocktail Audio had an interesting CD ripper-server-streamer, and Cary Audio launched two new streaming DACs. The list goes on and on.
SoundStage! fielded a team of four writers at High End. During the four days of the show we posted 16 stories that covered a total of more than 100 products. You'll find all that coverage over on SoundStage! Global. And check SoundStage! Hi-Fi for Doug Schneider's Best of High End feature.
. . . Gordon Brockhouse
This email address is being protected from spambots. You need JavaScript enabled to view it.