One news item to come out of the 2017 Consumer Electronics Show that got little play in the otherwise exhaustive show coverage on SoundStage! Global was the announcement that Tidal would begin streaming Hi-Res Audio (HRA), effectively immediately. The announcement was made at a Hi-Res Audio Pavilion arranged by the Digital Entertainment Group (DEG) and located not at the Venetian, but at the Las Vegas Convention Center, amid booths filled with camera accessories, VR headsets, and drones. Statements made by other companies at the event indicated that we can soon expect HRA streaming from additional services, including Pandora, Napster (formerly Rhapsody), and HRA download site HDtracks.
The Hi-Res Pavilion's location at the LVCC was significant: It marked an effort to push HRA out of its current high-end niche and into the mainstream. Also significant was the presence at the event of Warner Music Group, Sony Music, and Universal Music Group. The big three music labels joined forces with the DEG and the Recording Industry Association of America (RIAA) to cosponsor the Hi-Res Audio Pavilion, which also showcased HRA-capable products from a range of manufacturers.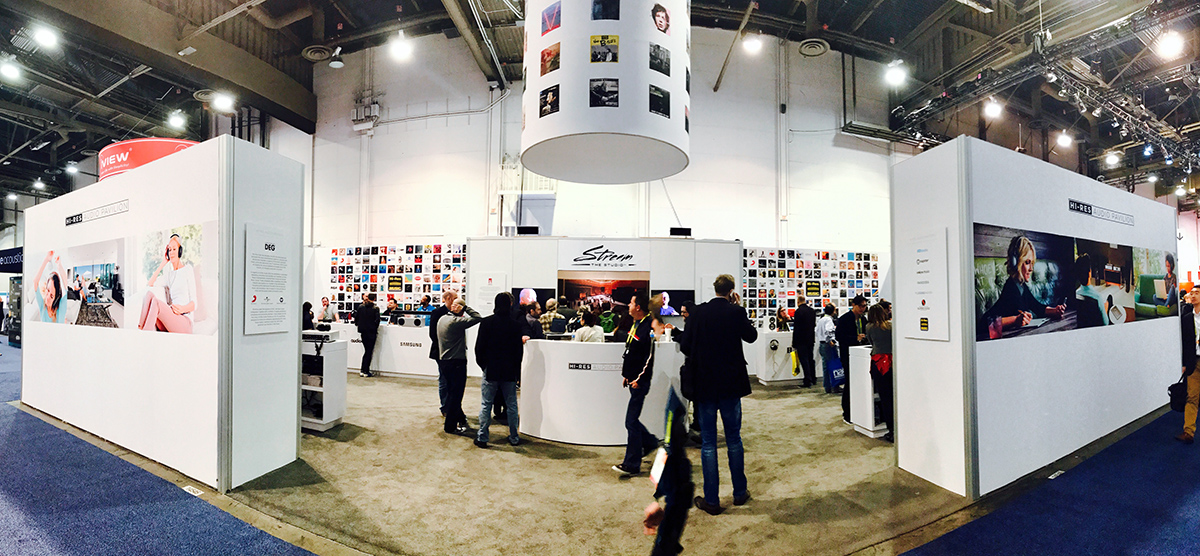 All this activity was organized under the banner "Stream the Studio," a campaign cooked up by the DEG and its partners to align HRA messaging. To quote from a press release put out by the group: "The campaign will employ a variety of event marketing and social media to educate and engage Millennial music fans on the benefits of studio quality Hi-Res Audio." There you have it. HRA is not just headed for the mainstream; the music industry has targeted a specific audience for it: millennials.
Tidal makes waves
While other services are expected to slowly ramp up HRA streaming in 2017, Tidal is offering 500-plus hi-rez albums to its HiFi-tier subscribers right out of the gate. The bulk of the titles are from Warner Music, with the rest coming from a range of independent labels. To make HRA streaming happen, Tidal partnered with MQA Ltd., a company licensing the Master Quality Authenticated (MQA) technology developed by Meridian Audio.
MQA is an encoding scheme that efficiently reduces the size of a hi-rez PCM audio file to not much bigger than a CD-quality rip, and packages it as a lossless FLAC, ALAC, or WAV file. You can read more about the technology behind MQA in Doug Schneider's April 2016 SoundStage! Hi-Fi column on the topic, which has links to the company's YouTube explainer videos. There, you'll also read about Doug's concerns regarding some of Meridian's claims for MQA.
A main concern that Doug and others have is that an HRA delivery format using any compression at all shouldn't be necessary in an era in which people have souped-up high-speed Internet plans capable of streaming 4K-resolution video. Another issue is MQA's closed-off nature: an MQA-licensed DAC is required to derive the technology's full benefit, which can be construed as a type of Digital Rights Management (DRM). An argument has also been put forth that the original master recordings that the vintage rock, jazz, and classical albums that so far comprise much of the MQA library were made from themselves don't contain enough sonic information to even qualify as HRA. But all of those issues need to be addressed in a separate column.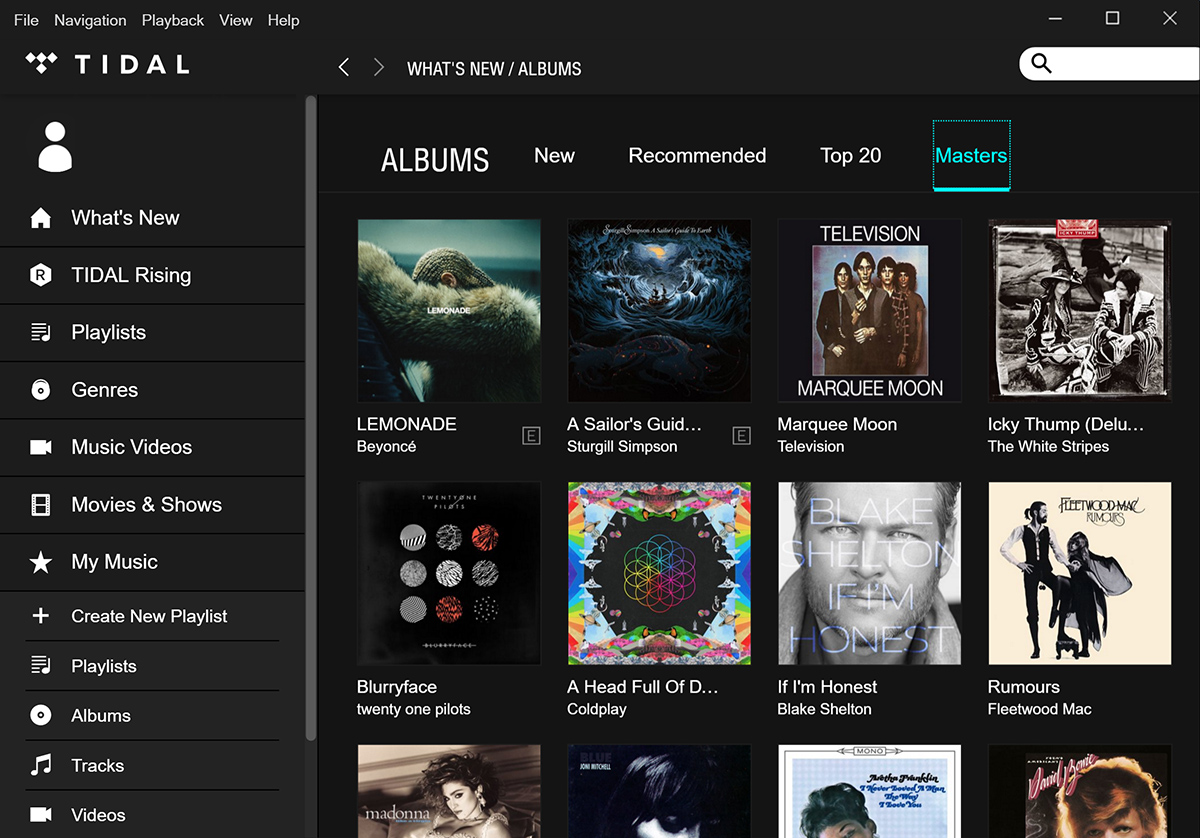 Lingering tech questions aside, we do have MQA to thank for the arrival of stream-ready HRA. To experience it, you'll need to use Tidal's Windows/Mac desktop app, where you'll find compatible albums under the Masters tab in the Albums section of the What's New page. MQA support doesn't extend to iOS/Android devices, though it's coming to the Audirvana Plus and Roon audiophile software-playback platforms. Since the Tidal app itself performs MQA decoding, a separate MQA DAC isn't required. However, resolution when using software decoding alone tops out at 24-bit/96kHz; an MQA-licensed hardware DAC is needed to handle the additional "unfolding" steps that permit playback resolutions above 24/96.
MQA-compatible DACs are now available from a number of companies, including Meridian, Mytek, and MSB. The NAD and Bluesound product lines also support MQA, and it should soon be coming to AudioQuest's DragonFly Red and Black DACs via a firmware upgrade.
How do the streamed Tidal Master albums sound? During my subjective, thoroughly unscientific listening tests using a laptop and a DragonFly Black DAC, I found the sound quality overall to be very good. Classic rock tracks like the title track of Black Sabbath, from the band's 1970 album, and "Guinevere," from Crosby, Stills & Nash, displayed all the warmth, detail, and presence that I recall from the days when I used to spin them on vinyl. Other selections I played, from jazz pianist Brad Mehldau and folk-rock band Calexico, sounded as good as my HDtracks downloads of those recordings.
Similar to my experiences in sampling the HDtracks library, however, the sound quality of specific titles proved a mixed bag. For example, during listening comparisons between physical discs and Tidal Master versions of the same recordings, I found that a Mark Lanegan CD, Whiskey for the Holy Ghost, sounded exactly the same, while Emmylou Harris's Wrecking Ball sounded better on CD. Meanwhile, "Heart of the Sunrise," from Yes's Fragile, had better sound quality when streamed from Tidal than the same track from a DVD-Audio version of the album. Go figure.
Pandora's hi-rez box
That HRA streaming arrived first via Tidal should be no surprise -- Tidal has offered audiophile users a lossless, CD-quality FLAC streaming option ever since its launch, in 2014. But despite Tidal's storefront emphasis on pop and hip-hop, it's the smallest of the major music streaming services, with owner/artist Jay Z claiming three million subscribers. (A recent report from a media outlet in Norway, Tidal's home base, put the actual number at under one million.) What really needs to happen for HRA to enter the mainstream is availability on Spotify or Apple Music, which respectively have 40 million and 20 million subscribers. Neither service has announced plans to support hi-rez, let alone lossless CD-quality streaming, however.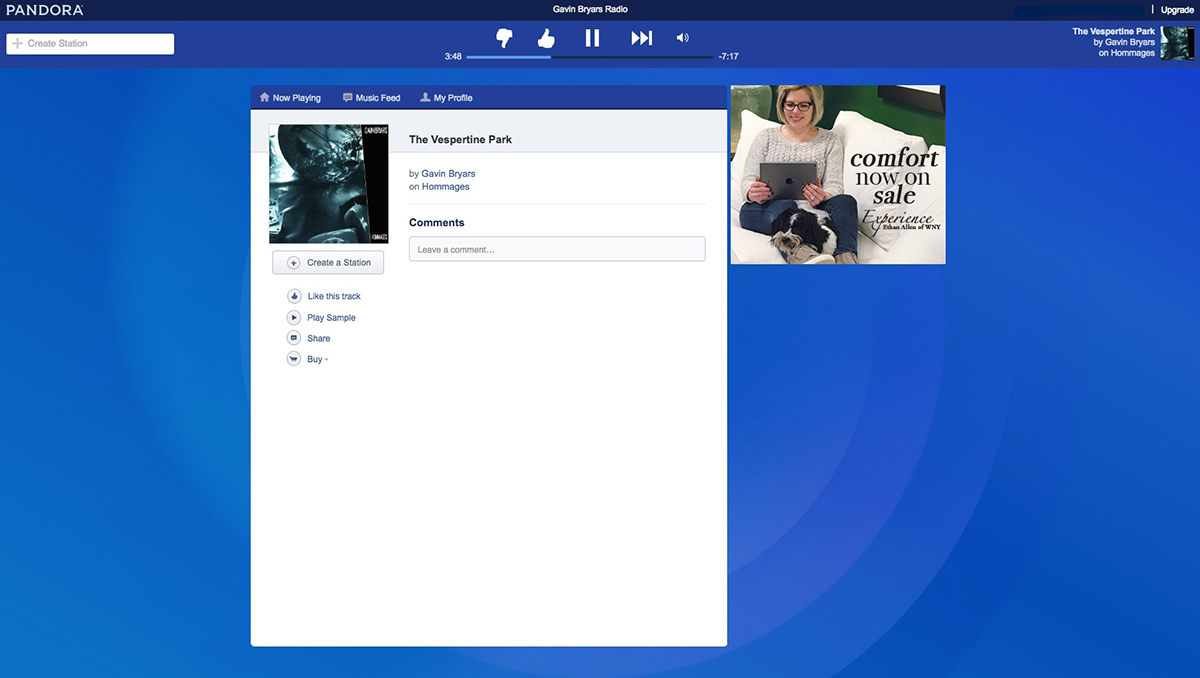 One major streaming player that did come out swinging in support of HRA at the Vegas DEG event was Pandora, a service used by 81 million people worldwide. Only 4.4 million of those are paying subscribers, however -- presumably, the sort of user who might care about better-than-MP3-quality sound. Which begs the question: Do users of services other than Tidal, with its dedicated base of audiophile listeners, even care about HRA?
Going mobile?
Examined in the harsh light of day, a campaign to sell millennials on the magic of HRA ultimately seems a misguided concept. I don't claim to know the millennial mindset, but the people I do know who fit that label have mobile listening habits. It's all about the phone, and the headphones that plug into the phone -- or connect with it via Bluetooth. In that context, MQA, with its ability to package studio-quality audio for delivery over mobile networks (as opposed to home networks, where bandwidth isn't a big issue), makes sense. But will mass-market listeners embrace HRA streaming? Unless it happens on Spotify, I don't see it happening at all. In the meantime, you'll find me comfortably seated in my niche, listening to Tidal Masters tracks streamed through a laptop connected to my stereo. And Sprint has just fronted Jay Z $600 million, so Tidal isn't going anywhere -- for now.
. . . Al Griffin
This email address is being protected from spambots. You need JavaScript enabled to view it.