It's a common fallacy to believe that things that come easily to you come easily to everyone. But as a recent experience confirmed for me, it's just not so.
Last fall, my sister-in-law and her husband asked me to help them buy a new stereo. Their collection of LPs and CDs dates back five decades, and had been gathering dust for years. Like lots of people of their generation, Petrea and Paul abandoned hi-fi in favor of i-devices and headphones, then found they missed listening out loud.
With a little help from yours truly, they ended up with a very nice system that came in right on budget at a total retail price equivalent to $2000 (all prices USD).
The system they chose, and the way they chose it, taught me a useful lesson: Simplifi'd hi-fi means different things to different people. As you'll read below, this experience will influence the future direction of this corner of the SoundStage! Network.
Small is beautiful
Paul and Petrea live in a beautiful two-floor apartment in an old arts-and-crafts house in west-end Toronto. Their rooms aren't large, and they're full of art and furniture the couple has collected over the years. The system was to go on a sideboard in the dining room, which opens into the living room through a big arched doorway. They hoped to avoid cluttering this area with components.
Petrea wanted to be able to play her LPs and CDs, so the system had to include a turntable and CD player. Paul and Petrea both have iTunes downloads on their iPhones, so the ability to play music from their phones was an important secondary requirement.
No problemo, I thought. As I wrote in my kickoff piece for Simplifi, I've had some recent experience in getting high-quality sound into small living spaces. The only audio components visible in our own living room are a pair of Dynaudio Focus 200 XD active loudspeakers. Using an app on my iPad, I can cue up whatever music we want to hear from Tidal or Qobuz, or from the Mac Mini I use as a music server. To me, this system practically defines Simplifi'd hi-fi: there's no clutter, and it fits seamlessly into our everyday lives. I thought a pair of active (or powered) speakers could work nicely as the foundation of a music system in Paul and Petrea's home, and help fulfill their mandate to keep everything small. Many such speakers have inputs for turntables and CD players.
At the time, I was in the process of testing three products that might fit their needs: KEF's LSX active speakers ($1099/pair, reviewed February 1), Totem Acoustic's Kin Play powered speakers ($999/pair, reviewed February 15), and SVS's Prime Wireless active speakers ($599.99/pair, reviewed March 1). All three speakers were set up in my basement family room, so over the holidays, I invited Paul and Petrea to come over and give them a listen.
I had some preconceived notions of what might work for them. App-controlled active speakers like the KEF LSX and SVS Prime Wireless would provide a lot of flexibility in placement: The speakers could go on that sideboard in the dining room, or on bookshelves in the living room. From their armchairs, my in-laws could beam music to the speakers from their iPhones over Wi-Fi. What could be easier? Or cooler?
For CD playback, they could connect a small disc player (maybe a bargain-basement DVD or BD player) to the speakers' TosLink input. Vinyl would be a little trickier -- no shelf in their living room can accommodate a turntable. If they wanted to put the speakers in the living room, they could buy a 'table with built-in phono stage and Bluetooth, and place it on the sideboard. That sounded a bit complicated to them, but I assured them we could make it work. Paul was guardedly enthusiastic about the idea, Petrea somewhat hesitant.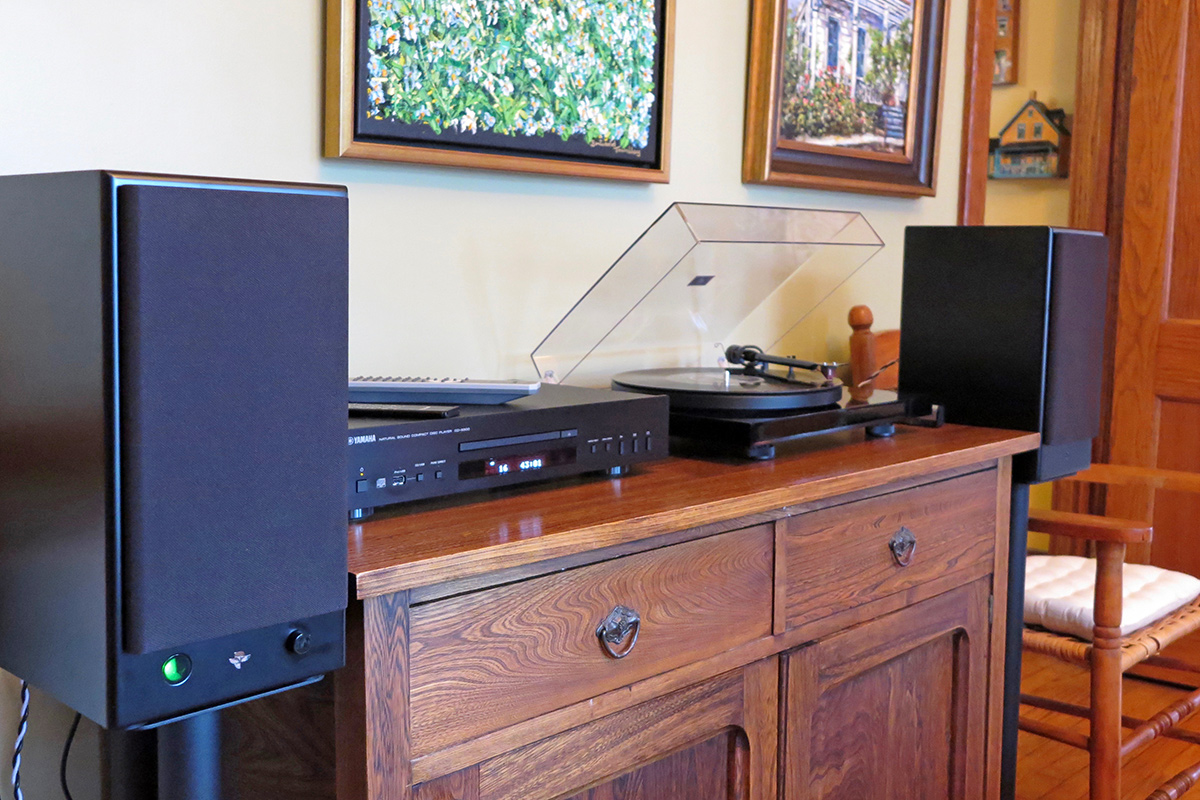 I was getting ahead of myself. Before making any choices, Paul and Petrea had to listen to the three speakers. They were won over by the Kin Plays' dynamic excitement and big, spacious sound. The fact that the Totems incorporate a phono stage was a bonus, because that meant we wouldn't have to look for a turntable with built-in phono preamp. An outboard phono stage was out of the question -- not only would it add complication and clutter, it would push the total price too high.
Wired for sound
The Totem Kin Plays lack networking capability and app control, but if Paul and Petrea wanted to stream music wirelessly to the speakers from their phones, they could do so via Bluetooth. Conceivably, they could have done the same with LPs by using a Bluetooth turntable.
The Kin Plays were too big for the living-room bookshelves. Moreover, Totem recommends that they be placed 12" or more away from the wall -- impossible in a bookshelf. But that recommendation could be fulfilled if the Kin Plays were placed on the dining-room sideboard or, even better, beside it on stands. That would also allow the turntable to be connected to the RCA inputs on the master, left-channel Kin Play. The CD player would also sit on the sideboard, connected to the Kin Plays' TosLink input.
I explained all this to Paul and Petrea, noting that everything would have to be wired together. Petrea's eyes lit up. That was exactly what she wanted -- the wireless stuff was just too complicated and unfamiliar.
With that information, I assembled the rest of the system: a Pro-Ject Debut Carbon belt-drive turntable with pre-mounted Ortofon 2M Red cartridge ($399), a Yamaha CD-S300 CD player ($299.99), and Target FS70 speaker stands ($319/pair).
I was in the middle of reviewing the Kin Plays for Simplifi (the Pro-Ject 'table served as part of the test bed for that review), so after picking up the turntable and CD player, I invited Paul and Petrea to come over to check out the whole system. I suggested a couple of mnemonic tricks to help them with its daily use. To play an LP, they had to select RCA on the Kin Plays' remote control -- that should be easy to remember, I suggested, because RCA was an iconic record label. To play a CD, they had to select Opt on the remote control -- also easy to remember, because CD is an optical disc.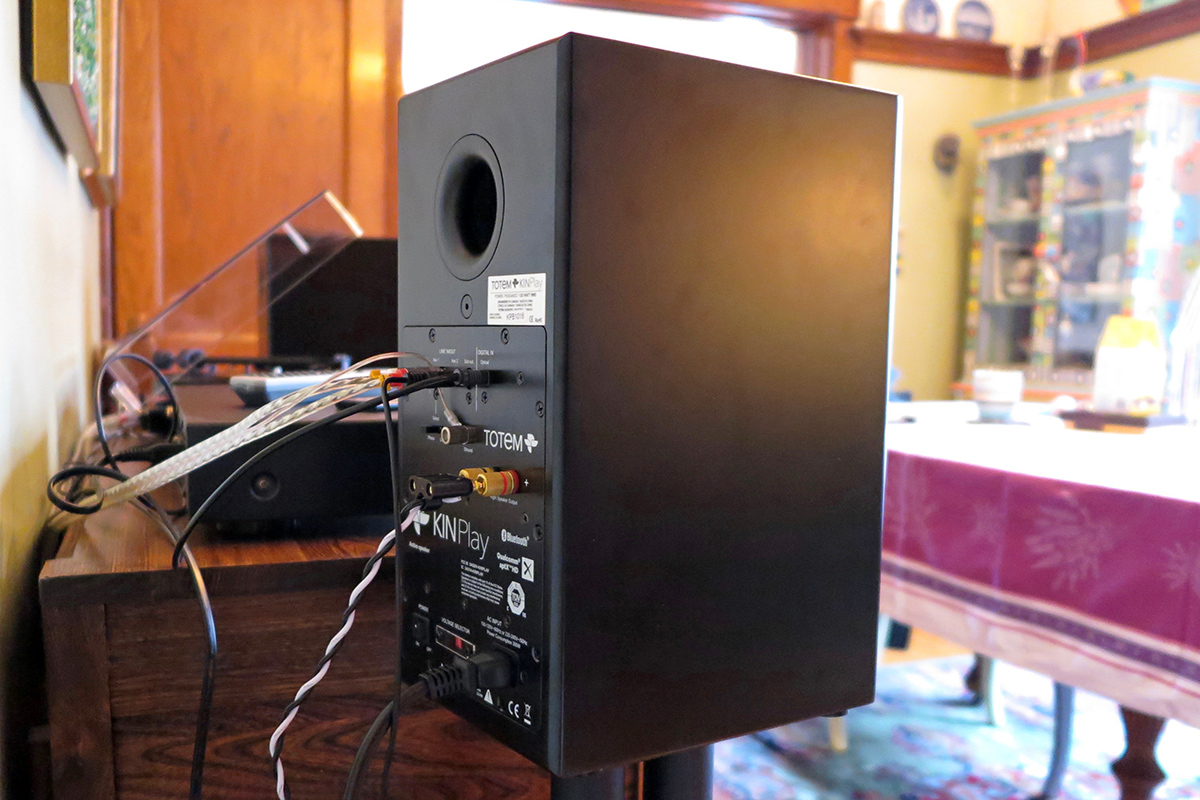 They could play music from their phones by connecting them to the front-panel USB port on the Yamaha player, then pressing the adjacent CD/USB button. When they wanted to spin a shiny disc, they'd have to remember to toggle back to CD. After I set the system up in their home, I suggested a simpler alternative. I plugged a 3.5mm stereo cable into the Kin Play's Aux input, then told Petrea she could plug it into her phone's headphone jack whenever she wanted music from that source. She'd have to select 3.5 on the Kin Play's remote, but that should be easy to remember: 3.5mm is the size of the headphone jack.
As I explained all this, I could almost see tears of relief well up in my sister-in-law's eyes. Petrea wouldn't have to jump through any technological hoops when she wanted to hear music. She could just put an LP on the 'table or a CD in the player, select the right input (made easier by my suggested mnemonics), and enjoy.
And enjoy is what they've done. Not only are they rediscovering their old record collection, Paul and Petrea have made a few sojourns to Sonic Boom Records, in Toronto's Chinatown, and come home with bagsful of LPs and CDs -- some new, some used.
Define simple
Plainly, my idea of Simplifi'd hi-fi differs profoundly from my in-laws'. For me, it means a high-performance, small-footprint system that fits our décor and lifestyle. Those considerations are important for Paul and Petrea as well, but their main priority is ease of use.
I'm sympathetic. I've put a lot of work and money into my music system and music library. In addition to buying the components, I've digitized a large library of CDs and SACDs (ripping SACDs is not for the technologically faint of heart), then tagged the files so I can actually find the music I want when I want to hear it. This has been a labor of love -- I've done it not only for the love of music but for the process itself, which I've found fun and satisfying. But I know many people would find it forbiddingly complex, or just tedious.
Even for daily use, my system is too complicated for many people, including my dear wife. For me, it's a piece of cake: pick up my iPad, fire up the Roon app, make sure Roon is in Album mode and that I've selected the right zone, then scroll sideways until I find what I want to hear. But this stuff doesn't come naturally to everyone. What if I've left the Roon Control app set to a different zone? What if Roon Control refuses to handshake with Roon Core on the music server? I'd have no problem figuring out what to do, but my wife would be at a loss. As for setting up and maintaining a computer audio system, that's definitely a job for the household head of IT (and every household needs such a person).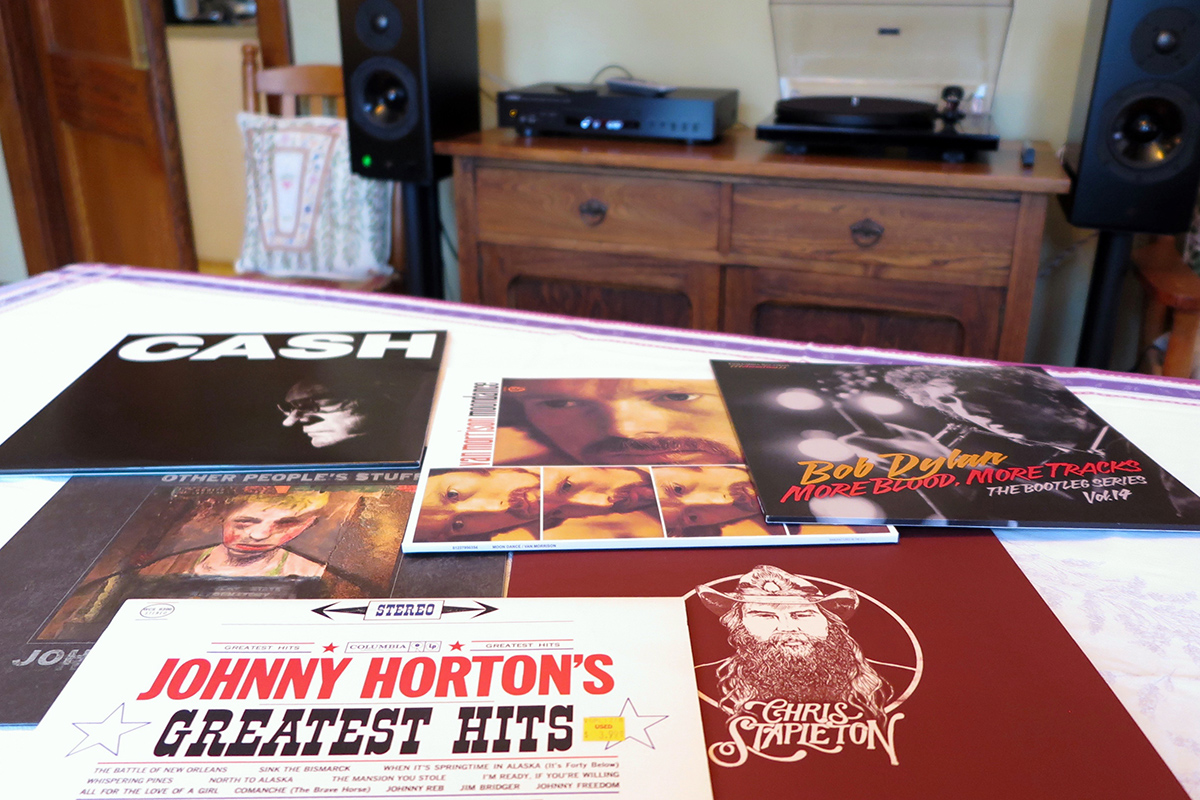 That's why lots of people, like my sister-in-law and her husband, would rather just play CDs and LPs, and it's not only technophobic boomers who feel that way -- the vinyl revival is also being driven by hipsters and millennials. If you have any doubts on that score, just look at the titles being released on LP.
According to the International Federation of the Phonographic Industry (IFPI), worldwide revenues from music streaming surpassed revenues from physical media for the first time in 2017. But with $5.2 billion in worldwide revenues for 2017, physical media is still a solid business, and companies are still investing in it.
A case in point is the purchase in February of 100 UK stores of the venerable retail chain HMV, which was in bankruptcy, by the Canadian chain Sunrise Records. This follows Sunrise's purchase in 2017 of 70 HMV stores in Canada. In the press release announcing the latest deal, Sunrise CEO Doug Putnam states: "We are incredibly excited about the opportunity to engage customers with a diverse range of physical format content, and replicate our success in Canada. We know the physical media business is here to stay."
Looking forward . . .
I've bailed on physical media. Every note of music that's played in our home comes from a hard drive, memory card, or the Internet.
But for many people, computer audio is too much like work. Imagine spending your whole day in a cubicle, tyrannized by IT systems that monitor your every activity, and that freeze as you struggle to meet a deadline or quota. When you get home after a hellish commute, you just want to play some music. So you fire up your music system and get . . . an error message! Should you have to call tech support just to play an album?
That's why, in my reviews of app-based audio products, I devote as much space to the underlying software as I do to the sound quality. Part of my goal is to help users navigate around inevitable humps, which can be challenging when the only documentation is a quick-start leaflet. I also want to help readers determine if a particular product is too complex for them.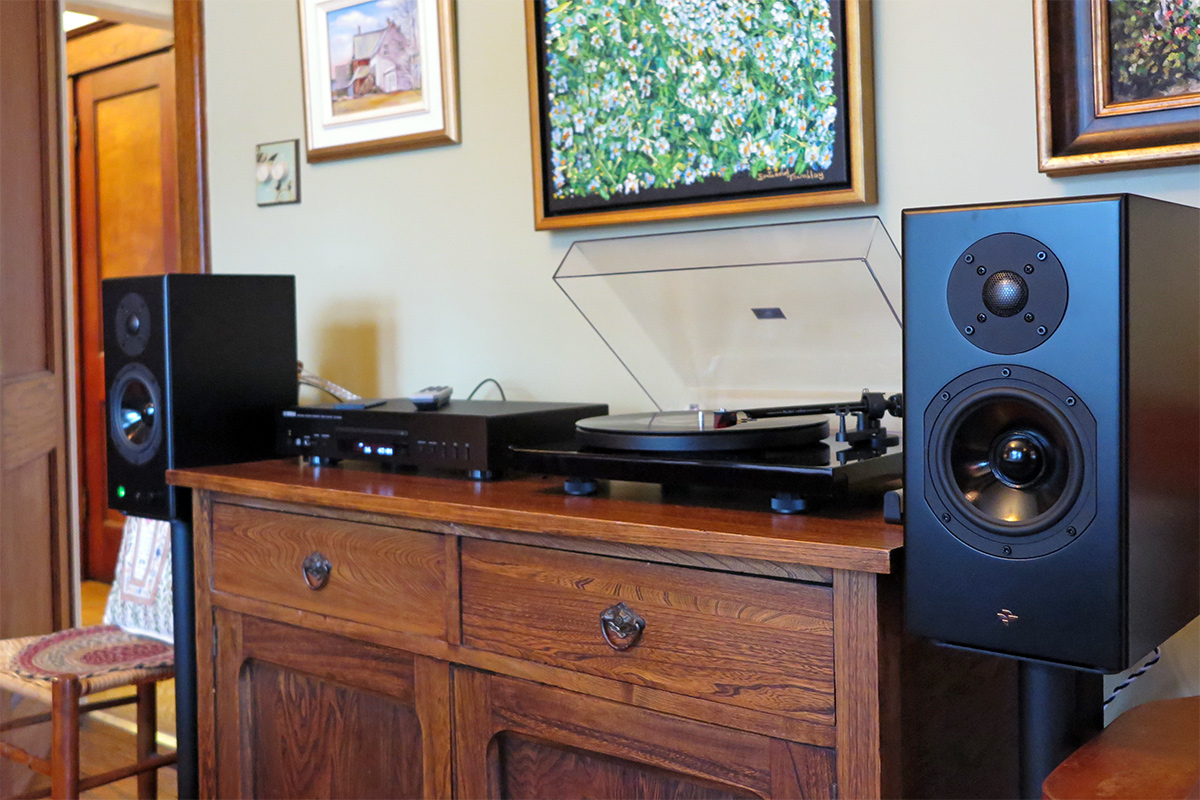 As the foregoing makes clear, Simplifi'd hi-fi encompasses much more than app-based computer audio. With that in mind, I plan to expand the range of products I cover in this space. I'll continue to review active and powered loudspeakers, and networked components like streamers and servers. Most of those reviews will be conducted from my home in Toronto.
I also want to review all-in-one integrated products that use passive loudspeakers. I don't have room in my Toronto home to review this sort of gear, so I'm setting up a second test area in my vacation home in Southampton, Ontario, on Lake Huron. One of the first products I plan to review there is McIntosh Laboratory's new MTI100, which combines a Bluetooth receiver, belt-drive turntable, tubed preamp, headphone amp, and 50Wpc class-D amplifier in a single, unmistakably McIntosh-looking case.
In short, I want to expand the scope of what I cover, and include products that deliver Simplifi'd hi-fi for people who aren't propeller-heads like me.
. . . Gordon Brockhouse
This email address is being protected from spambots. You need JavaScript enabled to view it.