It's the start of a new year -- and, depending on your math, the beginning of the 2020s or the end of the 2010s. Do the 2020s officially begin on January 1, 2020, or on January 1, 2021? Whichever, it's time to look at the top audio trends of the past year and the past decade.
As it turns out, the two stories are closely related. The 2010s saw the emergence of on-demand streaming as the default music source for most listeners and the main money-spinner for the record industry. And in 2019, the launch of two new high-resolution services made streaming a compelling option for serious audiophiles.
You can argue about when the streaming era began. I suggest October 7, 2008 -- the day Spotify launched their service. As of October 2019, Spotify had 248 million active users and 113 million paying subscribers. In second spot is Apple Music, which began service in 2015 and now has 60 million subscribers.
At the dawn of the decade, though, the market for streaming was minuscule. According to the 2019 Global Music Report of the International Federation of the Phonographic Industry (IFPI), streaming accounted for a mere 2.6% of global music revenues in 2010. Since then, it's exploded. In 2017, revenues from streaming overtook physical media, which had been declining since the dawn of the millennium.
In 2018, worldwide revenues from streaming were $8.9 billion (all figures USD), representing 47% of global music-industry revenues -- more than physical media and downloads combined. It's a safe bet that IFPI's 2020 Global Music Report, due in April, will show that in 2019 streaming's share of the global music industry surpassed 50%.
Higher fidelity
Until a few years ago, most audiophiles looked at streaming as a compromise: useful for discovering new music, not quite good enough for serious listening. That's because most streaming services use lossy compression to minimize bandwidth requirements. Spotify uses the Ogg Vorbis format (160kbps for its free ad-supported tier, and 320kbps for its Premium tiers, which start at $9.99/month), and Apple Music (also $9.99/month) uses AAC compression at 256kbps.
The launch of Tidal in 2014 changed that. Founded in Norway, then purchased by American rapper Jay-Z in 2015, Tidal has two main tiers. The Premium tier ($9.99/month) uses AAC compression at up to 320kbps. But one of Tidal's key differentiators was its HiFi tier ($19.99), which provides lossless CD-resolution streaming at 16-bit/44.1kHz, using the FLAC format. For the Premium and HiFi tiers, Tidal also has plans for families, students, and members of the military.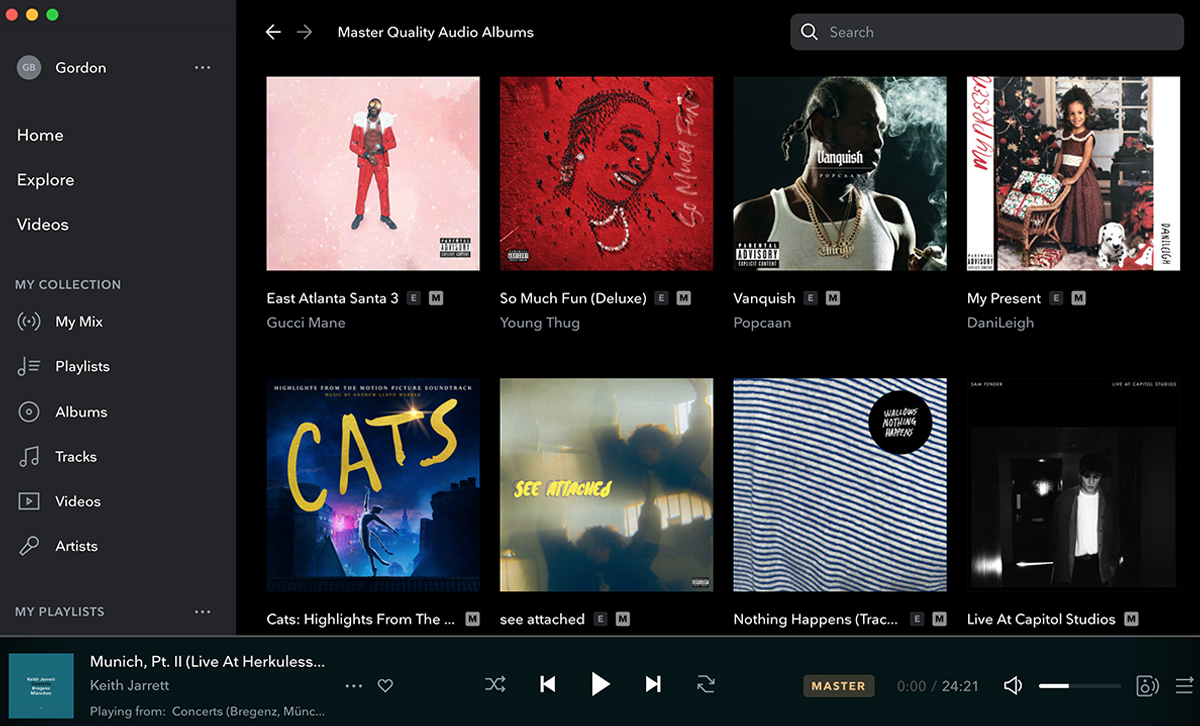 In January 2017, Tidal upgraded its HiFi tier to the HiFi/Masters tier, offering about 30,000 high-resolution "Masters" tracks encoded using the MQA format. According to a list maintained by an MQA Facebook group unaffiliated with MQA Ltd., Tidal's Masters tier now offers some 20,000 MQA-encoded albums.
Using a process it calls "music origami," MQA squeezes hi-rez audio into a file only about 50% larger than a lossless standard-resolution file. MQA files can be played on non-MQA hardware at CD resolution -- but when played through an MQA-compatible system, their hi-rez content is "unfolded" and passed on to the DAC.
When Tidal launched its Masters tier, it released desktop apps for macOS and Windows that could do the first "unfolding" of MQA streams, so that listeners could get most of the benefits of MQA without having to buy special hardware. At the same time, Audirvana issued its popular macOS music-player app, adding the ability to unfold MQA files.
To say that MQA is controversial is an understatement. This isn't the place to debate MQA's benefits and shortcomings, but I welcomed the launch of Tidal's Masters tier three years ago, and I haven't changed my mind. My focus then was and still is purely practical, not theoretical: How can I get the best-sounding version of the music I care about? Comparing MQA-encoded with CD-rez versions of the same music, I almost always prefer the MQA version.
A very good year
That equation changed during 2019, during which developments in streaming -- especially lossless and hi-rez streaming -- came fast and furious.
In February, the French music-streaming service Qobuz launched in the US. Qobuz offers a large catalog of CD-rez and hi-rez content, all encoded in the non-proprietary FLAC format. This simplifies the choice of hardware. If your system can play hi-rez FLAC files, you can stream in hi-rez from Qobuz using its desktop or mobile apps. However, Qobuz's subscription plans are in flux. (I discuss their pricing strategy in the next section.)
I wrote an exhaustive comparison of Tidal and Qobuz for Simplifi in late 2018, a couple of months before Qobuz's US launch. In that feature I noted some audible differences in the sounds of Tidal's MQA streams and Qobuz's hi-rez FLAC streams, but also noted that those differences were small -- small enough that, if I were choosing between the two services, my focus wouldn't be on sound quality. Hardware compatibility would be one issue, user experience another. I vastly prefer Qobuz, because I find its software richer and much easier to navigate, and because it has some features I really enjoy.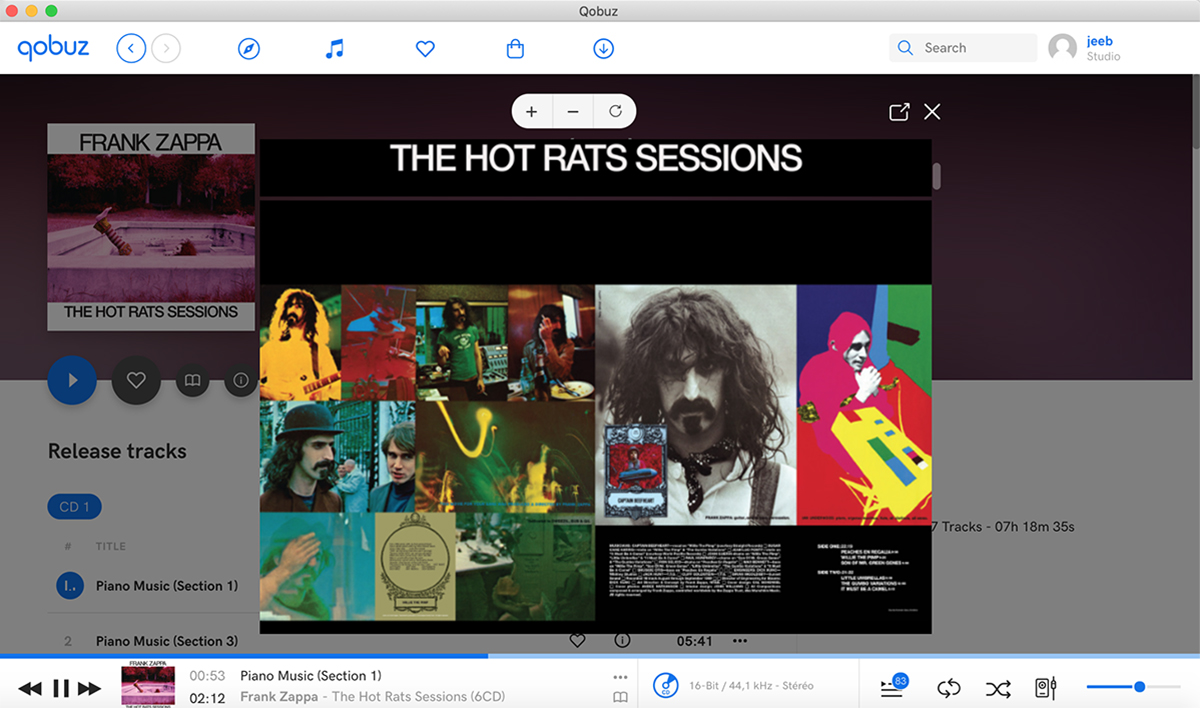 With many albums offered by Qobuz, you can click a little booklet icon to view the liner notes. To my knowledge, no other streaming service offers this. Another is Press Awards -- lists of albums that have received awards from outlets like Gramophone (UK), Pitchfork (US), Diapason D'Or (France), and Fono Forum (Germany). I find this a useful way of deciding which albums to add to my Favorites list.
However, a few things have changed since I wrote my comparison, and it's worth summarizing those changes here.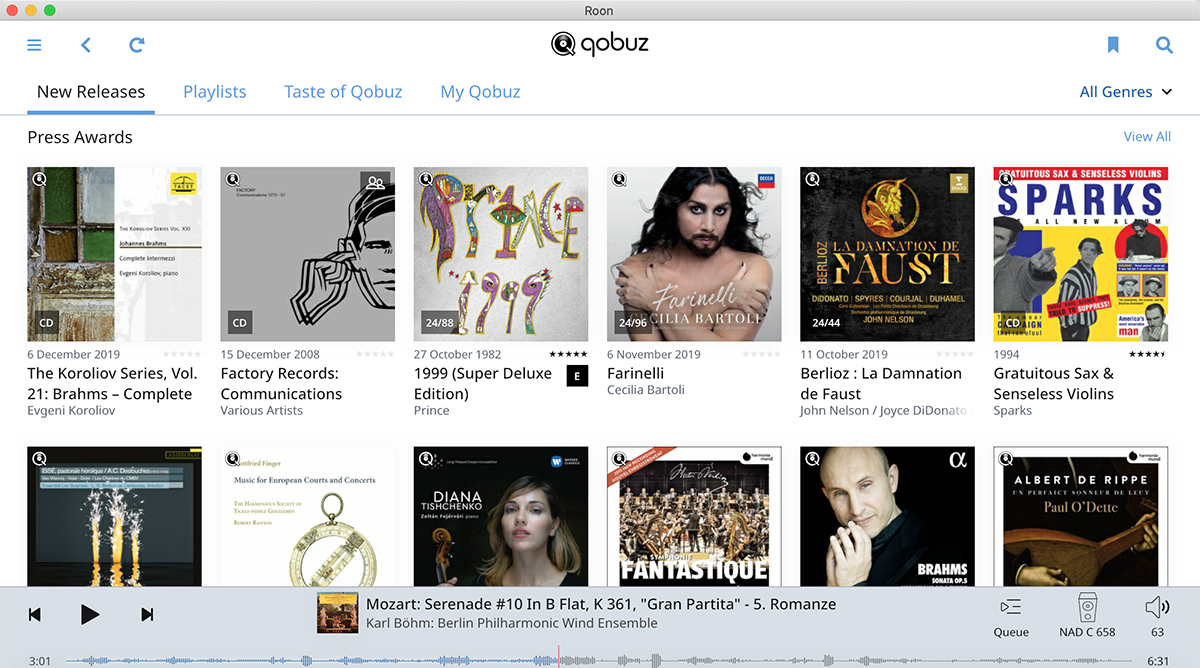 When I wrote that article, support for Tidal was built into Roon's music-management software, but Qobuz support wasn't. That changed in late January 2019, with the release of Roon v.1.6. Now Tidal and Qobuz are both integrated into Roon.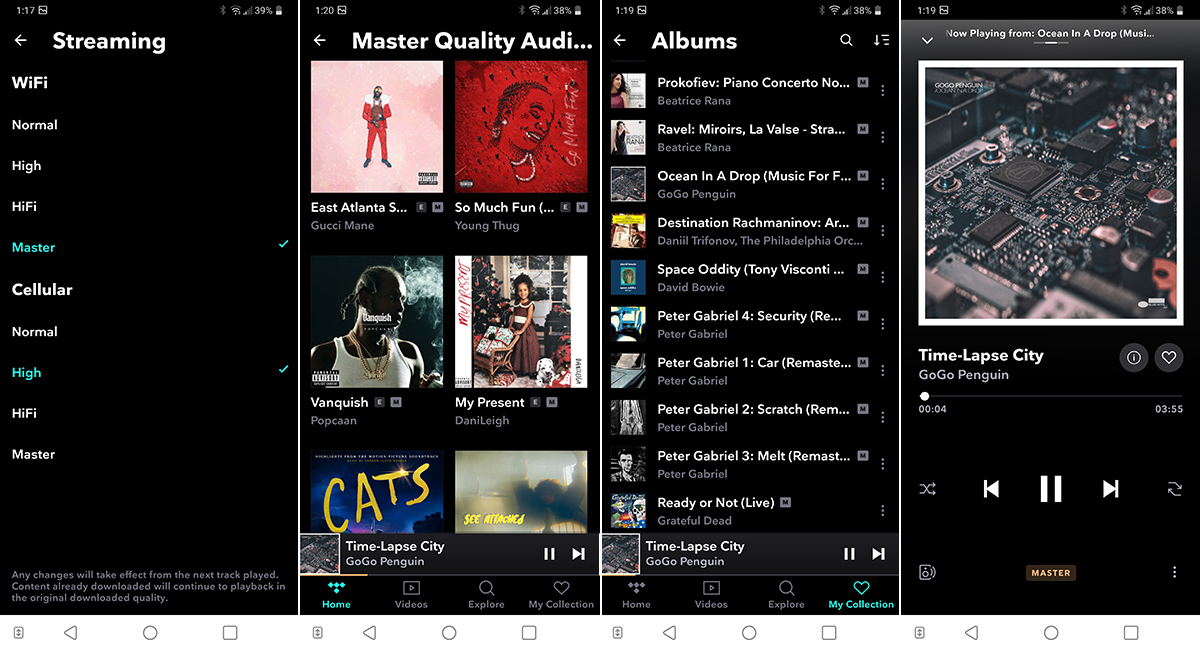 In February 2019, Tidal released new versions of its iOS and Android apps that perform the first unfolding of MQA-encoded content, allowing smartphone and tablet users to listen in hi-rez.
At some point during the year, Qobuz added to its mobile apps support for Apple CarPlay and Android Auto, allowing users to control Qobuz playback from a car stereo that supports CarPlay or Android Auto. This is a feature I've really enjoyed with Tidal. Before a long car journey, I can download some favorite albums to my phone via Wi-Fi at home, then play them in my car, controlling playback from the screen of my Pioneer AVC-4200NEX car stereo, which supports AirPlay and Android Auto. Now I can do that with Qobuz as well.
Elephant in the room
The biggest audio story of 2019 broke on September 17, when e-tail giant Amazon announced a new streaming service offering lossless CD-rez and hi-rez music. Priced at $14.99/month ($12.99 for Prime members), Amazon Music HD has over 50 million lossless CD-rez tracks and "millions" of "Ultra HD" tracks, with resolutions up to 24/192. Amazon Music HD isn't available in Canada, where I live, and I've been unable to get a press demo account, so I haven't been able to try it.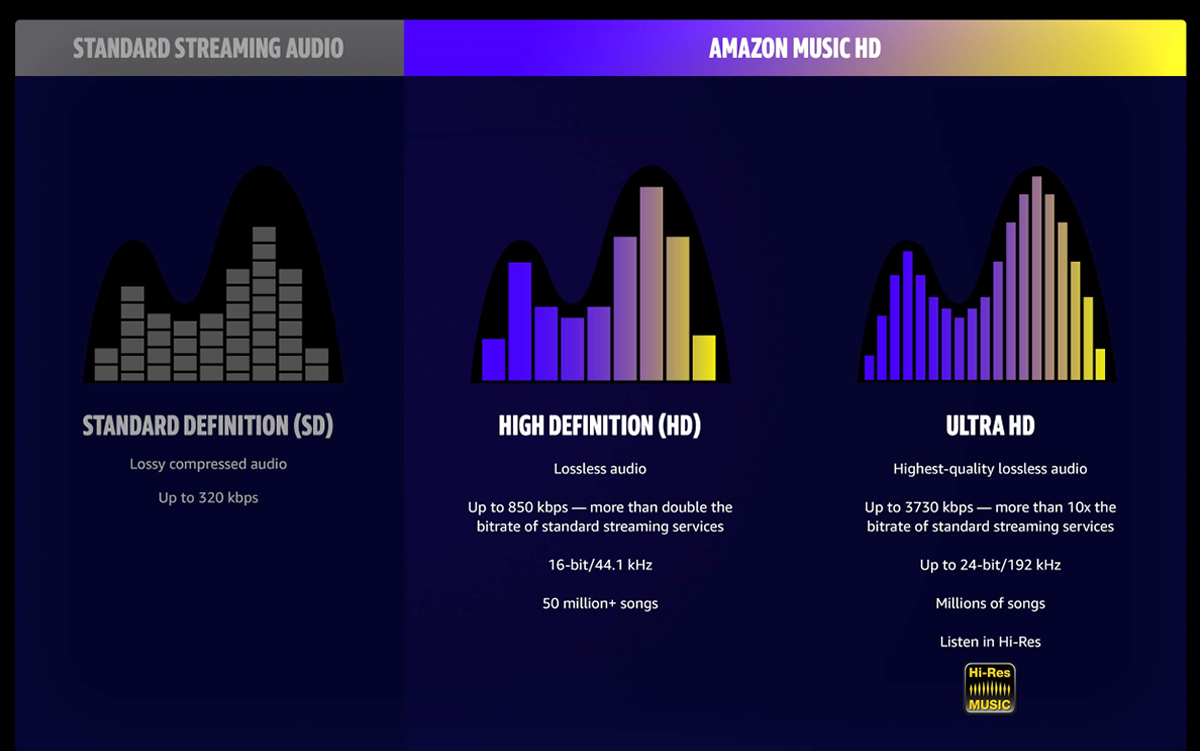 Following Amazon's announcement, several SoundStage! Network contributors conducted a lively e-mail discussion about what the new service might mean for audiophiles. With the launch of Amazon Music HD, is hi-rez audio poised to enter the mainstream? Would Spotify and Apple see hi-rez as an important checkbox that a major competitor had just ticked, and respond in kind?
What about the incumbent hi-rez services? How would Tidal and Qobuz respond to Amazon's aggressive pricing? At the time of the announcement, Qobuz was charging $9.99/month for its Premium tier, which uses MP3 compression at 320kbps, and $19.99/month for its Studio tier, which offers unlimited CD-rez and hi-rez streaming -- the same as Tidal charges for its HiFi/Masters tier.
Only time will tell if Amazon Music HD pushes hi-rez streaming beyond its audiophile niche. As to competitors' reactions, so far there's been no response from Apple, Spotify, or Tidal.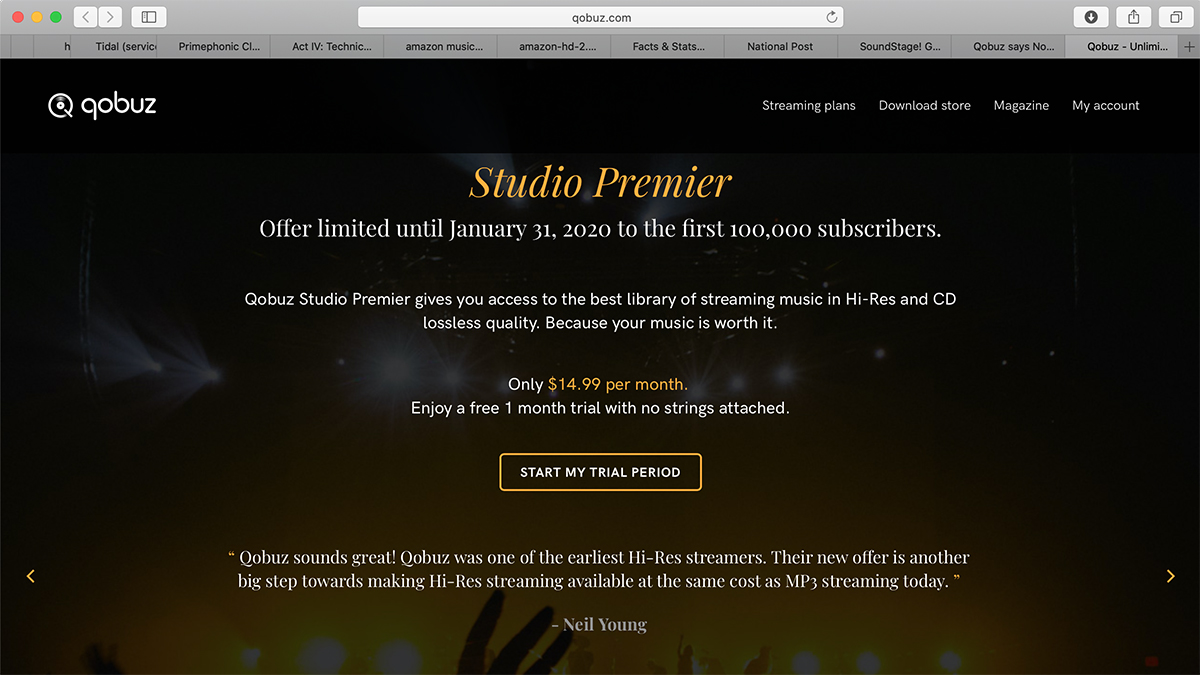 But on November 8, 2019, Qobuz made a splashy announcement of its own. Effective immediately, it was nixing its MP3 tier. Henceforth, it would stream everything in lossless format, at CD resolution or better. Qobuz also announced a new promotional subscription plan, Studio Premier, for $14.99/month or $149.99/year, effectively matching Amazon's aggressive pricing. This promotion is available to the first 100,000 new subscribers, until January 31, 2020 (though it will continue to apply to subscribers who take advantage of the offer after that date).
I asked Qobuz what their pricing model would be after the promotion expires January 31, and was told those plans would be determined in late January. For right now, Qobuz's Studio Premier plan looks like a crazy good deal.
Classical gas
In a feature article in September I looked at two other lossless streaming services, both specializing in classical music. As I noted then, classical-music listeners require more comprehensive and accurate metadata, more consistently presented, than that offered by mainstream services. With their customized musical databases, Berlin-based Idagio and Amsterdam-based Primephonic both address those needs. They also offer editorial content and discovery tools geared to the needs of classical listeners. Since that article was published, Idagio and Primephonic have both made some changes.
On November 12, Idagio announced a free ad-supported service that employs MP3 compression at 192kbps when streaming from a Web player or desktop app, AAC compression at 192kbps when streaming from Idagio's Android app, and AAC at 160kbps when streaming from the iOS app. Idagio offers radio-play service only on its free tier.
For on-demand streaming, you need to subscribe to the Premium tier at $9.99/month, which also uses lossy compression. Lossless CD-rez streaming is available on Idagio's Premium+ tier, which costs $9.99/month when signing up from the Idagio Website, $12.99/month for iOS when signing up from Apple's App Store, or $14.99/month for Android when signing up from Google Play.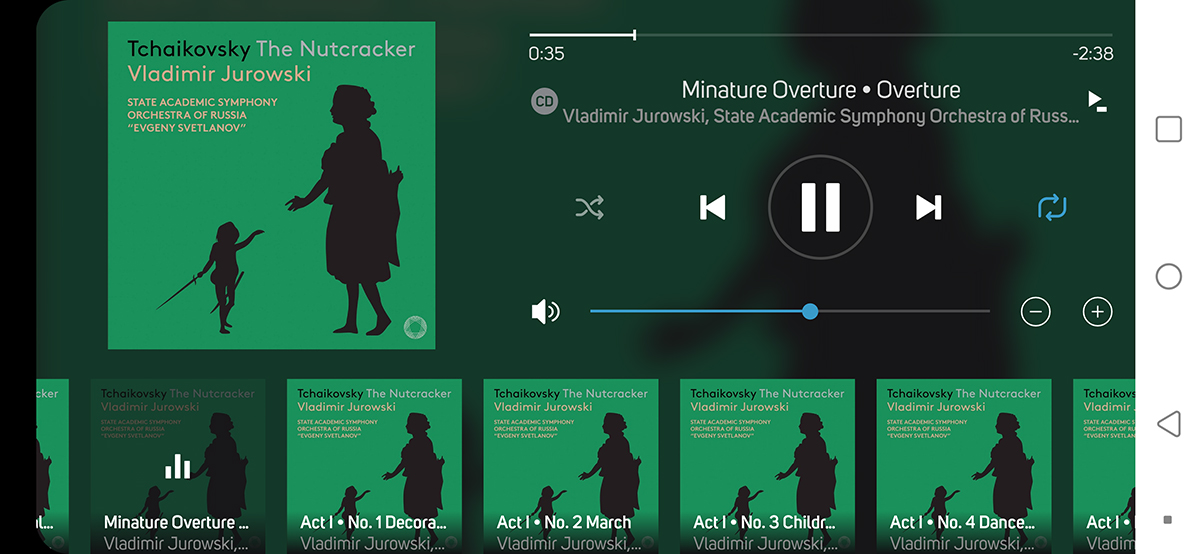 Idagio has also beefed up its hardware support. It already offered support for AirPlay, Chromecast, and Sonos, and in late November added support for Bluesound. Idagio is now one of the streaming options included in the BluOS app.
Unlike Idagio, Primephonic also has 24-bit hi-rez content, which is available on its Platinum tier for $14.99/month or $149.99/year. In my feature on classical music streaming, I noted that, in its Web player or its iOS or Android apps, Primephonic doesn't seem to identify the music as being offered in hi-rez. The reason for this may be Primephonic's use of the OraStream adaptive streaming technology, which stores files in their native resolution but uses a software decoder on the playback device, which buffers and adjusts the data to suit the bandwidth of the listener's connection.
When I spoke with Primephonic CEO Thomas Steffens in August, he told me that Sonos and Chromecast support were imminent -- and Primephonic added these features during the fall of 2019. Answering e-mailed questions for this article, Steffens said Primephonic will add support for Bluesound and Roon during 2020. Coming in January are desktop player apps for Windows and macOS, he added. Currently, for desktop listening, Primephonic plays from a Web browser.
Primephonic's catalog continues to grow. "We now have three million tracks," Steffens said, "the largest classical music catalog in the world. We will grow to four million by end of February."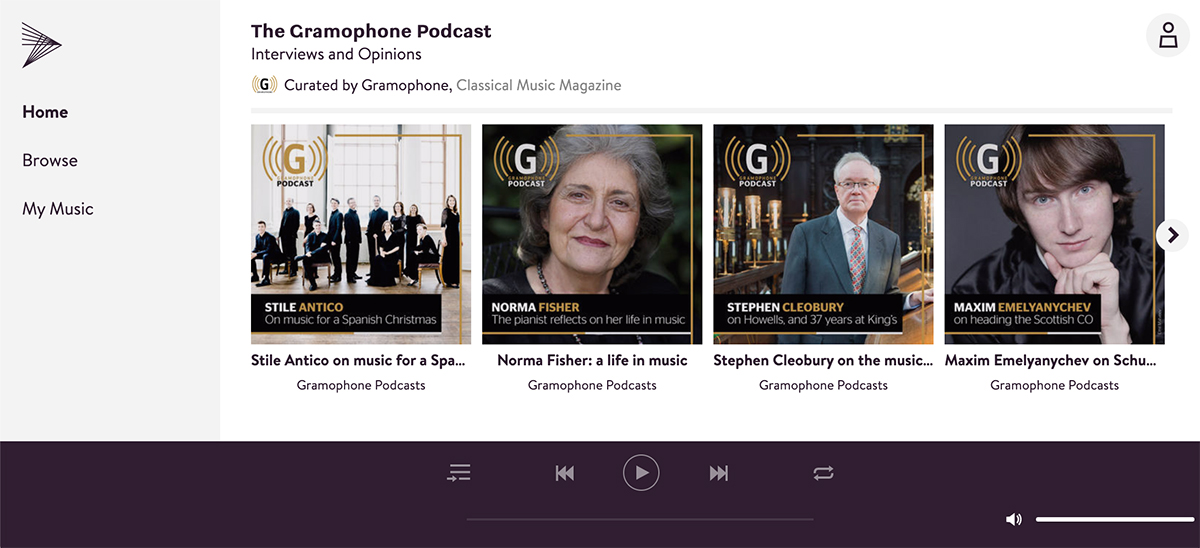 Primephonic has added another discovery tool to its player software: podcasts created in-house, and by such collaborators as Gramophone magazine.
Back to the future
The value offered by all these streaming services seems crazy. Adjusted for inflation, the monthly subscription fee for any one of them is lower than what I paid for a single album when I began seriously collecting music a half-century ago, and less than the current price for a new CD release or high-rez download. For less than the price of one album, I get instant access to millions of albums, with sound quality that I couldn't have imagined 50 years ago.
The hardware, too, has changed. My first serious hi-fi comprised a Thorens TD 150 turntable with B&O SP12 cartridge, a Sherwood S-7100 receiver, and Rectilinear 11 bookshelf speakers. The total price of this system would be about $3000 in 2019 dollars -- an amount that, today, will buy you a vastly more capable sound system.
And a more complicated system, as well. The streaming era has ushered in entire new classes of audio gear -- streamers, network bridges, music servers. Those are the topics of next month's feature article on SoundStage! Simplifi.
. . . Gordon Brockhouse
This email address is being protected from spambots. You need JavaScript enabled to view it.