Arcam is no stranger to the idea of integrated playback systems, having launched the first Solo Music in 2005. In this second generation of the model ($2000 USD), they update the concept for the streaming era by adding wired and Wi-Fi network connectivity, along with aptX Bluetooth. Like the original, the new Solo Music features a built-in disc player, and DAB/DAB+ and FM tuners. (Terrestrial radio broadcasting -- it's still a thing!) And if you're wondering if this is a system aimed at both audiophiles and audio newbies, playback support encompasses CD and SACDs, audiophiles being the only people on earth to own SACDs.
Built with "high-end circuitry and components," the Solo Music is powered by an 80Wpc class-G amplifier. Unlike the more common class-A/B amplification used in much hi-fi gear, class-G amps employ multiple power supplies to handle the low- and high-power demands of incoming signals, seamlessly switching between them as needed. The benefits of class-G over class-A/B include higher efficiency and thus less need to dissipate heat, which in turn makes possible much smaller products.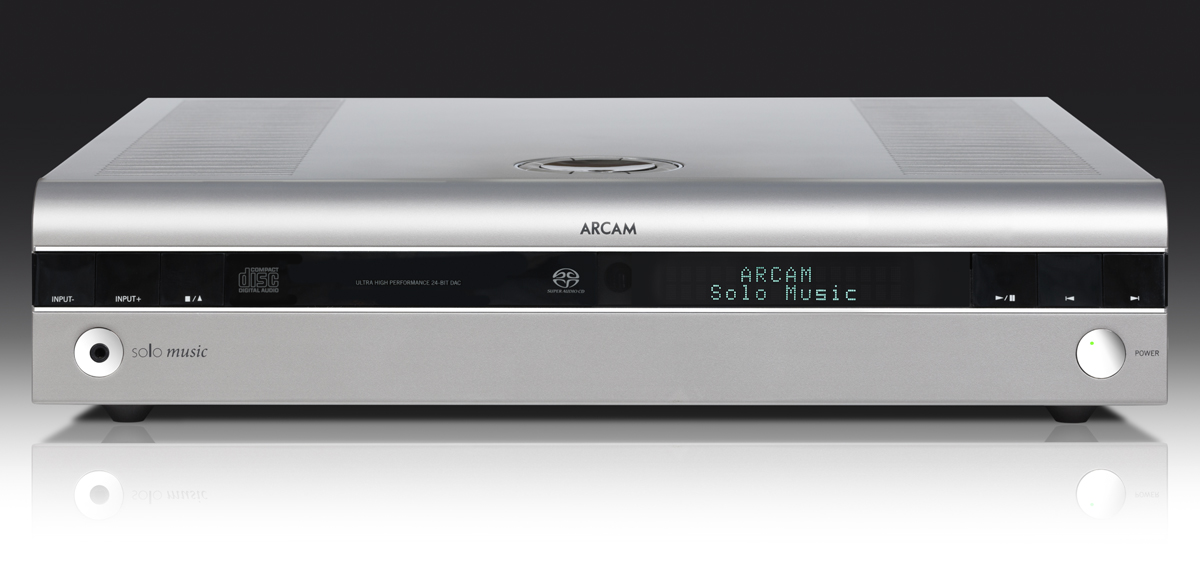 Billed by Arcam as a "Complete Stereo System in a Box," the new Solo Music is one of three Solo models, the others being components that additionally support Blu-ray playback, feature Dolby True HD and DTS-HD Master Audio decoding, and provide two-channel (Solo Movie 2.1) or five-channel (Solo Movie 5.1) speaker-and-subwoofer outputs, along with HDMI 1.4 switching for up to four sources. The Solo Music also provides HDMI switching (four inputs, one output), and its other audio-only connections include optical and coaxial digital, RCA analog stereo, and 3.5mm analog stereo. Data connections include LAN and USB ports, and there's an IR input and an RS-232 port for linking to a home control system.
In each Solo system, Arcam packs all the electronic goodness into an attractive, low-profile metal case with a slight curvature to its top front. A headphone output and controls for input selection and disc playback are provided on the front panel, and a dial on the top panel is used to navigate the menu and set the volume level. Using the dial to adjust volume wasn't easy -- a mismatch in ergonomic quality with the rest of the system.
I preferred to adjust the volume with Arcam's remote-control handset (included), a standard-issue universal design with the usual volume rockers. This remote has a fully backlit keypad, and is preprogrammed to operate as many as eight components, including all of the Solo Models as well as a satellite receiver or cable box. Its IR range was excellent, allowing me to easily bounce commands off my front wall, instead of having to point the remote directly at the Solo Music.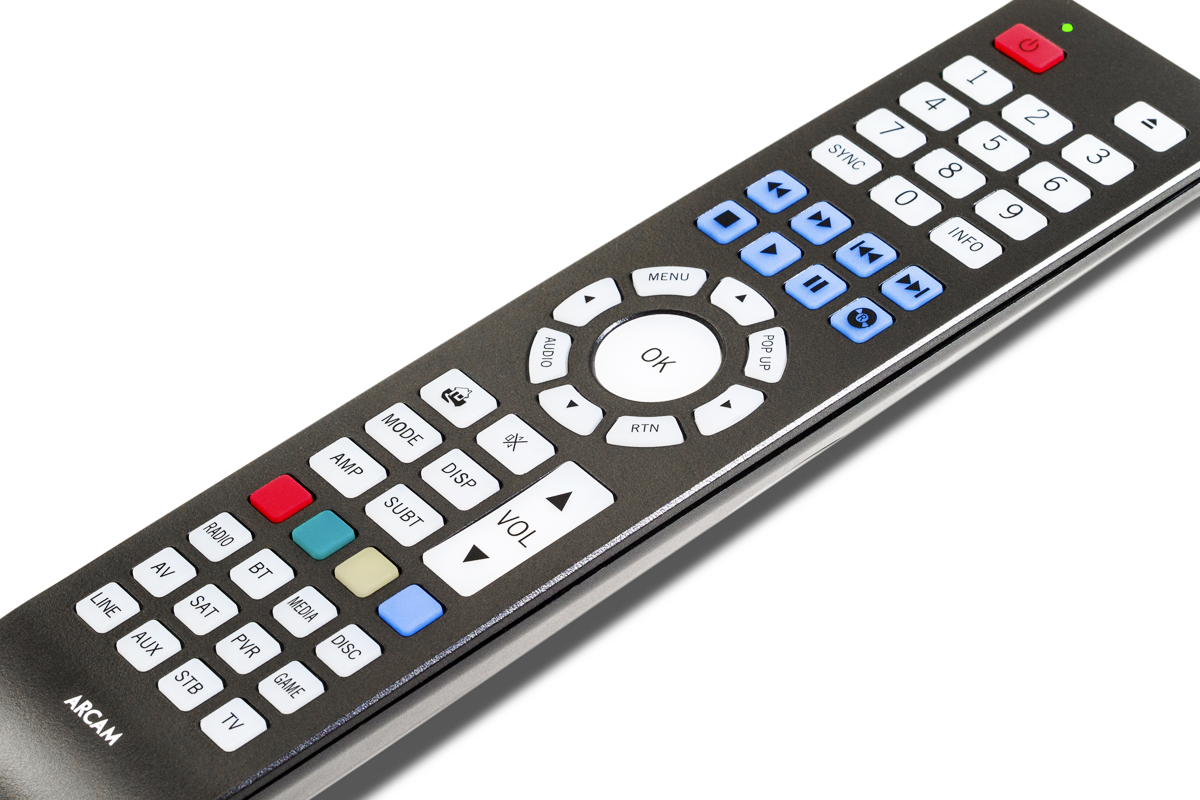 Arcam's MusicLife iOS app can be used to control system volume and subwoofer output level, as well as select and stream music from a DLNA media server. Another in-app option, Airable, adds streaming services (including Deezer, Qobuz, and Tidal) as sources that can be selected from within the app, and provides access to Internet Radio stations. While MusicLife mostly did the job, I got lost more than once when shifting between navigating music selections stored on my computer (presented onscreen with album-cover art) and controlling amp functions. Clearly, MusicLife needs a bit more work to make it fully user friendly.
Setup
To get up and running with the Solo Music, I connected it to GoldenEar Technology's Triton Five speakers. Later on, I added a MartinLogan Dynamo 1500X subwoofer, making a point of selecting the Subwoofer Output option in the Solo's Audio setup menu. The Solo Music's manual doesn't specify crossover settings, but Arcam tech support told me that while the sub crossover is currently fixed at 120Hz, in the works is a firmware update that will provide variable crossover points and subwoofer-level calibration.

The next step was to select the Ethernet option in the Network settings menu, and run an Ethernet cable from a powerline adapter to link the Arcam to my home network. To play CDs and SACDs, I used the Solo Music's built-in disc player. Although I did most of my critical listening with discs, I also tapped the Arcam's Bluetooth capability to stream music from my phone, and its DLNA playback of uncompressed and high-resolution files via JRiver Media Center 21 running on my MacBook Pro.
Sound
To check out the Solo Music's sound, I thought it best to play a traditional folk ballad from the British Isles -- "Black Is the Color," performed by Espers on their The Weed Tree (CD, Locust Music 73CD). The Arcam vividly conveyed the bells that float across the soundstage, and brought the same level of clarity to other instruments in this track, such as acoustic guitar and cello. The intertwining women's and men's voices were reproduced by the Solo Music with a level of detail that struck me as sounding open and refined rather than edgy or enhanced.
Fresh out of the box, the Solo Music flat-out refused to play SACDs. A quick firmware update later via its network connection and SACD playback was a go, and I settled on Roxy Music's Avalon (SACD/CD, Virgin ROXYSACD 9). The spacey intro of "Take a Chance with Me" was rendered with all its atmosphere and layering of instruments intact. And when the song proper finally kicks in, the drums were tight and dynamic, while the bass guitar's full, authoritative sound showed off the Arcam's ability to maintain tight control over the woofers in the GoldenEar towers.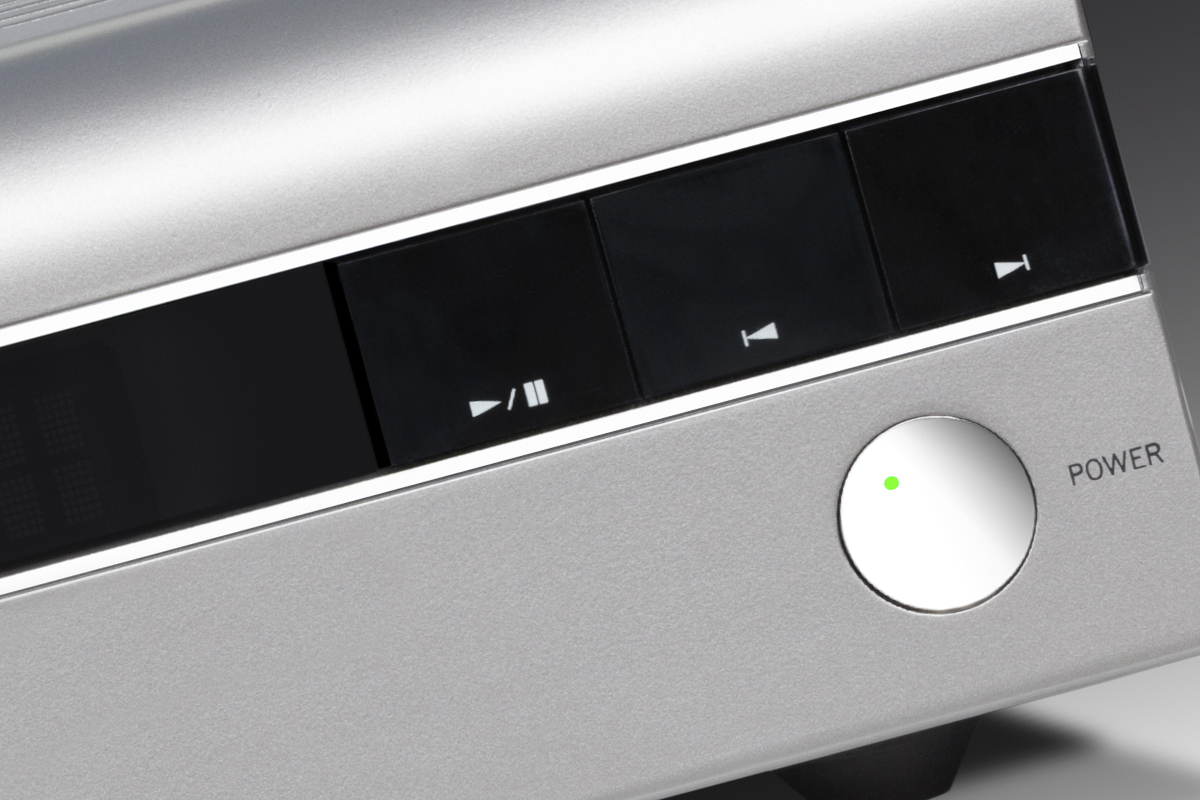 All the positive attributes I heard while playing discs in the Solo Music carried over to DLNA streaming. For example, in "Lydia," a hi-rez download from jazz drummer Jack DeJohnette's In Movement (24-bit/96kHz FLAC, ECM/HDtracks), the spacious sound so characteristic of ECM recordings readily came through, and the lush overtones of DeJohnette's ride cymbal rang out with a level of detail that fully grabbed my attention. And when Ravi Coltrane cuts loose about halfway through, his tenor sax had a dynamic ease and freedom that held up even when I pushed the volume to a high level.
Adding the MartinLogan subwoofer to the GoldenEars mostly increased the system's dynamic range and let me push volume levels even higher without hearing strain. The Roxy Music track benefited most, the drums in the intro sounding hugely resonant, in that overly dramatic way characteristic of 1980s rock production. But I also heard more low-level detail in the Espers track, which took on a richness I hadn't experienced before. All integrated amps should provide a subwoofer output, to make extending a system's bass response a simple task.
Comparison
To compare the Solo Music's sound with a similar component, I pulled out Hegel Music Systems' Röst integrated amplifier, which I reviewed last month, and evaluated both with just the GoldenEar Triton Fives and no subwoofer. At 75Wpc, the Hegel provides nearly the same power output as the Arcam, though at $3000 it costs half again as much. As I listened to the same tracks I'd used for my test, the Hegel's bass seemed a bit more lean -- the Arcam displayed slightly better control in its reproduction of the sounds of bass guitar and kick drum. But both models sounded clean when pushed to high volumes, the Hegel sounding equally at ease with Ravi Coltrane's dynamic solo in "Lydia."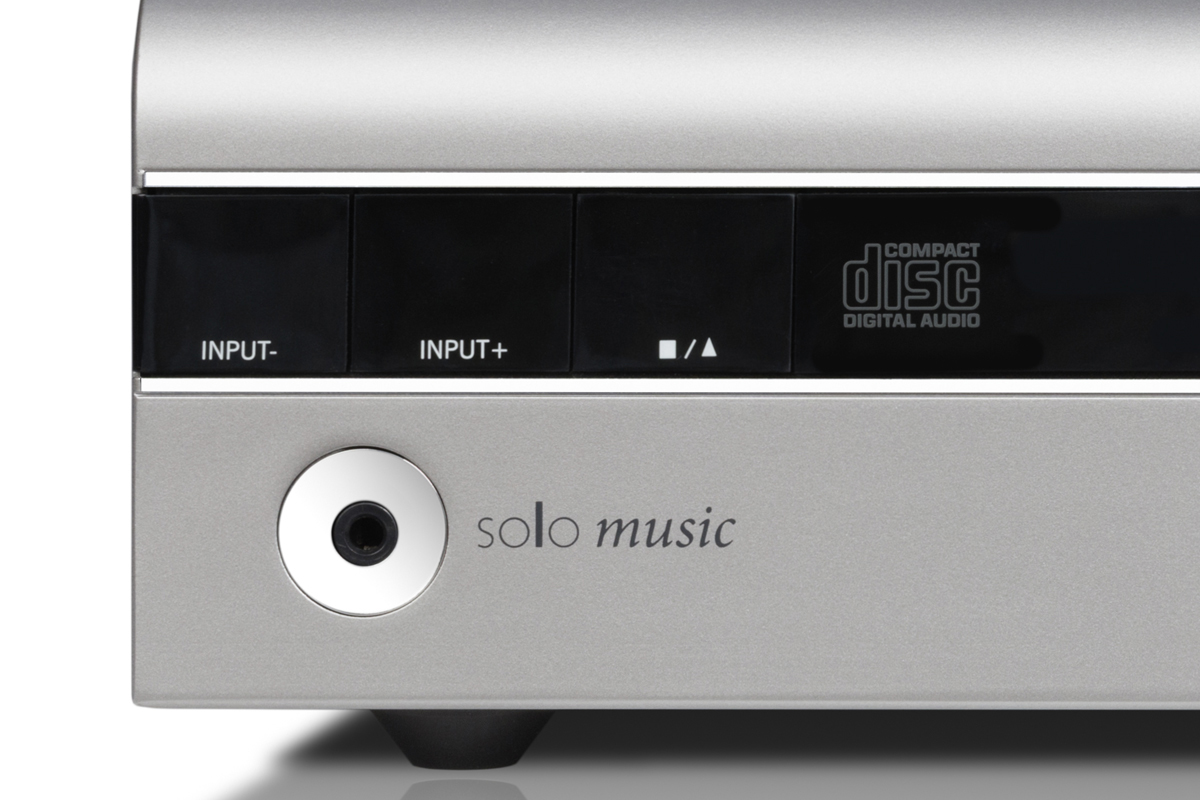 While the Arcam gave the Hegel a run for its money in terms of sound quality, this iOS user found the Röst's implementation of Apple's AirPlay a big benefit -- something I'd be willing to pay extra for if Arcam provided it as an option for the Solo Music. But Arcam's iOS app includes Tidal integration, so I won't complain too much.
Conclusion
Arcam's Solo Music will be great for those who want to dispense with a component-based hi-fi system. With everything included -- amplifier, preamp, SACD/CD player, DLNA network streamer -- all you need to add are speakers (and a sub, if you've got one). And for what you get, it's quite affordable at $2000. I half expected compromised sound -- instead, the Solo Music surprised me by providing sound quality that equaled that of more expensive gear.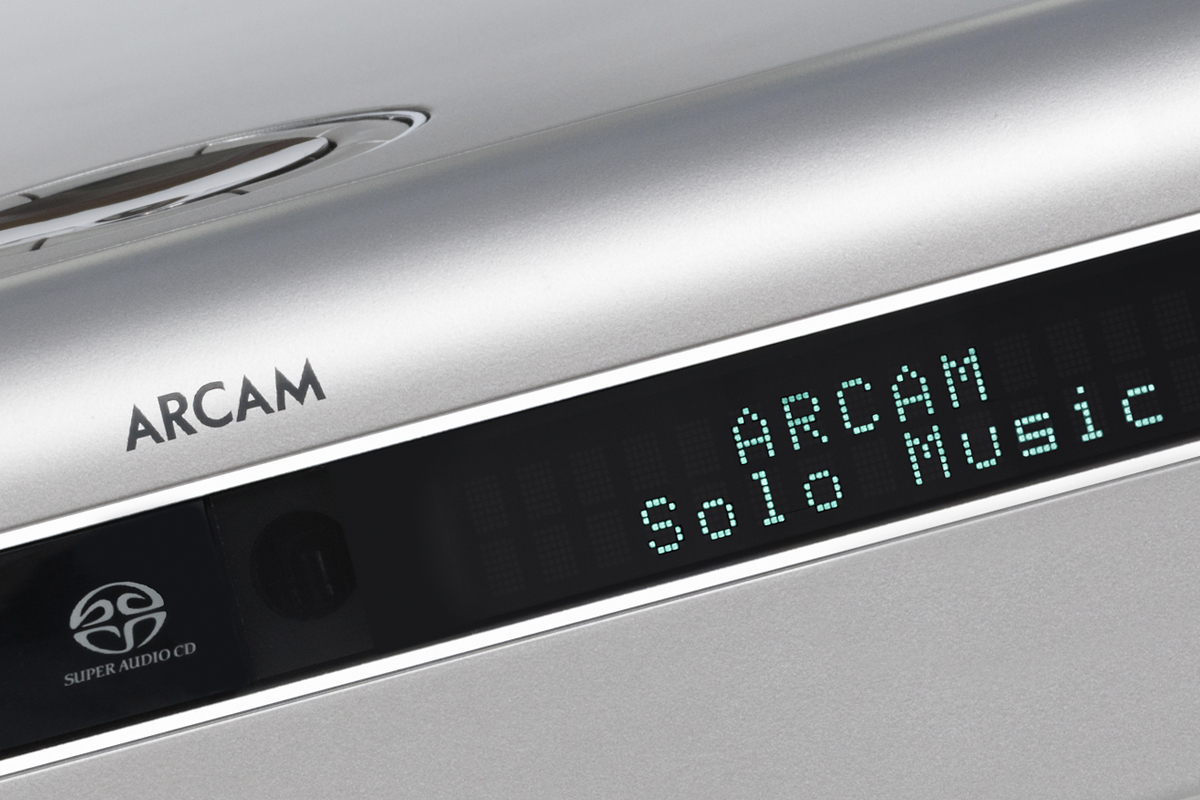 Could Arcam's all-in-one be improved? I think the MusicLife app could be tweaked to enhance usability, though I did eventually grow used to its quirks. The absence of AirPlay aside, the package of features Arcam provides in the Solo Music is very solid, and one that I believe even a fussy, SACD-owning audiophile would warm to.
. . . Al Griffin
This email address is being protected from spambots. You need JavaScript enabled to view it.
Associated Equipment
Sources -- Pioneer BDP-88FD BD player, Apple MacBook Pro, iPhone 6, JRiver Media Center 21, Apple Music, Tidal HiFi
Speakers -- GoldenEar Technology Triton Five
Subwoofer -- MartinLogan Dynamo 1500X
Integrated amplifier -- Hegel Music Systems Röst
Speaker cables -- Monster Audio S14-2RCL
Analog interconnects -- AudioQuest Victoria (RCA)
Arcam Solo Music DAC-Integrated Amplifier-Universal Player
Price: $2000 USD.
Warranty: Two years parts and labor.
Arcam
The West Wing, Stirling House
Pembroke Avenue, Waterbeach
Cambridge, England CB25 9QE
UK
Phone: +44 1223-203-200
E-mail: This email address is being protected from spambots. You need JavaScript enabled to view it.
Website: www.arcam.co.uk
North American distributors:
USA
The Sound Organisation
159 Leslie Street
Dallas, TX 75207
Phone: (972) 234-0182
E-mail: This email address is being protected from spambots. You need JavaScript enabled to view it.
Website:www.soundorg.com
Canada
Erikson Consumer
21000 TransCanada Highway
Baie-D'Urfé, Québec H9X 4B7
Phone: (514) 457-6674
Website: www.eriksonconsumer.com