According to Amazon, the e-commerce site's hottest product category during the 2017 holiday season was audio. This is not to say that most Amazon shoppers were spending money on amplifiers, bookshelf speakers, or even headphones. The audio product that everyone wanted to find under their tree was the Echo Dot, a voice-activated Wi-Fi speaker that sells for $50 USD.
While the Echo Dot does contain a single 0.6" driver, the main draw for most folks isn't its limited ability to reproduce sound. Rather, it's Amazon Alexa, a voice-activated, "intelligent" digital assistant that also serves as a platform for smart home control. Not surprisingly, fellow tech titans Google and Apple offer their own competing digital assistant/home control platforms -- Assistant and Siri, respectively -- along with voice-activated Wi-Fi speakers that serve as the system interface.
Makers of more traditional speakers are beginning to join the voice-activation trend. For example, JBL, owned by Harman International Industries, has hitched up with Google: JBL's Link line of Wi-Fi speakers incorporates Google Assistant, as well as Google's Chromecast Built-in platform for streaming up to 24-bit/96kHz audio. The new Link 500 ($399.95 USD) is JBL's largest voice-activated model, and the one best suited for stereo music playback.
At 14.6"W x 7.9"H x 6.2"D, the pill-shaped Link 500 is compact enough to easily fit on a bookshelf. Its driver array consists of two 0.8" tweeters paired with two 3.5" woofers -- one woofer each firing to front and rear -- and each driver is powered by its own 15W amplifier. The Link's plastic cabinet, available in black or white, is covered in a mesh of the same color, giving it a basic, not-unattractive look.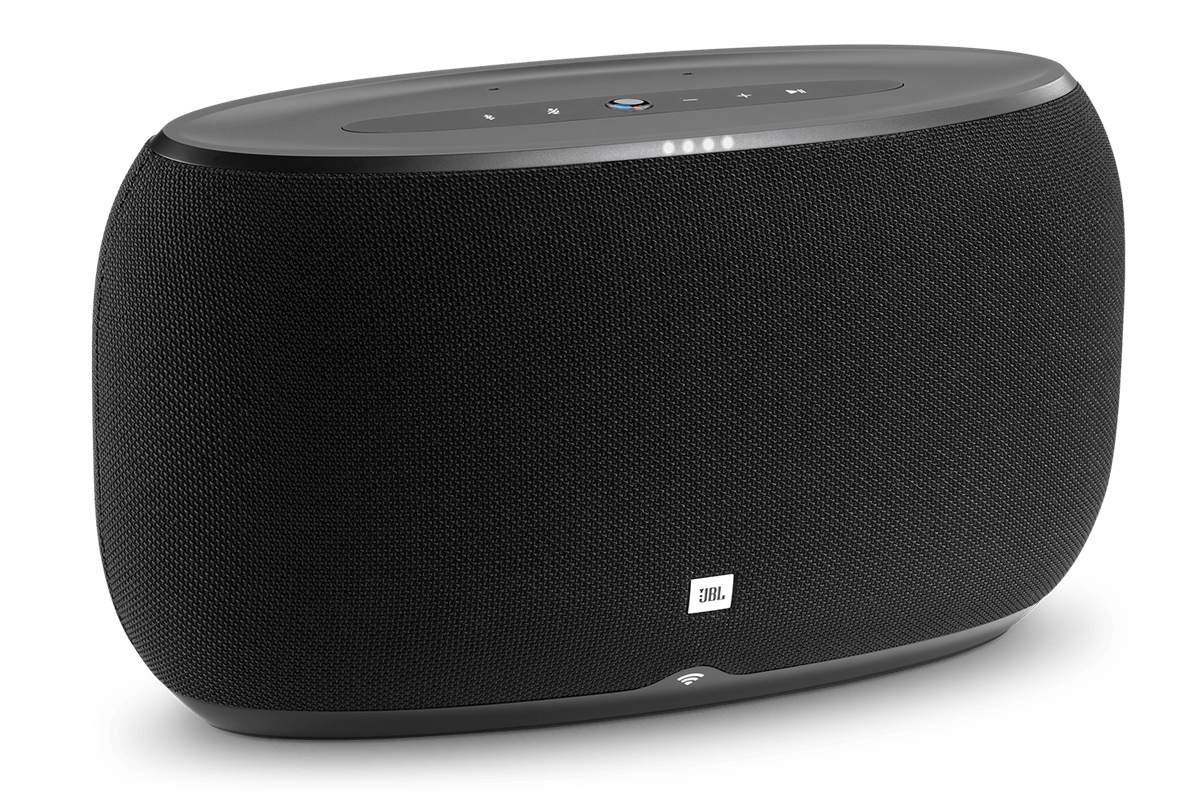 Other than Wi-Fi, the only way to connect with the Link 500 is via Bluetooth -- it has no analog audio inputs or USB ports. On the top panel are capacitive control buttons to adjust volume, pause/play, and pair the speaker with Bluetooth devices. There are also buttons for activating Google Assistant, and to mute/unmute the built-in microphones used for voice control. An LED on the speaker's front lights up to indicate Wi-Fi signal strength. Additional LEDs on the front illuminate when Google Assistant is activated.
Setup and use
To begin interacting with the JBL Link 500, I set it up on the low bookcase in my bedroom where I normally place compact all-in-one speakers. I then downloaded the Google Home app to my iPhone, entered my Wi-Fi password, and added the Link 500 as a Google Home-compatible device. The only other requirement was to teach Google Assistant to recognize my voice by uttering "OK Google" and "Hey Google" a few times. If other people in your household want to interact with Google Assistant, they'll need to go through the same voice-recognition routine.
Other options in the Google Home app let you link your Google profile so that the Assistant has access to your home address, work location, contacts, phone number, and all other personal data the tech giant has compiled on you. Yikes. This gives the Assistant the information it needs to supply quick answers when asked about traffic conditions for your commute, local weather, daily horoscope, etc.
Lest we forget, the Link 500 is also a multiroom-capable Wi-Fi speaker, and can be configured to stream tracks, albums, and playlists directly via voice command from Google Play Music, YouTube Music, Pandora, and Spotify. For other services, such as Tidal or Deezer, you'll first need to launch the app on your device, then stream tunes to the speaker using Chromecast Built-in.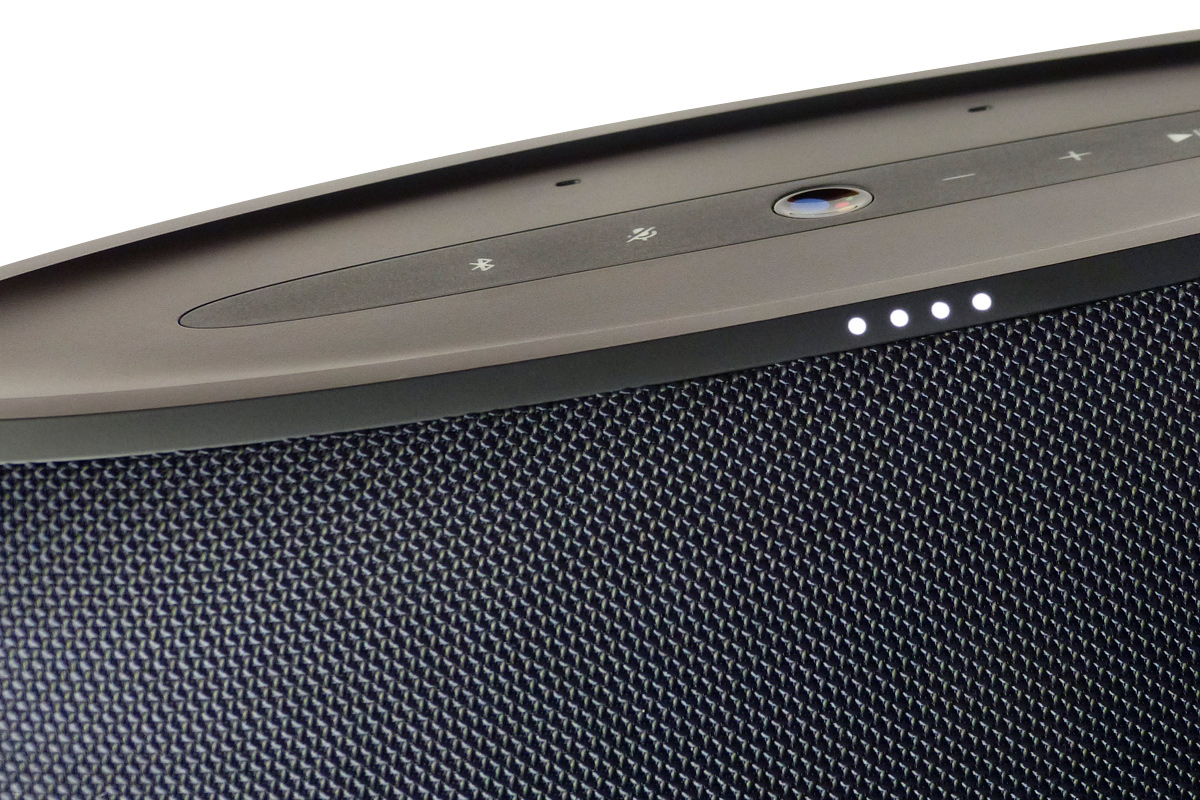 What's it like to live with a speaker that also serves as a digital assistant? I was dubious at first, but ended up finding numerous uses for my new Google friend, which could recognize my voice when I spoke at a normal speaking volume level in my office, 20' away in the next room. For example, when I issued the command "Hey Google, play Bob Dylan," the speaker launched a Pandora station based on Bob. The track that played was a Frank Zappa tune I was unfamiliar with, prompting me to ask for the title. "'Camarillo Brillo'," the speaker replied. "What album is this song on?" I asked. "'Camarillo Brillo' is from the Frank Zappa and the Mothers album Over-nite Sensation," said the Link 500.
The TV in my bedroom includes Chromecast Built-in, and I was able to get it in on the voice-activated action by linking the set in Google Home. This let me to do basic things, like command the TV to play Narcos, from Netflix. I could also use voice commands to pause and resume playback, raise and lower volume, and ask it to display a photo stream from my Google Photos account. I would have liked to dim the lights, adjust the temperature, and lock my front door's deadbolt -- all actions Google Assistant is capable of triggering -- but I have yet to invest in the proper smart-home gear.
In addition to complying with requests that it play music by certain artists, the Link 500 also responded accurately to music-playback-specific commands: pause tracks, adjust volume up or down, and jump to a specific volume level -- say, 75%. In fact, voice commands turned out to be a better bet for volume adjustment than using Google Home. The app's GUI includes a volume control that you adjust by dragging your finger across the screen, but this causes the volume to jump to the new setting rather than increase or decrease gradually -- an effect I found jarring.
Sound
Streaming tracks from Tidal directly to the Link 500 using Chromecast Built-in, I began my listening with singer Vanessa Fernandez's cover of Led Zeppelin's "Trampled Underfoot," from her album of Zep covers, When the Levee Breaks (16-bit/44.1kHz FLAC, Groove Note/Tidal). The JBL conveyed her voice with impressive clarity and a good dose of warmth, and I heard clear separation among the voice, guitar, and percussion. Bass fullness and extension were unexpectedly good -- when Chris Chaney's electric bass enters a few bars in, it had a dense, muscular quality I found instantly appealing.
With Hoagy Carmichael's "Georgia," the lead track of Charles Lloyd's The Water Is Wide (16/44.1 FLAC, ECM/Tidal), there was a good sense of room ambience, and Lloyd's tenor saxophone had a raw, realistic presence. A treble uptilt lent some sharpness to the tone of Brad Mehldau's acoustic piano in his solo, however, and I found the sound of Billy Higgins's brushed cymbals and snare drum to be a bit papery. Here again, I liked the JBL's handling of the low end: Larry Grenadier's double bass was full and well defined.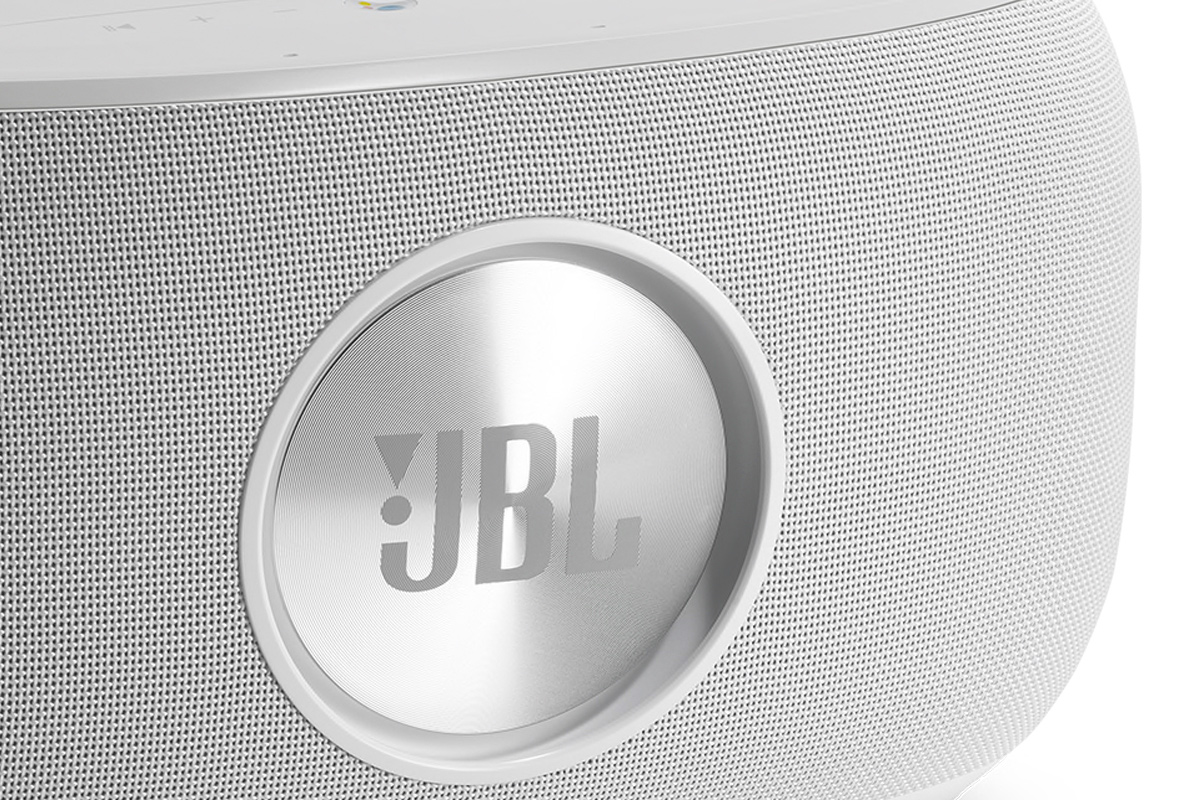 J.S. Bach's Organ Concerto in D Minor, BWV 596, performed by Wolfgang Rübsam (16/44.1 FLAC, Naxos/Tidal), is the sort of work you'd expect to make a compact all-in-one speaker quiver in dismay -- but the JBL easily weathered the dynamic shifts between sections, and could play loud without sounding strained. The Link 500's soundstage was also impressively wide, conveying a convincing sense of the space in which the recording was made: St. Mark's Cathedral in Seattle, Washington.
Techno tracks also sounded really good through the Link 500. When I played "Duty Cycle," from John Tejada's Dead Start Program (16/44.1 FLAC, Kompakt/Tidal), a trancey throwback to early-1990s artists like Orbital, I heard clear definition of the synth layers and electronic percussion. While the JBL's handling of this track's driving bass was for the most part potent, I did hear some distortion with the volume pushed up -- a result of the woofers being overdriven.
Comparison
Elac's Discovery Z3 Wi-Fi speaker ($499.98) was on hand from my recent review of it for SoundStage! Simplifi, and even though the Z3 can't provide traffic alerts or translate from English to Japanese, I decided to put it head-to-head with the Link 500.
With Vanessa Fernandez's Led Zep cover, the Elac's bass wasn't as extended or full as what I'd heard with the JBL, but its overall dynamics were very good, and her voice sounded smoother. In comparison, the JBL's sound had a distinct crispness that might be an advantage in a large room, but felt a bit aggressive in a space as small as my bedroom.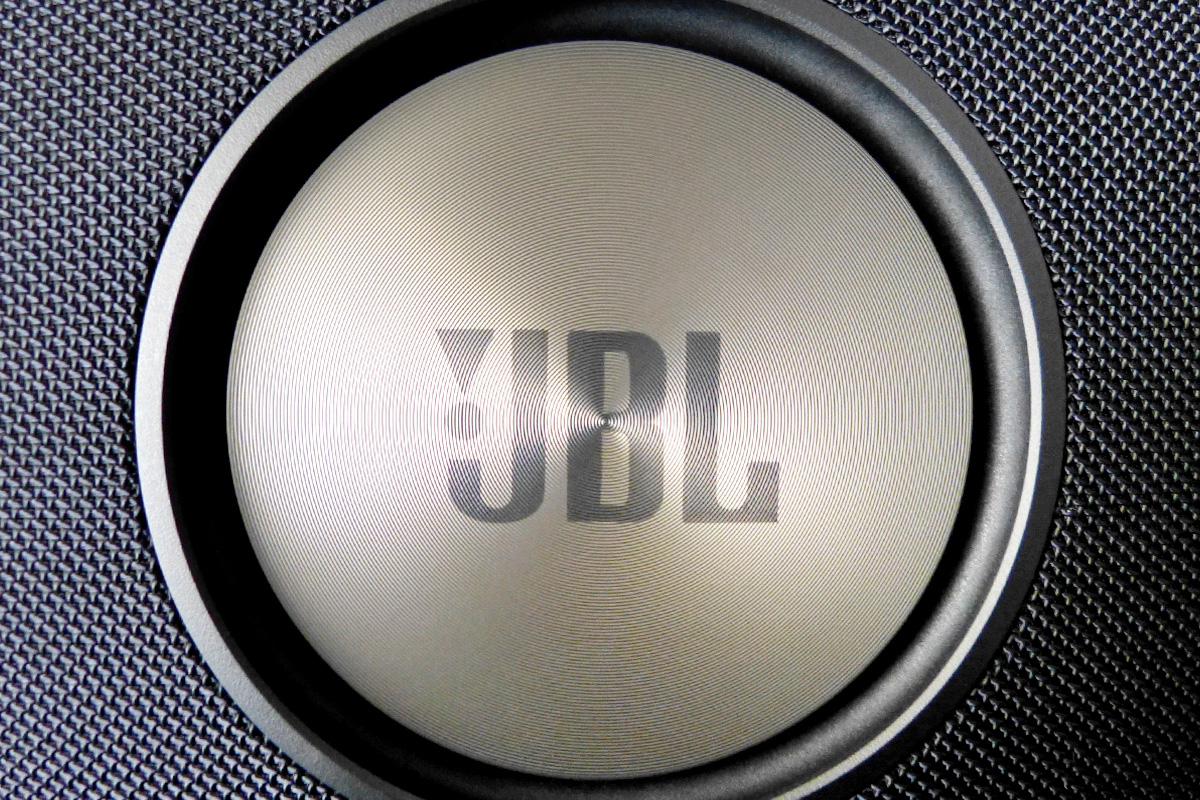 Charles Lloyd's version of "Georgia" sounded more scaled-down through the Elac than through the JBL. I found the Elac's reproduction of the piano and tenor sax solos to be more pleasing, however, with none of the JBL's sharpness. The Elac also brought out more subtle details, such as Lloyd's barely audible muttering during Mehldau's piano solo.
Streaming the Bach organ concerto, the JBL had the upper hand in terms of image width, the sound expanding through the room in a way it didn't from the Elac. I found the Elac's sound with this track to be similarly dynamic, however, and its rendering of the pipe organ's textures seemed more natural. The Elac also had impressive dynamics and drive with the John Tejada techno track, and, unlike the JBL, could be pushed to loud volumes without distorting the bass.
Conclusion
JBL's Link 500 is the first voice-activated speaker I've evaluated, and after spending time with it, I'm convinced that digital-assistant technology is more than a gimmick. Not only that, I feel enthusiastic about its potential, particularly when it comes to music streaming and A/V system control. The Link 500's sound quality was also above average for a compact all-in-one speaker, though its crisp, slightly enhanced treble might not be the best match for all rooms. If you're looking for a compact speaker with room-filling sound, and the ability to answer your questions and do what you tell it to, the Link 500 could be an excellent fit.
. . . Al Griffin
This email address is being protected from spambots. You need JavaScript enabled to view it.
Associated Equipment
Sources -- Apple MacBook Pro and iPhone 6, Tidal HiFi, Spotify
Speakers -- Elac Discovery Z3 Wi-Fi speaker
JBL Link 500 Wi-Fi Speaker
Price: $399.95 USD.
Warranty: One year parts and labor.
JBL
Harman International Industries
400 Atlantic Street
Stamford, CT 06901
USA
Phone: (800) 336-4525
Website: www.jbl.com