What's in a name? For old-school audiophiles, the name Thiel conjures up images of stately speakers in sumptuously finished cabinets of natural wood, of company founder Jim Thiel's emphasis on the principles of time and phase coherence, and his use of coaxial drivers and first-order crossovers in his designs to achieve those ends.
Jim Thiel is no longer with us, and the Nashville-based company that still bears his name now seems to be a very different operation from the Thiel Audio of the past. Exhibit A: Thiel's new Aurora Home Wi-Fi speaker ($899 USD). Though it's attractively finished, there's little family resemblance between the Aurora Home and earlier Thiel speakers. Ditto the drivers and crossover, as well as the design philosophy Jim Thiel employed to deliver the detailed soundstaging his speakers were known for.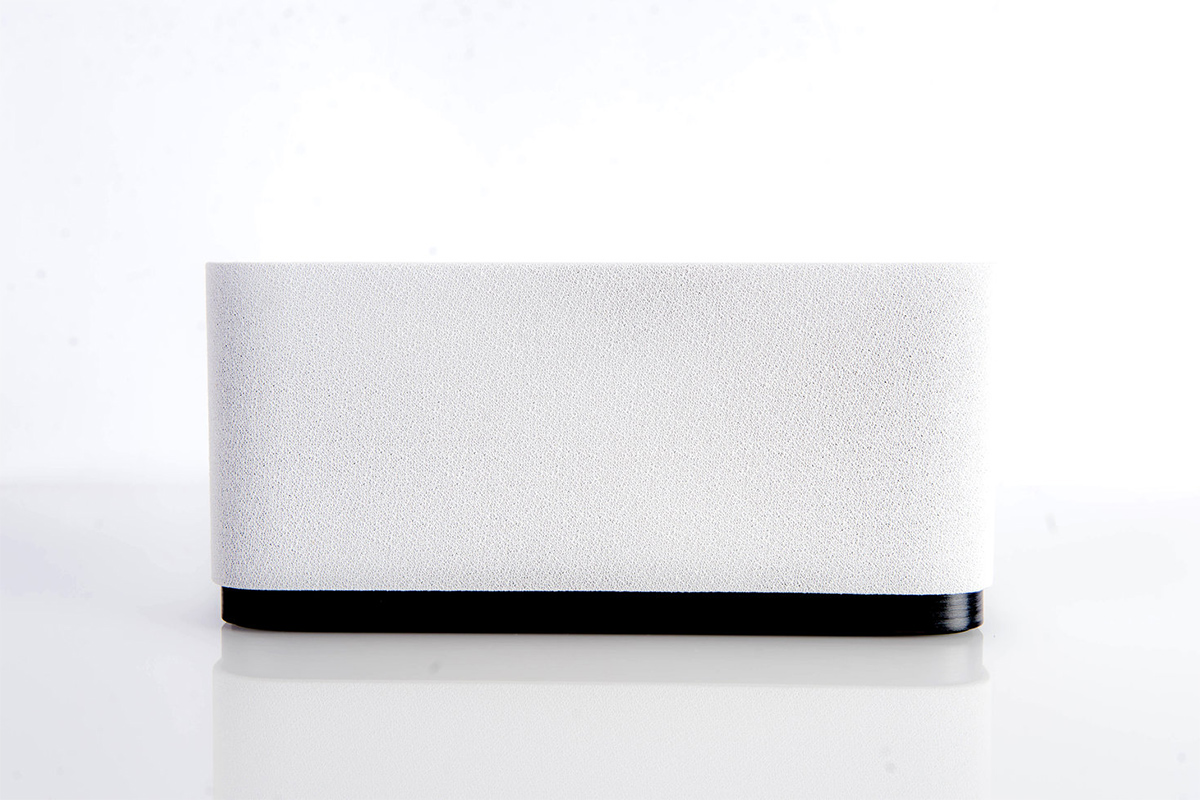 What, then, is the Aurora Home? It's a regular all-in-one speaker intended to be used for streaming audio via the DTS Play-Fi, Apple AirPlay, and Bluetooth protocols. It supports streaming of PCM signals of resolutions up to 24-bit/96kHz, and can be hitched to a wireless network comprising up to 16 speakers, including compatible models from other brands. Supported streaming services include Tidal, Spotify, Pandora, and Amazon Music, and you can directly access tunes from a media server such as JRiver Media Center.
The Aurora Home's driver array consists of two 0.75" dome tweeters and two 3" cone woofers. Power is provided by a 60W class-D amplifier, and the speaker's output is tuned with digital signal processing (DSP). There's also a three-position switch on the rear panel to equalize the Aurora's bass output for placement against a wall, in a corner, or in free space.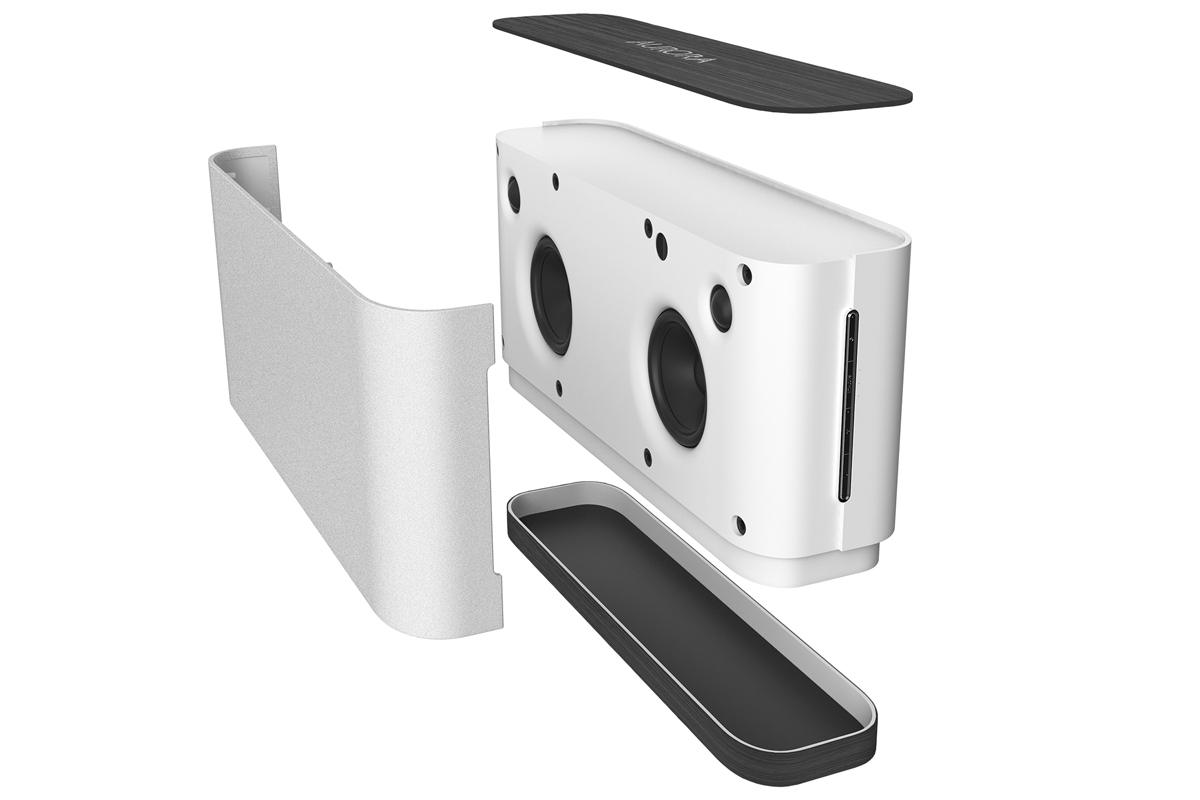 All of that may be fairly typical for an all-in-one, but the Aurora Home's exterior displays an attention to detail that makes it stand out from other, similar models. My review sample had a gorgeous top cap and base of brushed, copper-tinted metal that contrasted nicely with its black mesh wrap (an all-white version is available). Though compact at 14.5"W x 6.6"H x 3.75"D, the speaker's weight of 6.5 pounds gives it a decent heft, and its bottom is lined with a thick pad of rubber to prevent vibration or movement. A thin strip of simple controls -- power on/off, volume, and source -- runs vertically up the right side. A sturdy, metal-encased remote control is included.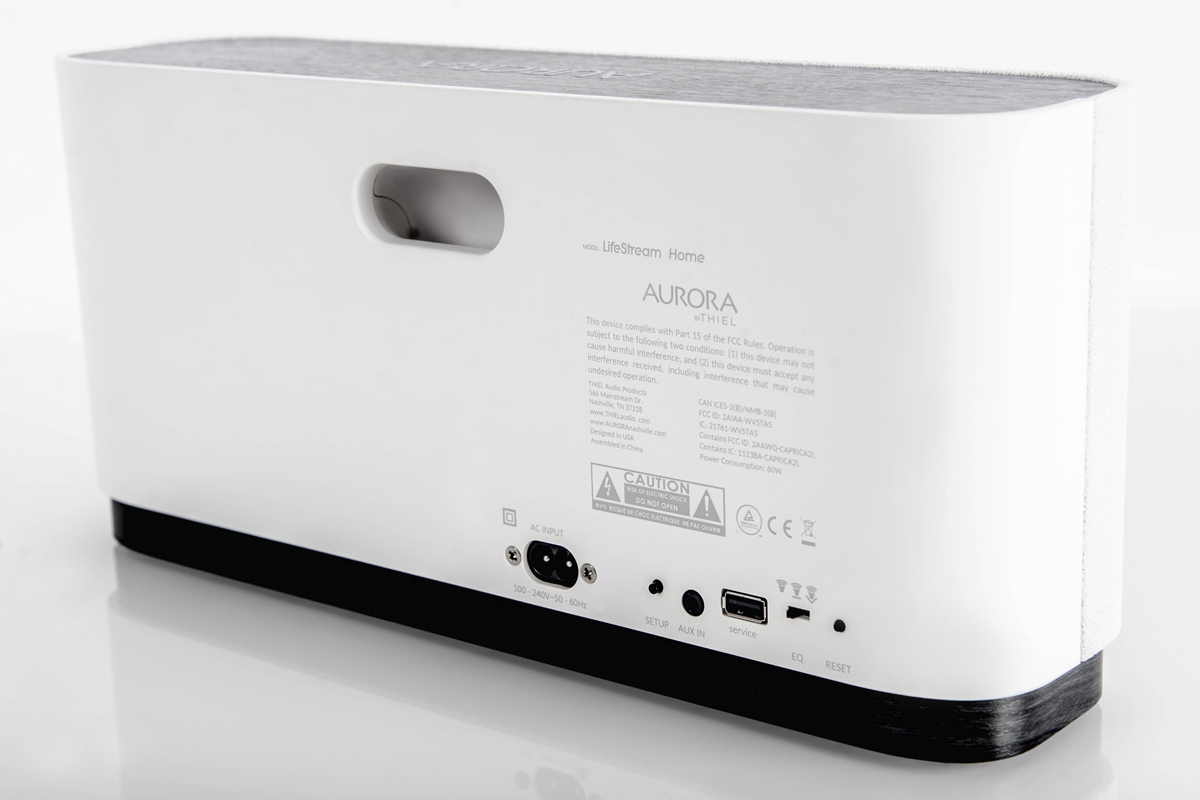 On the rear panel are: a minijack analog input; a USB jack labeled Service that, with an optional adapter, can also be used as a wired Ethernet connection; buttons for Setup and Reset; the three-position EQ switch mentioned above; a tuned bass port; and a two-pronged plug for the detachable power cord. The Aurora Home's power supply is built-in -- no bulky external wall wart.
Setup and use
I set the Aurora Home atop a low bedroom bookcase that regularly serves as a platform for compact, all-in-one audio systems, and a few inches out from the wall. I selected the freestanding EQ option, which doesn't cut back on bass output. I updated to the latest version the DTS Play-Fi app already on my iPhone from previous product tests, pressed the Aurora's Setup button, then selected the Aurora in my phone's Wi-Fi settings menu. That done, the Aurora Home showed up in the Play-Fi app's window as an available speaker, and I could stream tracks to it from my Tidal, Spotify, and Pandora accounts.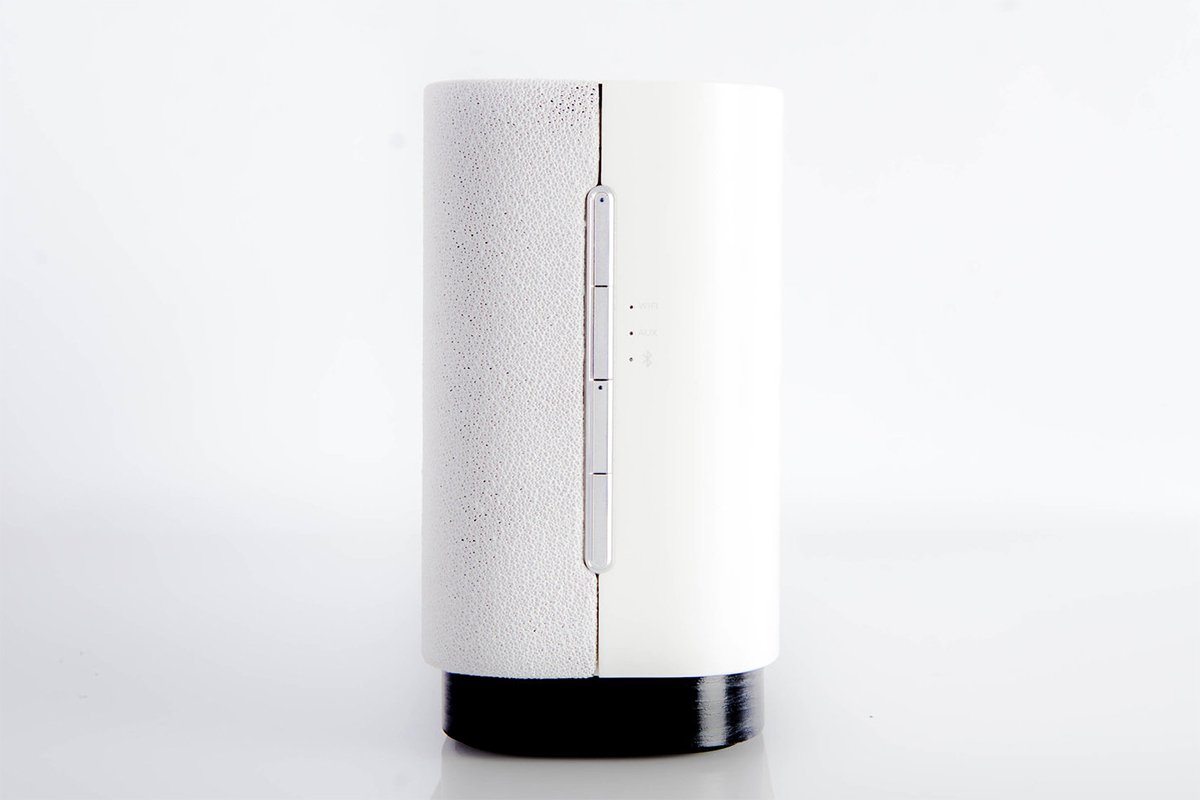 While the controls on the Aurora's right-hand side did their job, I found the buttons too small to easily adjust volume. And while I appreciated the sturdiness of the speaker's remote control, it's small enough to be easily misplaced or lost. For the most part, I interacted with the Aurora Home using the trusty, serviceable Play-Fi app, or directly from within apps like Tidal or Apple Music via AirPlay.
Sound
Before diving in to give the Aurora Home a critical once-over, I used it for casual background listening while working in my office, next to my bedroom. My initial impression was that the Thiel could play loud for its size, and that its sound had a crisp quality that let it cut through even the cushiest living space. At the same time, I noted no boominess in the bottom end -- bass was present, and it sounded clean. When listening in the same room as the speaker, I also heard mostly consistent sound from a range of locations in the room.
For my first serious listen I played the title track of Bill Frisell and Thomas Morgan's Small Town (16-bit/44.1kHz FLAC, ECM/Tidal). Frisell's guitar sounded clean and displayed a good range of overtones, and Morgan's double bass was well defined and taut, with decent extension down low. Raising the volume didn't cause the sound to become bloated or overdriven -- for the most part, the Thiel compressed cleanly and evenly. Playing this track at high volumes had the effect of making Frisell's guitar sound too trebly, however, which after a few seconds became fatiguing.
I had a mostly similar experience with the Aurora Home when playing "Season's Trees," from the collaborative album Rome, by Italian composer Danielle Lupi and American producer Danger Mouse (16/44.1 FLAC, Parlophone/Tidal). The languid vocals (by Norah Jones) and string arrangements in this track were nicely served by the Aurora Home, which had a smooth, mostly uncolored midrange for an all-in-one. The bass guitar also had a lively, detailed sound. That said, the track's guitar and hi-hat cymbals came across as too crisp, even a bit hashy, when played at above-average listening levels.
I next listened to The Great Gate of Kiev, the concluding section of Mussorgsky's Pictures at an Exhibition, with Oliver Knussen conducting the Cleveland Orchestra in the orchestration by Leopold Stokowski (16/44.1 FLAC, Deutsche Grammophon/Tidal). Here again, the Aurora Home's smooth midrange was evident in its rich reproduction of strings and brass, which came across with good detail and air. The soundstage didn't expand much past the speaker itself, but it also didn't sound boxy. As The Great Gate of Kiev drew to its dramatic finish, timpani lacked the power and depth I typically expect to hear, but the sound wasn't strained.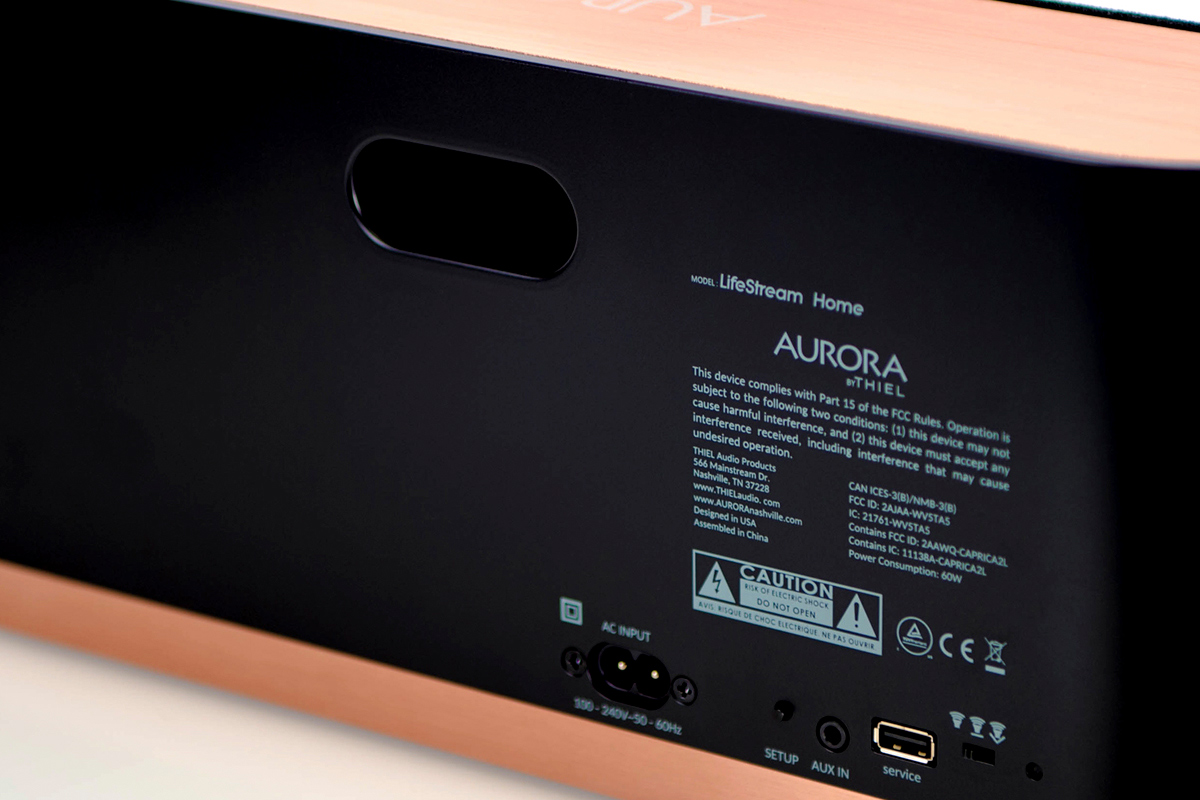 It might not do timpani, but the Aurora Home seemed at ease when playing mid-tempo acoustic rock such as "Biloxi," from Hiss Golden Messenger's Heart Like a Levee (16/44.1 FLAC, Merge/Tidal). Played through the Thiel, M.C. Taylor's Dylan-esque singing had impressive clarity and a good sense of body. The acoustic guitars were detailed and full, while the percussion and bass lent the music a good sense of drive. If there was one point during my listening to the Aurora Home when the speaker hit its stride, this was it.
Comparison
For a comparison with a similar product, I used the Naim Audio Mu-so Qb, another $899 all-in-one Wi-Fi speaker. In the Bill Frisell and Thomas Morgan track, Frisell's guitar sounded less edgy at high volume through the Naim. The cubical Mu-so Qb's better bass extension also resulted in a more dynamic sound, with an expansive soundfield.
The Naim's extended bass and superior dynamics also delivered benefits with the track by Danielle Lupi and Danger Mouse. I found that the guitar and cymbals still sounded somewhat bright through the Naim, but the overall tone was less hashy, and I heard finer detail.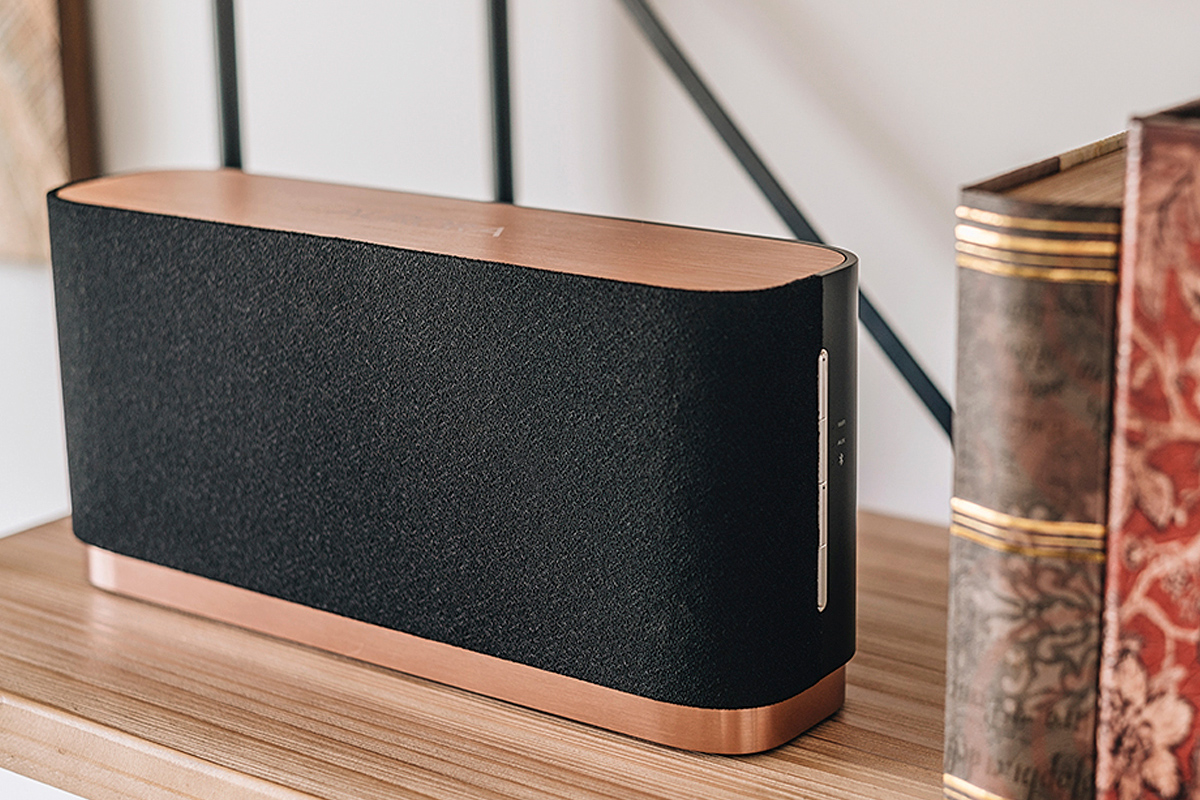 While the Mussorgsky sounded fine through both speakers, the Naim delivered the drama at the end of The Great Gate of Kiev with greater precision -- the timpani retained a good deal of their roar. The Mu-so Qb also conveyed a better suggestion of the size of the orchestra, with more detailed layering of instruments.
Via its top-mounted controls and custom app, the Naim offers greater flexibility of use. While I fully understand why some listeners might prefer the Aurora Home's look, I found the Mu-so Qb more gratifying to interact with.
Conclusion
Thiel Audio sells the Aurora Home Wi-Fi speaker online, and in retail stores that feature upscale tech products, where I expect it will get attention for its good looks and crisp, ear-grabbing sound. At $899, however, I find the Aurora Home overpriced, especially when compared with other all-in-ones like the Naim Mu-so Qb ($899) or the Riva Audio Festival ($499), both of which deliver more dynamic, balanced, expansive sound. I certainly didn't mind having the Aurora Home in my bedroom, but in the end, it can't compete with these other options, which provide better sound quality, features, and value.
. . . Al Griffin
This email address is being protected from spambots. You need JavaScript enabled to view it.
Associated Equipment
Sources -- Apple MacBook Pro, iPhone 6, iPad 2, Apple Music, Tidal, JRiver Media Center 21
Speaker -- Naim Mu-so Qb
Thiel Audio Aurora Home Wi-Fi Speaker
Price: $899 USD.
Warranty: Two years parts and labor.
Thiel Audio
566 Mainstream Dr. #500,
Nashville, TN 37228
E-mail: This email address is being protected from spambots. You need JavaScript enabled to view it.
Website: www.thielaudio.com