When I told SoundStage! Network founder Doug Schneider about the NAD CS1, he asked a simple question: "Who's this product for?" Lots of people, I responded. My brother, Ian, and his wife, Roberta. My sister-in-law, Petrea, and her husband, Paul. And a whole bunch of other folks. Priced at $349 (all prices in USD), the CS1 is aimed at listeners who want to stream music from their smart devices to a sound system that lacks network connectivity—without having to install special apps.
The CS1 is a departure for Lenbrook Industries, the Canadian company that owns the NAD, PSB, and Bluesound brands. Before the NAD CS1 was released, all streaming audio components from Lenbrook's brands used the company's BluOS multiroom music platform. For setup and day-to-day operation, these products rely on the BluOS Controller app, which is available for Android, iOS, macOS, and Windows. Nothing wrong with that—as I've stated many times in this space, BluOS is a rich, stable platform. In 2021, BluOS received a SoundStage! Network Product of the Year award in the Hall of Fame category.
Rather than BluOS, the CS1 relies on industry-standard protocols for music streaming. The CS1 supports Apple AirPlay 2, so you can stream audio from any app on an i-device or Macintosh computer, or from an iTunes library on a Windows PC. It supports Google Chromecast, so you can transfer playback from any Cast-enabled audio app; and Spotify Connect and Tidal Connect, so you can cue up music in the apps for those services, and then transfer playback to the CS1. And the CS1 is Roon Ready, so it can turn a legacy music system into a Roon endpoint. Instead of requiring users to install and learn a new app, the CS1 works with apps that they're already using.
Inside and out
The CS1 is a plain-Jane black box with the same attractively understated styling as NAD's other Classic-series components, but it's much smaller than most of them. It measures 5.5″W × 2.2″H × 5.5″D, including feet and rear-panel terminals, and weighs 1.6 pounds.
The only elements on the front panel are a round power button and a status LED on the left side, and above these, the NAD logo and model designation. Around back, there are coaxial (RCA) and optical (TosLink) S/PDIF outputs, and to their right, a pair of RCA line-level analog output jacks. Next is a 3.5mm 12V trigger output, for powering up other components when the CS1 comes on (say, when activated by an incoming audio stream), an RJ45 ethernet port, and a recessed setup button. On the far right is a USB Type-C 5V power inlet. A USB power adapter and cable are supplied in the box, along with AC plugs for different regions, including North America.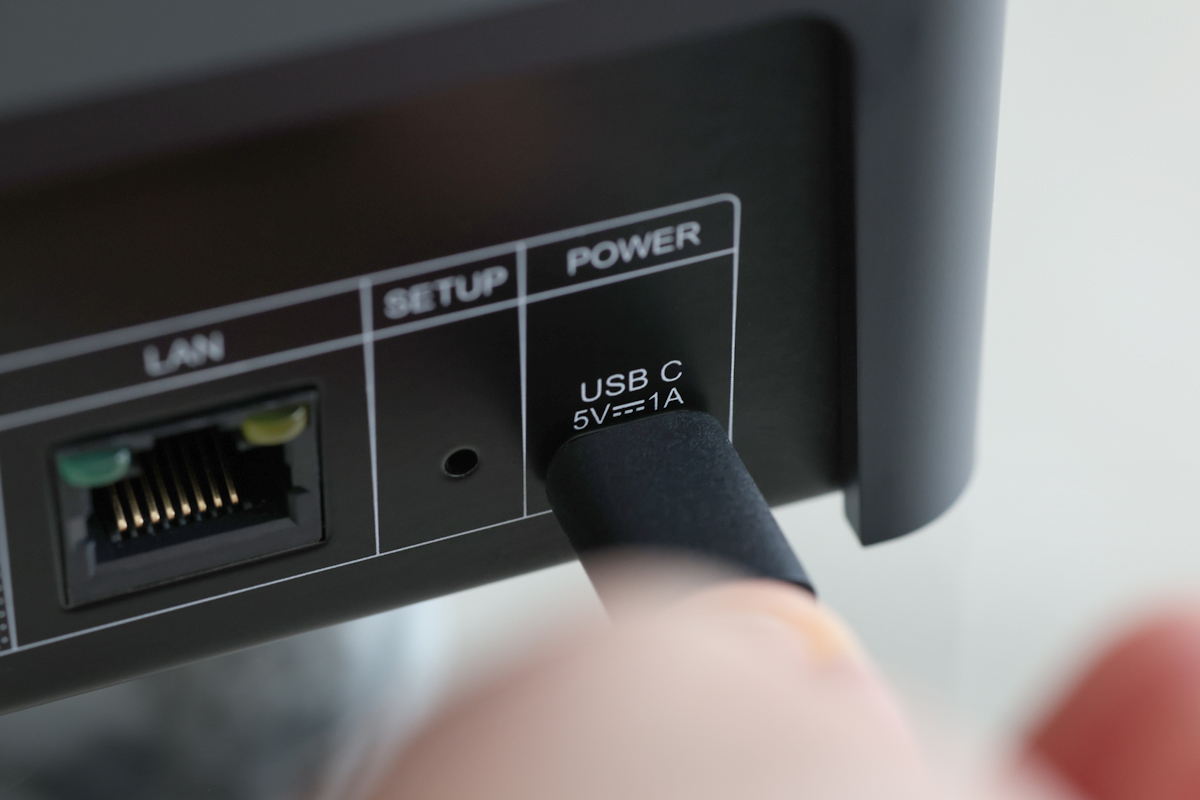 Inside the CS1 is an ARM Cortex 1.5GHz quad-core processor and a Texas Instruments PCM5141 DAC. The CS1 can accept PCM audio up to 24-bit/192kHz resolution. In addition to ethernet and Wi-Fi connectivity, the CS1 has a Bluetooth receiver.
Setup and software
The CS1 comes with a rudimentary Quick Setup Guide with an illustration of the package contents, a diagram showing how to connect it to other components, and a QR code for downloading the manual (there's also a URL that you can enter into your browser). That's it.
I scanned the QR code with my iPhone 14 and was taken to the product page for the CS1 on NAD's website. I scrolled down to the Software & Downloads tab, where I found a link to the full manual, which is thorough and clearly written. Per the manual, Apple users have two options for setup: configure the CS1 as an AirPlay speaker in the iOS Settings app or use the Google Home app. Android users use Google Home for setup.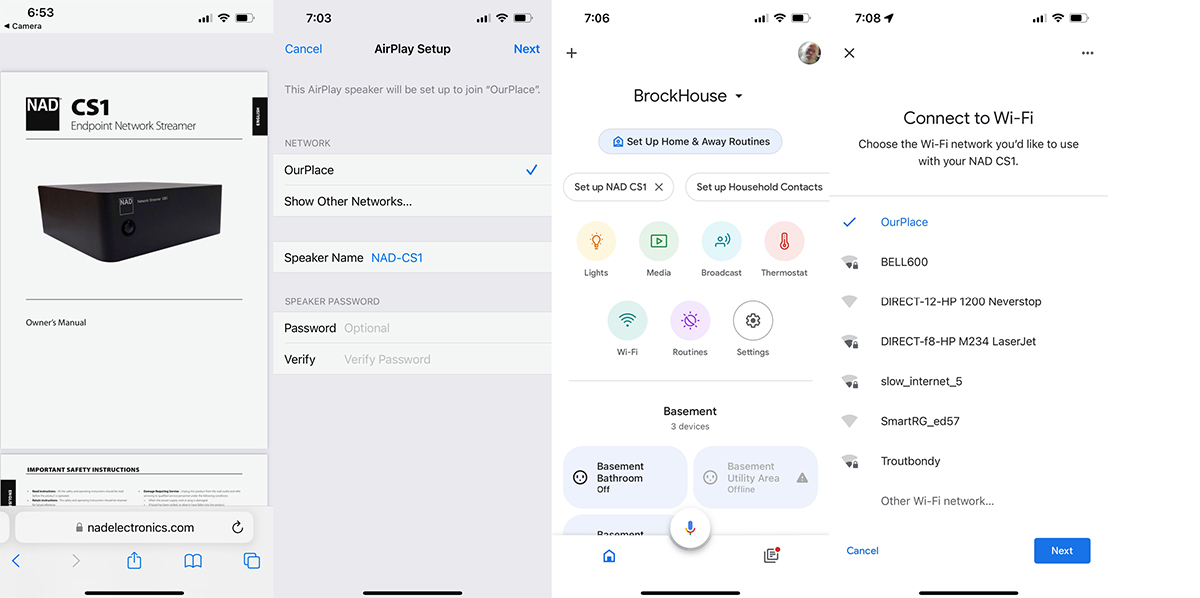 After setting up the CS1 in Google Home, the CS1 appeared on my Apple devices as an AirPlay speaker, in Cast-enabled apps as a Chromecast device, in the Spotify and Tidal apps as a player, and in Roon as a Roon Ready device. It worked the same way if I used the Wi-Fi Settings menu in iOS's Settings app, except for one thing: the CS1 did not appear in Google Home. But it did show up as a Chromecast device in Cast-enabled apps such as Qobuz. Despite the rudimentary setup guide and the fact that I had to hunt a bit for the manual on NAD's website after scanning the QR code, everything went smoothly.
Listening
I'm not a candidate for a component like the CS1. I use Roon for almost all of my listening at home. The KEF LS60 Wireless active speaker system in my living room and the Q Acoustics Q Active 200 system in my home office are both Roon Ready; and they also support AirPlay 2 and Chromecast. So for this review, I took a different approach. I listened to the CS1 through the systems of people I thought could benefit from such a product—specifically, my in-laws Paul and Petrea, and my brother and his wife, Ian and Roberta. With this methodology, I wasn't going to be able to determine the CS1's innate sonic characteristics—whatever they happen to be. What I was listening for were sonic differences between using the CS1 and other ways of playing audio through their systems.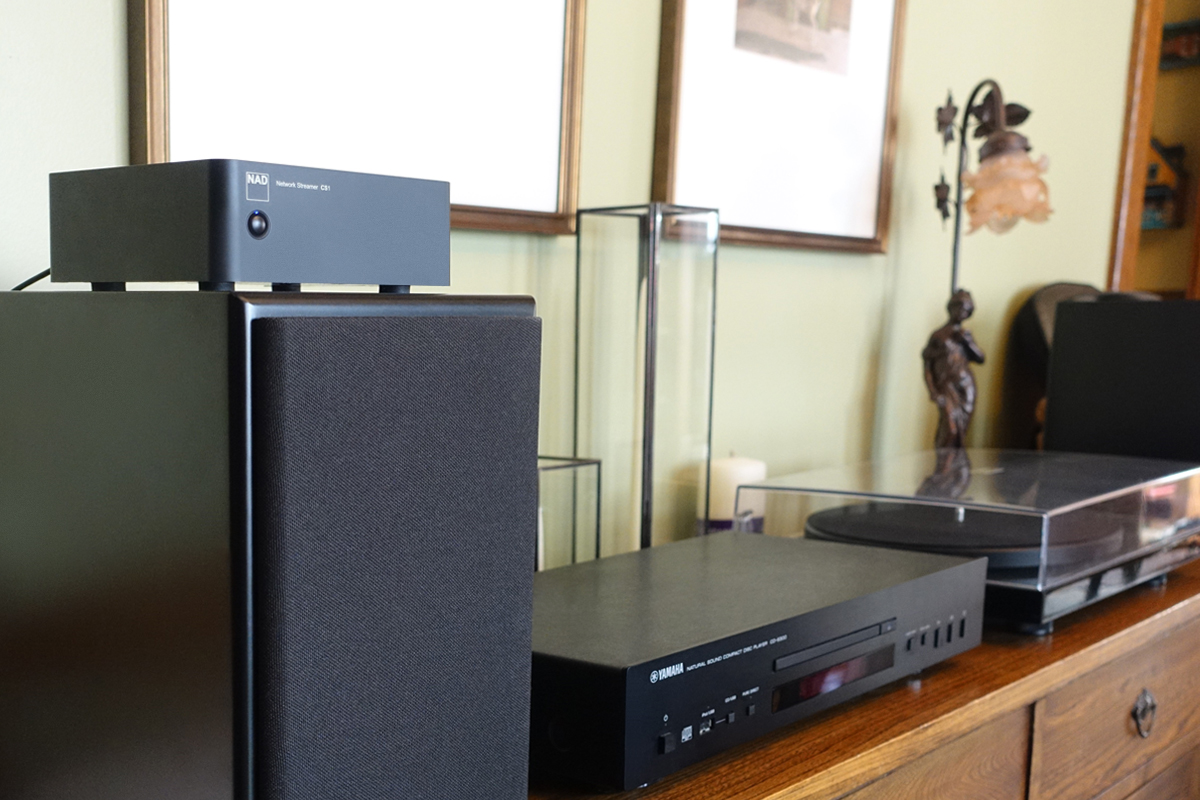 My first stop was Paul and Petrea's apartment, about ten blocks from my Toronto home. I connected the CS1 to their Wi-Fi network, and plugged it into the optical S/PDIF input of their Totem Acoustic Kin Play powered loudspeaker system, which they purchased four years ago, along with a Totem Kin Sub subwoofer, Pro-Ject Debut Carbon turntable with Ortofon 2M Red cartridge, and Yamaha CD-S300 CD player. The Kin Play is a two-way, rear-ported design. Each enclosure contains a 5″ natural-fiber hybrid woofer and a 1″ metal-alloy dome tweeter, powered by a 120Wpc class-D amplifier in the primary speaker. The Kin Sub has an 8″ woofer with a carbon-fiber cone, and a 150W class-D amp.
Paul and Petrea listen mainly to physical media. They have a large collection of LPs and CDs—some recently purchased, and others collected over the years. Paul also plays music from his iPhone through an AudioQuest DragonFly Red micro-DAC that's connected to the 3.5mm auxiliary input on the Kin Play. The Kin Play has Bluetooth connectivity, so Paul and Petrea could pair their phones with the system and stream music via Bluetooth—but they don't.
On his iPhone 12, Paul has a library of music he's bought from the iTunes store; he's also an Apple Music subscriber. Paul hasn't enabled lossless or hi-rez audio on his phone, so all his downloads are in 256kbps AAC format. One of Paul's recent purchases is Savoy, Taj Mahal's tribute to the famed Harlem ballroom (256kbps AAC, Stony Plain Records). Paul cued up the American bluesman's rendition of "Sweet Georgia Brown" and played it through the Kin Play system using the wired connection to the DragonFly Red. I streamed a 24/96 FLAC version of the same song to the CS1 from the Qobuz app on my iPhone 14 via Chromecast.
Paul and I both noticed a difference, but it wasn't night-and-day. On the 24/96 Chromecast stream, transients were a tad faster, and the trombones and trumpets had a bit more bite. The presentation was more open—there was more space around the musicians. Through Paul's direct connection, the sound was a little more opaque, more closed-in.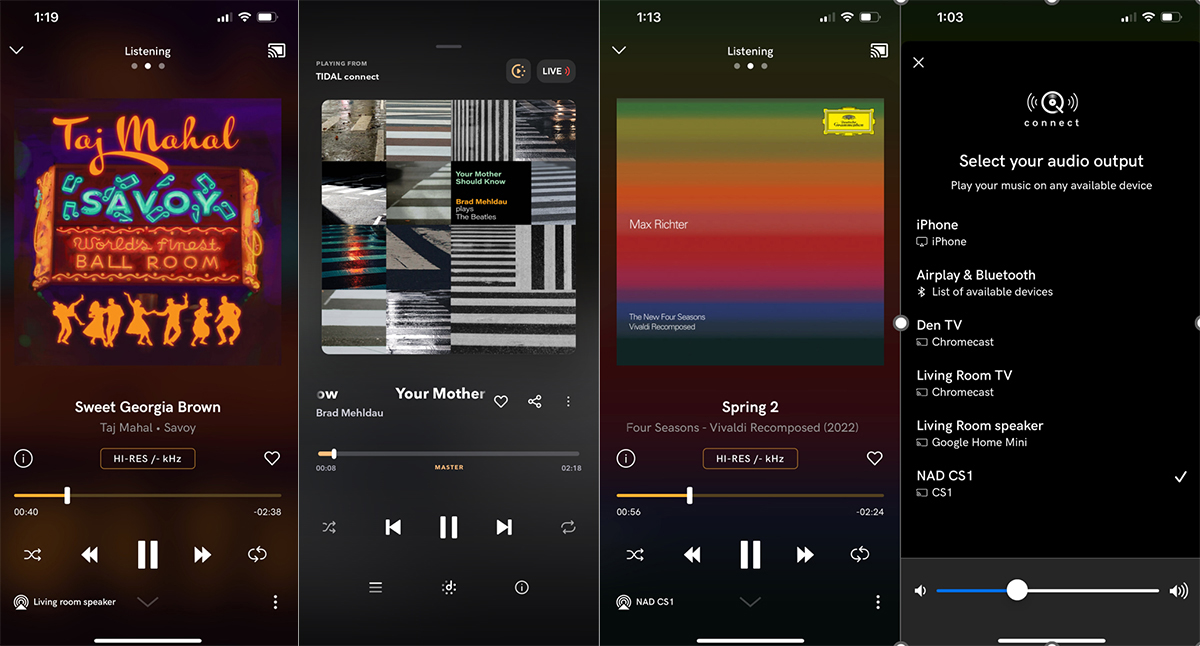 Whoa there, I can hear you thinking, that's comparing hi-rez and lossy streams. Not fair! I knew that, so next, I streamed the same track from the Apple Music app to the CS1 via AirPlay; Paul played it through the hardwired connection again. Apple Music shows Savoy as a hi-rez, lossless release—I assume it's 24/96, the same resolution as the Qobuz version. But when streaming from an i-device via AirPlay 2, all audio is resampled to 256kbps AAC. And guess what: neither Paul nor I could hear a meaningful difference between the CS1's AirPlay stream and the hardwired connection to the Kin Play system through the DragonFly Red.
Time for some preliminary conclusions. Compared to playing AAC downloads with a hardwired connection, there was no sonic penalty for using AirPlay 2. When streaming hi-rez to the CS1 via Chromecast, there was a noticeable improvement in sound quality. In both cases, there was a big payoff in terms of convenience with the CS1, because it was now possible to select music without being tethered to the Kin Play system by a cable.
Couldn't Paul and Petrea get the same convenience if they streamed music via Bluetooth? Not really. They would have to pair their phones to the Kin Play system, and perhaps re-pair them from time to time. And as Paul and I confirmed, there'd be a sonic penalty. We both played "Sweet Georgia Brown" through the Kin Play system—from Paul's phone using the hardwired connection, and from my iPhone via Bluetooth. With Bluetooth, the sound was harder, edgier, and more closed-in.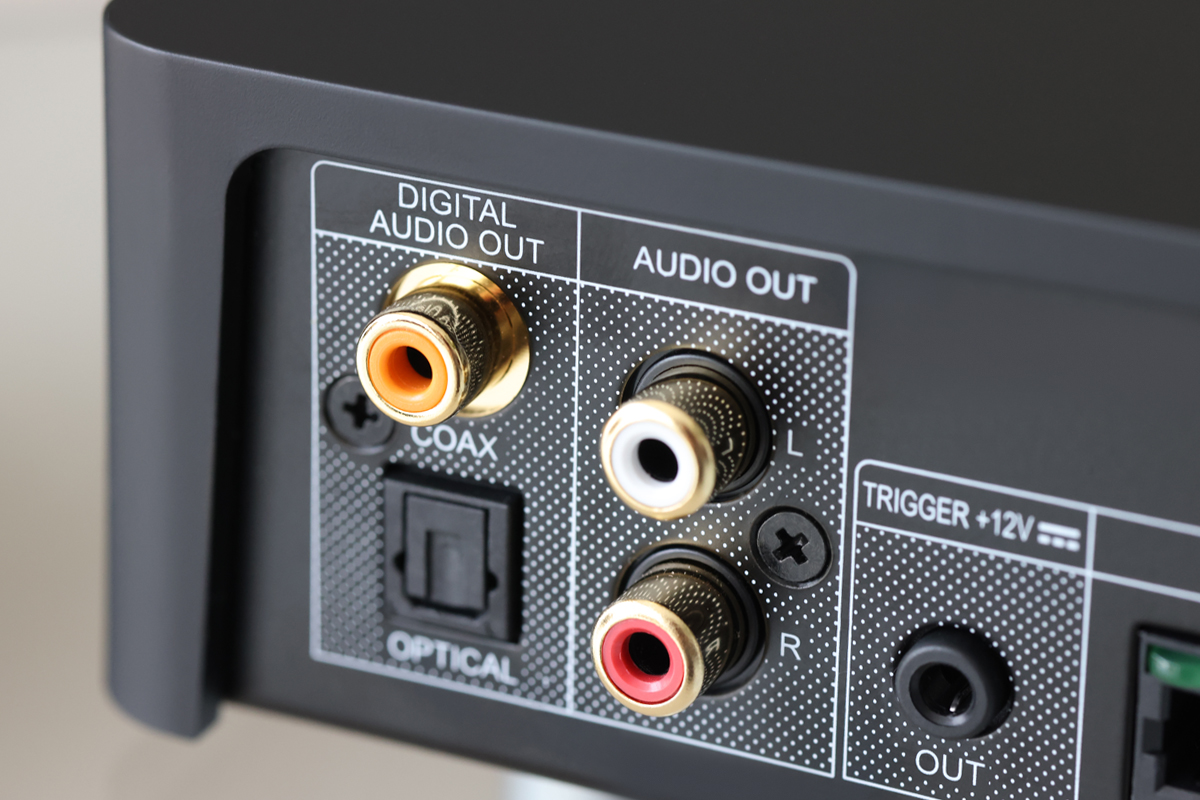 But the Kin Play system supports the high-quality aptX HD Bluetooth codec; Apple devices don't. So the Totem system should be able to deliver better sound through Bluetooth than we'd heard to this point. Time for more experiments. I switched from my iPhone to my Google Pixel 4a Android phone, which does support aptX HD, opened the Tidal app, and selected the title track of jazz pianist Brad Mehldau's wonderful album of Beatles tunes, Your Mother Should Know (24/96 MQA, Nonesuch Records / Tidal). First, I used Tidal Connect to transfer playback of the hi-rez stream to the CS1. Everything I admire about the Kin Play system was there in spades. Mehldau's piano was rendered on a wide soundstage that extended beyond and behind the speaker plane. Passages in the upper octaves had excellent clarity and sparkle, and those in the lower octaves had solid authority. Microdynamics were excellent, making it easy to appreciate Mehldau's playful music-hall style in the choruses.
When I switched to Bluetooth, the piano sound was not as harmonically rich as it was with the Tidal Connect stream. The soundstage was more two-dimensional, and Mehldau's touch on the piano was not as clearly conveyed. The differences weren't as great as they had been when I streamed "Sweet Georgia Brown" via Bluetooth from my iPhone, but they were clearly audible.
Wanting to explore yet another rabbit hole, I compared the sound of the Tidal Connect stream using analog (RCA) and digital (TosLink) connections between the CS1 and Kin Play. Once I adjusted for the different levels on the analog and optical connection, they sounded virtually identical.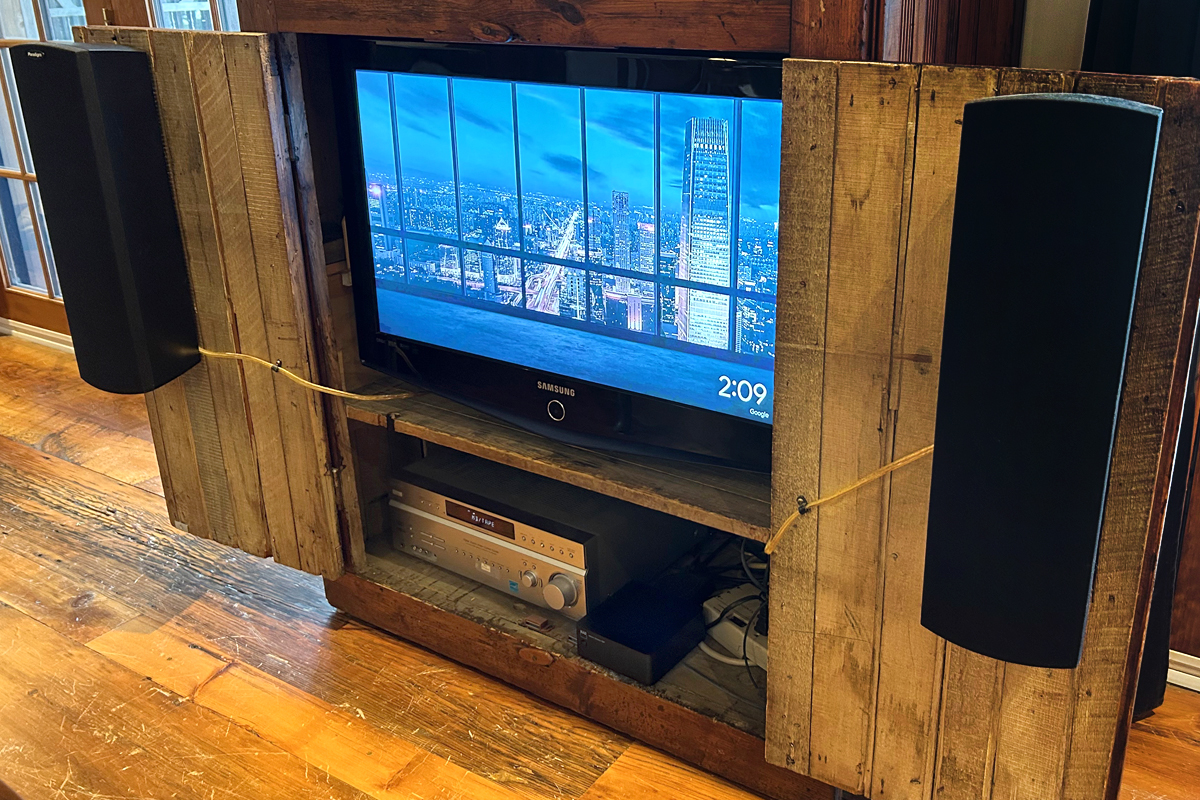 My next stop was Ian and Roberta's lakeside home in central Ontario. In their living room, they have a rustic cabinet outfitted with a home entertainment system. The cabinet stays closed most of the time. Opening it reveals a pair of Paradigm Cinema 220 on-wall speakers fastened to the doors, and a Samsung 32″ HDTV that slides out from the interior. Introduced in 2006, the Cinema 220 is a two-way sealed design with two 5.5″ polypropylene midrage-woofers and a 1″ titanium-dome tweeter. The speakers are powered by a 20-year-old Sony STR-DV10 A/V receiver rated at 5 × 80W RMS. The receiver also feeds a Paradigm Cinema Sub subwoofer and two Paradigm in-wall speakers that reproduce the rear channels. A second-generation Chromecast media adapter is connected to one of the TV's HDMI inputs. Audio from the TV flows to an optical input on the Sony receiver.
I connected the CS1 to the Wi-Fi network and plugged it into an optical input on the STR-DV10. It was late April when I visited, so it seemed appropriate to play "Spring" from Max Richter's The New Four Seasons: Vivaldi Recomposed, performed by violinist Elena Urioste and the Chineke! Orchestra (24/96 FLAC, Deutsche Grammophon / Qobuz). I set the receiver in stereo mode, rather than synthesized surround. From the sweet spot on the two-seat sofa against the wall opposite the entertainment center, the Chineke! strings, imitating bird calls during "Spring 1," were presented clearly on a soundstage that extended a couple of feet behind the speaker plane, with plenty of space around the instruments. During the solo passages in the exquisite slow movement, "Spring 2," it was easy to admire Urioste's silvery tone and gentle, expressive bowing.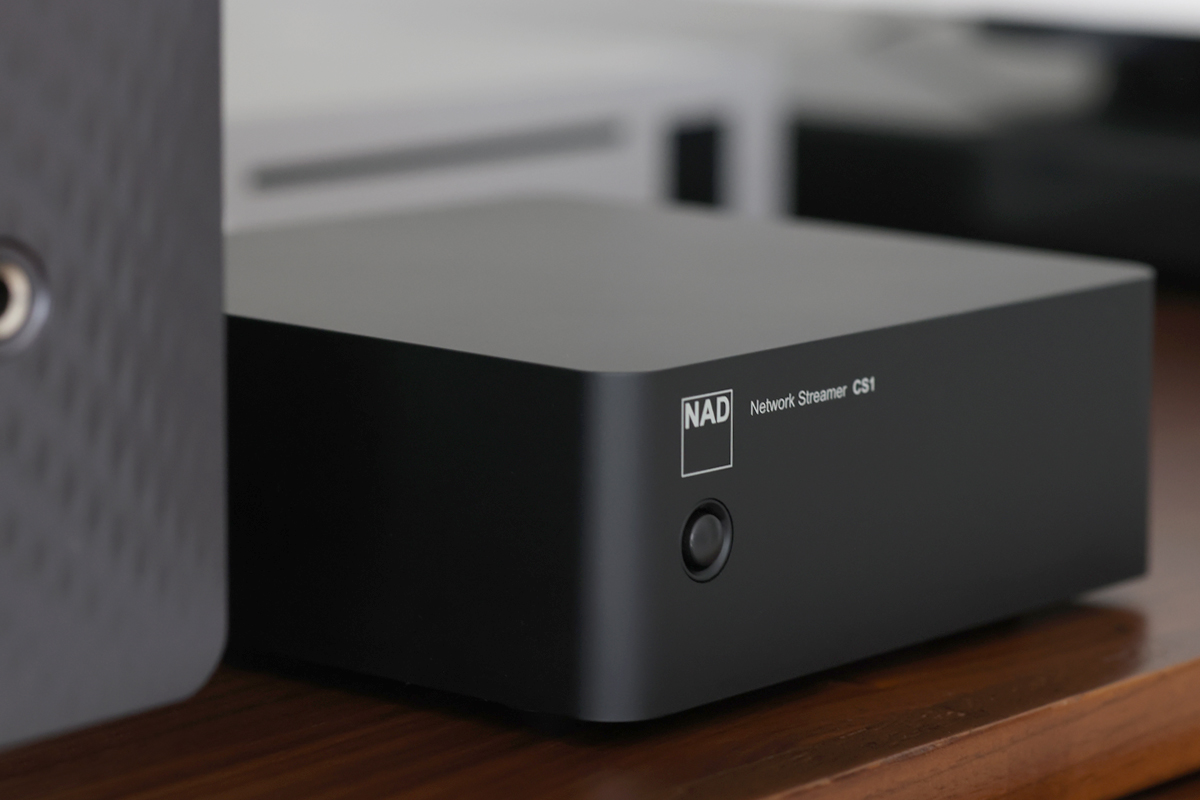 Next, I changed inputs on the Sony receiver and cast the same track to the Chromecast media adapter. The string tone was steelier, and the highs sounded more truncated. The spatial presentation was much flatter—it was confined to a narrow plane between the two speakers—and there was a layer of glare added to the sound. The difference was not subtle. Ian noticed it immediately and was surprised by it.
I performed one last exercise. I connected the CS1's analog outputs to RCA jacks on the Sony receiver to check if there was a sonic difference between the CS1's analog and digital outputs in Ian's system. If there was, it was very subtle.
Alternatives
As my visit to Petrea and Paul's apartment showed, the CS1 is an attractive solution for adding streaming to a modern music system that lacks network connectivity. And it's also an appealing solution for adding streaming to a legacy entertainment system like the one in Ian and Roberta's lakeside home.
Of course, there are other options. One very popular choice is the Bluesound Node streaming DAC-preamplifier ($599), which won a SoundStage! Network Product of the Year award in 2021. In my review on Simplifi, I described the Node as "an affordable, painless way to add streaming and other 21st-century capabilities to a legacy audio system." Unlike the CS1, the Node doesn't support Chromecast, but it does support AirPlay 2, Spotify Connect, and Tidal Connect; and it's Roon Ready. And it works with the BluOS app, which has integrated support for more than 20 streaming services, including several that offer lossless and hi-rez audio. You can also play files on a drive connected to the Node's USB port. It also functions as a preamp. The Node has analog line-level, optical S/PDIF, and HDMI eARC inputs, and a subwoofer output with bass management via the BluOS app. There are hardware controls on the top panel for adjusting volume, skipping tracks, and pausing and resuming playback. So while the Node costs $250 more than the CS1, it's a fuller-featured product.
Another possibility is Cambridge Audio's MXN10 ($499), which Jeff Fritz discussed in a SoundStage! Talks episode earlier this year. Like the CS1, the MXN10 is Roon Ready, and supports AirPlay 2, Chromecast, Spotify Connect, and Tidal Connect. But it also works with Cambridge Audio's StreamMagic app, which has integrated support for many streaming services and internet radio stations. You can also use the StreamMagic app to play music files stored on a USB drive connected to the MXN10's USB port. Unlike the Bluesound Node and NAD CS1, the MXN10 can play DSD files from Roon or an attached USB drive. The MXN10 has coaxial (RCA) and optical (TosLink) S/PDIF inputs, as well as analog outputs. On the front panel are four buttons that provide instant access to preset playlists and internet radio stations. So the MXN10 has more capabilities than the CS1, but it costs $150 more.
Conclusion
In my listening tests, I described two real-world use cases for the CS1. I can think of many others. For audiophiles who use Roon to stream music to a Roon Ready component in their primary systems, the CS1 is an easy way to add Roon capability to a secondary system in another room. You could combine the CS1 with a headphone amplifier and set of high-end cans to create a low-footprint system for private listening. If your music consumption has revolved around physical media, but you want to add streaming capability, the CS1 will let you do that easily and inexpensively.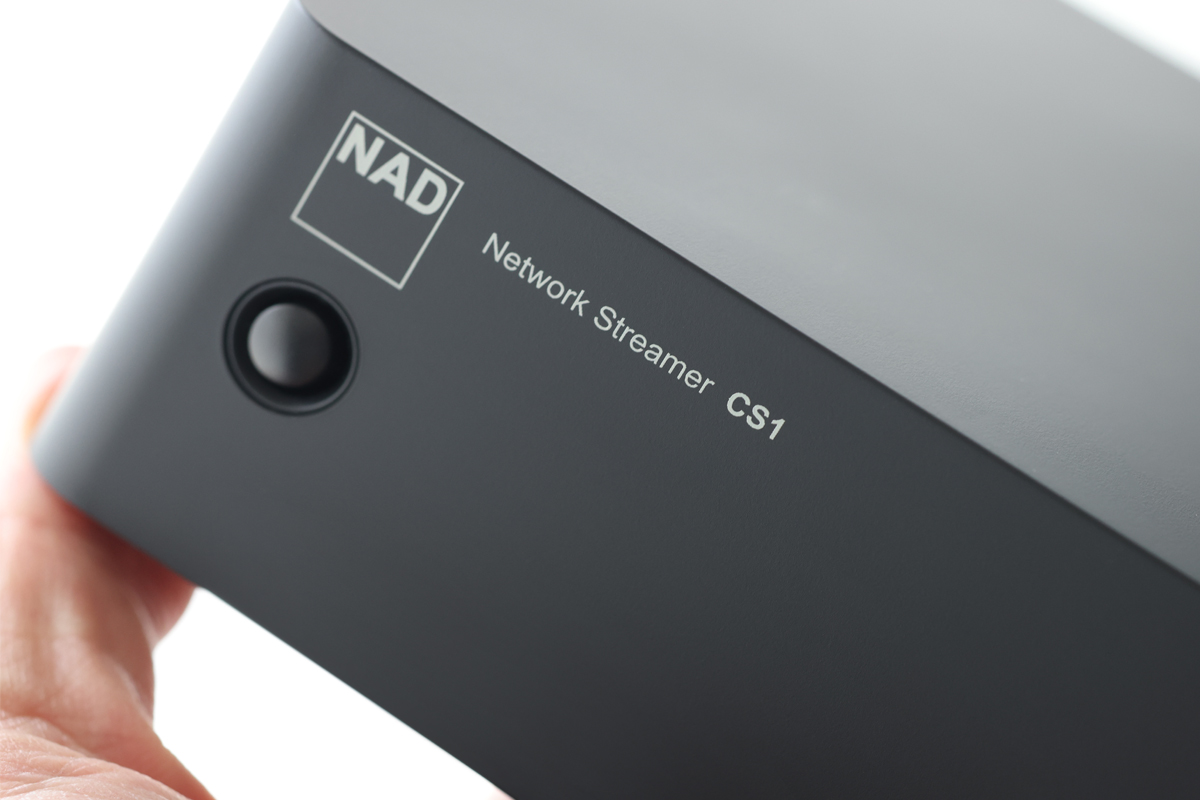 I think this little black box will check a whole bunch of boxes for a whole bunch of people. Attractive price—check. Great sound compared to alternatives like Bluetooth—check. No special software required—check. Supports all major streaming protocols—check. If the NAD CS1 checks your boxes, I can't think of a reason for you to hesitate.
. . . Gordon Brockhouse
This email address is being protected from spambots. You need JavaScript enabled to view it.
Associated Equipment
System 1: Totem Acoustic Kin Play powered speakers, Totem Acoustic Kin Sub, AudioQuest DragonFly Red, iPhone 12.
System 2: Sony STR-DV10 A/V receiver with Paradigm Cinema 220 on-wall speakers and Cinema Sub, Google Chromecast (2nd generation).
Smartphones (in both locations): Apple iPhone 14, Google Pixel 4a 5G.
NAD CS1 Network Music Player
Price: $349.
Warranty: Two years, parts and labor.
NAD
Lenbrook Industries Limited
633 Granite Court
Pickering, Ontario L1W 3K1
Canada
Phone: (905) 831-6333
Website: www.nadelectronics.com