When I entered Naim's room at last January's Consumer Electronics Show, my attention was immediately captured by the company's Uniti offerings. On display were three new network-capable integrated amplifiers -- the Nova, Star, and Atom -- each capable of streaming via a wide range of protocols. All three had large, front-panel LCD displays showing album art in full color, and the Star had a disc drive plus built-in storage for ripping CDs. In a CES that seemed low on excitement, the Unitis were something to get stoked about.
Seven months later, the Uniti Atom finally arrived on my doorstep. At $3000 USD, the Atom is the most affordable of the Naim trio. At 40Wpc into 8 ohms, it also has the lowest power output. (The $7000 flagship Uniti model, the Nova, has mostly similar features to the Atom but provides twice the power.) With the same compact, square design as Naim's Mu-so Qb speaker, the Atom seems intended for smaller spaces and speakers, though Naim doesn't hesitate to suggest pairing it with larger speakers in a high-end system.
Naim's stated goal for the new Uniti lineup was to create a platform that would keep pace with changes in music-streaming technology. Out of the box, it appears they've done their job: Along with AirPlay and Chromecast built in, the Atom supports streaming via UPnP and aptX HD Bluetooth. Integrated apps include Tidal and Spotify Connect (requires Premium subscription), and there's buffered memory to hold several minutes' worth of data for glitch-free delivery, plus dual-band 802.11ac Wi-Fi support.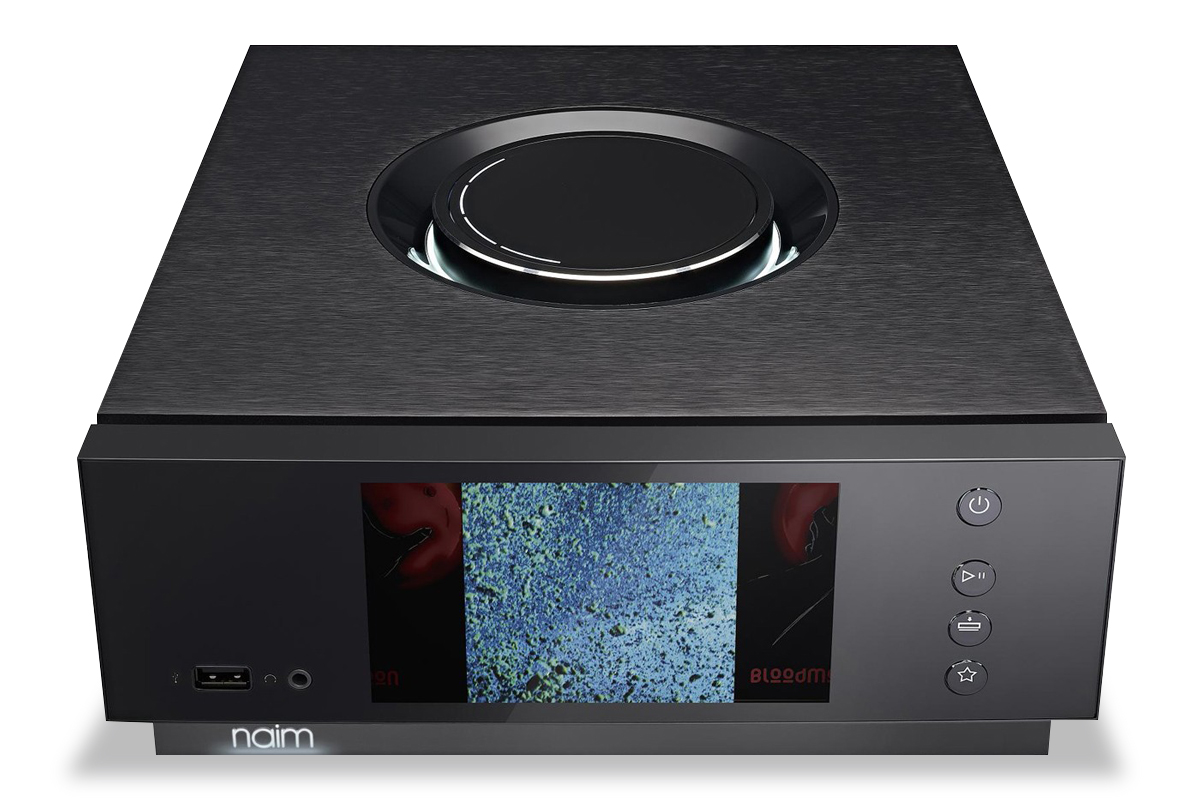 The Atom's Burr-Brown DACs can play up to 32-bit/384kHz WAV, 24/384 FLAC, ALAC, and AIFF, along with DSD64 and DSD128 files. It can function as a Roon endpoint when using AirPlay, though Apple's protocol imposes a resolution cap of 48kHz on streamed files. The Atom can also be linked to other Uniti models, and to Naim's Mu-so and Mu-so Qb wireless speakers in a multiroom system.
The Atom looks great in photos, and just as good in real life. The front panel of this small, nearly square (9.6"W x 3.7"H x 10.4"D) component is almost completely taken up by its 5" LCD display; its sides are rugged heatsinks of extruded aluminum. On the brushed-aluminum top panel is a large control dial that adjusts volume level in the analog domain, and has LED indicators to track adjustments -- the same type found on the Mu-so and Mu-so Qb. In a neat design touch, this control dial also contains the Atom's Bluetooth antenna; on many similar components, the antenna juts out awkwardly from a connector on the rear panel.
Inputs on the Atom include two optical digital, one coaxial digital, and one analog stereo. There are also LAN and USB Type-A ports and, on the front panel, a second USB port and a minijack headphone output. The Atom's preamp output lets you connect an external power amp, and it can be outfitted with an optional HDMI jack with Audio Return Channel (not provided on my review sample). A decoupled power input is included to minimize noise, and a toggle switch gives you the option of floating the ground pins.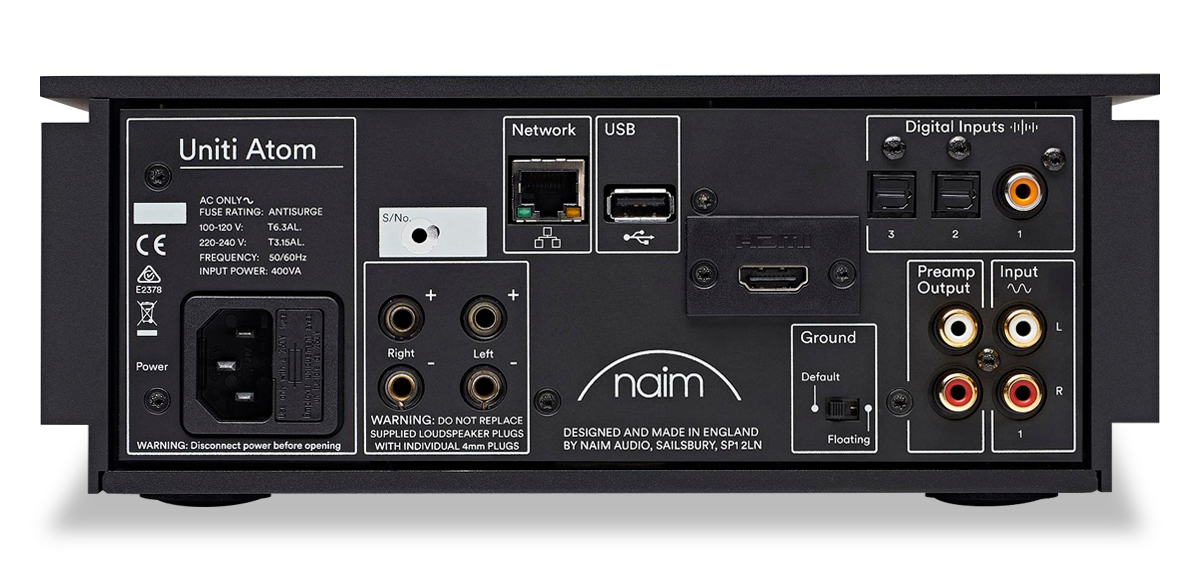 Setup and use
Setting up the Uniti Atom involved running an Ethernet link from my power-line adapter and inserting the banana plugs of my speaker cables into the output terminals on the Naim's rear panel. Most banana connectors should work with the Atom. When using bare wire, however, you'll need to first insert it into the included adapters, then plug those into the speaker output jacks.
Having previously used Naim's excellent custom app to control the Mu-so Qb, I merely had to call it up on my iPhone and add the Atom as a new device. It connected to my network, and I next entered my Tidal login and location for Internet Radio. During testing, I used JRiver Media Center 21 for UPnP streaming. Later on, I switched to Roon to manage my music library, relying on AirPlay to deliver data to the Atom.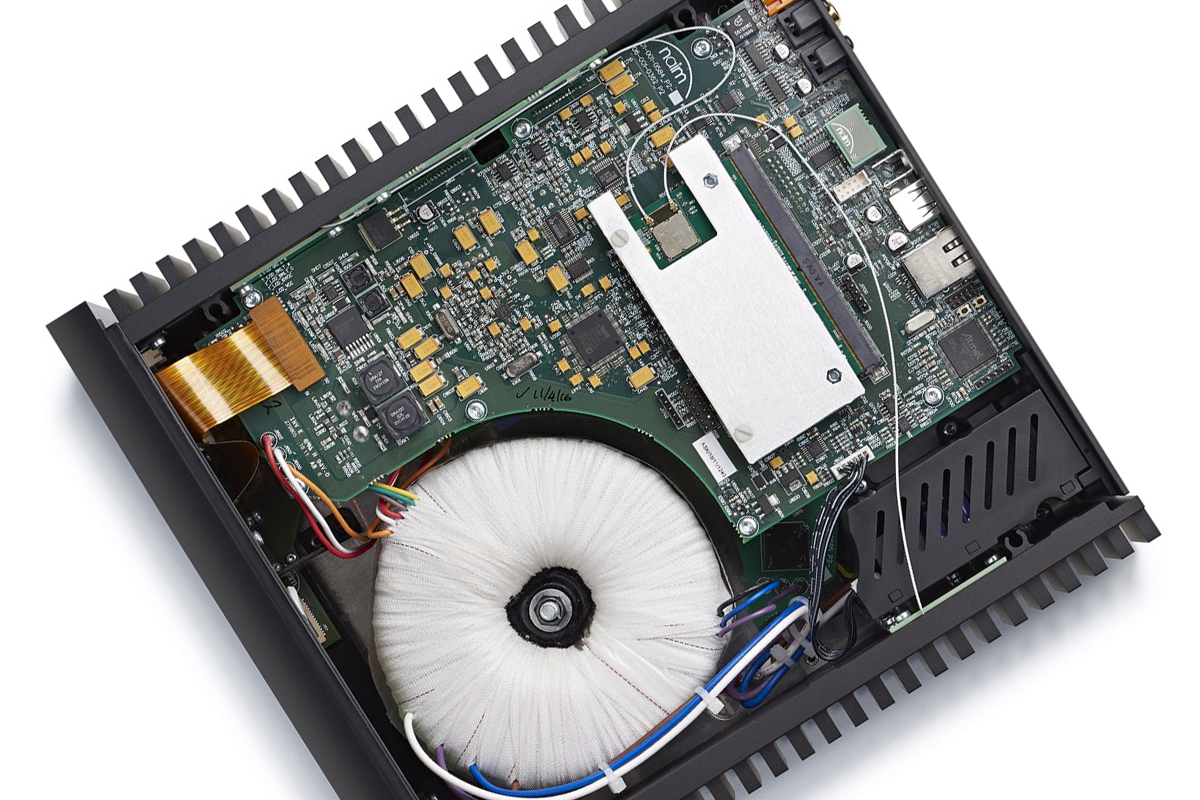 While Naim gives you a hardware remote control (a nice one with a backlit keypad, no less), most folks are likely to use the app. Naim's app is responsive, easy to navigate, and can tap the TiVo/Rovi online database for details of tracks you stream via UPnP. The app is also well designed, with numerous skin options, and had no problem retrieving all cover art for the many tracks stored on my computer's external hard disk.
Speaking of cover art, one of the best things about the Atom is the way it displays album covers on its LCD screen. The images look gorgeous: clear, well saturated with colors, and displayed as large as possible at full screen height. The Atom will display art for tracks streamed via UPnP, from integrated services such as Tidal, or from AirPlay sources (e.g., Apple Music). When I streamed movies from Netflix on my iPad and routed the audio to the Atom via AirPlay, it even retrieved and displayed their poster art. Yow!
Sound
At first I was concerned that the little Uniti Atom would have trouble driving the GoldenEar Technology Triton Two tower speakers I mainly used for this review, but I needn't have worried -- music sounded clear and open, and I could jack up the volume without sensing that I was pushing the Atom beyond its abilities. As I listened to "French Spice," from jazz trumpeter Donald Byrd's 1961 album Free Form (16-bit/44.1kHz FLAC, Blue Note/Tidal), the tones of Byrd's trumpet and Wayne Shorter's tenor saxophone were crisp and precise without sounding edgy or etched. The double bass and piano sounded comparatively lush and laid-back, creating a deep, cool background for the two horns to trade solos over.
Scanning my Tidal library for folky female voices, I pulled up "Sleepwalker," from Julie Byrne's Not Even Happiness (16/44.1 FLAC, Ba Da Bing/Tidal). Byrne's alto sounded full and well realized, her subtle, breathy texture and slight vibrato at the end of phrases coming through clearly. The sound of her fingerpicking on nylon-string acoustic guitar had a distinct shimmer, but blended smoothly with her voice to create a seamless sound that was easy to melt into.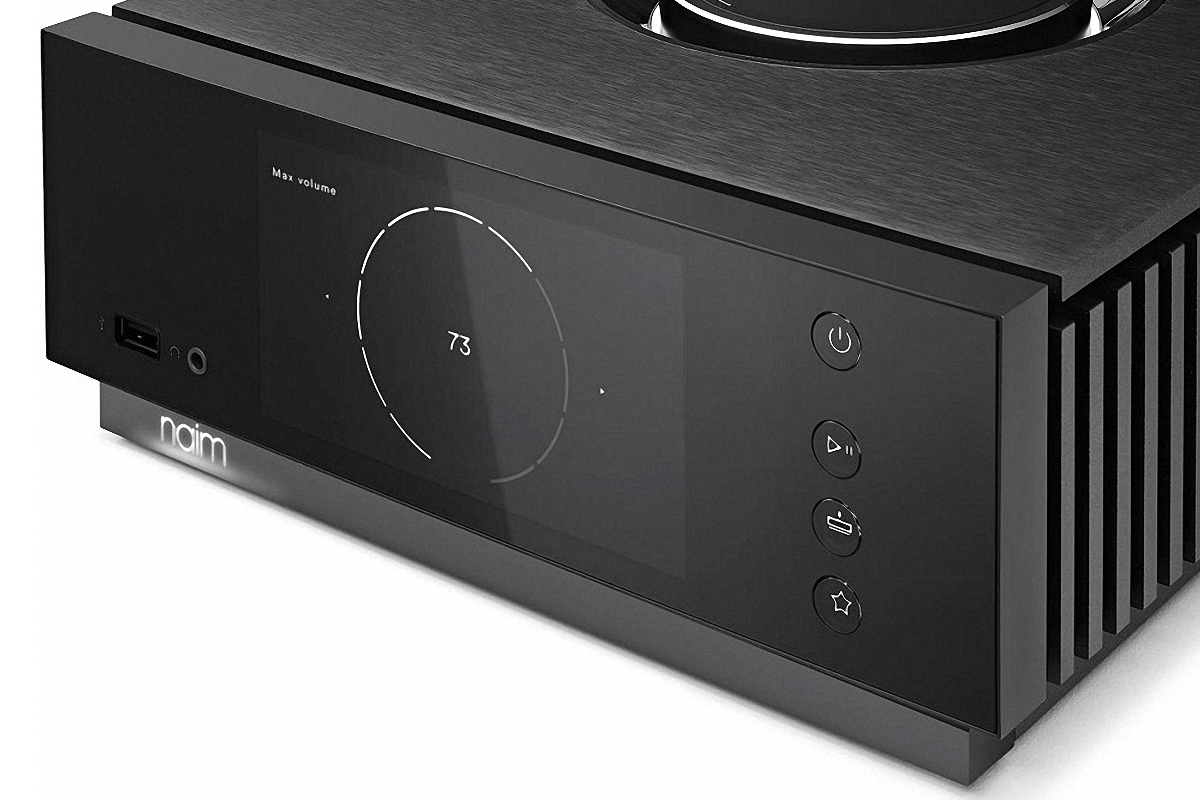 Next I tried something more edgy: the soundtrack score by electronic artist Oneohtrix Point Never, aka Daniel Lopatin, for the film Good Time (16/44.1 AAC, Warp/Tidal). The arpeggiated synth lines in the Tangerine Dream-like "Leaving the Park" had a layered, almost palpable quality. And the deep, percussive sounds that kick in midway showed the Atom capable of conveying serious bass punch. On the whole, the Naim's handling of this track was impressively dynamic -- more than I expected to hear from a modest-powered integrated amp.
Orchestral works also fared well through the Uniti Atom. The sound of The Old Castle, from Simon Rattle and the Berlin Philharmonic's recording of Mussorgsky's Pictures at an Exhibition (24/44.1 FLAC, Warner Classics/Tidal), was warm and expansive, with well-fleshed-out woodwinds and massed strings that were at once full and textured. I also experienced a vivid sense of hall space with this track, the reverberations extending well beyond my speakers' physical boundaries.
Comparison
I put the Atom up against Hegel Music Systems' Röst, another AirPlay-capable integrated amp, but one that puts out 75Wpc into 8 ohms. With "French Spice," Donald Byrd's trumpet had a bit more air and 3D presence through the Hegel. The bass didn't seem more pronounced, though, which is something I expected to hear with the Röst.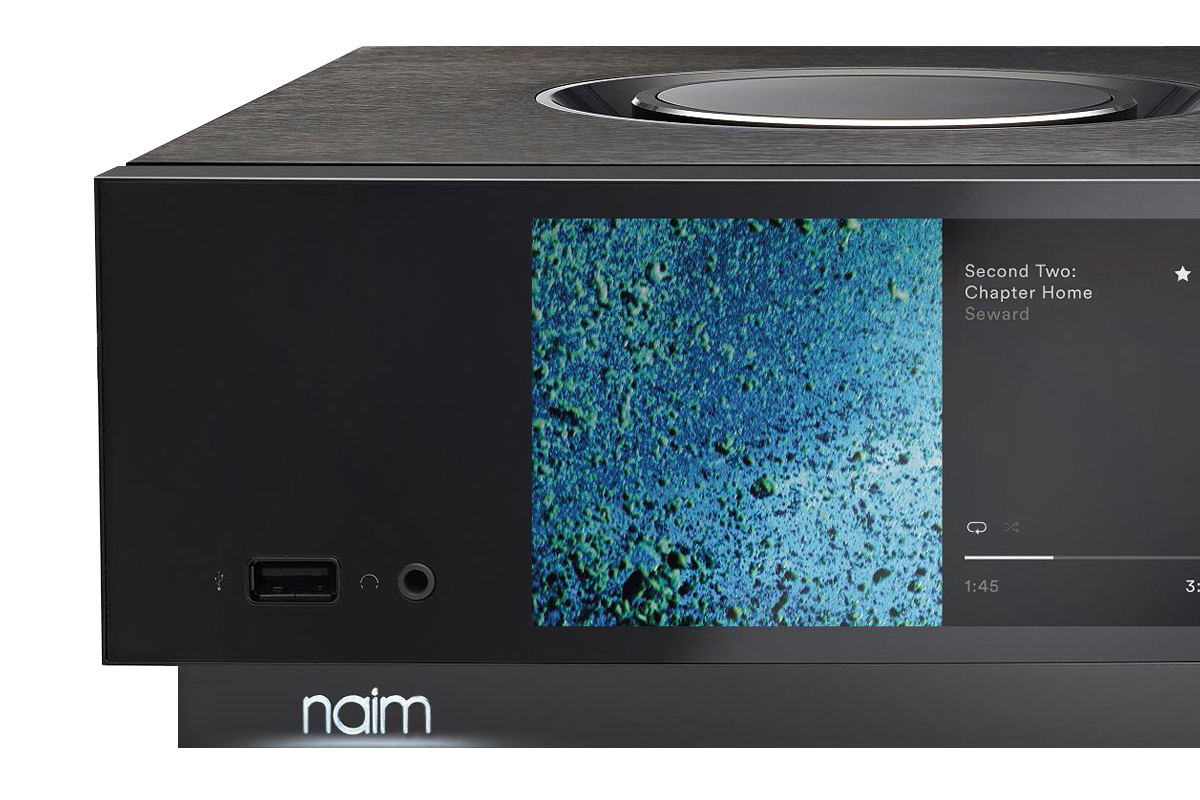 Switching to the Good Time soundtrack, I did hear a bit more drama with the Hegel when the percussion entered. I also felt I could push the volume higher without hearing strain -- and didn't hesitate to do so. Julie Byrne's fingerpicked notes on acoustic guitar had a slightly more detailed, rounded sound, though the instrument's tone was essentially the same through both amps. Given the difference in power output between the Naim and the Hegel, I'm impressed at how well the Atom held up against the Röst.
Conclusion
Naim's Uniti Atom is closely aligned with the way most people now listen to and experience music. With support for a wide range of protocols, including built-in AirPlay and Chromecast, there's no limit to how you can connect your devices. The Atom also looks beautiful, with a generously large display that enhances the listening experience by providing a visual connection with your music. Last but not least, it sounds great, and can drive speakers ranging from bookshelf models to towers. It may have been a long time coming, but the Uniti Atom was worth the wait.
. . . Al Griffin
This email address is being protected from spambots. You need JavaScript enabled to view it.
Associated Equipment
Sources -- Apple MacBook Pro and iPhone 6, Roon, JRiver Media Center 21, Apple Music, Tidal
Speakers -- GoldenEar Technology Triton Five and Triton Two
Integrated amplifier -- Hegel Music Systems Röst
Speaker cables -- Nordost Purple Flare
Analog interconnects -- AudioQuest Victoria (RCA)
Naim Audio Uniti Atom Wireless Streaming DAC-Integrated Amplifier
Price: $3000 USD.
Warranty: Two years parts and labor.
Naim Audio Ltd.
Southampton Road
Salisbury SP1 2LN
England, UK
Phone: +44 (0)1722-426600
Fax: +44 (0)871-230-10-12
E-mail: This email address is being protected from spambots. You need JavaScript enabled to view it.
Website: www.naimaudio.com
North American distributors:
Audio Plus Services (US)
156 Lawrence Paquette Industrial Drive
Champlain, NY 12919
Mu-so installation: (800) 961-5681
Website: www.audioplusservices.com
Plurison (Canada)
313 Marion Street
Le Gardeur, Quebec J5Z 4W8
Phone: (866) 271-5689
Website: www.plurison.com