An understatement: all-in-one speakers come with built-in limitations. Destined to be placed on a shelf or kitchen counter, they're usually quite small, with little drivers designed to fit the space available within. The downside of all-in-ones, of course, is their limited output of sound, along with soundstaging that barely extends past the edges of their small enclosures. Convenient? Yes. Replacement for a system of separate components? Hmm . . .
All-in-ones may get a bad rap from audiophiles, but in terms of serious sound quality, they're starting to hold their own. Two examples are Bang & Olufsen's BeoSound 2 ($1895 USD) and Naim Audio's Mu-so Qb ($999), both of which, when I reviewed them, impressed me with their sound quality and attractive, user-friendly designs. Now Bryston makes a bid for all-in-one respectability with their new Wi-Fi speaker, the BryFi BW-1 ($1495).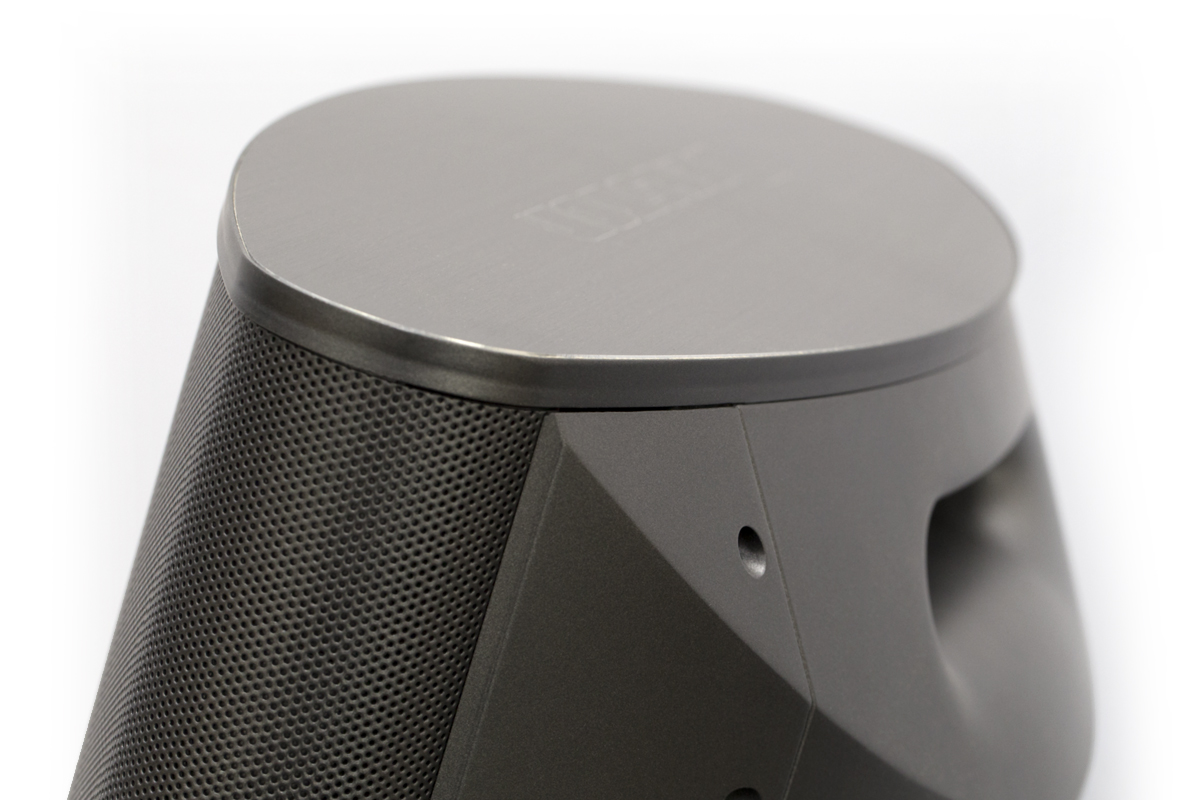 When I first saw pictures of the BryFi online, I wasn't thrilled. To me, it looked like a typical all-in-one speaker, with a design that looked dated. When I unboxed it, that impression quickly changed. Compared to other all-in-ones, the BryFi is huge at 19.5"W x 10.25"H x 6.75"D -- a size that reminds me of the boom boxes kids used to lug around in the 1980s. Its build quality is equally impressive: weighing 16 pounds, the speaker is sheathed in a rubbery, water-resistant case that looks elegant and permits outdoor use. It has a built-in carrying handle, and two slots for optional rechargeable batteries.
Another thing that differentiates the BryFi from other all-in-ones is the omission of Bluetooth. According to Bryston, that feature will be added in a future software update along with voice activation. For now, Wi-Fi is the way to go here: the speaker links to your home's Wi-Fi network on the 2.4GHz band, and can generate its own hotspot for portable use. The BryFi supports both AirPlay and UPnP, and will stream files of up to 24-bit/192kHz resolution.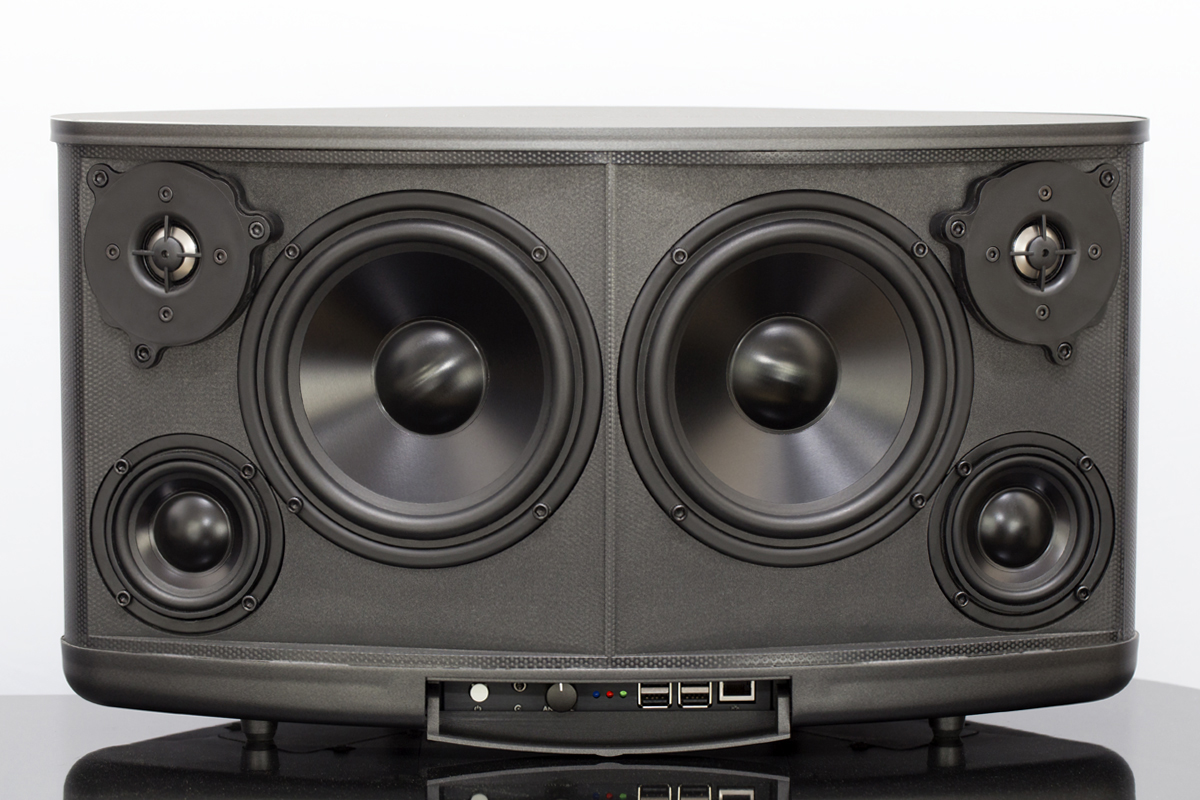 With all-in-ones, there's often uncertainty about what's inside -- few of them can easily be dismantled and examined. The BryFi's enclosure contains the guts of two full Bryston Mini A loudspeakers, a three-way minimonitor with a 1" tweeter, a 3" midrange, and a 6.5" woofer. The drivers are powered by an internal amplifier that outputs 150Wpc continuous RMS for the BryFi's maximum continuous SPL of 115dB, and a claimed frequency response of 60Hz-20kHz, +/-3dB. The BryFi's digital front end is based on the Raspberry Pi platform.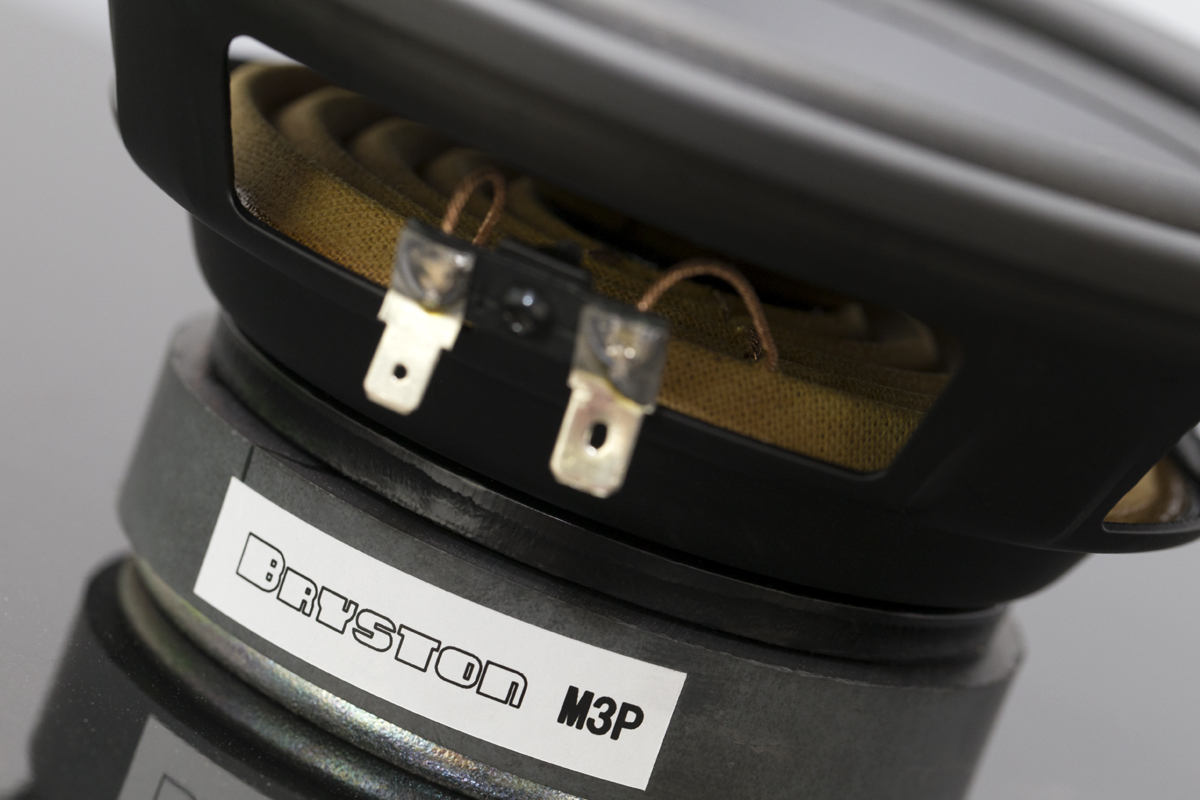 Most of the BryFi's connections and controls are located under a flip-down hatch in the speaker's base. Here you'll find a power button, a 3.5mm analog stereo input, a volume knob for the analog input, four USB ports (including one for the Wi-Fi adapter), and an Ethernet port for a wired network connection. Three more connections are around back: a 3.5mm subwoofer output, a second 3.5mm analog stereo input, and a DC input for the BryFi's external power brick.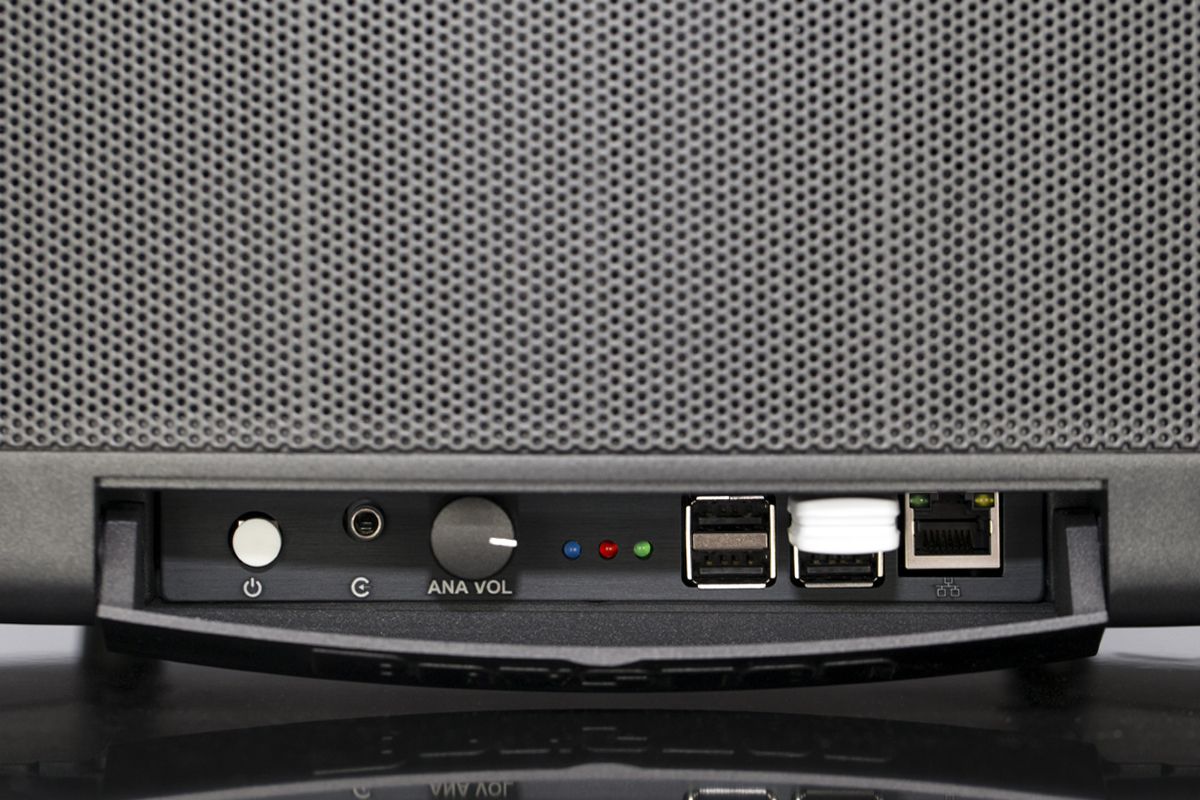 Setup and use
I set up the BryFi BW-1 atop a low bookcase in my bedroom, which measures 14'L x 12'W x 9'H. The monolithic speaker almost spanned the bookcase's full width. Its black exterior blended well with the dark-painted wall behind it, allowing the speaker to virtually disappear.
The easiest way to connect to the BryFi is via AirPlay with an iOS device. You select it as a new AirPlay speaker in your iPhone or iPad's Wi-Fi settings panel, choose a network, and enter your password. Done. After that, to play tracks stored on your device or streamed from a service like Tidal, Spotify, or Apple Music, you simply click an icon and designate the BryFi as your AirPlay speaker.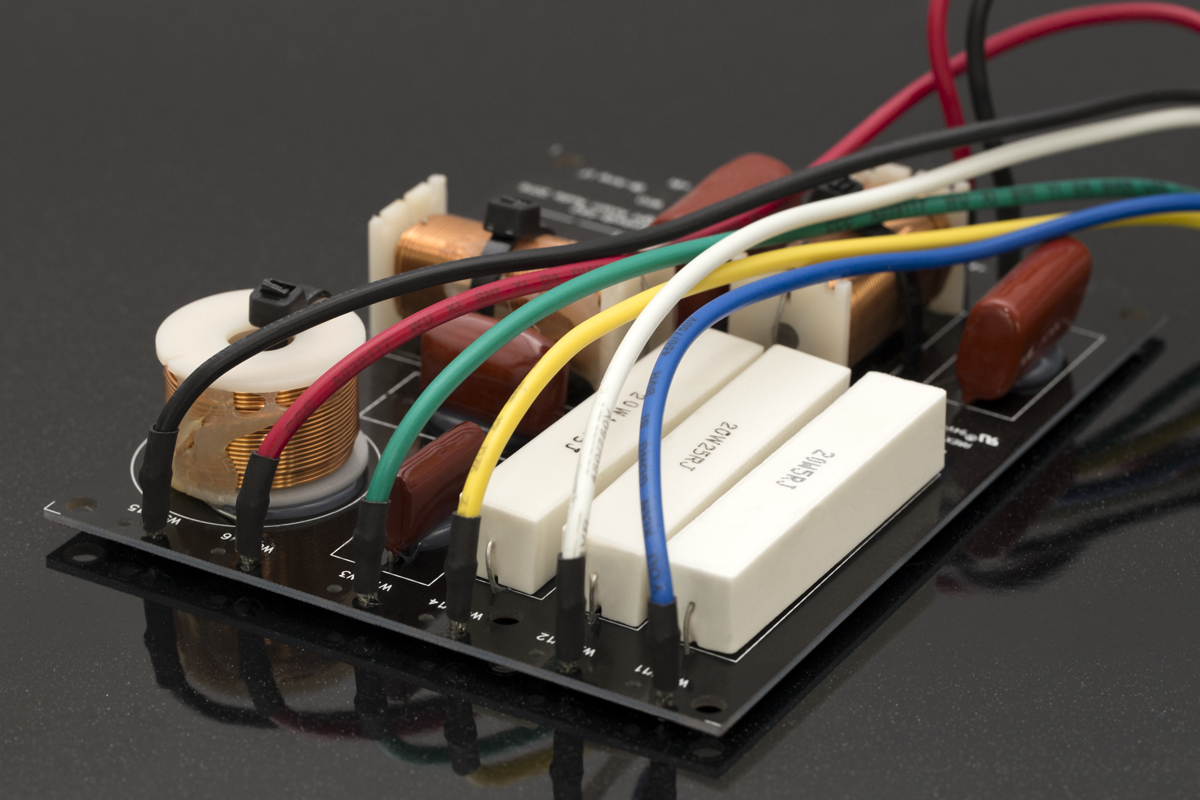 Setting up the BryFi as an Android device proved more complicated. You have to download Bryston's Android-only control app, use it to connect to your Wi-Fi network, then use a UPnP-compatible music-player app such as BubbleUPnP to stream music stored on the device or from any integrated service. (BubbleUPnP, which I used on my tablet, provides Tidal, Google Music, and Qobuz integration.) Android control worked smoothly with the BryFi for the most part, though I was distracted by the ad windows generated by the free version of BubbleUPnP.
The BryFi's UPnP compatibility also means you can wirelessly stream music to it from a Media Server running on a computer or NAS. I used JRiver Media Center 21 running on a MacBook Pro, and it worked flawlessly to play through the Bryston everything from compressed files to 24/192 FLAC downloads.
Sound
I first played "More Than Ever," a Steve Albini-engineered track from 1990s indie-rock band Bedhead (16/44.1 FLAC, Touch & Go/Tidal). I thought this song, with its tight, almost mono-like mix that locks the drums, voices, and guitar into the center of the soundstage, would be a good starting point for evaluating the BryFi BW-1's performance. Voices had excellent clarity and sounded unstrained, drums had solid punch and a realistic sense of scale. The ringing, resonant guitars also sounded clean and unstrained, and remained that way straight on through to this track's swelled-out finale.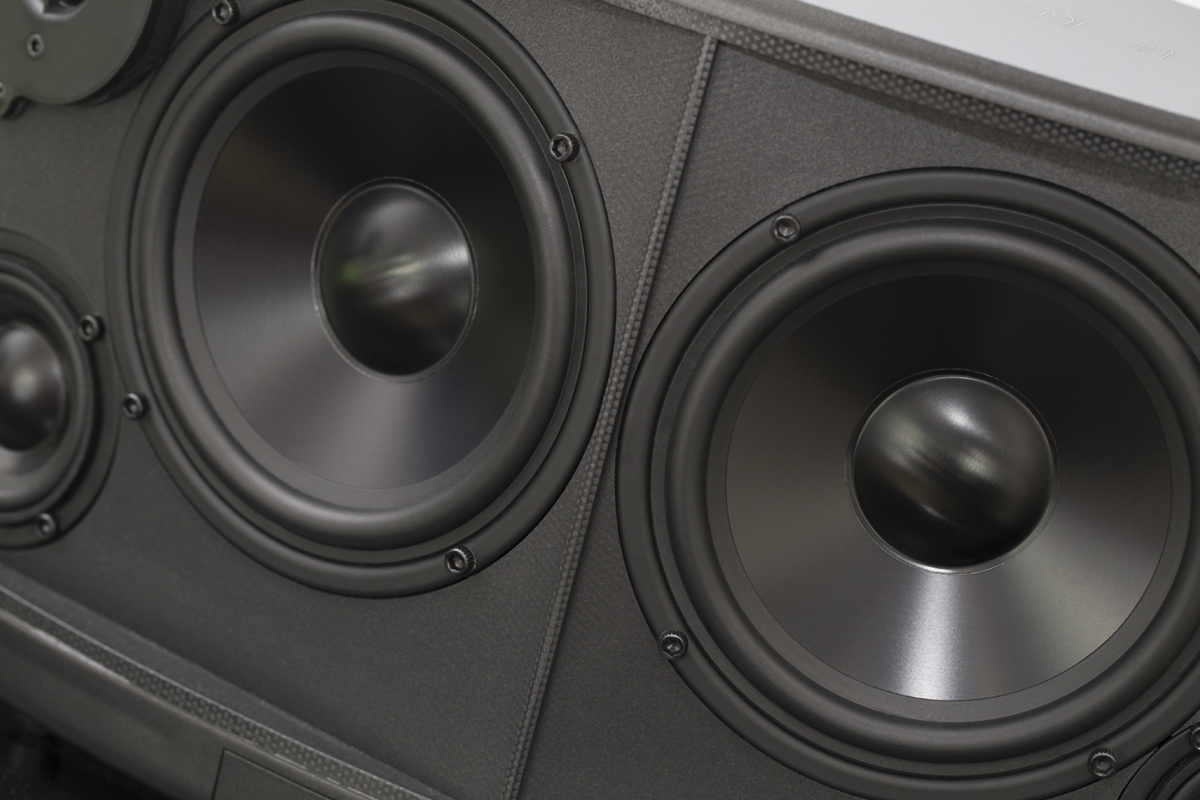 Wanting more of a stereo spectacular, I streamed "Scuba Rondo," from Porter Ricks's Anguilla Electrica (16/44.1 FLAC, Tresor/Tidal). The BryFi easily conveyed this track's submerged-sounding "dub" atmosphere, displaying impressively deep bass in the process. The dynamics seemed incredible for an all-in-one system sitting on a bookshelf. The song's crisp hi-hat samples and squelchy, meandering synths also came through with impressive spaciousness -- there was none of the boxiness typical of less capable all-in-ones, and that held true even when I pushed the volume to the upper limits.
I next listened to an acoustic track, "The Peasant," from Hope Sandoval and the Warm Inventions' Until the Hunter (16/44.1 FLAC, Tendril Tales/Tidal). The voice of Sandoval, who is also the lead singer of Mazzy Star, was warm yet clear, her breathy texture coming through easily. The acoustic guitar sounded detailed and crisp, providing a good counterpart to the electric slide guitar in the background. What most impressed me with this track was the BryFi's ability to distinctly delineate in the mix each layer of voice or instrument. It also sounded clear and full when I listened off axis -- not something you can count on with all-in-ones.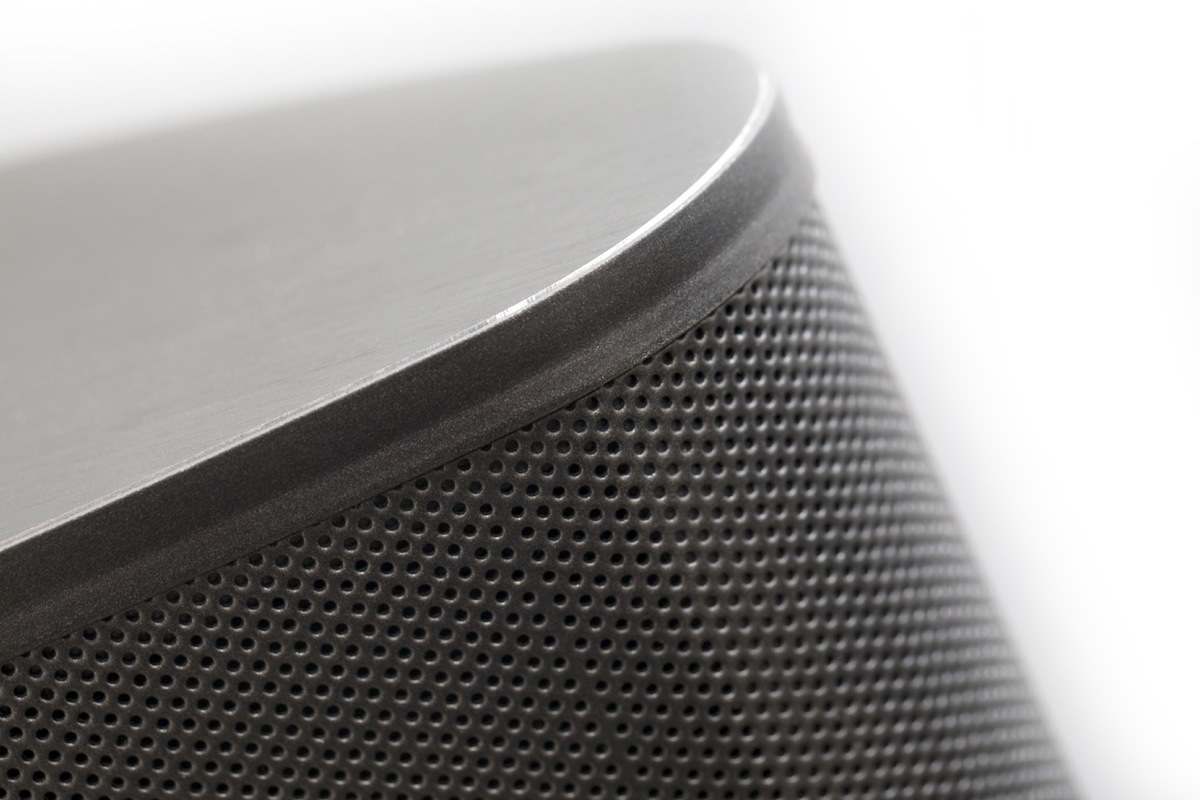 Because the BryFi can decode high-resolution files, I streamed a few HDtracks downloads from JRiver Media Center 21 via UPnP. In "Alabama," from In Movement, by the trio of Jack DeJohnette, Ravi Coltrane, and Matthew Garrison (24/96 FLAC, ECM/HDtracks), Coltrane's saxophone displayed a natural timbre and a sense of ease and air. Garrison's double bass sounded well defined, with good low-end power and reach. And as the trio's playing became more frenetic toward the song's end, I heard no strain as the BryFi tracked the gradual increase in volume.
Comparison
I pitted the BryFi BW-1 against Naim's Mu-so Qb, a significantly smaller all-in-one speaker. At $999, the Naim also costs almost $500 less. That said, if I were shopping for a high-performance all-in-one, both of these models would be on my short list.
I began by streaming two tracks I'd used in my Mu-so Qb test: "The Peasant" and Pan Sonic's "Laptevinmeri/Laptev Sea," from the album Katodivaihe/Cathodephase (16/44.1 FLAC, Capitol/Tidal). Through the Naim, the instruments in the Hope Sandoval track had good clarity, and her voice was natural and warm. Some of that clarity disappeared at loud volumes, however, the sound becoming more congested. The BryFi's sound was more refined, with better senses of layering and 3D space that held up at a loud volume.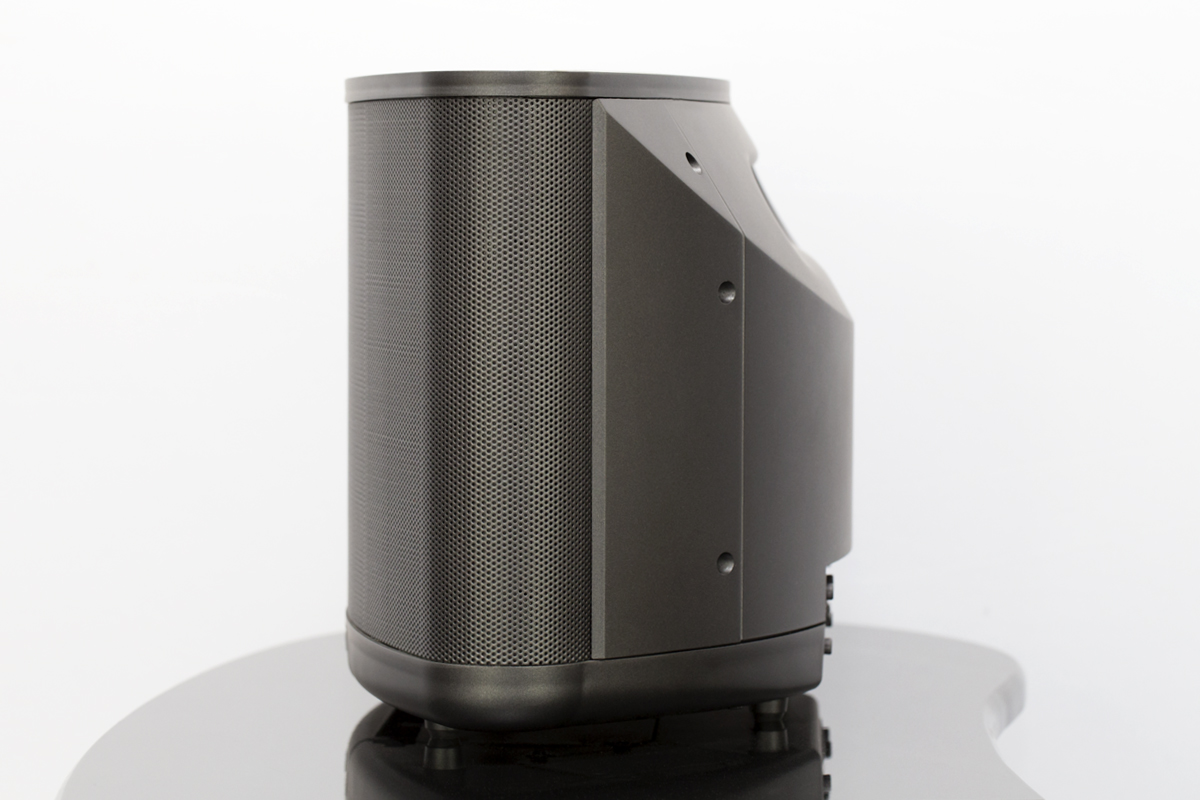 As I listened to the Pan Sonic track, the BryFi presented a broad soundstage and visceral, deep-reaching bass. The vividness of the sound reminded me of what I typically hear when I play this song on my reference system. The track's throbbing bass sounded powerful through the Mu-so Qb as well, though with a bit less definition and punch. Bedhead's "More than Ever" fared well with both speakers, though when I boosted the volume, the guitars sounded rougher with the Naim.
Conclusion
Bryston's BryFi BW-1 all-in-one speaker really does approach the sound quality of a system of separates -- except for stereo separation and imaging, I felt there was nothing compromised about its sound. That's likely because it contains the drivers of two full Bryston Mini A minimonitors, instead of a driver array customized to meet the constraints of an all-in-one's small interior. When you consider that the Mini A sells for $1200/pair on its own, the $1495 BryFi, which comes with Bryston's standard 20-year warranty, is an excellent value.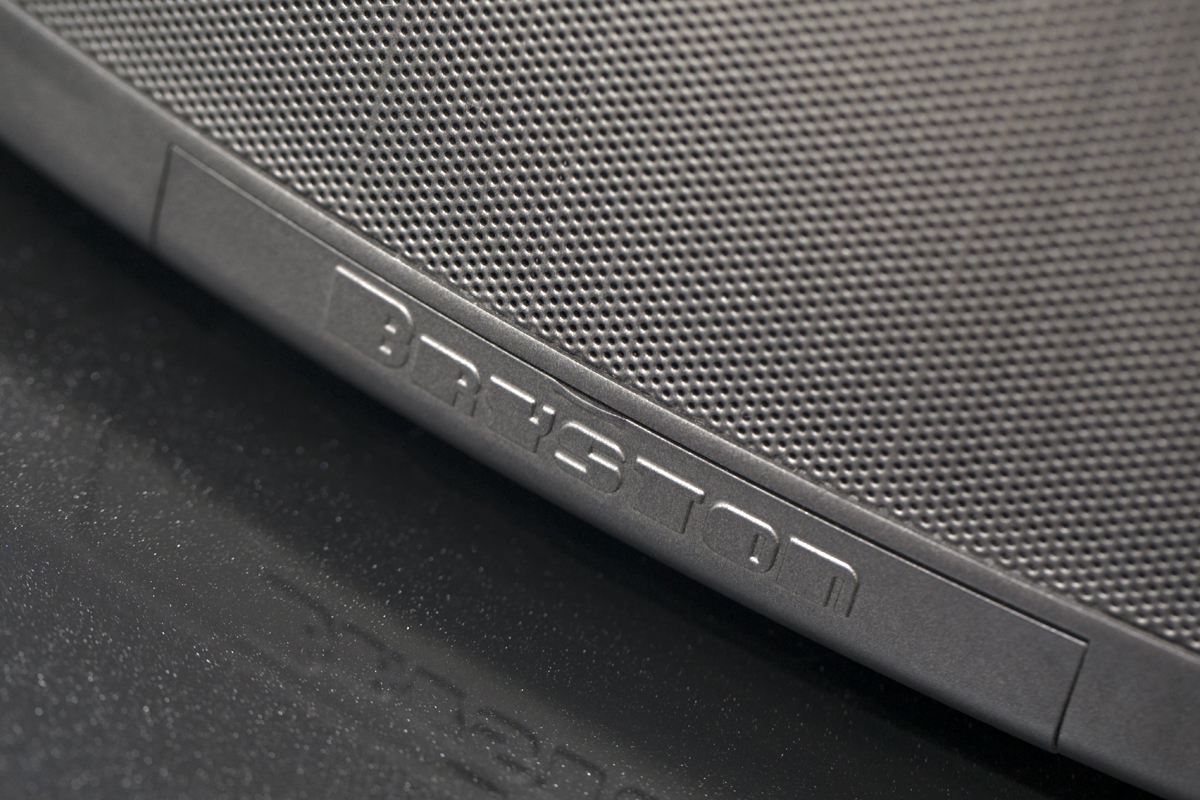 Problems? The BryFi's Android-only app is nothing special, particularly in contrast with Naim's elegant app for the Mu-so Qb. There's also no way to physically control the speaker when streaming -- you need to have your phone in hand even to adjust the volume. But if you're looking for a true high-performance all-in-one speaker that can run on batteries for portable use, the BryFi BW-1 is unique in its ability to deliver on both fronts.
. . . Al Griffin
This email address is being protected from spambots. You need JavaScript enabled to view it.
Associated Equipment
Sources -- Apple MacBook Pro, iPhone 6, iPad 2, Apple Music, Tidal, JRiver Media Center 21
Speaker -- Naim Muso QB
Bryston BryFi BW-1 Wi-Fi Speaker
Price: $1495 USD.
Warranty: 20 years parts and labor.
Bryston Ltd.
677 Neal Drive
Peterborough, Ontario K9J 6X7
Canada
Phone: (800) 632-8217, (705) 742-5325
Fax: (705) 742-0882

Website: www.bryston.com