Introduced in 1991, PSB's affordable Alpha series of loudspeakers have since earned a reputation for performance and value, and received many awards. PSB's Alpha P5 two-way minimonitor ($399/pair, all prices USD except as noted) received a Reviewers' Choice Award when it was reviewed on SoundStage! Access by Hans Wetzel in March 2019, and was subsequently named a SoundStage! Network Product of the Year for Exceptional Value.
In October 2020, PSB announced powered versions of the Alpha P5 and smaller Alpha P3 ($219/pair). The Alpha AM5 ($599/pair) and Alpha AM3 ($399/pair) have the same drivers and crossovers as their passive counterparts, but also have built-in amplifiers and an abundance of connectivity options, including moving-magnet phono, USB DAC, optical S/PDIF, and Bluetooth.
In December 2020 I reviewed the Alpha AM5, which, like the Alpha P5 before it, received Reviewers' Choice honors and was named a SoundStage! Network Product of the Year for Exceptional Value.
With the Alpha AM5, PSB provided review samples of the AM3. I had evaluated the AM5 in the basement family room of our 1920s rowhouse in Toronto, but the AM3's smaller woofer and less powerful amplifier struck me as being more suited for smaller spaces, such as my second-floor home office. I resolved to assess its suitability for desktop audio when an opportunity arose, and recently it did.
Inside and out
Whereas the passive Alpha P3 is available in finishes of simulated black ash or walnut, the powered AM3 has cabinets clad in vinyl matte white or matte black. From the sides, they look plain Jane-ish; from the front, they're pretty stylish. The silver trim rings surrounding the drivers are visible through the metal grille, giving them a funky look. In the lower right corner of the primary, left speaker's baffle is a knob: turn it to adjust volume, or press to cycle through the inputs. Just above and slightly to the left of this knob is a status LED. In the baffle's lower left corner is a sensor for the IR remote control.
The remote has power on/off and Bluetooth pairing buttons at the top, and below these a cursor pad that lets you adjust volume and cycle through inputs, with a mute button in the center. Below this pad are a Sub button for engaging and defeating the subwoofer output, and a Mode button for activating digital signal processing (DSP) effects (see below). At the bottom are up/down buttons for adjusting the treble and bass.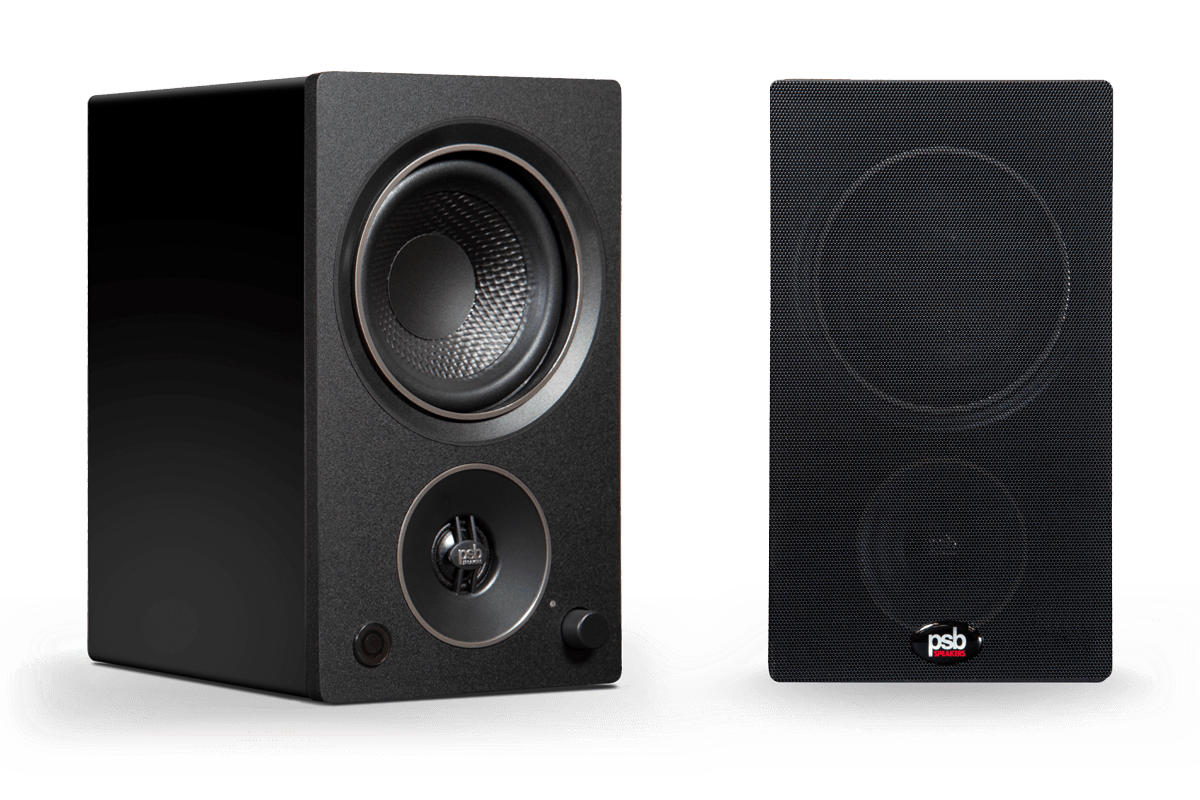 PSB calls the Alpha AM3 a Compact Active Monitor; actually, it's not an active but a powered speaker, according to the definitions used across the SoundStage! Network. Whereas active speakers have crossovers that come before the amplifiers in the signal path, and dedicated amplifiers for each frequency range, powered speakers like the Alpha AM3 have a single amplifier for each channel, and passive crossovers that come after the amplifier in the signal path.
The MDF cabinet of each AM3 measures 8.63″H x 5.13″W x 6.88″D; the left, primary speaker weighs 5.2 pounds, the right speaker 4.8 pounds. A rear-ported design, the AM3 has a 4″ polypropylene midrange-woofer with rubber surround and steel basket, crossed over at 2.5kHz to a 0.75″ ferrofluid-damped, aluminum-dome tweeter with neodymium magnet.
As he's done in other models, PSB chief designer Paul Barton places the AM3's tweeter below its midrange-woofer. In a phone call last fall, Barton explained to me that, with the speaker's Linkwitz-Riley, 24dB/octave crossover network, this arrangement of drivers ensures that their outputs remain in phase in the crossover region whether the listener sits or stands. The AM3's specified on-axis frequency response is 56Hz-20kHz, ±3dB, with a low-frequency cutoff (-10dB) of 40Hz.
On the back of the secondary speaker is a pair of binding posts that accept banana plugs, spade lugs, or bare wire; an 8′ wire with tinned leads for connecting the two speakers is supplied.
It's the left, primary speaker that has all the controls and connections. At the bottom right of the rear panel, above the port, are terminals for connecting to the right speaker, and to their left a jack for connecting the supplied 24V DC power supply. At upper left are a pair of RCA jacks for connecting an MM cartridge, and a ground post for a turntable. At upper right is a column of five connectors; starting at the top, these are: a 3.5mm stereo line-level analog input; a TosLink S/PDIF input for connecting digital sources like game consoles and disc players; a Micro-USB port for connecting a computer; a monaural subwoofer output (RCA); and a USB Type-A charging port. Inside the primary speaker is the 35Wpc amp that powers both speakers, and a Bluetooth receiver with aptX support. The Micro-USB port can accept PCM streams of resolutions up to 24-bit/48kHz; the optical input's maximum resolution is 24/192.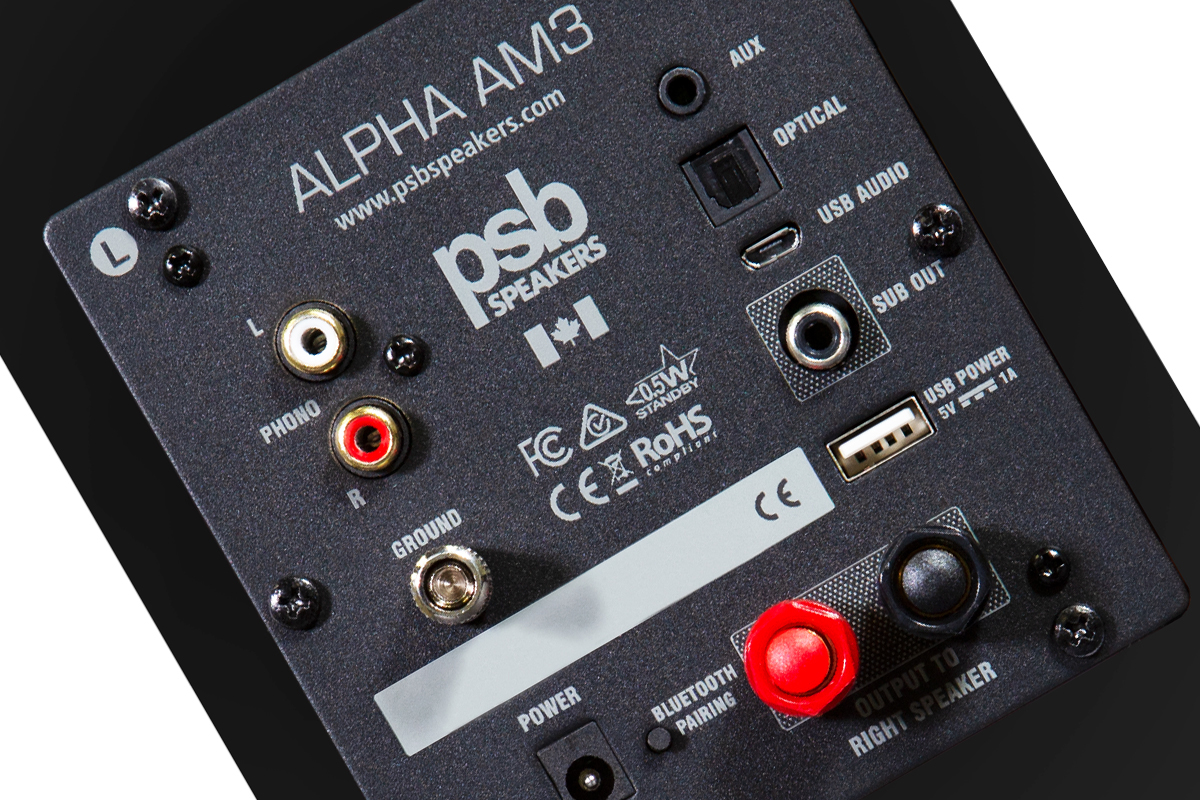 Like the Alpha AM5, but unlike most powered speakers, the AM3 makes extensive use of DSP—all analog input signals are first digitized. The DSP implements the subwoofer crossover, which includes a low-pass filter for the sub output and a high-pass filter for the main speakers. The high-pass filter means that the powered Alphas don't have to produce deep bass when a sub is connected—a welcome feature that many powered speakers don't offer.
The DSP also executes algorithms licensed by PSB from Waves Audio Ltd., of Tel Aviv, Israel. One of these algorithms, MaxxBass, is always running except when the subwoofer output is selected. MaxxBass analyzes the signal's bass content below a cutoff frequency set by the designer, and creates a series of harmonics based on that content. MaxxBass applies a high-pass filter to the signal to remove bass below the cutoff frequency, then adds the harmonic series it's come up with, exploiting a known psychoacoustic phenomenon in which listeners perceive missing fundamental bass frequencies based on harmonics of those frequencies.
Waves claims that MaxxBass can extend the perceived LF response from a speaker by as much as 1.5 octaves. They also say that MaxxBass preserves, as much as possible, the dynamics and loudness of the original signal's bass. With both the AM3 and AM5, I found MaxxBass very effective (see below).
I'd have guessed that, for MaxxBass processing, the AM3 would use a higher cutoff frequency than the AM5, but it's the same on both speakers: 38Hz. I'd also have guessed that the crossover frequency for the AM3's subwoofer output would be higher, but it's 80Hz for both models. "The AM3's bandwidth is very close to the AM5," Barton explained in an e-mail exchange, "except that it can't play as loud because the limiting is tuned for the AM3 amp's power and drivers' excursion limits."
PSB's powered Alphas include two other Waves plug-ins: MaxxDialog and Maxx3D, which can be applied singly or together by pressing the Mode button on the remote control. Intended for playback of video content, MaxxDialog identifies and boosts center-channel dialog information, to improve intelligibility. Maxx3D expands the stereo soundstage and the sweet spot, and can be used for films or music.
Setup
I placed the Alpha AM3s on the top shelf of the secretary desk in my second-floor home office. The speakers were 3′ apart, 2.5′ from my office chair as I typed on my MacBook, but 3′ away when I leaned back to listen to music or watch a video. The shallowness of that top shelf meant the AM3s' rear panels were only 3″ from the wall behind them—the minimum distance recommended in the Owner's Guide.
The primary source component for this review was my early 2015 Apple MacBook Pro, which I connected to the AM3's USB input. I listened to music using Roon 1.7 and Audirvana Plus 3.20.0, and video soundtracks through the Safari and Chrome browsers. I also streamed music via Bluetooth from my LG G7 ThinQ smartphone, and spun some LPs on a Pro-Ject Debut Carbon Evo turntable with pre-installed Ortofon 2M Red cartridge (CDN$749; or $499 with Sumiko Oyster Rainier cartridge).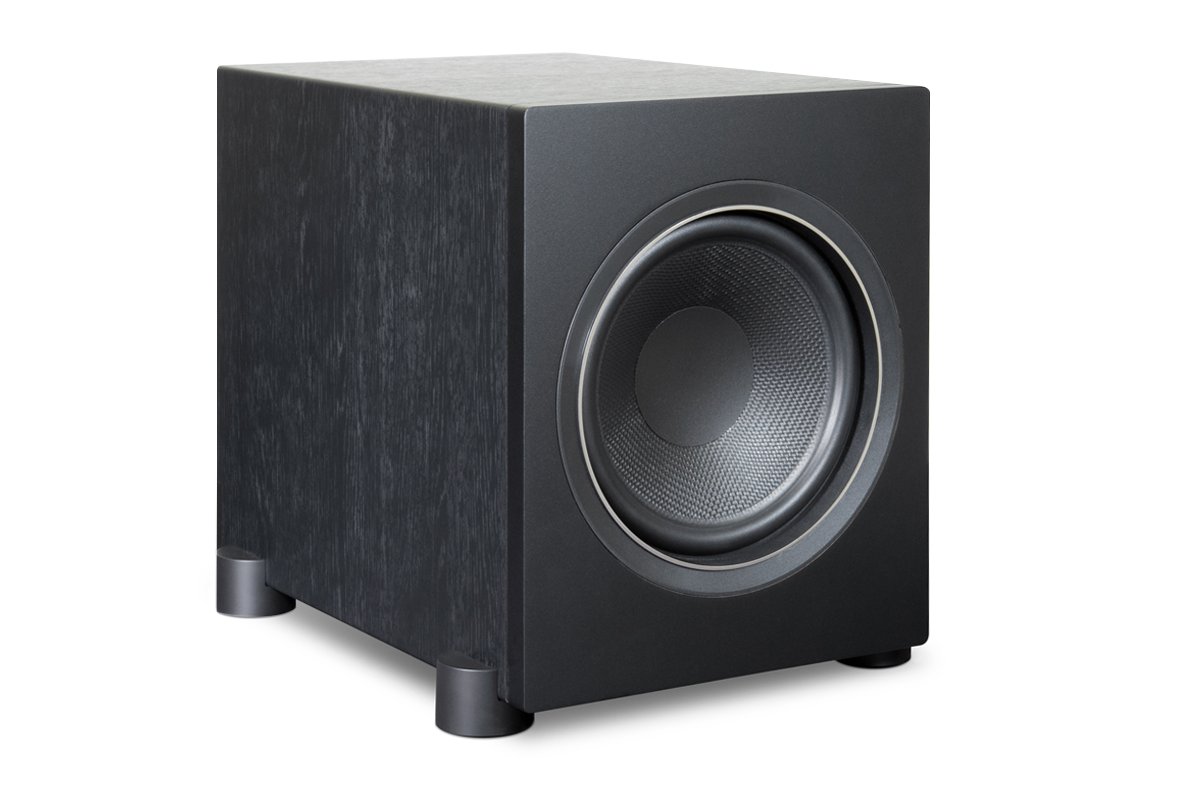 I also connected a PSB Alpha S8 subwoofer ($449) to the AM3's subwoofer output. The bass-reflex S8 has an 8″ long-throw driver with polypropylene cone and a 150W class-D amplifier; its specified frequency response is 35-150Hz, ±3dB. I set the S8's phase control at 0° and, using some familiar bass-heavy music, adjusted its level control until I got a seamless blend of the S8's and AM3s' outputs. However, I did most of my listening without the sub engaged.
Spinning, subbing, streaming
For desktop applications, I expect most people will use the AM3 for digital music, games, and video, probably from a computer connected via USB; and, for a quick musical fix, will stream from a smart device via Bluetooth. But I can also imagine some audiophiles mating them with a turntable for use in a small den.
The AM3's very capable, very quiet phono stage was designed by PSB's sister company NAD. With the volume set to a moderately high level and my ear a couple of inches from one speaker, I could hear only very faint hum and hiss—and with my ear a foot or more away from the speaker, even this was completely inaudible.
I loved the way the AM3s and Pro-Ject turntable reproduced Kandace Springs's voice and piano in "Gentle Rain" from her The Women Who Raised Me (LP, Blue Note B0003159701JK02). The piano's upper and middle registers had a lovely crystalline quality, and the lower register had surprising authority for such small speakers. Springs's rich alto sounded nigh-on perfect, with no hint of coloration. These little powered speakers displayed their dynamic prowess in the seemingly effortless way they tracked Chris Potter's expressive tenor-sax solo, and Clarence Penn's understated drumming had an ideal amount of snap, quietly propelling this lovely ballad forward. His cymbals had a delicious metallic shimmer, with no unwanted splashiness.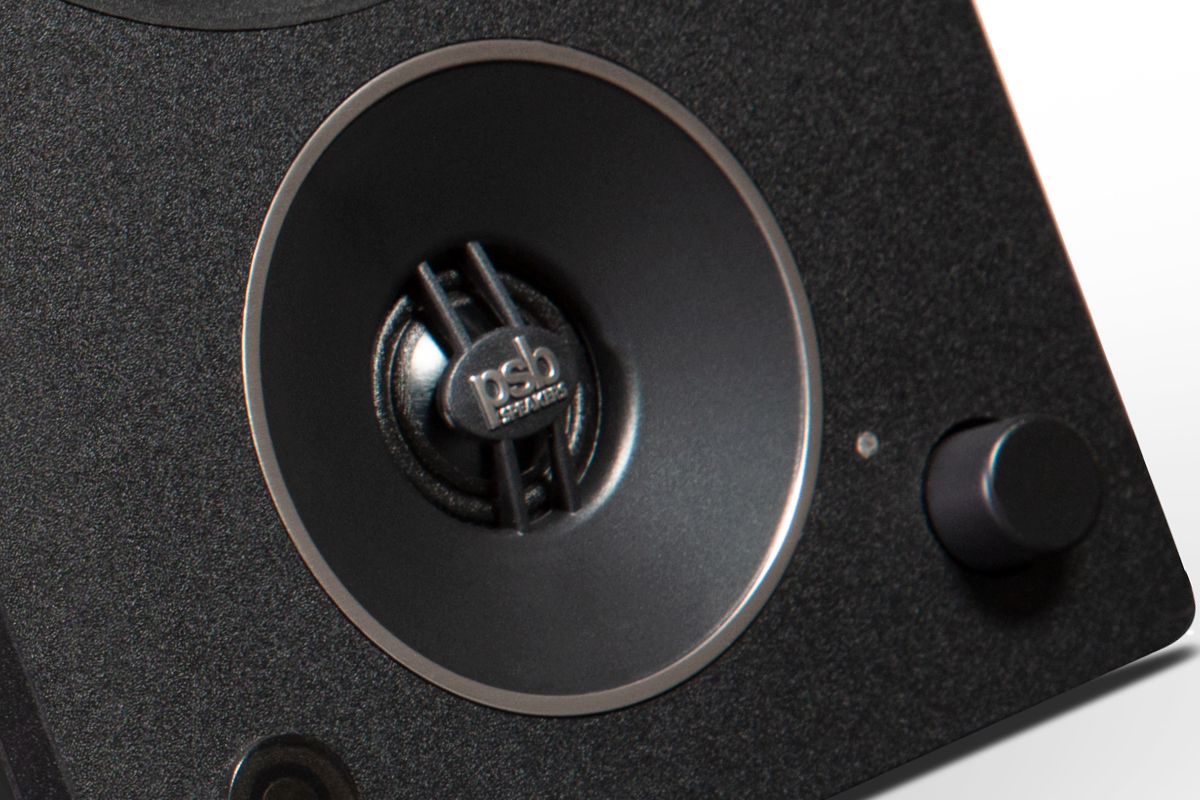 Scott Cooley's double bass sounded full and robust throughout its range, providing a warm foundation for the music, and showing the effectiveness of Waves' MaxxBass algorithm. Still, while the AM3s reproduced his instrument tunefully, with no annoying one-note droniness, its sound was a little soft-edged, a bit lacking in texture. Switching in the Alpha S8 subwoofer improved the bass definition noticeably, and made the sound a little more open and less congested, the result being an impression of more space around the musicians.
Perched atop my secretary, the AM3s created a soundstage that extended a little behind and above the plane of the two speakers. Image specificity was generally excellent, with one exception: the position of Cooley's double bass was slightly vague. Switching in the subwoofer brought his instrument into sharper focus.
I listened to this track mainly in the Stereo (normal) mode, but I enjoyed the ambience added by Widesound mode, which activates Waves' Maxx3D processing—it extended the soundstage about a foot outside the speaker plane on both sides of my desk, without sounding artificially processed or compromising image specificity. While I preferred Stereo mode's more straightforward sound with this track, I can imagine listeners using these speakers in confined spaces opting for the more expansive Widesound mode.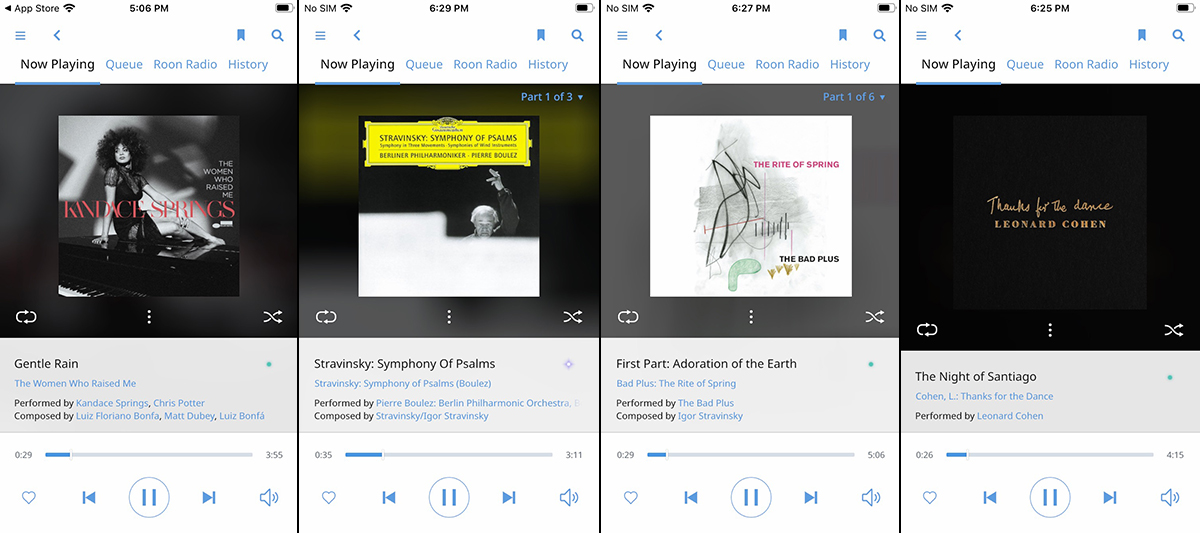 I also streamed a high-resolution version of "Gentle Rain" from Qobuz via my MacBook Pro, though Roon downsampled the 24/96 FLAC stream to 24/48. The LP sounded a little warmer and rounder, the digital stream a little more refined and detailed. Microdynamics were superior with the digital stream; for example, Springs's touch on her piano came through more clearly. And I was more aware of the vibrating drumhead on Penn's tom-tom.
Next, I streamed the same song via Bluetooth from the Qobuz app on my LG G7 ThinQ smartphone. The sound was fuller and lusher with the USB connection; via Bluetooth, it was a little drier and more clinical, with less space around the musicians. Played from my MacBook Pro via USB, Springs's voice sounded a bit more embodied; via Bluetooth, it was more two-dimensional. Microdynamics were superior via USB—I was more aware of Springs's piano technique—but the differences were nowhere near night-and-day. "Gentle Rain" was very enjoyable via Bluetooth—I wouldn't hesitate to stream to these speakers via Bluetooth for casual listening, but given a choice, I'd hook up a computer and use a USB link—as I did for the rest of my listening.
Listening in digital
I conducted most of this review in the anxious days between the riot at the US Capitol on January 6, 2021, and the inauguration two weeks later of President Joe Biden. With its texts depicting repentance, consolation, and exaltation, Igor Stravinsky's Symphony of Psalms seemed particularly apt for these troubled times.
Played from my MacBook Pro via USB, a recording of this work with Pierre Boulez leading the Berlin Philharmonic Orchestra and Berlin Radio Chorus (16-bit/44.1kHz ALAC, Deutsche Grammophon) showed off the AM3s' strengths and limitations. In loud, dense passages, such as the end of the first movement, in which the choir sings, "O forgive me, that I may be refreshed, before I go hence, and be no more," the sound became congested and a bit hard. But through most of this work I admired the AM3s' open and transparent sound, which made it easy to appreciate the Berlin choristers' modal harmonies and follow the Latin text.
In Stereo mode, each of the four choral groups occupied a clearly defined position across the rear of the soundstage; so did the solo and grouped instruments farther front. Widesound mode widened the soundstage, which suited this work, but left a hole in the middle of the soundstage—I found this disconcerting, as it made the imaging less precise. Stereo mode worked best for this piece.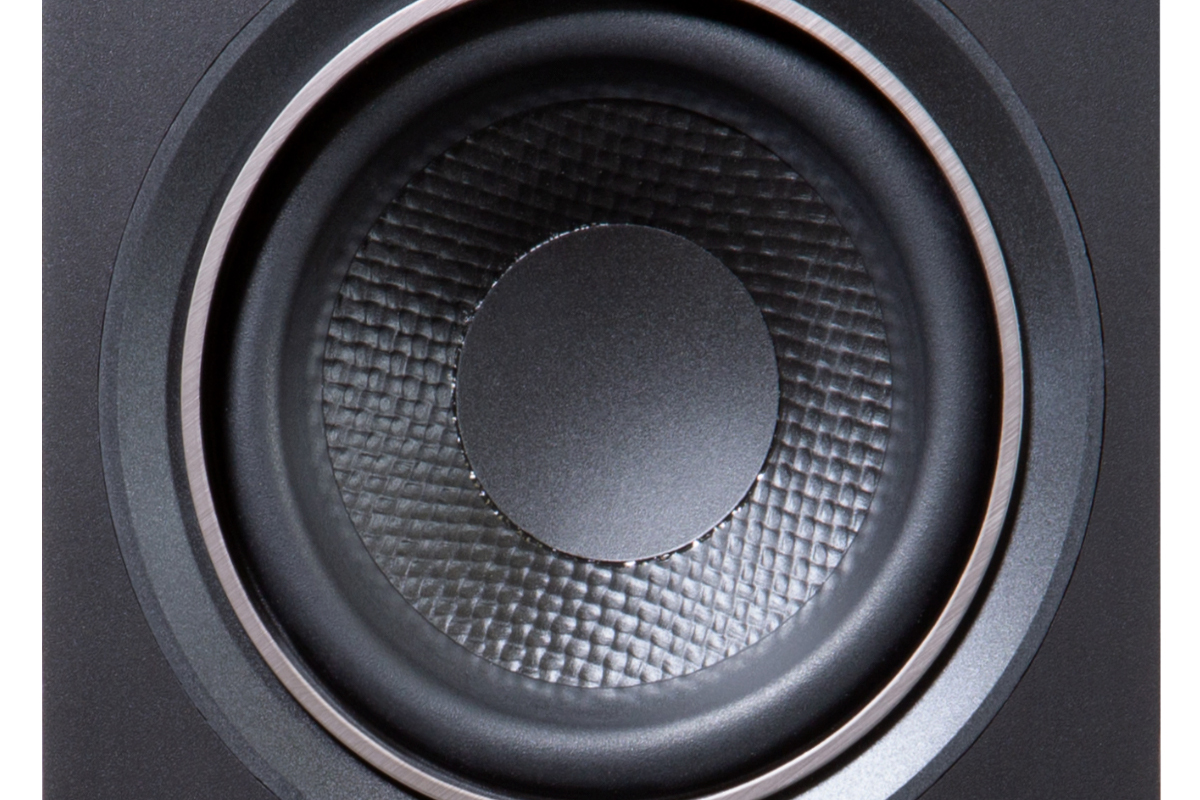 The orchestration of Symphony of Psalms includes double basses, bass drum, and timpani. In passages when those instruments were being played, switching in the subwoofer improved bass definition—timpani strokes were a little sharper, and double basses had more texture. In loud sections, using the sub made the sound slightly less congested. But the differences were subtler than I'd expected.
Staying with Stravinsky, I cued up a fabulous arrangement of his The Rite of Spring by my favorite power jazz trio, the Bad Plus (24/44.1 ALAC, Sony Music). The second section, The Augurs of Spring, begins with ostinato chords pounded out by pianist Ethan Iverson and big kick-drum beats by Dave King. This short passage was thrilling through the AM3s, sounding way bigger and harder-hitting than I'd expected from so small a pair of desktop speakers. King's snare rolls later in this section were beautifully defined, and his cymbal crashes and rolls were crisp and articulate.
However, the lower strings of Reid Anderson's double bass were a bit thuddy and ill-defined; passages he plays on the upper strings were crisper. Switching in the Alpha S8 subwoofer made those lower notes more articulate, and made the position of Anderson's instrument on the soundstage more precise. While the AM3s didn't sound congested on their own, engaging the sub made dynamics more effortless.
In Stereo mode, the soundstage extended a foot or so behind and above the speaker plane. Iverson's piano and the various drums and bangers in King's kit all had well-defined locations, as did Anderson's bass with the sub switched in. Activating Widesound mode expanded the soundstage far to the sides, but also made the sound too reverberant, unnaturally stretched the image of Iverson's piano, and left a bit of a hole in the middle. While Widesound added atmosphere, I preferred Stereo mode's more natural sound.
Through the AM3s, "The Night of Santiago," from Leonard Cohen's extraordinary posthumous album, Thanks for the Dance, positively oozed atmosphere (24/44.1 FLAC, Columbia/Legacy/Qobuz). Cohen laid down the vocal tracks not long before his death, in 2016. His craggy, weary baritone sounded a little chesty—but that's how it sounds on all of Cohen's later albums.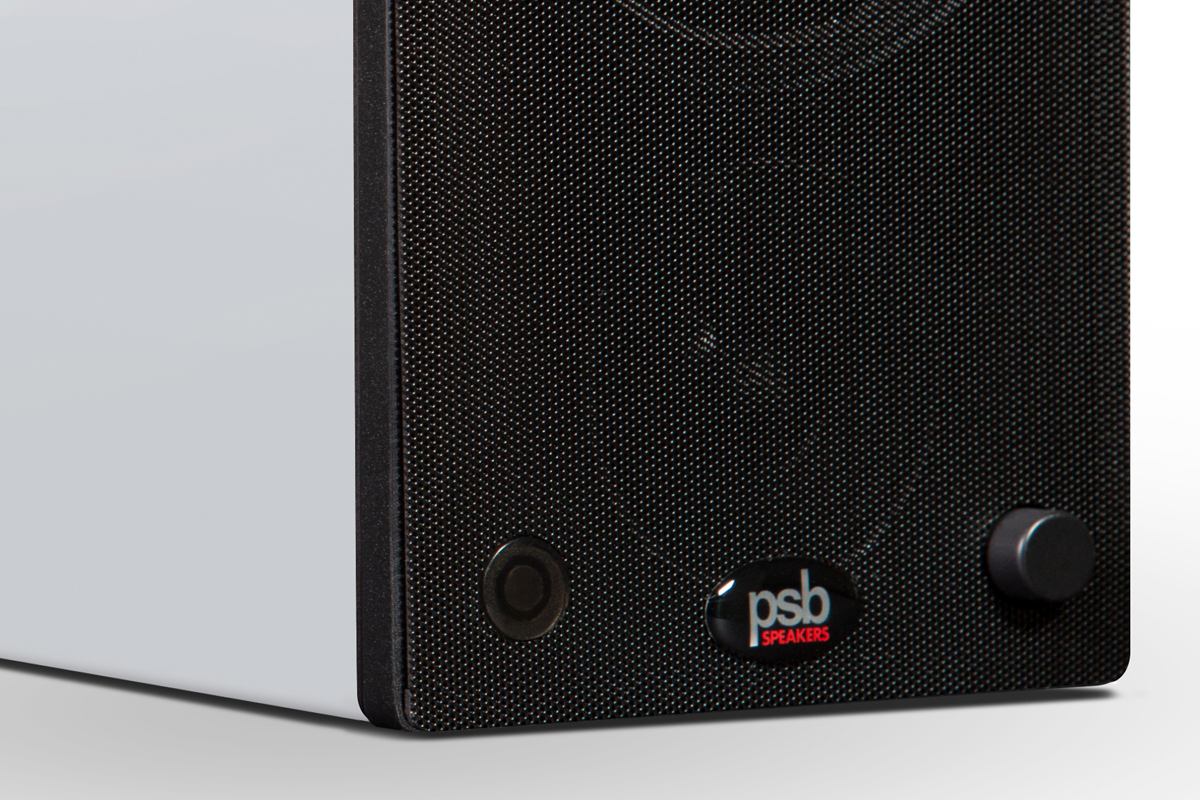 Cohen's son, Adam, produced the album, recording instrumental contributions from many distinguished musicians, including Beck, Javier Mas, and Carlos de Jacoba, all of whom play acoustic guitar on this track. The three guitars—respectively at far left, center, and far right—sounded delicious. The picked strings had sharp but not over-etched attacks, followed by rich, woody decays.
Through much of the song, Zac Rae plays a hand-beaten bass drum. Its deep sound was full and robust through the AM3s—engaging the sub made only a marginal improvement.
I enjoyed what Widesound processing added to this track. Not only did it widen the soundstage, it brought the contributions of Rae on synthesizer and Daniel Lanois on piano more into the foreground.
Showtime
I'm no gamer, but based on how the AM3s performed with Episode 1 of Lupin, a French heist series on Netflix, I think they'd work very well for games as well as action movies. I watched the show on the 13″ screen of my MacBook Pro in the Safari browser, and routed audio via USB to the AM3s.
While women's voices sounded very natural, adult men's voices had a slightly hollow coloration, likely due to how close the speakers were to the wall behind them. Moving them to 5″ out from the wall reduced the hollowness to the point of insignificance, but their baffles now overhung the top shelf of my desk by a couple of inches. So for most of my listening, I placed the AM3s with their baffles flush with the front of the shelf, and their rear panels 3″ from the wall behind them. This is probably typical of how the AM3s will be used in a desktop setup, but if you can give them more breathing space, you should.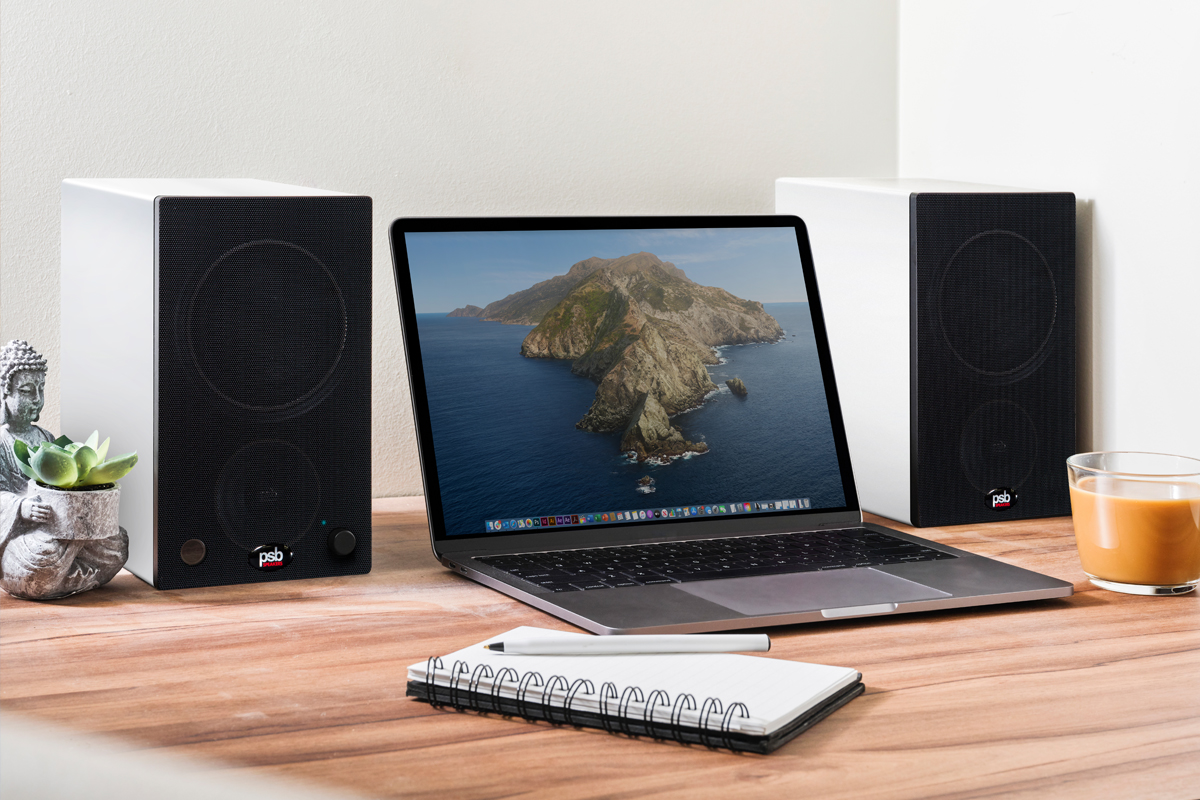 Dramatic Foley effects—thieves banging on empty lockers, an afternoon thunderstorm, a getaway car crashing through an atrium skylight—sounded way more powerful than I'd have expected from a pair of small, two-way powered speakers. While low-frequency effects were a bit thuddy and big action effects somewhat compressed, they exceeded my expectations, given these speakers' physical limitations.
Switching in the Alpha S8 subwoofer made a major improvement. Not only were those low-frequency effects better defined and less thuddy, the entire sound was less congested because the sub was now doing the heavy lifting in the low bass. Thanks to Waves's MaxxBass processing, these little speakers delivered impressive oomph from action movies, and I'm sure they would with bass-heavy games as well. But with these genres, adding a sub will pay real dividends.
I found the AM3's DSP modes very effective with Lupin. Widesound mode made the sound far more immersive—background sounds, such as roadside traffic and café chatter, now extended far to the sides, with no artificial side effects. Dialogue mode, which activates Waves' MaxxDialog algorithm, didn't remove the hollow coloration from male voices, but it did make speech clearer. But for Lupin, the mode I liked best was Widesound Plus, which expanded the soundstage and enhanced dialog clarity.
Watching history
Big moments can happen when you're stuck at your desk. I was very grateful to have the powered Alphas connected to my MacBook Pro as I wrapped up this review on January 20. I interrupted that work to stream President Biden's inauguration from MSNBC.com.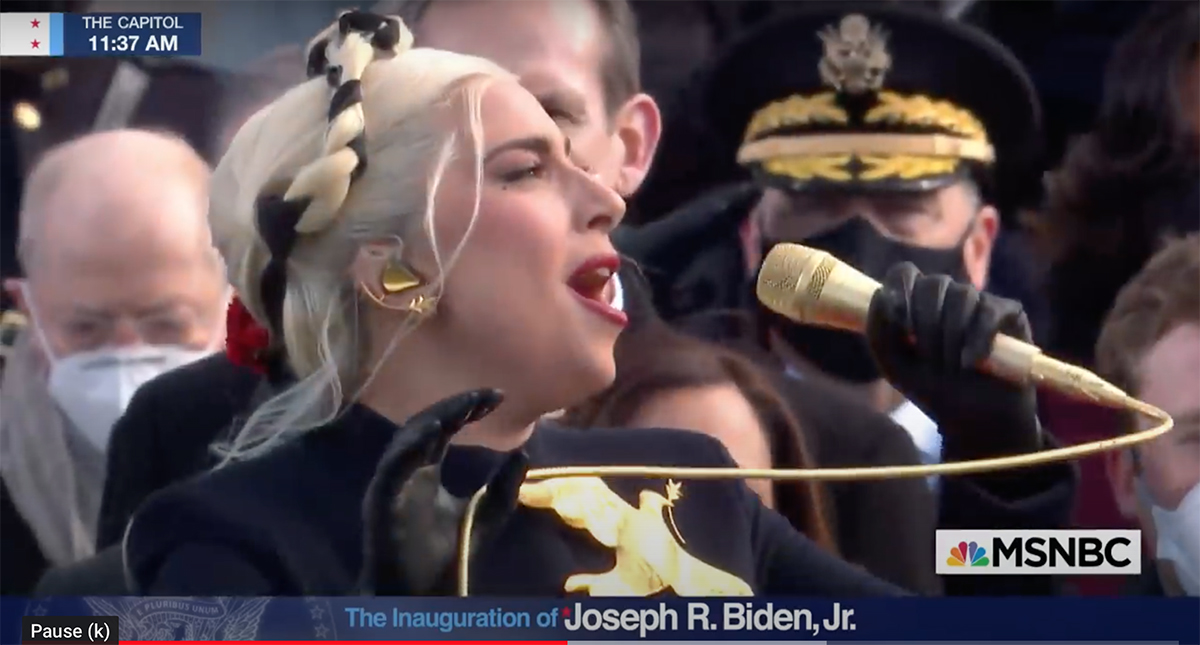 As with Lupin, I noticed a bit of hollowness in men's voices—e.g., Biden's in his inaugural address, and Garth Brooks's as he sang "Amazing Grace." Again, I could reduce this coloration by moving the speakers a little farther out from the wall. Women's voices sounded very natural. In her stirring rendition of the American national anthem, Lady Gaga's rich soprano sounded close to perfect, though the brass band accompanying her was somewhat thin, likely an artifact of the microphone feed or the compressed stream I was watching. The AM3s tracked both singers' expressive dynamic shifts very well.
Activating Widesound mode expanded the soundstage to both sides, the AM3s now more convincingly evoking the National Mall outside the Capitol building. Dialogue mode added an extra touch of clarity to the speeches. But again, the setting I preferred was Widesound Plus, which combined both DSP algorithms, with no downside.
Of course, the inauguration wasn't an audiophile experience—it was a news feed from a big outdoor event. But the AM3s turned it into something special. When I briefly disconnected the PSBs and listened through the MacBook Pro's tiny built-in speakers, the latter did no justice at all to this historic occasion. The Alpha AM3s did.
Comparison
I compared the Alpha AM3s and Alpha S8 with PSB's Alpha PS1 powered desktop speakers and SubSeries 100 subwoofer. Each Alpha PS1 houses a 3.5″ metalized-polypropylene midrange-woofer and a 0.75″ aluminum-dome tweeter, all powered by a 20Wpc class-D amp in the left speaker. The SubSeries 100 has a 5.25″ driver powered by a 50W class-D amp. PSB recently discontinued both models; until then, they were bundled together as the Alpha 1-100 Powered Media System ($499).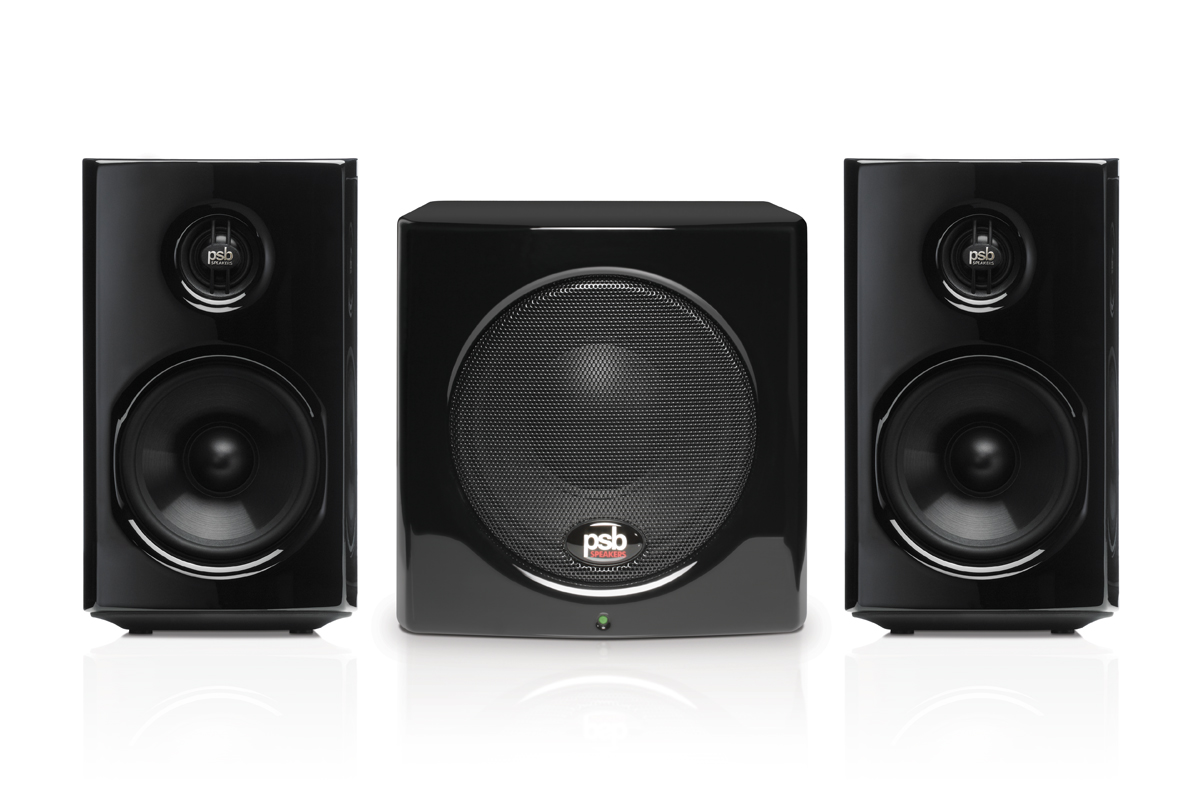 The PS1 has only analog line-level inputs. I connected its 3.5mm stereo input to the line output of my MacBook Pro, and its subwoofer output to one of the RCA inputs on the SubSeries 100, and set the crossover frequency to 100Hz.
With the Bad Plus's arrangement of Stravinsky's The Rite of Spring, Ethan Iverson's ostinato chords and Dave King's kick-drum beats didn't hit nearly as hard through the PS1s as they had through the AM3s, and dynamics were noticeably more compressed. The lower strings of Reid Anderson's double bass were fainter. Adding the SubSeries 100 made those notes more robust, and the overall sound more dynamic, but the AM3s without subwoofer were much more exciting and dynamic than the Alpha 1-100 combo—it wasn't even close.
In "The Night of Santiago," Leonard Cohen's voice sounded a little more hollow through the PS1s than through the AM3s. Guitar attacks weren't as crisp as through the PS1s, but the woody decays were just as satisfying. As with The Rite of Spring, dynamics were more compressed. Zac Rae's bass-drum beats were much fainter. Connecting the SubSeries 100 made these beats more robust, but even then, they didn't sound as full or as well defined as through the AM3s on their own.
I don't mean to diss PSB's Alpha PS1 and SubSeries 100. When he reviewed the PS1 for SoundStage! Access in June 2013, Hans Wetzel called it "the perfect desktop companion." The Alpha PS1 subsequently received a 2013 SoundStage! Network Product of the Year Award for Exceptional Value. My wife uses the Alpha 1-100 combination with her iMac, and we both enjoy it. But sonically, the AM3 is in another league. It costs $100 less than the Alpha 1-100, and has many more features, including a phono stage, USB DAC, optical input, and useful DSP modes.
Conclusion
PSB's Alpha AM3s have some limitations in dynamics and bass definition. Given their size, amplifier power output, and price, how could it be otherwise? But for compact powered speakers with 4″ woofers and a 35Wpc amplifier, their performance is remarkable. If you want more bass definition and more effortless dynamics, you can add a sub like the Alpha S8. But you don't have to.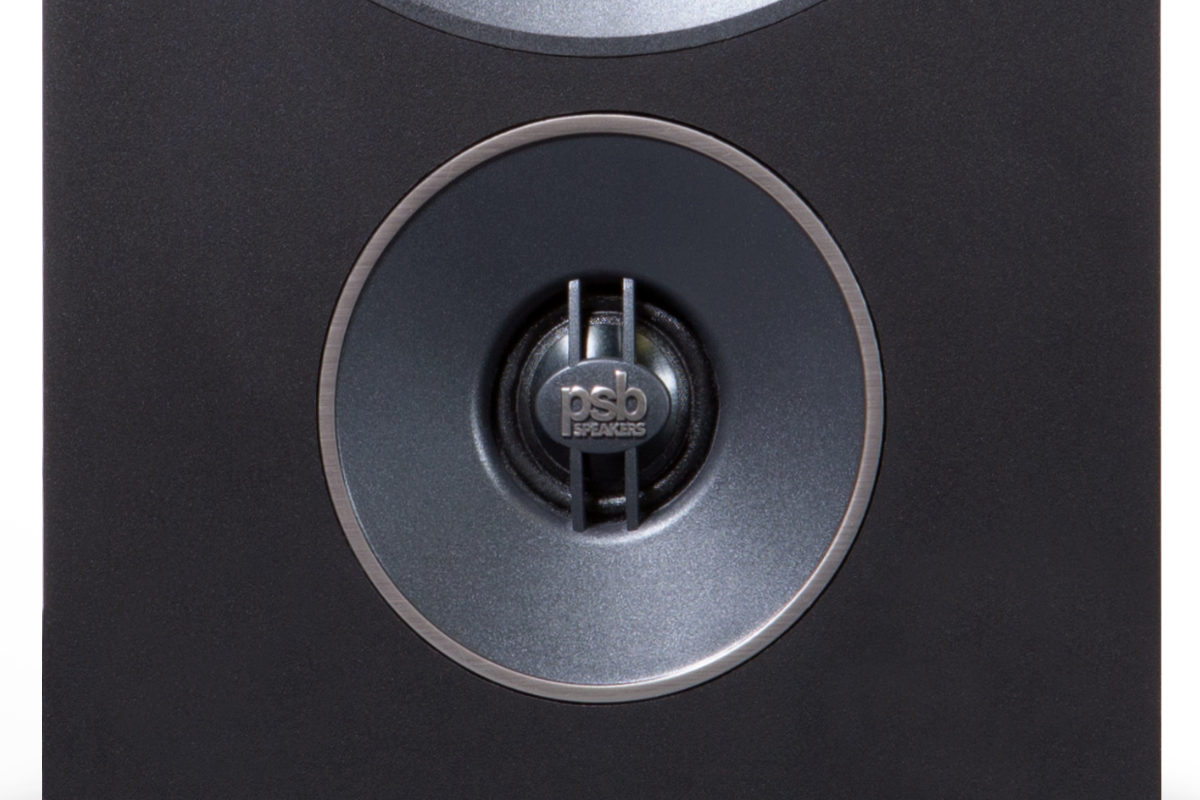 I haven't heard enough desktop speakers to state categorically that the AM3 is "the best computer speaker . . . available today," as Hans claimed for the Alpha PS1 seven-and-a-half years ago. What I can say is that I'd love to have a pair of AM3s on my desktop, for watching movies, listening to music, or catching up on the news. Highly recommended.
. . . Gordon Brockhouse
This email address is being protected from spambots. You need JavaScript enabled to view it.
Associated Equipment
Sources: Apple MacBook Pro computer (early 2015) running Audirvana Plus 3.2.20 and Roon 1.7, Pro-Ject Debut Carbon Evo turntable with Ortofon 2M Red cartridge, LG G7 ThinQ smartphone
Computer loudspeakers: PSB Alpha 1-100 (Alpha PS1 and SubSeries 100 subwoofer)
Subwoofer: PSB Alpha S8
Network: Google Wifi four-node mesh network
PSB Alpha AM3 Powered Loudspeakers
Price: $399 USD per pair.
Warranty (parts and labor): Five years, drivers; one year, electronics.
PSB Speakers
633 Granite Court
Pickering, Ontario L1W 3K1
Canada
Phone: (905) 831-6555
Fax: (905) 831-6936
Website: www.psbspeakers.com