In the past few years, the French speaker maker Focal has had an amazing run on SoundStage!. Reviewed by Diego Estan on SoundStage! Access, the Chora 806 ($990/pair, all prices USD) received a Reviewers' Choice award, and was later designated a Recommended Reference Component. The same honors were bestowed on Focal's Stellia headphones ($2990), reviewed by Brent Butterworth on SoundStage! Solo; and on the Spectral 40th floorstanding speakers ($9990/pair) and Sopra No1 minimonitors ($9990/pair), both reviewed by Diego for SoundStage! Hi-Fi. The Spectral 40th was also named a SoundStage! Network 2019 Product of the Year in the Hall of Fame category. That's a mighty impressive record.
Yet no Focal product has ever been reviewed on SoundStage! Simplifi. That's not an oversight. All of its speaker models that Focal classifies as "High-Fidelity" are passive designs, which don't really fit Simplifi's mandate to cover "convenient, lifestyle-oriented hi-fi," per the blurb on the SoundStage! Network portal. Moreover, the size and layout of the living room in my Edwardian row house doesn't lend itself to reviewing component systems comprising amps and passive speakers.
However, Focal also makes an extensive line of professional models that they call "Monitoring Speakers," all analog active designs, including the Shape 65 ($999 each), reviewed here. These models incorporate many of the features found in Focal's "High-Fidelity" models, but also have built-in amplifiers -- which makes them promising candidates for use in a Simplifi'd music system.
Inside and out
The Shape 65 combines a 6.5" woofer with a flax-sandwich cone driven by an 80W class-AB amplifier with a 1" aluminum-magnesium inverted-dome tweeter driven by a 25W class-AB amp.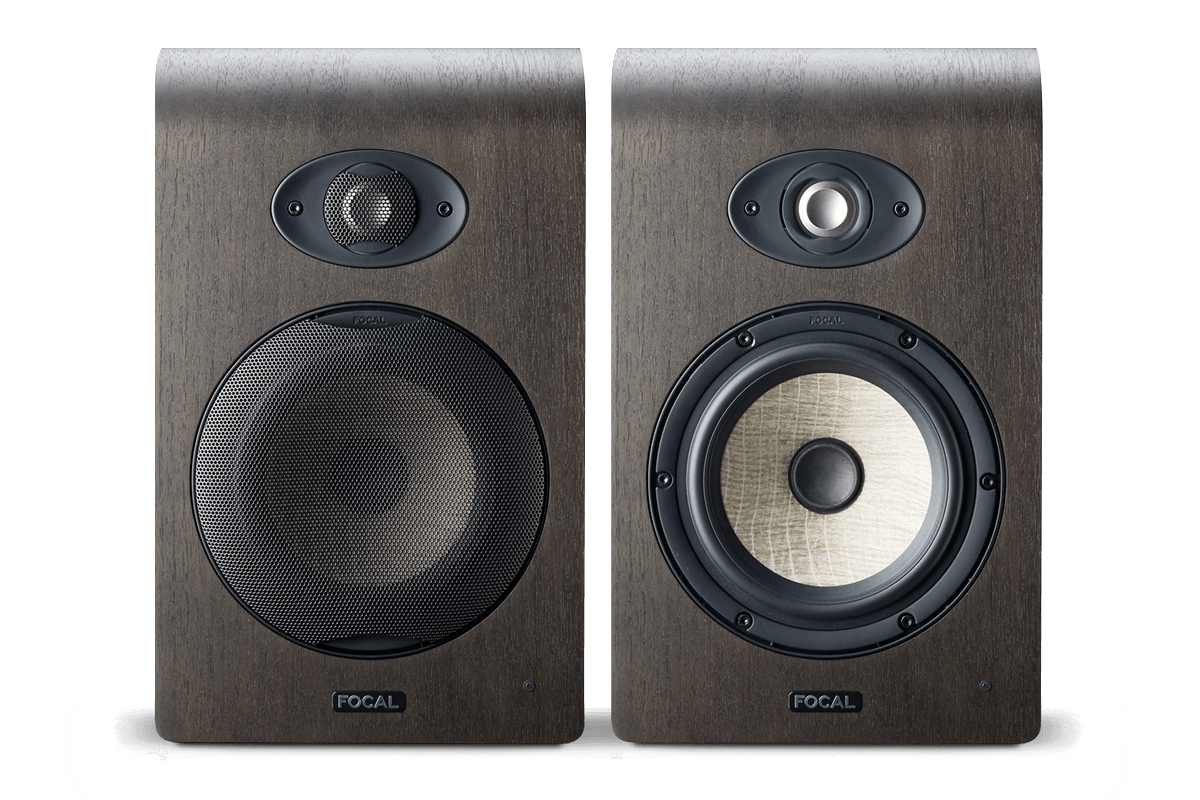 Made from organic material grown in Normandy, in northern France, Focal's flax-sandwich cones are used in their step-up Aria series and premium Kanta series, from Focal's "High-Fidelity" collection. Chris Shaw, product specialist at Focal Naim North America, explained the benefits of flax to SoundStage! editor-in-chief Jeff Fritz in a recent SoundStage! Talks episode. "It's very strong," Shaw said. "It has a molecular structure very similar to Kevlar. It's very light because it's a hollow material. Because it's a natural material, it has really high damping."
The Shape 65's woofer also features Focal's Tuned Mass Damper (TMD) and Neutral Inductance Circuit (NIC) technologies, both used in their high-end Sopra series. With TMD, tubular rings are molded onto the driver's surround -- mass loading that stabilizes the surround's motions at its resonant frequency. The result, Focal says, is smoother midrange response and less distortion in the midrange region. NIC adds a carefully designed Faraday ring to the magnetic circuit, which makes the magnetic field consistent regardless of the position of the voice coil or the level of the signal passed through it. Focal says this results in broader frequency response and significantly reduced harmonic and intermodulation distortion.
The Shape 65 is made of panels of 0.6"-thick MDF, and on each side panel is a 6.5" passive radiator. Unlike rear-ported designs, this form of bass loading allows the Shape 65 to be installed close to the front wall, Focal notes -- valuable in recording studios and small living spaces alike.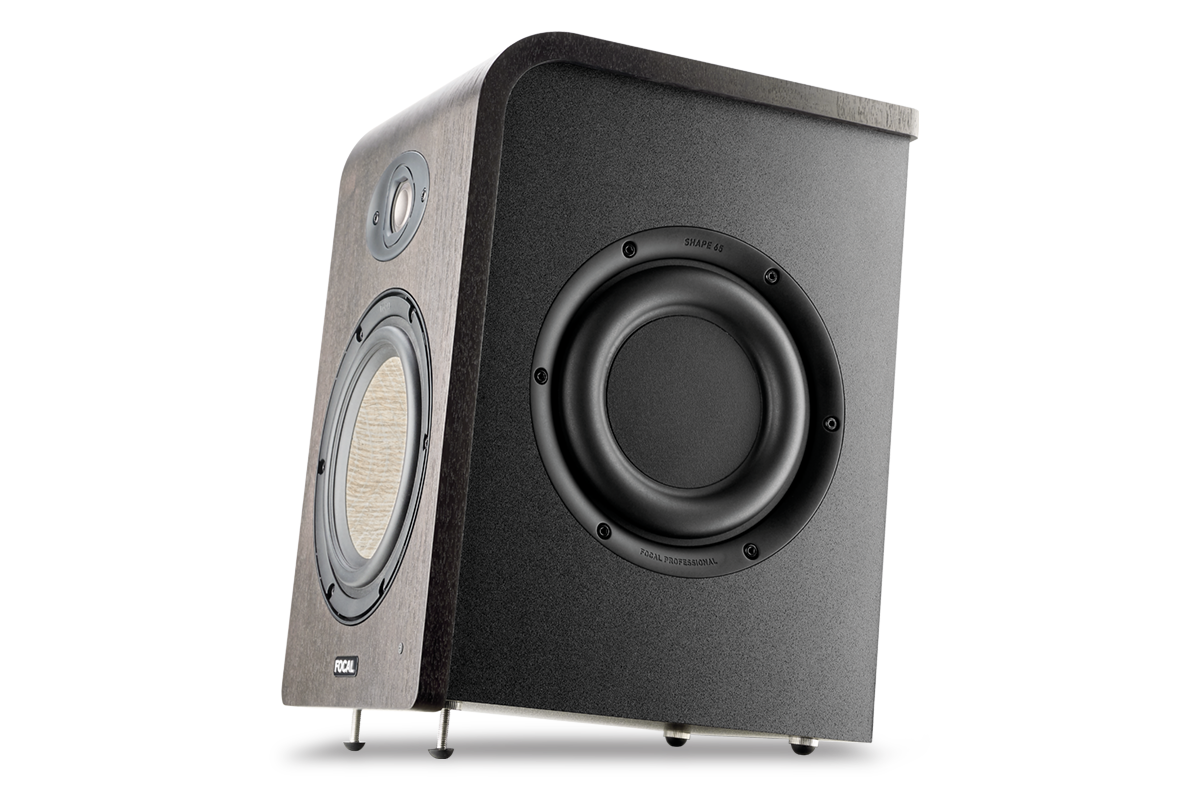 The tweeter's M-shaped profile minimizes directivity, Focal says, making possible more flexibility in listener positioning. Compared to Focal's earlier inverted-dome tweeters, the M profile improves rigidity, for lower distortion. The waveguide surrounding the dome is designed to produce equal horizontal and vertical dispersion, Focal adds.
The Shape 65's bottom panel has four threaded inserts that accept supplied screw-in feet with rubber bottoms. For mounting on a desktop or shelf, this allows the speaker to be tilted forward or back, to aim the tweeter directly at the listener. Including these feet, the Shape 65 measures 14"H x 8.6"W x 11.2"D, and weighs 18.75 pounds.
At the right bottom of the rear panel is an IEC power inlet. At top left is a balanced line-level input (XLR), and to its right an unbalanced input (RCA). There is no input switch -- the Shape 65 automatically switches to whichever input is receiving a signal. The main on/off switch is at upper right.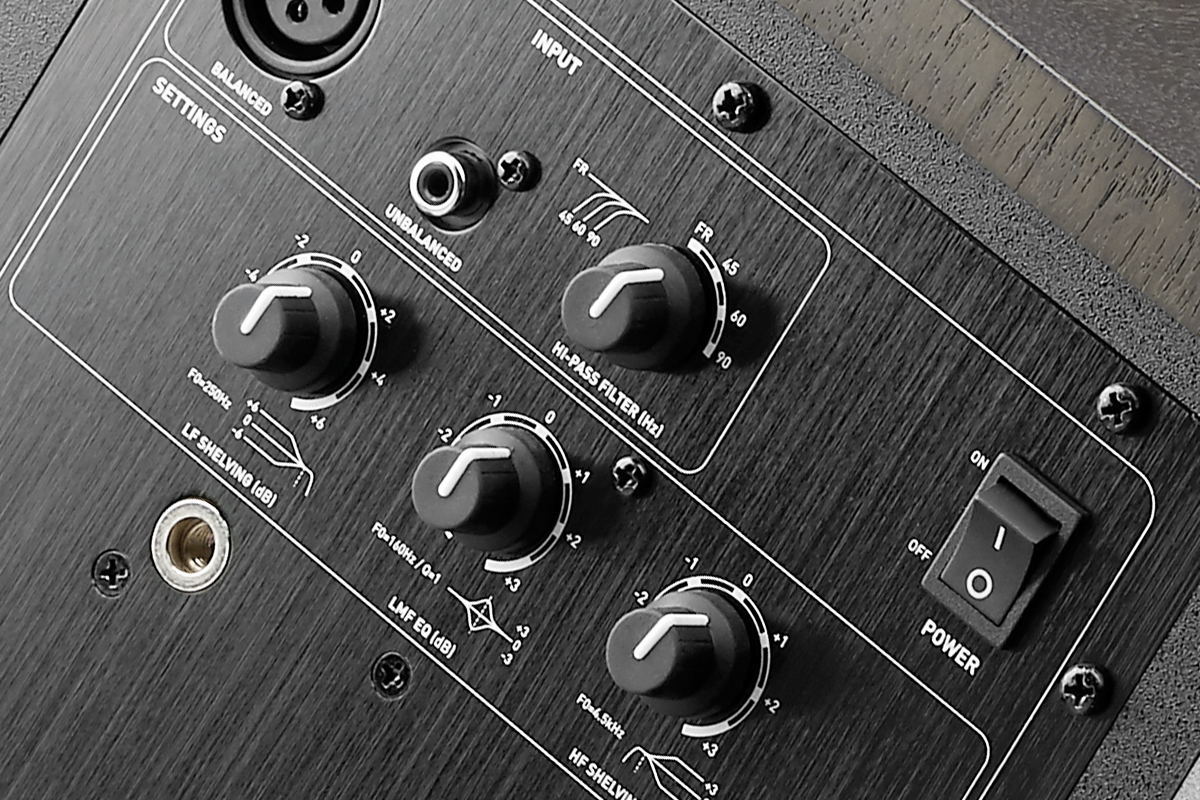 Also on the rear panel are four dials that let users adapt the Shape 65 to a wide range of listening environments and applications. LF Shelving provides adjustment of frequencies below 250Hz within a range of ±6dB, and HF Shelving adjustment of frequencies above 4.5kHz, within a range of ±3dB. For applications involving a subwoofer, Hi-Pass Filter activates a 12dB/octave high-pass filter with settings for crossover frequencies of 45, 60, and 90Hz -- with no sub, you leave this dial at its FR (full-range) setting. To compensate for reflections in applications where the speaker is placed on a table or console bridge, the LMF EQ dial (LMF = low and midrange frequencies) activates a filter with a Q of 1 and centered on 160Hz, for ±3dB of adjustment.
The front baffle curves gracefully upward to the top panel, both very nicely finished in dark walnut veneer. There were a few small bubbles under the veneer of one of my samples, but these were visible only up close. The sides and bottom are covered in black vinyl. Included with the Shape 65 are black metal grilles that snap in place over the woofer and tweeter. Combined with the rounded upper baffle and dark walnut finish, the grilles and side-mounted radiators give the Shape 65 a funky retro look. An LED at lower right on the front panel glows green when the Shape 65 is powered up, red when it's standing by.
Listening I
For my first round of listening, I placed the Shape 65s atop 28"H Monoprice Monolith stands on either side of the faux fireplace in our small living room. They were 16" from the front wall and 7' apart, forming an equilateral triangle with the sweet spot -- the end cushion of our sectional sofa -- and the tweeters were precisely at ear height. Following the recommendations in Focal's excellent manual, I toed the speakers in toward the listening position.
For my main-floor listening, I connected the Shape 65s' balanced inputs to the balanced outputs of an exaSound e32 Mk.II DAC ($2495) using 2m- and 4m-long Argentum Acoustics Mythos balanced (XLR) interconnects. Music was streamed via Wi-Fi from the modified Apple Mac Mini (mid-2011) in my second-floor office, which runs Roon Core 1.7, to an exaSound Sigma streamer ($750). I listened briefly with Roon's DSP functions turned off, but most of my listening was with two bands of low-frequency parametric EQ, as described in my June 1 feature, "All About That Bass." My rationale was simple: I wanted to be able to describe the sound of the speakers, not the sound that my listening room was imposing on them -- particularly a nasty 12dB peak at 63Hz.
Throughout my listening, I was struck by the Shape 65's fast dynamics and forward sound. Together, these characteristics created tremendously exciting listening experiences -- much more than I'd expected from an amp-and-speaker combination costing $2000. I also loved how natural voices sounded -- even spoken voices, such as Chick Corea's remarks to the audience in his trio's live album Trilogy 2 (24-bit/192kHz FLAC, Concord Jazz/Qobuz).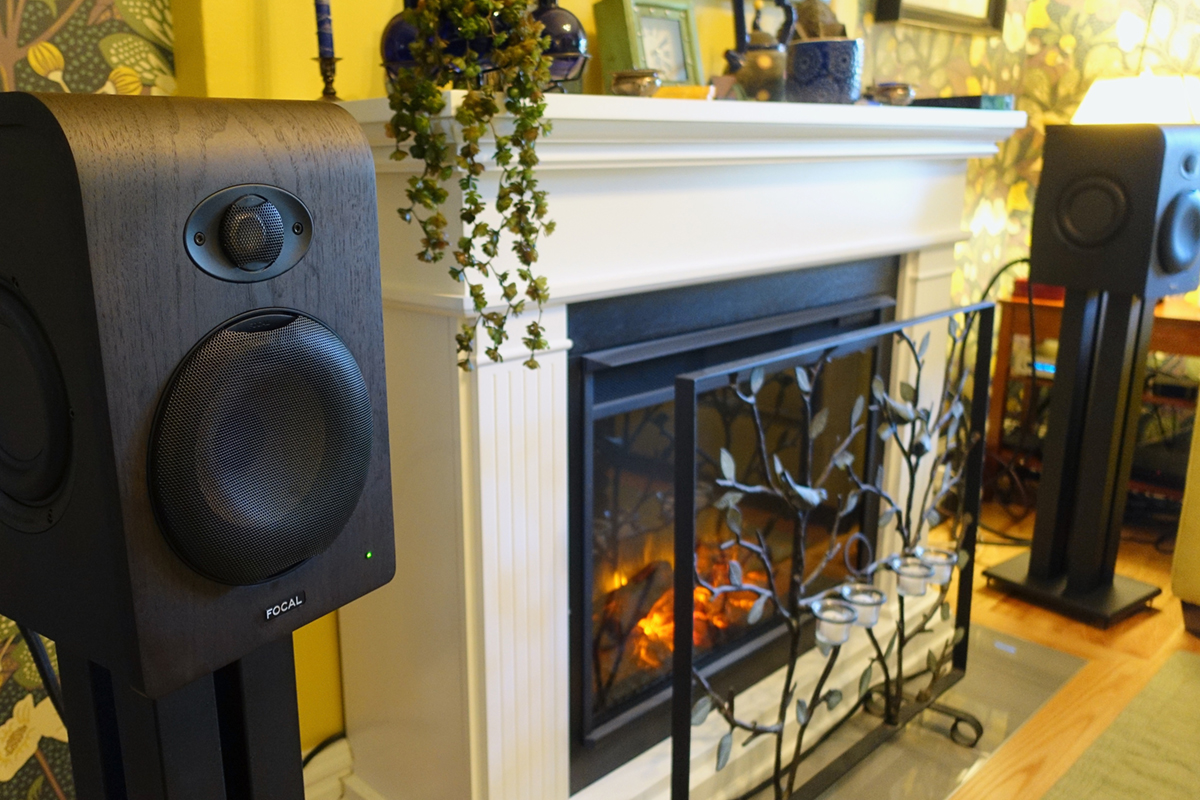 Above 40Hz, bass was truly impressive -- robust yet well controlled. The Focal's specified frequency response is 40Hz-35kHz, ±3db, and that was borne out in my listening tests. With some content, I experienced a bit of hardness in the upper midrange, but that could have been the Shape 65s highlighting characteristics of the recording -- which, after all, is their primary function.
The Shape 65's dynamic capabilities came through loud and clear in a performance of Jean-Baptiste Lully's stirring Marche pour la cérémonie des Turcs, performed by Le Concert de Nations under the direction of original-music specialist Jordi Savall, from the score for the 1991 film Tous les Matins du Monde (DSD64, Alia Vox). This is music of the 17th century -- the historically correct violins had a lovely singing tone and sharp rosiny bite, though the piccolos were just a tad bright. The baroque drums beating out a ceremonial march rhythm sounded absolutely delicious, with fast, impactful initial strokes immediately followed by the big, resonant sound of the drumhead and body. While the soundstage wasn't particularly deep, the orchestral sound was beautifully transparent. The Shape 65s delivered all the excitement that this march demands.
As I confirmed by playing Rhiannon Giddens's rendition of Carlisle Floyd's mournful ballad "Trees on the Mountain," from her There Is No Other (24/96 FLAC, Nonesuch/Qobuz), the Shape 65s could also make possible musical experiences of surpassing beauty. They imposed no colorations whatsoever on Giddens's full soprano, which sounded rich in its lower range, and soared beautifully when she hit high notes. In the first two verses and chorus, Giddens is accompanied by Francesco Turrisi playing a simple line in the piano's upper octaves. The piano, at the center of the soundstage, had a lovely ringing tone, with notes that decayed beautifully into a resonant acoustic. In the third verse, Kate Ellis joins on cello at left, and Turrisi adds lute at left center, followed by Giddens on low-pitched octave violin at far right. Ellis's cello and Giddens's octave violin combined a subtle rosiny bite with rich, woody resonance. The Focal speakers beautifully tracked Turrisi's deft, quiet lute playing, demonstrating that they had excellent microdynamic capabilities -- they weren't only about excitement.
Comparison I
On June 1, I reviewed another active studio monitor, the Type 07, from Berlin-based Heinz Electrodynamic Designs (HEDD). Priced at $1700/pair, the Type 07 employs a 7.2" honeycomb composite woofer and an air-motion transformer (AMT) tweeter. Each driver is powered by its own 100W ICEpower class-D amplifier.
In the Lully march from Tous les Matins du Monde, the sound of the baroque orchestra was smoother and more refined through the HEDDs than through the Focals, but a bit more recessed. The antique violins had more bite through the Focals -- but with the Type 07s, the piccolos lacked the shrillness I'd noted with the Shapes. The big timpani strokes sounded deeper through the HEDDs, but more defined through the Focals -- the initial stroke was better differentiated from the sound of the vibrating drumhead.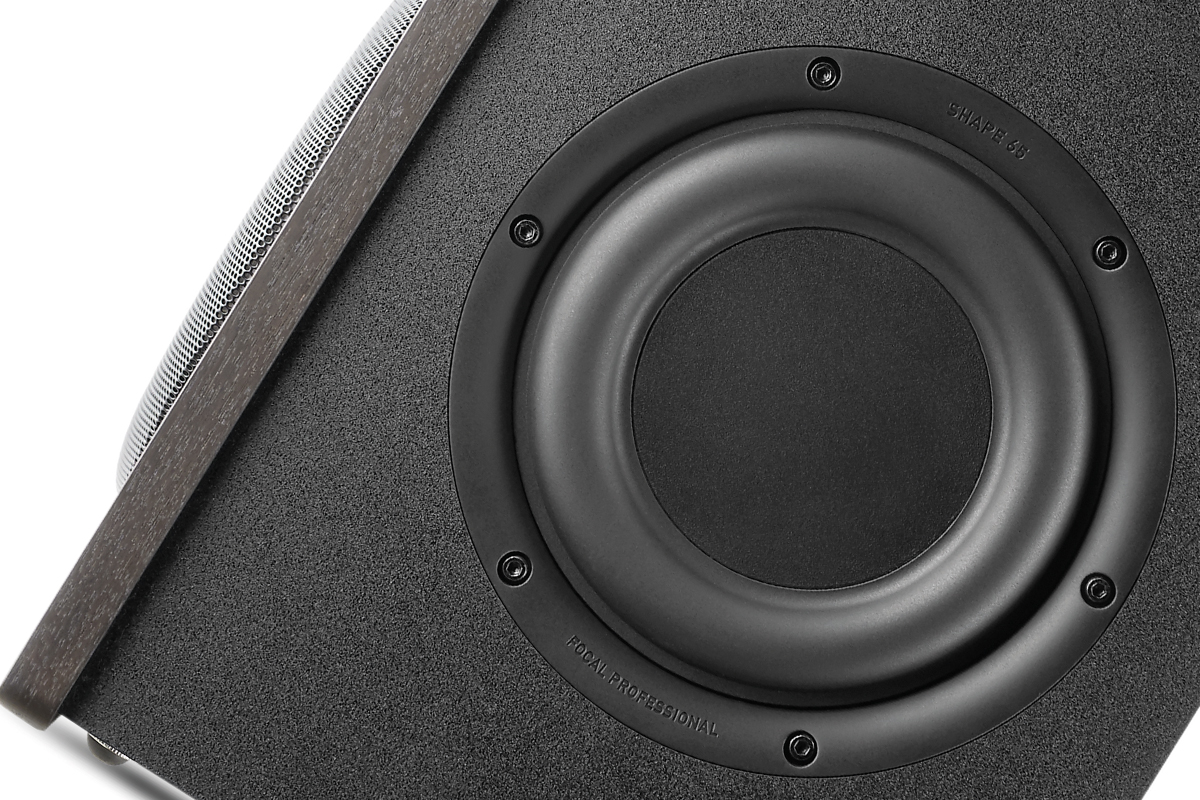 Elac's Navis ARB-51 analog active speaker ($2298/pair) received a Reviewers' Choice designation when I reviewed it in April 2019, and was later named a SoundStage! Network Product of the Year for Exceptional Value.
With Marche pour la cérémonie des Turcs, the period orchestra sounded lusher and fuller through the Navis speakers, but also denser. The timpani strokes weren't as sharp as through the Focals. I really liked the way the three-way Navises reproduced those violins -- they had a woody fullness the Focals didn't quite match, though the latter more convincingly reproduced the friction of horsehair bows on rosined gut strings. Through the Elacs' soft-dome tweeters, piccolos sounded less shrill than through the Focals' metal domes. While the Elacs' sound was warmer and more inviting, the Focals generated in me more excitement, and a greater sense of ceremony that better suited the music.
Listening II
My second round of listening was conducted more in the nearfield. I placed the Focal monitors atop isoAcoustics ISO-200 desktop speaker stands, at the front of a credenza along one long wall of my basement family room. The speakers were 1' from the front wall, 4' apart, and 5' from my listening chair on the opposite wall. Again, the tweeters were at ear level.
This time the source was a Bluesound Node 2i streaming DAC-preamp ($549), which I connected to the Shape 65s using Kimber Kable Tonik 1m interconnects (RCA). Rather than Roon, I used the BluOS app on an iPad Mini to cue up music. Given the $2696 price difference between the Node 2i and the exaSound Sigma/e32 Mk.II combo, you'd expect there to be a significant difference in sound quality, and there was. Compared to the Node 2i, the exaSound setup was more resolving, more dynamic, and ultimately more exciting.
But even with the modestly priced source, the Shape 65s generated plenty of excitement -- especially with a little tweaking of the speakers' rear-panel controls. As noted above, those controls let listeners adapt the Shape 65 to a wide variety of listening situations. Granted, they don't provide the degree of control you get with DSP-based parametric EQ in applications such as Roon, much less the precise correction you can get with automated room-correction systems such as Dirac Live. But I found them very useful, as my next two musical examples illustrate.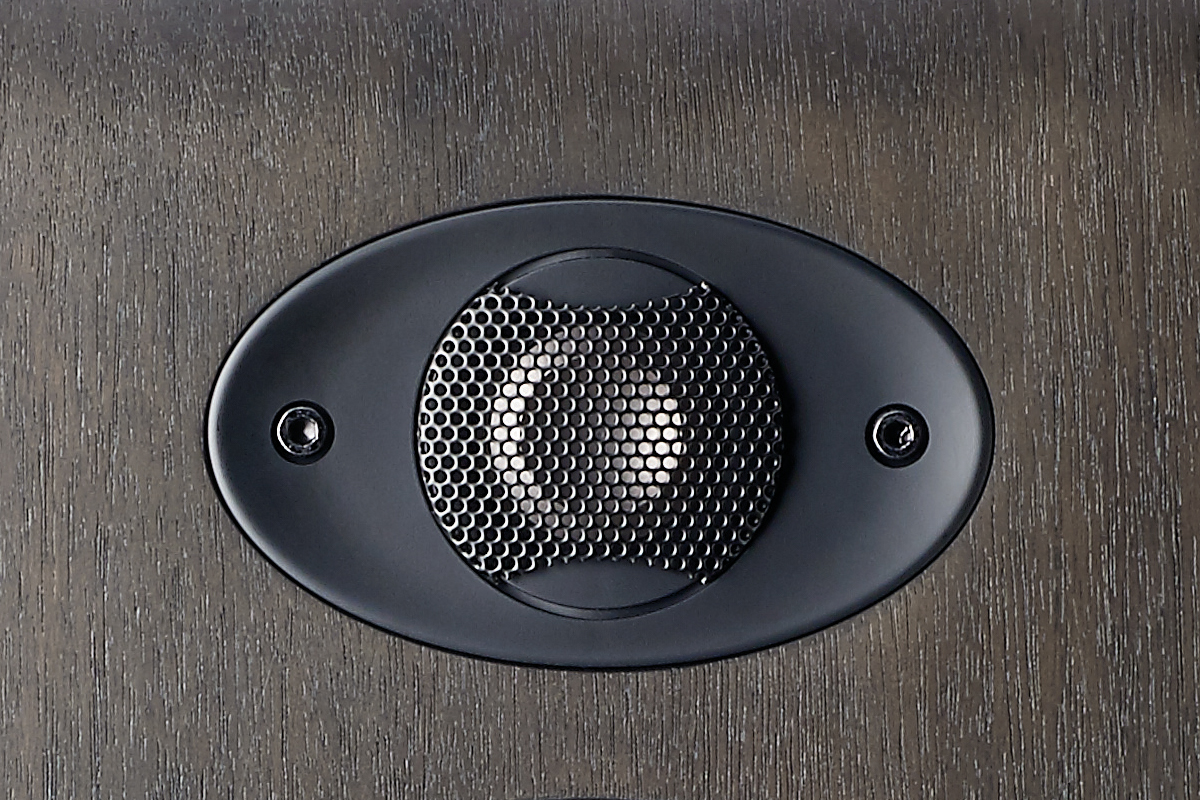 With the Focal 65s so close to the front wall, the bass was a bit prominent. For example, on "You Don't Know What Love Is" / "Muezzin," from Keith Jarrett's At the Blue Note: The Complete Recordings (16/44.1 FLAC, ECM/Qobuz), the sound of Jack DeJohnette's kick drum was a tad thuddy, and Gary Peacock's double bass was a little boomy at the bottom of its range. Dialing in a -3dB correction with the LF Shelving dial on the rear of each speaker resulted in a much more pleasing balance.
With this simple adjustment, Peacock's bass sounded fantastic, with big, bold, woody resonance and snappy impact, right down to the open bottom string's E1 (41Hz). DeJohnette's drumming was just as impressive. His kick drum and floor tom were big and robust, with no hint of overhang. And later in the track, when DeJohnette makes his tom-tom sound like a Middle Eastern goblet drum, the Focals reproduced it with perfect clarity and impact. Jarrett's fast staccato runs sounded crisp and articulate, with superbly expressive dynamics. There was a slightly hard edge in the upper-middle octaves, but I've experienced this quality in other Jarrett recordings. I loved the way the Shape 65s separated notes in his arpeggiated chords -- this really highlighted the Middle Eastern character of "Muezzin," a Jarrett composition. Through the Shape 65s, this 20-minute track was utterly thrilling.
The LMF EQ filter proved useful in Jon Batiste's rendition of "St. James Infirmary Blues," from his Hollywood Africans (24/96 FLAC, Verve/Qobuz). Appearing at the center of the soundstage, Batiste's voice sounded commendably natural, except for some slight muddiness at the very bottom of his range. Was this the result of sitting the speakers atop my credenza? Perhaps, but I'd set them at the front edge -- there were no obvious reflections from the top surface of the credenza to interfere with the speakers' direct output. But soundwaves reflected off the front wall and then bounced off the credenza could have been a factor. In any event, this muddiness wasn't present when I played the same track with the Shape 65s set atop the Monoprice stands in my living room.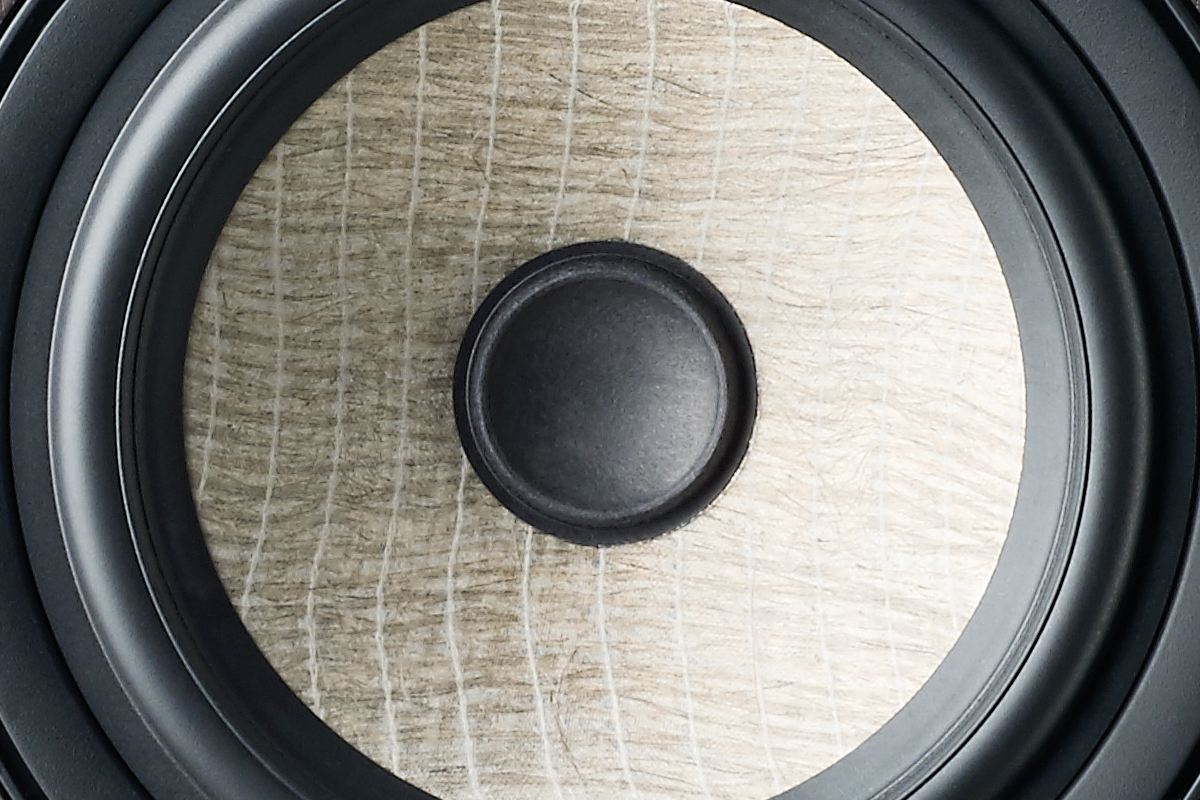 Dialing in a -2dB cut with the LMF EQ filter went a long way toward correcting the problem, which hadn't been particularly bothersome before the adjustment, and was barely audible after it. Otherwise, the reproduction of Batiste's voice was superb -- free from coloration through almost his entire range. Dynamics were also excellent -- I loved the way the Shape 65s tracked Batiste's expressive touches, and how his voice decayed into the reverberant acoustic of the unnamed Louisiana church where this album was recorded. The women's mournful, wordless singing on the left side of the soundstage sounded completely natural.
The instrumental accompaniment was also wonderful. At the beginning of the track, Batiste's upright piano had superb body and authority as his funereal chords in the lower register decayed beautifully into the background. Between verses, his staccato playing of the main melody had wonderful sparkle and speed, and the big bass drum and tuba had impressive depth and solidity.
Comparison II
Elac's Navis ARB-51 and HEDD's Type 07 active loudspeakers also have EQ controls, which I used with "You Don't Know What Love Is" / "Muezzin," from Keith Jarrett's standards trio.
The Elacs have three three-position EQ switches, one each for the lows, mids, and highs. The LF control has -4dB, Flat, and +1dB positions. The -4dB setting tamed the boominess that resulted from the wall reinforcement but made bass too anemic, so I left it at Flat. With the Elacs, the lower strings of Gary Peacock's double bass had less impact and definition than with the Focals -- I heard less of its big, woody tone. But through the Elacs, Jarrett's piano sounded fuller, without the slightly hard edge I noticed with the Focals. Jack DeJohnette's drumming had a little more snap and impact through the Focals. Overall, dynamics were faster and more dramatic via the Focals -- they delivered more drive and excitement from this high-energy track.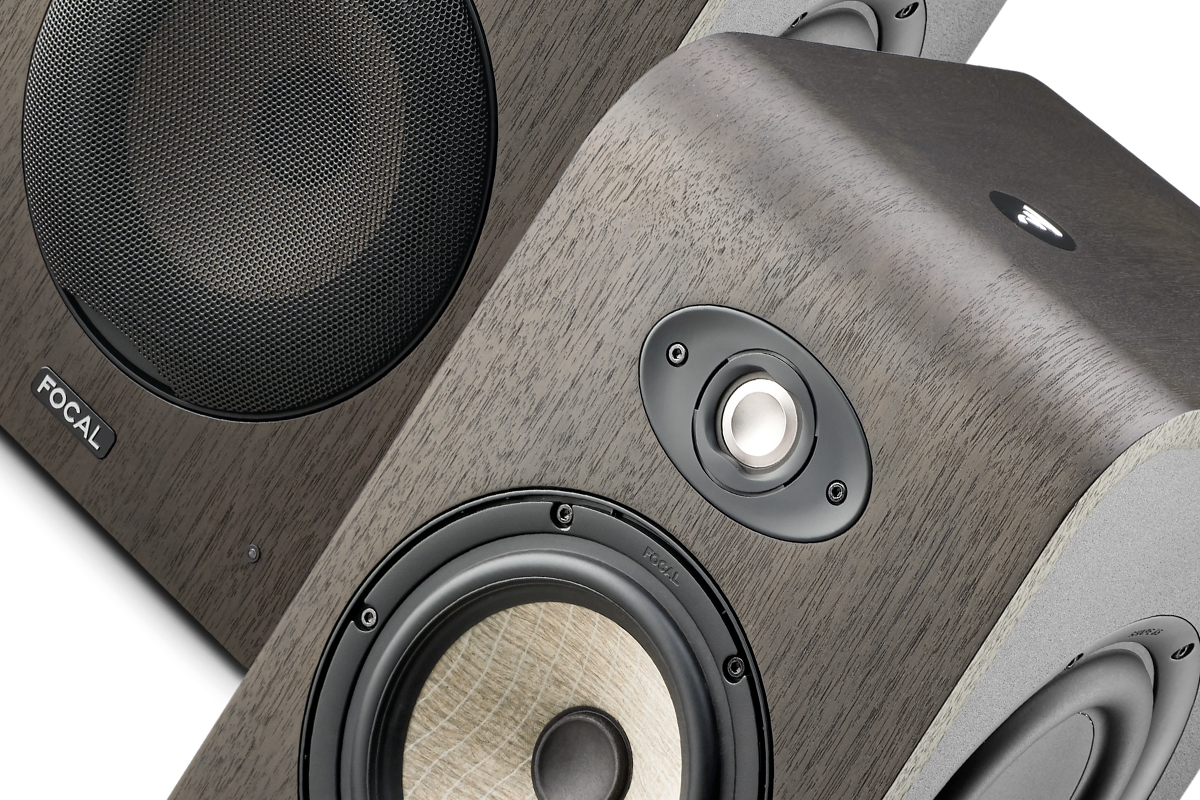 The HEDDs have LF and HF EQ dials. The low-frequency dial provides ±2dB adjustment at 200Hz and ±4dB adjustment at 50Hz. With a -2dB adjustment of their LF controls, the HEDDs reproduced Peacock's bass and DeJohnette's kick drums and floor toms with depth comparable to the Focals', but the Focals had slightly better snap and definition. The Type 07's AMT tweeter delivered a bit more shimmer from the hi-hat and cymbals. Piano tone in upper-octave staccato passages was not quite as hard through the HEDDs as through the Focals, yet articulation was comparable. On the other hand, piano tone was occasionally a little clangy with the HEDDs -- it's swings and roundabouts here. The HEDDs created a slightly deeper soundstage than the Focals, and sounded a bit more refined and transparent -- but their sound didn't have as much fullness or generate quite as much raw excitement as did the Focals' sound.
Conclusion
Previously, when I've reviewed professional studio monitors, I've noted that their utilitarian styling could preclude their use in multipurpose living areas, especially in rooms where design and elegance are important.
I have no such reservations about Focal's Shape 65. It does look utilitarian -- but with its molded front baffle, black grille, dark walnut finish, and funky passive radiators, it also looks stylishly retro. My design-conscious wife actually prefers them to Elac's elegant, high-gloss, active Navis speakers. Unlike many professional monitors, the Shape 65 looks as if it belongs in a stylish living space.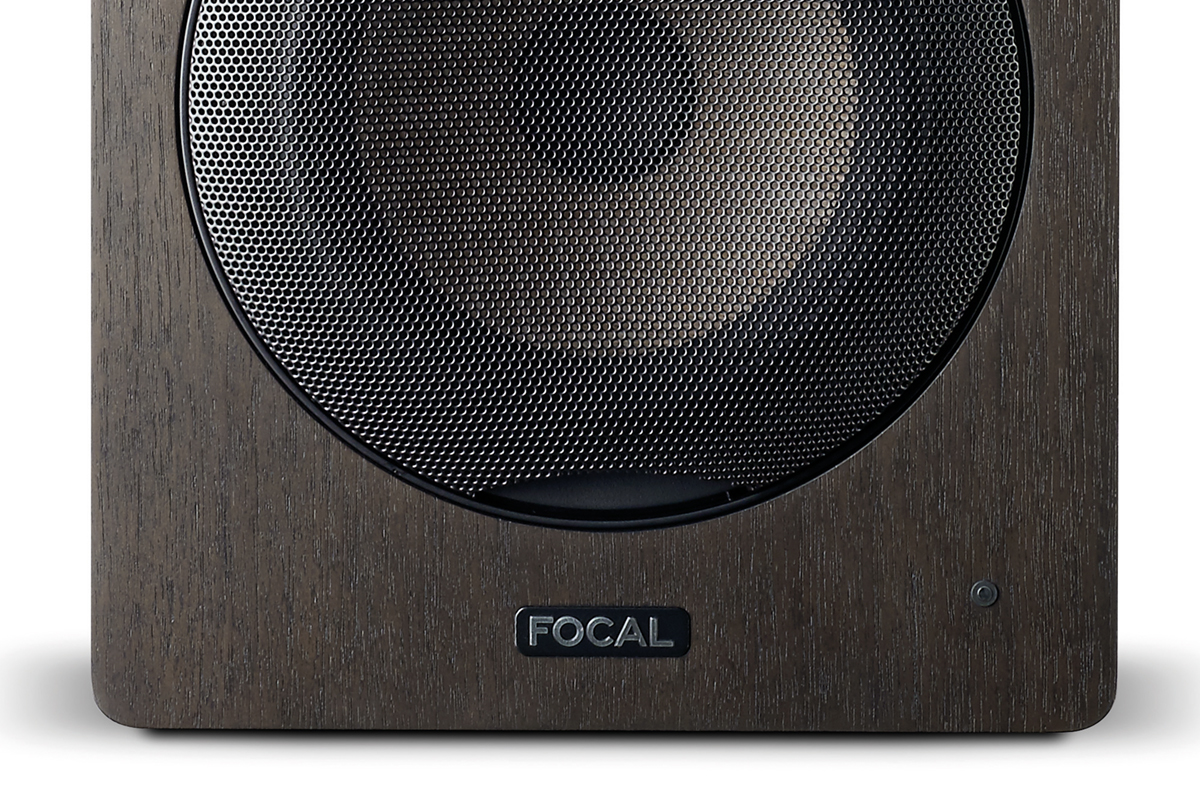 Equally important, that's where its sound belongs. I've commented on the Shape 65's ability to generate excitement and draw me into the music. As I experienced with many recordings, it was also capable of beauty and refinement. And as I confirmed in my second round of listening, those rear-panel controls are as useful in domestic applications as they would be in the recording studio.
Enthusiastically recommended.
. . . Gordon Brockhouse
This email address is being protected from spambots. You need JavaScript enabled to view it.
Associated Equipment
Active loudspeakers -- Elac Navis ARB-51, HEDD Type 07
Sources -- exaSound Sigma streamer and e32 Mk.II DAC, Bluesound Node 2i streaming DAC-preamp, modified Apple Mac Mini computer (mid-2011) running Roon Core 1.7, Apple iPad Mini
Interconnects -- Argentum Acoustics Mythos (2m and 4m, balanced, XLR), Kimber Kable Tonik (1m, unbalanced, RCA)
Speaker stands -- isoAcoustics IS0-200 (desktop), Monoprice Monolith (28", floor)
Network -- Google Wifi three-node mesh
Focal Shape 65 Analog Active Loudspeakers
Price: $999 USD each.
Warranty, parts and labor: Drivers, five years; Electronics, three years.
Focal Naim America
313 Rue Marion
Repentigny, Quebec J5Z 4W8
Canada
Phone: (800) 663-9352
Website: www.focalnaimamerica.com