Integrated amplifiers are the multitaskers of hi-fi, earning their keep by meeting multiple requirements at once. Since they usually need to be priced affordably, integrateds tend to be conservatively designed. That said, many recent models accommodate contemporary listening habits through features like Bluetooth streaming and a USB DAC input. Others, like Hegel Music Systems' Röst, which I recently reviewed on SoundStage! Simplifi, go further by incorporating a wired LAN connection, IP control, and AirPlay streaming.
NAD's C 368 DAC-integrated amplifier ($899 USD) is a basic integrated amp with a handful of digital and analog inputs plus a built-in moving-magnet phono stage and Bluetooth aptX streaming. But the C 368 packs another feature that sets it apart from more traditional designs: two Modular Design Construction (MDC) slots on its rear panel. Previously limited to NAD's pricier Masters Series models, MDC lets you upgrade your NAD component by inserting plug-in modules that add new features such as HDMI switching, a USB DAC input, and wired/wireless network connectivity.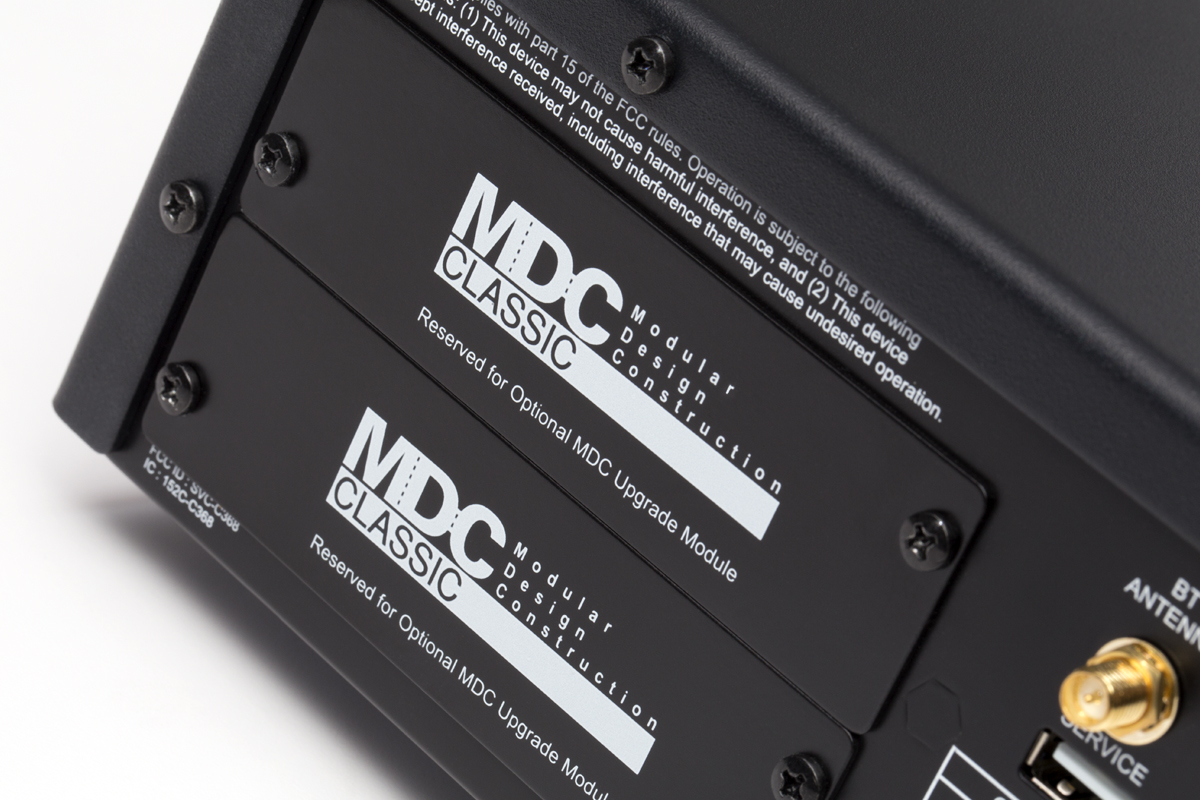 My review sample of the C 368 included NAD's BluOS MDC module ($399). This module features a LAN port for wired Ethernet connection, two USB Type-A ports, a Bluetooth antenna that takes over Bluetooth duty from the C 368's built-in capabilities, and a USB Wi-Fi dongle. It also outfits the C 368 with the company's BluOS multiroom technology, a protocol that lets you stream files of up to 24-bit/192kHz resolution stored on a computer or NAS, along with music from Tidal, Spotify, Napster, Slacker, and more. NAD's most recent BluOS update makes BluOS-enabled products Roon Ready. For subscribers to Roon's music-management software, that means the device can be automatically detected on a network and enabled for streaming using the Roon Advanced Audio Transport (RAAT) protocol. A recent convert to Roon, I was excited to hear about all of this.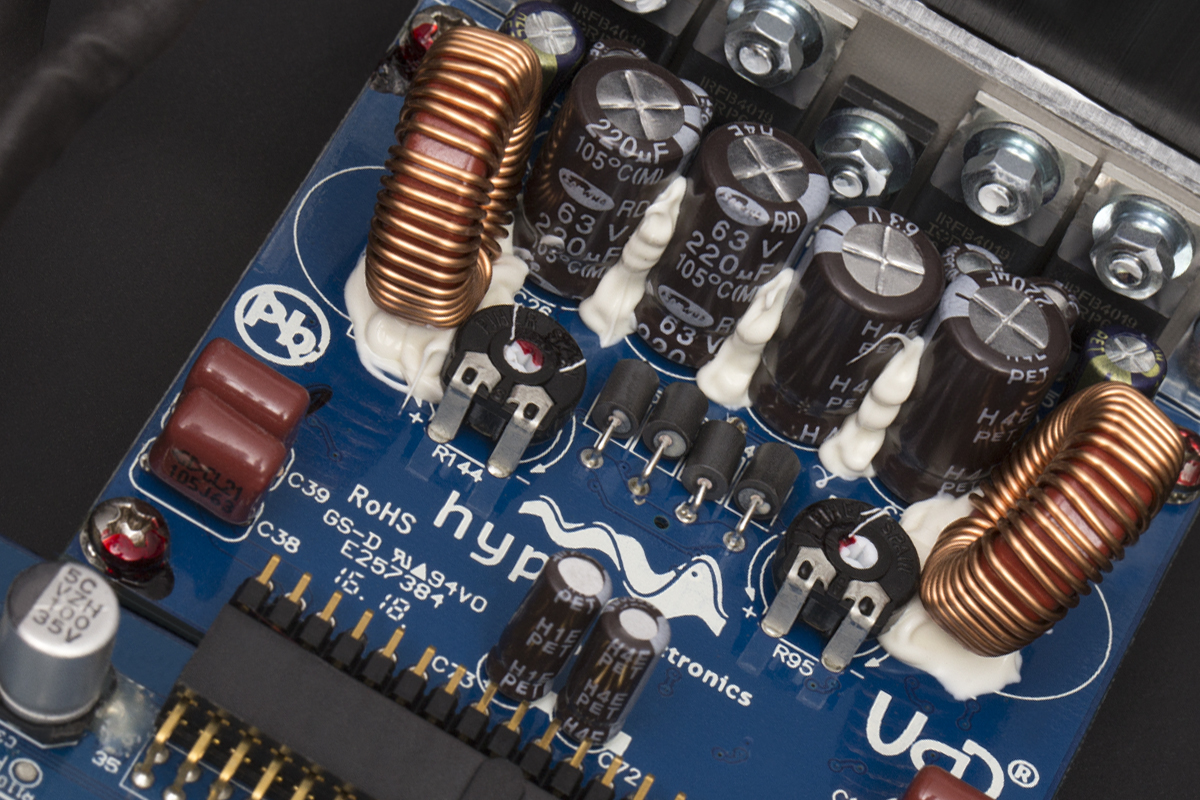 Unlike NAD's DirectDigital amplifiers, which retain a fully digital signal path from input to speaker output -- first converting any analog signals to digital -- the C 368's Hybrid Digital design uses a class-D amplifier with a custom switch-mode power supply optimized for the amp's Hypex UcD output stages. Incoming analog signals remain in the analog domain, while digital signals are processed by an SRC4382 asynchronous sample-rate converter/S/PDIF receiver and PCM1795 32-bit DAC, both from Texas Instruments. NAD specifies the C 368's power output as 80Wpc continuous into 4 or 8 ohms.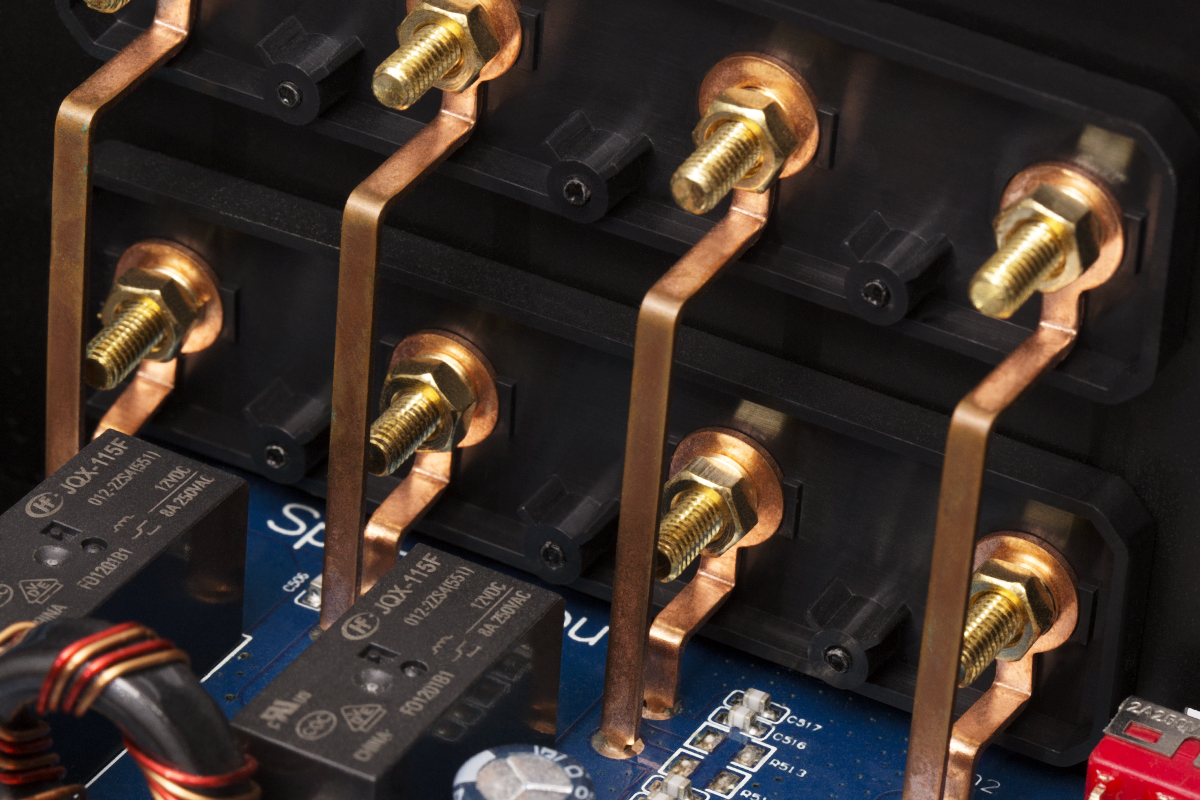 While the Masters Series models have a luxury exterior that shouts "High End," NAD's more affordable components mostly sport the understated design the company has relied on for decades. That situation changes with the Hybrid Digital DAC-amps. The C 368's black case and large, thin-film-transistor (TFT) LCD color display give it a bolder look than previous NAD integrateds -- a look that I find very appealing. The control set on the C 368's front panel is minimal: along with the display, there are only a volume knob (which adjusts the level in 0.5dB increments), buttons for selecting sources, and a menu navigation pad. There's also a 1/4" headphone jack.
Around back, the C 368 offers the wide assortment of connections you'd find on a typical integrated amp. There are two each coaxial digital, optical digital, and analog line inputs, plus the MM phono input. Gold-plated speaker A and B outputs are provided, as are a bridge mode switch (for mono operation) and a preamp output that can be configured as a subwoofer out with a fixed 150Hz crossover (12dB/octave slope). There are also several custom-install-friendly connections: an RS-232 control port, an IR input/output, and a +12V trigger input/output. When using the C 368's built-in Bluetooth feature, you'll need to connect the included antenna to a terminal on the rear panel. The C 368 can be configured to act as both a Bluetooth sink and a source; the latter capability will let you wirelessly stream music from it to a pair of Bluetooth headphones.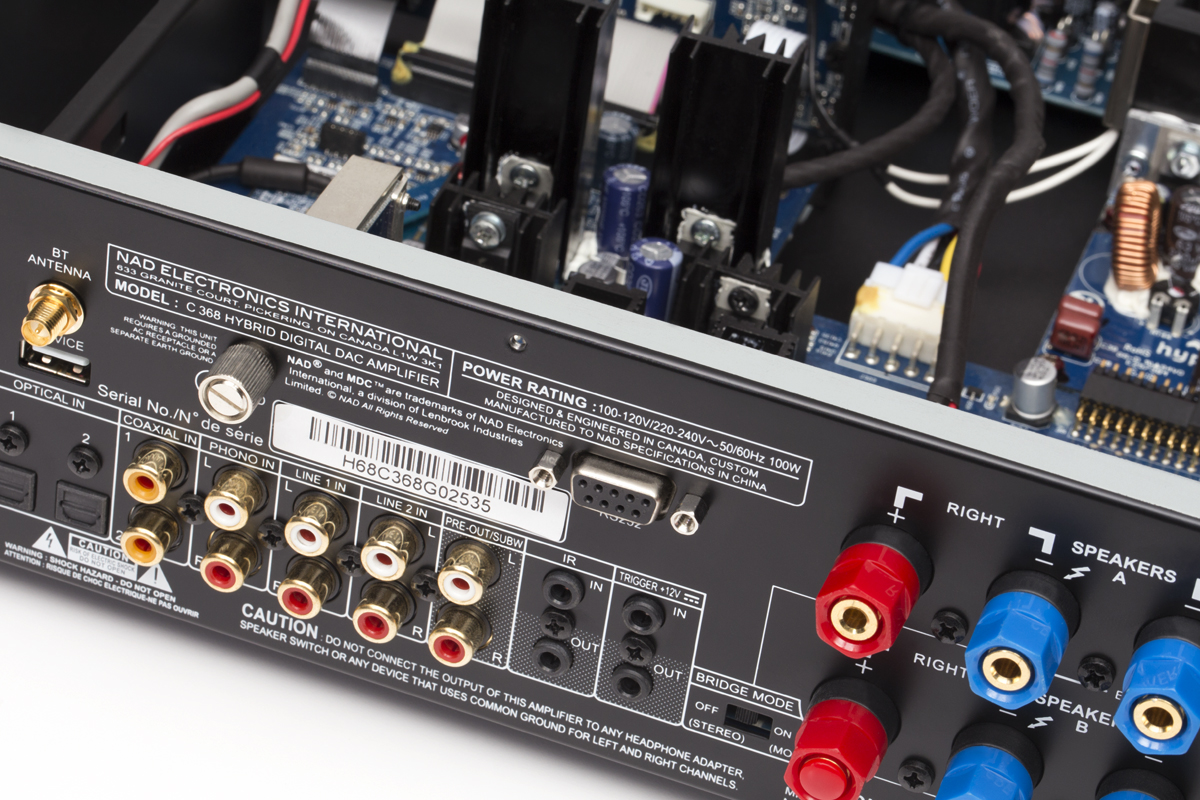 NAD includes a better-than-average remote control. Though relatively small, it's hefty enough to sit comfortably in the hand, and has a well-organized keypad. Buttons for directly switching among sources are near the top, where they can be easily accessed. The remote comes preprogrammed to operate other NAD components, such as a CD player or tuner, and has buttons for controlling those devices. The IR output power was impressive -- I could bounce commands to the C 368 off my room's front wall.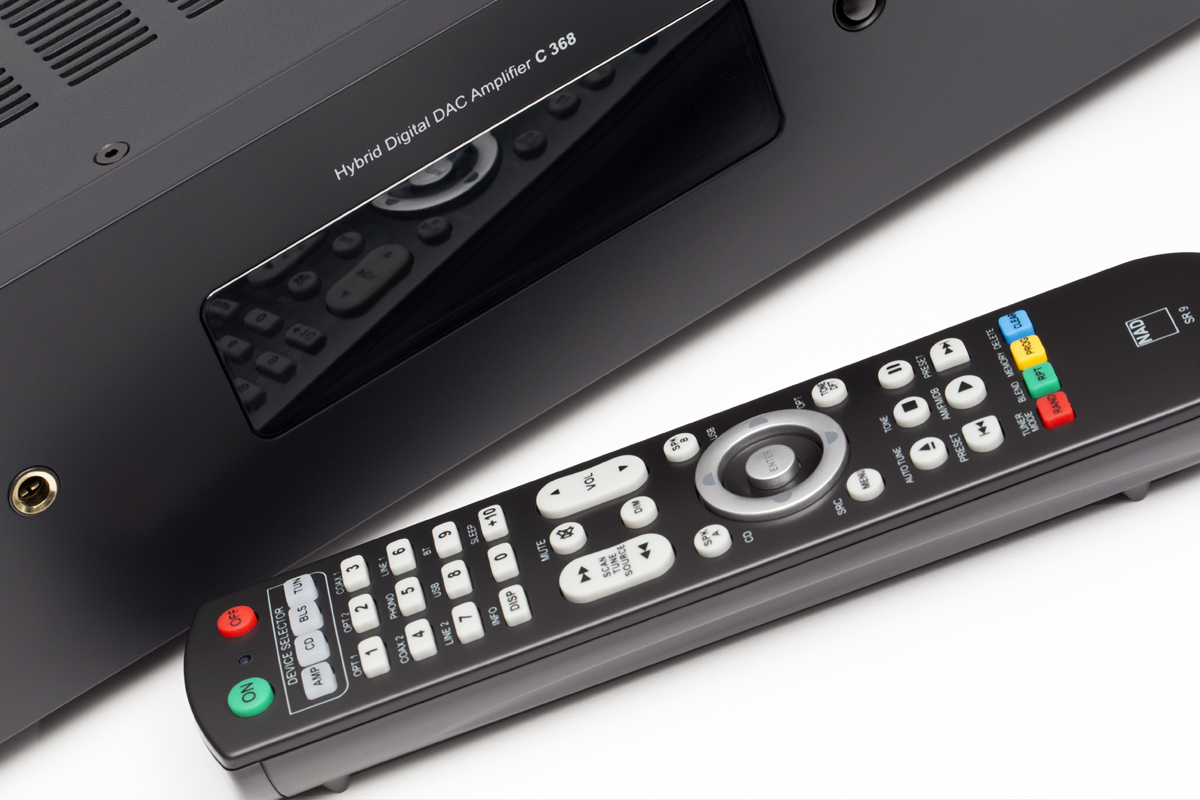 Setup and use
Setting up the C 368 in my system involved connecting a Pioneer BDP-88FD universal BD player for CD and SACD listening, and a Pro-Ject Debut turntable with a Clearaudio Aurum Beta/S cartridge for vinyl playback. For a network hookup, I used a powerline adapter connected via an Ethernet cable to the MDC BluOS module's LAN port. The final step was to upgrade the BluOS module's software -- something that can be done over the network connection. I was ready for business.
The BluOS app -- already present on my iPhone/iPad from an earlier test of the Pulse Flex Wi-Fi speaker from NAD's sister brand Bluesound -- is one of the better control apps I've worked with. On launch, it presents a list of options: choose music, browse online radio stations, add music services, and select specific players on the network. The BluOS app gives you the option to play the same music throughout the entire house, or to stream different sources to different players.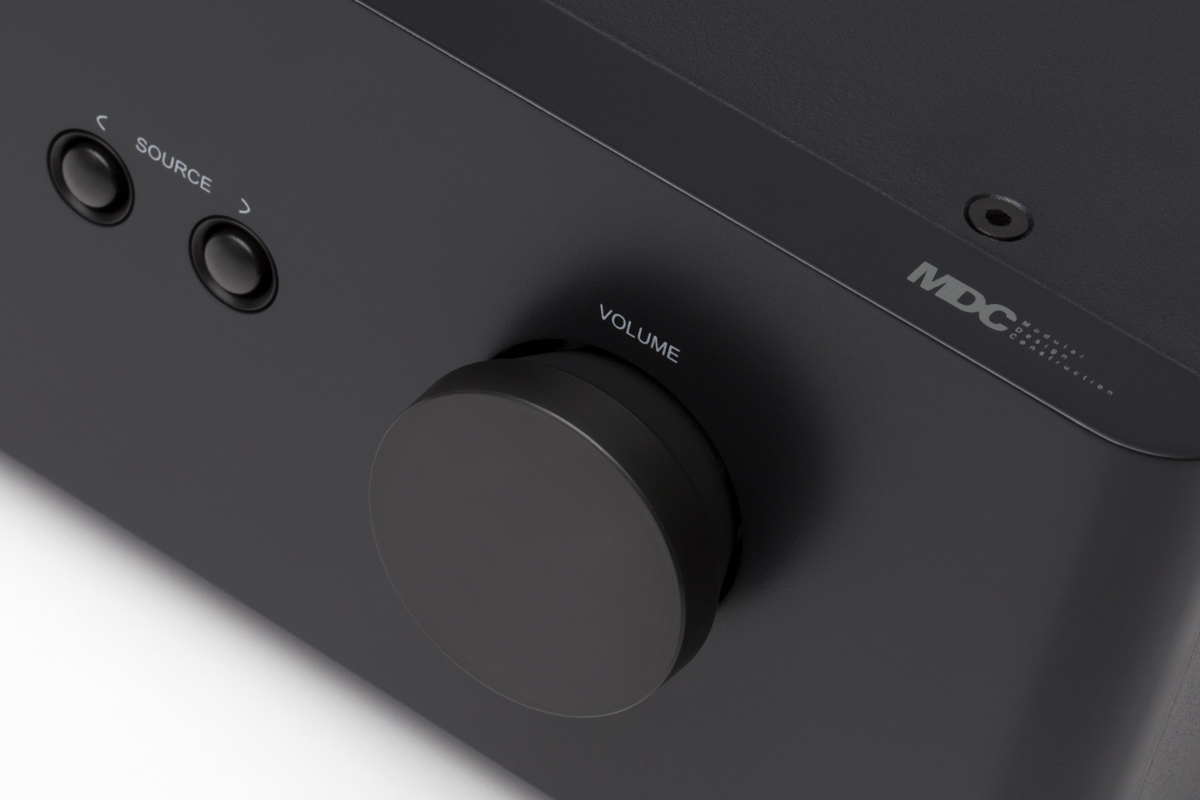 After punching in my Tidal and TuneIn Internet Radio credentials, I was soon streaming music to the C 368, including MQA Masters tracks from Tidal HiFi. A blue dot appeared on the app's interface next to the MQA logo, to indicate that the playback was "MQA authenticated" and being unfolded at the full original resolution. I also went through the process of linking my MacBook's hard drive as a network share so that the BluOS app could access files stored on it. Normally, this is something easily done using UPnP, but since NAD's BluOS module doesn't support that protocol, you need to create a network share via SMB (detailed instructions are provided on Bluesound's technical support site).
Things became easier when I switched to Roon, which soaked up my locally stored music library and combined it with my Tidal account for fully integrated music browsing and playback. To connect the C 368 with the Roon core on my MacBook, I simply launched the Roon app and opened its Audio settings menu. The software automatically detected the NAD on my network as a Roon Ready device, and all that was left to do was click Enable to stream music to it using either the Roon desktop or iOS/Android app.
Sound
I began my listening with the C 368 by spinning CDs on a Pioneer player connected to the NAD's coaxial digital input. With "Moon River," from Bill Frisell with Dave Holland and Elvin Jones (CD, Elektra/Nonesuch 79624-2), the C 368 easily conveyed the crisp attack and rich overtones of Frisell's acoustic guitar. Holland's double bass had a silky-smooth, controlled quality, and the low notes in his solo came across with excellent definition. In the end, I preferred the sound of NAD's built-in DAC to the Pioneer's, which, though detailed, came up short at delivering the same dynamic "openness" with acoustic string instruments.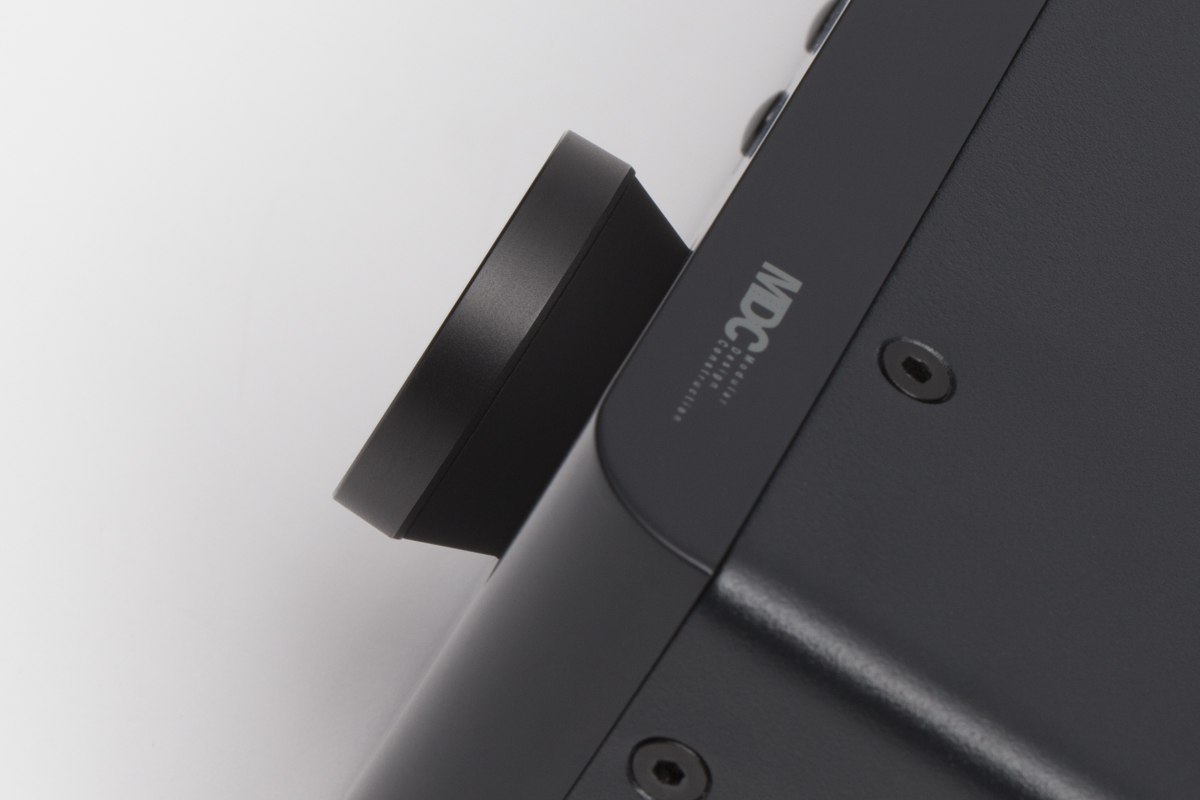 Bringing up Roon on my iPad, I next streamed "Tiwàyyen" (16-bit/44.1kHz FLAC, Epitaph/Tidal), by Tinariwen, which Roon characterizes as a "Saharan desert blues outfit from Northern Mali." The C 368 had no problem fleshing out layers in the formidable wall-of-sound mix, even at a loud listening level. The voices came through as full and deep, with natural, throaty textures. Open-string electric-guitar lines floated loose and large across the soundstage, and the percussion instruments had a lively, almost physical quality: I could sense the tension of drum surfaces being slapped by hands.
The NAD's neutral, dynamically open character made it a perfect match for classical music. In "Form Takes" from No Home of the Mind, by the "post-minimalist" ensemble Bing & Ruth (16/44.1 FLAC, 4AD/Tidal), the piano arpeggios sounded warm yet detailed, and swells of double bass had a full, almost bottomless quality. Despite the seemingly formless structure of this music (ironic, given its title), I could track layers of instruments receding and emerging, as if in a fog. The C 368 delivered all of it with no hint of strain, and impressed me with its ability to convey a sense of atmosphere and depth.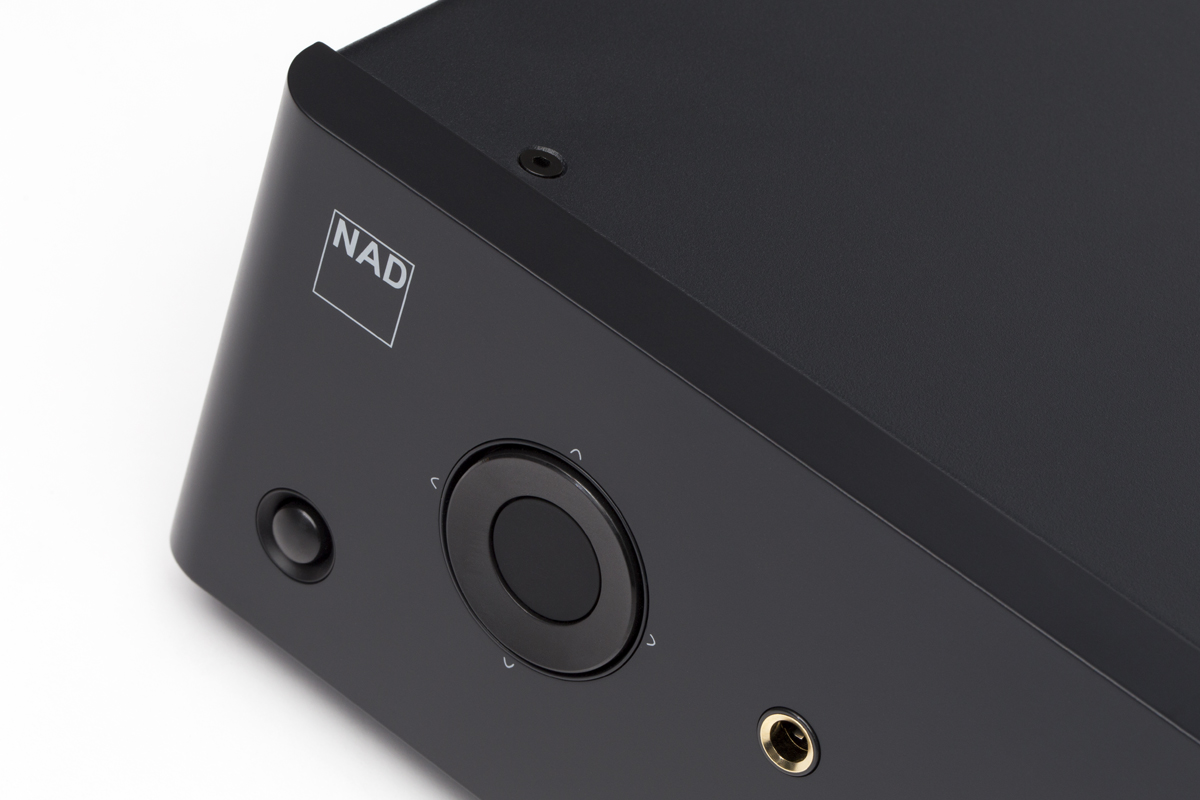 Last but not least: vinyl. My LPs sounded perfectly fine through the C 368's phono stage, which NAD characterizes as having "very high overload limits and accurate RIAA equalization." The washes of noise skittering from speaker to speaker like an electronic sandstorm in "Reach for the Dead," from the Boards of Canada's Tomorrow's Harvest, had an energetic quality, and the layered synths retained their smoothness as the track builds in intensity. When the beats eventually kicked in, they were solid and taut -- exactly what I expect to hear with this track.
Comparison
I also listened to many of the same tracks through Hegel's Röst integrated amp (about $3000), which handles network streaming using Apple AirPlay, which Roon supports. Frisell et al.'s take on "Moon River" sounded equally clean and detailed through the Hegel and the NAD, though my listening notes give the Röst a nod on that track for a slightly more lively sound compared with the NAD's smoother presentation. Bass extension and definition were about the same, however -- a big plus for the NAD, given the Röst's excellent performance in that department.
The Röst's lively, dynamic character brought out a bit more texture in the piano and bowed double bass on the Bing & Ruth track. The same situation applied with "Tiwàyyen," which displayed slightly better definition and layering of instruments. But the NAD proved the Hegel's equal in being able to play loudly without strain, and displayed a consistent dynamic ease that made all manner of music appealing.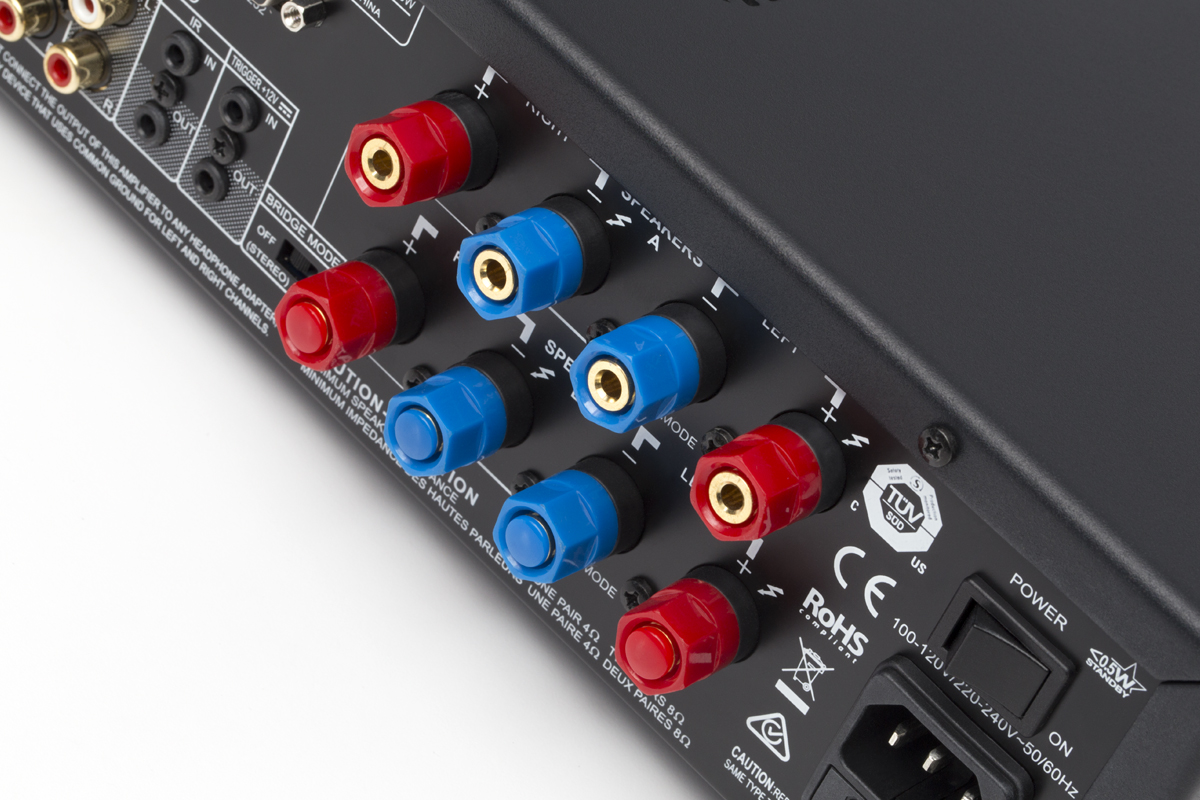 When I swapped in MartinLogan's ElectroMotion ESL X towers for the GoldenEar Technology Triton Fives, I remained impressed with the NAD's performance. The sound retained its abundant detail and dynamics, and the excellent bass extension and definition I heard with the GoldenEars not only carried over, but seemed to improve. That says plenty about the C 368's ability to live up to its power-output spec -- not all integrated amps I've listened with recently have sounded equally dynamic with both of these speakers.
Conclusion
NAD's C 368 is a highly competent, great-sounding integrated amplifier that in itself represents an excellent value at $899. Adding the company's MDC BluOS module ($399) takes the C 368 to a new level altogether. Not only do you get wired and Wi-Fi multiroom streaming capability, the BluOS module turns the C 368 into a Roon endpoint. Add to that a wide range of connections to accommodate everything from a CD player to a turntable, and NAD's new integrated emerges as a multitasking master with a combination of price, features, and performance that's near impossible to beat.
. . . Al Griffin
This email address is being protected from spambots. You need JavaScript enabled to view it.
Associated Equipment
Sources -- Pioneer BDP-88FD universal BD player, Pro-Ject Debut turntable with Clearaudio Aurum Beta/S MM cartridge, Apple MacBook Pro, iPhone 6, iPad 2, Roon, Apple Music, Tidal HiFi
Speakers -- GoldenEar Technology Triton Five, MartinLogan ElectroMotion ESL X
DAC-integrated amplifier -- Hegel Music Systems Röst
Speaker cables -- Monster Audio S14-2RCL
Analog interconnects -- AudioQuest Victoria (RCA)
NAD C 368 DAC-Integrated Amplifier
Price: $899 USD ($1298 with BluOS MDC module).
Warranty: Two years parts and labor.
NAD Electronics
Lenbrook Industries Limited
633 Granite Court
Pickering, Ontario L1W 3K1
Canada
Phone: (905) 831-6333
Website: www.nadelectronics.com